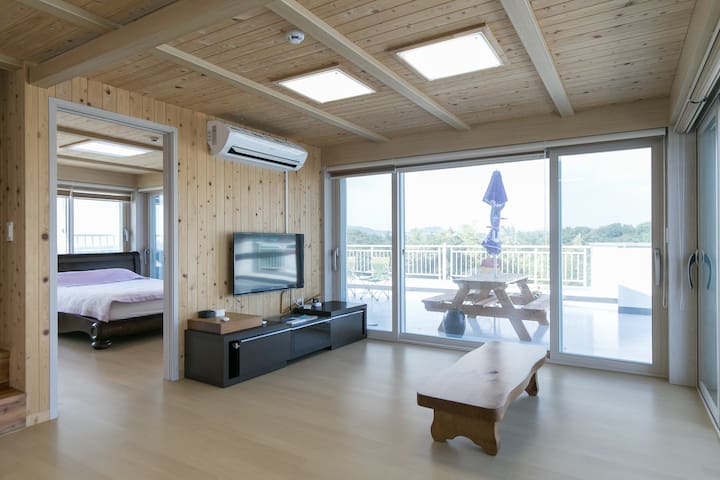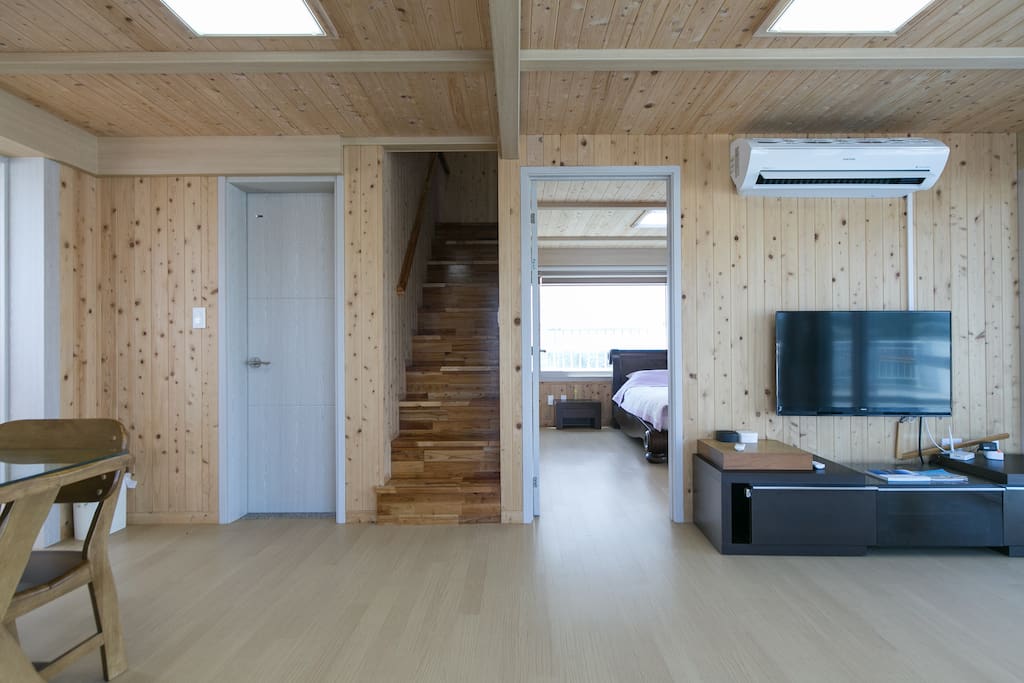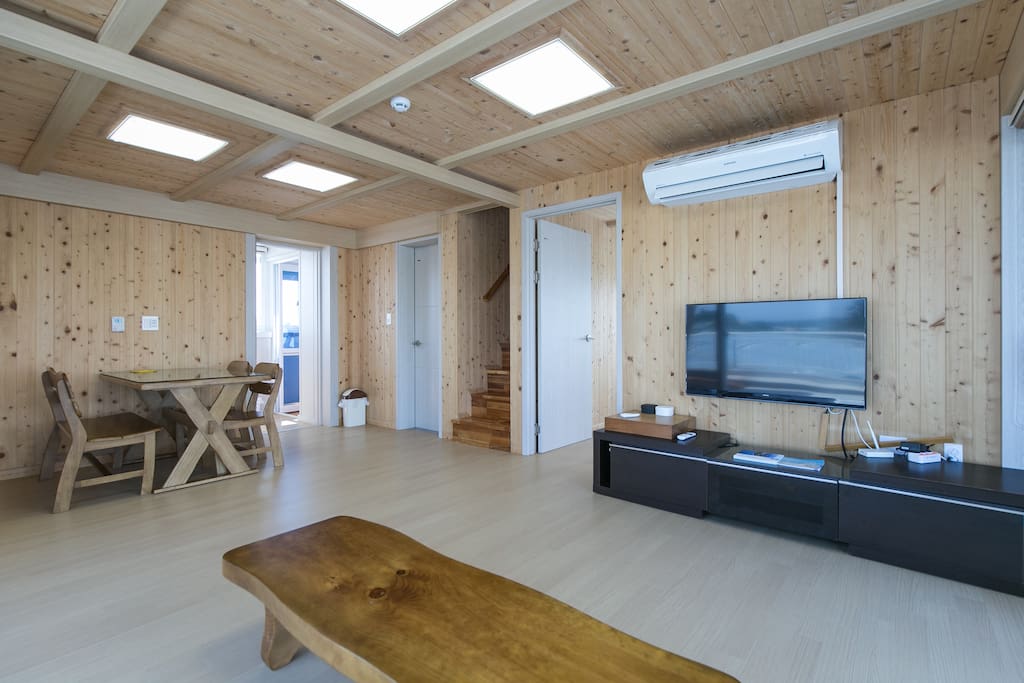 저희 집은 제주현대미술관, 저지예술인마을, 생각하는 정원, 오설록, 방림원, 유리의 성, 저지오름(올레코스), 평화박물관, 더마파크, 청수리 승마체험장 등 근처에 있습니다. 저희 집의 장점은 독립된 공간, 편백내장재로 된 안락한 내부환경, 인근에 많은 음식점과 편의점, 소음이 전혀없는 조용한 주변환경, 저지오름을 등지고 한라산 조망권, 반려동물도 가능합니다. 저희 집은 (아이 동반) 가족, 단체, 반려동물 동반에 적합합니다.
Le logement
실내가 건강에 좋은 편백나무로 되서 들어서는 순간부터 향이좋고 편안함
Accès des voyageurs
거실에서 앞에 맏힘데가 없어서 사방에오름 산 곳자왈등을감상할수있어요.
베란다가15평정도되서 베란다에서 바베큐파티 기타여러가지를할수있음
주차장 마당 옥상 사용할수있음
Échanges avec les voyageurs
---
---
L'entrée dans les lieux se fait à partir de 16:00
Arrivée autonome avec keypad
---
에어비앤비를 이용하면서 방컨디션이 가장 사진과 동일하였다. 마침 입실시간에 사장님 내외분이 청소를 하고 계신 모습으로 마주쳤는데 탁상밑을 꼼꼼히 닦고 계신걸 보고 백프로 신뢰하게 되었다.. 시부모님을 모시고 가는 여행이라 방에 대한 걱정을 많이 했는데...칭찬받았다. 2층 복층형 구조라 아이들이 있으시면 계단은 주의하는게 좋다.새건물 느낌이 났는데 오래오래 유지 잘해주셨으면 좋겠다. 아 냉장고와 싱크대에 기본 양념장이 구비된걸 보고 마음이 정말 좋으신 분이라는걸 다시한번 느꼈다..꼭 재방문을 하고싶다.. 까다로운 친정엄마를 모시고......날이 조금 흐렸음에도 불구하고 멀리 구름에 슬쩍 가려진 한라산이 시원하게 보여 아침 기분을 너무 상쾌하게 해주었다. 대만족이였다..!!
---
This was a magical place to stay and an incredibly lucky find, being only recently completed. We happened to be rehearsing and performing in the Healing Arts Festival at the Museum of Contemporary Art just a short 15 minute walk down the road so the placing was ideal for our needs as well as being a great place in its own right. There is a bus service to Jeju-Si just a hundred metres from the short driveway to the house from the main road, though we did not have time to make use of it. The accommodation is modern with a very friendly feel and fully equipped to a high standard. The kitchen, though smallish for 6 people was well equipped and catered well for our meals. The air conditioning was highly effective and there were two shower rooms, which was plenty for six people sharing. One is off the living room and the other an En Suite to the one double bedroom. Jeju-Do is a volcanic island teaming with plant, bird and insect life. For anyone who wants to avoid bugs and buzzy things from getting in (one of our group suffers from a phobic reaction to certain insects) this house had a fail-safe system for keeping them out of the house. I recommend this feature highly. The accommodation is on the top floor (two flight of stairs to reach it please note if elderly or frail). I am 70 but found the stairs easy to negotiate with plenty to hold onto and, though on the side of the building, they did not feel remotely scary to climb, being well fenced on both sides. Because we felt the need for personal space within a pressing work schedule the host offered to provide us with two extra rooms at very reasonable cost, which we had reserved when we booked. The balcony is an outstandingly good feature, being high enough up to catch a breeze during the ho summer days and offering a fine view of the surrounding island, table and chairs and even a hammock! It also provided an excellent chill-out area where the smokers within our group could indulge without any offence to the non-smokers. Since smoking is much more highly restricted in South Korea than in some of Europe this was an especially well appreciated haven for them, though we all loved it and spent free time enjoying it. Although secluded (on a well-run and clean farm that produces oranges and blueberries) it was near enough to shopping to see all our needs catered for. If you don't have a car and want to take taxis then you would be advised to get a number from the host as, being secluded, taxis do not flow naturally through this region so booking is necessary. On Jejudo taxis can be booked for the day (10 or 11am ish for 7 hours) for about 120 Won (about £90) and they know all the tourist spots. If doing this it is commonly...
---
The first thing I will talk about is the view. Unbelievable!! We had Halla Mountain on one side and the ocean (although a long way off) on the other. The deck from which these views were enjoyed was huge. It is big enough for a picnic table or two and I was even able to enjoy a hammock up there that the hostess supplied. It was a great way to read a book. The room itself was big enough to accommodate all of us easily and even had room to spare. It was clean and warm and had everything we needed. I would really like to come back in the summer months when the blueberries are in season and ready for picking. The farm is huge and the hostess gave us a tour of the place (her daughter and son both spoke English but don't live there full time. We were lucky to catch them for an English tour of the farm). All the bushes were getting ready for the springtime so it wasn't as beautiful as it must be in August, but it was pretty cool all the same. The location is a bit out of the way if you are looking for the city life, but the bus stop is a 30-second walk down the road. There is lots to do in and around Jeoji. There is a green tea museum, car museum, aerospace museum, Jeoji Oreum (which offers more great views), art galleries, coffee shops and restaurant, Glass Castle and more (I know I am forgetting something). Hallim, with two BEAUTIFUL beaches, is very close as well. All in all, it was a very positive experience and I wouldn't hesitate to call on these folks again if I am coming to Jeju for a trip. Thank you for the great service.
---
생각보다 더 넓고 깨끗했습니다. 복층 구조로 3, 4층 전체를 이용할 수 있어서 소규모 MT용으로 활용해도 좋겠다는 생각이 들었어요. 3층에는 웬만한 주택 마당만큼 넓은 베란다가 있었는데, 그날따라 바람이 많이 불어서 바베큐 파티를 못한 게 아쉽네요. 바람 얘기가 나와서 말이지만, 바람이 정말 심했는데 창호 시공이 잘된건지 실내에서는 바람 소리가 전혀 안들려서 놀랐습니다. 전용 출입계단도 마음에 들었고요. 밤에 갔다가 아침에 나와서 낮 경치는 못봤지만, 시골의 소박한 야경도 운치있어 좋았습니다. 이번엔 가족들과 다녀왔는데, 팀원들 데리고 한 번 더 가고 싶은 곳입니다.
---
60개월동안 김밥싸고 노인시설 조리장으로9년근무함 여행을좋아하고 맡은일은 끝까지함 좌우명:처해있는곳에서 주인이되자
Taux de réponse :
100%
Délai de réponse :
Moins d'une heure
Découvrez d'autres options à Hangyeong-myeon, Cheju et dans ses environs
Plus de logements à Hangyeong-myeon, Cheju :