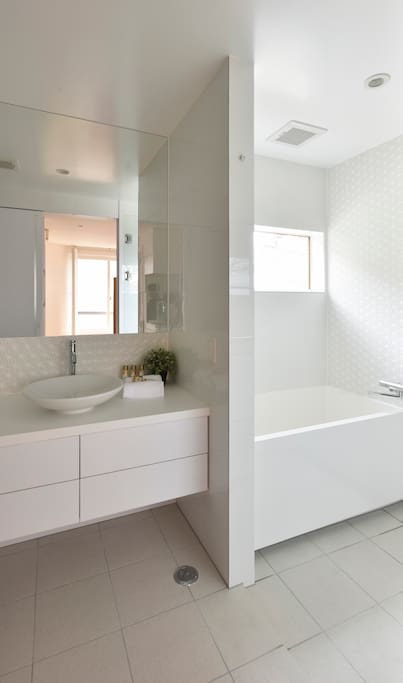 'Moto 2' is one of the exceptional, 5 star, Furano Lofts Apartments, Furano's best short-stay accommodation. Beautifully appointed and fully self-contained 'Moto 2' will ideally suit 2 adult guests (extra guests may be permitted; please enquire for details). This spacious property features a large living room with original fine art decorations, a separate, chic bathroom with deep-soak bath, walk-in shower, vanity area, and laundry space, and a luxurious bedroom with low-profile, queen-size bed.
Le logement
Our Furano Lofts property is uniquely located to provide our guests with easy 'year-round' access to all of the attractions of the Furano region, including its world famous ski fields and its spectacular flower farms. Our address is in Furano's ultra exclusive alpine neighbourhood of Shimogoryo, which was chosen for its incredible natural beauty to be the setting for the long running Japanese TV drama series, 'Kita no Kini Kara' ('From the North Counrty'). 'Moto 2' is ground floor located, with stunning views from our elevated position, over farmland and forest, and the Tokachi mountain range. These views are some of the best available anywhere in Furano. Furano Lofts' highly experienced and fully bi-lingual Guest Services Team is also onsite daily to ensure our guests maximise their holiday enjoyment and experience in Furano. Please note that a strict no-smoking policy applies to all Furano Lofts properties.
Accès des voyageurs
Private direct, card controlled access is provided to this fully self-contained apartment.
Échanges avec les voyageurs
Our on-site Guest Services Team can assist with arrangements and questions during your stay.
Autres remarques
Please contact us for approval if you would like to accommodate more than 2 guests in this property. Usually only infants and/or younger children are accepted in such circumstances but please message us and if necessary we will propose one of our other properties, similarly listed on Airbnb, if we think it may better suit your requirements. Please also note that we can sometimes accept stays for shorter than our minimum stay. Additional fees may apply to shorter stays and/or extra guests.
---
Parking gratuit sur place
---
Chambre 1
1 lit queen size
---
Ne convient pas aux animaux
Ne convient pas aux enfants (0-12 ans)
L'entrée dans les lieux se fait entre 15:00 et 18:00
By making a booking for Furano Lofts via AirBNB, you are entering an agreement with Flint Furano LLC ('Flint Furano'), managers of Furano Lofts. All references in this document to 'we', 'our' or to 'Furano Lofts' therefore refer to Flint Furano, its employees, agents and assigns. All references to 'you' or 'your' refer to the person named on the Booking Confirmation, as well as to all persons covered by this booking or that are accompanying you.
1. Booking Confirmation, Payment, Change, and Cancellation
1.1 Confirmation, payment, change, and cancellation shall be according to the conditions stated on AirBNB at the time of your booking.
1.2 The Total cost of your Booking specified on the Confirmation is determined by both the number and ages of the Guests noted on the Confirmation. Any change to the number of and/or the ages of Guests may change the Booking Total.
1.3 We reserve the unconditional right to cancel your accommodation at any time without prior notice in the event of conduct, which, at our absolute discretion causes, or is likely to cause damage, distress, danger, or annoyance to other guests, or to members of the general public in the vicinity of Furano Lofts, or damage to the property itself. In the event of such cancellation, our responsibility to you ceases and we will accept no liability for any loss or additional expenses that you may incur.

2. SERVICES
2.1 Furano Lofts is a self-catering style of accommodation. Cookware, kitchen utensils, crockery and cutlery are provided for the use of Guests during their stay and MUST REMAIN INSIDE THE ACCOMMODATION AT ALL TIMES. Removal of any item from the accommodation will be treated as a Discrepancy and Clause 6.3 below will be applied.
2.2 All included fixtures, fittings, equipment and other supplies, provided for the use of Guests whilst using the Accommodation is listed in the Accommodation Inventory displayed in each Furano Loft. This accommodation Inventory is checked at Check-In and must tally at Check-Out. Discrepancies will be charged to Guests.
2.3 The basis of charging Guests for each and every Discrepancy, is New Replacement Cost, plus an Inventory Re-Stocking Fee of a minimum of JPY20,000. Some inclusions in the Accommodation are imported, meaning that New Replacement Cost will include Shipping Costs and Customs Duties where applicable. Where items removed by a Guest are part of a pair or set, it may be necessary to replace the entire pair or set. If exact replacements are no longer available, items will be replaced with the closest possible alternative involving replacement of complete sets or pairs if required. You agree to the payment of all of the above costs and charges, if required.
2.4 Furano Lofts is located in an area of Furano where all properties are required to treat waste on-site via septic treatment systems prior to discharging only clear water into the City's drainage system. Guests agree to fully cooperate to ensure the continued efficient working of all waste treatment equipment by not flushing non-biodegradables in the toilets, and by not disposing of oils or cooking wastes down the kitchen sinks. Separate waste collection bins for non-biodegradables and kitchen wastes are provided in each apartment. Furano Lofts management will answer any questions you have in this regard. Fees and charges apply to non-compliance with these requirements, including call-out and/or repair costs to have blocked drains, toilets, or waste-processing equipment cleared of offending materials.
3. RESORT SERVICES

3.1 We will agree to assist you to arrange other services and products to be supplied during your stay (Resort Services), which may be attached to a Booking, including Lift Tickets, Airport Transfers, other Ground Transport, Ski Hire, Ski Lessons, Mountain Guiding, Activity Tours, Food Packages and others.
3.2 All Resort Services other than Complimentary Services provided by Furano Lofts must be paid for by you directly with the relevant Service Provider, whose own terms and conditions of Service shall apply.

3.3 Furano Lofts neither warrants nor guarantees the services contracted for directly by you or with its assistance, with any Service Providers and it is your responsibility to verify that all arrangements and services will meet your requirements.
3.4 Please verify that the terms of your travel or other insurance cover your use of/participation in the Services or Activities being contracted for by you.
3.5 Please advise us in writing as soon as possible and at least 21 days prior to Check-In of your flight or other transport details for both your arrival and departure from Furano/Hokkaido. Without this information being provided at the requested time, we may be unable to organize, confirm and/or deliver any Services you have requested.
3.6 Where relevant, full payment for Resort Services may be required prior to Check-In.
4. CANCELLATION OF RESORT SERVICES
4.1  A cancellation is any change to a Resort Service which is not an upgrade or an addition of a new Resort Service.
4.2  Where you cancel a Resort Service the following apply:
4.2.1. Cancellation prior to Check-In: 100% of the price of the Resort Service unless otherwise stated in the terms for that Resort Service, on our website, or on the Confirmation.
4.2.2. Any amount to be refunded from cancelled Resort Service will be held as a credit on your account with us to be applied to other services, or refunded in cash, during your stay.
4.2.3. Where a refund due cannot be made in cash during your stay that refund will be paid via bank transfer with associated Bank costs or charges payable by you.
4.2.3. A Resort Service Cancellation Fee of JPY10,000 is payable to Furano Lofts as service fee in every instance.
5. AMENDMENTS TO A RESORT SERVICE CONFIRMATION
5.1 An Amendment is any change to names or adding extra people to your Booking, upgrading or otherwise altering a Resort Service.
5.2 Amendments after Confirmation incur an administration fee of JPY10,000 per change. This charge does not apply to new Resort Services added to your Confirmation.
6. CHANGES TO TRAVEL DATES AND TIMES, UNUSED AND RESCHEDULED SERVICES
6.1 Where you do not use Resort Services that you have purchased and booked with us we cannot offer any refund in whole or part.
6.2 If your arrival or departure time or date changes due to delayed or cancelled flights or for any other reason, you will need to claim any loss or extra fees incurred from your travel insurer.
6.3 If your arrival or departure time or date changes due to delayed or cancelled flights or for any other reason, any Resort Service you have purchased may not be able to be rescheduled and you may have to repurchase services for the rescheduled time AND there may be delays in supplying a rescheduled service, or alternative service.
6.4 You must make all requests for changes in writing and where we are able to accommodate your requested change, our written Confirmation will be sent. Verbal instructions or confirmations cannot be accepted or honoured.
7. ACCOMMODATION, EXTRA PERSON CHARGE AND ADDITIONAL ITEMS
7.1 We reserve the right to substitute or upgrade accommodation with accommodation to a comparable standard and type (Standard of accommodation is as determined by us). If we are unable to provide accommodation of a comparable standard under the aforementioned circumstances, we shall refund the Deposit or full payment amount without any deduction and our liability to you is limited to this amount.
7.2 The Maximum Number of occupants for each Furano Loft cannot be exceeded unless by confirmed prior arrangement and an extra person fee of JPY10,000 per person per night applies to any Booking that allows more than the Standard number of people in the Accommodation. Extra Guests will be accommodated on Japanese futons, or a sofa bed as applicable and as confirmed in your Booking Confirmation.
7.3 Baby high chairs can be reserved subject to availability. Baby cots and safety equipment are not provided and separate arrangements need to be made by guests if these items are required.
7.4 We make no warranty or representation about the suitability of the accommodation for your personal circumstances. It is your responsibility to ensure that we have been made aware of any special needs requirements for your use of the property and it is at our discretion to confirm or deny our ability to meet those requirements. Any and all costs that may be incurred as a result of you not being able to use, or being denied the use of the property for reasons that shall be at our absolute discretion to determine, are your responsibility.
7.5 Furano Lofts includes accommodation with stairs, which may be regarded as being steep. You must satisfy yourself prior to confirming your booking that the accommodation will be suitable for you.
7.6 Children must be supervised at all times, particularly when using stairs and bathrooms and in the kitchens. You are responsible for ensuring the safety and wellbeing of children. Stair barriers and other child protection equipment is not provided.
8. SECURITY DEPOSIT, AND DAMAGE TO PROPERTY, FIXTURES AND FITTINGS
8.1 You accept responsibility for damage to the Accommodation or common areas, fittings, furniture, keys and other chattels caused during your occupation, including any consequential losses incurred. A minimum Repair Charge of ¥50,000 applies.
8.2 A valid Credit Card pre-authorisation for the minimum Repair Charge is required as a Security Deposit at Check-In and you authorise us to charge all actual fees and charges properly chargeable under this agreement to that Credit Card. In lieu of a pre-authorised credit card, a Cash Deposit of JPY50,000 per Loft will be required at Check-In. This Cash Deposit will be returned in Japanese Yen at Check-Out providing the conditions of this agreement have been fulfilled.

8.3 Guests must not wear shoes inside the Accommodation and must take all reasonable precautions to avoid damage to flooring and other surfaces, including damage that may be caused by suitcases, suitcase wheels and by other personal effects. Damage to wooden floors and to other floors, particularly tatami, and to other surfaces is easily caused if Guests do not observe this rule. The full cost of repair of any damage to the flooring and/or other surfaces caused during your stay will be charged to you. There is a minimum Repair Charge of JPY50,000 in all circumstances. Please understand that in the larger Furano Lofts, the cost of repairing damaged flooring can exceed JPY2 million. The cost of repairing wallpaper is also increased by the open design of all Furano Lofts properties that may require entire wall and/or ceiling surfaces to be recovered in the event of damage being caused. Ski and snowboard and other equipment of any kind cannot be brought inside the Accommodation under any circumstances. Storage facilities are provided for skis and snowboards only. You must confirm with us prior to paying your Accommodation Deposit in the event of any other special arrangements being required.
8.5 All Guests and their invitees, all personal possessions, including lift passes and equipment, and motor vehicles or other transport equipment such as bikes are at your own risk during your stay.
8.6 Guests must always use the kitchen extraction fan when cooking, and may not bring strong smelling foodstuffs into the Accommodation, or prepare or consume such foodstuffs on the premises. This includes foodstuffs such as 'sambal belacan', or other pungent foods, including excessive use of seasonings. Guests are not permitted to use essential oils and other products with strong aromas during their stay due to the lasting nature of these fragrances etc that may be offensive or cause allergic reactions to other guests. Guests who ignore this rule may be required to pay additional cleaning costs AND costs incurred in compensating later Guests who are affected by the smell of the offending foodstuff or other product, as well as the Owner of the Accommodation for Bookings that need to be relocated or rearranged. The minimum charge in these circumstances is JPY30,000 but higher costs may be applied at Furano Lofts' sole discretion.
9. CHECK-IN/OUT
9.1 Reserved Accommodation is usually available for occupation from 3pm on the day of Check-In, however, in the case where you inform us of a later arrival time between 3PM and 6PM, the Accommodation may be prepared just prior to that time. Therefore please ensure that you provide up to date arrival times for all Guests staying in the Accommodation.
9.2 All Check-ins must be completed by 6pm on the day of arrival. Check-in times later than 6PM are strictly subject to availability and if available, must be requested at least 7 days prior to Guest's planned Check-in date. A late Check-in charge of JPY5,000 per hour or part thereof applies to all Check-ins that take place past our 6PM Check-in deadline. Where Late Check-ins are not available on the date of planned Check-in, Guests may Check-in from 8am the following day.
9.3 The Accommodation must be vacated by 10am on Check-Out day.
9.4 Where the Accommodation is not vacated by the Check-Out time on the Check-Out day, a minimum charge of JPY15,000 for each hour or part thereof that the Accommodation is occupied past the Check-Out time will be charged to you and you agree to pay such amounts.

9.5 We reserve the right to enforce vacation of the Accommodation any time after the Check-Out time.
9.6 The Security Deposit will be required at Check-In and you cannot Check-In to any Furano Loft until we have received your Security Deposit.
9.6. Japanese Law requires that we obtain and keep a record of the full names, nationalities, identity document numbers and home addresses of ALL Guests. You agree to provide these details no later than at Check-In. Your Check-In will not be able to be completed without these details being provided.
9.7 Luggage storage arrangements will be made to assist you on the Check-In date, prior to the Check-In time and on the day of Check-Out. No overnight storage can be accepted and charges may be applied to luggage storage arrangements.

10. HOUSEKEEPING
10.1 The Accommodation will be clean and tidy on check-in, beds will be made with fresh linen and bath towels will be supplied for use ONLY in the accommodation.
10.2 At Check-In complimentary tea, coffee, sugar, body soap, hand soap, shampoo, dishwasher powder, tissues and cleaning products will be provided.
10.3 Any complimentary services to be provided by Furano Lofts will be shown on the Booking Confirmation.
10.4 Housekeeping during the stay is as follows:
10.4.1. Daily: tidying, amenities restocked, beds made, surfaces wiped.
10.4.2. Mid stay: fresh linen and towels for stays of 6 nights or longer.
10.5 Additional Housekeeping Services will be provided subject to availability, or requirement as determined by Furano Lofts, and additional charges may apply. The prevailing charges for additional Housekeeping Services can be obtained from the Management.
10.6 Some accommodation can be set up with twin single beds or double/king beds. Your required bed configuration must be nominated at the time of Booking and cannot be altered after arrival.
11. PETS
11.1 No pets or animals are allowed in or at Furano Lofts, either inside, outside or in vehicles.
12. PARKING
12.1 The availability of on-site parking may be restricted and if required, must be requested and confirmed by us in writing as being available. Charges may apply and public parking may not be located nearby.
12.2 Parking on the street is illegal in Japan and your car may be towed at your expense if it is left unattended in such locations.
12.3 If you bring a vehicle you agree to move it if you are reasonably requested to do so, so as to permit snow clearing of the area in winter, or for any other reason at our sole discretion.
13. FURANO LOFTS IS A NO SMOKING FACILITY
13.1 The Accommodation is strictly non-smoking and all Common Areas are also strictly non-smoking. This rule similarly applies to the smoking of electronic cigarettes or similar devices. If Guests or their Invitees smoke in the accommodation, including on balconies or outside of windows, and continue to smoke after being requested to stop, we may evict the Guest and/or Group or any individual from the Accommodation without any refund.
13.2 Guests who wish to smoke may only do so in the area of the grounds that is specifically designated for smoking, and must carefully dispose of cigarette/tobacco waste and related packaging in the designated receptacles. Smoking waste materials must not be brought back inside the accommodation.

13.3 If a Guest or their Invitee/s has smoked in any area at Furano Lofts where smoking is not permitted, additional cleaning costs AND costs incurred in compensating later Guests who are affected by the smell of smoking, as well as the Owner of the Accommodation for Bookings that need to be relocated or rearranged, will be the responsibility of the Guest. The minimum charge in these circumstances is JPY30,000 but higher costs may be applied at Furano Lofts sole discretion.

14. TRAVEL INSURANCE AND LIABILITY
14.1 Furano Lofts operates wholly in Japan and the Laws of Japan apply to all services provided.
 
14.2 Subject to Japanese Law Furano Lofts, its agents and principals are not liable for any loss, damage, delay, consequential loss, injury or death resulting from any act, alteration or omission by the Manager or Owner of the Accommodation, our agents or principals, any third party, act of god or other circumstances.
14.3 We expect Guests to protect themselves with appropriate Travel Insurance, which they should arrange when making their Deposit payment. We strongly advise Guests to insure themselves against all risks of travel, and their activities, including the possibility of having to cancel or curtail a holiday or alter travel dates for whatever reason.
14.4 The safekeeping of your personal items is your responsibility.
PLEASE ENSURE THAT OUR PRECEDING TERMS AND CONDITIONS OF STAY ARE READ AND FULLY UNDERSTOOD BY ALL GUESTS.
YOU AND/OR YOUR GUESTS FULLY ACCEPT THESE TERMS AND CONDITIONS WHEN PAYMENT FOR ACCOMMODATION IS MADE TO US.
---
---
Séjour de 2 nuits minimum.
À partir du 10 décembre 2017 - 25 mars 2018, la durée minimum de séjour est de 5 nuits.
---
The apartment was clean, cozy and beautiful. We have everything we need from the apartment. The location was quiet but yet near the bus stop. The officers were very nice and helpful. They gave us ride from and to the station. We spent a great time in Furano. If I come back to Furano again, I will definitely choose staying at Furano Lofts again.
---
Flint Furano is owner, developer and manager of the exceptional 'Furano Lofts' holiday apartments - a beautifully detailed, contemporary accommodation development of just 6 self contained, 1 & 2 bedroom luxury apartments and a unique, 3 bedroom, luxury alpine residence, 'Chalet at Furano Lofts'. Situated in the Furano ski village's most exclusive, alpine residential neighbourhood, our peaceful and dramatically picturesque location is bordered by forest, parkland, farmland and Furano's famous 'Kitanomine' ski hill. Our guests can enjoy some of the best views of the 'Tokachi Peaks' mountain range, as well as of Mt. Asahidake, Hokkaido's tallest mountain. We are also located within easy reach of Furano's many and varied restaurants and cafes. Furano's most famous patisserie/cafe, 'Furano Delice' is just 1 minute away, and also just nearby is Furano's best French-style bistro, Furano Bistro Le Chemin. A 7 Eleven Convenience Store is 5 minutes from Furano Lofts, and the larger supermarkets and other shops of Furano are only 5 or 6 minutes further away. We operate an on-site Guest Services Office from 8am - 6pm daily and this is staffed by our bi-lingual Guest Services Team who will be pleased to assist you both prior to and during your stay. Our staff are experts in 'all things Furano', and will be pleased to provide you with the benefit of their deep and varied knowledge of Furano and the surrounding region. In winter, we operate our own private guest transport service to the ski lifts for the benefit of guests who prefer not to walk the short distance involved. Since its opening in December 2016, Flint Furano has been successful in establishing Furano Lofts as the new benchmark of accommodation and service excellence in Furano. We look forward to welcoming you to Furano Lofts and to providing you with our signature, Flint Furano/Furano Lofts '5 star' holiday experience! See you soon in Furano!
Langues :
English, Français, 日本語
Taux de réponse :
100%
Délai de réponse :
Quelques heures
Découvrez d'autres options à Furano et dans ses environs
Plus de logements à Furano :