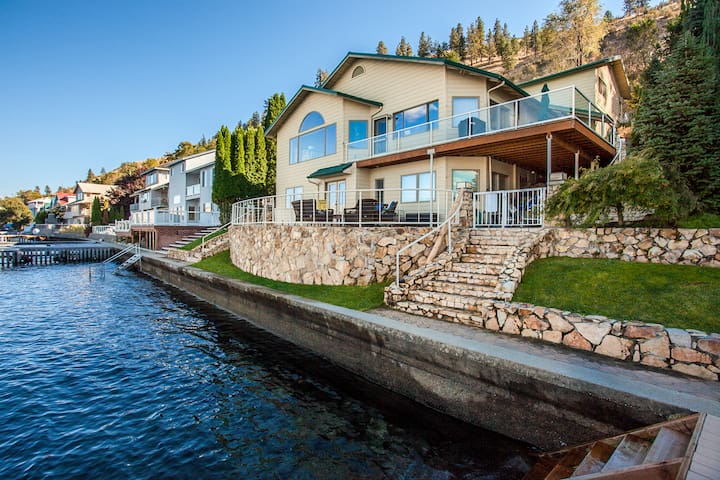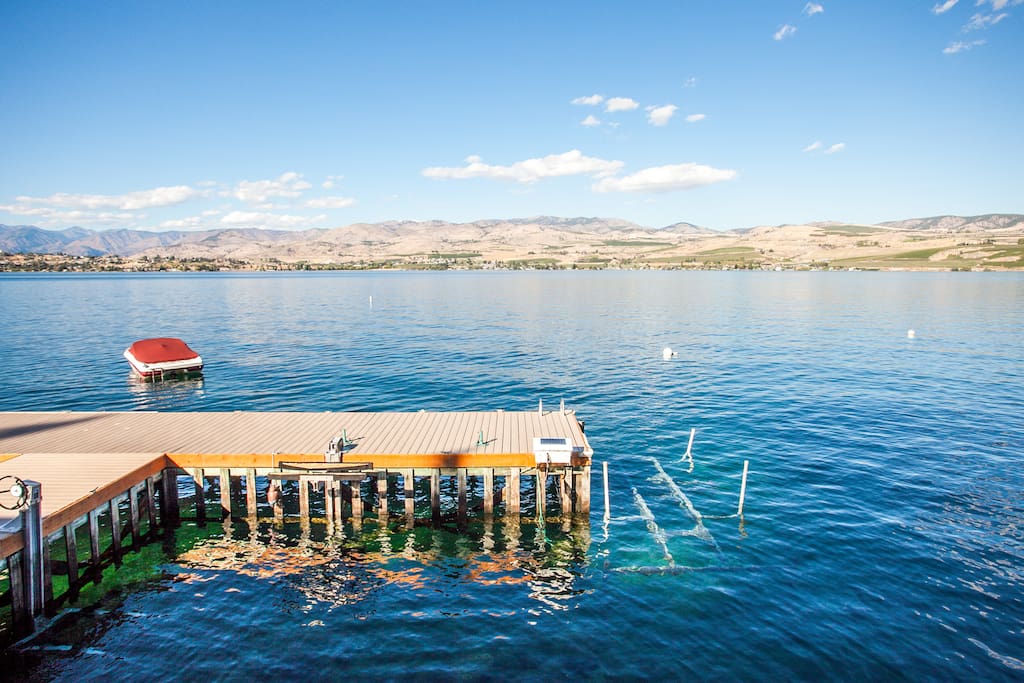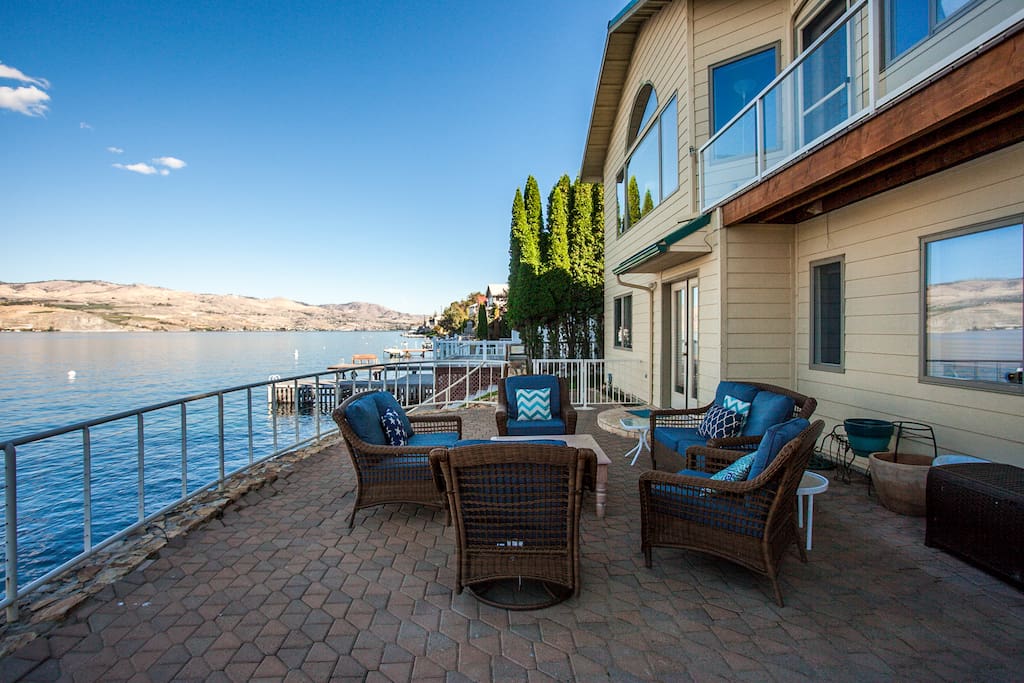 You'll love my place because of The Silva House is a Lakefront with access to a shared dock with boat lift. Sitting directly on the lakefront, this home is six miles to the west of downtown Chelan..
Le logement
With three bedrooms, there's room for up to 10 guests (no more than six adults, please). The master bedroom, located on the main level, has a luxurious king bed and an en suite bathroom. Downstairs, two more bedrooms have a queen in one room and a set of twin bunk beds and a twin-over-full bunk bed, as well as a trundle. There's also a sofabed for additional sleeping space.
Breathe in the fresh lake air on the large open deck or take in the view by the warmth of the fireplace with the large open windows overlooking the blue expanse of Lake Chelan.
There's plenty of space to create a culinary masterpiece in the well-stocked kitchen perfect for your next family gathering. Outside, there's a gas grill in case you want to grill fish caught in the lake.
There's plenty to do outdoors in Chelan. Visit Lake Chelan State Park, three miles west. The popular Lady of the Lake ferry is five miles east. Rent a jetski, swim in the lake, or take a ferry trip to Stehekin. Visit the Evening Farmer's Market to purchase delicious local produce to prepare and find souvenirs, then attend a film at the historic Ruby Theatre.
Chelan is famous for its wine tasting and this house features six wineries within a mile and a half of the home. There's plenty of first class local wine experiences to take in with friends and family!
Chambre 2
1 lit queen size
Chambre 3
2 lits superposés
Ne convient pas aux animaux
L'entrée dans les lieux se fait à partir de 17:00
Vacation Rental Agreement
SHORT-TERM LEASE AGREEMENT
THIS SHORT TERM LEASE AGREEMENT ("Lease") is entered into by the individual or individuals who have agreed to be bound hereby ("Resident") and Sage Rentals, LLC ("Agent") as manager for the owner ("Landlord") of the premises ("Premises") being leased by the Resident. It is expressly acknowledged and agreed by the parties hereto that the Premises are being leased on a short-term basis as a vacation rental and that it is not the intent of any Party that the occupancy of the Premises be subject to the requirements of RCW 59.18 et. seq. This Lease is on the following terms and conditions:
LEASE OF PREMISES. Landlord agrees to lease the Premises to Resident for the term specified above and on the terms and conditions set forth herein. For the purpose of this Lease, "Premises" shall mean the entire premises rented to Resident, including any garage space or storage unit. However, the Premises does not include locked cabinets, closets, storage areas, or mechanical rooms to which access may be prohibited to preserve Landlord privacy or to ensure Resident safety. Resident warrants that he or she will be present in the Premises during the leased period and is not entering into this Agreement on behalf of another party.
BOOKING FORM. The terms of the booking form, which may come in the form of a confirmation email from Agent, including without limitation the rental period, the rental price and the number of allowed guest, is hereby incorporated into this Agreement ("Booking Form").
CLEANING. Resident shall pre-pay a non-refundable cleaning fee as specified on the Booking Form. Any extraordinary cleaning expenses due to carpet stains, spills, and excessive dirt shall be charged directly to Resident's credit card on file. Cleaning services are not provided during the reservation period.
CHECK-OUT. Upon check-out, Resident shall comply with the following:
Resident shall return to Landlord/Agent any keys provided during the tenancy. If keys are not returned, Resident's credit card on file shall be charged $50.00 per missing key.
Resident shall replace any lost or missing items of furnishings or equipment, including personal property that the Landlord may deem necessary. If an item cannot be reasonably replaced, Resident shall be charged an amount equal to the lost or missing item.
Resident shall have complied with all the provisions of this Lease and such other policies and procedures as the Landlord may deem necessary and as disclosed to Resident prior to the rental period.
Landlord or Agent shall have the right to proceed against Resident to recover sums (exceeding the policy limits of the Vacation Rental Damage Protection, if any, or denied by the Vacation Rental Damage Protection policy) for cleaning, painting or repairs to the Premises or replacement of lost or missing items for which Resident is responsible, together with any reasonable attorney`s fees as provided herein and/or by law.
EVICTION. Resident and its guests agree to adhere to local laws, rules and regulations, to not disturb the peace, keep the Premises in a clean and sanitary condition, and will comply with the no smoking and no pets rule. Resident and its guests are subject to immediate eviction and removal from the Premises for any of the following reasons: (1) Smoking anywhere inside Premises or on concrete terrace attached to Premises; (2) Pets anywhere on the Premises; (3) Number of occupants exceeds the number of contracted guests; (4) Complaints of noise, loud music, foul language, or otherwise disturbing of the peace. The entire amount of rent and Damage Deposit will be forfeited for violation of any of the forgoing reasons, regardless of whether Resident is evicted.
QUIET HOURS. Resident shall be fined $100 for each "after hours call-out" for violation of quiet time between the hours of 10pm and 8am.Quiet time is 10pm-8am and complaints of noise, foul language, or law enforcement response may be cause for immediate eviction from Premises. The entire amount of the DDamage Deposit will be forfeited if law enforcement is summoned to Premises by neighboring property owners for any reason, including but not limited to complaints of noise or foul language, regardless of whether Resident is evicted.
WEATHER CONDITIONS AND NATURAL DISASTERS. Resident acknowledges that Agent and Landlord are not responsible for weather conditions or natural disasters, including wildfires, and/or atmospheric smoke conditions ("Natural Occurrences"). Resident acknowledges and understands that Central Washington could be subject to periodic wildfires during any season and no refunds will be issued by Agent or Landlord due to atmospheric smoke, smog, or any other condition caused by a Natural Occurrence. In the case that a Natural Occurrence interferes with Resident's use of the Premises and Resident has not timely cancelled pursuant to Paragraph 11 above, Resident is not entitled to a refund in any amount and Agent has no duty or obligation to Resident to produce, find or offer a replacement rental.
USE. Resident agrees that the Premises are to be used and occupied by Resident as a private dwelling and for no other purpose. Any adult residing in the Premises must be named as a "Resident" and, unless otherwise allowed by applicable law, the total number of adults and children residing in the Premises shall not exceed that set forth above. In the event there is a change in occupancy, the application process and approval from landlord is required in advance. The Premises may be subject to restrictions on the number of vehicles, size of vehicles, and specific parking locations that may be used by Resident. Parking rules for the Premises will be shared with Resident in writing prior to occupancy and Resident must request permission for any exceptions in writing from Agent prior to arrival. Notwithstanding any specific additional restriction discussed herein, no more than 1 vehicle may be parked overnight for each 4 Residents and if the Resident continues to violate the maximum number of vehicles, the Resident's credit card on file shall be charged $50 per day per vehicle.
PARTIES. No parties, receptions, large gatherings, weddings, or similar events are permitted without prior written authorization from Agent. The total number of all adults and children visiting the Premises shall not exceed the advertised occupancy limit for that Premises and no guests may remain past 12:00 midnight or arrive earlier than 6:00 am who are not registered overnight guests. If the Resident violates the maximum number of guests, the Resident is subject to immediate eviction and/or the Resident's credit card on file shall be immediately charged $200.00 per night, per person for each individual exceeding the advertised capacity, at the sole discretion of the Agent.
LIABILITY.
Resident agrees that all personal property in the Premises shall be at the risk of Resident except as provided by Washington State Law. Landlord and Agent shall not be liable in any manner for loss due to theft or damage sustained by fire or water, how so ever caused, or by any other cause to Resident's personal property.
Resident shall be responsible for the cost of repairing the Premises and/or any property that is damaged during Resident`s occupancy of the Premises, ordinary wear and tear excepted. Resident affirms that Resident has an active homeowners or renters insurance policy and shall furnish a valid copy of insurance to the Agent upon request. Resident is not liable for damage that occurs due to a Natural Occurrence or similar disaster event.
Except as provided by Washington State Law, Landlord and Agent shall not be liable for claims, demands, causes of action, judgments, attorney`s fees, costs and expenses arising from or connected with Resident use or occupancy of the Premises or that Premises adjacent thereto, nor claims, demands, causes of action, judgments, attorney`s fees, costs and expenses for property damage, bodily injuries or death suffered or caused in or about said Premises or the premises adjacent thereto, resulting directly or indirectly from the acts or neglect of Resident.
PETS. Pets and animals of any kind are not allowed on the Premises, with the exception of Service animals, unless approved in writing by the Agent with an additional Pet Fee, to be assessed on a per-night and per-pet basis. The amount of any Pet Fee shall be determined based on the unit rented and the type or breed of the pet. Pet Fee charges shall be considered Rent, subject to Washington State sales and lodging taxes. If a pet is on the Premises at any time during the lease without prior written permission and payment of Pet Fees, Resident may be evicted and/or Resident's credit card on file shall be immediately charged $500.00 per pet, at the sole discretion of the Agent.
NO SMOKING, FIRES, OR FIREWORKS. No smoking is allowed in this home. No fires are allowed unless in designated fire pits during times of low fire risk when there is no burn ban in effect. No fireworks are allowed on the Premises at any time. Resident is entirely liable for any costs associated with fire suppression efforts caused by violation of this term of the Lease.
ATTORNEY`S FEES. Resident agrees to pay all costs, expenses and attorney`s fees, as allowed by law, expended or incurred by Landlord or Agent by reason of any default or breach by Resident of any of the terms of this Lease.
VENUE. Resident agrees that any legal filings or proceedings shall be conducted in Chelan County, Washington State
Aucun commentaire (pour l'instant)
We love Lake Chelan and all the beauty it has to offer! 300 days of sunshine! Tons of things to do in all seasons. Beautiful wineries and breweries for wine/beer tasting and tours.
Taux de réponse :
100%
Délai de réponse :
Dans la journée
Découvrez d'autres options à Chelan et dans ses environs
Plus de logements à Chelan :