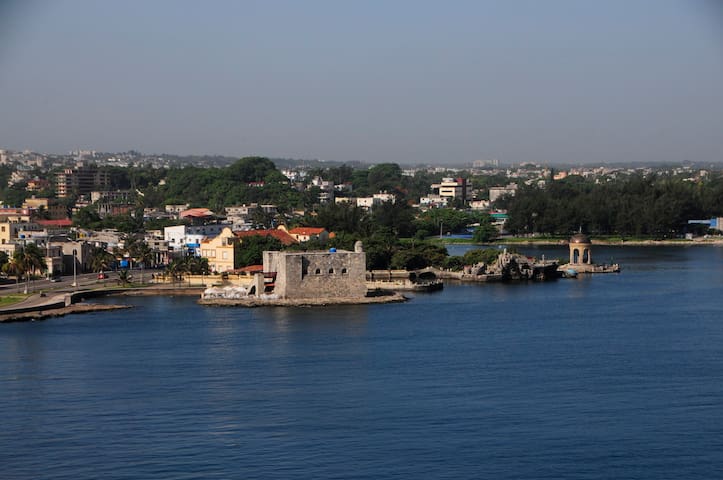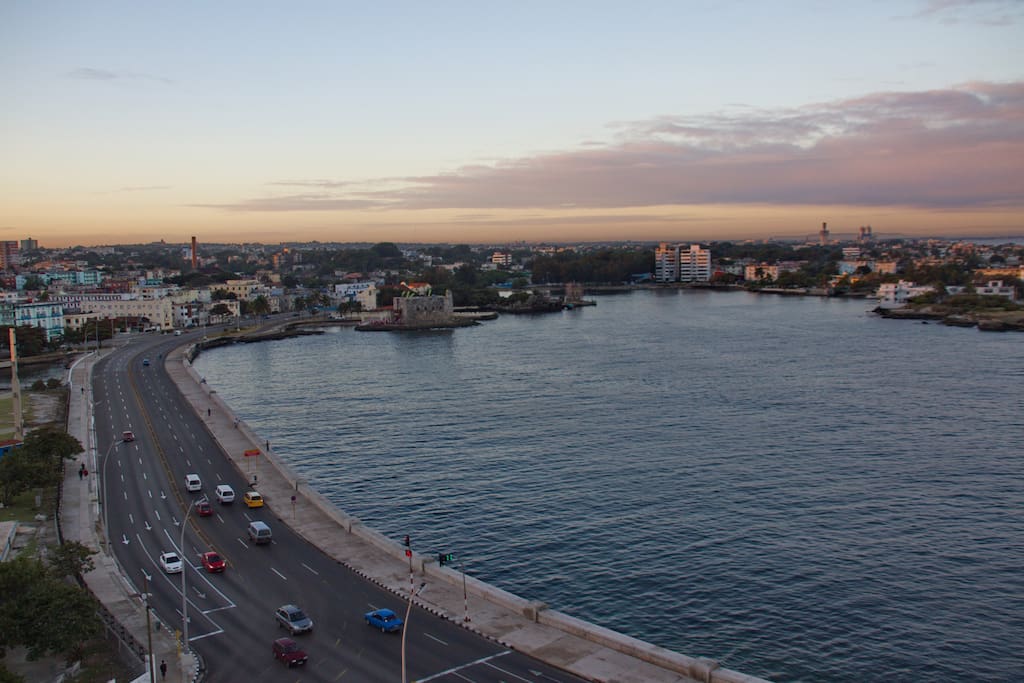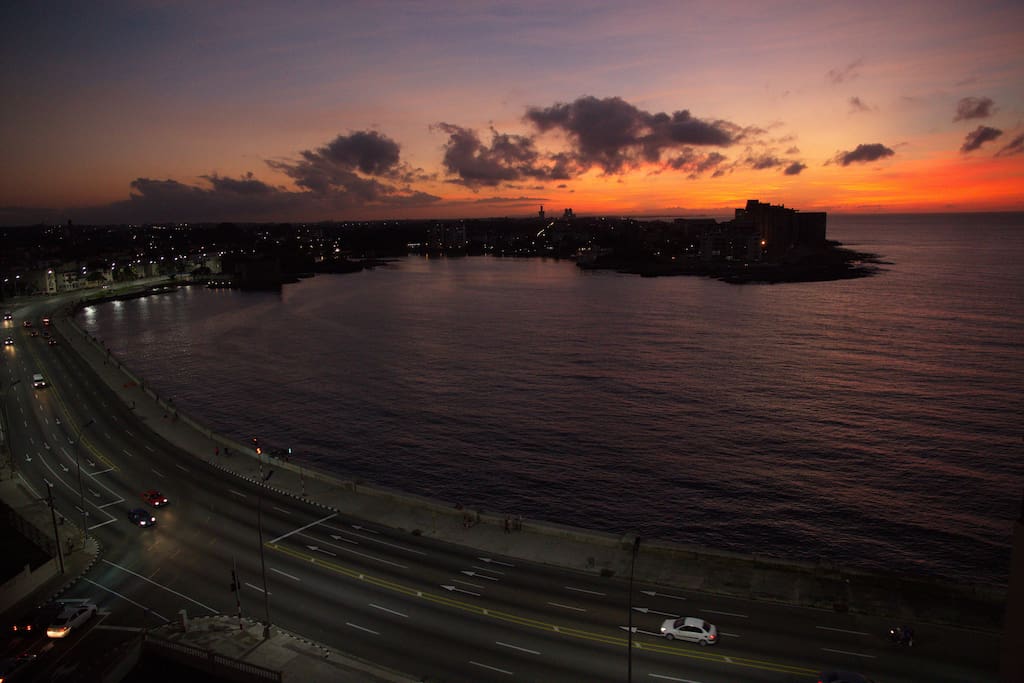 Maison Cecil avec vue panoramique mer et ville
Mon logement est bon pour les couples, les voyageurs d'affaires et les familles. Aussi pour les amis qui voyagent ensemble et pour les personnes qui voyagent seuls et ils veulent connaître la ville et le pays, pour chaque touriste. L'ajustement est décoré simplement mais avec goût et plantes naturelles comme l'ornementation. Il a des espaces pour le café avec des fenêtres qui fournissent l'océan et la ville. Tout est spacieux, lumineux et frais. Il a toutes les commodités.
---
Chambre 2
1 lit king size, 1 lit simple
---
Arrivée : À partir de 14:00
Type de logement : Logement entier
---
---
Se admite visitas hasta las 23:00 Pm, pero no se admite que otras personas a las incluidas en la reserva, pernócten en la vivienda. De ser necesario, el huésped deberá consultar previamente sobre la posibilidad de ello
---
Modérées
Si vous annulez jusqu'à 5 jours avant le voyage, vous recevez un remboursement intégral. En cas d'annulation au cours des 5 jours précédant le voyage, la première nuit est non remboursable, mais vous recevrez un remboursement à hauteur de 50 % du coût des nuits restantes.
---
---
Séjour de 2 nuits minimum
---
Excellent place to stay; great location, near great paladares and old Habana. Cecilia and family are excellent hosts, they do everything in their hands to keep you as comfortable as possible. The apartement has superb views to the city and malecon; and is completly equipped with everything. The breakfast made by Cecilia is highly recommended and exquisite. I hope Cecilia's apartment is available in my next visit to Cuba.
Estimado Amaury, muchísimas gracias por tus palabras y valoraciones. por mi parte te doy igualmente las gracias por haber elegido casa cecil para tu estancias, gracias por haber sido unos huéspedes tan amables, educados, agradables y alegres. Gracia por ser una familia tan bonita y espero haber podido satisfacer todas sus necedidades, haberles grantizado,confort, tranquilidad y el bienestar que se merecen. Si quiere Dios que vuelvan a cuba, me gustaría tenerlos nuevamente como mis huéspedes. Un abrazo para toda la familia y gracias por el mensaje-respuesta que me enviaste desde Puerto Rico. Cecilia
---
About the Place: Cecilia's place was gorgeous. The pictures don't do the place justice. There are views of Malecon, Vedado, and Havana from the height of her flat. The open living space which has a sitting area and dining area has two opposite views. The bedroom to the right has the third view. Both bedrooms are spacious with plenty of closet space. The bathroom was also spacious and clean with good water pressure. There was only window unit air conditioning in the bedrooms, but this is normal for Cuba. Finally, there was a kitchen with a fridge and microwave. About the Amenities and Services: Cecilia provided breakfast for us throughout our stay at 6cuc a day. She provided sliced fruit, egg, pork, toast, pancakes, and mixed vegetables as well as jelly, syrup, coffee, and juice. Water like most places was 1cuc a bottle. She also provided us with 1 hour wifi cards for 2cuc each. Cecil also provided us with a taxi service to the airport after our stay for 30cuc. Malecon is only one block away. Old Havana is about 5 to 8 minutes away. There is a gas station right across the street and a restaurant next door. If you walk three blocks up from Malecon to the main street, you can hail a taxi. Personal Opinions: Cecilia was a very kind host. Her place was above my expectations in regard to comfort, beauty, location, and amenities in exchange for the cost. I would stay here again. If you know little Spanish, I would suggest you download an offline translator prior to arriving in Cuba as Cecilia speaks little English and you may need to communicate with her upon arrival. If you are interested in saving a couple extra dollars, I would suggest buying your own water from the store where you can get a much larger bottle for only .45 cuc. That would require you to find a store, however. I would also suggest buying a calling card from a hotel or from an Ectecsa so that you can get a 5 hour card for $5. Finally, we met up with a friend in Matanzas, who then came with us to Havana to ensure our safety and guide us around, since we spoke little Spanish. We were not expecting him to need to stay with us at all in Havana but it turned out that on a couple nights he had nowhere else to go. In America, our attitude about things like this are very lax and fly-by-night. However, in Cuba is much more strict in terms of accountability. I would just add another guest to the booking if you are planning to have someone YOU KNOW be with you at any point during your stay.
Hello Chemmy, as I already expressed in the message I sent you in the positive evaluation I made regarding you and your group, thank you very much for choosing Casa Cecil to spend your stay in Havana, thank you for your kindness and I reiterate my readiness to receive them whenever they wish to return, with all the kindness and dedication that characterizes me, to my guests. Regarding your evaluation, so detailed, and your message, thanks also for your words of praise to the apartment and myself. This encourages me to be a better host every day and offer an excellent service. I wanted anyway to make some precisions regarding some of the aspects that you touch in your comments. For example: First, when guests ask me for breakfast, I usually offer, as well reflected in your words, in addition to fruits, juices, vegetables, toast and so on, ham and cheese, if this is not possible , I offer another type of protein and in the case of you, I offered Chicken Breast, not pork, I make this reservation because as I know, that many guests do not eat pork, it is a protein, which I never offer. Secondly, because in Cuba there is so much heat and to make it easier for guests that when they get home, they have a liquid to refresh, I put at your disposal in the refrigerator, some bottles of water, which of course is not compulsory to consume. This is intended for the guest who wants to avoid going to the supermarket and loading water to the house. Regarding the cards of Wifi, it is the same principle, it is optional, the cards that I put at your disposal, only prevents the guest to make the row in the estanquillo to obtain them. The cards of the Hotels, only work in the hotels, which I put at your disposal are usable in any free space in which there is connection, and of course they are usable in the apartment, from where you can access the internet through the wifi . Regarding the air conditioners, I would really have thanked them, they would have commented on me, here the subject and we would have seen it as a whole. Anyway, I can tell you that personally, we have tested the operation of the same and we have concluded that they work and cool perfectly. On the other hand, so far no guests, nor the hottest ones, have expressed anything about it and even asked the most recent guests and they have commented, they cool perfectly. I think that maybe, it may be the case, that they have not manipulated the air correctly. However, new airs are already purchased to replace existing ones. Finally, regarding your friend, who accompanied them during the stay, I certainly talked to you and explained, using even the (SENSITIVE CONTENTS HIDDEN) translator, that it was a rule not to allow visitors to stay in the apartment, among other things, for reasons security for own guests. Nonetheless, and exceptionally, I allowed the gentleman to stay with you for three nights, of the four that lasted the reservation, without additional charge, attending precisely to the request of the gentleman and understanding the situation of you and your group, since I understood who felt the commitment and duty to offer the young man who accompanied them from slaughter an alternative to have somewhere to sleep. I was always respectful and kind to the gentleman and tried at all times to be able to solve the situation and I hope, that they have perceived it. Chemmy, my goal is to give the best service and make my guests feel at home, for this I work constantly and I sincerely hope that you have felt good, comfortable, comfortable and safe. They were very nice and friendly guests and for that reason I hope to be able to have them here again. A hug, Cecilia
---
El Angel de la Havanna: Cecilia hilft in allen Dingen, die Wohnung ist für Kuba außerordentlich gut ausgestattet, es ist alles vorhanden. Es gibt ein tolles Frühstück und mit Cecilia kann man toll Pläne schmieden. Sie ersetzt leicht ein Reisebüro. Von meinen Kindern beauftragt, soll ich sagen, dass das Internet in Kuba pro Stunde kostet und über Mobilfunk läuft. Da reicht die Bandbreite nicht für Insta oder (SENSITIVE CONTENTS HIDDEN). Ansonsten geht internet gut. Meine Alternative, Postkarten zu senden, wurde nicht wohlwollend aufgenommen. Die Lage der Wohnung ist zunächst perfekt. Grandiose Aussicht nach beiden Seiten auf das Meer und die Stadt. Theoretisch fußläufig zu allen Sehenswürdigkeiten, aber es ist doch weiter und man sollte Taxis einplanen, zudem ist Havanna sehr ärmlich, fast überall... Insgesamt eine 1000 prozentige Empfehlung für die Wohnung, nicht weiterschauen, buchen!
---
Cecilia's place is absolutely gorgeous. It is much bigger than the pictures make it seem and it has breathtaking views of the Malecon and the water. Cecilia is so incredibly nice and is right near by in case you need anything at all. She even arranged a driver who spoke English for us and rides all over Cuba, even though we were in other Airbnbs for a week before arriving at hers. Her driver met us at the airport, took us to our first Airbnb on the island, then drove us 4 hours south to our second Airbnb, and then picked us up and drove us another 4 hours to Cecilia's, as well as giving us rides around town and getting us back to the airport for our final departure. Her home is located right off the of the Malecon in Vedado and is again, incredibly clean, gorgeous and safe. We will stay here again and highly recommend it to anyone visiting Vedado, you should stay here.
---
Cecilia's house is spacious and in impeccable order. The views are excellent. There is a daily clean. Cecilia is on hand at all times to assist with any concerns. Breakfast and internet cards are provided at a cost. Allow 10 CUC for a taxi trip to town.
---
My friends and I loved our time at Casa de Cecilia. I was in regular contact prior to our trip and Cecilia responded in a timely manner (often right away). Beginning with coordinating a ride from the airport to setting up transportation for day trips- it was great before we even arrived. Cecilia lives in the same suite, so it was really nice having her close by and made us feel at ease. Cecilia checked in on us everyday and was really helpful to coordinate any needed services like taxi transfer to the clinic, give an honest suggestion on transportation or places to go (i.e.: taking the bus to the beach may be overwhelming because it's peak vacation season, so you should take a taxi). The entire apartment was cleaned daily and she offered to change the bath towels and bed linens everyday if we wanted. There was also the option to have breakfast every day (6 CUC) and Cecilia provided many options of what we could have. All of the pictures of the apartment are what you will find- just more beautiful in person. The location of Casa de Cecilia was perfect. We were one block in from El Malecon and about 10 minute drive to Habana Vieja. There were more than enough restaurants in walking distance, as well as a little grocery store and panaderia. The views from the apartment of El Malecon and the neighborhood were beautiful. If you look closely, you can even see the Marti memorial at the Plaza de la Revolucion in the distance.
Querida Natalie y demás muchacjas, gracias por haber elegido mi apto para pasar sus vacaciones. Gracias por sus lindas palabras y por la amabilidad, el respeto y la buena comunicación que sostuvieron durante su estancia. Doy gracias a Dios y AirBnb por los buenos huéspedes, que como ustedes, me han visitado hasta la fecha. Espero que puedan regresar a Cuba y que si asi fuese, pués decidan nuevamente tomar como hospedaje Casa Cecil. Un abrazo, cecilia
---
ABSOLUTELY AMAZING!!!!!! (I say this with hesitation because I want to keep this location all to my self and not share Cecilia with anyone else, but every one should be so lucky to book a stay at this house) Everything was more than my 2 friend and I expected. The views, the atmosphere of the apartment, the breakfast that Cecilia cooked for us ($6 cuc per person for more food than the three of us could eat....and it was soooooo goooood!), all the private trips that Cecilia arranged for us for a very affordable price! It's a 2 minute walk to La Melacon, there is a super affordable restaurant at the base of her building, where you can eat for less than $5 cuc. Old Havana is only about 10 minutes away in a cab. She owns the entire 11th floor of the building we stayed in so we had a lot of views of La Habana! The place was cleaned every day, she had cold water and beer in the fridge for us (which we had to pay per bottle, super cheap though), beds were huge, living area was super spacious, SHE HAD WIFI!!! (it was not free. it was $2 cuc per hour. you have to buy "airtime" in hour increments and the had them. these same airtime tickets are used all over the island, so stock up before you leave). I literally can't say enough about how amazing this place and woman was! Seriously, if it was not for Cecilia, we would have been so lost (even with all the research we did). She arranged for us to have a taxi pick us up from the airport, a convertible classic cadilac come and pick us up for a night tour, a private driver take us to Viñales, and varader, and take us back to the airport, and we didn't even end our trip at he house!
Pedro, me has dejado sin palabras. Tus palabras han sido tan generosas, tan hermosas y reconfortantes, que sólo puedo decirte, miles de gracias por cada una de tus estimulantes valoraciones sobre mi persona y el aparatamento. Puedes estar seguro, que yo también sentí que ustedes no eran mis huéspedes, eran para te de mi familia y mi hogar. Mi máxima es que todos mis huéspedes se sientan como en casa y si así te sentiste, me doy por satisfecha. Espero volver a tenerete por acá. Para mi será un placer y una inmensa alegría volver a verlos y cuando vulevan encontrarán nuevas cosas y sobre todos más comodidad, un elevador nuevo, quizás una hamaca para mecerse y mis plantas reverdecidas. Un abrazo, cecilia
---
Soy una persona amable, instruida, educada, confiable, sincera, alegre, responsable y emprendedora. Me gusta el arte y estar rodeada de buen gusto. No puedo prescindir de la familia, el café, vivir en la cercanía del mar, leer un buen libro y tener amigos con quién contar. La literatura que prefiero es la social e histórica, la películas que más me gustan son las basados en hechos históricos y acontecimeinetos reales. Me encanta la músuca clásica y la pop y mis platos favoritos son sencillos, especialmente comida criolla, vegetale y pesacados
Me encanta viajar y como huesped soy muy medida y afable. Como anfitriona soy muy amable, comunicativa y al vez respetuosa del espacio y tiempo del huesped,trato de complacer cad una de las necesidades que me plantean y todos los huespedes que he tenido en dos años de Casera, me ha expresado su mayor satisfacción por la comodidad, el confort y loagogedor que les ha resultado el apto, pero además por mi atención y amabilidad
Langues :
Deutsch
Taux de réponse :
100%
Délai de réponse :
Moins d'une heure
Découvrez d'autres options à La Habana et dans ses environs
Plus de logements à La Habana :