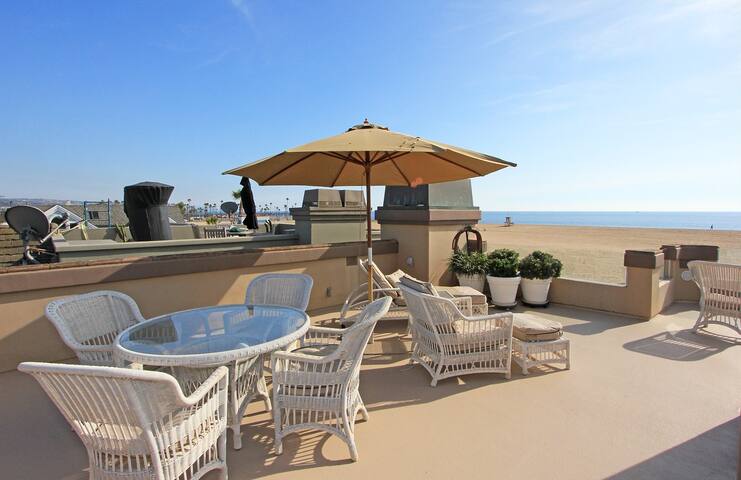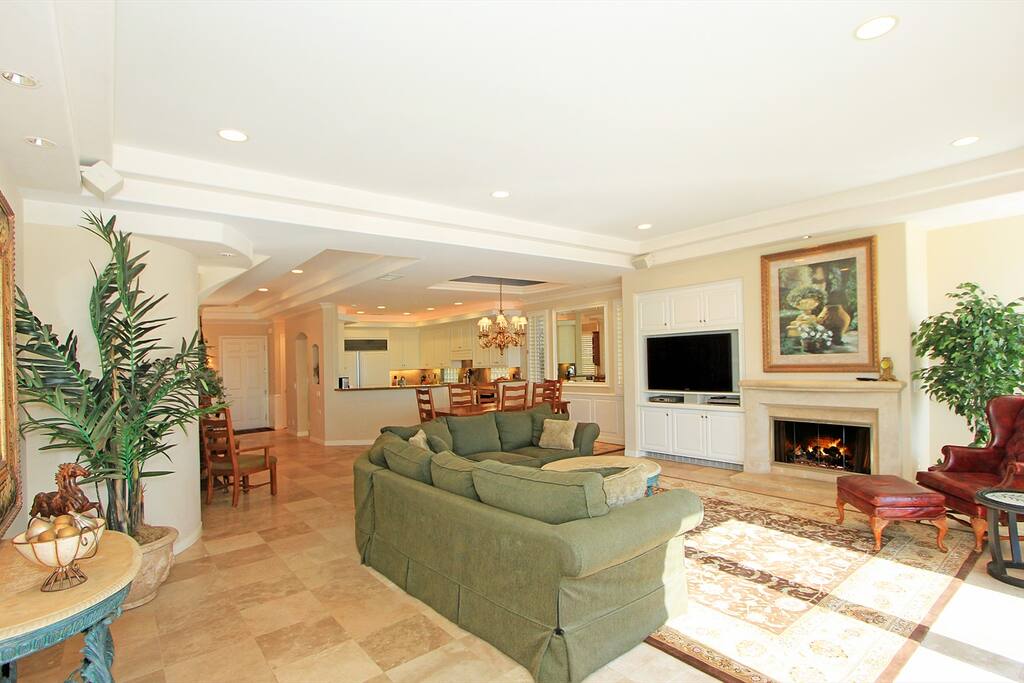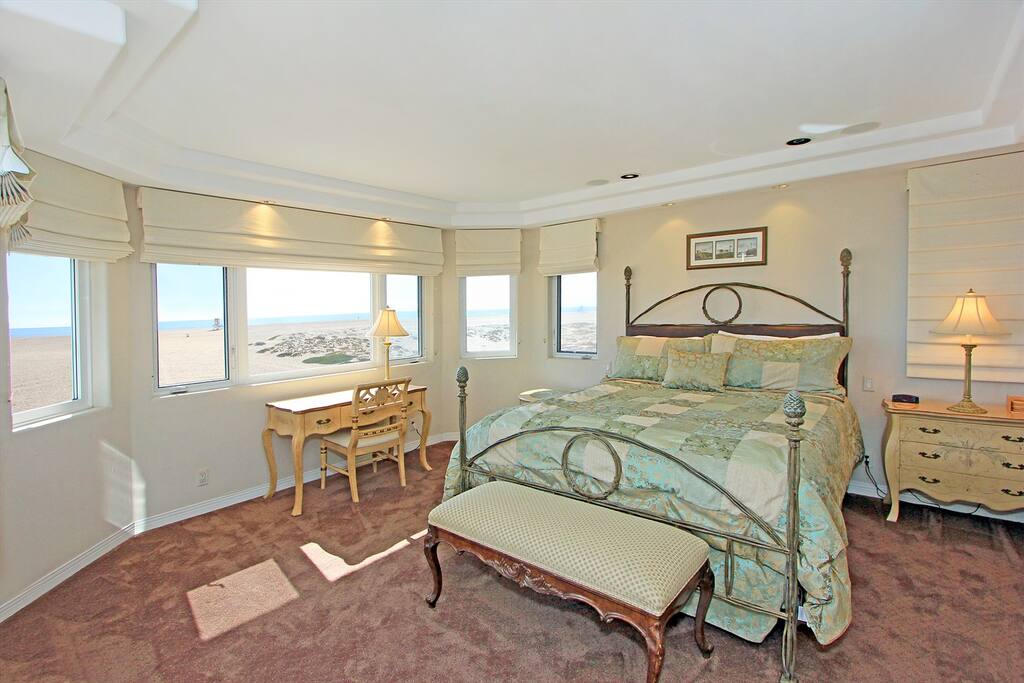 "Majestic Manor" is a luxury four-bedroom, three and a half-bathroom single-family oceanfront home located on a gorgeous stretch of Newport Beach. Enjoy swimming, surfing and sunbathing on the beautiful white sand beach accessible directly through the patio gate or just simply enjoy the view all day from the rooftop deck.
The formal living room with entertainment center leads to a spacious, enclosed, oceanfront patio with breathtaking views.
Le logement
Enjoy the gourmet kitchen with top-of-the line features and an elegant dining area to match. There is also a lovely breakfast nook.
Pamper yourself in the exquisite master bedroom with large windows, sitting area, fireplace and private balcony adjoining a spacious bathroom with sunken tub, glass enclosed shower and television. The second bedroom has one queen and one twin bed. The third bedroom has a twin over double bunk bed. The fourth guest bedroom has a king bed and en suite bathroom. All of the bathrooms are beautifully tiled, with nice countertops.
The upstairs hallway joins a staircase leading to roof-top deck with comfortable patio setting with whitewater, sunset and Catalina Island views.
Bedding: 2 Beds are Cal King bunk bed has twin & full.
Accès des voyageurs
This property has a private entrance and a two car garage.
Échanges avec les voyageurs
Our staff is available to assist with questions or special requests Monday through Saturday. We have an after hours service available on Sunday and after regular office hours to assist with maintenance emergencies.
Parking gratuit sur place
Chambre 2
1 lit double, 1 lit simple
Chambre 3
1 lit queen size, 1 lit simple
Ne convient pas aux animaux
L'entrée dans les lieux se fait à partir de 15:00
By accepting this reservation you also agree to the following conditions:
* Minimum age requirement of 25 years old to rent a property
* No weddings, Parties or events of any kind
* Per our contract with owners we rent to families only
* Nightly rental fee includes city bed tax and booking fee
* Cleaning fee includes linens and non-refundable accidental damage waiver fee
Burr White Realty's Short-Term Lodging Agreement
Terms & Conditions
1. Cancellations. Please refer to Airbnb Cancellation Policy
2. Changes to Reservations. Changes must be made on Airbnb. To reservations can only be made up to 30 days prior to the beginning of the rental term/check in. Any change to a reservation regarding a change of date for the same property can be made over the phone and a new contract will be sent out for the new date(s). Any change request for a different property is subject to approval, availability.
3. Nature of Accommodations. Homes offered for rental are individually owned and reflect the taste of each owner. Homes are equipped with basic housekeeping items, including bed linens and bath towel sets. Every effort has been made to assure accurate descriptions of the property. Occupant agrees to accept home in its current condition and understands that there will be no refunds or reductions of rental rate due to issues involving the nature of accommodations. No rebates will be granted for malfunction or breakdown of appliances or home equipment, including but not limited to, microwaves, toasters, coffeemakers, dishwashers, washer/dryers, refrigerators, Jacuzzis/Spas, aquariums, televisions, home audio, DVD players, cable/satelite TV/Internet services, elevators, computers/modems/wireless routers/internet access, garage door remotes, and garage doors. Homes do not have air conditioning. Repairs will be accomplished as soon as possible, taking into consideration service personnel workloads, part availability and nature of the work. All grievances must be expressed to Burr White Realty in writing on the day of check-in, otherwise refunds, if any, will not be considered.
4. Check-in and Checkout. Checkin time is 3:00PM on date of occupancy with no exceptions. Checkin address is located at 2901 Newport Blvd, Newport Beach CA 92663. Keys to be picked up between 3:00 PM and CLOSING on date of occupancy by SIGNEE AND MUST BE OVER THE AGE OF 25 WITH PHOTO I.D. Occupant must vacate premises and return all keys to Rental Office no later than 10 a.m. on check out date. Check-out after 10 a.m. will result in an additional day charge. Occupants may not change or add any locks at the rented premises. Occupants shall return all keys to Burr White Realty at the time of the termination of the rental period. Leaving the keys at the premises will constitute a late check out and an additional day charge.
5. True Representation of Occupancy. Burr White Realty manages homes that are privately owned and operated. The owners who make their homes available through Burr White Realty request that they are marketed and rented only to vacationing families. If Burr White Realty finds that Occupant has made a false representation of occupants, or the sole occupants at the premises are under the age of 26, or that there are any unsupervised minors at the premises, Occupant is subject to immediate termination of tenancy with no refund of rental monies. Each home has a sleeping occupancy bed limit set by the owner. If Occupant exceeds this bed limit for any reason, Occupant will be considered in violation of this rental agreement and will be charged a minimum fine of $100.00 per person per night. In addition, occupancy limits for day usage for Occupant's guests and invitees are limited to two (2) times the premises' occupancy or bed limit. If Occupant desires to exceed this limit for a specific purpose (family gathering or holiday celebration), Occupant must put such request in writing with total number of guests specified.
6. Substitutions. Burr White Realty will make every effort to ensure the house selected will be available. However, should the reserved house be unavailable, Burr White Realty may provide an equivalent substitute for the same week. We will try to notify the Occupant in advance, time permitting. Should the substitute house's regular rental rate be less than the reserved house's rental rate, Occupant will be refunded the difference. Burr White will do their best to offer an equivalent substitute house at no additional cost or liability to Occupant. The Occupant(s) may choose an upgraded subtitute house if available at their expense.
7. Security Deposit Refunds. For reservations which require a security deposit in addition to the Damage Waiver, such security deposits on Airbnb will be claimed within 14 days after checkout, less deduction if any. The security deposit protects against additional negligent damage done to the home, additional excessive required cleaning, any missing/damaged linens or towels, service calls and telephone calls by guests, any extra number of guests not specified on page one of this agreement and any other extraordinary expenses that may have been incurred.
8. Housekeeping Fee. The housekeeping fee charged with each unit is a non-refundable charge that is applied to the cleaning of every unit upon check-out and pays for a third-party professional sheet and towel service. Any heavy/deep cleaning required above the standard cleaning charge will be deducted from the security deposit and will void the damage waiver agreement (if any). All units include linens for each bed, including a set of towels for each listed/authorized occupant.
9. Assignment and Subletting. Occupant may not sublet or assign their rights with respect to the rental premises covered herein without prior written consent of Burr White Realty.
10. Pets. No pets or animals shall be brought on the premises under any circumstances. In the event that the Occupant, their guests or invitees, brings an animal onto the premises, then the Occupant is subject to immediate eviction with no refund of rental monies. Additionally, Occupant shall pay a $750.00 fine and any cleaning charges incurred and any replacement costs or repairs for any damage caused to the carpets or personal property in the rental premises, as well as a defleaing charge.
11. Smoking. Smoking is not permitted anywhere inside the premises of the rental property. If Burr White Realty finds that guests have smoked inside the rental premises, Occupant will be charged a $500.00 fine and shall pay any and all cleaning charges incurred due to odors and for any replacement costs or repairs for any damage caused to the carpets or personal property in the rental premises.
12. Lockouts. Lockouts after business hours will incur a $100.00 fee which is payable to the deliverer upon services rendered. Payment must be in the form of a check or cash.
13. Telephones. Telephone/Phone Services are NOT provided in our homes. Homes which happen to include phone service will have long distance blocks, which will not be removed and will require use of calling card to make long distance calls. Occupant shall not charge or receive long distance calls to the owner's phone through regular long distance calls, facsimile machines or personal computers. Occupant shall be liable for the cost of any long distance/collect and or toll calls incurred by the owner, plus a collection fee of $50.00.
14. Parking. Not all rentals have private parking. Where parking may be provided, such spaces or garages may not be suitable for, or accommodate, trucks, campers, and/or Sport Utility Vehicles (SUV). Please ensure that your specific parking requirements can be met prior to reserving your house. The Occupant, their guests or invitees, shall only park in the designated parking areas on or about the rented premises for the particular rented premises. The Occupants, their guests or invitees, if any, for the rented premises shall not block the garages, at any time. Violations of the outlined parking for the unit rented will subject Occupant to towing. Street parking is at Occupant's own risk (READ THE STREET SIGNS).
15. TV, Cable and Internet Wiring: Please do not unplug wiring and/or cabling to any and all TVs, cable boxes, modems, and/or routers. In addition please do not reconfigure or alter any settings of any and all TVs, cable boxes, modems, and or/routers. Unplugging/altering the settings of any TVs, cable boxes, modems, and/or routers may require a service technician to "reset/reboot" the system. If wires and/or cables are unplugged or settings are changed and a service technician has to be called out to restore service the service charge will be $250.00. The "reboot" may take up to 45 minutes for each device. Additionally many devices have black infrared sensors with wires that sit on top of the control unit that must not be moved or displaced. These black sensors allow the remote and electronic equipment to communicate and operate all devices. Finally, we cannot guarantee timeliness of service technician to restore service once it has been disconnected or interrupted. We will not refund any monies due to non-operating equipment due to residence interference.
16. Peaceful and Lawful Occupation. The Occupant, their guests and invitees, shall not disturb, annoy, endanger or interfere with other occupants of the rented premises or the neighbors of the rented premises, nor shall the Occupant, their guests and invitees, use the premises for any unlawful purposes, including but not limited to, using, manufacturing, selling, providing, storing or transporting illicit drugs or other contraband, or violate any Federal, State or local law or ordinance, including, but not limited to, the use of alcohol by minors or commit waste or a nuisance upon the rented premises. The Occupants shall be responsible to pay any fines, assessments or charges imposed by any public authorities due to any violation(s) of any rules, regulations, laws or ordinances by the Occupant, their guests or invitees. Should any Occupant, their guests and invitees, cause a disturbance resulting in police action, this rental may be terminated immediately and no refund of rental monies shall be made.
17. Fees and Fines. Occupant is responsible for the payment of following violation charges if applied by the City of Newport Beach or Burr White Realty. The charge for a first call by the City of Newport Beach Police for any violation, including a "Noise Violation" is $500.00. (City of Newport Beach Noise Ordinance begins at 10p.m.) For a second call by the City of Newport Beach Police, $1000.00 in fines will be charged. If Occupant violates City code a third time, tenancy will be immediately terminated and forfeit the rented premises, forfeit remaining balance, and pay any additional fees incurred to the City of Newport Beach. If Occupant is cited, by the City of Newport Beach, for excessive and/or misplaced trash Occupant shall pay to Burr White Realty a $250 fine.
18. Indemnification. Occupants acknowledge that neither the owner nor Burr White Realty are liable for any injury, loss, or damages caused to the Occupants, their guests or invitees or any of their personal property that is, or may be caused by, any accident, event, fire, theft, or other casualty or cause during the rental period. Occupant agrees to hold owner and Burr White Realty harmless from any cost, expense or damage incurred by occupant as the result of Occupants use of the home including but not limited to fines imposed under Chapter 5.95 and 10.58 of the Newport Beach Municipal code (including parking tickets). No portable outdoor fireplace or fire pit are allowed on the premises at any time.
19. No Liability for Personal Property. Neither the owner nor Burr White Realty shall be responsible for the return of, or the value of, any items of personal property that are not removed from the rented premises at the termination of the rental period by the Occupants, their guest or invitees. There is a $25.00 service fee for item recovery. In the event that any item of Occupant's personal property is recovered from the rented premises after the end of the rental period, the owner or Burr White Realty shall be responsible to retain possession of such items for a period of thirty (30) days only after the termination of the rental period, after which time the items shall be disposed of pursuant to California law.
20. Force Majeure - Factors outside our control, including but not limited to, construction, and any noise resulting there from, caused by the City of Newport Beach or any other private contractor that may do work on city streets, alleyways, sidewalks, parks, or any municipal property and/or private dwellings that may be adjacent to, or near the rented premises, may impact directly or indirectly the subject premises. If such activity constitutes an inability to access the rented premises, refer to paragraph 7.
21. Legal Disputes. If any legal action or proceeding arising with respect to this rental agreement is brought by either party, the prevailing party shall be entitled to receive from the other party, in addition to any other relief that may be granted, the reasonable fees, costs, and expenses incurred in the action or proceeding by the prevailing party. It is agreed that in the event of any legal dispute, the laws of the State of California shall apply.
Damage Waiver Fee Plan
As a guest (the person registered and all persons sharing the same rental unit) who has purchased a damage waiver, staying at a Burr White property, you will not be obligated to pay for unintentional loss or damage to the contents of the rental unit you occupy. The damage waiver is limited to a maximum total of $1000 damage payment per unit stay. In the event damage to the unit exceeds the $1,000 maximum, guest agrees to compensate Burr White Realty for any overage. A fee must be paid for each unit rented for the waiver to apply. The fee is non-refundable and does not cover any costs associated with pet damage.
Damage Waiver Coverage does not include:
- Damage caused by any intentional, willful acts by a guest or their invited visitors
- Damage caused by the gross negligence of guest.
- Any damage not reported to Burr White staff by the time of check out of the unit.
- Damage or loss caused by a pet or other animal brought onto the premises by guest.
- The waiver does not apply for loss or damage to any personal property owned by or brought onto the premises by a guest.
Reporting Damage
All damage must be reported promptly to Burr White Realty staff. The guest must report any loss or damage to the unit or its contents to Burr White management staff at least 24 hours before checkout or this damage waiver is void. Representatives of Burr White Realty have ultimate administrative authority. Arbitration will be required prior to litigation. The prevailing party in any arbitration of litigation shall be entitled to recovery and/or reimbursement of all fees in connection with same.
Damage Waiver Effective Term
- The damage waiver becomes effective upon check-in at a Burr White property.
- The damage waiver terminates upon check-out from a Burr White property.
NEWPORT BEACH LOUD OR UNRULY GATHERING ORDINANCE ADDENDUM
Whereas, the Premises is located in the City of Newport Beach and is subject to the City of Newport Beach Loud or Unruly Gathering Ordinance as codified in Chapter 10.66 of the Newport Beach Municipal Code ("Ordinance"); and
Whereas, under the Ordinance, "Owner(s)" and "Responsible Person(s)" may be liable for civil fines of between $500 and $3,000 plus penalty and interest as well as other associated costs; and Whereas, the City Council for the City of Newport Beach has legislatively declared that a Loud or Unruly Gathering is a public nuisance and contrary to the public health, safety, general welfare, and quiet enjoyment of residential property; and
Whereas, the Ordinance defines a "Loud or Unruly Gathering" as a gathering of eight (8) or more persons on any Residential Unit for a social occasion or other activity upon which loud or unruly conduct occurs and results in a public nuisance or a threat to the public health, safety, general welfare, or quiet enjoyment of residential property or nearby public property; and
Whereas, the Ordinance defines, "loud or unruly conduct" to include, without limitation, any or all of the following: (a) excessive noise or traffic, (b) obstruction of public streets by crowds or vehicles, (c) obstruction of rights of way by people or vehicles, (d) public drunkenness, (e) the service of alcohol to Minors, (f) possession and/or consumption of alcohol by Minors, (g) assaults, batteries, fights, domestic violence or other disturbances of the peace, (h) vandalism, (i) litter, or (j) urinating or defecating in public. NOW, THEREFORE, IN CONSIDERATION OF the promises and covenants contained herein and other good and valuable consideration, the receipt of which is hereby acknowledged, Resident and Owner agree as follows:
1. Resident understands and agrees that Resident will not violate the Ordinance, intentionally or unintentionally, while in possession or control of the Premises.
2. Resident understands and agrees that fines or fees assessed under the Ordinance may be levied on Resident after just one Loud or Unruly Gathering under the Ordinance.
3. Nothing herein is deemed to be authorization of or consent by Owner for any Loud or Unruly Gathering of Resident or Resident's guests or invitees in violation of the Ordinance.
4. Any violation, specifically including a first violation, of the Ordinance by Resident or Resident's guest or invitees while Resident is in possession of the Premises shall be a material and incurable breach of the Agreement and Owner, at its sole option, may terminate the Agreement as a result of said violation of the Ordinance.
5. Except as modified in this Addendum, the terms of the Agreement, and all attachments to the Agreement are and shall remain the same and in full force and effect.

I AGREE AND UNDERSTAND ALL OF THE TERMS AND CONDITIONS SET FORTH ABOVE AND ATTACHED HERETO.
Aucun commentaire (pour l'instant)
Burr White Realty is currently celebrating 50 years of business in Newport Beach. At Burr White Realty we have Newport Beach vacation rentals on or near the beach all year round. Burr White Realty has the largest selection of beach rentals on the Balboa Peninsula. Newport Beach …
Taux de réponse :
100%
Délai de réponse :
Moins d'une heure
Découvrez d'autres options à Newport Beach et dans ses environs
Plus de logements à Newport Beach :