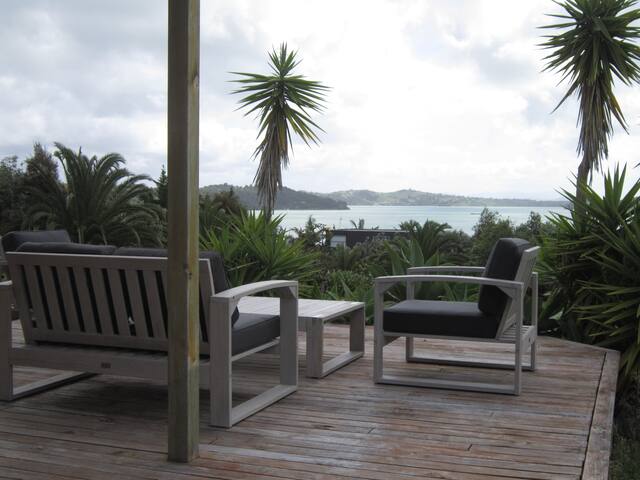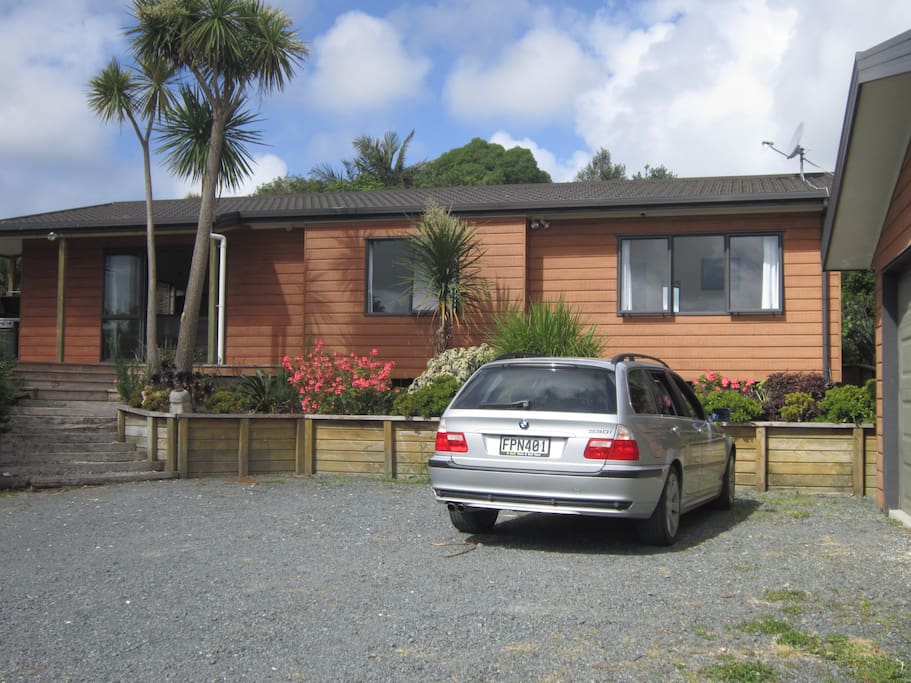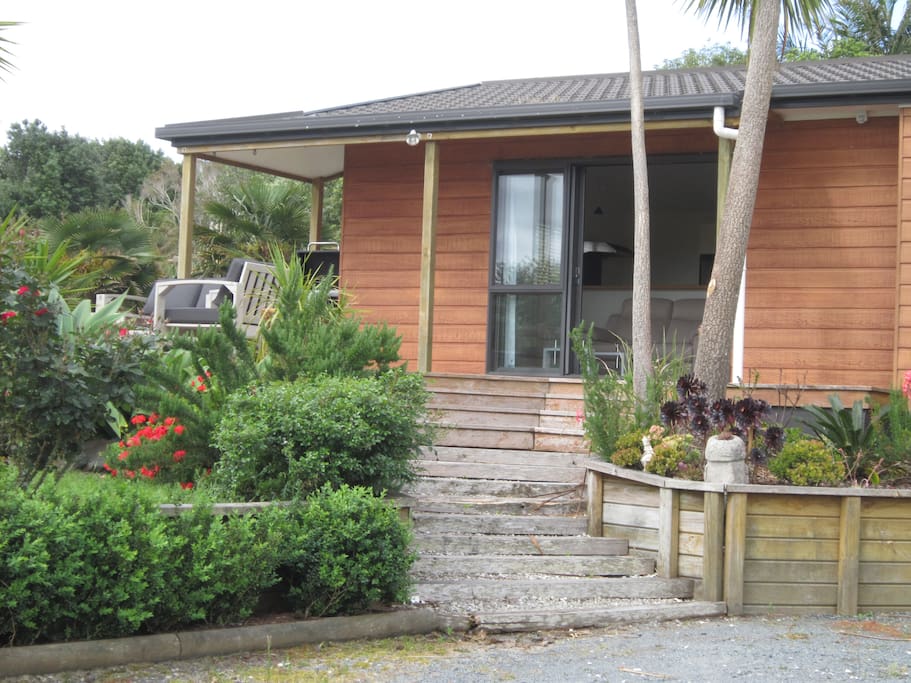 Private and sunny, this house is perfect for couples or a family to have a summer holiday in Parua Bay. Handy to the best beaches in Whangarei Heads, and only twenty minute to Whangarei. Book your summer holiday now!
Linen can be hired for an additional $75.
Feedback from guests who stayed in November 2017:
"5 stars. The boys loved their stay! The home is beautiful and comfortable. The outdoor area is amazing. The stay could not have gone better!"
Le logement
Private and sunny house set down a right of way, with LOTS of lawn for the kids to run around on. Great views of the harbour from the house, and a big deck with outdoor seating to relax on at any time of the day. This house has a new owner, so all furniture and whiteware is brand new. Linen can be hired for an additional $75.
The house has three bedrooms - two queen bedrooms and a twin bedroom with a single bed, and a rollaway bed. Spacious bathroom with shower and large bath, and separate laundry area. The living, dining and kitchen are open plan, creating a great communal space to gather together. Reclining chairs in the lounge and huge TV is the perfect place to relax when you want some inside time - with air con in the living area to keep you cool in summer, and warm in winter. Unlimited WIFI.
The lounge opens onto the front deck, with comfy outdoor furniture and new gas BBQ - the best place to cook up your meals and relax with a glass of wine.
Plenty of room to park cars and a boat. There are two boat ramps within 5 minutes of the house so bring your boat, catch some fish and cook it up on the BBQ!
Accès des voyageurs
Guests have the whole place - both inside and outside
Autres remarques
Minimum stay requirements over Xmas/New Year period on application. 7 night minimum stay over New Year.
3 night minimum stay for holiday weekends, and 4 night minimum stay for Easter.
Linen can be hired for an additional $75.
$300 refundable bond applies to all stays.
Smoking outside only.
Please bring your own beach towels.
Pets by approval only and strictly outside at all times.
Chambre 1
1 lit queen size
Chambre 2
1 lit queen size
Ne convient pas aux animaux
L'entrée dans les lieux se fait à partir de 15:00
- Kiwiana Holiday Homes Guest Rental Agreement Kiwiana Holiday Homes welcomes you. By paying a deposit on one of our holiday homes, you accept that you have read and agree to be bound by the following agreement. 1. Ambit of Agreement 1.1 These terms apply when Kiwiana Holiday Homes ("KHH") offers to rent a property ("Holiday Home") to a renter ("you") and you agree to rent the Holiday Home from KHH. 1.2 You agree that you intend to rent the Holiday Home for your holiday purposes only and that the Residential Tenancies Act 1986 does not apply. 2. Bookings/Deposits/Cancellation of Bookings Bookings 2.1 Acceptance of all bookings is at the sole discretion of KHH. 2.2 A booking is made when you contact KHH and KHH agrees to rent your chosen Holiday Home to you for the dates you require ("term"), for an agreed amount ("rental") and you pay the deposit required. Confirmation of a booking will be provided to you once the deposit has been received by KHH. As the person making the booking, you are must be present during the entire stay, unless otherwise arranged with KHH and approved in writing. 2.3 At the time of booking KHH may set out terms and conditions in addition to those in this Agreement ("additional terms") which may include, without limitation, terms relating to pets, tents, the number of people permitted to occupy the Holiday Home, and additional fees or costs which apply to the booking. You agree to comply with the additional terms, including any terms set out in the website listing for the Holiday Home, as if they were set out in this Agreement. 2.4 Subject to the cancellation provisions of this Agreement, once a booking is confirmed in writing by KHH, you are liable for the balance of the rental together with any extra costs or fees set out in the additional terms. Deposit and Payment 2.5 Once KHH accepts your booking in writing, a deposit must be paid and received by KHH in order to secure the booking. Your booking will be confirmed upon receipt by KHH of the deposit. Failure to pay the deposit in time may result in your booking being cancelled and the Holiday Home being made available to others. 2.6 To confirm a booking, a 30% deposit is payable to KHH within 2 working days of your booking being accepted by KHH in writing, and the balance of payment and bond is due 30 days prior to the commencement of your stay. If your booking request is within 30 days of the commencement of your stay, full payment of the rental and bond is due for payment within 2 working days of your booking being accepted by KHH in writing. 2.7 A deposit, if less than the full amount of the rental, is in part-payment of the full amount of rental that is due for renting the Holiday Home for the term. Amendments and Cancellations 2.8 Any cancellation or amendment must be in writing to KHH. 2.9 KHH may refuse to amend a booking once it has been confirmed in writing and any amendment or transfer of deposit to another booking will be at the sole discretion of KHH. KHH reserves the right to charge a $50 administration fee per amendment. 2.10 KHH may cancel a booking by notice in writing if you fail to make any payment due under this Agreement when that payment is due. 2.11 If you cancel this Agreement: a. more than 30 days before the commencement of the term the deposit shall be forfeited by you and the balance of the rental will not be payable. b. less than 30 days before the commencement of the term, the full rental (not including the bond) will remain payable by you. In the event that KHH re-lets the Holiday Home, KHH will refund any monies paid by you, less any shortfall in rental between what you would have paid in rental under the terms of your booking and what KHH receives in rental for the Holiday Home for the term for which you had booked, and less a $150 administration fee. 2.12 If, due to circumstances beyond KHH's control, the Holiday Home becomes unavailable or unfit for use, KHH will notify you as soon as possible and refund you any money you have paid KHH before the cancellation and KHH shall have no further liability to you. 3. Damage and Bond 3.1 A bond is payable on all KHH rentals, as set out in the booking acceptance letter from KHH. 3.2 KHH may apply the bond towards any loss, damage or other obligations incurred in respect of your rental of the Holiday Home, including any costs or charges incurred by, or imposed by, KHH for remedying any breach by you of your obligations under this Agreement ("damages"). 3.3 The bond will be refunded within 7 working days of the end of your stay provided that: - the property is left in the same neat and tidy condition it was found, and all rubbish and recycling taken with you - there is no damage or loss or damages - there has been no other breach of these terms If there is damage or loss, or if you have breached any of your obligations under this Agreement, the balance of the bond (if any) will be refunded 7 working days after the damage and/or loss and/or breach has been remedied and/or paid for. 3.4 You are responsible to KHH for all breakages, damage and destruction to any property, direct and indirect costs, fines incurred, charges from third parties arising, and damage caused to the Holiday Home (including any contents) during the term. You agree to indemnify KHH and the owner of the Holiday Home ("owner") against any loss and/or damage suffered by KHH and/or the owner resulting from your stay at the Holiday Home and whether caused by you or your invitees. For the avoidance of doubt, your liability shall not be limited by the amount of the bond paid. 4. Occupation of the Holiday Home 4.1 You must not permit more people to occupy the Holiday Home than the number stipulated by KHH in the booking confirmation. 4.2 You must not permit smoking in the Holiday Home. Smoking may be permitted within the boundaries of the property provided you ensure that all associated rubbish is removed at the end of the term. 4.3 The Holiday Home will be available for occupation from 3.00 p.m. on the day of arrival and must be vacated by 11.00 a.m. on the day of departure. The arrival and departure times may only be varied by agreement between KHH and you in writing, and additional fees may be applicable. 4.4 KHH accepts no responsibility for any loss of, or damage to, any of your personal belongings or any other property owned by you or your invitees at the Holiday Home. 4.5 You are responsible for the actions of any other person you permit to visit the Holiday Home. 4.6 You must leave the Holiday Home in a clean and tidy condition, removing all rubbish and waste when you vacate the Holiday Home. 5. Additional Facilities Available in the Holiday Home 5.1 Any use of extra amenities and facilities outside of the Holiday Home (for example, but not limited to, things such as kayaks, boogie boards, surf boards, barbeques etc) is entirely at your own risk and neither KHH nor the owner will be liable for any injury, loss or damage that you or any other person may suffer as a result of such use. 6. Limitation of Liability 6.1 KHH and the owner's liability towards you shall be limited to the value of the rental and other associated charges agreed at the time of booking. In no circumstances will KHH and the owner be liable for any consequential damages of any nature, however arising and regardless of whether KHH has been notified of the risk of them. 7. Complaints 7.1 If you are not entirely satisfied with the Holiday Home you must immediately contact KHH and in any event no later than 7 days after the end of the term. 8. Insurance 8.1 You undertake that you and/or your guests and invitees will not do, permit to be done, or omit to do, any action that does or may invalidate or adversely affect any insurance policy held by the owner in respect of the Holiday Home and/or its contents. 8.2 You agree to indemnify KHH and the owner against any losses or damages suffered by the owner as a consequence of your breach of your obligations under clause 8.1. 9. Consumer Guarantees Act 1993 9.1 The Consumer Guarantees Act 1993 does not apply if the property is used for business purposes. 10. Force Majeure 10.1 Neither party shall be liable to the other where such liability arises through a circumstance entirely outside the control of that party. 11. Contracts (Privity) Act (PHONE NUMBER HIDDEN) This Agreement is for the benefit of, and is intended to be enforceable by, KHH and the owner under the Contracts (Privity) Act 1982. 12. Cancellation and Liquidated Damages 12.1 KHH may cancel this Agreement with immediate effect if you breach any term of this Agreement, including, but not limited to the following: Parking and/or pitching of caravans or tents on the property without the written consent of KHH Parties, events, weddings, receptions, stag/hen festivities Abuse, including verbal or physical, of KHH representatives, the owner or its representatives or the neighbours Undue nuisance or noise to neighbours or the local community. Use of illegal substances or conduct of illegal activities at the property Removing furniture or any other chattels or fixtures from the property Cutting keys or obtaining remote door controls for the property Tampering with smoke alarms Leaving a fireplace unattended Booking on behalf of another person without disclosing that you do not intend to stay at the Holiday Home yourself 12.2 In addition, doing any of the matters listed in the above sub-clause may, at KHH's election, result in bond forfeiture, possible eviction from the property and/or up to $1,000 being charged per occurrence. 12.3 If KHH decides to evict you from the property, all amounts paid (or payable) by you will be forfeited and a KHH representative may remain on-site at the Holiday Home until you have departed. 12.4 Notice of cancellation may be given in writing or verbally and may be given in person to any person at the Holiday Home or by phone or otherwise in writing delivered or posted or emailed to the Holiday Home or to any other address, including an email address, previously supplied by you to KHH.
Aucun commentaire (pour l'instant)
Langues :
English
Taux de réponse :
100%
Délai de réponse :
Quelques heures
Découvrez d'autres options à Parua Bay et dans ses environs
Plus de logements à Parua Bay :