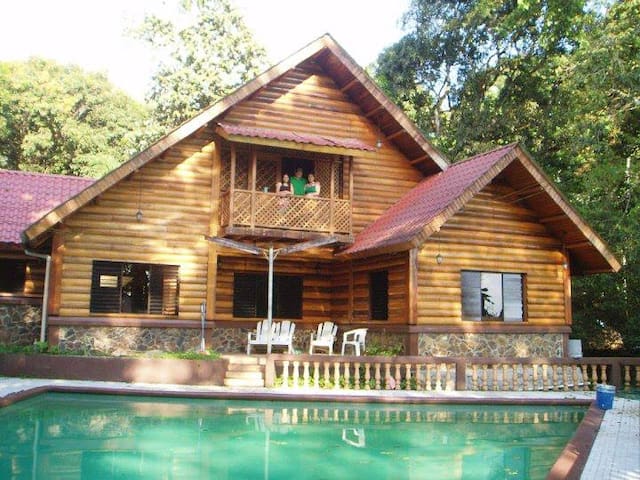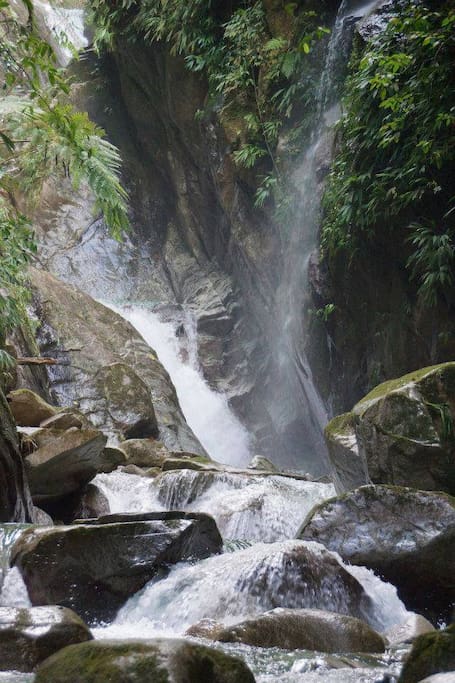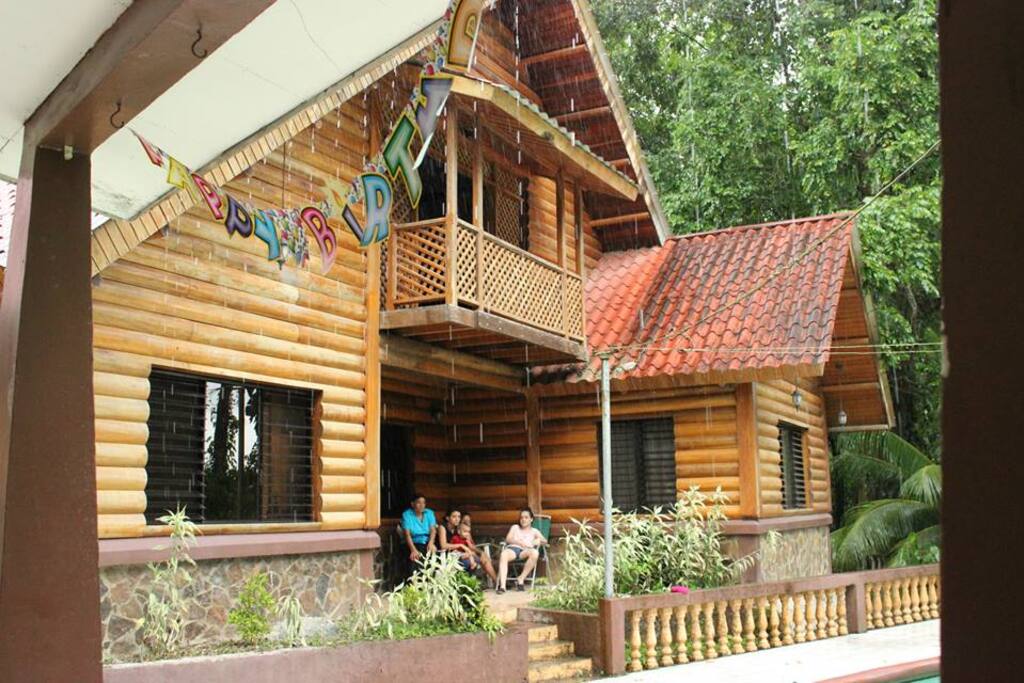 Imagine you have the river beside the window, running strait to a pool in front of the principal door. A beautiful mountain chalet, ideal for a nice, quiet and close to nature retreat. 20 minutes from Tela, the most beautiful beaches of Honduras.
Le logement
Paujuiles river and mountain offer a very special and unique micro climate where you can retreat in a peaceful encounter with nature. You can walk up the reiver and bath in the most awesome waterfall of the region. Once at the chalet you can enjoy of a huge swimming pool to chill out and make a barbeque to share a delicious meal.
Accès des voyageurs
Guests have acces to a full furnished house and a huge swimming pool.
---
Parking gratuit sur place
---
La ecologia nos importa y pedimos que se minimice el impacto ambiental, recogiendo la basura y no tirando ningun tipo desecho en el rio.
---
I would love to write a glowing review. I know how difficult it is to make ends meet in this area. Indeed, there are some nice features here. Iris did a nice job of communicating and was there to meet us. She gave us some very basic instructions and answered a few questions. While my group's basic needs were met I think it is important for others to realize more accurately the features of the Chalet. Things you should know: -This is a rustic set-up. Expect a "camp" feel - not a hotel. The furniture is plastic and very old. The kitchen is very basic. No TV / internet/phone. The room set-ups should have had more description. The bedroom downstairs is the only private room and it has 3 queen beds close to each other. The upper loft has 2 single beds and some sleeping pads. -While the pool is refreshing (and rather neat since it is river water), don't expect a resort feel. We had fun in it, but I would say it would probably disappoint more people then it would impress. -You have to be pretty adventurous to find things to do here. We wanted to hike up to the waterfall and were basically told to "follow the path." That was not an easy task by any stretch. It is pretty, and we did finally make it, but we had to create most of the trail ourselves and much of it was impassable except to wade through the river itself. Expect to fall on slippery rocks and be soaked by the end. It is not a hike for children. Things that I found unacceptable: -We were told after the reservation was made that we needed to bring our own towels. I found this quite odd. If this is their policy it should be noted on the add. -The access to the Chalet is extremely poor. Luckily I had rented a pick-up truck. A normal car would certainly bottom out along the steep access road. -Not even an attempt at providing hot water and one of the showers was just a bare pipe coming out of the wall. -The cabin needs a considerable safety check. We stepped on numerous nail heads from the wood floor and a section of the upper balcony rail is completely missing. The bathroom door stuck shut and was not able to be closed. I do hope they can make some adjustments and become a nice place to visit. As it is, it could be used as a rustic cabin rental. However, it certainly is not a $130/ night chalet in its present condition.
Thank you Leo for having the time to do this complete review from your one night visit. I do appreciate it and I promise I will keep working in the Chalet to have it at your standards as possible. I did answer all the questions you ask me, I introuduced you at the amenities of the place and advise you not to take your children up the river. I did call you and wait for you at the entrance. I did my best to help you but it was not enough. I'm really sorry for this. You may understand that Honduras rural areas are real naturals. Hiking up the river is an adventure indeed, thanks God we still have places like that. They are free of trafic and polution. Yes they are not paved or signed. The river is clean, and its from it that the pool fill up. Pure river water with no chemicals. Isn't it great? There were towels, and the reason I ask you to bring yours is because many clients use the towels to go to the river and they forget them in bringing them back. The place was clean and the things are in good shape and work. Non theless there are many who has not written any word and recurrent clients who really loves nature and simplicity. I will send you photos of all kind of cars that can go up the road. It's not necesary to rent a 4 by 4. Thanks again for your comentaries and I will work on them. The peace goes with you Iris
---
Amante de la naturaleza e impulsora del arte y la ecologia he abierto mi refugio de montaña para compartir con otros personas la belleza de este lugar paradisiaco. El tiempo y el modernismo se detienen para encontrarse uno mismo en su naturaleza pura.
Langues :
English, Español, Français
Taux de réponse :
50%
Délai de réponse :
Dans la journée
Découvrez d'autres options à Tela et dans ses environs
Plus de logements à Tela :