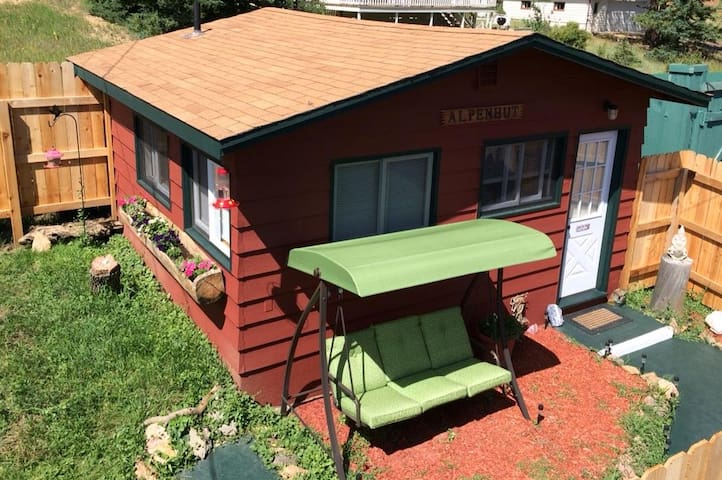 Clean, Cozy, Quiet & Comfortable ~ This Rustic 1 Room Cabin With Private Jetted Hot Tub And (((ALL))) The Amenities, Is Located Just A Stones Throw Away From Rocky Mountain National Park In Estes Park, Colorado USA ~ In Accordance With Colorado State Law, We Are A Weed, Cannabis, Marijuana & 420 Friendly Facility Serving Couples Only ~ AS SUCH (((ALL))) GUESTS MUST BE AT LEAST 21 YEARS OLD WITH NO ACCOMPANYING CHILDREN OR PETS.
Le logement
Welcome To AlpenHut Located On The Romantic Edge Of Estes Park & Rocky Mountain National Park, Colorado USA.
The term 'HUT' has long been adopted by Rocky Mountain Climbers and Backpackers to refer to a solid and permanent structure offering refuge from the wilderness.
These vary from simple 'bothies' - which are little more than very basic shelters; to Mountain Huts which are FAR MORE LUXURIOUS and can even include amenities such as Jetted Hot Tubs Like This One Does...
ALPENHUT AMENITIES INCLUDE:
A ROMANTIC BED
Comfortable Queen Size Bed With Night Stands & Sitting Bear Reading Lamps
Alpenhut's 10.5" profile Trinidad model bed has Visco Elastic Memory Foam that offers superior pressure relief that can dramatically diminish tossing and turning for a more restful sleep pattern. Covered with a beautifully detailed quilted knit cover with a corded edge and coordinating knit sides for breathability. Stretch knit fibers are designed to work with the memory foam layers to optimize its contouring properties. The top layer features Memory Foam that conforms to the contours of your body. Tossing and turning are dramatically diminished and disrupted sleep patterns greatly eliminated. Two layers of Comfort Foam eliminate uncomfortable pressure points and adjusts itself based on your own body temperature and weight. Individually wrapped coil innersprings move independently and reduce the sensation of movement on a bed therefore providing contouring comfort and support for an undisturbed night
Bed Features:
• Helps relieve pressure and reduce back pain
• Memory foam reduces pressure points between shoulders, neck and back
• Aids in increasing circulation which can provide a deeper and more restful sleep :-)
Duraflame Electric Fireplace For Warmth &/Or Ambiance ; )
Library With Excellent Rocky Mountain Book Selection
Rocky Mountain Style Art & Decor
Smart HD TV With Premier DIRECTV Satellite Service
AN EFFICIENCY KITCHEN
Sink With Dish Drying Rack
Efficiency Size Refrigerator
Plenty Of Shelf Cabinet Space
A Two Burner Electric Range Top

Cooking Utensils
Microwave Oven
Coffee Maker
Coffee Press
Pots & Pans
Silverware
Tea Kettle
Toaster
PRIVATE BATHROOM
Rocky Mountain Style Fittings & Fixtures
FULL SIZE Shower With Shower Massage
Towels & Washcloths
Oak Vanity & Sink
Throne
OUTSIDE ALPENHUT
Private Swing Seat
Private Jetted Hot Hot Tub
Private Off Street Parking Space
Private Yard Space
Bird Feeders
Wild Flowers
Wildlife & Views
Accès des voyageurs
The Hut And All It Provides, The Private Fenced In Grounds, The Private Outside Seating Area, The Private Outside Hot Tub & Your Own Private Parking Spot.
Échanges avec les voyageurs
As Much Or As Little As Our Guests Require ~ We Are There For You If You Need Us ;-)
Autres remarques
.
About Estes Park & Rocky Mountain National Park
Estes Park is a town in Larimer County, Colorado, United States. A popular summer resort and the location of the headquarters for Rocky Mountain National Park, Estes Park lies along the Big Thompson River. Estes Park had a population of 5,858 at the 2010 census.
History
The town is named after Missouri native Joel Estes, who founded the community in 1859.
The town's outskirts include The Stanley Hotel. An example of Edwardian opulence, the 1909 building had Stephen King as a guest, inspiring him to change the locale for his novel The Shining from an amusement park to the Stanley's fictional stand-in, the Overlook Hotel.
Estes Park was also the site of the organization of the Credit Union National Association, an important milestone in the history of American credit unions.
Trail Ridge Road, the highest continuous highway in the United States, runs from Estes Park westward through Rocky Mountain National Park, reaching Grand Lake over the continental divide.
Geography
Estes Park sits at an elevation of 7,522 feet on the front range of the Rocky Mountains at the eastern entrance of the Rocky Mountain National Park.
Its north, south and east extremities border the Roosevelt National Forest. Lumpy Ridge lies immediately north of Estes Park.
According to the United States Census Bureau, the town has a total area of 5.9 square miles (15 km2), of which 5.8 square miles (15 km2) is land and 0.1 square miles ((PHONE NUMBER HIDDEN)%) is water.
Three million tourists visit Rocky Mountain National Park each year; most use Estes Park as their base.
Transportation
The main airport serving Estes Park is Denver International Airport, located 75 miles southeast.
Highways
US 34 is an east-west highway that runs from Granby, Colorado to Berwyn, Illinois. In Colorado, it connects Estes Park to Loveland, Interstate 25, Greeley and Interstate 76
US 36 begins at the nearby Rocky Mountain National Park, running to Uhrichsville, Ohio, passing through Kansas, Missouri, Illinois and Indiana.
State Highway 7 begins at the junction of US 36 and N St. Vrain Avenue in Estes Park and runs to Boulder, Lafayette and Brighton. Its northwestern segment is part of the Peak-to-Peak Scenic Byway.
About Rocky Mountain National Park
Rocky Mountain National Park is located in the north-central region of the U.S. state of Colorado.
It features majestic mountain views, a variety of wildlife, varied climates and environments—from wooded forests to mountain tundra—and easy access to back-country trails and campsites.
The park is located northwest of Boulder, Colorado, in the Rockies, and includes the Continental Divide and the headwaters of the Colorado River.
The park has five visitor centers.
The park headquarters, Beaver Meadows Visitor Center (An easy 12 minute walk from Alpenhaven), is a National Historic Landmark, designed by the Frank Lloyd Wright School of Architecture at Taliesin West.
The park may be accessed by three roads: U.S. Highway 34, 36, and State Highway 7. Highway 7 enters the park for less than a mile, where it provides access to the Lily Lake Visitor Center which is closed indefinitely.
Farther south, spurs from route 7 lead to campgrounds and trail heads around Longs Peak and Wild Basin. Highway 36 enters the park on the east side, where it terminates after a few miles at Highway 34. Highway 34, known as Trail Ridge Road through the park, runs from the town of Estes Park on the east to Grand Lake on the southwest.
The road reaches an elevation of 12,183 feet (3,713 m), and is closed by snow in winter.
The California Zephyr serves Granby (near the west entrance of the park) by rail from Denver, crossing the Continental Divide through the Moffat Tunnel well south of the park.
The park's website suggests Granby as an appropriate rail terminus for visitors, although it lies a good sixteen miles from the park without public transportation connections.
The park is surrounded by Roosevelt National Forest on the north and east, Routt National Forest on the northwest, and Arapaho National Forest on the southwest.
Geography
Rocky Mountain National Park encompasses 265,761 acres (415.25 sq mi; (PHONE NUMBER HIDDEN)) of land in Colorado's northern Front Range.
The park is split by the Continental Divide, which gives the eastern and western portions of the park a different character.
The east side of the park tends to be drier, with heavily glaciated peaks and cirques.
The west side of the park is wetter and more lush, with deep forests dominating.
The park contains 359 miles (578 km) of trails, 150 lakes, and 450 miles (720 km) of streams.
The park contains over 60 named peaks higher than 12,000 feet (3,700 m), and over one fourth of the park resides above tree line.
The highest point of the park is Longs Peak, which rises to 14,259 feet (4,346 m; surveys before 2002 show 14,255 feet (4,345 m) above sea level.
Longs Peak is the only fourteen thousand foot peak in the park.
Several small glaciers and permanent snowfields are found in the high mountain cirques, including Andrews Glacier, Sprague Glacier, Tyndall Glacier, Taylor Glacier, Rowe Glacier, Mills Glacier, and Moomaw Glacier.
Popular Areas
The park is dominated by Longs Peak, which is visible from many vantage points, and has an elevation of 14,259 feet (4,346 m).
Each year thousands of people attempt to scale it.
The easiest route is the Keyhole Route, impassable to regular hikers in all but the hottest summer months due to snow and ice.
This eight-mile (13 km) one-way climb has an elevation gain of 4,850 ft (1,480 m).
The vast east face, including the area known as The Diamond, is home to many classic big wall rock climbing routes.
Not All Leave Longs Peak Safe & Alive!
There is a stone gazebo at the Keyhole formation with a plaque memorializing Agnes Vaille, a well-known climber in the 1920s.
In January 1925, Vaille fell 100 ft (30 m) while descending the North Face. Vaille survived the fall with minor injuries, but was unable to walk.
Her climbing partner, professional mountaineering guide Walter Kiener, went for help; but when rescuers arrived, Vaille had died of fatigue and hypothermia.
Bear Lake, in the heart of the park, is a popular destination and trailhead.
The lake lies below Hallett Peak and the Continental Divide. Several trails start from the lake, ranging from easy strolls to strenuous hikes.
Bear Lake Road is open year round, though it may close temporarily due to bad weather.
Trail Ridge Road connects the town of Estes Park in the east with Grand Lake in the west.
The road reaches an altitude of 12,183 feet (3,713 m), with long stretches above tree line.
Following Trail Ridge Road upward for 1,000 feet is akin to driving 600 miles north from the park in reference to changes in climate and vegetation.
It passes the Alpine Visitors' Center, a popular destination, and crosses the Continental Divide at Milner Pass. Numerous short interpretive trails and pullouts along the road serve to educate the visitor on the history, geography, and ecology of the park.
The southern area of the park is Wild Basin, a wild and remote region.
Several trails cross the area and backpacking it is popular.
The Mummy Range is a short mountain range in the north of the park.
The Mummies tend to be gentler and more forested than the other peaks in the park, though some slopes are rugged and heavily glaciated, particularly around Ypsilon Mountain and Mummy Mountain.
The snow-capped Never Summer Mountains are found in the west side of the park.
Here the south-trending Continental Divide takes a brief sharp northward loop, which creates an interesting reverse scenario, where the Pacific Basin is on the east side of the divide and the Atlantic Basin on the west.
The mountains themselves, the result of volcanic activity, are craggy and, more often than not, covered in deep snow.
This area saw the most extensive mining in the park, and trails lead past old mines and ghost towns.
Paradise Park is hidden in the peaks above Grand Lake.
This rugged and wild area has no trails penetrating it.
Rocky Mountain National Park History
Evidence has shown that Native Americans have visited the area of the park for the last 10,000 years. Their influence in the region was limited, however, and their visits often transitory.
The Ute Tribe visited the west side of the park, particularly around Grand Lake.
The Arapaho visited and hunted in the Estes Park region.
The Long Expedition, led by Stephen H. Long, for whom Longs Peak was named, visited the area in 1820, though they never entered the mountains.
Joel Estes and his son stumbled across the meadows that eventually became Estes Park in 1859 while on a hunting expedition.
He moved his family there in 1860 and raised cattle.
He stayed only until 1866, forced out by long, harsh winters.
In the next years, settlers and homesteaders staked their claims in the Estes Park region.
Tourists, particularly those interested in climbing the high peaks of the region, appeared after this time.
In 1880 a small mining rush began in the Never Summer Mountains.
The mining town of Lulu City was established with great fanfare and promotion by the media, particularly by Fort Collins newspapers.
The ore mined, however, was low grade; by 1883 the rush went bust, and most of the residents moved on.
A satellite town, Dutchtown, was abandoned by 1884.
Enos Mills, then a 14 year old boy, moved to Estes Park in 1884.
He explored the mountains of the area and wrote many books and articles describing the region.
He later supported the creation of Rocky Mountain National Park, and he split his time between the mountains he loved and the cities of the eastern United States, where he lobbied for the legislation to create the park.
The legislation was drafted by James Grafton Rogers, a Denver lawyer and avid outdoorsman. Mills' original proposal for park boundaries went from Wyoming all the way down to the Mount Evans area, including areas such as the Indian Peaks Wilderness.
Much of the land was favored for mining, logging, and other operations, however, so the proposed park was reduced to an area approximating the current park borders.
The bill passed Congress and was signed by President Woodrow Wilson on January 26, 1915. A formal dedication ceremony was held on September 4, 1915 in Horseshoe Park.
The park has expanded over the years, with the largest parcel — the Never Summer Range — added in 1929.
The 1920s saw a boom in building lodges and roads in the park, culminating with the construction of Trail Ridge Road between 1929 and 1933.
The Civilian Conservation Corps handled several building projects during the Great Depression and remnants of their camps can be found in the park today.
Rocky Mountain National Park Activities
On the Colorado River trail inside Rocky Mountain National Park Most visitors to the park drive over the famous Trail Ridge Road, but other scenic roads include Fall River Road and Bear Lake Road.
Many visitors hike and backpack.
The park contains a network of 349 miles (562 km) of trail and dozens of designated backcountry camp sites.
Trails range from easy to strenuous.
Many routes are off-trail and the hiker must be careful to leave no trace of their passage.
Horseback riding is permitted on most trails.
Some trails which are closed to horse traffic allow llamas as pack animals, because their smaller size and softer feet have a lower impact on trail erosion.
Rock climbing and mountaineering have increased in recent years.
Longs Peak, Hallett Peak and Lumpy Ridge, among others, are famous rock climbing areas.
Many of the highest peaks have technical ice and rock routes on them, ranging from short scrambles to long multi-pitch climbs.
In the winter, when the trails are covered in snow, cross-country skiing and snowshoeing are popular.
Backcountry-style Alpine, Alpine Touring and Telemark skiing can be found on the higher slopes.
Fishing is found in the many lakes and streams in the park.
Camping is allowed at several designated campgrounds.
Sites of interest
Bear Lake
Chasm Lake
Fall River Pass
Grand Lake
Milner Pass
Mount Meeker
Sprague Lake
Trail Ridge Road
Longs Peak
Wild Basin
ANNUAL ESTES PARK, COLORADO EVENTS...
The Estes Park Duck Race Kicks Things Off May 3rd 2014
Heritage Festival - late August, first held in 2004 and now very much an annual event in Estes Park, transporting people back in time with a range of historical activities, such as wagons at the MacGregor Ranch, or a ride on a restored and fully-operational Stanley Steamer car
John Denver Tribute Concert - mid- / late August, at Stanley Park's Rodeo Arena Fairgrounds, watched by large crowds each year
Longs Peak Scottish / Irish Highland Festival - early September, datingback more than 30 years and generally known locally as simply the 'Scotfest', featuring huge marching bands with bagpipes, the Estes Tattoo, the Longs Peak Concert, and lots of kilts and sporrans! Based on the Estes Park Festival Field and also at the Municipal Building on Elkhorn Avenue
Estes Park Film Festival - mid-September, attracting many international and local filmmakers, with screenings of all categories at the Park Theater, at the Stanley Hotel and also at the Lake Shore Lodge
Autumn Gold - late September, a festival of live blues and folk music, hot food and cold beer, celebrating the arrival of the fall colors
Elk Fest - early October, when visitors to Estes Park are able to observe local Elk during their rutting season. The Elk Festival also incorporates story telling, archery and other outdoor activities
Holiday Parades - late November / early December, with Yuletide festivities, carnival processions of winter floats, and various seasonal choir concerts...
COME JOIN IN THE FUN !
---
---
Espaces communs
1 lit queen size
---
Ne convient pas aux animaux
Ne convient pas aux enfants (0-12 ans)
L'entrée dans les lieux se fait à partir de 16:00
Arrivée autonome avec doorman
Dear Guests, We Cater To Adult Couples Only / Must Be 21 Or Over / No Children / No Pets / No Guests / No Music Outside / No Smoking In Hot Tub / No Candles Or Other Open Flames Inside / No Tobacco Use Inside ~ Smoking Tobacco Outside Is Allowed In Your Car Or In The Designated Smoking Area.
Please Respect Our Neighbors, The Peace & Quiet Of Our Neighborhood, Our Other Guests, Our Property & Local Wildlife.
Thank You ~ Your Friends, Tom & Janet
---
We stayed here for a night in beautiful Estes Park and could not have chosen a better place! The Alpenhut was quaint, tidy and in perfect condition when we arrived with Tom and Janet happily and promptly greeting us with smiles and handshakes. The cabin is in a perfect location just a three or four minute drive from Rocky Mountain National Park. Tom and Janet were full of suggestions and ideas about all things Estes including places to eat, trails to hike, and things to see. We had a great time and would have loved to stay more than a night. Will definitely keep this place at the top of our list of places to come back to!
---
Nice quiet cabin off of the main downtown area but still close enough that anywhere in Estes is about a 5 min drive. Right in between Estes downtown and RMNP. Enjoyed the private area with the hot tub and loved the overall feel of the cabin. Tom & Janet were amazing with helpful tips and recommendations when we arrived as well as quickly responding to any questions we had while we stayed there. Would recommend to any of our friends and will be staying there again when we make our way back to Estes Park.
---
Coming to stay at Alpenhut is like coming home. This is my third stay and it gets better every time. Tom and Janet are wonderful hosts! I travel solo and they check up on me to make sure I made it off the trails and that I'm safe. They give great advice on where to see wildlife, where to eat, what trails to hike and for this Florida girl, how to drive in the snow. The cabin is a great place to stay. There is a privacy fence all around, a hot tub and everything inside the cabin that you'll need for your stay. Even a crockpot in case you wanted a cook a pot of chili for dinner while you're out on the trails. A fireplace to keep the chill off in the evening and plenty of windows to let in sunlight and mountain air. It's comfy and clean. There's even a nice goodie basket waiting for you at check in that includes water and snacks. Location, Location Location! In less than 5 minutes you can be in the park or you can be downtown. You can see the Rocky Mountain National Park sign from the driveway and you can walk to the Scratch deli for fresh baked cinnamon rolls in the morning. Your far enough away from the crowds downtown and there are plenty of restaurants right down the road to keep your stomach happy. And your close enough to the park that you never know what wildlife you'll see down the road and in your own driveway. I hope to one day have my own place in Estes Park but until then, I can't see myself staying anywhere else but Alpenhut and I can't wait to plan my next trip. Thanks for another fabulous trip Tom and Janet!
---
The Alpenhut was a perfect home base while we explored Estes Park and Rocky Mountain National Park. As soon as we arrived, Tom and Janet gave us a personal tour and offered great recommendations on things to see & places to eat in the area. The space is small but cozy, and Tom & Janet have thought of everything you need for a comfortable stay - we especially loved the hiking maps and guides and binoculars, and the stocked kitchen. It's a comfortable space and a great value - and we would definitely stay again!
---
This is our second stay in the Alpenhut with Tom and Janet, it was just as perfect as the first. They are so welcoming, friendly, and leave you a nice little welcome basket. We love the hot tub every time we stay, especially on the clear nights the stars are unbelievable. The coolest part about our stay this time was how active the elk were, they come right through the yard on a daily basis and it was really neat to get to see them up close right on the property. We really look forward to coming back again for our third stay!
---
We loved staying at Tom and Janet's cozy place. It's super close to the national park, walking distance from restaurants and has a great little hot tub! The incredibly warm hosts Tom and Janet stay next door and were there to welcome us and give us an overview of the place with helpful suggestions for things nearby. Great find!
---
Estes Park, Colorado, États-Unis
Membre depuis mars 2014
Welcome To Alpenhaven & Alpenhut, Located On The Romantic Edges Of Estes Park & Rocky Mountain National Park, Colorado USA. Janet & I Are A Married Couple Who Have Over 50 Years Of Combined Experience In The Estes Park, Colorado Hospitality Industry. Semi-Retired Now, We Ar…
Taux de réponse :
100%
Délai de réponse :
Moins d'une heure
Découvrez d'autres options à Estes Park et dans ses environs
Plus de logements à Estes Park :