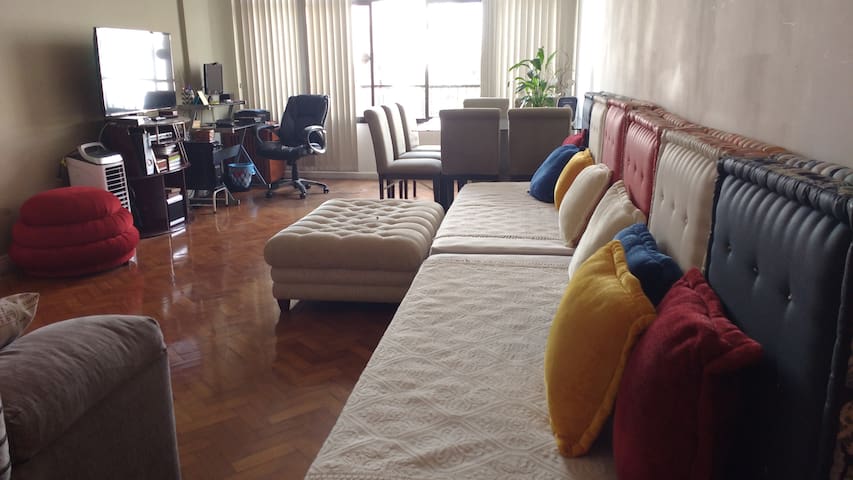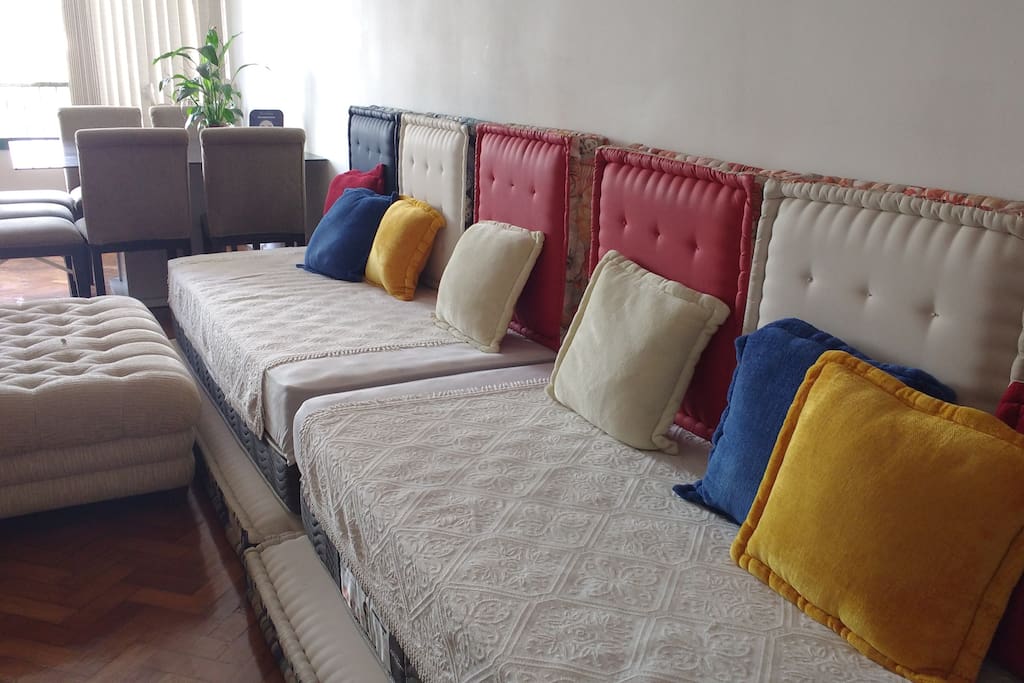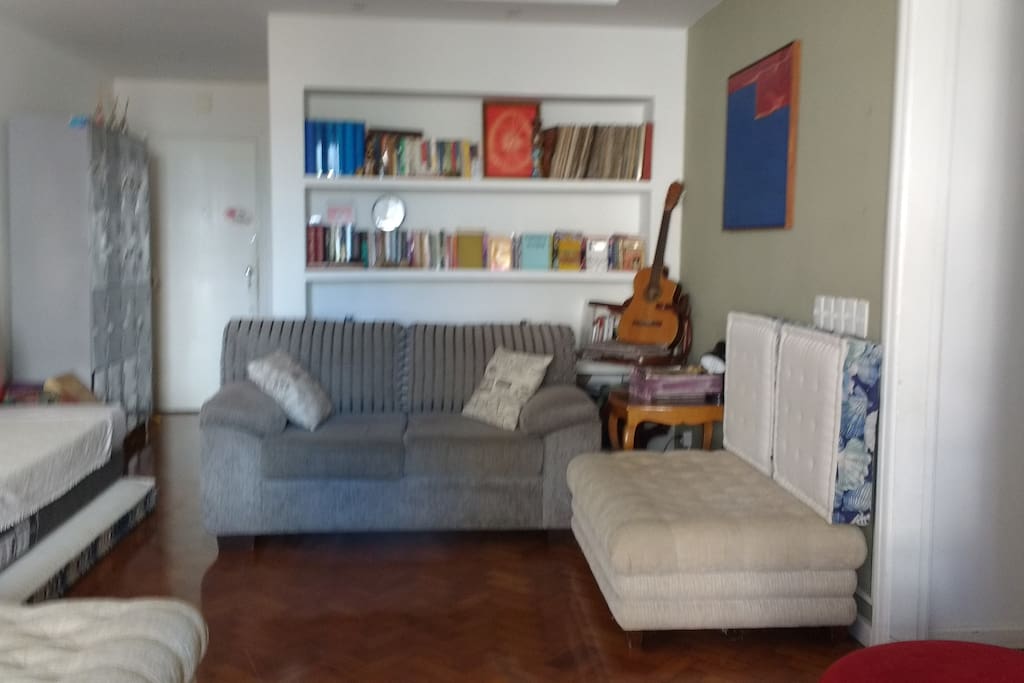 S.H. - UM JEITO CONECTADO DE VIVER
ENGLISH : WELL, I HAVE SOME HINTS TO GIVE YOU, IN ORDER TO MAKE EASIER YOUR COMINGS AND GOINGS JUST FROM THE AIRPORT OR RODOVIARIA : PUBLIC TRANSPORTATION FROM AIRPORT TO "SHAMANIC HOME" : Arriving at the Galleon Airport or in Santos Dumont Airport or even at the Rodoviaria "Novo Rio" : 1 ) Go to the existing Information Booth there and ask for the bus that can bring you to Ipanema ( name of the neighborhood where "SHAMANIC HOME" stays ). This bus to Ipanema is taxing about R$ 8,oo for each person. ( In Portuguese Language = "Por favor, onde eu posso pegar um ônibus que me leva para Ipanema ?" ) 2 ) Since you're already in the bus, so just ask to the bus driver to let you at the closer point near to the Post 10 of Ipanema Beach, or still better, as close to Garcia Dávila Street as possible. ( In Portuguese Language = "Por favor, me deisha próxima do Posto Dez da Praia de Ipanema, ou melhor ainda, me deisha o mais próximo possível da Rua Garcia Dávila." ) 3 ) The Garcia Davila Street is the closest transverse street of "SHAMANIC HOME" in Visconde de Pirajá Street, so you'll walk through Garcia Dávila to get the Visconde Pirajá Street. Then find the number of the building "483" and get here, interphone to the doorman saying that you are invited by Gilberto ( In Portuguese Language = "Eu sou convidada do Gilberto, pode me dizer o número do apartamento dele ou chamá-lo, por favor ?" ) and he will tell you which is the number of our flat for you to come, accommodate yourself in comfort and CELEBRATE with us that VERY FIRST MOMENT of REACHING YOUR PRECIOUS GOAL in RIO : "SHAMANIC HOME", rss !!! TAXI - ANYWAY, IF YOU PREFER TO REACH "SHAMANIC HOME" BY TAXI, THEN : Tell to the taxi driver "you want to come to Ipanema and give him the address - Rua Visconde de Pirajá, nº 483 - and tell him that is close to Posto 10 of Ipanema Beach and also close to Garcia Dávila Street ( in Portuguese Language = "É perto do Posto 10 da Praia de Ipanema e mais perto ainda da Rua Garcia Dávila." ) , and that our building stays at the opposite side of the Jewelry H. Stern, of the Jewelry Amsterdam Sauer and of Sportive Shop Nike ( in Portuguese Language = "O edifício nº 483 ( "cuatro oito tres" ) fica em frente a Joalheria H. Stern, da Joalheria Amsterdam Sauer e também da Loja da Nike entre a Rua Garcia Dávila e a Rua Anibal de Mendonça." ) APPROXIMATE RATES OF THE TAXIS : [ If the taxi-driver gives you a "table-price", tell him that you prefer to pay the price of the TAXIMETRO ( → in Portuguese Language = "Senhor, eu prefiro pagar o preço do Taxímetro mesmo, do que o preço de tabela das distâncias, Obrigada !" ) • Galeão Airport to Ipanema ( neighborhood ) = it may varies from R$ 80,oo to R $ 116,oo • Santos Dumont Airport to Ipanema = it may varies from R$ 50 to R$ 70 oo , oo • Rodoviaria "Novo Rio" to Ipanema = it may varies from R$ 40,oo R$ 60,oo : THE NEIGHBORHOOD OF IPANEMA IN THE CONTEXT OF TRANSPORT OF RIO DE JANEIRO : • Ipanema is the place of easier transportation to any place in all Rio de Janeiro . • And from now Rio is all connected by the SUBWAY ( unless Barra da Tijuca, Recreio and Jacarepaguá = Zona Oeste = West Zone ), reaching Ipanema and Leblon points, that is, very close to "SHAMANIC HOME"( Peace Square Station = Estação Praça da Paz is the closest to our flat → "SHAMANIC HOME" ) . • The bus lines also lead to everywhere without omitting Beautiful Landscapes, if you prefer that. • Besides the fact that it is also the most targeted neighborhoods by TAXI DRIVERS, being full of TAXI STANDS and TELE-TAXI SERVICES. TIMINGS AND THE PRICES OF CONDUCTIONS FROM IPANEMA TO MARACANÃ STADIUM : • BY BUS = ONE HOUR AND 10 or 20 MINUTES ( R$ 3,oo FOR EACH ONE → COMING OR GOING ) • BY TAXI = HALF AN HOUR → ABOUT R$ 70,oo → GOING OR COMING !
---
---
L'entrée dans les lieux se fait à partir de 10:00
---
Gilberto is the most gracious, welcoming and friendly host. His residence is super clean, safe and the location is amazing for visiting Rio. I would highly recommend staying here. I wish I were able to stay longer!
Melissa foi uma hóspede ideal : muito simpática, interativa, limpa, organizada, muito educada e incrivelmente essencial nas bagagens, apenas uma mochila ! Só lamento que tenha ficado tão pouco tempo aqui conosco, rss . . . ela será muito bem vinda a voltar sempre que quiser e espero mesmo que realmente volte e conheça melhor ao Rio e os meus amigos que ela iria adorar mas não teve tempo algum para isso . . . na próxima vez, tenha toda a certeza de que prepararemos uma bela festa para recebê-la aqui novamente . . . pode apostar !!! Melissa was an ideal guest : very friendly, sweetly interactive, clean, perfectly organized, amazingly polite and incredibly essential in luggage : just a backpack. I'm just sorry she has been so little time in Rio de Janeiro ! She will be very welcome to come back whenever she wants and I really hope she really comes back to know Rio and my friends she would really love but had no time for . . . next time, be sure we all will prepare a big party to welcome her here again. . . can bet !!! SO, WELCOME DEAR !!!
---
El departamento es mas amplio de lo que parece en las fotos, muy comodo para una gran familia como la nuestra que nos hospedamos ahi. Es un muy lindo departamento, esta excelente ubicado, a solo dos cuadras de la playa de Ipanema. Gilberto fue muy amable y atento todo el tiempo con nosotros y estuvo atento y a nuestra disposicion. Absolutamente recomendable! todo en excelentes condiciones.
---
Tivemos uma ótima experiência na S.H.!! Extremamente bem localizado e seguro, com muitas opções de restaurantes ao redor e um supermercado bem na frente do prédio. Apartamento espaçoso e bastante aconchegante, acomodou nossa turma perfeitamente! Fora que toda a negociação foi tranquila, o Gilberto é um ótimo anfitrião, me senti bem a vontade e voltaria com certeza!!!
Isabella é uma garota encantadora, muito alegre, muito limpa e organizada e incrivelmente generosa, pois nos deixou uma penca de presentes muito bons . . . assim como também deixou aqui conosco um rastro dessa alegria contagiante dela, de bem querer e de "volte logo" Sua turma tb é legal demais, são todas meninas prontas para interagir com naturalidade e simpatia, como também para atender qualquer pedido de zelo e de atenção com alguns aspectos importantes da (website hidden) super recomendo ela como uma hóspede top !!!
---
Lo reserve y el que se hospedo fue mi marido quien tuvo una muy buena estadía en Shamanic. Tanto Gilberto, como Andres fueron muy atentos, sencillos y cariñosos, sin duda, te hacen sentir muy cómodos desde el primer día. El lugar es simple y práctico, lo mantienen muy limpio y la ubicación excelente. Me llevo un buen recuerdo, sin dejar de mencionar la simpatía de Jorge y Rafael, que hicieron de la casa una experiencia de intercambio hispano-americano completa.
---
¡Gilberto es simplemente el mejor anfitrión del mundo! El departamento está en una ubicación excelente, cerca de todo, limpio y con un equipo muy profesional y servicial (Andres). Está ubicado en Ipanema, ¿debo decir algo más? Gracias Gilberto y Andres, ¡les mando un abrazo a ambos! Espero volver a verlos pronto. =========================== Gilberto is simply the best host in the world! The apartment is in an excellent location, close to everything, clean and very professional and helpful team (Andres). Located in Ipanema, should I say more? Thanks Gilberto and Andres, I send a hug to you both! Hope to see you soon.
---
My experience at the Shamanic Home and with Gilberto was great! Gilberto was such a welcoming host (we even became (SENSITIVE CONTENTS HIDDEN) friends!). The place was as described and cleaned when I arrived. It is in the heart of Ipanema - easy access to the beach and to public transportation. There is a house keeper/host who works for Gilberto and he was very nice and helpful as well. I had a wonderful experience overall, and I will recommend Gilberto and his Shamanic Home to anyone who is planning to visit Rio!
---
Sou um cara completamente de bem com a vida !!! Amável, Feliz, Bem humorado, da Paz e Clarividente por bênção e desenvolvimento e só me interessa fazer o bem a quem quer que seja. Aprecio mais do que tudo estar perto de gente que sabe fazer a roda do afeto, da alegria, da confia…
Langues :
English, Español
Taux de réponse :
90%
Délai de réponse :
Dans la journée
Découvrez d'autres options à Rio de Janeiro et dans ses environs
Plus de logements à Rio de Janeiro :