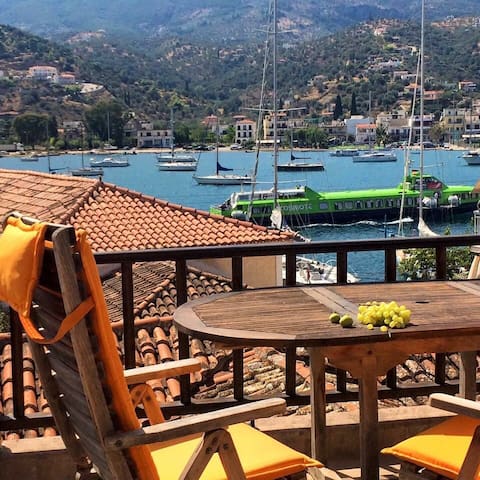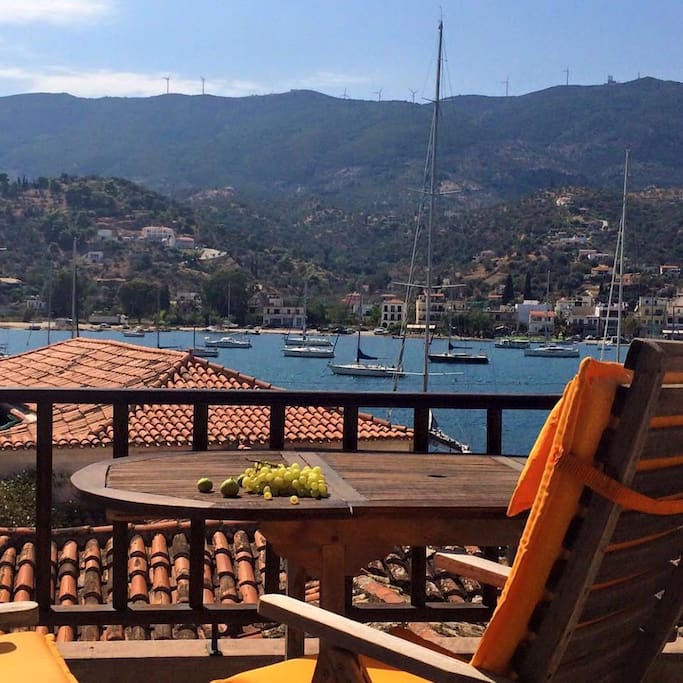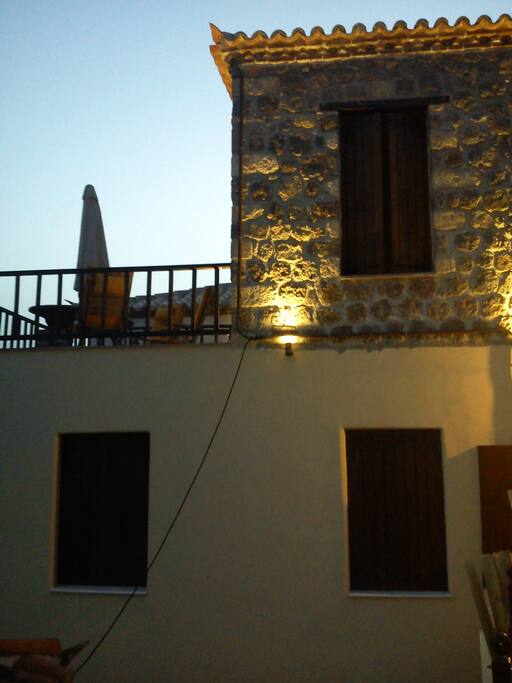 Belle et spacieuse villa en pierre avec une architecture unique et vue sur la mer. Dans la ville de Poros, dans une rue calme à 3 rues du port. Accès direct aux plages, magasins, restaurants, etc. Il peut accueillir de 2 à 6 personnes.
Όμορφη και άνετη πετρινη βιλα με ιδιαιτερη αρχιτεκτονικη και θεα στη θαλασσα. Μεσα στη πολη του Πορου, σε ένα ήσυχο δρόμο 3 τετράγωνα από το λιμανι. Αμεση προσβαση σε παραλιες, καταστηματα, εστιατορια κτλ. Μπορεί να φιλοξενήσει απο 2 εως 6 ατομα.
Le logement
Villa en pierre avec une architecture unique. Combinaisons de bois de pierre et de fer. Il contient 3 chambres, cheminée, 2 salles de bains, 2 cuisines, une grande cour, avec salon en pierre chambre et des troncs d'arbres sur des bancs et des sièges, une terrasse avec vue panoramique sur le Poros canal et le centre-ville, salle de stockage avec machine à laver. L'éclairage de la villa est fourni par 38 points, qui créent une atmosphère unique, en insistant sur les détails des murs en pierre en interne et les toits en bois et vitrines extérieures, l'édifice. La villa est entièrement couverte par des enceintes avec la possibilité de choisir que tu n écouter de la musique et qui ne. La Villa sur 3 étages. Le premier est un studio autonome et 2 au 3 est maisonette.
Πετρινη βιλα με ιδιαιτερη αρχιτεκτονικη. Συνδιασμος πετρας ξυλου και σιδερου. Περιεχει 3 ανετα υπνοδωματια, τζακι, 2 μπανια, 2 κουζινες , μια μεγαλη αυλη με πετρινο καθιστικο και κορμους δεντρων για παγκακια και καθισματα, 1 βεραντα με απεριοριστη θεα στο καναλι του Πορου και την πολη του νησιου, αποθηκη με πλυντηριο ρουχων. Ο φωτισμος της βιλας παρεχεται απο 38 σποτ , τα οποια δημιουργουν μια μοναδικη ατμοσφαιρα, τονιζοντας εσωτερικα τις πετρινες λεπτομερειες των τοιχων και την ξυλινη σκεπη και εξωτερικα αναδεικνυουν το οικοδομημα. Ολη η βιλα καλυπτεται απο ηχεια με την δυνατοτητα να επιλεγεις που θελεις ν ακους μουσικη και που οχι. Η Βιλα εκτεινεται σε 3 οροφους. Ο 1ος ειναι ενα αυτονομο στουντιο και ο 2ος-3ος ειναι μεζονετα.
Accès des voyageurs
Les clients ont un accès immédiat partout. Au port, à 200 mètres de la villa, il y a deux bus qui arrêtent à toutes les plages. A quelques mètres de la villa il y a des restaurants, cafés, supermarchés, kiosques, boulangerie et toute autre chose nécessaire pour le visiteur d'y séjourner.
Οι επισκεπτες εχουν αμεση προσβαση παντου. Στο λιμανι , 200 μετρα απ τη βιλα , υπαρχουν 2 λεωφορεια που κανουν στασεις σε ολες τις παραλιες του νησιου. Λιγα μετρα απ τη βιλα υπαρχουν εστιατορια, καφετεριες, σουπερ μαρκετ, περιπτερα , φουρνος και οτιδηποτε αλλο χρειαστει ο επισκεπτης για τη διαμονη του.
Échanges avec les voyageurs
A votre arrivée vous serez présent pour le propriétaire pour montrer l'écart de la zone de la villa et pour aider dans toutes les autres questions qu'ils ont sur l'île.
Κατα την αφιξη θα ειναι παρων ο ιδιοκτητης για να δειξει στους φιλοξενουμενους τους χωρους της βιλας και για να τους βοηθησει σε οποιαδηποτε αλλη απορια εχουν για το νησι.
Autres remarques
La villa peut accueillir de 2 à 6 personnes. Le prix vaut pour le nombre de visiteurs.
Η βιλα μπορει να φιλοξενησει ανετα απο 2 εως 6 ατομα. Η τιμη προσαρμοζεται αναλογα με τον αριθμο των επισκεπτων.
---
Type de logement : Logement entier
---
---
Voyageur supplémentaire : 31 / nuit après le premier voyageur
Réduction à la semaine : 10%
Tarif week-end : 229 / nuit
Communiquez toujours via Airbnb
Pour protéger votre paiement, ne transférez jamais d'argent et n'établissez pas de contact en dehors du site ou de l'application Airbnb.
En savoir plus
---
Espaces communs
1 canapé convertible
---
Η βιλα ειναι σε αριστη κατασταση και καθαρη. Απο τους επισκεπτες περιμενουμε να σεβαστουν το χωρο και κατα την αναχωριση τους να τον αφησουν στην κατασταση που τον βρηκαν. Τυχον ζημιες πρεπει ν αναφερθουν αμεσα κατα την διαρκεια της διαμονης των επισκεπτων , ωστε να διορθωθουν αμεσα κι αυτες. Η διαμονη κατοικιδιων ειναι συζητησιμη. Το καπνισμα επιτρεπεται, κατα προτιμηση στους εξωτερικους χωρους.
---
Strictes
Si vous annulez jusqu'à 7 jours avant le voyage, vous recevez un remboursement à hauteur de 50 %. En cas d'annulation au cours des 7 jours précédant le voyage, la réservation est non remboursable.
---
---
Séjour de 2 nuits minimum
---
Panagiotis et Areti nous ont reçu avec une hospitalité remarquable. Ils ont même fait des courses pour nous et nos enfants afin de nous épargner de le faire le premier jour de notre arrivée! On a trouvé la villa propre et très accueillante avec des petites touches de décoration très sympathiques. La Villa se trouve à 3 minutes à pied du port et la terrasse offre une vue imprenable sur la mer. Le cadre et Poros dans son ensemble, sont juste parfaits, ajouté à cela la politesse et l'amabilité des habitants de Poros. Ces vacances étaient merveilleuses. Petit conseil culinaire: la patisseries θ. βΣϚϚαλα, située directement sur le port, dans le quartier Punda, (à 5 minutes de la villa) propose des gateaux et des glaces divins! et cerise sur le gateau, Sotirilla la fille de la propriétaire parle très bien le français :-) Merci infiniment Areti et Panagiotis, on reviendra ;-)
---
Overall, We had a pleasant experience at the villa, however there are a couple of notable shortcomings and a few things for visitors to understand about the villa so they can have accurate and realistic expectations. The whole villa structure has been beautifully restored internally and the decor is generally impressive and has an elegant rustic style. The villa is a three story house. Airconditioning is available only on the top floor and only some of that cool air permeates to the second floor via the indoor/internal staircase that connects the top floor with the middle floor. The ground floor unit only connects to the rest of the house through the external/outdoors staircase and also does not have airconditioning, which is necessary. Most important, the middle floor bedrooms are not actual partitioned bedrooms (no walls and no doors separating the beds, just two curtains that provide some minimal separation) but one continuous space with the bathroom in the middle, which naturally reduces privacy. For couples or individual wishing to have some privacy, this might not be the best accommodation. On the other hand, the continuous open space of the middle floor with the two beds could be a great arrangement for a group of close friends or a large family. The top floor has a nice balcony with a wonderful view of the Poros port but the wooden balcony chairs and table need urgent replacement and clearly present a safety hazard as they crumbled and broke into pieces when we moved them, probably because they had been left in the relentless summer sun for a prolonged period of time. Similarly, the balcony rails need a long due paint job and the balcony table also needs either replacement or a restoration and painting. The autonomous ground floor apartment is uncomfortably hot for a typical Greek summer night despite the availability of one fan. This ground floor unit has two small windows and a dehumidifier in the bathroom that runs around the clock to reduce the unit's humidity (as the bathroom is built in the natural hillside bedrock). This unit's bathroom is elegant and functional yet humid and hot. Panagiotis was hospitable, polite, professional, attentive, and approachable by phone and I thank him for his hospitality and responsiveness. He provided us with useful information about how to get to Poros and suggestions about daily excursions, day trips, beaches to visit, and restaurant and local cuisine. Our host was also very responsive to our needs and immediately brought us replacement chairs for the balcony (within one hour of our request) and two brand new air fans for the second floor (again within one hour the replacements had arrived). The host seemed genuinely concerned about how to provide a pleasant experience despite some of the shortcomings mentioned above.
Dear Panagiotis, thank you for spending so much time writing such an analytical review and also thank you for all the suggestions for improvement. My highest priority are happy and satisfied guests. That's why I gave my best to fulfill all your request within an hour. Concerning the furnitures/chairs on the terrace, I have to point out that my house was booked out from the beginning of the summer. No other guest complained about it. Even a few days before your arrival I had in my house a whole family with small children and they didn't tell to me anything about the "hazardous" chairs. As I mentioned before, my highest priority are happy guests, so I take every subjective opinion of my guests very seriously and that's why I have already replaced the chairs with brand new ones after your departure. Furthermore all these years my guests were very satisfied with the temperature inside the house. I have many positive reviews about the strong and effective air conditioner in the living room. This summer was an extremely hot summer and except you, also another very nice guest of mine suggested to install more air conditioners. So, the summer 2018 all of the rooms will have an air conditioner. Thank you for your suggestion too. This is a very important one. About the "expectations": My house is fully and detailed described on my profile in Airbnb. There are also plenty of photos from every corner of the house, so that my guests can have a clean picture in front of their eyes from the house. This clear picture is based on the reality and there is no space left for "expectations". Except that, I'm all the time available and it is my pleasure to answer every question. Last but not least, the humidifier in the ground floor (autonomous apartment) works all the time and on the display it shows right now 44% humility, which is the absolutely normal grade for a house in Greece near the sea. Thank you so much for all the nice words about my person. I feel really very delighted. Thank you again for have chosen my house for your holidays. All the best for you!!
---
We had a wonderful time in Panagiotis house and we're so happy about our choice. Panagiotis is a very professional host. He took perfect care of us. He provided us very fast with all the informations we needed. He was there all the time for us to fulfill all our requests and to answer our questions. The house itsself is very unique. It is a new construction with a very interesting architecture. It is mostly made out of wood and stones which gives the inside of the house a very warm and welcome atmosphere. Although it is kind of studio-like, the inner construction and the adjustment provide every room with privacy and no optical connection to the other rooms. I have to point out, that the house is very clean and comfortable. The house has all the comforts you may need. The kitchen provides all possible equipments.We loved the terrace with the beautiful view over the sea and the old city of Poros. Also the yard is a perfect place to chill out. The house is perfectly located in a very central but also very quiet neighborhood. You can reach everything by feet. Panagiotis informed us about everything: which beach, which restaurant etc. We highly recommend Panagiotis and his house for happy and unforgettable holidays!
---
We have rented apartments and houses in the Mediterranean area the last 15 years, and we have never experienced such hospitality from our host. Panagiotis - just fantastic. The description on how to get to Poros, excellent proposals of sights at Peloponnese and always willing to help us with practicalities or good advice for sights beaches etc . We really felt that Panagiotis cared for us during our stay . The apartment has an excellent location in Poros city, and we loved to sit on the terrace and watch the sea and all the boats passing by. The interior in the apartment is modern and stylish, but we miss having doors to the bedrooms. It was a bit hot in the bedrooms at night, due to the air condition was in the first floor above. This is probably an issue for Norwegians or other who prefer low bedroom temperatures :-)
Dear Vidar, thank you once again for have chosen my house for your holiday and thank you for have taken the time to write me this review. I feel very flattered. It was my pleasure to provide you with everything I could in order to give you a good time in my house. My highest priority is to have happy guests, so thank you so much for the improvement suggestions. I wish more such great Norwegian guests in the future. So it is good to know that Norwegians prefer low bedroom temperature. That's why I will put immediately air conditions in both bedrooms! I have to mention here that you're a Norwegian who prefers low bedroom temperature, because you have a very warm and beautiful heart! All the best for you and your family and hope to see you again in Greece or in the Norwegian fjords!!!
---
Panagiotis's place was wonderful! Myself, my boyfriend and my parents stayed in the listing, and we had plenty of space and it was quite comfortable. Panagiotis and his wife gave us lots of great suggestions and helpful tips about the island. Poros is cute and charming, and the apartment has a great view from the roof terrace out onto the bay. I would highly recommend this charming apartment!
---
I would definitely recommend this house to others! It was a great pleasure to spent my holiday at Panagiotis place. Panagiotis is a very professional host. He is a very nice person with very good manners. Very helpful and very trustful. We had a great communication from the very beginning. He answered quickly all my questions and requests and provided me with all the information about this beautiful island. The house is perfectly located near the sea and close to all the shops, restaurants, bus stop etc. But still the neighborhood is very quiet and traditional "Greek Island". Panagiotis cares a lot about his house: it is a new construction, very clean and well equipped with everything you should need. It's a unique and very atmospheric house. Very nice decorated. Very comfortable and very cozy. I loved to have my coffee at the terrace with the fantastic view over the sea. Poros is an amazing island: Beautiful beaches, lovely town, great food. I enjoyed my stay very much! Do not hesitate to book this amazing house for your stay in Poros! I would love to come back! Panagiotis, thank you again for your excellent service!!!
---
I would never recommend this humid, dirty, messy little miserable house. Panagiotis destroyed our weekend and he didn't care at all about. His only concern was to receive his payment. I'm sorry that this kind of hosts exist in my country.
Dear Marietta, please allow us to respectfully disagree with your review, which is totally different from what all our other guests experienced staying with us. We care tons about our guests and this is why we will not discuss in public any details about your stay.
---
Το παθος μου ειναι οι κατασκευες. Ειμαι Industrial designer και τον περισσοτερο χρονο μου τον περναω στο ατελιε μου , σχεδιαζοντας και κατασκευαζοντας!!!
Μ αρεσει επισης ο αθλητισμος , οι ανθρωποι με ανοιχτο μυαλο , η Αρχαια Ελλαδα και οι φιλοσοφοι της.
Langues :
Deutsch, English
Taux de réponse :
100%
Délai de réponse :
Moins d'une heure
L'adresse exacte est communiquée uniquement lorsque la réservation est confirmée.
Découvrez d'autres options à Πόρος et dans ses environs
Plus de logements à Πόρος :