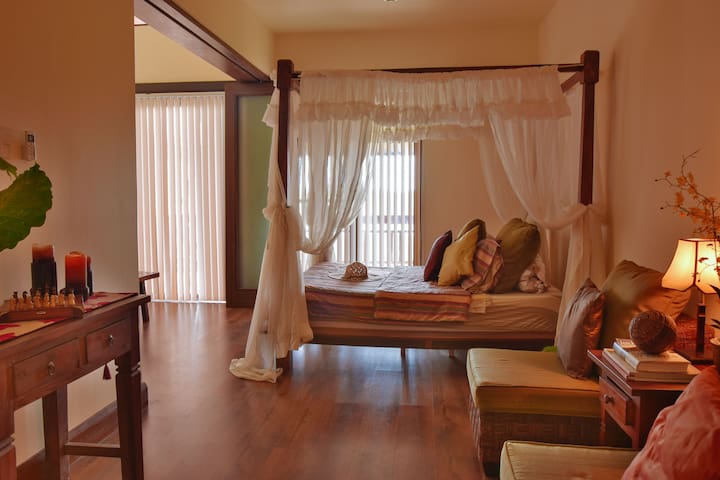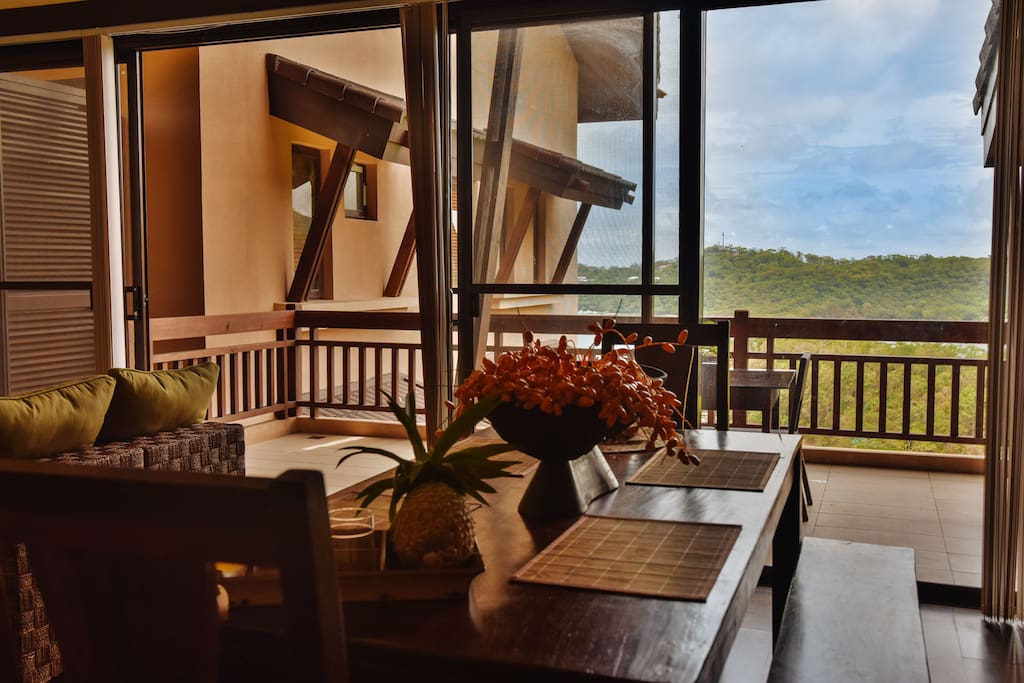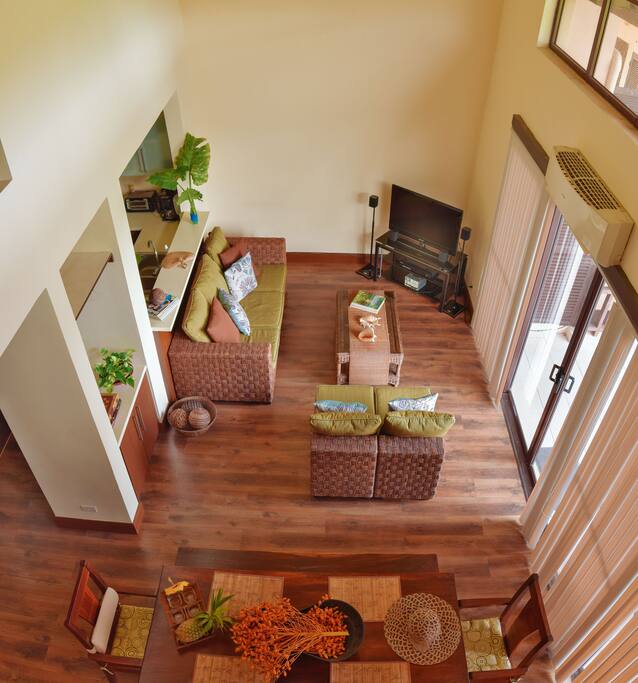 We regret that as of March, our 3 bedroom top-floor condo with a spacious veranda that overlooks the South China Sea will be available for a minimum term of 6 months. Please contact us through Airbnb for long term rates.
Le logement
Our luxury seaside condominium is located in the most unique and exclusive area in the Philippines. Our condominium is composed of one master bedroom with a comfortable queen bed and its own walk-in closet leading to the master bathroom. Upstairs, you will find two bedrooms with a pair of twin beds each and a shared, complete bathroom. The kitchen is fully equipped with appliances and connects with the living room and dining area. A powder room finds its place next to the entrance. Finally, a spacious veranda allows you to relax and admire the beautiful view of the cove.
Our utmost goal is to provide you with the best possible experience, to earn your friendship and goodwill, and to have you recommend us to your friends.
Everything about the condo & your stay is FULLY FURNISHED. Complete bed linens, towels, as well as everything you need in the kitchen (basic condiment necessities only and distilled water for consumption), including all plates, bowls, cups, glasses, pots & pans, and a stove, oven, coffee machine, toaster, rice cooker, microwave & full size refrigerator. We also have a washing machine, drying machine. For your convenience, you will be able to secure your valuables in a drawer with a lock system.
Upon check-in freshly changed sheets, clean sets of towels will be provided. For a longer stay, sheets and towels can be washed using our washing and drying machines. Although we provide an initial small shampoo and soaps for our guests' convenience, we will recommend to provide your own.
High floor condo unit
Secured by 24/7 security monitoring all building facilities.
Private WI-FI is available throughout the unit.
Entertainment system: flat-screen TV with HD cable TV and speakers.
Air-condition for the whole unit.
Intercom for fast communication to the reception desk.
RATES and FEES:
The monthly rate does not include utility bills. A security deposit of $2500 is for protection from damages, which will be handled entirely by AirB&B and charged only if damages or missing items will be found after check-out.
ADDITIONAL CHARGES:
The $50 cleaning fee is a one-time charge which consists in preparing your unit for your arrival and cleaning after your checkout.
If you would like to have a maid/cook during your stay, Alexandra could arrange it once you will check-in for an additional charge. Just let her know ahead of time.
**Security Deposit of $2500 (to be charged only when a claim is filed by the host) for any damages in the unit. A lost key= US$ 50 charge against your deposit because we'll have to change the lock system itself.
***Cancellation policy:
Long Term: First month down payment, 30 days notice for lease termination
Note: The Long Term cancellation policy applies to all reservations of 6 months or more.
Cleaning fees are always refunded if the guest did not check in.
The Airbnb service fee is non-refundable.
If there is a complaint from either party, notice must be given to Airbnb within 24 hours of check-in.
Airbnb will mediate when necessary, and has the final say in all disputes.
Cancellation policies may be superseded by the Guest Refund Policy, safety cancellations, or extenuating circumstances. Please review these exceptions.
Applicable taxes will be retained and remitted.
Accès des voyageurs
As our guests, you will be able to enjoy the Amara en Terrazas Facilities, which consist in:
- Swimming Pool
- Multi-purpose Pavilion
- Children's Playground
- Lawn area and Landscaping
- Parking for 2 cars. Additional parking spaces could be arranged ahead of time and will be allocated in the administration parking.
In addition, you will also be able to enjoy the following amenities in the Terrazas Club de Punta Fuego located at the bottom of the hill on which the condominium is located.
- Beach
- Café Sol
- KTV and Game Rooms
- Swimming Pool
- Showers and Lockers
- Boardwalk and Cabañas (additional charge)
- Water Sports Facilities (additional charges)
- Juice Bar
To fully experience the amenities that the Club has to offer, you could also plan a day tour of the Club in Peninsula de Punta Fuego for an additional cost of $24 per person, in which $20 can be applied as payment for any consumption from any of the outlets of the Club both at Terrazas and Peninsula de Punta Fuego.
Free of Charge for 7 years and below.
Endorsement coupons will be remitted by Alexandra upon request.
The Club de Punta Fuego in Peninsula is located a few minutes away from Amara en Terrazas and will require transportation.
- Golf Course
- Upper and Lower Beach
- San Diego fine dining restaurant
- Member's club lounge
- Spa
- Marina
- Theater
- Sports Facilities
Alexandra Siu, who is also a member of the Club, will be able to arrange a day tour if ever you decide to visit the Club in Peninsula de Punta Fuego during your stay. Simply give her an advance notice for better planning.
Autres remarques
Amara en Terrazas is a private and exclusive community. Condo. Corp. facilities and privileges can only be used by active members and their guests. Once your reservation will be confirmed, you will be endorsed by us as our guests, allowing you to enter the premises of Amara En Terrazas and giving you the opportunity to use the facilities that are available.
Amara is not a resort and it has no professional affiliation with the Club Terrazas de Punta Fuego and the Club located in Peninsula village. The receptionist is only available from 8:30 am to 5 pm. Although there is no doorman, the janitor in service during the day will be happy to help you with your belongings if they are not busy with their chores. There is also a maintenance service if needed. Tipping is at your own discretion, but it is not mandatory.
Maximum guests 8 people.
NOTE: Only the guests registered at the time of arrival are allowed to stay in the premises. It is strictly prohibited to add people who are not included on the original list of guests. Adding guests not registered will result in immediate termination of the agreement and forfeiture of all monies paid.
We can assist you to book another condominium inside the premises for the excess guests you may have. Kindly advise us in advance for proper planning. Thank you.

---
---
Voyageur supplémentaire Sans frais
Communiquez toujours via Airbnb
Pour protéger votre paiement, ne transférez jamais d'argent et n'établissez pas de contact en dehors du site ou de l'application Airbnb.
---
- Unit and common areas should be free from any waste materials, rubbish and garbage.
- Unit must be kept clean and free from all obnoxious and unpleasant odors.
- Please be considerate of your neighbors. Guests are expected to keep music and TV volume at a reasonable level, especially late at night (11 PM to 7 AM).
No smoking is allowed inside the unit and public places such as lobbies, elevators and pavilion. However, the balcony is a smoking section.
- Drivers and bodyguards are strictly prohibited in common areas such as lobbies, pavilion, swimming pool, playground, view deck and hallways.
- Pets are not allowed inside the unit
- Taxis, jeepneys (mini local buses), buses, motorcycles, bicycles and/or other vehicles used for public transportation are not allowed to park in the assigned unit owners' parking slots, parking provision is located beside Admin. Office Building.
- No loitering and honking are allowed.
- No hanging laundry on the balcony is allowed
- Carrying of firearms within the premises is limited to Condo. Corp. Security guards in uniform and those specifically authorized by the Management.
- Sleeping in public areas is strictly prohibited
- We will not be responsible for the loss or damage of property or valuables under any circumstances.
- Proper dress code should be observed in common areas at all times.
---
---
Séjour de 180 nuits minimum
---
Bonjour, Nous tenons absolument a marquer notre énorme satisfaction, tant en ce qui concerne l'appartement et ses équipements, que l'accueil reserve aux hôtes par Alexandra. Non seulement, l'appartement offre un confort royal, mais il est superbement situe en hauteur pour offrir aux locataires une vue exceptionnelle sur la baie. L'equipement est tout a fait complet en ce qui concerne " le menage", la literie et le confort, les salles de bain et " waters', les meubles,la cuisine, etc. Beaucoup de délicatesse egalement, dans la presentation globale, beaucoup de gout. De l'espace, évidemment. Nous avons ainsi passe un délicieux séjour ( 30/09 au 02/10 ), aussi délicieux que l'accueil d' Alexandra> Alexandra est toujours prête a rendre service, veille au grain ( sens propre comme figure), accompagne volontiers ' son petit monde" au club, et cela, toujours avec le sourire. Grace a ce sejour, nous avons reçu un bel acompte quant a notre premiere découverte des Philippines. Nous avons quitte cet endroit, ravis, doublement: par le lieu ( appartement et situation de celui-ci) , par l'accueil et l'efficacité de notre 'Hotesse". Nous confirmons en outre l'intérêt des mails qui annoncent honnêtement l' importance des achats au Robinson's de Tagatay, et qui précisent la difficulté sportive pour remonter de la plage vers l'immeuble... En basse saison, ds notre cas, les services ne présentent pas les memes offres. Philippe et Maro Enseignants retraites Belges residant en France
Un grand merci a Marie-Rose et Philippe, non seulement d'avoir pris le temps de nous envoyer des commentaires detailles et elogieux au sujet de l'appartement et de l'accueil qu'ils ont recu, mais aussi d'avoir ete des clients fort sympathiques et agreables avec un sens profond du respect des biens mis a leur dispositon pendant leur sejour.Nous apprecions notamment vos conseils au sujet de l'ambiance intime et avons deja achete un distributeur d'eau glace et chaude. J'ai ete heureuse de les recevoir et j'espere qu'un jour nos chemins se croiseront une fois de plus. Bonne Vacances!
---
This is our second time staying in the unit and everything was still in tip top shape. This is also our second review. This time, I went with my 2 kids, their grandparents and our helper. The unit is 3 bedrooms with an additional maid's quarters. It's very modern and contains everything you could possibly need. This includes a washer, drier, air cons in all rooms, a fully equipped kitchen. For us, it is great we would go out during the day and come back and lunch/dinner was ready (due to our helper) and the place was clean. The facilities were great. A pool by the condo with a little playground which our 4 and 5 year old still like. A pool by the beach and again this is a great swimming beach. Small fun waves if there is a storm, otherwise very calm. Great sandy beach with no rocks or shells except at the far ends. This is a better beach than the main Punta Fuego Club beach. Lastly, the restaurant by the beach is not great and is only open until 7pm. So, if you can I would highly recommend that people bring their own helper if they don't like cooking and cleaning themselves. We also went to the main club twice. Entry is 1000 per adult, which includes an 850 peso consumable. Our kids are under 7 so still free, otherwise it would be pricey. Luckily, it was the end of the year so Alexandra had some free passes that we could use. The main club has another 3 pools, a tennis court, a squash court, restaurant and a beach. So, it was a nice change for our kids. The restaurant there is okay (not good, not bad), but overpriced. Generally, we bring our own food and don't eat at any restaurants. Nasugbu town is a 10 minute drive away and there is now a Save More Supermarket there. Last bit of advice is to take the Cavitex way there, not via Tagaytay. It only took 2.5 hours to get there this time. Finally, let me mention the great customer service that Alexandra and Bob provide. They are always prompt and efficient in their replies. When we needed passes to go to the main club, Alexandra quickly set this up even though she was in Nasugbu town at the time. The place was super clean when we got there. Alexandra even had Christmas music playing for us when we arrived. The Christmas decorations for the Terrazas were done very well, again overseen by Alexandra. That's about it. We look forward to our next visit to Amara as it is a great economical vacation for us and only a short drive away.
---
Robert's place is exactly as pictured. It is a gorgeous modern condo. Alexandra and Robert were excellent and prompt with all of their communication both before and during our visit. Robert is extremely to have Alexandra on site to show how everything in the condo works as well as to offer advice and help with what to do each day both at Amara and Club Punta Fuego. We were a family of 4, with 2 boys aged 3 and 4.5. We took our maid who stayed in the maid's quarters, which is in fact a bunk bed with it's own bathroom, washer and drier. We went during the low season so the place was pretty empty. It is busier in the high season. Firstly, the condo itself is great with all modern amenities including air con in all rooms except the maid's quarters, complete kitchen, full size refrigerator, tv, wifi, dvds, board games, books, balcony overlooking the sea (the website picture's an accurate view from the balcony). The windows are well insulated so even though there was music from down the beach, we couldn't hear it once the doors and windows were closed. On to our visit, there is a pool with a small playground right outside the condo building. Our boys loved both. From the condo, it's a 15 minute walk down to the clubhouse restaurant and pool, and beach. It is a steep walk, so we only did it once, but the drive is only 5 minutes. The clubhouse restaurant and pool are open from 9am-7pm. From what we read and the menu we saw, the restaurant wasn't good, which is why we brought our own great cook/maid. The pool by the beach was great, and our kids had a blast there. The beach is a very safe swimming and sand beach, which our kids also loved. One day, we hired a boat to take us to a cool "cave" that the ocean has created, a nearby island for snorkelling. It cost us 1400 pesos. We had earplugs because these boats are noisy, but our kids wouldn't wear them. On weekends or during high season, there are kayaks for hire and it looks like banana boat rides too. Club Punta Fuego is a 15 minute drive away. It costs 1000 per person (including an 850 consumable), but kids under 7 are free. Kids, 5 and under eat the buffet free. I took the kids to the breakfast buffet for about 700 pesos, while my wife played tennis. It was alright but they shouldn't call Tang, "orange juice" and Zesto "pineapple juice". For lunch we had a yummy salad and a side of baba ghanoush which was great. The Club had 2 more pools, a playground and another beach so our kids were happy and busy. However, if our kids were over 7, it would only have been worth it if we went diving and ate all of our meals there. Overall - a great place! We'll be back...
Hi Neil, Thank you for that great review and your helpful comments. We greatly appreciate it. By the way, I heartily agree that Tang should not be sold as orange juice (well, maybe in Antarctica or on the moon) but not in a country so renowned for its wonderful abundance of fresh fruits! Interestingly, a college classmate of mine in the 1960's, was the son of the chemist who invented Tang. It was developed for the astronauts' moon mission not to be sold as orange juice at Club Punta Fuego. Looking forward to your next visit, Robert
---
Communication with Alexandra, the onsite "property manager", has been great. Despite our many requests for change and other favors, Alexandra always came through with the best solution, and more! She is really an asset to have as a contact at Terrazas de Punta Fuego. The Club facilities are great as well and the beachside setting and views did not disappoint. As for the apartment itself, all I can say is that it lived up to our high expectations which had been set by the wonderful listing description and reviews. It's really a pity that this apartment is no longer available for short-term rental. It's a retreat we could keep coming back to for years.
Dear Maria, Thank you so much for your kind and warm reviews about our condo and Alexandra. She enjoyed taking care of your family as she did for all the other families before you. It is indeed a wonderful retreat that we will certainly enjoy during our retirement years. Thanks again and wish you all the best to you and lovely family.
---
The host is very accommodating. The place is clean and with a nice ambiance and a cool place for relaxation. Very peaceful and quiet.
---
What an awesome holiday! Perfect penthouse, Alexandra was a wonderful host, great location, amazing views. We can't say enough good things about this unit! Such a shame that the leasing arrangements will change as we want to come back again!
Hello Sharon! Thank you for staying with us and for your kind comments about our unit, our community and the hospitality of Alexandra. We are also very sad to terminate our short term rentals since it has been a wonderful experience to share our unit with so many guests. We feel so blessed that many of them, just like you, took the time to express their satisfaction and gratitude. And as such, we are endlessly grateful. Take care!
---
Échanges avec les voyageurs
While you will be staying in our unit, you will be greeted by our Tahitian-French friend, Alexandra Siu, who is also a proud unit owner. She moved to Amara En Terrazas along with her husband and two children in 2010 and has been enjoying this place ever since. She will be looking over your stay if ever you need assistance. If you would like to book any activities that are not part of your package, she will be very happy to help you. For your information, Alexandra speaks English and French, as well.
You will be able to obtain her contact information once your booking is confirmed.

I grew up on a Minnesota farm. When I was younger I spent some time working as a merchant seaman and have set foot on all continents except Australia. More recently I have primarily worked as an educator in local public school systems in the New Orleans, Louisiana area.

I like travel, books and movies and in all of these I strive to go off the beaten path. In movies I have a bias toward foreign films. I also like to read a lot. One of my all time favorite reads is an out-of-print book, "The Lonely Sea and the Sky" by Sir Francis Chichester. I am also interested in books and movies focused on the Middle East such as "The Cairo Trilogy" and other works by Naguib Mahfouz as well as "The Alexandria Quartet" by Lawrence Durrell which I enjoy rereading every few years. In the realm of travel writing I am a big fan of Paul Theroux. I listen to a broad range of music and am a lifelong blues fan. My wife, Juliet, and I enjoy travelling to the Philippines where we have family and where we enjoy the delicious food, excellent diving, water sports opportunities and friendly hospitable people. We hope to eventually retire there. Other places I am interested in visiting include Peru, Ecuador, Argentina, Chile, Istanbul and China. I would also like to see more of Europe, especially Paris and Florence.

When we travel we like to dive into things be it scuba/snorkeling, hiking, boating and otherwise "getting out there". While we enjoy fine dining, we are generally very casual and probably enjoy a back yard barbecue as much as a fine restaurant.

As guests we prefer casual comfortable accommodations with inspiring views and opportunities to enjoy nature. We always go out of our way to be considerate and leave a place as we found it. If we have the privilege of hosting you, I can assure you that we, and our gracious friend and onsite manager, Alexandra Siu, will go out of our way to assure that you have the best possible experience.


Découvrez d'autres options à Nasugbu et dans ses environs
Plus de logements à Nasugbu :