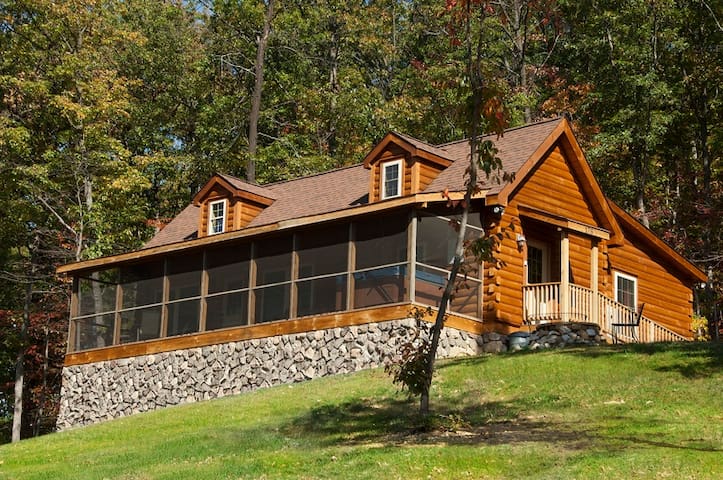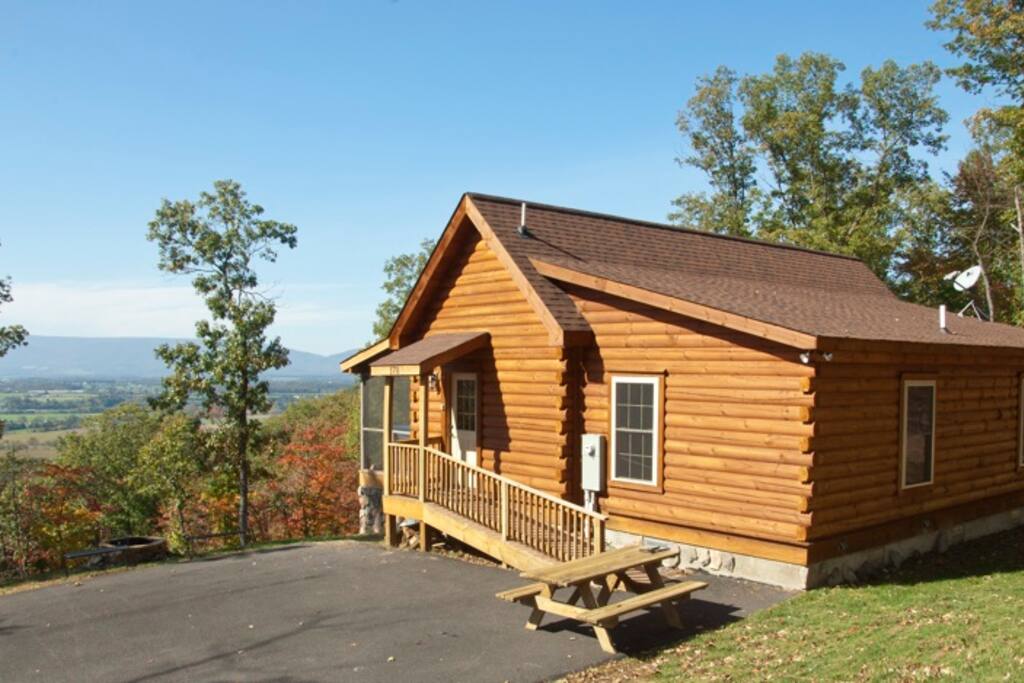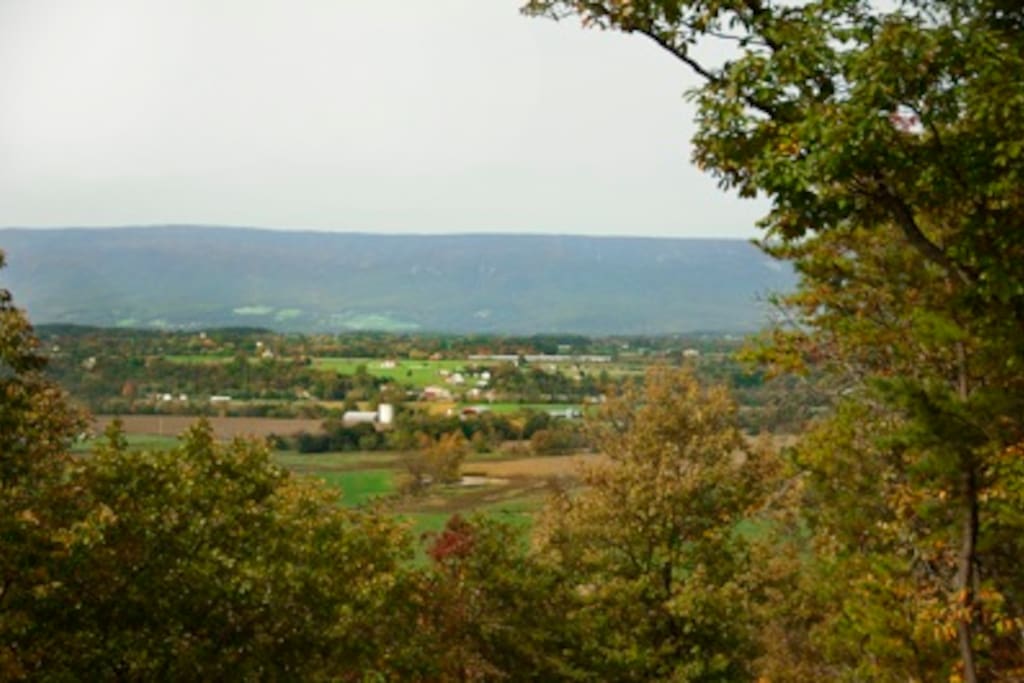 Kalmia Cabin est une cabine moderne de 2 chambres et 2 salles de bains sur un versant de montagne surplombant la vallée de Shenandoah. Les équipements comprennent un bain à remous sur un porche filtré, une cheminée à gaz, un wifi, une télévision haute définition et un accès à l'étang de randonnée et de pêche.
Kalmia Cabin is a modern 2 bedroom, 2 bathroom cabin on a mountainside overlooking the Shenandoah Valley. Amenities include a hot tub on a screened porch, gas fireplace, wifi, HDTV and access to hiking and fishing pond.
Le logement
Kalmia est le nom scientifique de Mountain Laurel, l'arbuste à feuilles persistantes qui accueille notre montagne. Nous avons situé Kalmia Cabin pour profiter des vues incroyables. Kalmia se trouve à 300 pieds au-dessus de la vallée de Shenandoah sur une montagne privée qui est le pied des montagnes Blueridge. La chambre principale dispose d'un lit king et d'une salle de bains privative. La deuxième chambre a un lit queen. Il y a un loft avec un futon qui fait un lit double. Le canapé convertit également sur un lit queen. Le salon a un plafond cathédrale ouvert avec des poutres de bois lourd exposées et une lucarne pour laisser entrer beaucoup de lumière naturelle. La cuisine complète avec de nouveaux appareils GE (réfrigérateur, micro-ondes, machine à glaçons, lave-vaisselle) et pots, casseroles et vaisselle sont inclus. Il y a une cheminée à gaz avec une cheminée en pierre de plancher au plafond. Juste au-dessus de la cheminée se trouve un téléviseur HD de 50 pouces avec un disquette DirecTV HD et un lecteur Blu-Ray avec une diffusion gratuite de Netflix, Pandora Radio et YouTube. Un service Internet haut débit sans fil est fourni. Nous pensons que le porche est la meilleure caractéristique de Kalmia; Il est projeté, dispose d'un bain à remous, d'une table, de chaises, de chaises à bascule et d'une vue imprenable sur la vallée de Shenandoah. À l'extérieur, vous trouverez une table de pique-nique, une grille à charbon et un foyer. Compte tenu du loyer reçu et des promesses mutuelles contenues dans le présent document, le propriétaire de la propriété de location loue et loue à l'invité ce (s) bien (s) de location selon les termes et conditions suivants: 1. PAIEMENT DES LOCATIONS - Un paiement anticipé égal à 50% du taux de location total est dû immédiatement. Les réservations ne sont pas confirmées tant que ce contrat n'est pas convenu et le paiement anticipé est reçu par Shenandoah Woods. Le solde du loyer est dû 7 jours avant l'arrivée. Le paiement anticipé n'est pas un dépôt de dommages. 2. DOMMAGES - Les dommages et charges accumulés, tels que la programmation payante et les appels interurbains, seront payables immédiatement. Les invités seront informés après le départ si des dommages sont constatés et le coût de la réparation. 3. RÈGLES ET RÈGLEMENTS - Les invités acceptent de se conformer à toutes les règles et règlements contenus dans le présent document et dans le carnet d'information de la propriété et les panneaux affichés. Les obligations de l'invité incluent, sans s'y limiter, le maintien des locaux aussi propre et sûr que les conditions du lieu le permettent et n'entraînent pas de conditions dangereuses ou non dans les locaux. Les invités acceptent de ne pas utiliser les locaux pour toute activité commerciale ou but qui enfreint toute loi pénale ou réglementation gouvernementale. L'invité s'engage à maintenir la nature sereine de la communauté et n'autorise pas de bruits substantiellement bruyants, y compris, mais sans s'y limiter, de la musique, des cris et des feux d'artifice à tout moment. Les ordonnances locales sur le bruit doivent être respectées. Les heures de repos sont entre 22h et 7h. La musique doit être maintenue à un volume approprié en tout temps et doit être refusée aux niveaux d'arrière-plan pendant les heures de silence. L'invité ne doit pas utiliser ou autoriser dans les locaux des substances réglementées illégales, des armes à feu ou des objets dangereux pour les personnes ou les biens. L'utilisation de véhicules tout-terrain et de motos est interdite. Il est interdit de fumer à l'intérieur de la propriété. L'invité doit être tranquille et paisiblement profiter des locaux afin de ne pas déranger les voisins. La violation par l'invité de tout droit visé dans le présent paragraphe est considérée comme matérielle et entraînera la résiliation de l'occupation des personnes sans remboursement de quelque nature que ce soit. 4. OCCUPATION - L'heure d'arrivée est après 16h et l'heure de départ est de 11h. En aucun cas, le bien locatif ne doit être occupé par plus de personnes que celles autorisées au moment de la confirmation de réservation, sans l'approbation préalable de Shenandoah Woods. Les adultes supplémentaires (âgés de 18 ans et plus) qui ne sont pas approuvés précédemment auront une taxe de plus de 25 $ par personne, des frais supplémentaires de nuit et des enfants supplémentaires (moins de 18 ans) qui n'ont pas été approuvés auparavant entraîneront une taxe supplémentaire de 10 $ par personne et des frais supplémentaires de nuit. Les visiteurs (les clients ne passent pas la nuit) auront un supplément de 5 $ par personne par jour et doivent partir les locaux avant 1h du matin. Aucune fraternité, école, civique ou autre groupe non familial est autorisé à moins que le propriétaire n'accepte l'approbation préalable. En aucun cas, l'invité ne peut céder ou sous-louer le bien locatif en totalité ou en partie. Les violations de ces règles justifient une expulsion rapide sans aucun remboursement. Les invités reconnaissent par les présentes et accordent une permission spécifique à Shenandoah Woods pour entrer dans les locaux à tout moment à des fins d'inspection si Shenandoah Woods croyait raisonnablement que les invités violent toute condition dans ce contrat. Invité s'engage également à accorder à Shenandoah Woods l'accès aux biens locatifs aux fins d'entretien et de réparation. Si la liste «À vendre», l'Invité accepte d'accorder un rendez-vous lors d'une notification. 5. ANNULATIONS - Dans le cas où le client souhaiterait annuler cette entente, un remboursement intégral des loyers reçus, moins les frais de traitement de la carte de crédit sera Délivré si l'annulation est effectuée plus de 30 jours avant la date d'arrivée. 25% du montant total de la location sera confisqué si l'annulation est faite avec un préavis de moins de 30 jours, mais un préavis de plus de 7 jours avant la date d'arrivée. Si l'annulation est dans les 7 jours suivant la date d'arrivée, 50% du montant total de la location sera confisqué. 6. ANIMAUX - Un certain nombre de propriétés permettent aux animaux de compagnie, veuillez consulter (URL HIDDEN) L'invité doit informer Shenandoah Woods de leur intention d'apporter un (des) animal (s). L'invité est responsable du nettoyage de la zone autour des propriétés de location de toutes les excrétions pour animaux de compagnie. L'invité s'engage à payer une taxe non-remboursable pour animaux de compagnie, de 10 $ plus taxes par animal de compagnie, par nuit. Les dégâts matériels causés par les animaux de compagnie aux biens de location seront à la charge de l'invité et seront payés immédiatement après la notification par Shenandoah Woods. Toute preuve d'un (des) animal (s) non déclaré (s) trouvé (s) dans ou autour d'une propriété NO PET peut entraîner une expulsion accélérée, la confiscation de toutes les sommes payées et une charge non déclarée pour animaux de compagnie de 150,00 $ par animal évalué. 7. CONDITION DE LA PROPRIÉTÉ - Aucun remboursement ne sera fourni en raison d'appareils, de piscines, de bains à remous, d'ascenseurs, de téléphones, d'Internet, de jeux, etc. Shenandoah Woods fera tous les efforts raisonnables pour s'assurer que ces appareils et ces équipements seront en bon état de fonctionnement . Aucun remboursement ne sera accordé en raison des pannes d'électricité, de la pénurie d'eau, des inondations, de la neige, de la glace, de la construction de propriétés adjacentes ou des évacuations obligatoires de la région par des fonctionnaires en raison de situations potentiellement dangereuses découlant d'actes de Dieu ou de nature. L'assurance voyage est recommandée. Vous louez une maison, la propriété et le contenu doivent être laissés comme ils ont été trouvés. Ne pas déplacer les meubles. Les plats doivent être nettoyés, les déchets doivent être nettoyés, les déchets et les déchets recyclables doivent être éliminés dans les récipients fournis. 8. ACCESSIBILITÉ DE LA PROPRIÉTÉ - L'invité comprend que la propriété est située dans une zone montagneuse. Les routes peuvent contenir des nids de poule, des ornières, des pentes abruptes et des terrains accidentés. La plupart des véhicules n'ont aucun problème à accéder à la propriété tant que vous conduisez en toute sécurité et lentement. Les véhicules à faible profil tels que les voitures de sport ne sont pas recommandés. Pendant les intempéries, comme la neige ou la glace, vous pourriez avoir besoin d'un véhicule à 4 roues motrices et / ou de chaînes de pneus. Shenandoah Woods fera tous les efforts raisonnables pour garder les routes en état passable. Aucun remboursement ne sera accordé pour les conditions routières découlant des actes de Dieu ou de la nature. L'assurance voyage est recommandée. 9. PERDU ET TROUVÉ - Des frais de 10,00 $, plus les frais d'emballage et d'expédition, s'appliquent à tout élément perdu et trouvé que Shenandoah Woods est invité à retourner chez les invités. Les articles non réclamés dans les sept jours suivant le départ seront réglés à la discrétion de Shenandoah Woods. 10. IMPOSSIBILITÉ DE VOYAGE - L'invité n'a droit à aucune réclamation contre Shenandoah Woods découlant de l'incapacité de l'Invité à compléter ses plans de voyage pour quelque raison que ce soit en dehors du contrôle de Shenandoah Woods. L'assurance voyage est recommandée. 11. TUBES CHAUDS - Si un bain à remous est fourni à la propriété de location, il sera préparé et testé pour des niveaux chimiques appropriés et sûrs avant l'occupation. Le bain à remous peut être rempli le jour de votre arrivée et peut ne pas être chaud avant plus tard dans la soirée. L'invité s'engage à se conformer aux règles du spa offertes près du spa. Le mauvais usage du bain à remous par l'ajout de substances étrangères dans la baignoire, c'est-à-dire l'alcool, l'herbe, la boue, le savon, le shampooing, les huiles, le verre ou le métal entraînera des frais de drainage et de nettoyage de 150 $. En aucun cas, les animaux de compagnie ne sont autorisés dans les bains à remous. Les enfants doivent être supervisés en tout temps. L'utilisation du bain à remous est au risque des invités. La violation de ces dispositions et les règles publiées à proximité du bain à remous justifieront une expulsion accélérée et les invités ne seront pas admissibles au remboursement des sommes de location payées aux termes du présent Accord. 12. LINGE / SERVIETTES - Les draps et les serviettes sont fournis à toutes les propriétés, à l'exception de la retraite de Piney Mountain, où seuls les draps sont fournis. Les invités peuvent être responsables de faire des lits. Les draps DOIVENT être utilisés sur tous les lits utilisés. Si vous n'utilisez pas de linge de lit, vous risquez d'avoir une charge importante de remplacement de matelas. L'invité est responsable du remboursement du coût de tout linge et serviettes de lit perdu ou endommagé. Garder les lits qui ont été dormis en refusés. 13. CHEMINÉES - Les cheminées peuvent être une cheminée de chemin de fer à gaz propane non ventilée. Ne placez pas de nourriture, de papier ou d'autres matériaux dans la cheminée. Ne faites aucun réglage dans le foyer. Soyez prudent car les foyers peuvent être très chauds. Les foyers peuvent ne pas fonctionner pendant les mois d'été. 14. PITS D'INCENDIE ET CUISINES DE CUISSON - L'invité est chargé de fournir du bois de chauffage et du charbon de bois. Le bois de chauffage ne peut être retiré de la propriété. Ne pas brûler autre chose que le bois de chauffage et l'allumage. Les incendies doivent être surveillés en tout temps. Invité i
Kalmia is the scientific name for Mountain Laurel, the evergreen shrub that graces our mountainside. We located Kalmia Cabin to take advantage of the incredible views. Kalmia sits 300 feet above the Shenandoah Valley on a private mountain which is a foothill of the Blueridge Mountains.
The master bedroom has a king bed and a private bathroom. The second bedroom has a queen bed. There is a loft with a futon that makes a double sized bed. The sofa also converts to a queen sized bed. The living room has an open cathedral ceiling with exposed heavy timber beams and a dormer to let in plenty of natural light. Full Kitchen with new GE appliances (refrigerator, microwave, ice maker, dishwasher) and pots, pans and dinnerware are included.
There is a gas log fireplace with a floor to ceiling stone chimney. Just above the fireplace is a 50" HDTV with DirecTV HD package and Blu-Ray player with free Netflix streaming, Pandora Radio and YouTube. Wireless broadband internet service is provided.
We think the front porch is the best feature of Kalmia; it's screened in, has a hot tub, table, chairs, rocking chairs and a stunning view of the Shenandoah Valley. Outside you'll find a picnic table, charcoal grill, and fire pit.
In consideration of the rent received and the mutual promises contained herein, Owner of the Rental Property does hereby lease and rent to Guest(s) such Rental Property under the following terms and conditions:
1. RENTAL PAYMENT – An advance payment equal to 50% of the total rental rate is due immediately. Reservations are not confirmed until this contract is agreed to and advance payment is received by Shenandoah Woods. The balance of rent is due seven days prior to arrival. The advance payment is not a damage deposit.
2. DAMAGES – Damages and charges accrued such as pay-per-view programming and long distance phone calls will be payable immediately. Guest will be notified after departure if any damages are found and the cost of repair.
3. RULES AND REGULATIONS - Guests agree to abide by all rules and regulations contained herein and in the property's information book and posted signs. Guest's obligations include but are not limited to keeping the premises as clean and safe as the conditions of the premises permit and causing no unsafe or unsanitary conditions in the premises. Guests agree not to use the premises for any commercial activities or purpose that violates any criminal law or governmental regulation. Guest agrees to maintain the serene nature of the community and will not allow substantially loud noises, including, but not limited to, music, shouting and fireworks at anytime. Local noise ordinances must be adhered to. Quiet hours is between 10pm and 7am. Music must be maintained at an appropriate volume at all times and must be turned down to background levels during quiet hours. Guest shall not use or permit on the premises any illegal controlled substances, firearms, or items hazardous to persons or property. The use of all-terrain vehicles and motorcycles is prohibited. Smoking is not allowed inside the property. Guest shall be quiet and peacefully enjoy the premises so as not to disturb neighbors. Guest's breach of any duty contained in this paragraph shall be considered material and shall result in the termination of guest occupancy with no refund of any kind.
4. OCCUPANCY – Check-in time is after 4pm and check-out time is by 11am. In no event shall the Rental Property be occupied by more persons than authorized at time of booking confirmation, without prior approval by Shenandoah Woods. Additional adults (age 18 and older) not previously approved will incur a $25 plus tax per person, per night additional charge and additional children (under age 18) not previously approved will incur a $10 plus tax per person, per night additional charge. Visitors (guests not staying overnight) will incur an additional $5 fee per guest per day and must depart the premises by 1am. No fraternities, school, civic, or other non-family groups are allowed unless Owner grants prior approval. In no event shall Guest assign or sublet the Rental Property in whole or in part. Violations of these rules are grounds for expedited eviction with no refund of any kind. Guests hereby acknowledge and grant specific permission to Shenandoah Woods to enter premises at any time for inspection purposes should Shenandoah Woods reasonably believe that Guests are violating any condition in this contract. Guest further agrees to grant Shenandoah Woods access to Rental Property for purposes of maintenance and repair. If listed "For Sale", Guest agrees to grant access by scheduled appointment upon notification.
5. CANCELLATIONS - In the event Guest wishes to cancel this agreement, a full refund of the rents received, less credit card processing fees, will be issued if the cancellation is made more than 30 days in advance of the arrival date. 25% of the total rental amount shall be forfeited if the cancellation is made with less than 30 days notice but more than 7 days notice in advance of the arrival date. If cancellation is within 7 days of the arrival date, 50% of the total rental amount shall be forfeited.
6. PETS - A select number of properties allow pets, please consult (URL HIDDEN) Guest must inform Shenandoah Woods of their intention to bring a pet(s). Guest is responsible for cleaning the area around Rental Property of all pet excretions. Guest agrees to pay a non-refundable Pet Fee, of $10 plus tax per pet, per night. Any material damage by pet(s) to the Rental Property will be the responsibility of the Guest and shall be paid immediately upon notification by Shenandoah Woods. Any evidence of undeclared pet(s) found in or about a NO PET property may result in expedited eviction, forfeiture of all monies paid, and a non-declared pet charge of $150.00 per pet assessed.
7. PROPERTY CONDITION - No refunds will be provided due to inoperable appliances, pools, hot tubs, elevators, telephones, internet, games, etc. Shenandoah Woods will make every reasonable effort to assure that such appliances and amenities will be in good working order. No refunds will be given due to power blackouts, water shortage, flooding, snow, ice, construction at adjacent properties, or mandatory evacuations of the area by government officials due to potentially dangerous situations arising from acts of God or nature. Travel insurance is recommended. You are renting a home, the property and contents are to be left as they were found. Do not move furniture. Dishes are to be cleaned, messes are to be cleaned, trash and recyclables are to be disposed of in the provided receptacles.
8. PROPERTY ACCESSIBILITY – Guest understands that the property is located in a mountainous area. Roads may contain potholes, ruts, steep inclines and rough terrain. Most vehicles have no trouble accessing the property as long as you drive safely and slowly. Low profile vehicles such as sports cars are not recommended. During inclement weather such as snow or ice you may need a 4 wheel drive vehicle and/or tire chains. Shenandoah Woods will make every reasonable effort to keep roads in passable condition. No refunds will be provided for road conditions arising from acts of God or nature. Travel insurance is recommended.
9. LOST AND FOUND - A $10.00 fee, plus packing and shipping costs, applies to any Lost and Found items that Shenandoah Woods is requested to return to Guests. Items not claimed within seven days of departure will be disposed of at the discretion of Shenandoah Woods.
10. INABILITY TO TRAVEL - Guest is not entitled to any claim against Shenandoah Woods arising out of Guest's inability to complete his/her travel plans for any reason outside of the control of Shenandoah Woods. Travel insurance is recommended.
11. HOT TUBS - If a hot tub is provided at the Rental Property, it will be prepared and tested for proper and safe chemical levels prior to occupancy. Hot tub may be refilled on the day of your arrival and may not be warm until later that evening. Guest agrees to abide by the hot tub rules posted near the hot tub. Misuse of hot tub by the addition of foreign substances into the tub, i.e. alcohol, grass, mud, soap, shampoo, oils, glass or metal will result in a $150 draining and cleaning fee. Under no circumstances are pets allowed in hot tubs. Children must be supervised at all times. Use of the hot tub is at Guests' own risk. Violation of these provisions and the rules posted near the hot tub shall be grounds for expedited eviction and guest shall not be entitled to the return of any rental monies paid under the terms of this Agreement.
12. LINENS/TOWELS – Bed linens and towels are provided at all of the properties except Piney Mountain retreat where only bed linens are provided. Guests may be responsible for making beds. Bed linens MUST be used on all beds used. Failure to use bed linens may result in a substantial mattress replacement charge. Guest is responsible for reimbursing the cost of any lost or damaged bed linens and towels. Keep beds that have been slept in turned down.
13. FIREPLACES – Fireplaces may be a non-vented propane gas log firebox. Please do not place food, paper or any other materials in the fireplace. Please do not make any adjustments inside the firebox. Use caution as fireplaces may be very hot. Fireplaces may not be operational during the summer months.
14. FIRE PITS AND COOKING GRILLS – Guest is responsible for supplying firewood and charcoal. Firewood may not be gathered from the property. Do not burn anything other than firewood and kindling. Fires must be supervised at all times. Guest is responsible for ensuring that fires are fully extinguished after use. Use extreme caution using fire pits and grills. Local fire laws and bans must be observed.
15. WATER AND SEPTIC – The properties use private wells and septic systems. The mineral content in the water may be high and the well water may have an odor and/or color. The septic system is effective under normal conditions; however, it will clog if improper material is flushed. DO NOT FLUSH anything other than toilet paper. Feminine hygiene products may not be flushed at anytime. If it is found that improper products have been flushed causing a clog in the septic system, Guest will be responsible for repair charges.
16. INDEMNITY - In the event Owner is unable to make Rental Property or a reasonable substitute available for any reason other than described above Guest agrees Shenandoah Woods sole liability as a result of this unavailability is to provide a full refund of all monies paid under this Agreement and Guest expressly acknowledges that in no event shall Shenandoah Woods be held liable for any special or consequential damages which result from this unavailability. Guest also agrees to indemnify Shenandoah Woods from and against liability for injury to Guest or any other person occupying Rental Property resulting from any cause whatsoever including, but not limited to, injury sustained as a result of use of the phone, spa, hot tub, whirlpool tub, pool, exercise equipment, etc. except only such a personal injury caused by the gross negligence or intentional acts of Shenandoah Woods.
17. BREACH OF TERMS - Shenandoah Woods may terminate this Agreement upon the breach of any of the terms hereof by Guest. In such case Guest shall not be entitled to the return of any rental monies paid under the terms of this Agreement and shall vacate the Property immediately.
I understand the rules and rental conditions upon which I am agreeing to rent accommodations, roads, equipment, and use of the property, watercraft, and land. I acknowledge and accept that the sole responsibility for safety lies with the participant. In agreeing to this, I acknowledge that outdoor, mountain, water, and camping activities and exposure to the natural elements and animals can be dangerous and sometimes result in injury and even death. Riverbanks, streams, ponds, steps and decks can be slippery, animals and insects can threaten and infect or injure, exposure to the elements can cause hypothermia, sunburn, among other risks inherent in participating in camping, outdoor and water activities. I know that alcohol and/or drugs do not mix safely with any outdoor activity. I am over the age of 18 (and assume responsibility for those in my charge under the age of 18.) I hereby assume all legal responsibility for bodily injury to me or to any person on the property as a result of my visit and use, operation or possession of equipment hired or loaned to me. Acknowledging this, I accept complete responsibility for the minor children and myself in my charge and visit the property and equipment and engage in activities or events at my own risk. The property I rent will be returned in the same condition in which it was rented and I will be responsible for all damage and/or loss that occurs during my rental period. I will abide by the rules and accept these rental conditions(URL HIDDEN)agree to hold harmless and to indemnify Shenandoah Woods and the property owners against all loss, damage, expense and penalty on account of personal injury or property damage to the rental dwellers, the undersigned or to any minor child or children in the charge of the undersigned, howsoever rising, whether by act or acts or failure to act of the employees, owners or animals of the said company or property owners or not.
I acknowledge receipt of the property in good order and condition (if found otherwise upon my arrival I will contact Shenandoah Woods immediately) and further agree that the owners of the property shall not be liable for consequential damages of any kind or nature from whatever cause arising, whether property or equipment is loaned or rented.
I enter into agreement freely with the property owners at my own risk, acknowledging the risks inherent in outdoor and water activities and assume any and all responsibility for myself, all guests in my party, and the minor children in my charge.
All parties agree to and will comply with Federal, State and County pollution laws and any other applicable laws and regulations.
This Agreement shall be enforced under the laws of the State of Virginia, including the VIRGINIA VACATION RENTAL ACT, and represents the entire Agreement. Any amendments must be in writing and signed by both parties. In the event of a dispute, legal action may only be instituted in the County within which the Rental Property is located. If any part of this Agreement shall be deemed unenforceable by law, that part shall be omitted from this Agreement without affecting the remaining Agreement.
Accès des voyageurs
Étang de randonnée et pêche.
Échanges avec les voyageurs
Vous ne nous verrez probablement que si vous avez besoin de quelque chose.
You probably won't see us unless you need something.
---
---
Voyageur supplémentaire $32 CAD / nuit après 2 voyageurs
Réduction à la semaine : 28%
Communiquez toujours via Airbnb
Pour protéger votre paiement, ne transférez jamais d'argent et n'établissez pas de contact en dehors du site ou de l'application Airbnb.
En savoir plus
---
Chambre 2
1 lit queen size
Espaces communs
1 lit double
---
L'entrée dans les lieux se fait à partir de 16:00
Quite hours are 10pm to 7am. This is not a party house.
---
---
Séjour de 2 nuits minimum
---
Cori and Jason live in the Shenandoah Valley and own several vacation properties and a wedding venue. They loving living in Virginia and think you will love it too. They have 5 kids and love to travel. The American southwest and Europe are some favorite destinations.
Taux de réponse :
100%
Délai de réponse :
Quelques heures
Découvrez d'autres options à Stanley et dans ses environs
Plus de logements à Stanley :