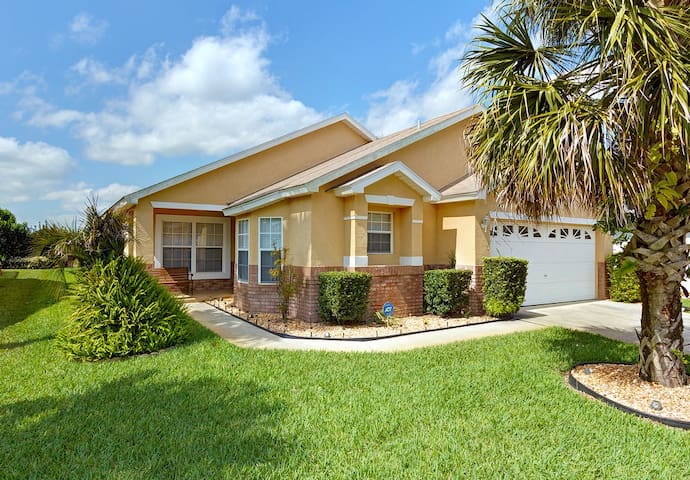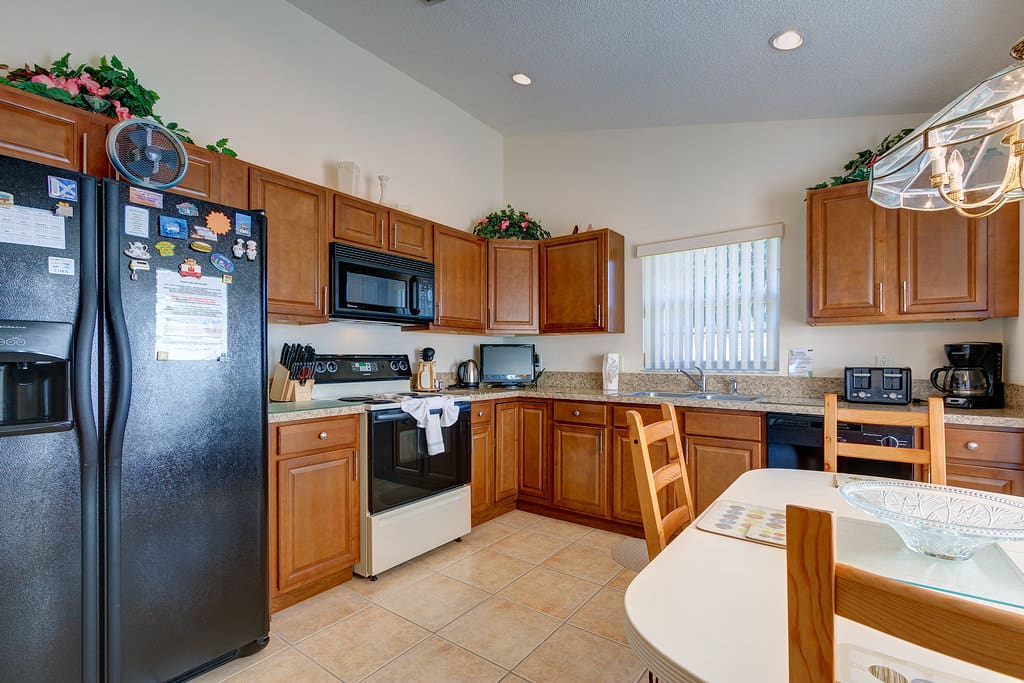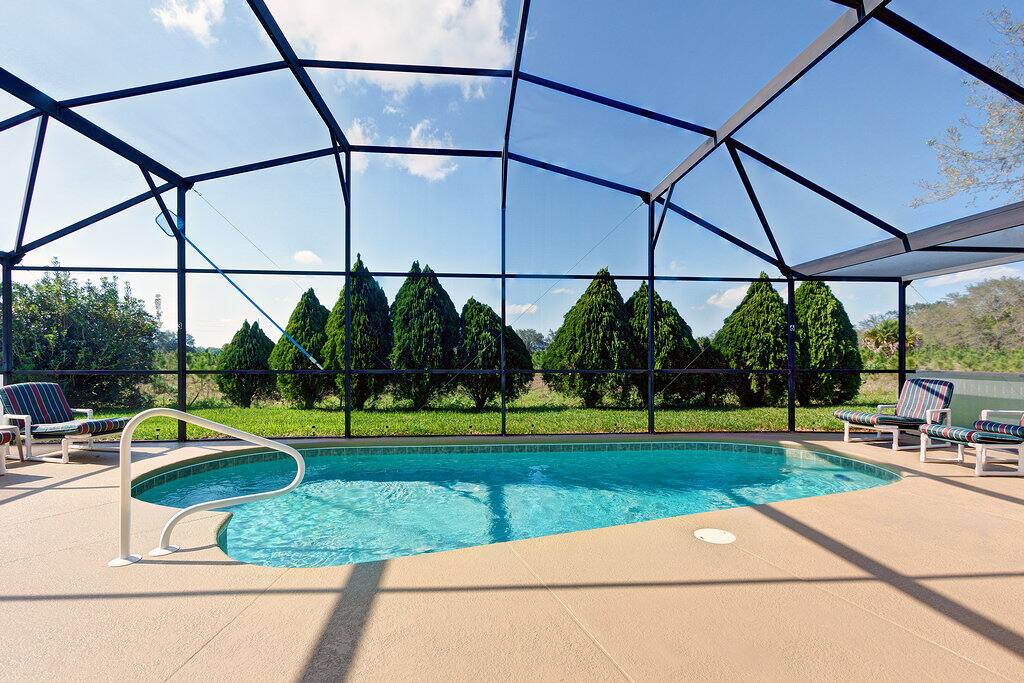 If you appreciate the good things in life, then our fabulous conservation view 4 bed / 3 bath villa located on the much sought after subdivision of Indian Creek is the ideal place for your next Florida vacation.
Le logement
If you appreciate the good things in life, then our fabulous conservation view 4 bed / 3 bath villa located on the much sought after subdivision of Indian Creek is the ideal place for your next Florida vacation. Situated on an over-sized corner plot, with extensive and uninterrupted views from the pool deck, you'll feel like royalty as you survey the splendor of your backyard kingdom.
And as you enjoy the feast of nature's bounty, you can relax and unwind while the kids play safely inside, honing their skills in our newly installed games room ~ that's assuming you can keep them out of the pool of course ! If this sounds too good to be true, then read on, because we haven't even started yet …
Pool Area Our delightful pool area and the incredible conservation views are among the most popular features of our beautiful Florida home. Provided for your comfort are luxury deep padded Palm Casual loungers, chairs and foot rests. And if the urge for a little al fresco dining takes you, we also have an abundance of weather proof chairs and a sturdy table to make your poolside meal as comfortable and convenient as possible. For those who wish to tan you will love our sunny aspect, but for those who appreciate the warmth without the direct sunlight, our spacious covered lanai means that you can still join in with the family's activities from the comfort of this lightly shaded area. At the heart of the villa, our magnificent family room has been fully tiled to help maintain a pleasantly cool temperature.
Designed for comfort, you will love our super soft furnishings and tasteful décor, complete with TV, DVD / VHS players, hi-fi system and FREE highspeed wireless internet connection - bring your own laptop! As with the rest of our home, the decorative accents create a calming ambiance, and provide a perfect setting in which to relax and unwind. The kids (and those still young at heart) will adore honing their skills in our new private games room. Whether it's a challenge match on our pool table / table tennis, friendly rivalry with the game of foosball, or snatching victory in a dramatic game of darts, there will be endless fun for all the family. If it all gets a bit too much for mom and dad, we've even provided a large ceiling fan to cool you down, along with some comfy seating and a table on which to rest your cocktail, as you sit back and cheer on the children. Our two master bedrooms, each with their own cable TV, are tastefully decorated in pastel tones with complimenting decorative accents.
Each has it's own adjoining master bathroom, and of course it goes without saying that all our bed linens are of the highest quality to ensure you get a great nights sleep after a tiring day of theme park hopping. Our two twin bedded rooms are suitable for either adults or children, and again feature quality linens and a restful décor. Each room contains two twin beds, TV and DVD player, ample closet space and charming decorative accents. Adjacent to these rooms, our third full bathroom is readily on hand. Our fully equipped kitchen, which even contains a colour TV, will provide all the convenience you would expect, with all it's modern labor saving devices.
Our formal dining room features a beautiful six seater wood table with overhead lighting. For an altogether more casual feel however, our nook table, located adjacent to the open plan kitchen will easily accommodate four adults ~ a great place to relax with a cup of fresh coffee while planning the day's activities. And if you fancy a day at one of Florida's spectacular gulf coast beaches, you will also find picnic goods and fold away chairs and tables for your family's convenience.
Autres remarques
We have a minimum 4 day booking, however, during peak times, this may increase to 7 days minimum. Please ask for further details.
We expect our guests to wash their own dirty dishes and to just generally keep the house clean as they would in their own home; to clean up any spillages and wash the towels as they go along. Our fabulous cleaners will take care of the linens and give the home a thorough clean after your departure.
Please no smoking inside the home and no pets.
---
---
L'entrée dans les lieux se fait à partir de 16:00
By booking this home you agree to the following terms and conditions in accordance with Airbnb guidelines.
Terms and Conditions
Authorized Guests
(i)The lead guest must be a member of the party occupying the property and must be over 21 years of age.
(ii)The lead guest, by signing the booking form, certifies that he or she is authorized to agree the booking terms and conditions on behalf of all persons included on the booking form.
(iii)Only those persons listed on the booking form are authorized to use the property. Any changes to the persons booked to occupy the house must be notified to and confirmed by the agent before occupancy commences (This is to comply with State Law)

(iv)Maximum number of guests is set by owners and state law. Please note that contravention of the maximum number of guests as stated by agent/owner will render your booking void, all monies paid will be forfeited and you will be asked to leave the villa immediately without further compensation.

Insurance
We strongly advise that all guests have appropriate travel/holiday insurance in force from the time of booking, for the total duration of the trip. Please ensure the policy includes cancellation charge cover. UK and all other non US guests are also advised to have a policy that gives adequate medical cover for the US.

Payments

(i)A security deposit of at least US$300 is taken by Airbnb and will be managed by Airbnb in accordance with their terms and conditions.
(ii)Payment of the rental is handled and managed by Airbnb in accordance with their terms and conditions.
Cancellation
i.For a 50% refund, cancellation must be made seven full days prior to listing's local check in time on the day of check in, otherwise no refund. For example, if check in is on Friday, cancel by Friday of the previous week before check in time. If the guest cancels less than 7 days in advance, the nights not spent are not refunded. If the guest arrives and decides to leave early, the nights not spent are not refunded.
ii.Cleaning fees are always refunded if the guest did not check in.
iii.The Airbnb service fee is non-refundable.
iv.If there is a complaint from either party, notice must be given to Airbnb within 24hours of check in.
v.Airbnb will mediate when necessary, and has the final say in all disputes.
vi.A reservation is officially cancelled when the guest clicks the cancellation button on the cancellation confirmation page, which they can find in Dashboard>Your Trips>Change or Cancel.
vii.Cancellation policies may be superseded by the Guest Refund Policy, safety cancellations, or extenuating circumstances. Please review these exceptions.
viii.Applicable taxes will be retained and remitted.
Force Majeure
The owners of the property, their Management Company or agents will not be liable for loss or delay occasioned by any of the following: Strikes, Riots, Political unrest, Hostilities, War or threat of war, Terrorist activity, adverse weather conditions, Closure of airports or any other event beyond the owner's control. Please also note that in some areas there may be building work, you should specifically ask about a property before you book if you have any concerns about this.
Check-in and Check-out times
Arrival at the property must be after 4.00 p.m. local time. The property must be vacated by 10.00 a.m. on the day of departure. (Unless otherwise advised to you in writing). When departing, please exit through the front door, leaving the keys in the lock box using the codes provided. If the keys are not returned to lock box Guest will be charged $75.00 to rekey the property. Guests checking in early or not departing by check out time will be charged an additional $25.00 per hour. If the keys are lost the guest will incur a $75.00 rekey charge. Guests should take all belongings on checkout as owner is not responsible for any loss. Owner/agent will endeavor to return any items left behind; however, this will be subject to an additional $25 fee plus postage.
Your Responsibilities
The Guest agrees to pay the full cost of any breakages, losses or damage to the property (the Owner's Management Company and Airbnb will be arbitrators on cause of damage or loss) The guest also agrees
•To take good care of the property and leave it in a clean and tidy condition at the end of the holiday
•To report any damage or loss immediately it is discovered to the Owner's Management Company in Florida
•To permit the Owner or their Agents reasonable access to the property to carry out any maintenance if necessary
• Not to sublet or share the property except with persons nominated on the Booking Form
United States immigration requires that all UK citizens including children, travelling under the Visa Waiver scheme, hold a full 10 year passport with at least 90 days remaining after your trip. Non UK citizens and those UK citizens not eligible to travel under the Visa Waiver Scheme are advised to contact the United States embassy to check visa requirements prior to booking.
Swimming Pool and Spa (if applicable)
(i) Guests are specifically requested not to allow children to use the pool or spa, or pool/spa area unsupervised, not to swim or use the spa unaccompanied and not to swim or use the spa under the influence of alcohol, medication or other mind altering substances. The owners, management company or their agents do not accept liability for any accident, injury or death, howsoever caused, as a result of the use of the pool, spa and pool/ spa area. Any Pool toys/inflatables - the safety of any such item(s) cannot be guaranteed and uses of these items are at the sole risk/responsibility of the Guest. Use of heavy balls is forbidden within and around the pool screen enclosure as the screening can easily be damaged replacement of which the guest would then be liable.
For your safety and comfort the pool and spa is inspected, cleaned and if necessary, chemically balanced every week. The pool staff do not need to gain access to the interior of the villa to carry out this maintenance. On rare occasions it may be necessary to apply extra chemicals to the pool/spa to maintain safe and correct chemical levels. Should this occur during your stay it may be necessary for all guests to refrain from using the pool/spa for a period specified by the pool cleaning company's agent - this is a normal part of pool maintenance
Cleaning & Trash
(i)The property will be cleaned and checked prior to your arrival and after you have departed. Although the property will be cleaned after your departure it must still be left in an orderly state and you are required to wash your own dishes and tidy up after yourself. Please wash and dry any towels as you use them and put a load in the washer before you leave. If additional cleaning is required this charge will be passed on to the guest.
(ii)Trash collection days or procedures are listed in the property. The trash must be placed in trash bags and securely tied before being placed in the bins. The bins must be placed at the end of the property's drive, right by the road on the evening before collection - the bins must be returned to the garage by the evening of collection day. The county can and do impose HEAVY fines in some areas for loose trash and bins not returned to the garage. You will be liable for these costs at a minimum charge of $50.00.
Climate and insects
Florida is a tropical climate and as such is the home of many insects etc. The home is treated on a regular basis to repel such unwanted visitors, but inevitably they will occasionally find their way inside the property. They are best eradicated by spraying with an appropriate product. The problem with these unwanted guests is greatly reduced if food and crumbs are not left on worktops, tables, floors, or in the pool area - it is advisable to clean up spills immediately.
Pool Heat
(i) Pool heat is charged as an optional extra. Pool Heat is an additional charge and must be paid locally to the management company. If you would like to add pool heat during you stay, please call the management company Monday – Friday 9am-5pm. Acceptable forms of payment are (SENSITIVE CONTENTS HIDDEN) Visa or MasterCard. The charge for pool heat is $25.00 per day plus tax with a 5 day minimum. The pool heater thermostat is set to heat the water in the pool to approximately 86 degrees, however where a pool blanket is supplied it must be used at all times when the pool is not in use. Some pools do not have a cover and these use a solar liquid which will retain the heat slightly. Like you we have no control over the weather! We are unable to guarantee the water temperature with pool heating as this will depend on the prevailing weather conditions. The pool heater runs only when the pool pump is running 10-12 hours per day. It does not run 24 hours per day. The Management Company, Agent, or Owner are in no way liable for pool temperature when related to weather conditions. The only thing we can do is turn it off and refund for any unused days.
(ii) The pool heater is a mechanical device, and can be subject to failure. If such a failure were to happen, every effort will be made to repair the heater as quickly as possible. You will only be refunded the cost for the days that the heater is not functioning.
Mechanical/Electrical breakdown and loss of Mains services
(i) There are numerous mechanical/electrical appliances at the property - we endeavor to ensure that all items are working and available for guests use; however, we cannot guarantee or be held liable for any loss, consequential or otherwise, from failure of any mechanical/electrical appliances. Furthermore the owners cannot guarantee that all the facilities described on any advertisements will be available as we may be reliant on outside service providers for such facilities.
(ii) No Liability is accepted by the owners, their Management Company or agents for loss of mains services due to circumstances beyond their control.
Computer
Where a computer/laptop and/or internet connection is provided, the owners will use their best endeavors to ensure that the service is available for use, but cannot be held responsible for any failures or non-availability of communication lines, hardware or software. The Management company does not have IT technicians and can therefore, only contact the service provider in case of failure. Guests are responsible for any configuration and/or connection issues. You agree, by signing the booking form, not to download or save any pornographic, offensive, obscene or illegal material.
Telephone Calls
Where the owner offers FREE local, long distance and international phone calls to the guests, this is offered in good faith for contacting relatives and loved ones back home, please do not abuse this by calling international cell/mobile numbers. NB: If you call DIRECTORY ASSISTANCE specifically request NOT TO BE CONNECTED before asking for the number as these calls are VERY EXPENSIVE and CHARGEABLE TO THE GUEST. All additional costs through Directory Assistance or to mobile/cell phones will be deducted from the security deposit. If this service is not offered, you may purchase phone cards from any local gas station or supermarket.
Barbecue
Barbeque Grills can be rented for an additional charge of $55.00 per week plus tax. This must be paid locally to the management company in the form of Visa or Mastercard. Where a barbecue has been provided please be careful when using the equipment and follow the instructions for use. Please clean up any spills straight away. The barbecue and surrounding area must be left in a clean and satisfactory condition. If the management company deems the grill and area left dirty an extra cleaning charge will be made and deducted from your security deposit, minimum $45.00 charge.
Smoking and Pets
(i) Strict NO SMOKING policy inside & outside the house. Guests are welcome to smoke in the garden or pool area with doors to home closed and stubs/butts carefully disposed of. If the management company find any evidence of smoking inside the house or around the pool deck during your stay, this will be regarded as a breach of contract and you will be evicted immediately. All monies paid will be forfeited and a minimum $250.00 will be charged against your security deposit. This will cover the cost of a deep clean fee - this will include but is not limited to, professional cleaning of all soft furnishings, linens, carpets etc as well as a "clean air" fee, to replace all air conditioning filters and de-odorizing costs.
(ii)Strict NO PETS policy. If the management company find any evidence of pets during your stay this will be regarded as a us breach of contract and you will be evicted immediately. All monies paid will be forfeited and your security deposit will be charged $250.00 minimum. This fee will cover the cost for a deep clean fee and pest control charges - this will include but is not limited to, professional cleaning of all soft furnishings, linens, carpets and de-odorizing costs
Access
Whilst guests' privacy is always respected, the owner, Management Company or their agents reserve the right to gain access to the (EMAIL HIDDEN)plaints
We sincerely hope you do not have any... But in the unlikely event that you experience a problem relating to the property, this must be reported to the Management Company immediately to allow them to try and rectify the problem. If a satisfactory solution is not achieved within 24 hours, we ask that you put the complaint in writing to the Management Company and also contact the booking agent, preferably by email, with a copy of the complaint within 48 hours of the complaint arising so that we have the opportunity to respond as soon as possible. Unless there are exceptional circumstances, we will not consider the owner, Management Company or their agents liable for any complaint that was not initially registered with our management company during your stay. The booking agent will be responsible for providing the owner and the guest with contact details should the need arise.
Liability
The owners, management company or their agents do not accept any liability for accident, loss, injury or death, or for any such claim by a third party caused as a consequence of actions by any authorized guest or other unauthorized person(s) present at the property. Guests are specifically requested to supervise children at all times, especially around the pool area.

Breach of Contract
Failure to comply with any of the terms and conditions by any member of the party may result in your booking being cancelled/ terminated. In such circumstance all monies paid will be forfeited and the owners, their management company or agents accept no liability for any consequential loss incurred by any guest.

---
La descripcion de la casa es tal cual figura en la pagina. Confortable, amplia no faltaba absolutamente nada. Fue como estar en mi casa. Completa en todo sentido, todo funcionaba. La pasamos de 10 por lo placentera que era. La unico que puedo comentarte Jan, es sobre el agua caliente, durante el dia para bañarse sale tibia, recien el agua esta mas caliente a partir de las 23.00 Hs. Muchas gracias por entregar la casa mas que limpia, y lista para habitar. Gracias por todos y recomendare a amigos para que la alquilen cuando viajen a Orlando.
---
I love meeting new people so I'm very lucky to be in a job that allows me to meet people from all over the world! Although we don't own the properties we host, we look after them as though we do and like to make sure that guests have a wonderful vacation with us here at Orland…
Taux de réponse :
80%
Délai de réponse :
Dans la journée
Découvrez d'autres options à Kissimmee et dans ses environs
Plus de logements à Kissimmee :