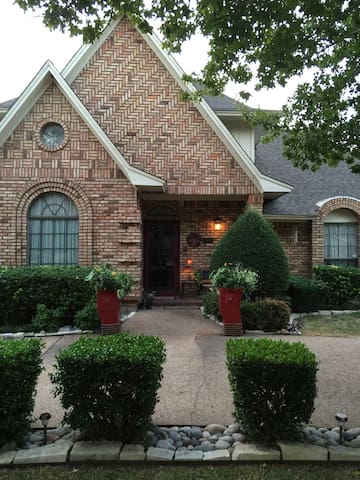 PRIVATE ROOM & FULL BATH!
My HOME is CLEAN, HOMEY, COMFORTABLE, yet nicely elegant!
Your Bed is a solid Wooden/real Leather Sleigh QUEEN w/great Pillow Top Mattress that's completely encased w/full zippered mattress protector & 1200 Thread Count Sheets for your COMFORT! Your Private Bathroom for YOUR use ONLY! There's a DESK/CHAIR, 45" FLAT SCREEN HDTV, CABLE, HIGH SPEED INTERNET & WIRELESS WIFI! FULL USE of KITCHEN, COFFEE/TEA BAR, PATIO w/TV, GAS GRILL, SMOKER, Sparkling POOL! PARK your car at Front Door on CIRCLE DR!
Le logement
YOUR Room is on the MAIN Floor, COMFY FEATHER TOP QUEEN BED, FULL PRIVATE BATH JUST to the LEFT of YOUR BEDROOM DOOR, WASHER/DRYER next door to your room & KITCHEN a few feet DOWN HALL on RIGHT....BLACKOUT CURTAINS on WINDOW.....you can OPEN curtains to LET the LIGHT in, IF you wish!
Accès des voyageurs
You will PARK in FRONT on CIRCLE DRIVE. THERE'LL be ROOM in REFRIGERATOR & PANTRY for you! Always WELCOME in KITCHEN, WASHER/DRYER room, GAS GRILL & SMOKER Outside in PATIO AREA w/POOL!
***GUESTS will be given a TEMPORARY AUXILIARY HOME ALARM CODE & also DEADBOLT COMBO that are both ALWAYS DELETED immediately after GUEST leaves! I have ALWAYS given temporary "NEVER before used" Codes that are easily deleted for the SAFETY of FUTURE GUESTS and also MYSELF! ;)
Échanges avec les voyageurs
Quiet HOME, NICE Neighborhood......I Live/Work here & WILL be AVAILABLE if you NEED ANYTHING, have QUESTIONS or if any PROBLEM ARISES......HOWEVER, I'll always RESPECT your PRIVACY & STAY OUT of your WAY, UNLESS NEEDED! My house trained Morkie, Piper will be with me at all times!
I work in my Home Office, however, I come & go at random times being a Realtor, 'tis the reason for that, lol! I try to stay MAINLY OBSCURE when home, UNLESS you need something. DURING your stay, I WILL put your cell phone on my "FAVORITES" list, SO that IF you have a problem
Autres remarques
HERE ARE SOME OF FORT WORTH'S MANY AWESOME ATTRACTIONS I WILL SHARE WITH YOU THAT BRING PEOPLE TO THE DFW AREA!
AMON CARTER MUSEUM - Located in Fort Worth's cultural district, the Amon Carter Museum offers visitors a stunning survey of American art, from the first landscape painters of the 1830s to modern artists of the twentieth century. The collection includes masterworks by such luminaries as Alexander Calder, Thomas Cole, Stuart Davis, Thomas Eakins, Winslow Homer, Georgia O'Keeffe, John Singer Sargent, and Alfred Stieglitz. The museum also houses founder Amon G. Carter's collection of works by the two greatest artists of the American West-Frederic Remington and Charles M. Russell. The Carter's holdings by these two artists are recognized as the finest and most comprehensive in the world. The museum's photography collection ranks among the top five in the country, with more than 30,000 exhibition-quality prints that cover the breadth of the medium's history. Continuous programs of special exhibitions, docent-guided tours, gallery talks, and lectures. Audio guide available. Facilities include a museum store, and an art reference library and archives available by appointment. Hrs. Tue., Wed., Fri. & Sat. 10 a.m.-5 p.m.; Thurs. 10 a.m.-8 p.m.; Sun. noon 5 p.m., closed Mondays & major holidays. Admission to the permanent collection is free. 3501 Camp Bowie Blvd.
BASS PERFORMANCE HALL - The Nancy Lee and Perry R. Bass Performance Hall officially opened in May 1998. David Schwarz was the architect for the structure named one of the top ten opera houses in the world in Travel & Leisure's March 1999 issue. Rumanian/Californian artist, Marton Varo created and shaped the 48 feet tall angels fronting the Hall. The opera house is the permanent home of the Fort Worth Symphony, Texas Ballet Theater, Fort Worth Opera, & the Van Cliburn International Piano Competition. Tours available Sat. at 10:30 a.m., performance schedule permitting. Bass Performance Hall is located in Sundance Square on a city block bordered by Commerce, Calhoun, & 4th & 5th St.
FORT WORTH BOTANIC GARDEN - 3220 Botanic Garden Blvd. The Rose Garden was started in 1933. It now has more than 3,400 roses with peak blooming times from April to October. Walk into the Fragrance Garden for the visually impaired, stroll through the Japanese Garden with its waterfalls, pools and Koi fish, smell the herbs in the Perennial Garden, examine the large collection of begonias in the Exhibition Greenhouse, and go into the Conservatory to see orchids and bromeliads. Visitors may have refreshments or lunch in The Gardens Restaurant. There are Gift Shops. A fee is charged to view the Conservatory and the Japanese Garden. Main Garden 8 a.m.-sundown, 7 days a week. Japanese Garden Tue.-Sun. 9 a.m.-7 p.m. 3220 Botanic Garden Blvd.
CATTLE RAISERS MUSEUM - The romance of the West is alive at the Cattle Raisers Museum. From cattle barons to cowboys, from Special Texas Rangers to rustlers, from boots to branding irons, you'll find it all at the Cattle Raisers Museum - where the real West begins. This entertaining, interactive museum tells the story of the cattle and ranching industry in Texas and the Southwest. Experience hands-on exhibits, see talking mannequins and authentic artifacts and an exciting theater presentation. All of these make the legends and lore of the cattle industry come alive. You'll see the world's largest documented collection of branding irons including brands used by Stephen F. Austin, baseball great Nolan Ryan and the "running W" from the King Ranch. See a pair of boots owned by Western artist Charles Russell, and saddles just like the ones used on the dusty Chisholm Trail. Adults $3; Seniors, & youths 13-18, $2 & Children 4-12, $1. Guests under the age of 4, and organized school groups, free. Mon.-Sat. 10 a.m. to 5 p.m. Closed Sun. 1301 West 7th Street.
FORT WORTH CONVENTION CENTER - The 13,500-seat arena in the Fort Worth Convention Center is located in the heart of downtown Fort Worth at 1201 Houston Street, and is within walking distance of restaurants, shopping districts and hotels. The FWCC originally opened in 1968 but in 2003 underwent significant renovations and expansions. Along with a larger arena, the Center now offers 253,000 sq. ft. of exhibit space, a 30,000 sq. ft. ballroom and 41 meeting rooms. The Fort Worth Brahmas and the Fort Worth Flyers from the NBA Development League are both tenants of the FWCC. The Brahmas utilize the arena as their home ice during playing season from November to March. For their season of basketball, the Flyers take to the court between November and April. But as indicated by its name, the Convention Center serves as the site for a variety of national, regional, and state conventions, as well as welcoming auto, recreational vehicle, home and garden, and train shows. Audiences can also enjoy Disney on Ice, Ringling Bros. and Barnum & Bailey, and World Wrestling Entertainment. Fort Worth Brahmas single game ticket prices range from $10-$25. For more information on the Brahmas, log onto (URL HIDDEN) or call (PHONE NUMBER HIDDEN). Flyers ticket prices range from $10 to $30. Discount ticket packages are available for groups from both teams.
THE FORT WORTH HERD-TEXAS LONGHORNS - Daily cattle drives through the Stockyards National Historic District recall Fort Worth of the late 1800s. Twice daily, weather permitting, and it's not a major holiday, cowhands, dressed in 19th century ranching gear, drive 10 to 15 Texas longhorn steers down Exchange Ave. Best viewing areas for the 11:30 a.m. and 4 p.m. drives are the front lawn of the Livestock Exchange Building or across the street near the Stockyards Visitor's Center. The Herd also offers education programs based on the trailing life of a cowboy for school groups and other organizations by appointment only. Watching the cattle drive is free.
FORT WORTH MUSEUM OF SCIENCE AND HISTORY - Take a step back in time! Discover what millions of visitors have found for 60 years--hands-on fun activities for the entire family. Explore a variety of traveling and permanent exhibitions including "Comin' Through Cowtown," "ExploraZone," "Lone Star Dinosaurs," and "KIDSPACE." The OMNI THEATER also offers year-round film presentations. Viewers are completely enveloped in these exciting films--soaring with birds or butterflies, climbing mountains or skimming across the world's rivers, lakes and oceans, all the while surrounded by the earth's wild life, flowers and trees as you explore the world from its depths to its heights. And don't miss the Museum Store. Hours Mon.-Thur. 9 a.m.-5:30 p.m., Fri. & Sat. 9 a.m.-8 p.m. & Sun. 11:30 a.m.-5:30 p.m. 1501 Montgomery St.
FORT WORTH NATURE CENTER & REFUGE - Nature enthusiasts can explore the lands, grasses, trees and waterways of the area with the help of naturalist and botanist guides at the Fort Worth Nature Center and Refuge. Nature hikes are scheduled each Saturday from 10 a.m. until noon. On Nature Center trails explorers visit insects, birds and animals along the way. In winter, when all the leaves are on the ground the Nature Center offers a program that allows hikers to learn how to identify trees by their bark, growth patterns, twigs and leaf scars. A Canyon Ridge Hike is scheduled for Saturday afternoons from 1 p.m.-4. Regular canoe trips are also part of the Nature Center's program. Touring a stretch of the Trinity River's West Fork, canoeist view ducks, herons, beavers and other critters. Waterfowl watching in Lotus Marsh, is another planned activity. Binoculars, spotting scopes, along with an an experienced waterfowl watcher, help you see and identify several species in their winter habitat. These are only a few of the regular monthly programs at the Nature Center. Weather appropriate clothing and shoes are recommended for participants. Some activities require reservations and a fee. Friends of the Nature Center receive reduced or free entry to programs. Hardwicke Interpretive Center
FORT WORTH ZOO - A trip to the Fort Worth Zoo is an adventure where you'll see creatures from around the world who all seem right at home in their lush, natural habitats. In many settings, visitors are only separated from the animals by a river or waterfall, and are often face-to-face with the animals through large viewing windows! The Zoo is home to more than 5,000 exotic animals, including lowland gorillas, Asian cats, bears, a world-famous reptile collection and an insectarium. Texas Wild!, an 8 acre addition to the Zoo, opened in June 2001. Visitors exploring this turn-of-the-century town featuring six different regions of the state, will experience the different sights, sounds and smells of all those areas. Hrs. are 10 a.m-4 p.m. daily. The Zoo is open Thanksgiving, Christmas & New Year's Day from noon to 4 p.m. Zoo tickets include entry into Texas Wild! Gen. Ad. $9, Seniors 65+, $5.50, children (PHONE NUMBER HIDDEN) & under free. Parking is $5 per vehicle. Half-price tickets on Wednesdays. 1989 Colonial Pkwy.
KIMBELL ART MUSEUM - One of the outstanding art museums in the U.S. The award-winning building was the last completed work under personal supervision of architect Louis I. Kahn. As well as an excellent permanent collection, the museum offers a full program of changing exhibitions, lectures, concerts, films, workshops and tours. Bookstore, lunch and snack bar (The Buffet). Open Tue.-Thur. 10 a.m.-5 p.m., Fri. noon-8 p.m. Sat. 10 a.m.-5 p.m. & Sun. noon-5 p.m. Closed Mondays. 3333 Camp Bowie.
LAGRAVE FIELD - It's the Cats' Hall of Fame Season at LaGrave Field in 2006 with manager Stan Hough and coaches Wayne Terwilliger and Dan Smith leading the way in the newly formed American Association. The Cats won the 2005 Central Baseball League Championship and hope to build on that in the 10-team American Association. Close to 50 Hall of Famers played baseball at historic LaGrave Field since it opened in 1926. The Cats plan on honoring many of them throughout the 2006 season with different events. The Cats offer affordable family entertainment at one of America's most historic minor league ballparks in a county fair atmosphere. LaGrave Field, located off North Main between downtown and the stockyards, has a history unmatched by any ballpark in Texas. LaGrave Field has been the home of the Cats during two different baseball eras, (PHONE NUMBER HIDDEN) and 2002 to the present. Home plate is exactly where it was in1926 when the old facility opened. The view of downtown at night is breathtaking. Fans have the opportunity to watch baseball at the same historic place where former Cats such as Bobby Bragan, Duke Snider, Maury Wills, Sparky Anderson, Carl Erskine and Rogers Hornsby played and coached. Game times Mon.-Sat. 7:05 p.m., Sun 1:05 and 7:05 p.m. Tickets range from $4-$12. Parking $2-$3. 301 NE 6th St.
LOG CABIN VILLAGE - 2100 Log Cabin Village Ln. (off University Dr. across from the Ft. Worth Zoo)- Experience the sights, sounds and smells of 19th century Texas! Set on 2 1/2 acres in historic Forest Park, Log Cabin Village consists of seven log homes dating back to the mid-1800s. Pioneer history comes to life through the authentic log homes and artifacts, a blacksmith shop, a one-room schoolhouse, a water powered gristmill and an herb garden. See historical interpreters demonstrate various pioneer chores such as candle making, spinning and weaving all while learning about Texas pioneer history. Special tours available. Hrs. Tue.-Fri. 9 a.m.-5 p.m., Sat. & Sun.1 p.m.-5 p.m. Gen. Ad. $2.50, Seniors and youths, $2.
THE MARTY LEONARD COMMUNITY CHAPEL - E. Fay Jones' design draws the eye and heart upward in this interfaith Chapel. It is an architecturally significant building that reflects the influence of Jones' study with Frank Lloyd Wright and Bruce Goff. It is constructed mainly from Philippine mahogany stained a lighter color, glass, and brick. It is used by the youths and families served by Lena Pope Home, as well as for weddings, musical and cultural events, meetings, etc. Also, a local church meets at the Chapel on Sunday mornings. Jones, whose work was based in Fayetteville, Arkansas, until his death in 2004, was awarded the American Institute of Architect's Gold Medal in 1990. Free. Open Mon.-Fri. 10 a.m.-4 p.m. & 2nd & 4th Sundays 2-5 p.m. Closed Saturdays and most holidays. From I-30 W. exit Hulen St. At Lena Pope Home, 3131 Sanguinet St.
MODERN ART MUSEUM OF FORT WORTH - Designed by the world-renowned architect Tadao Ando, this striking building is composed of 5 pavilions of concrete and glass arranged around a 1.5 acre reflecting pond. The Modern maintains one of the foremost collections of postwar art in the central United States, consisting of more than 2,600 significant works of modern and contemporary international art, including pieces by Anselm Kiefer, Robert Motherwell, Pablo Picasso, Jackson Pollock, Gerhard Richter, Susan Rothenberg, Richard Serra, Andre Serrano, Cindy Sherman, and Andy Warhol. Visitors to the museum can also enjoy lunch in Café Modern's elliptical dining room set on the reflecting pond or shop for unique gifts at The Modern Shop. Educational programming and the Museum's film series, Magnolia at the Modern, take place in the Museum's state-of-the-art auditorium. Located in the Cultural District, across the street from the Kimbell Art Museum and near the Amon Carter Museum, at 3200 Darnell St. Gen. Ad. 13 to adult $8, Seniors & students with an ID, $4, & children under 13, free. Each Wednesday and the first Sunday of each month, admission is free. Access to the Grand Lobby, Café Modern, and The Modern Shop is free. Hrs. Tue., Wed., Thu., Fri., & Sat.10 a.m.-5 p.m. & Sun. 11 a.m.-5 p.m. Closed Christmas Eve, Christmas Day & New Year's Day.
NATIONAL COWBOYS OF COLOR MUSEUM & HALL OF FAME - Filling in the gaps of history is easy to do at the National Cowboys of Color Museum & Hall of Fame. Through artifacts, art work and historical records, their displays offer a fuller view of the peoples who built that unique culture that makes up the historical American West. Several items reflect the history of the Buffalo Soldiers, Minority Cowboys and frontier families. Displays include garden plows, quilts, barrel cook stoves, wash tubs, garden tools, beds, china, satchels, canteens and harps. An on-site gift shop offers Cowboys of Color T-shirts, caps, visors, cowboy hats, bandanas and poster prints. The Museum is part of the Renaissance Cultural Center, a non-profit group that reaches out to the community through Educational Programs, job preparedness, conflict resolution & management and an active Youth Scholarship Program. From 1995 to 2000, the Renaissance Cultural Center organization has awarded $120,000 in scholarships to high school seniors from the Ft. Worth ISD & Tarrant County. Hrs. Wed.-Sat. 11 a.m.-6 p.m. Gen. Ad. $6, Seniors $4, students with an ID, $3, & children under 6, free. 3400 Mount Vernon
NATIONAL COWGIRL MUSEUM & HALL OF FAME - Women of the American West are honored in the National Cowgirl Museum & Hall of Fame that opened in June 2002. Not only those who have lived and worked on ranches or who have sat a horse in a rodeo arena, but also the woman who led an expedition to the Pacific Ocean, or the ones who have stood on a stage, sat at an easel, stood before a classroom, sat to put words on paper, aimed a rifle and hit the bullseye, or sat on the highest court in the land, all these are celebrated for their spirit and determination. The 33,000 square foot museum, designed by David M. Schwarz, Architectural Services, with its more than 2000 artifacts and information on over 400 women, is located in Ft. Worth's Cultural District near the Will Rogers Complex & the Ft. Worth Museum of Science & History. Hrs: Mon.-Thurs. 9 a.m.-5:30 p.m., Fri. & Sat. 9 a.m.-8 p.m., & Sun. 11:30 a.m.-5:30 p.m. Closed major holidays. Gen. Ad. $8, Seniors 60+, $7, youths 3-12, $7. Group rates available. 1720 Gendy St.
LOUIS TUSSAUD'S PALACE OF WAX & RIPLEY'S BELIEVE IT OR NOT! - Grand Prairie's Palace of Wax is the place to view wax figures of the best and worst of humanity from Hollywood stars to characters who lived in the old west: the heroes and villains of our history. Wax figures include Tom Hanks as Forrest Gump, the menacing Captain Hook, the saintly Mother Teresa ((PHONE NUMBER HIDDEN)), and the present President Bush along with his 42 predecessors. Entering Ripley's Believe It Or Not! visitors find themed galleries with videos, artifacts, and activities. You can experience an earth quake, a Texas tornado with 200 mph winds, walk on the ocean floor, or a bed of live coals. Visitors will also see "The Lord's Prayer" written on a grain of rice and the ruins of a mystic temple. Through Labor Day hrs. are 10 a.m.-9 p.m. Gen. Ad. for one attraction is $14.95 (combo ticket–$17.95); children 4-12, $8.95 or combo $9.95. 601 E. Safari Pkwy.
STOCKYARDS - The livestock industry began to develop here in the 1880s. There were cattle, sheep, and hog pens and horse and mule barns. The original wooden barns burned in 1911 and were replaced with concrete and steel buildings. Swift & Co. & Armour & Co., meat packers, ran plants in the Stockyards until the early 1970s. Refurbished livestock pens and sheds, some with the original brick floors, now house restaurants and antique and western wear shops. Visit the Stockyards Museum in the Ft. Worth Livestock Exchange Bldg., 131 E. Exchange Ave., 10 a.m.-5 p.m., Mon.-Sat. Admission is free, but donations are appreciated.
STOCKYARDS MUSEUM - The Stockyards Museum is in the historic Livestock Exchange building. Displays include cattlemen and cowboys and photographs of workers who were employed by meat packers Swift & Co. or Armour & Co. in the 1930s. A section devoted to women exhibits items from the 1920s Fort Worth Stock Show Queen's coronation along with rub boards and spinning wheels used by early homemakers. A Native American exhibit features artifacts from several tribes with special emphasis on Comanche Chief, Quanah Parker. An electric light bulb lit in 1908 backstage at the Palace Theater, is still burning, and the 1986 Texas Sesquicentennial Wagon Train still displays the gifts loaded into it on its tour through Texas communities celebrating the year. The Stockyards Museum is sponsored by North Fort Worth Historical Society members. Hrs. are Mon.-Sat. 10 a.m. to 5 p.m. Admission is free, but donations are gladly accepted. 131 E. Exchange Ave.
SUNDANCE SQUARE - Sundance Square, Ft. Worth's downtown entertainment & shopping district, has a rich Western history. During the cattle drives of the late 1800s, Ft. Worth was a primary stop along the Chisholm Trail. The area offered diversionary saloons, gambling parlors & dance halls to cowboys, cattlemen, gamblers & outlaws. The Hole-in-the-Wall Gang, led by Butch Cassidy & the Sundance Kid, hid out in the area now called Sundance Square. Wyatt Earp & Doc Holliday also spent time in downtown Ft. Worth. Turn-of-the-century buildings have been restored, and others built in their style, now house restaurants, shops, movies, art galleries & more. Between 5th & 2nd St., South to North & Calhoun & Throckmorton Sts., East to West.
THE TEXAS COWBOY HALL OF FAME - housed in the renovated Horse & Mule Barns in the Stockyards National Historic District, honors Texas Cowboys & Cowgirls who have excelled in their rodeo careers. Many multi-year champions are featured; for example Ty Murray, Larry Mahan, Harry Tompkins and Charmayne James. Display booths for each honoree contain saddles, chaps, belt buckles, trophies and photos that highlight their careers. Many booths in the Texas Cowboy Hall of Fame are equipped with continuous-play videos detailing a cowboy or cowgirl's career. Also featured in the museum are the Sterquell Wagons and the John Justin Trail of Fame. The 60-plus Sterquell Wagons from the 1700s to the 1900s, are fully restored and showcase the horse-drawn vehicles used for work and pleasure during that period. The Justin Trail of Fame honors a former Fort Worth mayor, city council member, and president of Justin Boot & Acme Brick Companies, whose generosity has benefited both the Southwestern Exposition & Livestock Show & Rodeo, and Texas Christian University. Hall of Fame meeting rooms & group rates are available. Hrs.Mon.-Thurs. 10 a.m.-6 p.m., Fri. & Sat. 10 a.m.-7 p.m. & Sun. noon-6 p.m. Gen. Ad. $4, Seniors 60+, $3 & children (PHONE NUMBER HIDDEN) E. Exchange Ave., Barn A
SOME AWESOME ATTRACTIONS IN DALLAS:
For lots of reasons, millions of people visit Dallas annually, and there are numerous things to see and do when visitors arrive. The Music Hall at Fair Park stages live theater through the Summer Musicals, the Dallas Opera, Texas Ballet Theatre and Broadway touring companies. Sports fans can enjoy the Dallas Mavericks and the Dallas Stars at the American Airlines Center. The New Dallas Cowboys Stadium in Arlington. Music lovers have the Morton H. Meyerson Symphony Center--home stage for the Dallas Symphony Orchestra, the Turtle Creek Chorale, the Dallas Wind Symphony, as well as band and choral festivals. Deep Ellum offers bars and nightclubs, restaurants, retail stores and tattoo shops. The West End Marketplace, a 1911 warehouse, is now a shopping and entertainment center, with several popular restaurants where business people meet for lunch and tourists gather at dinnertime. Dealy Plaza, the area President Kennedy's motorcade was passing when he was killed, is visited by multitudes of people each year. The Sixth Floor Museum, located in the old Texas Schoolbook Depository where President Kennedy's assassin fired from a sixth floor window, now houses a multimedia museum dedicated to his life and death.
---
Chambre 1
1 lit queen size
Espaces communs
1 matelas au sol
---
---
Voyageur supplémentaire $6 CAD / nuit après le premier voyageur
Réduction à la semaine : 10%
Tarif week-end $62 CAD / nuit
Communiquez toujours via Airbnb
Pour protéger votre paiement, ne transférez jamais d'argent et n'établissez pas de contact en dehors du site ou de l'application Airbnb.
En savoir plus
---
L'entrée dans les lieux se fait entre 08:00 et 22:00
1] Smoking allowed outside only on the patio. It is fine when done safely and disposed of properly :). No smoking inside!
2] I personally feel more comfortable preferring my guests not have a lot of different friends/family coming and going during their stay. I need to feel secure the same way my guests do, HOWEVER, lets definitely talk about your specifics and see if it might work, no problem :). Unfortunately, because some hosts have had bad experiences w/guests, it has made it all the more important to have all guests confirm w/AirB&B the 5 verifications and a few good reviews is always good but not mandatory. Email me if you are new and we will "talk". The "auxiliary" code on my alarm system is deleted immediately after guests depart each and every time before I leave home.
3] Pets [breed & how many] , children [age & how many] can be on a "case by case" basis, so always feel free to email and ask:)!
Vous affirmez avoir également pris connaissance de :
Chien(s) dans la maison
---
---
Détecteur de monoxyde de carbone
Porte de la chambre avec verrou
---
Séjour de 2 nuits minimum
---
I LOVE HUMOR, NUMBER ONE, AM VERY SOCIAL AND A VERY FRIENDLY PERSON. I 'M DIVORCED, LIVING ALONE, HAVE 2 FABULOUS GROWN SON'S, ONE MARRIED AND THE OTHER LIVES VERY CLOSE. I'M A REAL ESTATE AGENT AND WORK MAINLY FROM HOME.

I LOVE A VARIETY OF MUSIC FROM CLASSIC ROCK, BLUES, COUNTRY, DISCO, CHRISTIAN AND JAZZ WITH A SELECTED FEW RAP SONGS [i.e. Rapper's Delight-Sugerhill Gang, 1979] THROWN hilarious! Movies are the same way....from A to Z practically!

I LOVE EUROPE, BEACH & SKI DESTINATIONS, ETC. I LOVE LIVE MUSIC VENUES, GREAT FOOD, INTERESTING PEOPLE FROM ALL WALKS OF LIFE! THE GUESTS I HAVE HOSTED I WISH WERE MY FRIENDS FOREVER SO FAR! I LOVE MEETING PEOPLE FROM ALL OVER WHO SHARE INTERESTING STORIES WITH ME, VERY COOL!

MAIN MOTTO: Laughter is the BEST medicine......Life's burdens seem a little lighter when I can laugh at myself!
Langues :
English
Taux de réponse :
100%
Délai de réponse :
Moins d'une heure
Découvrez d'autres options à FORT WORTH et dans ses environs
Plus de logements à FORT WORTH :