Saisissez les dates souhaitées pour connaître le prix total. Des frais supplémentaires s'appliquent et des taxes peuvent être ajoutées.
This home is owned by a working artist, which is located in the Sonoran Desert of Southern Arizona. There is an artist's studio on the property that can be made available. The winter is Heaven, the scenery spectacular, Tucson and Phoenix drivable.
There is a private entrance from the patio with a key. If staying at least three (3) days, the art studio would be available for use at no additional charge. Art lessons are available for a fee. There is a large barbeque that guests may use. A small refrigerator is in the bedroom. A microwave oven, small convection oven/toaster are on the patio area for guests. Guests may use the washer and dryer if on an extended stay. Interaction is up to the guest. I am friendly, and outgoing, but respect people's privacy. I live in the house and am available most of the time.
The neighborhood is very quiet, but at night one can hear coyotes howling. That is a nice, if a bit wild, sound. Most Ajo residents love to hear the soft howling. My house is located on a corner with a very large back yard, smaller front yard, and even smaller side yard. There are buses, however, it is best to drive one's own car. Ajo is an old copper mining town. There is a museum near the mine pit that has interesting information about when the mine was active. A 40 minute drive south leads to the Organ Pipe Cactus National Monument, and the Mexican boarder. Cabeza Prieta National Wildlife Refuge is a local natural museum, and there are driving trails that tourists can take after registering and watching a short video.
Jacqueline nous a réservé un accueil vraiment exceptionnel : Jacqueline est une artiste cultivée qui aime partager sur de nombreux sujets et, surtout, Jacqueline est une personne de coeur. Côté pratique, rien à dire : la chambre est très correcte et la salle de bain, réalisée par Jacqueline elle-même, est très agréable. Enfin, n'hesitez-pas à venir à AJO qui est une toute petite ville au goût mexicain et mérite un peu de flânerie.
Lionel
July 2015
One of the best airbnb experiences I've ever had! The room -- and house -- are BEAUTIFUL and so thoughtfully and tastefully put together, I spent my first hour there, wandering around taking photos. And the hostess -- Jackie -- is the just the kind of person you dream about meeting while traveling: warm, welcoming, and filled with fascinating stories of hairdressing on cruise ships in the Balkans, painting with the greats in NYC, and prophetic dreams that brought her west. I LOVED talking with her. The house is on a super quiet street (so quiet you can hear coyotes nearby at dusk!) with great views and close to a little field if you want to go for a morning run. The house is close to Organ Pipe National Monument, Mexico, and the TO reservation, and Jackie knows all the best places (Vasquez North!) to find the kind of Southwestern and Mexican treasures and relics her house is filled with.
Devin
December 2014
Jacquline was super kind and helpful from the start. She provided us with a folder full of information about the area and she answered all the questions we had. The place was very clean beautiful. The breakfast was also great and the the fresh grapefruit was unbelievable. Would definitely stay here again and I highly recommend it to anyone visiting the area.
Andrew
January 2017
Jackie is a terrific host, doing whatever it takes to ensure her guests are happy. The bed was comfortable and we loved the garden being just outside the door. The bathroom is beautifully designed, too. Jackie was helpful with local recommendations and talking with her gave us insight into the local scene. Ajo is fascinating if you have a curious mind - there are opportunities for exploring in town, and of course, father afield, at Organ Pipe. We enjoyed meeting local residents at the Saturday market, and meals were very good at Estrella. If we return to the area we will stay here with Jackie again (and the resident pooch is a total sweetheart! ).
lynn
January 2017
My stay with Jaqueline was above and beyond. The room nicely appointed with top of the line bed, bedding, towels etc. Jacque was open with how much interaction I wanted, and I over all had the best time!
Patricia
April 2016
Jackie was terrific and the room and patio were delightful. Lovely little breakfast delights too. Highly recommended as a sweet desert stop.
Nancy
March 2016
Just incredible. It is hard to accurately describe the wonderful Desert Willow. This casita or guesthouse is a sanctuary in the desert outpost of Ajo, Ariz. where spending a few days flew by in splendid comfort, warmth and fun. Jackie, a gifted artist who beautifully crafted the guesthouse with details large and small like a early 19th century clock and a peacock motif in the bathroom sink, is sweet, sensitive, funny and helpful. Close enough to Organ Pipe National Monument and Mexico to commute daily, her house boasts a bevy of fruit trees, fresh herbs, a great breakfast porch/outdoor lounge, well-stocked kitchen and inspiring paintings. She helped us find scenic drives, recommended excellent shops and restaurants, and made us laugh. The time went by simply too fast. Highly recommended weekend (or longer) getaway in the gateway of the Sonoran desert: towering cacti, weathered and vibrant geology, howling coyotes, fragrant creosote and desert sage, blazing sunsets and starry skies. Breakfast alone is worth the small cost increase from the local Ajo motels, but then there's the beauty, cleanliness, comfort and character of Jackie's casita that make Desert WIllow one of the best ways I've spent money in the past year.
Samuel
January 2015
Jacqui is a welcoming and generous host. The private guest suite is beautiful and comfortable, opening onto a lovely garden and breakfast patio. Quiet, residential neighbourhood within walking distance of downtown. Highest recommendation.
Lawrence
January 2016
Type de logement
Chambre privée
---
Type de propriété
Maison
---
Capacité d'accueil
2
---
Chambres
1
Ajo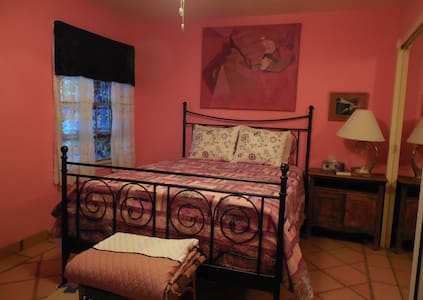 This rv is private, cozy, clean, and just for you. It is 2 blocks from the Plaza in a friendly neighborhood. We are close to Organ Pipe National Monument & Mexico. Rocky Point in Mexico is a small town on the Sea of Cortez with swimming & fresh fish.
Our guests will live like locals, relax in their own space, or get ready for an important meeting. We will be very happy to welcome guest to our town and home. It is a charming small trailer, it has a 3/4 size bed and the table can come down for another 3/4 bed. It is cozy and complete with all you will need. The RV is their home away from home. We will be happy to provide any extras needed if we have them available. We have a pleasant backyard that you can use. We will be here to guide you, give you information , and any help you may need. We have good information on Ajo and the surrounding areas.
This is very photogenic town and quite historic with a colorful history. It is an old copper mine town. It is one of the oldest in Arizona. We are 30 minutes from Organ Pipe National Monument and 40 minutes from the Mexican border. colorful history. We have snakes, animals, and humans that are part of the desert community where we live. We have a deli and a nice healthy restaurant within walking distance and a Mexican restaurant 5 minutes by car. Parking is easy right next to the RV and there is local transportation if you need it. This is very photogenic town and quite historic. It is one of the oldest in Arizona. We are 30 minutes from Organ Pipe National Monument and 40 minutes from the Mexican border.
Rauny and Ron were very welcoming and set me up in their trailer 35 miles away from Ajo at Organ Pipe National Memorial Campground, where I spent 4 nights. Rauny generously provided me with fresh eggs, apples, and bottled water upon my arrival. Please note that Hookups for electricity, water, or sewer are not available at Organ Pipe. Ron set up solar batteries that powered the generator, which after the 2nd night, allowed the trailer lights to work for 2.5 hours. Of course, I did fail to turn off a trailer light on the third day which drained the generator. Do not fail to turn off all lights!! especially if you'll be out hiking all day. The trailer was outfitted with at least 3 flashlights but I found my headlamp easier to use. Very comfortable bed. Great hikes and drives near the campground. Flaming sunrises and sunsets. Although Organ Pipe has 174 campsites for RVS, I counted only SEVEN RVs during my stay there. It was so quiet at night, I heard a coyote padding around the campsite before i saw him! as I sat outside looking up at the stars. Minimal light pollution at Organ Pipe. I stayed at campsite 15. Ron patiently waited while I drove through Organ Pipe TWICE looking for the best site for me. Looking forward to my next visit!
Marina
November 2015
Rauny and Ron made me feel right at home and made sure I had everything I needed. They were wonderful and I hope I get to see them again soon!
Joseph
March 2016
The host couple were right at the door at the time we had arranged. Although we stayed in a trailer parked adjacent to the hous e, they welcomed us into their own house, and in fact never locked the doors, inviting us in to us the shower and watch TV. It was obvious that they were totally concerned with our comfort and gave us very useful advice for the fantastic natural attractions of the area. We had been through Ajo three times in the past few years, so we knew what to expect from this mining town. The neighborhood was a mixture of Craftsman style bungalows, small homes in Mediterranean style, and company houses in vernacular style. The neighborhood was extremely quiet and secure, and the hosts said they never locked their doors. A big plus that we were not able to take advantage of was the standing offer to move for a very nominal fee the trailer in which we were staying to a desert location. We would love to do this next time, as it would have added a lot to our total experience.
Craig
January 2016
Ron made my stay at the trailer an exceptional experience!!!! Things were just exactly as they described and actually even better since they even waived the cost to set up the trailer in the desert for me to take pictures. They are so considerate providing great advices and even told me that Ron can stay in the van to accompany me if I am scared to stay in the desert myself alone. The place Ron helped set his trailer in the desert is so gorgeous, and I had some nice shots for the sunset, milky way and sunrise. In addition, the Ajo town they live in is such a nice small town with several places close enough for some nice pictures too. The trailer is clean with everything I need, and even the fresh fruit!!! I really enjoy the stay in their trailer and would love to contact them if I go there again!!! If you love nature and photography too, this is your choice.
Shihui
September 2015
It was fun trying out a camper bnb, but it would have been better if we had stayed 3 nights to have it moved to a desert location. The in town location made for a convenient walk to the town square and to Estrella restaurant. You'll like hostess Rauny--I'd nominate her for mayor of the charming mining town of Ajo.
Patricia
February 2016
Rauny was a super host. Great communication and very welcoming. The camper was cozy and very clean, and placed in a stunning desert location near town. We highly recommend the desert for the trailer, it was amazing.
Harry
December 2015
Super clean, very cozy. Rauny and Ron were very kind and helped us get oriented to the area. I would love to come back and try this out on a desert loop road. Great value!
Zachary
April 2016
2nd trip back to Organ Pipe National Monument in Rauny/Ron's trailer to experience awesome sunrises and sunsets. Very comfy mattress pad on bed. Trailer well outfitted with the basics. Can't wait to return when the entire desert is blooming in April !!
Marina
December 2016
Type de logement
Logement entier
---
Type de propriété
Camping-car/caravane
---
Capacité d'accueil
2
---
Chambres
1
Ajo
Newer home in the historic district 3 blocks from plaza. Remodeled with upgraded furnishings & a modern, southwest color palette. Walled lot & iron gates add security. Secured, detached car port. Central heat & A/C. Incl. heavily treed desert wash.
This home feels like it is out in the desert, yet it is right in the middle of town. The wildlife that frequents the property - quail, cactus wrens, rabbits, lizards, javelinas, an occasional coyote, and more - is thrilling to watch from the spacious, covered back porch. Everything, including vehicles, can be secured behind a wall and gates.
Ajo, Arizona, is a historic mining town located close to Organ Pipe Cactus National Monument. This is Arizona's closest city to the beach, as Puerto Penasco, Mexico - also known as Rocky Point - is an easy and safe 90-mile drive away. Rocky Point is a small, friendly resort town with lots of restaurants and hotels on a gorgeous coast. Ajo is surrounded by pristine, Sonoran desert. Easy drives close by offer stunning views and opportunities for hiking, biking and wildlife viewing. Cultural and arts festivals are held throughout the year and a farmer's market, with much local produce, is held every Saturday morning on the plaza in the fall, winter and spring seasons and every two weeks in the summer. There is no antenna or cable TV service available. A 42" TV, Blu-ray player and 3-CD/cassette tape stereo are included. Washer and dryer available.
Mitch has a lovely house that is both very private and in a neighborhood that is a convenient walk to all parts of town. It was very comfortable for the four of us. We cooked family meals and hung out reading Mitch's interesting library when we were not visiting with family, hiking or visiting the Plaza. Mitch was very responsive to questions. The furniture and details are interesting and tasteful. We would recommend this house for adults or families with older children. Kitchen is well-equipped and house was spotless.
Erica
December 2016
We enjoyed our stay t Mitch's place in Ajo. It is a great starting point for day trips to the Organ Pipe Cactus Monument nearby and close to the town's main plaza. The house is spacious and has two bedrooms that have each double beds and a full bathroom. Mitch was fast with communication and very forthcoming with key exchange.
Nina
December 2016
Mitch's place was OK. Basically clean and comfortable. However for $100 a night it was a less then I would have expected. It needs paint and some upkeep and is on the shabby side.that having been said you can't go wrong if you're willing to spend the hundred bucks and have more than two people.
William
January 2017
Comfortable, and clean. Our experience at Casa Banista was wonderful. We would definitely stay here again.
Shane
August 2016
This property was one of the best homes we've stayed in. Centrally located this home was spacious, cozy, warm, and beautifully decorated with its cowboy theme! Loved it! Cooking was a breeze, watching movies was easy, the beds were very comfortable, bathrooms very clean, and there was plenty of storage space for our things. Being able to park in the carport behind the gates was a nice touch. Mitch was a great host providing quick responses to questions; a great source of information about the area. We loved visiting Ajo but staying at this property made the visit even more enjoyable. We hope to be back sooner than later! Thank you Mitch!
Jonathan
January 2017
The host canceled this reservation 23 days before arrival. This is an automated posting.
Shanna
Casa Banista was a delightful stay. The house was clean and well appointed, and a short walk to the heart of Ajo. I would definitely stay here again!
Jeremy
April 2016
A great house in a beautiful town. Central to all of Sonoran Desert activities. Ajo itself is a great place for something different off the beaten track. Locals are the friendliest and food and drink are great.
Louis
December 2016
Type de logement
Logement entier
---
Type de propriété
Maison
---
Capacité d'accueil
5
---
Chambres
2
Ajo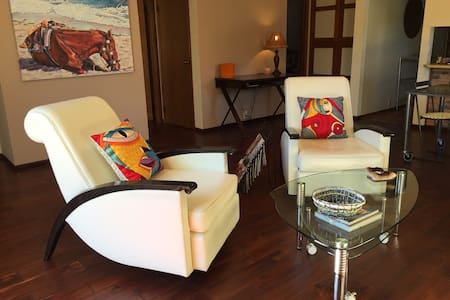 Beautiful, new Santa Fe ranch in Ajo AZ, large rooms, views of natural surroundings featuring all the plants, mts & sunsets. Patios in sun or shade. 5 acres. Private. 2 minutes to supermarket and restaurants. Fully furnished. 3 ni min stay. GSA and contract stays available under separate pricing.
Santa Fe ranch in beautiful, scenic Ajo, AZ, perfect for someone working in the area or long-stay visitors. Relaxing, quiet yet two minutes to restaurants, stores and supermarket. Floor to ceiling windows capture Sonoran plants, mountains and sun. Three night, minimum stay. Guests of one week (7 nights) or longer will have limited access to kitchen, washer, dryer. If guests need one bedroom, access to one bathroom is provided. If guests need two bedrooms, access to a second bathroom is provided. Guests may request the interaction they desire with owners, by email, cell or in person. Prior to confirming the reservations, guests must give the ages and a brief physical description of the guests who will be staying. Photo ID at check-in is also required.
1360 West Briggs Road in Ajo, AZ is in an upscale, five-acre home neighborhood within two minutes of restaurants and supermarket. Quiet, quality, views and sunsets. Two patios, front and back; as well as Mexican tiled picnic table out in the yard. Hike or walk from the home 300' to the start of trails. Public transit at 75 cents per person, to any place in Ajo from the front door of the home with Ajo Transportation. Check with them for schedules and hours. Beautiful, immaculate home with all the anticipated amenities. Quiet, safe, private yet convenient to everything. Beautiful views of surrounding mountains, desert, most every cacti in the desert. Small watering hole on property attracts varieties of birds, rabbits, occasional small deer family. A security camera is inside in the kitchen; as well as outside in the yard. Upon receiving a confirmed reservation, all guests are required to give owners a copy of their government photo ID.
This is a scenic and private getaway with all the conveniences. Like desert solitude (?); this is your place.
Carl
January 2017
Everything worked out just like I wanted. Linda was a great host and very prompt with text and email responses. Ajo is a great place during the day time, great hiking in the nearby parks and beautiful surrounding desert. At night there is not much to do but we knew that before we booked. Great house with even better grounds. The grill was a great touch and I had my favorite meal of our trip grilling up some steaks and watching the sun go down over the cactuses.
alex
January 2016
We arrived after dark and were met by the property manager. The house was easy to find, though it is just a few hundred yards past where the paved road ends. Johanna, the property manager gave us the key and a quick tour then took her leave. The house is very nice, with a definite southwestern style. The kitchen is full of new appliances, the cabinets stocked with brand new utensils and plates. Everything was clean. In the morning, we could sit out at a small table and watch the birds and listen to the gentle sound of bombing over at the Barry Goldwater test range. It was like distant thunder and you couldn't hear anything of that inside the house.
Rick
January 2016
Since the very beginning interacting with Jim and Linda, communication was cryptic, cold and terse. They wanted to know well in advance our time of arrival, and they for whatever reason texted and called way too many times in the week and days before our stay. The repeated contact felt invasive and bizarre. Then, on the day of our arrival, after multiple texts and calls, they sent someone else to show us in. That was fine, but what was strange was the hosts' insistence on making two unannounced drop-by visits the following day. Jim made veiled threats of "coming back" if my co-worker, Lyntoria, wasn't listed earlier. (She was.) Also, weirdly, during the booking process, Jim and Linda had asked our ages. Overall, both of us felt profiled based on the hosts' perceptions of our races and ages. Jim also mentioned that he'd been watching what cars were coming and leaving the driveway. (Um, we have friends who visit. We trade cars to borrow a truck in order to get out to the mountains. Since when do we have to clear that with the owners of our rental??) Jim's second visit was followed by another announced visit by a man in the early morning who seemed to be watering a table in the backyard. We felt extremely watched — not just by the owners themselves and their hired worker but by the SURVEILLANCE CAMERA located in the kitchen that the hosts and their listing failed to mention in their photos of the house. AirBnb policy states that hosts need to disclose all surveillance equipment before guest arrive, with pictures of them, and whether they are turned on or off. Jim and Linda failed to abide by any of these terms. An additional annoyance was the private signs that covered cabinets in the kitchen and bathrooms. This made it feel like we were always impeding and unwanted in the place we paid to stay. Had I realized that we would be under surveillance and constantly treated like subhumans, I would not have stayed, even though this house is one of three in the town that met our needs. The only positive moment interacting with the hosts: I got my wires crossed, messed up and needed to book an additional night on the day that we were scheduled to move out. Linda was extremely rude and accusing on the phone, but to her credit she did not charge a late fee.
Maxine
December 2016
We had a great time. The house is beautiful, and is in a beautiful location with easy access to hiking. I would happily return. Thank you!!!
Paul
January 2017
Linda and Jim were great hosts. They made us feel right at home. They weren't bothersome but were always there when we had questions or needed help. They had good advice on local restaurants and hiking. The house is beautiful. It has a wonderful outdoor patio and garden - great for breakfast and dinner, a large living room with a multi-channel large tv and a fully stocked kitchen. It's worth looking at the pictures. Ajo is a hidden treasure. The house is a mile away from the beautiful little town with a great town plaza and churches. Nearby are a couple of great museums but best of all, hiking in one of the most remote and intriguing wildlife refugees in the country - Cabeza Prieta. It is also less than an hour from the unique Orgon Pipe Cactus National Monument as well as an hour and half from the Gulf of California with swimming and fishing and great seafood.
Rich
April 2016
Type de logement
Logement entier
---
Type de propriété
Maison
---
Capacité d'accueil
2
---
Chambres
2
Ajo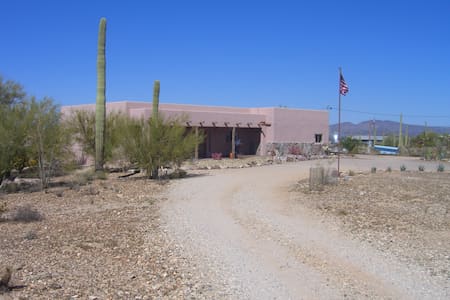 My home looks out at the Spanish Colonial Revival style plaza in Ajo's historic center, one of the most beautiful plazas in N. America. Ajo is a small former copper mining town located in the heart of the Sonoran Desert and is entirely surrounded by public lands: Organ Pipe Cactus National Monument, Cabeza Prieta Wildlife Refuge (Edward Abbey's former stomping grounds), the Tohono O'odham Indian Nation, BLM lands. You can literally be out in the wild within a couple minutes of this home in lush, quintessential saguaro-studded desert. BLM backroads lead into Cabeza Prieta, the nations 2nd largest wildlife refuge. Ajo is 40 miles north of the border, just 100 miles from Puerto Penasco at the head of the Sea of Cortez. Excursions abound. Ajo is architecturally unique in that its historic heart is still intact and was modeled on the City Beautiful movement in 1914. Many of its homes and public buildings are on the National Register of Historic Places. The Curley School has been refurbished into artist studios and apartments. Ajo's friendly residents are bound by love of their community and the surrounding desert. This Spanish Colonial Revival style home was built in 1916, has a large comfortable "great room," and is beautifully furnished with Mexican furuniture. You can step out at night and see the Milky Way, Ajo is that minimally lit with an eye to night skies. Javelina trot down the street at dusk and coyote are heard nightly. Ajo is one of only 65 towns in the country that have been designated National Wildlife Federation Community Wildlife Habitat. Birds abound and are your morning wake-up call. This 1400 sq/ft home has a spacious and well-appointed kitchen, an outdoor gas grill, and a Southwestern library of guidebooks, maps, natural history, and non-fiction books to assist you on your explorations. It is 110 miles from Phoenix, 130 from Tucson, a beautiful desert drive on a quiet two-lane with Kitt Peak National Observatory and the Tohono O'odham Cultural Center along the way. Many people have referred to Ajo as a well-kept secret. The entire house is yours for your stay. Privacy is yours. You are welcome to interact as much or as little with me as you like.
We stayed here in May and again this October. Both times, Anita was generous and hospitable. Though she doesn't live full time in Ajo, she responds quickly and goes out of her way to answer any questions. She also has a network of friends in this beautiful and interesting desert town who are available and happy to share information about the region. Anita's home is beautifully furnished and very comfortable. Everything we need is here--a true home away from home!
Kristin
October 2016
I stayed with my two elementary aged children for almost one week at this beautiful, peaceful and thoughtfully appointed home in Ajo. Anita was very quick to respond to any questions and her love of Ajo and hosting travelers is evident. We would return again in a heartbeat!
Kristin
May 2016
Anita's home was very comfortable. Anita was helpful and communicative . Ajo is a perfect location to visit Organ Pipe!
Stephanie
April 2016
Anita and her home in Ajo were just stellar. A thoughtful host, Anita clearly loves this small town in the Sonoran Desert - its' people, history, flora, fauna, geography - and has lots of information to share with others, which we highly recommend putting to good use. We agree with her that the town of Ajo and its' environs are an absolute gem! We loved the house's well-maintained front garden with all of the cacti and the view of the white-walled church out the front door was so cool and quintessential! We heard coyotes howling late in the evening and all the birds chirping away in the morning. Yes we really did see a javelina running down the alley! Her pristine, well-appointed and inviting home had everything we needed to make the most of our stay - comfortable beds, hot shower, good furnace for chilly desert nights, well-stocked kitchen, and plenty of room to relax and enjoy ourselves. We enjoyed cooking our meals at home (including a steak on the gas grill!) and having breakfasts on the back patio next to the bougainvillea. We definitely made use of the amenities - the lounge chairs for sunning and stargazing, the bikes for riding around town, the cooler and ice packs for our day trip to Organ Pipe Cactus National Monument, and of course the abundant guidebooks and pamphlets on the area. Anita obviously put a lot of thought and effort into providing information about details of where to find things in the house, how to use them, etc, which was great because then we didn't have to spend time figuring it out or being stressed about doing something wrong. Communication with her was easy and immediate, and she was always extremely helpful and detailed in her responses. Thanks, Anita, for making our desert getaway effortless and extra memorable!
Tracy
February 2016
Arizona, Ajo (pronounced Aho) and Anita's house were a revelation to us. This part of southern Arizona: Apart from the small town of Ajo, where Anita's house is located, there is only the occasional settlement between miles and miles of wide open plains, liberally sprinkled with photogenic, bite-sized mountains. This is a comfortable wilderness, horizon to horizon nature but never more than a 30 minute drive from food and petrol. The amount and variety of cacti was unbelievable. During our stay in Arizona the weather was over 90°F (32°C) but the air is so dry there it wasn't a problem at all. Ajo: A former mining town that saw some bad times when the mine closed down back in 1986 is a architectural and social hotchpotch. Everything mixed together in a ever changing street-scape, thoroughly enjoyable to amble through. Every street has something to offer and the Plaza is delightful. A really interesting small town, well worth spending a few hours exploring. Anita's house is, to say the least, big enough! It has a fully equipped kitchen with a big refrigerator as well as a washing machine and dryer. There is also a large living/dining room with ample choice of sofas and armchairs. The bathroom was fine and everything was clean and tidy. Two cars fit easily on the gated driveway. The centre of town, i.e the Plaza, is a two minute walk away and the small, but adequate shopping area with fuel station, a two minute drive. Our only worry is that the secret of this place will get out / We can't understand why this place is so unknown.
Inge
April 2014
A lovely home in a lovely, sleepy village. My wife and I thought that we had crossed the border and stepped back in time - it was so peaseful. A comfortable home with everything we required. Although we didn't meet with owner, Anita, she kep in touch with us during our stay and made us feel very welcome. A very comfortable bed, plenty of room to spread and lounge about in, off road parking and so, so quiet. Well recommended.
Michael J
October 2014
Anita was a wonderful host – who ensured that everything was ready for us upon our arrival in Ajo. Anita's home is very cozy and artistically decorated – a stocked pantry as well as library for inspiration on southwest adventures. Photos were accurate -- Sunny, welcoming home, with a very comfortable bed and all extremely clean. The home also is perfectly located, right in the heart of Ajo, just steps from the historic plaza. Although Anita was not in town, it felt as though she was, because we communicated through her local contact as well as by phone. If we had a question, the response was super quick and always helpful. Thank you, Anita, for opening your home to us!
Monica Surfaro
November 2014
Anita's home was perfect for our visit to Ajo for a friend's wedding. It was comfortable and clean and she was very communicative and helpful.
Emily
November 2015
Type de logement
Logement entier
---
Type de propriété
Maison
---
Capacité d'accueil
4
---
Chambres
2
Ajo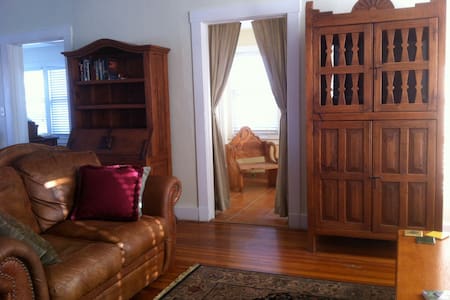 This is a comfy studio on the outskirts, of the "5 acres" of Ajo. The house features an outside bar, dance floor, and cooking area with an incredible view, especially at sunset.
This private studio includes a Queen Size bed with wireless Internet, TV with Dish Network. When you'd like to freshen up, the bathroom has a stand up shower with towels provided. Feel free to contact me with questions or requests. Outdoor - kitchen, dancefloor, bar. In Studio - Mini fridge, coffee maker, microwave. Hi there! I'm Blanca and I'm posting this for my grandfather. He lives in the house and has this studio next door. So, I'm helping him to manage his account before I start listing my house. We are happy to interact as much or little as preferred. We have a unique setup so it doesn't require guests to have any interaction with us. Check-in will be seamless as well. I'm not always around but will be available electronically all the time.
Ajo Transportation 520-387-6559 $.75 One Way, In Town. Monday-Friday 7am-5pm, Saturday 8am-5pm.
Type de logement
Chambre privée
---
Type de propriété
Autre
---
Capacité d'accueil
2
---
Chambres
1
Ajo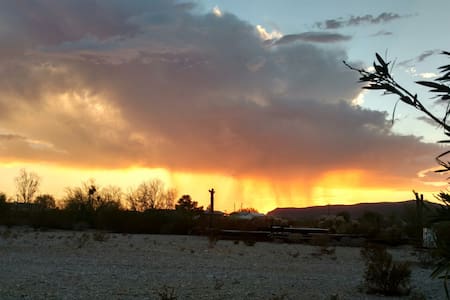 This home is tiny and charming, comfortable, ceramic tile floors, full, small kitchen, comfortable queen bed, small office / studio, new TV with Cable, offstreet carport, gated yard, quiet, sidewalks to enjoy walking, onsite w/d, fully furnished.
Charming Palo Verde home is perfect for one or two in the same queen bedroom. Full kitchen. 5 minutes to most restaurants, stores & activities. Yard fully fenced, carport inside yard, two patios, picnic table, chairs, BBQ grill. Guests will have the entire home and use of w/d, the entire gated yard, patio furniture, BBQ grill. Guests will be able to reach us within the same day by email, text or cell.
This is a neighborhood with similar sized homes, all fenced, surrounded by alleys and sidewalks and pavement. Walking is a common activity. It's a quiet neighborhood and people are friendly but respectful of privacy. One can walk to Circle K for coffee or refreshments or newspapers 24/7. Walk to the Plaza, restaurants, stores. Or 5 minutes drive to anything in Ajo. Parking for two vehicles inside gated yard. Public transportation call Ajo Transportation. Operates in Ajo M-F 8-5 and 75c gets you picked up and dropped off anywhere in Ajo. Call them for info. Guests will find this tiny home comfortable and secure. It has been home to Homeland Security offices and directors, people working at the local clinic, and tourists over the past 10 years.
Type de logement
Logement entier
---
Type de propriété
Maison
---
Capacité d'accueil
2
---
Chambres
1
Ajo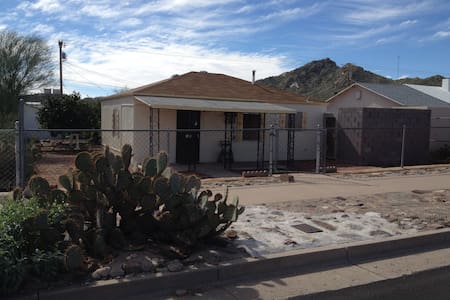 This home features split floor plan, master bedroom, closet and bath at east portion; common rooms living, dining and kitchen in the center; 2nd bedroom/bath far end. Fully furnished. Covered carport inside fenced yard, BBQ and Patio furniture
We have allergy free homes with no pets or smoking. Our homes are professionally cleaned, ready for your arrival. Cameron home is about 1300 s.f. and quiet, centrally located about 5 minutes from most Ajo activities and restaurants. Guests will have access to the entire home which also includes a small studio / office with a desk, chair and ready for your wifi / laptop Guests will be able to reach us by cell calls or text and should get a reply within the same day
Cameron home is 1/2 block from the Cabeza Prieta National Wildlife Refuge Interpretive Center, with many talks, lectures, walks, hikes and nature activities available at little or no cost. Cameron is 3 blocks from our great IGA supermarket and similar distance to restaurants, etc. Guests with their own car will find Ajo super easy to get around. No special instructions required. Guests without their own transportation should contact Ajo Transportation which has comfortable buses for 75c that will act as a taxi M-F 8-5 all over Ajo. Walking in daylight hours is safe. Arrival ahead of dark is recommended if possible
Type de logement
Logement entier
---
Type de propriété
Maison
---
Capacité d'accueil
4
---
Chambres
2
Ajo