La casa del árbol es una estructura de dos dormitorios muy exclusivo situado cerca de Camden, Carolina del Sur. Situado en un bosque de madera dura / pino, la zona es privada y aislada. Una envoltura alrededor de porche circular rodea la casa. Se puede observar la naturaleza o cenar al aire libre.
La casa del árbol se construyó a partir de madera molida en el lugar en el año 1982. Es una casa circular de 3 pisos con un árbol del centro al que se unen las vigas de soporte. El constructor artesanal original, llenó la casa con vidrieras, gabinetes de vidrios de colores y muebles de madera preciosa. La casa es totalmente privada y aislada, sino que incluye maravillosas comodidades para unas vacaciones tranquilas. Con dos dormitorios; un baño completo; un medio baño; y una cocina completamente equipada, se puede disfrutar de los bosques, mientras que tiene todo lo que necesita a su alrededor. Hay un montón de lámparas de lectura, libros, revistas, juegos y sillas cómodas. Hay rincones de lectura en el porche y un montón de sillas desde donde se puede disfrutar de la vista. Hay 3 mesas de comedor en el porche, así que si el tiempo lo permite, comer fuera y disfrutar del bosque. Hay dieciocho ventanas en la habitación de arriba desde donde se pueden ver las estrellas por la noche. Disfrutar de la vista desde la cama de matrimonio. También hay una pequeña terraza piso superior - un gran lugar para leer, tomar un vaso de vino, o escuchar música que se puede jugar en nuestro tocadiscos antiguo. Tenemos un montón de 'vinilo' para elegir!
Las maderas !!! Paz; tranquilo; soledad; canto de los pájaros!
Laura: Thank you so much for allowing us to stay at your treehouse. Such a unique place and we loved all of the artwork and craftmanship put into your place. We would definitely like to come back in the fall.
DeeDee
2016-03-27T00:00:00Z
Laura was a great host! She answered all the questions I had and made me feel as though I was communicating with a friend. She has the treehouse decorated and furnished to provide ultimate comfort and coziness. Words cannot describe just how comfortable the king-sized bed is in the master bedroom. I literally could have spent all day in bed. I set out to have a few days of peace and do some soul searching, the treehouse was certainly the perfect place for this feat. The only noise I heard was the chirping of birds during the day, and the crickets singing at night.
Michael
2016-03-10T00:00:00Z
This is a very special vintage lake home on a beautiful piece of lake front property in SC...... The Crosbys home is full of their vintage finds and collections and is super comfy! You can feel the love in this great eclectic oversized cottage..... can't wait to come again when it's not 35 degrees outsude! Beautiful sunrises too! Very accommodating hosts!
MICHELE
2016-12-31T00:00:00Z
We felt welcome from beginning to end ... Our host was sooo hospitable
William
2016-04-21T00:00:00Z
Perfect secluded getaway for our 22nd anniversary.
Michael
2016-07-18T00:00:00Z
I cannot say enough wonderful words about this little piece of heaven.
Michael
2016-11-13T00:00:00Z
Type de logement
Logement entier
---
Type de propriété
Cabane dans les arbres
---
Capacité d'accueil
2
---
Chambres
Bethune, Caroline du Sud, États-Unis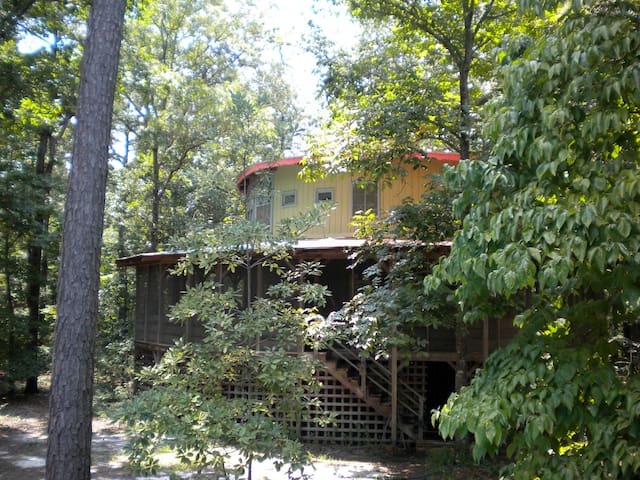 Jenny is a fanatic host and her cottage is lovely, it was the perfect place for our little getaway. Highly recommended!
Mary Jo
2016-10-15T00:00:00Z
The house was perfect for our stay. My son had a golf tournament nearby so the location was one of the primary reasons we chose this rental. Jenny was very responsive to our questions. The house was clean and stocked with everything we needed.
amanda
2016-11-06T00:00:00Z
Jenny was very helpful during our stay. The cottage is in a quiet, cute lake house neighborhood. Plenty of storage room for food/belongings, parking, etc. the bed is very comfortable. Literally everything you could possibly need is at the cottage! Loved it here!
Rachel
2017-02-23T00:00:00Z
The only bad thing I can say is not regarding the host. The house is in a very nice area but it is hard to find. (SENSITIVE CONTENTS HIDDEN) maps is easiest if you drop a pin on the location described on the house's page on the map posted. But if you use an app like waze as i did it will take you to nowhere. The house is small & lovely. & i love the outdoor views. We had a wonderful family thanksgiving with kids able to play in the yard & the kitchen was awesome.
Brittany Michelle
2016-11-26T00:00:00Z
A+++. We were in town for the night for Bishopville's Scream Acres. We had a wonderful experience. Jenny'cottage was close to our destination. Her house was clean and cozy, even better than the photos. Great lake view from upstairs through the huge windows . Quiet neighborhood in a very peaceful setting. Private lot. Beautiful back deck. Jenny was a great host. She was available to answer all of our questions. GPS led us astray and Jenny quickly responded with directions for our arrival. Hope to stay again.
amber
2016-10-23T00:00:00Z
Jenny's place is peaceful and clean! I appreciated the homey feeling and comfortable bed each night!!
Monica
2016-11-03T00:00:00Z
Type de logement
Logement entier
---
Type de propriété
Maison
---
Capacité d'accueil
4
---
Chambres
Hartsville, Caroline du Sud, États-Unis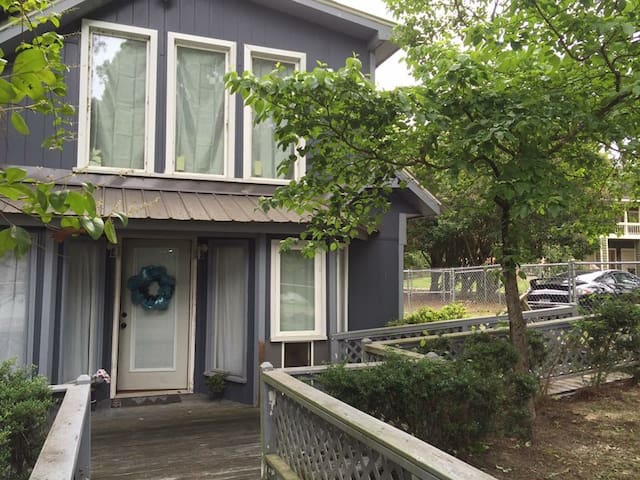 Outstanding place to stay in Camden area. The venue is exceptional with every detail of a great stay considered. I was truly impressed and exceeded my expectations. My guests were also truly impressed.
Marcus
2017-04-02T00:00:00Z
A peaceful spot. Very secluded and private. A great place to stay for a family or for two couples.
Jennifer
2017-04-09T00:00:00Z
Type de logement
Logement entier
---
Type de propriété
Appartement
---
Capacité d'accueil
4
---
Chambres
Camden, Caroline du Sud, États-Unis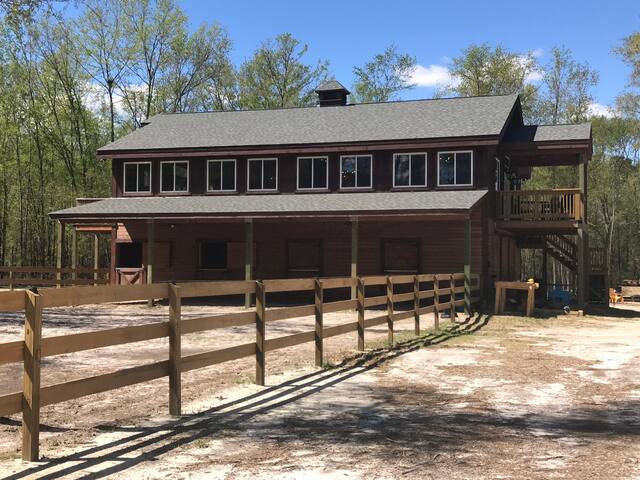 Type de logement
Chambre privée
---
Type de propriété
Maison
---
Capacité d'accueil
2
---
Chambres
Hartsville, Caroline du Sud, États-Unis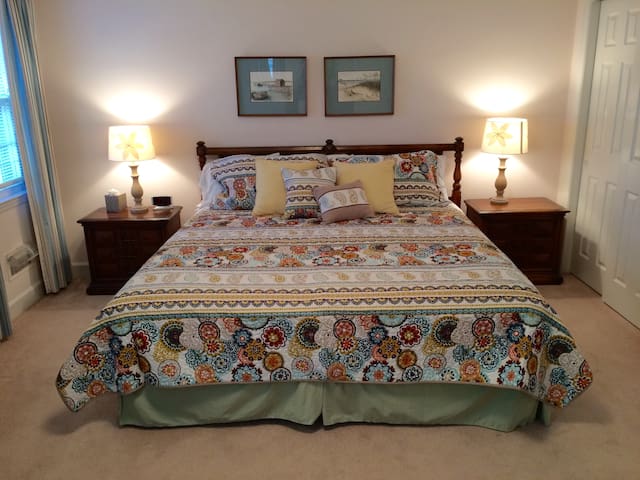 Martha's place was in a quite residential neighborhood just on the out skirts of town. She made sure that I was settled in, and even helped unpack the car! Room was clean and neat and all amenities available that you might have forgotten, such as hair dryer or shampoo. Wi-Fi was available, which makes for convenience for the business traveler.
Peggy
2017-02-18T00:00:00Z
Very clean. The bed and pillows are very comfortable. It's a great place to stay.
David
2017-02-28T00:00:00Z
Martha's place is a "vintage" ranch style brick home that is so spacious and very well kept and maintained, and is only a few easy minutes drive to downtown Hartsville. I only stayed a weekend as I was attending the annual Renofest Bluegrass Festival, and was not around very much. But the time I was around I felt like I was with family, as Martha and her co-host Diane, made me feel very welcome. Both were very kind and interesting to talk with. I had a great experience, all I needed was provided, and I highly recommend her accommodations to anyone! Thanks Martha!
Mark
2017-03-26T00:00:00Z
Type de logement
Chambre privée
---
Type de propriété
Maison
---
Capacité d'accueil
2
---
Chambres
Hartsville, Caroline du Sud, États-Unis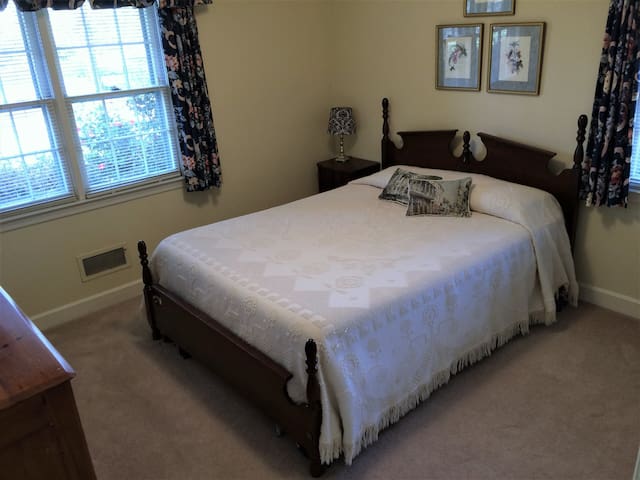 Type de logement
Chambre privée
---
Type de propriété
Appartement
---
Capacité d'accueil
2
---
Chambres
Camden, Caroline du Sud, États-Unis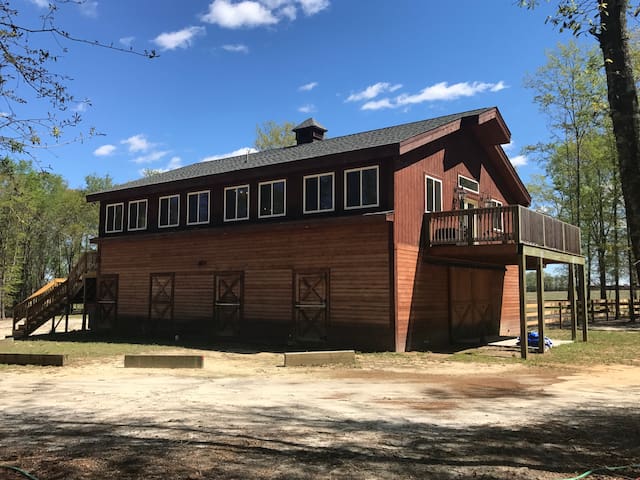 I have stayed in MANY great AirBnBs over the last 8 months. Diane's place may be one of my absolute favorites. After being delayed on the highway behind an accident, I realized I wasn't going to make it to my final destination as planned. I messaged Diane after 10PM explaining my situation and she accepted my request promptly. She was easy to communicate with and greeted me warmly despite the late hour when I finally arrived. Her cheery and colorful cottage themed home is adorable. The room was cozy and comfortable. In the morning I enjoyed getting to know Diane a little more over coffee and breakfast. Although I was passing through for work, I'd love to come back with my mom or girlfriends. I highly recommend Diane's place!
Natalina
2017-02-01T00:00:00Z
We travel for our work and stay in lots of air bobs. Diane's place is about a sweet and homey as you can get! She went above and beyond to make us welcome, even cooked us a delicious dinner as options were slim on a Sunday night in Hartsville. Our room was lovely with a comfy bed and beautiful hand made quilts. The bath is private and everything super neat and clean. We highly recommend this listing. Diane could not be any nicer, and is a kindred spirit for any creative soul! We thoroughly enjoyed our stay!
Susana
2017-02-13T00:00:00Z
Extremely clean, warm, friendly environment. Absolutely recommend!
Melissa
2017-03-24T00:00:00Z
Type de logement
Chambre privée
---
Type de propriété
Maison
---
Capacité d'accueil
2
---
Chambres
Hartsville, Caroline du Sud, États-Unis
Type de logement
Chambre privée
---
Type de propriété
Appartement
---
Capacité d'accueil
2
---
Chambres
Camden, Caroline du Sud, États-Unis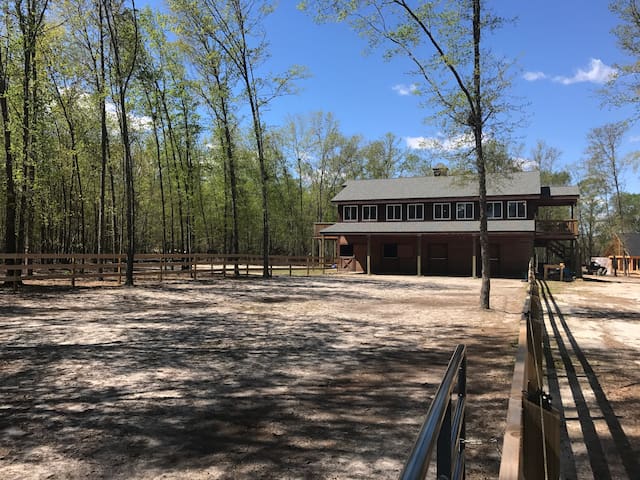 I was in Hartsville for work and stayed at Diane's home for the week. Her house is as described. It was perfect for me as it was really close for my work. It is situated in a nice quiet residential area in a cul de sac,close to downtown shops and restaurants. Diane's home was a pleasure to stay at, extremely clean and the bed had a brand new mattress which was very comfortable. Communication was excellent at all times. Diane is a friendly, personable and outgoing lady, who makes herself available to answer any questions one might have, or to simply sit and chat with. She also recommended some very nice restaurants in the area. I would highly recommend Diane's home to anyone traveling in the area.
Conor
2017-01-20T00:00:00Z
Type de logement
Chambre privée
---
Type de propriété
Maison
---
Capacité d'accueil
2
---
Chambres
Hartsville, Caroline du Sud, États-Unis
Tenemos 17 Suite Boutique Hotel, amplias suites de diseño único con amplio salón, dormitorio con el rey o reinas duales, vestidores junto con grandes duchas con toallas de felpa y servicios incluidos en su estancia, es un hogar lejos de casa.
This is by far, the most beautiful place that I have ever had the good fortune to rest my head and distress. What a find!!! Do not hesitate to book a room here. Shannon was a joy to talk to at the front desk. I was stunned with the beautiful decor and top of the line products. I couldn't ask for a better experience. I've lived on 3 continents and traveled Europe in my youth...this is my new favorite place to go. I WILL BE BACK. (I was fortunate to have the rooftop to myself Sunday night and Monday morning. What a treat!!!! ☆☆☆☆☆+
Betty
2016-07-05T00:00:00Z
The Mantissa is conveniently located and the staff was fantastic. The room is very spacious and impeccably clean, and we really enjoyed the rooftop bar!
Dixy
2016-01-30T00:00:00Z
We had a terrific time. The "feel" was comfortable from start to finish. Welcome packet, info book, front of the house staff were all so very helpful. Cleanliness great. Location perfect for our visit to this great little town. Thanks to everyone who helped make our stay such fun. Hope to see y'all soon. Mike & Maureen
Maureen & Mike
2015-12-13T00:00:00Z
Type de logement
Logement entier
---
Type de propriété
Autre
---
Capacité d'accueil
2
---
Chambres
Hartsville, Caroline du Sud, États-Unis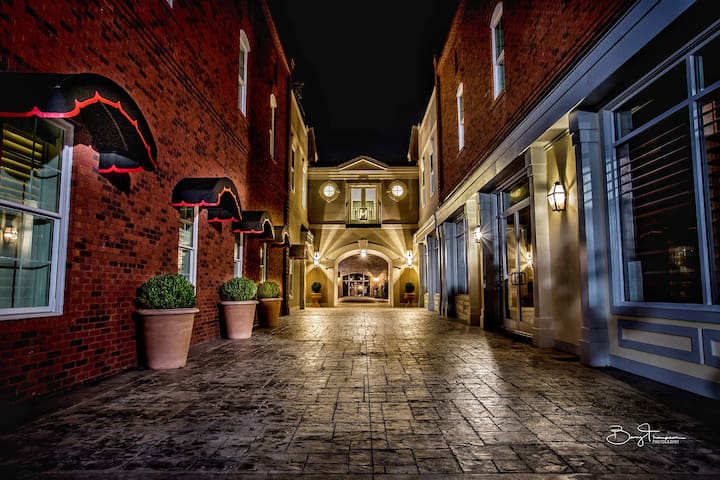 The house was even lovelier than it looks in the photos, a perfect balance of old southern charm and modern comforts. Judith is a very thoughtful host as well. I wish I could have spent more than one night there!
Kelly
2016-10-20T00:00:00Z
Judith and Anthony are great hosts! I enjoyed my stay very much!
Brittany
2017-03-31T00:00:00Z
Beautiful historic home and wonderful host!
Tom
2017-04-02T00:00:00Z
Judith was very nice and welcoming. She greeted me at the door and gave me a tour of the home and reviewed the areas that I was able to use. The neighborhood is very nice and located in a small town, but with lots of options for food and groceries nearby.
William
2016-10-31T00:00:00Z
Type de logement
Chambre privée
---
Type de propriété
Maison
---
Capacité d'accueil
2
---
Chambres
Camden, Caroline du Sud, États-Unis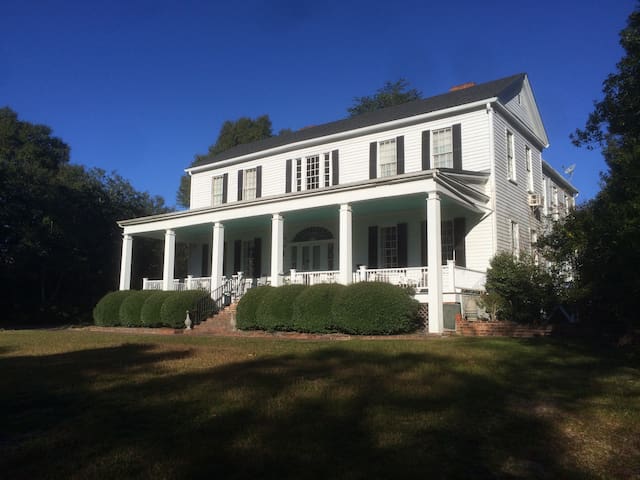 Venite a godere di un'ampia aprire spazi tranquilli sul nostro quasi fattoria di 30 acri. Se avete bisogno di tempo e spazio per ri-gruppo e distendersi, troverete che qui. Si prega di consultare il nostro elenco principale a Red Roof Cottage @ FireFly Farm per conoscere meglio la nostra proprietà.
Questo spazio confortevole e accogliente loft privato si trova sopra il nostro laboratorio presso il nostro agriturismo situato a Camden, Carolina del Sud. La camera dispone di un letto matrimoniale con un materasso di qualità, uno spazio confortevole salotto, TV via cavo, Wi-Fi wireless, un piccolo frigorifero, forno a microonde, caffettiera Keurig (forniamo tutte le fixins per la prima notte!), E un bagno privato completo con doccia full size. Si prega di notare che il bagno si trova al piano inferiore, mentre la zona notte si trovano al piano di sopra. ***** Si prega di notare anche il wifi è esteso dalla casa principale e può essere capriccioso e non è garantita E di solito funziona meglio se si è all'aperto. Se è necessario disporre di Internet a prova di errore in tutti i tempi e tutte le aree, tenere questo in mente prima di prenotare **** Il Red Roof Loft si trova a meno di 1,5 miglia dalla SC Equine Park e un accesso facile e veloce per pranzo Interstate 20. Camden, antiquariato shopping, parco storico rivoluzionario e tutte le cose Camden comunità cavallo sono tutti a 10 minuti di auto. E se siete alla ricerca di più avventura, negozi, ristoranti e simili, Columbia è un breve 30 minuti dritto su I20 !! Se siete arrivati a godere di una partita di calcio USC, si può essere allo stadio in meno di 45 minuti !! C'è un sacco di spazio a Firefly per parcheggiare rimorchi del cavallo, camper o qualsiasi altro veicolo di grandi dimensioni. L'azienda vanta anche un sacco di spazio paddock se i vostri viaggi richiedono.
Camden è più antica città della Carolina del Sud. Ricco di storia e situato a 20 minuti dalla zona metropolitana di Columbia, Camden offre negozi caratteristici, varie opzioni di ristorazione e uno stile di vita molto attraente e rilassante della piccola città. Si è certi di trovare l'appello di Camden irresistibile! Camden, conosciuto come "The Steeplechase Capitale del Mondo" ospita la Coppa Carolina e Colonial Cup, che porterà i visitatori da tutto il mondo per gli sport di corsa siepi e tailgating. È possibile alzarsi presto e andare a vedere come purosangue allenano a Springdale Race Course o visitare il Museo Nazionale Steeplechase situato sulla base.
Loved the canine and feline welcoming committee. The grounds were awesome. If you want a quiet retreat, this is the place to unwind and to forget the world, even in the midst of a tropical storm. We loved Olive. She remided us of our Chip.
Kathy
2016-09-06T00:00:00Z
We enjoyed staying at the loft. It was very convenient for a horse show at the equestrian park a couple miles away. The room and bed were comfortable. The bathroom/shower are downstairs in the workshop, but didn't present any problems other than making sure you watch your head on the stairs. The property was large, beautiful and secluded. The dogs on the property were friendly and playful, greeting us as we drove up and left each day. We will definitely stay again if we have a chance.
Wally
2016-12-04T00:00:00Z
Thanks for providing us with a comfortable bed and quiet surrounding for rest for one night. I hope we left the place clean for you. Thank you for dropping the 20$ cleaning charges.
Patricia
2016-10-14T00:00:00Z
Stayed there about a month while working in the area. The loft was a perfect spot for me to relax after a long days work. The loft is a guest bed and sitting space above an organized and clean home workshop. Connected to the loft is a cottage and impressive screened in pool and outdoor kitchen, complete with everything you could imagine . The pool is mainly for cottage guests which during my time was rarely occupied . I was happy enough to sit under the shaded entrance to the loft in the evening with the family dogs and one cat as my companions . I would recommend the spot for a traveler or couple wanting to experience a relaxing, clean and quiet place. I am definitely considering bringing my family down and staying at the cottage as a family vacation, and take advantage of all the extra outdoor activities available.
Glen
2016-09-25T00:00:00Z
This was my first Airbnb experience. I travel a lot for my work and usually stay in a hotel. I was looking to quite frankly get a better experience for the money and time spent away from home. I definitely found it, this was more than I expected. The Loft was perfect for me, a well kept , clean place, just like I have at home. I take my shoes off at the door and walked around in my bare feet, I love that feeling of a clean floor! A place to relax a bit after work and get a good nights sleep. There was no outside noise in the loft , you might occasionally hear a muffled bark or two but they never woke me. My work was both days and nights which required me to sleep different schedules , and that was never a problem. There are many other positive things I could say but don't want to make this too wordy. My only regret is that my work has been extended here and the space is already reserved. I definitely would rate this 5 stars.
Glen
2016-09-01T00:00:00Z
Staying at the Loft at FireFly Farm was one of the nicest and most inspiring stays we have ever had! They have developed their almost 30 acre horse farm and houses with everything I've ever dreamed of doing... including the work room, loft, tack room, gorgeous pool with connected hot tub, water slide, water fall and beautiful koi fish pond all in a very large, high screen house with beautiful landscaping inside and out! They even have hand-laid brick driveways, patios and walkways... giving me a LOT to think about for the place we are retiring to. There is also a beautiful small stream and pond with more fish outdoors that looks so natural yet was designed and installed by them. This is one of the most remarkable places I've stayed at, with everything fitting together so naturally it's hard to believe it wasn't "just there" and "came with the place" when they bought it. I was a bit concerned about not having internet access upstairs in the loft where we stayed, but that too turned out to be a blessing in disguise! I was able to check email for anything important (none) outside when needed, and I was able to read three books start to finish, that I have had for three months waiting to be read. All because I was able (forced) to take a "real vacation" which is just what I needed. Talk about a blessing in disguise! Tory and her family are also some of the nicest people we have ever met. It's experiences like these that make Air BnB so very, very special. In a million years I would never have been able to meet such welcoming people and stay at such an incredible place. Thanks to everyone there!
Catherine
2016-05-31T00:00:00Z
Better than we could have imagined. Incredible place to relax and breathe. Beautiful surroundings. Affectionate dogs, cat and horses to make you feel right at home. Superbly clean and we'll maintained. We called the bed goldilocks' bed because it felt just right. Honestly never saw owners but didn't feel like we weren't cared for in our visit. Thoughtful touches everywhere to make us feel welcome. Hard to leave!
Lucy
2016-02-07T00:00:00Z
My boyfriend's son enlisted in the U.S. Army a few months ago. His boot camp graduation was held 7/7/2016. I could have selected a vacation rental closer to Fort Jackson (~30 miles away) but I decided I would prefer a country getaway. (We live in Chicago.) I'm so glad the Red Roof Loft was available. We had a wonderful, relaxing, peaceful stay. The beautifully designed grounds are impressive and very well maintained. Since no one was renting the cottage, the only interaction we had were with the cute dogs and a friendly cat. We enjoyed our two nights and would highly recommend staying at the FireFly Farm.
Naida
2016-07-08T00:00:00Z
Type de logement
Logement entier
---
Type de propriété
Loft
---
Capacité d'accueil
2
---
Chambres
Camden, Caroline du Sud, États-Unis
Ben and Pam are friendly, welcoming hosts. The historic house and property is extraordinarily charming, my expectations were completely exceeded. Ben is very interested in the history of the property and the area, and the house is such an interesting slice of history. The room and bed was very comfortable, and I was amazed how solid the floor is - not a squeak to be found! Although my schedule kept me away from the house most of the day and a good bit of the evening, Ben was good to check with me to see if there was anything I needed and to make sure things were going well. It was a most enjoyable experience, and I hope to get a chance to return!
Clark
2015-10-09T00:00:00Z
Halcyon days await any guest at Holly Hedge. This antebellum home is immaculately kept, beyond comfortable, has been furnished with period pieces and is replete with first class amenities and southern charm. The home and community are steeped in rich southern history. The hosts, Ben and Pam go out of their way to make their guests not just welcome but comfortable. Ben and Pam are very knowledgeable about local history and have many entertaining stories to tell. A visit to Holly Hedge is a rare opportunity. You won't want to miss this experience.
Ann
2012-05-25T00:00:00Z
Ben and Pam were absolutely wonderful hosts. They went far beyond my expectations and treated me like a member of their own family. I had such a memorable time with them and had so many fabulous experiences. Their house is beautiful and filled with love and history. There is so much to explore and talk about. They guided me around the area, and taught me a lot about this hugely important part of the world. The whole experience from start to end was a real treat, they are incredibly special people with an incredibly special home. Thank you Ben and Pam, I'll never forget my stay in Camden South Carolina :)
Laura
2014-11-21T00:00:00Z
Ben and Pam were gracious hostesses. They met us upon arrival and were very welcoming. The estate is gorgeous and immaculately kept. Ben and Pam have vast knowledge of the estate and the surrounding area and spent time sharing information with us. We are already planning a return trip.
Mitch
2015-04-12T00:00:00Z
My experience here was amazing! The Schreiners were more then welcoming from the time I arrived until I left. The room and home are absolutely lovely and filled with history. They will provide as much of that history or as little as you would like. This was my first time in the area, and they were helpful in giving tips on navigating and places to go. I highly recommend staying here, and hope to stay again myself in the future!
Kelly
2014-03-15T00:00:00Z
Type de logement
Chambre privée
---
Type de propriété
Autre
---
Capacité d'accueil
2
---
Chambres
Camden, Caroline du Sud, États-Unis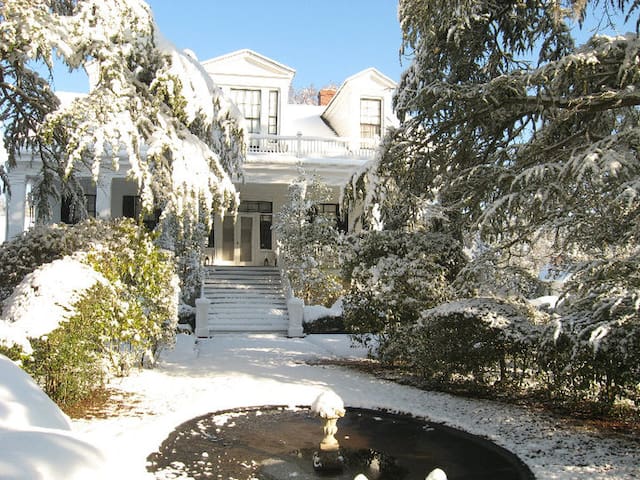 精心修复Antebellum的家离市区卡姆登一英里。我们家是20号州际公路,靠近哥伦比亚,南卡罗来纳州的州议会大厦。你一定会喜欢我们的家,因为它是南部的魅力和我们的热情款待。参观当地的农贸市场和古玩店。一年一度的卡罗来纳州蓝调音乐节,北卡罗来纳州和殖民地杯比赛,革命战争天域和历史建筑假日旅游烛光首页。
薰衣草房间有一个大床和充足的空间。这股卫生间,淋浴和爪足浴盆,用粉红房间有两张单人床。有子女或朋友一起旅行的家庭一个完美的安排。根据您的要求,我们很高兴您在逗留期间阻止粉红房间所以洗澡可以独占你的。
卡姆登是最古老的内陆城市,在南卡罗来纳州,有着丰富的革命和内战的历史。甘德山坐落在历史街区,距离购物和餐饮场所约一英里。
Judith and her husband were wonderful hosts for our Christmas getaway. They have done an excellent job with the historic house and everything was beautiful and clean. I particularly liked the fact that we were not tied to an eating schedule as with some B&B lodging. Judith opened her kitchen to us at our leisure but was sure to provide a wonderful selection of things for breskfast! We enjoyed talking with them about their experiences with the house and the Camden area! The small town is full of shopping and one of the best "high-in" Mexican places we have eaten at. Highly recommend this stop for Airbnb travelers!!
Rene
2016-12-21T00:00:00Z
Lovely home with wonderful people
Karen
2017-03-12T00:00:00Z
Great place. Lovely hosts. Felt like being home away from home.
Andreas
2017-02-12T00:00:00Z
I'm an Airbnb novice. Judith and Anthony, social folk that they are, made us feel at home within five minutes of our arrival. I found the three rooms we used (the Lavender Room, the bathroom, and the kitchen) to be very very clean and spacious. I had one issue with the bathroom, and Anthony was *immediately* responsive to my concern and answered it *fully* to my satisfaction. The house is old, and thus exudes a charming feeling quite different from cookie-cutter hotels. The price of the stay compared very favorably with local hotels and other local, commercial B&Bs. If we needed to overnight in Camden again and if the rental schedule permitted, I would bring my fiance to Gander Hill again in a hot minute, knowing I wouldn't need to think twice about her safety or the owners' trustworthiness. We had a wonderful stay.
John
2016-10-22T00:00:00Z
Do not miss this chance to stay in such a beautiful historic southern home!!!! This was my first time staying in a "shared space" and it was great. There were not many options in the area I needed and Judith's home looked very inviting so I decided to book and try out a shared space vs. private space. There is a pamphlet to give you information and history about the house, it has an amazing war story. Judith and her husband stayed up late to greet us which was very nice after a day of traveling. We let ourselves out in the mornings and would see them at night, they made the house accessible to come and go. Coffee and breakfast snacks were available in the kitchen; a nice charming bonus! Parking was easy, the room felt private, and we would have loved to spend more time getting to know the homeowners if we had stayed longer. Thanks for your hospitality Judith!
Liz
2016-12-24T00:00:00Z
Comfortable, quiet getaway with gracious hosts!
Jeannine
2017-04-09T00:00:00Z
Wonderful hosts who made me feel very welcome. Historical large home. The guest rooms are very private. The Lavender room is huge. The location is very central and convenient. Thank you for having me and I will be back on my future trip to Camden.
Miriam
2016-11-19T00:00:00Z
We found this historic home to be beautiful, warm and inviting. A unique stop among our many airbnb stays. We look forward to returning!
Bob
2017-03-26T00:00:00Z
Type de logement
Chambre privée
---
Type de propriété
Maison
---
Capacité d'accueil
2
---
Chambres
Camden, Caroline du Sud, États-Unis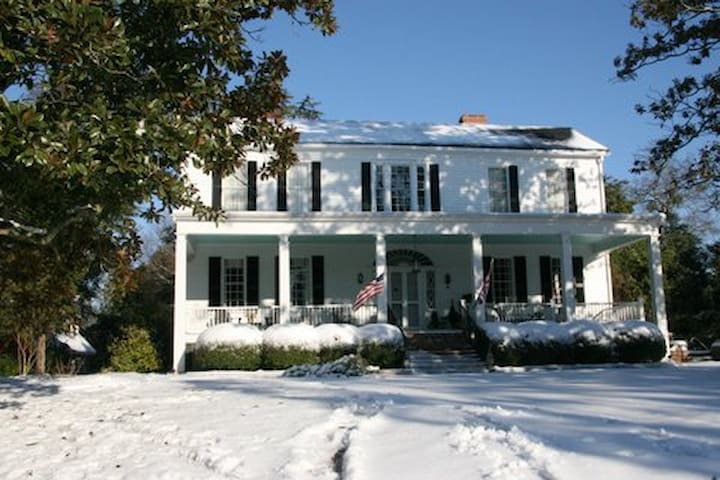 Cottage de Red Roof @ Firefly Farm est une maison rouge étain toit joliment décoré et confortable situé sur près de 30 acres de gazon verdoyant, bois durs et de pins. La propriété comprend 2 étangs complets avec des chutes d'eau apaisants et koi coloré. ***** S'il vous plaît noter également le wifi est prolongé de la maison principale et peut être capricieux et NE SONT PAS GARANTIS Il fonctionne généralement mieux si vous êtes à l'extérieur. Si vous devez avoir Internet infaillible en tout temps et tous les domaines, gardez cela à l'esprit avant de réserver ****
Camden est la plus ancienne ville de l'intérieur de la Caroline du Sud. Ancré dans l'histoire et situé à 20 minutes de la région métropolitaine de Columbia, Camden propose des boutiques pittoresques, des restaurants variés et une petite ville style de vie très attrayant et relaxant. Vous êtes certain de trouver l'appel de Camden irrésistible! Camden, connu sous le nom "The Capital Steeplechase du Monde" est le foyer de la Coupe de Caroline et de la Coupe Colonial, qui attirent des visiteurs du monde entier pour les sports de course de steeple-chase et le talonnage. Vous pouvez lever tôt et aller regarder comme pur-sang entraînent au cours de la course Springdale ou visiter le Musée National Steeplechase situé sur les terrains.
Tori nous a accueillis chaleureusement tout comme les trois chiens et le chat de la maison. Tout était parfait. Notre séjour à Camden a été fantastique et nous avons eu le cœur serré de quitter ce très très bel endroit où nous avons pu nous ressourcer. Les personnes que nous avons rencontrées à Camden au hasard de nos sorties ont toujours été souriantes, ouvertes et contentes d'échanger sur leur ville et leur comté. Nous espérons pouvoir revenir !!!
Laurence
2016-07-26T00:00:00Z
We are a family of 6 that stayed for one night. This home is great! Very spacious with comfortable beds. Our young kids loved the fish pond, playground equipment and all of the attention they got from the homeowners 3 dogs and cat.
Patricia
2016-03-27T00:00:00Z
I really enjoyed my stay. I was a last minute request and Tory and her husband were very accommodating. The home is absolutely beautiful and the outdoor space is amazing. I will definitely be returning.
David
2015-08-30T00:00:00Z
Tory was a great host, the Firefly house was just like home in Florida. Pool, waterfall and outdoor kitchen were just like home. Well stocked and perfect for racing our car at the Carolina Motorsports Park. Thank you so much for opening your beautiful house for us to enjoy.
Scott
2016-05-02T00:00:00Z
Everything in the description is accurate!!
mary
2016-04-10T00:00:00Z
Firefly farm is a magnificent home with all the comforts one could need and more including a beautiful screened pool area for relaxing after a long day at Carolina Motorsports Track. We are already talking about staying here again.
Angie
2016-07-17T00:00:00Z
Tory and Tom made us feel at home from the moment we drove up. The pictures do not do this place justice. The property, the house, and the pool are all awesome. They went above and beyond our expectations. Our daughter had just gotten engaged the day before we arrived and they welcomed them with a cute sign and flowers to add to our celebration. There is anything and everything in the house and kitchen you could ever want or need. I would recommend this place to any couple wanting a relaxing weekend or family wanting some quality time together.
karen
2015-09-07T00:00:00Z
Our family of six stayed at this property for five nights and had a wonderful time. We actually only left the property one time as we had so much fun with all there is to do there. We cannot say enough good things about Tory and Tom and their young son Colby. They were extremely hospitable and more than gracious with our family. They shared everything! I chose this home specifically because of its rural location in the fact that the house had its own swimming pool, waterslide, waterfall, high-end outdoor kitchen all under a screened in lanai. It was truly amazing. The small dogs and horses our children just adored. There was a small quite pond and man-made Creek in the front yard that our children actually enjoyed more than the pool! We will be back to this place for sure. Highly recommended, especially with children.
Jeff
2015-07-02T00:00:00Z
Type de logement
Logement entier
---
Type de propriété
Chambre d'hôtes
---
Capacité d'accueil
9
---
Chambres
Camden, Caroline du Sud, États-Unis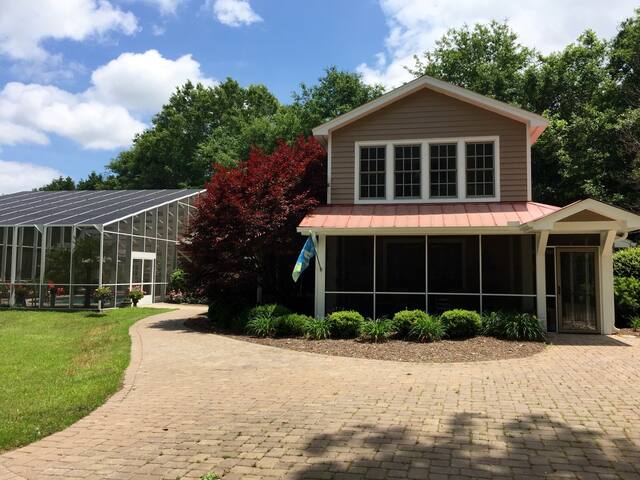 Type de logement
Chambre privée
---
Type de propriété
Bed & Breakfast
---
Capacité d'accueil
2
---
Chambres
Camden, Caroline du Sud, États-Unis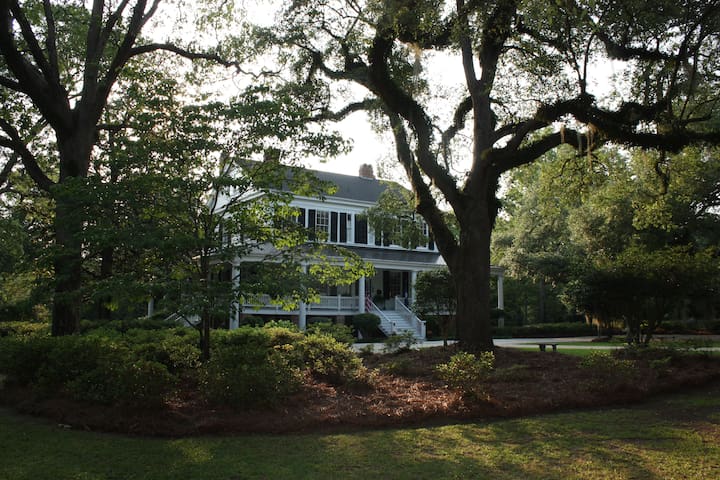 The hosts make this place as comfortable as you would like for a stayover in Camden. They are perfectly located for historic walking tours, or seeing the homes/gardens of beautiful Camden. I felt very safe, comfortable, and wished I were there in summer so that I could have dipped a toe in the beautiful pool there.
Julie
2017-02-07T00:00:00Z
I had a very short visit but the house is absolutely spectacular! It is located in a historic area of Camden. Judith and her husband are extremely nice and accommodating. I hope to return!
Victoria
2017-03-12T00:00:00Z
We absolutely loved staying at Judith's house. She made us feel so welcome with a homemade banana nut bread to welcome us home. We saw our house just enough to feel connected but not too much. Their home was immaculate and better than the pictures. It completed our Camden visit to be in an old restored mansion.
Diane
2016-11-06T00:00:00Z
Judith and her husband Anthony were incredibly welcoming from the time we arrive. My friend and I needed to make last minute accommodations to evacuate Charleston SC because of hurricane Matthew, and they were so thoughtful to open their home to let us stay for free that weekend. We were very stressed trying to find a place to stay and Judith responded very quickly to our messages for help. Their home is absolutely beautiful! It is historical and very well maintained. They made us feel right at home and told us to help ourselves to the kitchen space and they even provided items for breakfast. This Airbnb experience was unbeatable! If you are going to be in the area, love historic homes, or just want a quiet place and cozy bed to sleep in, you absolutely need to stop and stay with them. Overall, wonderful experience! Thanks again you two! :)
Camille
2016-10-08T00:00:00Z
Type de logement
Chambre privée
---
Type de propriété
Maison
---
Capacité d'accueil
2
---
Chambres
Camden, Caroline du Sud, États-Unis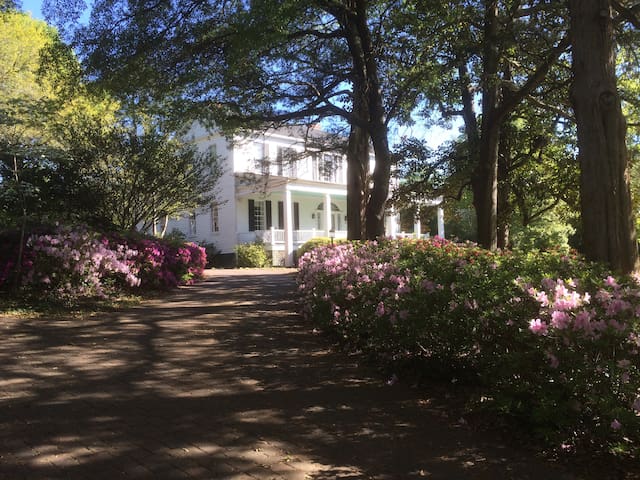 Type de logement
Logement entier
---
Type de propriété
Autre
---
Capacité d'accueil
16
---
Chambres
Camden, Caroline du Sud, États-Unis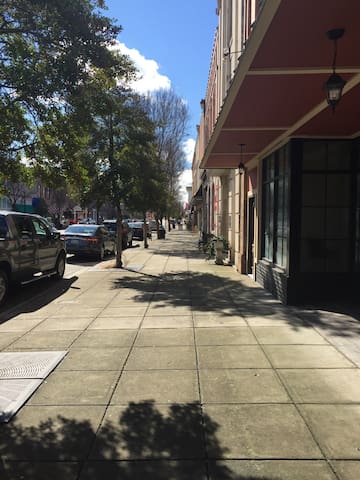 Saisissez les dates souhaitées pour connaître le prix total. Des frais supplémentaires s'appliquent et des taxes peuvent être ajoutées.