Saisissez les dates souhaitées pour connaître le prix total. Des frais supplémentaires s'appliquent et des taxes peuvent être ajoutées.
Our sun filled 2 bed, 1 bath home is the perfect stay for a simple stop through, or weekly stay visiting. We are smoking friendly, LGBT friendly, and pet friendly!
Unique smoking room with fenced in back yard, quite area with beautiful shade and fire pit for nightly fun :) Washer/dryer, fridge, coffee machine, bathroom, stove, microwave. I am gone most the day at work, as is my significant other. We are both very friendly, but like others to enjoy themselves so we will not bother much.
Good honest people all around us. Not a great town for uber and such. We do have a transportation service in town, but advice to have you're own vehicle.
Type de logement
Chambre privée
---
Type de propriété
Maison
---
Capacité d'accueil
2
---
Chambres
1
Clarinda
My place is close to the historic Promenade and 2 blocks from our beautiful downtown and restaurants. Clarinda has 3 fine museums- Nodaway Historic Museum, Glenn Miller Birthplace Mueum, and The Clarinda Carnegie Art Museum. You'll love my place because it is a beautiful historic house filled with period antiques. Enjoy our home while you are away from yours!. My place is good for couples, solo adventurers, and business travelers.
Beautiful home. Great room upstairs with a close bathroom. Breakfast was delicious. Hosts friendly and warm. A treasure in Clarinda for sure.
Aline
July 2016
Type de logement
Chambre privée
---
Type de propriété
Bed & Breakfast
---
Capacité d'accueil
2
---
Chambres
1
Clarinda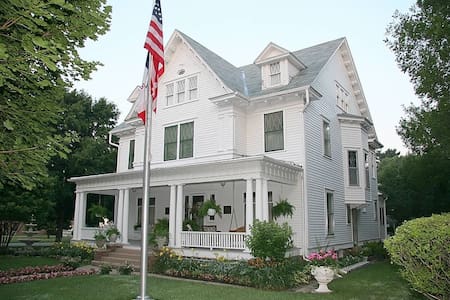 Your amenities will include high-speed internet, TV, clean restrooms and a full kitchen. The kitchen is clean and offers all the essentials for any cooking you choose to do when you're not exploring the city's vibrant restaurant scene.
Type de logement
Logement entier
---
Type de propriété
Appartement
---
Capacité d'accueil
4
---
Chambres
2
Fairfax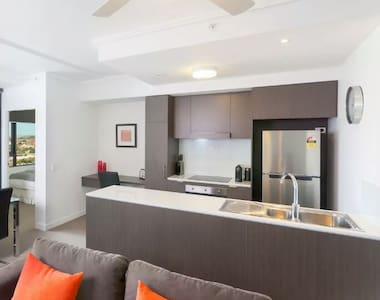 This bedroom has a full size bed located on the second fl of this 4 bedroom condo with shared bath rm also on 2nd fl. Neighborhood is very family friendly and quiet. The downstairs has a full kitchen,bath rm,living rm,working fireplace common area. Plenty of off st parking. Scenic Rockport offers beaches,shopping,dinning,musical events of many types and much more. Come relax and explore!
Small private bedroom with a full size bed with shared bath rm in hallway. Access to large living room,working fireplace,full kitchen,back heated porch and deck on 1st floor.Clothes coin -op washer in basement and dryer in back porch . Plenty of parking off st and on. We have one small kitten as our new extended stay tenant. Beside your small private bedroom you have access to shared bathroom on 1st and 2nd fl. 1st fl is a fireplace ,full kitchen,living rm,back porch,1st fl deck and coin-op washer dryer. Clothes washer in basement and dryer located 1st fl back porch. Our daughter resides in another room on the 2nd fl and can be helpful with any immediate questions. Jake residing on 1st floor is also a long term resident who has helped maintain the property. I am very available by text and in and out as my recording studio/office is in the basement and sometimes I hold quiet rehearsals in the living room during mid week hrs.
Very safe ,quiet and family friendly. There are CATA buses 5 minute walk from house and trains to boston about 5 minute car ride. More inf needed just ask and we'll hook you up. Things to do; https://www.tripadvisor.com/Attractions-g41790-Activities-Rockport_Cape_Ann_Massachusetts.html
Type de logement
Chambre privée
---
Type de propriété
Appartement en résidence
---
Capacité d'accueil
1
---
Chambres
1
Rockport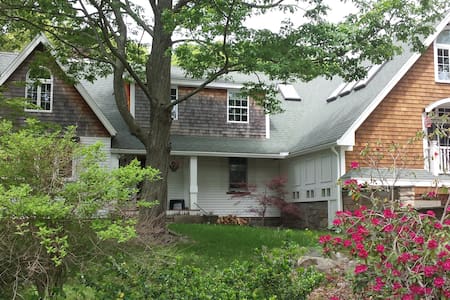 Excellent lodging for fresh air and country sunshine. A short drive to Maryville, MO to support NWMSU Bearcats or Hatfield, MO to view the Prairie Chickens at Dunn Ranch! Great for your next vacation or hunting trip in Northwest Missouri. Clean, Wifi, wireless printer, central heating/AC, laundry, Tempurpedic mattresses, garage, kennel, kitchen, freezer. Located on pavement road with easy access.
Part of Gladcrest Farms, a Missouri Century Farm continuously operating in the family since 1848. Raising Angus cattle, corn and soybeans, it is an active agricultural operation. Guests are welcome to request a farm tour, depending upon the time of year, calving season, cow/calf operation, corn and soybean row crop operation. Although the farming operation is going on in the surrounding pastures and farm ground, interaction is very minimal. Guests have a great deal of privacy.
Very rural setting, cattle and horses in pastures adjoining property. No public transportation. Although if you go stand down at the road, someone will most likely stop and ask you if you need a ride somewhere. There are a number of Amish settlers in the area that offer baked goods and produce at their farmsteads. If guests are interested, we can give you locations and days.
Susan is a great host. She made us feel welcome and made checking in and out a breeze. The home is lovely with views of the farm and rolling hills. Easy parking on the driveway, great ac, fast and reliable wifi. We loved sitting on the front porch swing as we enjoyed the cool summer evening and watched the moonrise. Our son had a great time exploring the yard and seeing neighboring cows go by. Grocery shopping was close by at the town of Grant City. Thanks so much for having us, Susan!
Myr
June 2016
The house was perfect for us!
Peter
February 2017
Great house on a historic piece of land. Tastefully decorated, inviting home. A nice getaway from the city.
Jesse
January 2017
This lovely house is in a beautiful spot, with a wonderful view. The host couldn't have been more accommodating. We had a great time!
elizabeth
September 2016
My wife and I were passing through and initially planned to stay for a day or two on Susan's farm. However, the views, amenities, and peacefulness of the property made us fall in love with this place. We booked an additional 2 days because we didn't want to leave. My wife has a bad back, but slept without any problems on the Tempurpedic mattress. We worked for a good length of time during our stay and found that the WiFi was reliable. We enjoyed walking around the property and saw the lake, cows, and crops, which was fun for us. Susan was a fantastic host and was great with communication. We truly felt like this was our home away from our own. We would definitely stay again when in the area. Thanks for an awesome experience Susan!
Wendel
July 2016
We were looking for a place to stay for Homecoming weekend at NWMSU. We stumbled onto this AMAZING home! We were so lucky to have amazing weather for our stay. Susan was very helpful and readily available to answer any questions. Our kids (11, 14) were outside the entire time. They were able to take a tour of the farm, bottle feed a baby calf, ride on a tractor.....for my "city kids" it was so nice to see them interact with nature. The property is well kept, easy to find, and a great location. The house itself was adorable! So beautifully decorated. A nice mix of contemporary and country chic. I just LOVE the rocking chair in the sitting room! My kids loved the twin beds upstairs. They were able to adjust the beds so that they were sleeping sitting up. The queen bed on main level was comfortable and had cozy sheets. The bathroom had a tub and shower. The motion-sensored lightening was a great touch. Never had a problem with WIFI. We turned the TV on at nights only. There is a DVD player available, if needed. We used the gas grill several times during our stay. We are looking forward to returning to the farm!
Jamie
November 2016
Description was perfect and the home is even more cozy than the pictures show. Host made access super easy and instructions to the house were convenient and clear. Comfortable bed, state of the art appliances, clean in every way, exceptional office with excellent internet connection.
william
June 2016
We stayed at Susan's home while my husband hunted. It was a perfect setting with beautiful views and greetings from the horses and cows that surrounded the farms. She welcomed our dogs and the house couldn't have fit our needs better. We had to leave late on the day of our departure and she was totally accommodating. We look forward to returning for future hunting trips. This is an adorable house, very comfortable and Susan is a great person to deal with.
Daniel
November 2016
Type de logement
Logement entier
---
Type de propriété
Maison
---
Capacité d'accueil
5
---
Chambres
3
Worth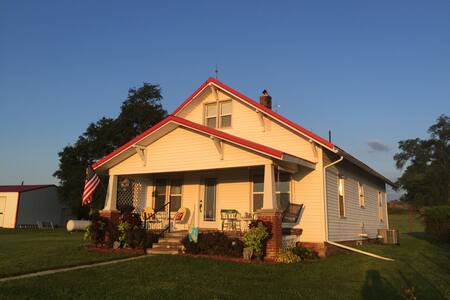 Come and relax along the tranquil banks of the Missouri River on their floating, boutique bed & breakfast. Enjoy friendly, peaceful, river hospitality.   Guests will find the tranquil, romantic atmosphere of historic Brownville, and the naturally scenic Missouri River valley, a perfect site to unwind and explore by hiking, biking, touring local museums, galleries and shops or just sitting on one of the River Inn's decks and watching Mother Nature at play. Includes full breakfast
Type de logement
Chambre privée
---
Type de propriété
Bed & Breakfast
---
Capacité d'accueil
2
---
Chambres
0
Brownville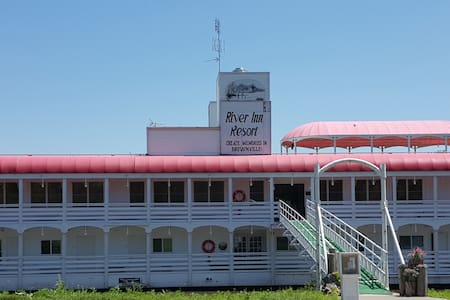 A bit of history, imagination and a lot of craftsmanship went into building this cozy one room/one bath cabin on the same acreage as the original Honey Creek School. Enjoy cozy country comfort at the cabin
The cabin was constructed with a 1890's theme. A step back in time with a few "necessities" like cable TV, microwave, a small (cube) refridgerator and, oh yes and a full bath and running water!!! For nights under the stars, there is a campfire pit with a grill grate that fits over the fire pit for cooking out, we also have grill baskets, firewood and starter. An old dirt road for a walk in the country. And Honey Creek, once well known for bees, is nearby if you want to explore. Please let us know when you plan to arrive. Jerry takes great pride in having everything just right. He will greet you on arrival and answer any questions you may have. There is coffee and tea in the cabin and ICE by request at the school house. Jerry has lived here all of his 70+ years, ask him anything! Oh yes, he is also a docent on the river barge, The Captain Meriwether Lewis, in Brownville so you can ask him anything about that too! Also, please let us know if you will be staying past the regular check out time of 1PM.
The only thing we overlook is a cornfield, a hayfield and a creek. The days and nights are quiet and leisurely. If you would like to try some of our favorites: For home cooked meals try La Portal Mexican Restaurant or Hickory Road BBQ in Auburn. Brownville has the Lyceum, always made from scratch and delicious (check for open times) Summertime is big around here and there is a little bit of everything to do. Check the fliers on the desk, we try to keep it current, and as always, ASK US! We hope you come by car, bicycle, motorcycle or horseback. There is no public transportion way out here! And BE SURE to follow our directions on how to get here. Two out of three miss it with GPS! Seriously.... We are between Peru (2 miles) and Brownville (6 miles) It is VERY IMPORTANT that you follow OUR written directions to get here from highway 67 (no other GPS or MapQuest will work correctly) FUN THINGS TO DO ... Within 20 miles Brownville Shops, Museums and Winery, the Lyceum Eatery, Village Theater, Brownville Concert Hall, Riverboat Rides. Peru State College Campus, Sports and Events Steamboat Trace Hiking/Biking Trail INDIAN CAVE STATE PARK Nebraska City Arbor Lodge State Park, Kimmel Orchard, John Browns Cave, Hunting: Wild game, Arrowheads & Mushrooms Birding Stargazing Creeking
Staying at the Cabin at Honey Creek exceed my expectations even though I knew it was going to be very cool. It is tucked away but easy access to Peru and surrounding area. The surroundings are peaceful, in nature, and provides some local history due to the school house on the same property. Linda and Jerry are a great team to make your reservations and as hosts. They take care of guests in a friendly manner while making them welcome, and still feel they are in a special place. I felt right at home and my friends had such a great time spending it there with me. I will be back many times because it was so convenient to have "my own place" while visiting friends and having fun at Old ManRiver Days. Jerry helped us all make it a wonderful memory! THANK YOU both!!
Kelly
June 2015
Very relaxing stay. Great cabin, perfect location for easy access from Omaha. Just what we needed before start of school year, thanks!
Angie
August 2016
Beautiful place! Loved it so much! Can't wait to come back
Brandon
July 2016
What a wonderful place to get away. It is away from the ruckus of everyday life and gives you the ability to watch the day go by, explore neighboring towns, or simply stroll down the dirt road. Jerry is very friendly and available when you need him. This place really is a treasure and I would recommend it to anyone.
Robert
June 2016
Our stay was wonderful. The cabin was quiet and quaint. Jerry was helpful and friendly. They thought of everything right down to the bug spray I forgot to bring.
Jennifer
July 2016
We had a great time at the cute and clean cabin! We watched birds, cooked hot dogs and s'mores over the camp fire, and enjoyed the stars/ fireflies once the sun went down. Jerry and Linda were great hosts and we would recommend the cabin to our friends & family! The quiet of the country was very refreshing.
Ashley
July 2015
Jerry was very welcoming and went out of his way for us, right down to helping us find the running trail. The cabin is perfect and we'll done. Perfectly located for us. Thank you for opening your cabin. Can't wait come back in 4 weeks.
Gregory
October 2015
This cabin was just what we needed. It was clean and in a wonderful location. We booked for 3 nights & added a 4th because we really didn't want to leave. Each night we cooked on the BBQ, lit the fire pit & watched the hundred of fireflies dance around us. Jerry lives in the old School House & is a lovely guy who is very helpful & knowledgeable about the area. We left having had a very peaceful & restful time.
Steve
July 2015
Type de logement
Logement entier
---
Type de propriété
Cabane
---
Capacité d'accueil
2
---
Chambres
1
Pérou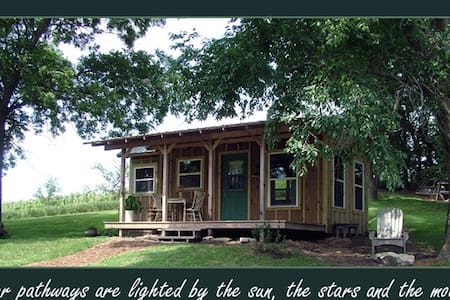 Country Home (Country Diamond) set in the beautiful Loess Hills. Guests can wander the land enjoying wildlife and beautiful vistas. We rent individual rooms that sleep 2, we have enough bedrooms for up to 10 people.You can enjoy the best of two worlds. Sleep and play in a peaceful country atmosphere or drive 35 miles to Omaha,Nebraska and all of its big city amenities. Also just one hour away from Lincoln, NE and all of the sporting and cultural events on the NU campus.
Country Diamond can be a quick overnight stop during your journey or you can stay awhile and soak in peace and quiet. We are located just off I-29 and Hwy 2 that connects with I-80. From here your journey can take you north to the Dakota's, west to Yellowstone or south to Branson. If you want to be a tourist, we can provide a list of attractions within a short drive. If you want to ride horses, we can arrange it along with the trails to ride. Bird watching is excellent, hiking the hills is great fun. We thrive on meeting people and getting to know them, so we are always up for a cup of coffee and talk about the area, etc.. While breakfast " fixin's" are always available, if you want, a full breakfast can be cooked. At the same time, if privacy is important, a sitting room upstairs with a TV is yours plus there is plenty of room to relax without a crowd.
While we are in rural Iowa, famous for corn fields, all you will see from our house are the valleys and vistas of the unique Loess Hills. We are five minutes from Sidney Iowa and 15 minutes from Nebraska City, NE where you will find shopping, restaurants, antiques and attractions. You will need a car. Want to stay a little bit longer??? Consider trying off the grid camping in one of our rustic log cabins or western prairie wagons. View and listen to the wildlife that inhabits our area.....coyotes, bobcats, eagles, fox
A beautiful house and location. The great hospitality makes you feel like you are staying with family or an old friend. I will gladly stay again if I am in the area. Thank you Lona for being such a great host!
Evan
March 2017
Type de logement
Chambre privée
---
Type de propriété
Maison
---
Capacité d'accueil
10
---
Chambres
6
Sidney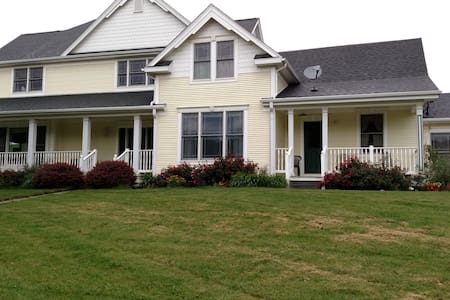 No smoking No pets. Two private bedrooms with double bed. Full bathroom. Fully equipped kitchen. We want you to feel at home in your own private space.
Type de logement
Logement entier
---
Type de propriété
Appartement
---
Capacité d'accueil
4
---
Chambres
2
Pérou