This 340 square foot cabin is adorable with modern luxuries. Located 20 min from Wilmington, on a small lake perfect for fishing Country atmosphere, yet convienence to city make the perfect get away spot for those who enjoy the best of both worlds.
Cottage has TV but no wifi. A/C and heat. Full size eat in eat in kitchen. Full size shower in bathroom. One bedroom with bunk beds. 2 day beds in living room. Perfect for 2-3 people. Free on site parking. Small lake 20 feet from front door for fishing. Very quiet, surrounded by woods.
Cottage is off a dirt road that leads to some residences. Very little traffic. Nearest neighbor is out of view. Some parts are private property. Please note and comply with no trespassing posted.
Place was cozy, inexpensive and got the job done
Dan
2017-03-26T00:00:00Z
This was a great place to book for rest and relaxation. It's cozy and comfortable and within 5 minutes of a great market (Eagle Island) for seafood and produce and 20 minutes to downtown Wilmington or the Coast. Alma Jeanette is a lovely host and very responsive to requests. Great for the value.
Anna
2017-01-02T00:00:00Z
Quick response, easy check-in. Cute & cozy space
Carla
2017-02-19T00:00:00Z
The "shed" is cozy, clean, and quaint. Perfect location to get away from it all but still be close to activities in Wilmington.
Christie
2017-03-05T00:00:00Z
This little cabin is located about 15 minutes outside Wilmington. I personally chose this spot because it's off the beaten path and is a quaint getaway spot in the woods. The host was responsive and the cabin was comfy and was as described.
Sheena
2016-12-12T00:00:00Z
The hostess is very attentive to any request, she does her best to make everyone feel welcome and have a comfortable, fun, relaxed stay. If you're looking for a quiet little relaxed stay this is the spot!
Kinley Morgan
2016-10-16T00:00:00Z
This little cabin is adorable, eclectic and absolutely comfortable! Alma is a delightful host who was super flexible, and welcomed us with open arms! Although the space is just outside of the city, you feel a million miles away! We will definitely be back!
M
2016-11-13T00:00:00Z
Type de logement
Logement entier
---
Type de propriété
Cabane
---
Capacité d'accueil
2
---
Chambres
Currie, Caroline du Nord, États-Unis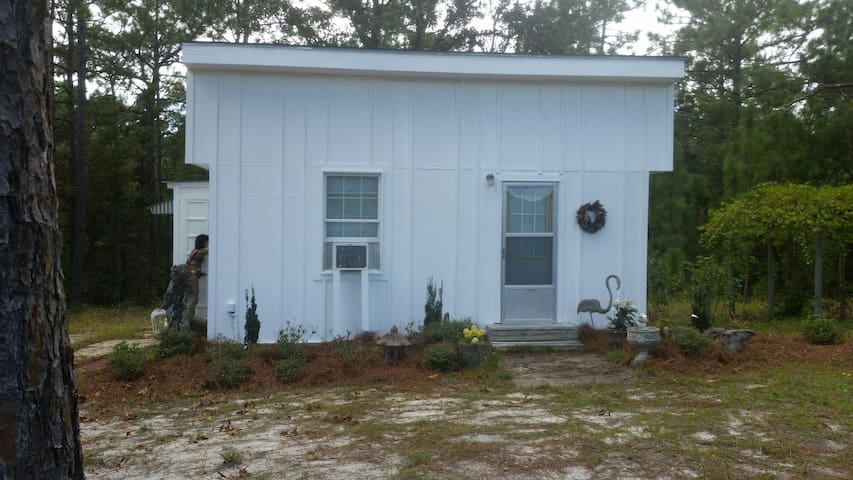 Beautiful secluded cabin only 25 minutes from downtown Wilmington. Comfortable, bright and open floor plan with central air/heat, stone fireplace, pine floors, spa tub and large covered/screened porches. This is an unplugged getaway- no internet or TV! Relax and enjoy a book, games, spa bath, or a walk in the woods! Access to private community canoe/kayak put-in on Moore's Creek. Near Black River canoe/kayak access, Moores Creek Battlefield National Park and on NC Bike Rte. 5.
No TV or Internet! There is a stereo with CD, usb, cassette and... yes a turntable! Dig out your old vinyl and bring it along.
This peaceful secluded neighborhood was awarded an Environmental Stewardship Community designation.
Type de logement
Logement entier
---
Type de propriété
Gîte nature
---
Capacité d'accueil
4
---
Chambres
Currie, Caroline du Nord, États-Unis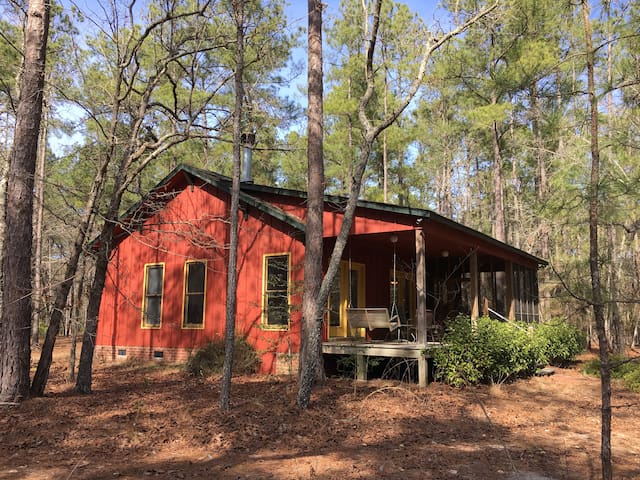 Our newly constructed cabin sits on a bluff overlooking the NE Cape Fear River. It's a 400-sq.ft modern cabin with all comforts. Queen size bed, detailed woodwork throughout, high ceiling, an expansive covered porch with fans. Wheelchair accessible, full kitchen, granite bar, bathroom with walk in shower Experience a relaxing weekend retreat or romantic getaway. Boat ramp is in walking distance bring your kayak or boat. Explore North Carolina's best kept secret, the NE Cape Fear River!
House custom designed by Ron Wilson. Very comfortable. Stand alone lodge has a private entrance and wooded outside area, includes a rock garden with water feature and views of the river A relaxing 28x10 porch seems to float over the water atop of the bluff. A birders paradise both day & night. While inside oversize sliding glass doors add to the spectacular views. The mini split heating & air unit is very quiet and efficient. The modern Victrola is a radio, plays albums, cd's, tapes and is bluetooth compatible.
We are in a quiet safe neighborhood. Our drive is the first one on left entering Cape Landing Road. The boat landing is around the corner, a short walk or drive. you are welcome to bring your kayak, canoe, or boat for a fun day on the water. There are 3 gas stations half mile away for boat fuel.
The river lodge is truly a special place to just relax and watch the Northeast Cape Fear River as it changes from dawn to dusk. Perfect for 2 people, very comfortable and cozy. The house was just completed with a lot of custom woodwork, nice efficient kitchen. All very clean an new. It's location is very convenient to Wilmington and Wrightsville beach but feels like you are out in a very private natural setting. We would definitely return, Diane and Doug are terrific hosts attentive to your every need.
Robert
2017-03-16T00:00:00Z
This place is fantastic! The view is awesome! The little studio is right next to the house but you would never know. Diane and her husband have done a wonderful job at making it your own personal get away. I could have honestly spent all weekend just hanging out here and on the porch. All around perfect stay, with great host! Will definitely be back!
Sadie
2017-02-12T00:00:00Z
Beautiful space right on the river with everything you need. Checked in for a quick overnight on the way to South Carolina and had trouble pulling away from the porch in the morning.
Lisa
2017-03-04T00:00:00Z
Diane's place is truly incredible. These reviews aren't joking when they say she thinks of everything. The cabin is gorgeous, newly updated, the view is amazing, it's totally private, and Diane is such a gracious and thoughtful host. Have never had a better experience with an Airbnb host. Their place is amazing and it was nearly impossible to leave the cabin at all. Definitely hope to return in the future.
Jordan
2017-03-19T00:00:00Z
We felt welcomed as soon as we pulled in the driveway and stepped out of the car. The rock garden and fountain area were lovely as we walked toward the deck. Once on the deck the view was breathtaking and the fresh cut flowers on the table between the 2 rockers was a delight. Stepping inside everything was so clean and fresh. Diane thought to include everything we needed. I truly did not want to leave this Heavenly Riverfront Lodge. We will be back!
Frances
2017-02-19T00:00:00Z
This is a fantastic little place and the pictures do not do it justice. It is very well built and appointed. Great details and wood work throughout. Very clean with a nice bathroom. Being right on the water is calm and cozy. The little heater works well and the kitchen is serviceable for the size. Diane is an incredible host - having her next door is nice. There is a nice record/CD/radio player that we used quite often. It also will take a mini jack to plug in a device. We definitely plan to be back.
Matt
2017-01-31T00:00:00Z
Type de logement
Logement entier
---
Type de propriété
Cabane
---
Capacité d'accueil
3
---
Chambres
Castle Hayne, Caroline du Nord, États-Unis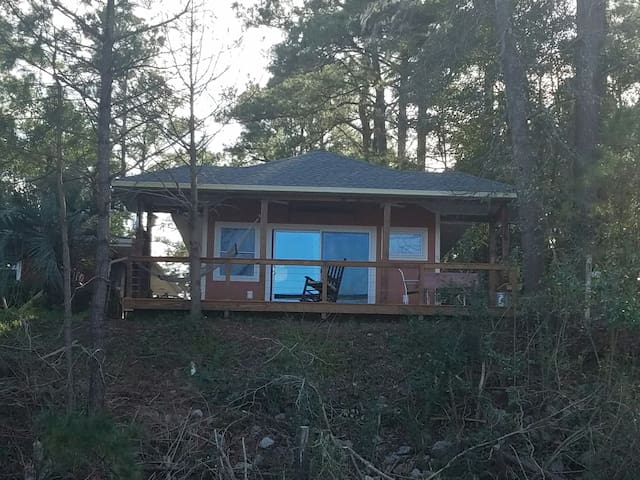 My place is close to the beach, family-friendly activities, nightlife, and the airport. Spectacular waterfront retreat on the Cape Fear River that will take your breath away! This magnificent home offers an extraordinary outdoor living area including a 40x20 saltwater pool surrounded by lush landscaping & an elaborate mason hardscape of walls, archways, expansive brick patio, brick oven, waterfall, covered porch, balcony, & bath. Short drive to GE, downtown Wilmington, shopping & restaurants.
This house is truly unique. The saltwater pool, brick deck, and covered patio make it a wonderfully relaxing backyard area. When you take the walk on the dock leading down through the wooded wetland to the boathouse the space takes on a totally different feel. Bring your kayak OR tow your boat and we'll give you access to the private boat launch. By river downtown Wilmington is 24 winding miles on a tidal river. Other amenities available upon request.
A horse barn with riding available will be one of the sites you pass as you enter the neighborhood. You might spot a deer or two on your way as well. East is beautiful Wilmington, historic Burgaw to the west, with Jacksonville to the North and Myrtle Beach to the south...all a short day trip away.
The listing was quite inaccurate. The photos show an immaculate home with designer furniture when in reality the furniture is completely different and the property is in need of some updating and maintenance, not to mention there was no internet or TV as noted in the listing. Nonetheless we enjoyed our week-long stay. The star of the home is the outdoor space. We loved the large pool and we brought our own kayaks for the river dock. We loved bringing our dog along as well. The house is centrally located for day trips to many of the beaches in the area and close to Wilmington.
Yvonne
2016-08-28T00:00:00Z
Fun and enjoyable!peaceful and quiet --just what we needed..
mark
2016-09-18T00:00:00Z
This house was absolutely beautiful. I'm a tan and poolside girl, and my husband is a fishing and boating guy so it has something for everyone. Jimmy was great to work with. I'd definitely recommend this house!
Mindy
2016-09-11T00:00:00Z
I enjoyed my stay. It was a quick trip. The outdoor area was the nicest.
David
2016-08-28T00:00:00Z
The house is gorgeous, hands down. There were a few lights out in the hallway and along the stairs to the even more gorgeous pool/patio area. It is on a river so mosquitos and spiders should be expected. Jimmy provided off but they weren't a huge problem. There was a potato in the second oven, but other than that everything was wonderful.
Rafik
2016-10-24T00:00:00Z
The house is very nice and so are the owners. They did a great job at responding to any needs that arose. They are working on upgrading and repairing some things around the property and I think once they complete everything the house will be really great. There are only 2 bedrooms even though there are three beds - two of the beds are in the same room. We were a little unclear about that when we booked, but it worked out. If we are able, we'll stay here again next year.
Amy
2016-09-07T00:00:00Z
RUN AWAY! This individual is advertising a home which is filled with BLACK MOLD, is very unsanitary and absolutely filthy and a health concern. There was a note advising us not to use the only deck on the house because the wood floor wasn't safe and the railing was loose, about to fall off completely. In addition to the black mold there was a large infestation of huge cockroaches which were inside and all around the pool area, as well as a black/white wasp infestation. The photos show a well-appointed home with furniture, clean USABLE outdoor areas and a game table, NONE of the furniture shown was there, the game table was not there and all the outside areas look as if they had been abandoned and were without furniture and looked as if they haven't been cleaned in years. THESE PHOTOS MUST HAVE BEEN TAKEN YEARS AGO! NONE OF THE FURNITURE IS THE SAME, LARGE COCKROACHES ALL OVER THE HOME AND OUTSIDE, WASP NESTS INSIDE. THERE WAS A NOTE SAYING TO ONLY GO ON HALF OF THE DECK AND THAT THE RAILING WAS ABOUT TO FALL OFF. THE WOOD DECKING IS COMING UP AND IS NOT SAFE. BLACK MOLD WAS FOUND INSIDE OF THE HOME AND ALL AROUND THE POOL AND OUTDOOR AREAS. THE PICTURED OUTDOOR AREAS WITH THE FOOSBALL TABLE ARE NOTHING LIKE PICTURED, I WAS APPREHENSIVE TO EVEN STEP FOOT INTO THEM. WE CUT OUR STAY HERE AS SHORT AS POSSIBLE, PACKED UP AND RENTED ANOTHER PLACE. NO LIGHTS OUTSIDE BY POOL AREA. NEEDLESS TO SAY THIS LISTING IS TOTALLY INACCURATE, AND I AM FAIRLY CERTAIN IT IS ILLEGAL TO ADVERTISE AND RENT OUT A HOME WHICH IS FILLED WITH BLACK MOLD. Needless to say, this was a huge loss for us and it totally ruined 3 days of our vacation :((((((((((
Brandon
2016-09-14T00:00:00Z
Type de logement
Logement entier
---
Type de propriété
Maison
---
Capacité d'accueil
8
---
Chambres
Rocky Point, Caroline du Nord, États-Unis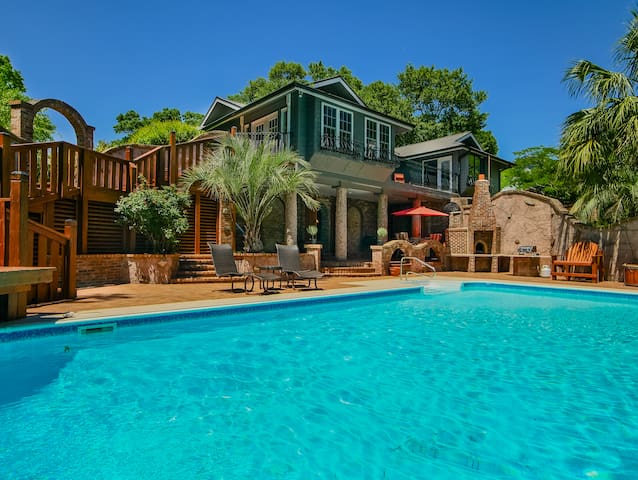 Quiet, serene 1903 Victorian Farmhouse. We're about 15 minutes from Wilmington. Rustic, comfy, relaxed. Your choice of room. We host only one group at at a time so you can enjoy privacy. We aren't fancy but we definitely want you to be happy!
Several options depending on your desire for privacy. Bedroom downstairs has bathroom en suite. It is impossible to feel stressed in this space. We have horses and deer for neighbors. If you need more than one room, ask!
We only have one neighbor, you can see their house if you are on our roof. They are quiet and have horses for pets. Close to Wilmington but away from the traffic.
What a fantastic stay! Amy and Glenn were brilliant hosts. We arrived late after a much longer drive than anticipated but on arrival, Glenn had cold beers and great conversation waiting for us on the porch. We had a great night's sleep and the following morning, Amy cooked us a wonderful breakfast, chatted with us for a couple of hours and sent us on our way with a packed lunch. It was so lovely to meet such a friendly, welcoming couple who genuinely opened their home to us and made us feel like old friends.
Cassie
2014-08-11T00:00:00Z
My niece and I really enjoyed our stay here! Our hosts were wonderfully welcoming and our room and bathroom were wonderful. When we set off on our beach adventure the next morning, our generous host provided us with a cooler full of cool treats to help us stay hydrated.
Vanessa
2016-08-22T00:00:00Z
We stayed at the Farmhouse for our anniversary and it was perfect. Not only was it beautiful, quiet, and peaceful, Amy & Glen made out stay relaxing and special. We had a fabulous time with them and their four-legged children!
Amy
2014-06-21T00:00:00Z
So enjoyed our short (too short) visit to Lucas Farmhouse and meeting Amy and Glenn. Ooh, and their darling team of rescue dogs, who bark when you arrive, and in 10 minutes are friends for life. We loved them!! We also loved this gorgeous old house which Glenn is working on. If he is around ask for a tour, and he will tell you what he has done, and what is to be done still. It was lovely to sit round the kitchen table and talk over a beer or two, and the bedroom was comfortable, pretty, and complete with a fan as we arrived in hotter than expected temperatures. Thank you both for being such gracious hosts. Return the visit, please, if you are over in GB and down on the Dorset coast.
Mrs Mac
2014-05-12T00:00:00Z
Staying at the Lucas Farmhouse was awesome! Amy and Glenn made us feel at home before we even arrived. We were running in the Battleship half marathon in Wilmington, and they arranged for parking close to the race for us. The beds were very comfortable and the goodies in the room were a pleasant surprise. My only regret is that we couldn't stay longer and visit more with Amy and Glenn. This was my first Airbnb experience and I cannot imagine any future Airbnb place being able to top this. I'm definitely going to stay at the Lucas Farmhouse again. Thank you Amy and Glenn!
Marcella
2014-11-02T00:00:00Z
I can confidently say that this has been my favorite airbnb experience to date. The house is historic (circa 1900s) but renovated (yet filled with ornaments of the era), surrounded by lush greenery. The property is huge with varied, well-maintained landscape - perfect if you're looking for deep relaxation. That said, the house is conveniently located some 20 mins from beaches (Topsail) and Wilmington. The hosts (Amy and Glenn) were perfect hosts. First off, although the house has 3 bedrooms, they only host a single party at a time, and offered us to choose whichever room we liked the most. Second, they spoiled us with amenities - everything from food to toiletries, wine and even protein powder! Both are very interesting people and can hold a fascinating, stimulating conversation. We initially picked the farmhouse with intention of being close to the beaches, but the property became a real attraction in its own right. In fact, I think we spent more time at the farmhouse than the beaches. We'll definitely be coming back here next time we're in the area.
Marko
2014-05-27T00:00:00Z
We felt so at home with Amy and Glen! What a wonderful experiences! Her home looks like it came out of an Anthropologie catalog. Simpy gorgeous and so farmhouse chic. We were greeted by her dogs, which we didn't mind, as we have our own at home. We were also handed a glass of wine and beer for my husband. Just a lovely touch! We meet the goats and had so much fun. I even have a goat selfie... Haha. Amy was extremely helpful about the area and where to go for food. We were traveling with my 10 month old and had inquired about a pack and play. Amy let us know that she did not have one and we were fine with cosleeping. To our surprise she so creatively built a nest for our son to sleep in and it was perfect. I would highly recommend staying here. The host were wonderful, the place is beautiful and it was just relaxing.
Kathy
2016-05-29T00:00:00Z
I thoroughly enjoyed my stay at the Lucas Farmhouse. Amy and Glenn were extremely kind, thoughtful and respectful while I was there. I had time to rest, to come and go as I pleased, and had tie to connect to my hosts as well. The room was beautiful; I had every convenience I might need, including a connected bathroom. It was located in the back of the house where I had lots of privacy. The property was also a treat. Lucas House is located on acres of beautiful tree-lined land with plenty of flowering plants. It was a thoroughly serene environment. An added plus was that there are dogs on the property, and I have a phobia for four-legged creatures. Yet, Amy assured me before my visit that there would be no problem, and there wasn't. She had Glenn made every effort to make sure I was comfortable and relaxed during my entire stay.
dothula
2014-09-11T00:00:00Z
Type de logement
Chambre privée
---
Type de propriété
Maison
---
Capacité d'accueil
2
---
Chambres
Rocky Point, Caroline du Nord, États-Unis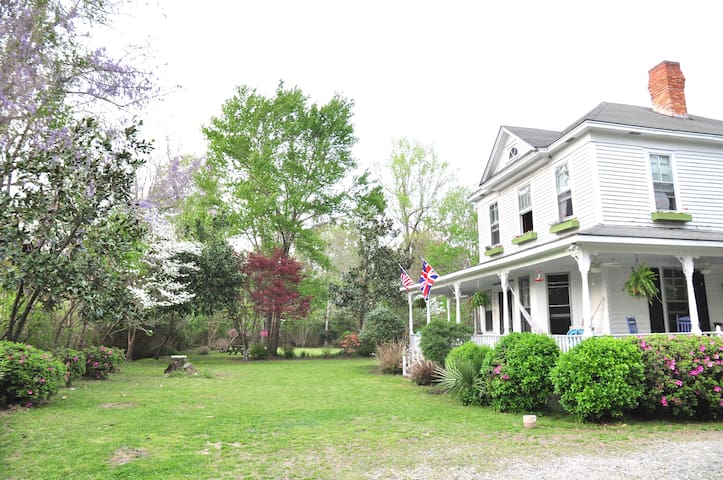 Un monde créé à partir du passé qui vous permet d'être présente. WalkerWorld est pour les plus aventureux et sans peur, jouer comme Peter Pan et parti comme Gatsby! Wed dans un monde de votre propre, ou avoir une occasion inoubliable avec un grand groupe, $ 3,500 de base
Walkerworld est un journal tentaculaire cabine organiquement évolué sur la rivière Cape Fear Nord à seulement dix minutes de Les Wilmington, Caroline du Nord. A l'origine une petite cabane en bois rond, les enfants de la vie, et l'évolution des choses naturual augmentons nous sommes maintenant un peu plus de trois mille pieds carrés. L'aviron scull soixante pieds qui perce chaque extrémité de la maison est exposée à l'envers le long de la crête principale intérieur de la cabine est spectaculaire, flottant dans le vide de trente-cinq pieds du salon principal, j'ai ajouté des planchers chauffants, à l'exclusion de la cabine originale tout a été récupérés ou achetés récupération moins plomberie et le câblage. La propriété est près de dix acres avec un grand jardin organique, 40 par 40 "Garagemahal" et une maison d'hôtes de 500 pieds carrés. Entouré de grands chênes, il est très privé, avec deux fois le verre pour les transitions lumineuses dynamiques tout au long de la journée. dérapant en eau profonde, jusqu'à soixante pieds directement en face de cabin.We ont un en phase 9 'Knabe grand piano de concert 1907, avec une auto-lecteur numérique, et l'enregistrement de la capacité juste au cas où .. Walkerworld a été créé par des artistes à s'inspirer et d'autres, nous ne sommes pas polis, mais nous sommes charmant et accueillant des possibilités dans la vie. Guest house est réservé pour le propriétaire, sauf si d'autres dispositions sont prises.
10 acres de votre propre monde.
WalkerWorld is a singular and original experience. About half of our group stayed on the compound and everyone else was jealous. The building is a creative reinterpretation of a house - as much a work of art as a piece of architecture. The owner manipulates light and space in a way that unfolds organically - with an unexpected intervention at every turn. The layout encourages social activity and you might even meet a wandering neighbor or a friendly dog. WalkerWorld is a special place. We'll be back.
Dan
2014-05-26T00:00:00Z
I feel almost guilty to share the full extent of what this place truly has to offer. I've travelled my fair share, and was amazed to find one of the most eclectic and international pieces of living art on a river that inspires the most patriotic of feels. Allen and his god-father/architect friend Robert welcomed me and all of my friends in a most flexible and hospitable fashion. Despite choosing the place based upon the knarly photos; they don't do the place justice. The overwhelming feeling in the car ride home was a unanimous "we'll be back".
Alex
2016-05-23T00:00:00Z
We had a wonderful time at Walker World! The house is full of unique personality and there's something to discover around every corner. Allen is a spectacular host who cares about making his guests feel comfortable to welcome. Would highly recommend this place to those looking for a friendly, unique and memorable experience!
Cayley
2015-01-02T00:00:00Z
This house is incredible! We had a bachelorette party here last weekend. It is perfect for large groups since there is so much to see and plenty of beds. It is beautiful in the daytime with the lights coming through the large windows and doors. Allen was great and took us out on the boat. Definitely try to hang out with him and listen to his stories!
Maggie
2015-04-12T00:00:00Z
Allen was an amazing host and has the most amazing and quirky home on the Cape Fear River. Great location for visiting in and around Wilmington and all the local beaches with plenty to keep the kids occupied regardless of the weather. Thanks Allen.
Paul
2014-12-26T00:00:00Z
LOVE this space! Intelligent, bohemian design with large comfortable gathering areas as well as cozy and intimitate spaces-- both indoors and out. Our group, including grandparents and children, prepared and enjoyed several meals together in the large kitchen/dining space. The house is unique and comfortable, filled with eclectic, quirky items and surrounded by beautiful natural areas. It was great place to reconnect with nature and slow down, but there is strong WiFi if that's what you are looking for. We were close to Wrightsville Beach, NC (20 mins) and downtown Wilmington (15 mins). Walkerworld is a unique retreat and Allen is an awesome host (responsive, friendly and helpful) I wish we had booked the property for more days-it was hard to leave.
Layne
2016-10-02T00:00:00Z
Allen Walker's residence is a fabulous and extraordinary place and I encourage all people to visit it. From the architecture to the furniture, from the artwork to the roving cast of personalities, what you will encounter at Walker World is both the most authentic manifestation of the best of our local culture of Southeastern NC, and the most cosmopolitan of places, with, I would expect, a well-nigh universal appeal. Located in the gorgeous hinterlands surrounding Wilmington, NC, Allen Walker's house sits on the banks of the northeast Cape Fear River, a place of considerable natural beauty. On top of this, Allen has conjured up a whole magnificent universe, of which much might be said, but of which I would like to emphasize only one thing: it is a place of extraordinary beauty. Few who visit here will leave unaltered, or indeed, uninstructed, because it is just that: exquisitely, almost-painfully beautiful. It contrives to put together the whole god-awful variety of things to which we are accustomed in an entirely novel fashion, and thereby offers a hint about how we might meaningfully change our own lives through the acts of unfettered thought and hard work.
Dawson
2016-02-22T00:00:00Z
Once I found out about Walker World, I knew I had to be there! The pictures and reviews can't explain how you are going to feel when you are there....Feeling free, fun, creativity, relaxed, and truly in awe of the place... I loved that you can make this place as wild or peaceful as you want it. Allen is a fabulous host and took my friends out on a nighttime boat ride, even though it wasn't probably the most convenient time for him, but was what we wanted....We had so much fun! I'm so lucky to say that I've been here and got to experience such a magical place...
SARAH
2015-05-10T00:00:00Z
Type de logement
Logement entier
---
Type de propriété
Maison
---
Capacité d'accueil
15
---
Chambres
Castle Hayne, Caroline du Nord, États-Unis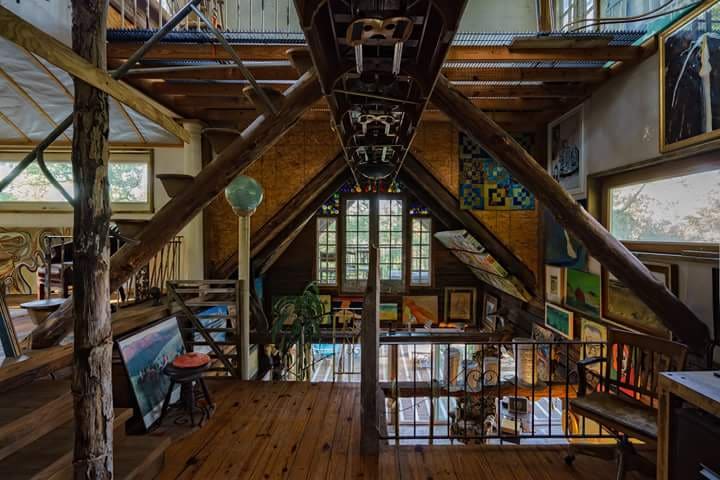 This serene property is located ten minutes from historic downtown Wilmington, restaurants & dining, shopping, the Cape Fear River boardwalk, art & theater venues, & is 20 minutes from the beach. This charming guesthouse is situated on five acres of beautiful natural landscape featuring magnolias & old oak trees. It's the perfect place to come & relax. For my fellow artists, I would be happy to share my studio space with you - perfect for painting, crafting, and other creative endeavors.
Betsy was a great host! She made sure we felt comfortable and happy the entire time. Her home was clean, comforting and well stocked. Such a wonderful place to stay!
Lea
2017-03-18T00:00:00Z
Type de logement
Logement entier
---
Type de propriété
Chambre d'hôtes
---
Capacité d'accueil
2
---
Chambres
Castle Hayne, Caroline du Nord, États-Unis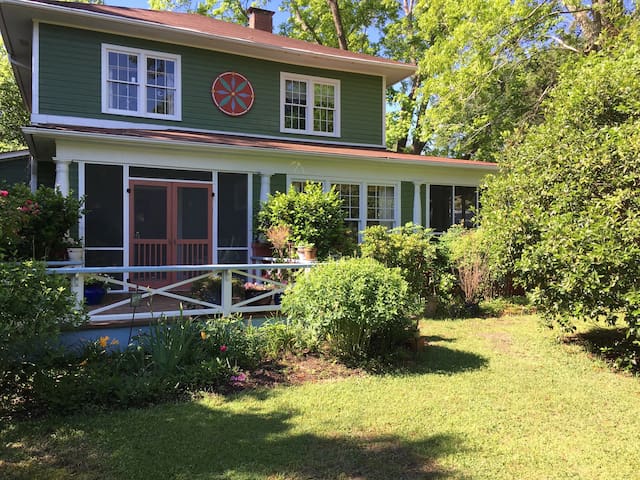 Historic country farmhouse built in 1938 on lush green fields. Just 6 miles from downtown historic Wilmington, the Cape Fear River & 20 minutes from Wrightsville Beach. This is a central location close to UNCW. 3 independent movies have been filmed at my house. As an equal opportunity hoster , ALL people are WELCOME! Please note: Well water has iron in it and therefore sulfur can be smelly. We are 2 miles from ILM airport. It's a peaceful retreat in the country yet minutes to the city life!
Creative types feel at home here so help yourself to yoga in the living room or checking out the farm. Serene colors and large picturesque windows overlook the lush green fields. The last movie that filmed in the house used it as a hippy retreat for meditation. We have had some well-known Hollywood actors around but please don't hold that against us... if you want privacy just ask or we can hang out. We are 2 miles from ILM airport so you can jet in and if you have important meetings we will make sure you have the run of the space. Lots to do and see around the Cape Fear region from the Fort Fisher Aquarium, to shows at Thalian Hall to concerts at Greenfield Lake all within a 10 to 30 minute drive. I can even tell you were the Fort Fisher Hermit lived!
This was one of the first diary and flower farms settled by the dutch at the turn of the century in fact the neighborhood was featured in Wrightsville Beach magazine for it's historic significance in the Cape Fear region.
Nous sommes restés 1 nuit chez Tamara, la communication a ete tres bonne. Nous avons été vraiment tres bien recus, et nous sommes sentis tres a l aise dans sa maison. La maison est grande et pleine de caractere. Tamara est tres sympatique, elle nous a donné de precieux conseils. nous avons egalement pu faire une machine, ca nous a bien depanné. Je recommande fortement !
Rachel
2015-08-08T00:00:00Z
Tamara was a great host! We got in kind of late and had to leave early the next morning so we only got to visit briefly, but we'd definitely book with Tamara in the future. Great location. Super close to downtown but you feel like you're out in the country.
Selena
2015-08-05T00:00:00Z
My boyfriend and I absolutely loved staying with Tamara this weekend! She was extremely welcoming and flexible, especially since we weren't able to get in until later in the evening. She is super fun and laid back, and she makes some killer smoothies. I definitely recommend staying with Tamara! She really helped make our weekend getaway special and eventful, and the house is in a great spot right between downtown and wrightsville beach!
Lauren
2015-08-23T00:00:00Z
Top notch, excellent stay ...
Jim
2016-09-21T00:00:00Z
Tamara is a great host! She's very friendly and knowledgeable about the area since she's lived there for 20 years. The garden is beautiful and we picked some strawberries just across the street! The house is a little old though and the well water has some smell. But we managed it and the overall experience is wonderful!
Yuanjie
2016-03-28T00:00:00Z
Tamara was a wonderful host. She kept in contact, updated me with current weather conditions (flooding in SC and NC) and made sure I had proper directions to the Strawberry Farm.She even called when I was delayed to make sure I was all right and not lost. The house was wonderful, bed very comfortable and I felt right at home. The house was much larger than the pictures indicate. My room was large with extra plug in s for charging my electronic devices! Tamara thought of everything I might need. If I need to return to the area, I will be sure to book the Strawberry Farm again!
Jeanne
2015-10-08T00:00:00Z
Tamara is really nice! She give us great suggestions on our trip. The house is beautiful and quiet, the bedroom is very comfortable and you can even see the sun set just through the window! It's a great experience in Wilmington because of Tamara.
Xiaowen
2015-08-16T00:00:00Z
Very quaint and cute house on the outskirts of Wilmington. Quick drive to downtown. This room was everything we could ever ask for. We had a great weekend on the beach with our dog. Thank you so much Tamara!
Sara June
2016-07-25T00:00:00Z
Type de logement
Chambre privée
---
Type de propriété
Maison
---
Capacité d'accueil
2
---
Chambres
Castle Hayne, Caroline du Nord, États-Unis
3bed/2bath home in a quiet neighborhood on a cozy cul-de-sac. Fenced in back yard and a two car garage. 7 person sectional in living room with wall mounted tv. Washer and dryer, cable with DVR and Internet included.
Everything was as described and perfect for our family. The neighborhood is quiet and lovely.
laura
2016-03-27T00:00:00Z
Alicia was wonderful and provided us with a clean house to stay for a month. The safe neighborhood made us feel comfortable and the rose garden made it very homey for us. We would recommend this home for anyone wanting to stay in this area. Very close to the lovely Magnolia Greens golf course, as well.
Lori
2016-05-02T00:00:00Z
This home was perfect for our stay. The furnishings were very nice and there was ample room for 5 adults. We enjoyed being a "tourist" in the area, and the Battleship North Carolina, horse drawn trolley tour, and Fort Fisher were easy to find. Unfortunately the smoke detector beeped the first night, but Alicia found a handyman to fix it for us. I can definitely recommend the home to anyone staying in the area.
Jeanie
2016-06-15T00:00:00Z
The house had everything we needed and was as advertised.
Nick
2016-12-27T00:00:00Z
Nice family friendly neighborhood. Great house with very fast wifi and a good location for going to Wilmington. You can get to the river walk and downtown area in an easy 20 minutes when we were there. Close to Leland shopping , Wrightville beach was 35 minutes but empty and beautiful in January. Avoid the crowds and rent off season.
John
2017-01-28T00:00:00Z
We stayed at Alicia's beautiful home September 9th - 15th. This was my first AirBnb experience, and Alicia made it easy as anyone could. The description of the place is extremely accurate. The photos undersell the place quite a bit. It is much more roomy, spacious and livable than depicted. The neighborhood is perfect. It sits at the end of a culdesac that has ample room for parking, aside from the garage. If you're staying here to visit Wilmington or Wrightsville beach be aware a little thing called bridge traffic. Early morning towards Wilmington or late afternoon towards Leland is a bad idea. Alicia was extremely prompt in responding to our few questions. We had via text. The kitchen is better stocked than any house ive ever lived in. there's an entire drawer dedicated to koozies & bar tools, for example. Should we vacate in Wilmington again, I will definitely stay with Alicia through Air BnB.
Jonathan
2016-09-15T00:00:00Z
The house was delightful - spacious, clean, and ready for us. In a nice neighborhood of similar homes. A great location for visiting Leland and Wilmington. It felt just like home.
David
2017-01-11T00:00:00Z
Lovely house in a quiet neighborhood. I'll will stay again!
cindy
2017-02-13T00:00:00Z
Type de logement
Logement entier
---
Type de propriété
Maison
---
Capacité d'accueil
6
---
Chambres
Leland, Caroline du Nord, États-Unis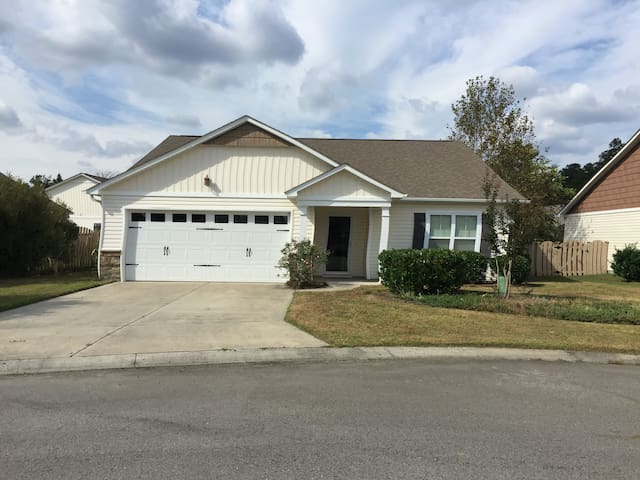 A true oasis. Secluded w/ private dock on the Northeast Cape Fear River, 10 mi to Wrightsville Beach or downtown Wilmington. The home is spacious, tasteful and luxurious, entirely renovated w hardwood, granite kitchen and baths, and open plan living area. Front and rear screened porches with dining and seating areas. Huge deck. Stunning river views from every room. You'll have a vacation like no other.
This secluded waterfront paradise, on more than an acre and a half of land, sits at the end of a private country road and faces the Northeast Cape Fear River, with a lovely tidal creek running on another side of the property. The spacious, art-filled 2-story home was 100% renovated in 2014 with hardwood floors, granite and stainless steel kitchen, two luxurious master suites, a spacious queen bedroom suite, and an additional twin bedroom, all with stunning river views. Front and back roomy screened porches allow for gracious outdoor living and dining. Mature hardwoods and palms abound on the property, and in season you'll have access to anything in our vegetable garden. The riverside deck is enormous and has a lovely outdoor shower framed in jasmine as well as a gas grill for outdoor cooking, and a fire pit. A walkway and stairs lead down to the private boat dock. Dock your own boat (there is a public ramp 1/4 mile away), or enjoy the river in our kayaks. The first floor of the home is a lovely open plan area with gourmet kitchen, bar counter and dining area overlooking the river. The spacious living room has french doors that overlook the river; it has a 60" cable TV, gas fireplace and ample, comfortable seating. There is a master suite on the first floor with king bed, huge walk-in shower and granite bath. Also on the first floor is a powder room and laundry room. The second floor has another luxury master suite with king bed, a glass shower overlooking the river, and a huge separate dressing room. Also on the second floor is a lovely sizeable queen bedroom with a full bath adjacent. The 4th bedroom is a converted rec room/art studio/office; it has a twin bed and tons of floor space. All the rooms have beautiful river views. (Perfect for 3 couples because no one will feel like they got the bad bedroom!) The two screened porches enable easy outdoor living, and both have tables for dining and seating areas for relaxing. This is a wonderful place to get away and really relax. But there's quick access to all that historic Wilmington, with its lovely riverfront has to offer. You're also just 10 miles from beautiful Wrightsville Beach. Also an easy drive to Topsail Island, Carolina Beach, Southport, and more. When guests aren't staying, we live here so the house is fully equipped with everything you will need. The kitchen is fully stocked, including Keurig coffee maker, blender, stand mixer, electric kettle, food processor, and crockpot. The upstairs rec room has lots of games, jigsaw puzzles, and a mini ping-pong table. Adjustable, full-height basketball hoop in the driveway. There are two single kayaks and one tandem kayak available for your use.
This house is at the end of a private gravel road not far from the little community of Castle Hayne. It's an easy 10 miles to historic downtown Wilmington and 10 miles to wonderful Wrightsville Beach.
First off, this place is beautiful. Secluded yet close to town if you need anything. We had a great stay and enjoyed the river and outdoor area. Mary Ann was a wonderful host and was very responsive. I waited no longer than 10 minutes for any return emails. Her place was exactly as described. It was a perfect place to get out of town for a while and will definitely return if I'm ever back in the area.
Greg
2016-11-27T00:00:00Z
To say that we were blown away, would be an understatement. We had all these plans to hang out at the beach and have dinner in Wilmington, but the moment we walked through the door of this home, all our plans went out the window, and we couldn't be happier. The house is amazing. So beautiful, so clean, so perfect for a large group. But it's the back yard that takes this house from simply amazing to unbelievably amazing. Set on the river, you have your own private oasis. From the large decks, screened-in porches, fire pit, grilling area and boat dock, you'll have everything you need for hours of pure bliss. You won't want to leave! Bring your boat or use one of the three kayaks to float down the river. This is, by far, one of the most peaceful places we've ever been. The house is updated with lots of beautiful finishes, a large gourmet kitchen, comfortable beds and plenty of room for everyone. The views from every bedroom were breath-taking. Nothing better than waking up to that beautiful setting. The hosts were beyond accommodating. You would have thought we were close friends the way they treated us and accepted us into their house. I honestly cannot say enough good things about our experience. It was more than we could have possibly imagined and we cannot wait to come back.
Heather
2016-07-24T00:00:00Z
Everything about this house was great . Mary Ann was a fantastic host , couldn't ask for anything better . Highly recommend this house for your stay!
Rick
2016-07-05T00:00:00Z
Our host Mary Ann was very accurate in terms of describing how to get to the house. We arrived and the house was just as (URL HIDDEN) absolutely gorgeous inside and the property outside. It's a little piece of heaven tucked away that you would never know is there. We were a party of 6 adults and 2 children. The house accommodated us just fine. We came the last week of July and if we do the trip again, we will definitely not come this time of year. It was unbearably hot and humid and being outside for longer than 15 minutes was no fun at all. We weren't really able to enjoy all the house had to offer (the beautiful porches, fire pit and kayaks and canoes). The house is about 10 miles from Wrightsville Beach which was accurately described in the listing. However, with all the lights and some traffic, it took more like 20-25 minutes to get there. In that regard, I wish it would have been a bit closer to the beach. If you want to visit the Wilmington area, again, it's about a 15 minute drive which isn't that bad. We did venture out to Carolina Beach for the boardwalk one night and Fort Fisher another day for the aquarium and those were about 30-40 minutes away. But the home and property made it worth the drive. The town of Castle Hayne is nothing to write home about and I would recommend spending the extra time driving to some of the other grocery stores outside of town to get more variety than the local grocery store had to offer. Overall, the home and property were just wonderful. If you want a good place to unwind, relax, and forget about the stresses of your everyday life, then this is the place for you!
Trisha
2016-07-31T00:00:00Z
Type de logement
Logement entier
---
Type de propriété
Maison
---
Capacité d'accueil
7
---
Chambres
Castle Hayne, Caroline du Nord, États-Unis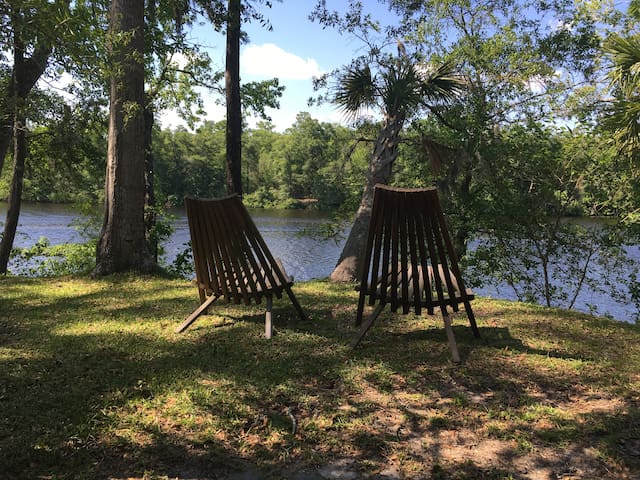 We call our hide-away carriage house apartment the "Swamp Hilton". We are located in the Princess Place Neighborhood next to Burnt Mill Creek -a lovely walk full of wildlife. We are 2 miles from scenic Downtown Wilmington and the airport (ILM) and 8 miles from Wrightsville Beach. We crafted the upper floor apartment from recycled-reclaimed materials, screened porch area and a back deck. Airport pick up can be pre-arranged. We offer Apple TV and wireless internet.
There is a king size bed in the bedroom and a double size sofa bed in the living room. We will either have bedding laid out for the sofa bed or make up the bed for you, if you are needing to use it. Two adults on the sofa bed is a tight fit unless you know each other well! Essentially you have a separate one bedroom apartment with a kitchen-and open living area with a back deck and a screened porch at the entry. One bathroom with a shower.
The wildlife at Burnt Creek Mill is plentiful and the 1.5 miles of historic cemeteries begin a block from our home. Historic Downtown Wilmington (2 miles away) is accessible by car or you can even walk. Wrightsville Beach is 8 miles away and Carolina Beach is 16 miles away.
The hosts were lovely, very accessible and friendly.
Marci
2016-09-21T00:00:00Z
Everything was perfect, and Mike & Lisa were so friendly and inviting! The house was so beautifully done and They provided so many nice extras. We loved our night away!
Dona
2016-11-20T00:00:00Z
This was our first experience using the air bnb app. Let me just say that all of the others will have a lot to live up to. Lisa was a very nice and easy to deal with person. Her place is awesome! She had everything you could think of and more for us when we arrived. From several choices of drinks and snacks to bathroom essentials. She even made us fresh croissants for breakfast! If you book her place you will not be disappointed. And I will be jealous!
Bryan
2016-06-27T00:00:00Z
Great stay! Accurate pictures. Lisa and mike were wonderful hosts. Our best Airbnb stay to date. We wish we could've stayed longer.
Nick
2016-09-22T00:00:00Z
The carriage house apartment was lovely - my wife and I really miss it! Lisa was an incredible hostess, making us feel welcome every day of our stay. She went above and beyond in service, doing our laundry the first night of our stay, delivering treats in the mornings, lending us sunscreen for the (URL HIDDEN) absolutely, all-around amazing experience! Thank you so much, Lisa!
Nate
2016-07-22T00:00:00Z
They asked what we wanted to have stocked in the fridge we had . They made breakfast croissants for us in the morning. They were super friendly with children. My kid loved their dog Ruckus, who also was super friendly with kids. The room was so nice , very clean and well supplied with everything you would need.
Brodie
2016-07-18T00:00:00Z
Lisa and Mike were awesome hosts. Friendly, generous and interesting. The space is really sweet. Lots of character, high ceilings and cool decorations. Homemade breakfast was a real treat. We hope to visit again.
Sonja
2016-07-09T00:00:00Z
Great place to stay with great people. Mike and Lisa brought fresh croissants and figs in the morning. They will go above and beyond to accommodate your stay. I was very pleased and you will be too.
Cody
2016-08-07T00:00:00Z
Type de logement
Logement entier
---
Type de propriété
Chambre d'hôtes
---
Capacité d'accueil
3
---
Chambres
Wilmington, Caroline du Nord, États-Unis
This urban studio is situated at Grace and Front Street. Close to the cotton exchange and situated between the Hilton and Courtyard Marriott. Convenient and quiet downtown retreat for a perfect evening getaway. You'll love my place because of its charm, styling, convenience, and privacy. All the amenities of living downtown Wilmington are yours.. My place is good for couples, solo adventurers, and business travelers. Third floor walk-up.
The perfect loft and location for a weekend getaway. The loft is well appointed and within easy walking distance to all areas of downtown Wilmington. The bed is very comfortable and the kitchen is well equipped. The excellent cupcakes and great coffee was a nice touch! Jon was very helpful and took the time to send messages with local attractions and additional information to make our stay seamless. He stayed in contact throughout our visit to ensure satisfaction and even sent a message to let us know that we could enjoy our Sunday morning without the pressure of vacating the premise at the listed time. Access controlled street entry provides a nice added layer of security. If you desire a great place for a getaway with total access to downtown Wilmington, this is the place for you! We highly recommend!
Donald
2016-12-18T00:00:00Z
Jon's studio is in the perfect location. We were able to walk to all of the restaurants, bars and shops. We will definitely stay here the next time we visit Wilmington.
Audrey
2017-04-01T00:00:00Z
My girlfriend and I picked the urban studio for our trip up to Wilmington and we could not have been happier with our selection. It's centrally located to all manners of restaurants and bars, and very close to the river. Jon was a great host and welcomed us to the studio with Coastal Cupcakes, which were great! Would definitely recommend for any singles or couples making the trip to downtown.
Matthew
2017-03-05T00:00:00Z
Excellent location in heart of downtown. Port City Java on the corner was a nice surprise. The unit was furnished with everything needed including a washer/dryer. The large windows and balcony were perfect to look over downtown. The furnishings are modern yet extremely comfortable. We were welcomed with two delicious cupcakes from Coastal Cupcakes, sweet touch.
Sarah
2016-12-22T00:00:00Z
Jon's place is great! It's in a fantastic area and you really get a feel for the town. It's comfortable and spacious and provides you with everything you need. I'd love to stay again. Also the cupcakes given as a treat was super sweet and they were delicious! I believe anyone would have a great stay here.
Erica
2017-03-11T00:00:00Z
Perfect location to take in Downtown Wilmington. Plenty of places to eat and drink right outside the studio. Building was quiet and very secure. Perfect for a single person or couple.
Matthew
2016-12-28T00:00:00Z
This is a lovely studio apartment with plenty of space and a full kitchen. Located right off of Front Street, everything is within walking distance in Downtown Wilmington. There are stairs involved but the climb is worth it!
Dana
2017-01-22T00:00:00Z
Great place, Jon was so helpful and accommodating. Def would recommend. Close to everything you'd want to in Wilmington.
Kristina
2016-12-25T00:00:00Z
Type de logement
Logement entier
---
Type de propriété
Loft
---
Capacité d'accueil
2
---
Chambres
Wilmington, Caroline du Nord, États-Unis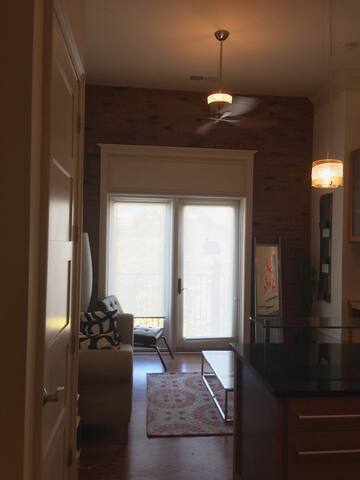 This beautiful 4 bedroom, 2 bathroom Rustic River Retreat is furnished with art, travel memorabilia and custom décor. The private dock and hammock swing become your own retreat for relaxing anytime of the day. The home is centrally located with easy access by water or car to downtown Wilmington, Southport, Wrightsville and Carolina Beach. Enjoy the natural beauty of the Brunswick River from almost every room in the house. Contact the host for longer stays. Weekly rentals may be accommodated.
The ideal getaway for a couple, family or small group along the banks of the Brunswick River with views of Downtown Wilmington and Eagle Island. Enjoy the flow of the river, mature oaks, pecan trees, bird watching and everything nature has to offer from this mid-century modern style home. The Rustic River Retreat is a private home on a beautiful piece of property surrounded by marsh on the banks of the Brunswick River. The rope swing, the canoes, the paddle boards and peaceful views... ahhhhhhhh! Fantastic waterfront property with dock/water access, views and direct on-property access to the River, Downtown Wilmington, Carolina beach and Southport. All are just a short boat ride away. Large back deck on this 1800 square foot mid-century modern decorated home with water views! It's all about the VIEW! This home is quietly and privately located on a peaceful cul-de-sac in a one street neighborhood with on-site dock access. Ask the host about bringing your boat. Access to the 32' boat slip for your stay can be arranged. Great location for kayaking, canoeing, paddle boarding, bird watching, fishing and boating ... a peaceful retreat ... for couples or families ... or just you. Read, rest, renew... This comfortable home has the following amenities: ~1 acre with 100 feet of water-front with historic oaks - one with a famous rope swing! ~ 4 bedrooms/2 baths ~ Coffee Maker ~ GE appliances ~ high-speed wireless internet ~ puzzles, cards, games ~ 2 canoes ~ 2 paddle boards ~ 2 yoga mats ~ life preservers; beach chairs; beach towels ~ Rope swing hammock, picnic table ~ small wok grill and triple burner gas grill This home is named The Rustic River Retreat by our family who has owned this property for just over 3 years. A major renovation opened up the interior in 2015 & 2016 giving it a wonderful open space environment that truly maximizes the views! This is a very comfortable home located among the trees and is easily within walking distance to a convenience store/gas station (The Go Gas), 2 neighborhood grocery stores (Piggly Wiggly and Food Lion)!! Harris Teeter is just a short 5 minute car ride away. The Rustic River Retreat is only 10-minutes from historic Downtown Wilmington by car or boat. You can see the Battleship from our backyard. It is also centrally located 25 minutes from either family-friendly Wrightsville Beach, Southport, Oak island or the fun and festive Boardwalk at Carolina Beach! Drive to Fort Fisher or the NC Aquarium or just spend your days enjoying the wildlife of the Brunswick River from the deck or the swing in the backyard... It is our pleasure to share this property with you when we are not here - why waste such a great place if someone needs a place to stay or get away - we hope it serves your wants and needs while visiting Wilmington. Welcome! Neighbors are long time residents. Please be respectful. Please feel free to call us at any time with any questions whatsoever! We text, too!
This home is located in neighborhood on a quiet dead end street. The neighborhood is in close proximity to the battleship, Downtown Wilmington, grocery stores, many local beaches, restaurants, and shopping.
Type de logement
Logement entier
---
Type de propriété
Maison
---
Capacité d'accueil
7
---
Chambres
Leland, Caroline du Nord, États-Unis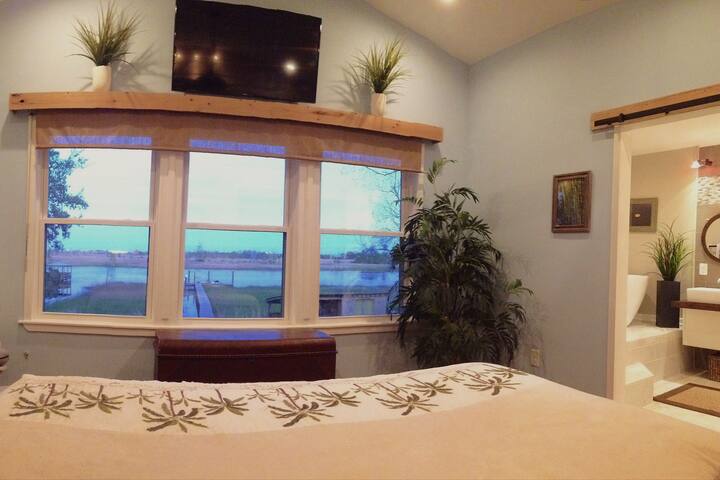 Centrally-located on the beautiful Cape Fear Coast, PalmTreeHouse is a charming, tropically-furnished garage apartment, nestled among palm trees, and a private Zen Garden, with easy access to the Wilmington Riverfront, and the beaches.
PalmTreeHouse is the name...and description...of this 600 square - foot garage apartment in the charming Chestnut Heights neighborhood of Wilmington, NC. With ample off-street parking, you will enjoy all the comforts of home as you explore the Cape Fear Coast, with fully furnished living room, kitchen, dining area, built - in desktop, and bedroom with queen bed. From the spacious multi - level back deck, you can enjoy al - fresco meals at the dining table, as you take in the serenity of the private Zen Garden. High - speed internet is available wired and wireless, along with cable TV and a Bluray player with many popular web apps.
The Chestnut Heights neighborhood displays the architectural details of charming bungalows that typify the historic overlay of this Southern Coastal community. Within an easy stroll of Burnt Mill Creek and Port City Java, PalmTreeHouse is a peaceful retreat where you can relax between trips to the beach and the shops, restaurants, and nightlife of the Wilmington Riverwalk.
Great place! Five minute drive to downtown, easy walk to coffee shop around the corner. Comfortable furnishing. Lots of info about area - including maps. Lisa and Tab are very friendly and a pleasure to be with.
John
2015-04-02T00:00:00Z
We felt right at home at Palm Tree House-- and it was the perfect location for us. The check-in was smooth, the place was spotless and very private. This apartment is much larger than we expected it to be! The kitchen was excellent for cooking. The back yard was a beautiful and peaceful surprise. We had the pleasure of meeting and socializing with Tab + Lisa--two very great hosts. One rainy day, they emailed us a list of ways to spend the day!! A+ experience.
Leah
2015-04-10T00:00:00Z
My husband and I, together with our cat, had a very comfortable stay at the Palm tree House. It was clean, cozy and had everything we needed for our 4 day stay. The location was convenient to the historic downtown as well as to the beaches. And Tab and Lisa were great hosts. We received very clear directions to the house prior to our arrival and we were welcomed with a bottle of wine. We also took up their offer to join them at a wine tasting where we met their friends and made to feel very much a part of the community. We highly recommend staying at the Palmtree House!
Chin
2016-02-15T00:00:00Z
Tab and Lisa started us off with friendly and prompt emails so that we already felt part of the community when we arrived. Then were welcomed with "island hospitality" a - warm greeting, a tour of Palm Tree House and an offer or assistance with anything. Palm Tree House was prettier and more comfortable even than it appears in photos, and was truly "our refuge" the whole stay. The neighborhood is charming and convenient to everything. Our hosts took a sincere interest in us and offered us a welcome opportunity to get to know them better and we had a lovely evening enjoying one another's stories.
Laurie
2015-07-09T00:00:00Z
My husband and I spent labor day weekend at Palm Tree House, the place is simply perfect and beautiful. Lisa and Tab are wonderful owners and very thoughtful people. I would recommend this place to anyone and hope to be back anytime soon!
Fernanda
2014-09-01T00:00:00Z
This place was amazing, from the cleanliness, to the location, and the comfortable feel. Not to mention the great sleep I got in the comfortable bedroom, and then the great breakfast I enjoyed in the cozy backyard. Tab and Lisa were super responsive and went as far as letting me and my girlfriend the ability to check in early! That helped us out a lot. This place is a must if you are staying in Wilmington, it is close enough to beach for the day time and downtown for the night. They even have a little section with a map and ideas for things to do when you stay there. This place was put together with thought and love. Great experience, I would definitely stay again.
Chris
2016-07-28T00:00:00Z
Anyone staying in the Wilmington area should book the Palm Tree House! It was accurately depicted on Airbnb, but it is so much more! Tab and Lisa pay attention to every little detail to make guests feel welcome and comfortable; for instance, I've been doing research this morning trying to find comfy soft sheets like what is on the bed there. The house has such a peaceful, happy vibe, and we were sad to leave. They even offered us a later checkout because the weather had been rainy during our stay. I would love to go back! Thanks for a wonderful stay!
Judy
2015-08-05T00:00:00Z
My stay was great. I hardly ever ran into my hosts because our hours were different but anytime I needed anything or had a question they quickly responded to my emails and or calls. They were gracious and helpful. I would recommend staying here! Thumbs up!!
margaret
2014-11-14T00:00:00Z
Type de logement
Logement entier
---
Type de propriété
Appartement
---
Capacité d'accueil
2
---
Chambres
Wilmington, Caroline du Nord, États-Unis
Clean, nice, comfortable and a great location! My flat is an awesome place to stay and chill in Wilmington. It's definitely not a party place but it's a good place to come home to! The furniture is nice and new and the location is awesome.
This downtown flat is right in the center of everything...The river is just one block over. Enjoy a walk along Wilmington's River walk. You will be in walking distant of great restaurants and relaxed bars if you enjoy happy hour! The house has exposed brick, big cozy couches and a Queen sized bed. There is a bathroom in the master along with the washer and dyer. Second bathroom is off the living room. Enjoy all of my household comforts as I would.
This sweet condo is in the center of it all. Right downtown and beautiful. You'll love it.
Great location! Great communication! Hope to stay here again next visit. Thank you!
Ying
2017-03-31T00:00:00Z
Curt is a great host and this is a great place. He was available immediately to answer any questions and help in anyway. Really kind guy. The apartment is fantastic and walkable to everything in downtown Wilmington. Such a great location. Would definitely recommend staying here!
Vanessa
2017-02-20T00:00:00Z
two thumbs up all around!
Kevin
2017-04-07T00:00:00Z
Clean, very comfortable place right in the middle of downtown. Curt was quick to respond to questions. Loved it--a great deal for the money.
Tris
2017-02-26T00:00:00Z
This little apartment was perfect for our weekend stay. It is located right downtown, close to the nightlife and also shopping and good restaurantsduring the day. Everything was clean and comfortable. The apartment building was very quiet. Curt communicated well, and was a very hospitable host. He made sure we had everything we needed!
Sarah
2017-04-02T00:00:00Z
Excellent location and Curt was a great host. Nice space and would definitely be back.
Gary
2017-04-08T00:00:00Z
Type de logement
Logement entier
---
Type de propriété
Appartement en résidence
---
Capacité d'accueil
3
---
Chambres
Wilmington, Caroline du Nord, États-Unis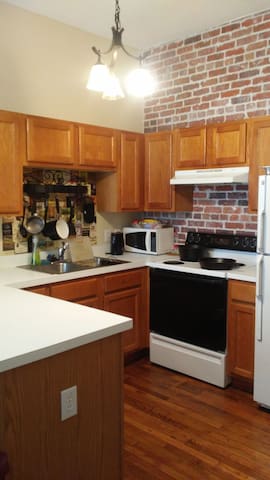 In the heart of historic downtown Wilmington, the Front Street Retreat is on the second floor of the circa 1899 Masonic Building, once owned by Dennis Hopper. Our cozy spot is a great base for dinner, theater, bar-hopping, shopping, or beach-going.
Our one bedroom condo at 21 N Front St. is on the second floor of the five-story historic Masonic Temple Building, built in 1898 - and once owned by Dennis Hopper. We also have a sleeper sofa for an extra guest - or two, if you're cozy. Fully furnished, it features: * original 1898 heart pine hardwoods throughout * tiled bathroom/shower * stainless steel appliances (range, micro, fridge) * granite countertops * large windows with lots of natural light * linens provided * French pocket doors to bedroom * flatscreen TV, w/Roku, wi-fi * laundry room down the hall with free use of washer and dryer * elevator in building * key required for entry to second floor residences * plenty of street parking available during the week and a parking garage across the street with daily, weekly and monthly rates * 2-night min; 3-night min. for some holiday and special-event weekends * absolutely no smoking * downtown Wilmington is a fun and exciting neighborhood, but it does get lively on weekends. The building has a Port City Java coffee shop on the first floor and a rooftop bar, Level 5, on the fifth floor, perfect for watching sunsets behind the famous Battleship USS North Carolina, docked just across the river. The renowned City Stage theater is also on the fifth floor. Enjoy a locally brewed beer next door at the Front Street Brewery or stroll to restaurants, bars, shops, art galleries, boutiques and spas or relax on a horse-drawn carriage ride on the historic trolley tour. Wrightsville, Kure and Carolina beaches are just a 20-minute drive. Includes power, internet with Roku, water, sewer, trash.
We were welcomed by text immediately and loved the location. The elevator did not work the whole time we were there. The unit was too warm.
Arwen
2016-09-05T00:00:00Z
We loved our experience at the Front Street Retreat. The house was clean and cozy and you really can't ask for a better location downtown. I look forward to visiting again!
Lauren
2016-04-10T00:00:00Z
Great place and location! It was clean and welcoming as soon as we got into the condo. Carol was extremely fast to respond to any questions I texted and accommodated our request to get in a couple hours early. I will definitely be looking into staying here the next time I visit Wilmington.
Cait
2015-10-11T00:00:00Z
Wilmington is super cute, and the building was easy to find. The space was just as pictured, and clean and ready. There are plenty of nearby places to eat and lots of window shopping. The bed was comfortable and Carol was easy to communicate with. I'm just sorry the hurricane kept us from staying for both of the nights we had booked!
Amber
2016-10-11T00:00:00Z
This is a great little condo downtown. We felt at home the whole trip. We expected some noise from the upstairs bar, but there was never any disturbance at all. The owner had great communication and the amenities were perfect. If you want something fun and within walking distance to all the great restaurants and bars, this is a perfect fit.
Jacob
2016-05-22T00:00:00Z
Really enjoyed our visit! Carol was very responsive, easy to work with and professional. The room was as described, and actually even better in person. We would definitely book again!
Alan
2015-04-12T00:00:00Z
Perfect downtown Wilmington rental. Photos & description 100% accurate. I had one question upon arrival, and Carol responded immediately. So enjoyed staying at Front Street Retreat and have already recommended to friends.
Debbie
2016-10-03T00:00:00Z
Excellent little place to stay. Location cannot be beat; walking distance to the riverfront and wonderful restaurants. Very clean and comfortable!!
Lacey
2015-10-13T00:00:00Z
Type de logement
Logement entier
---
Type de propriété
Appartement
---
Capacité d'accueil
2
---
Chambres
Wilmington, Caroline du Nord, États-Unis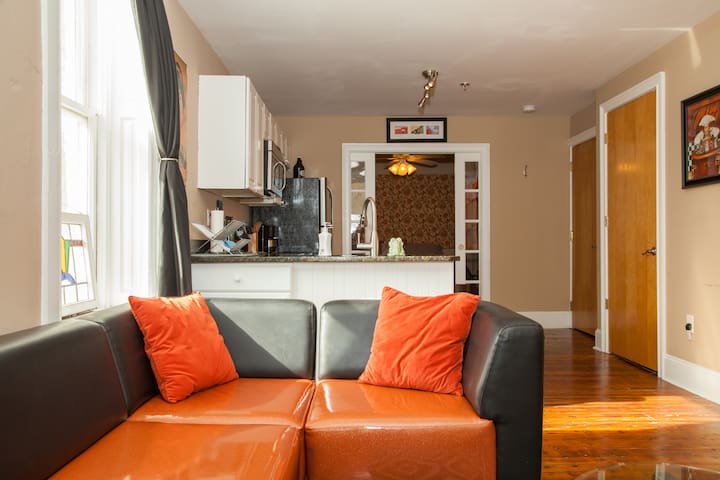 My place is 12 minutes from ILM Airport & Mayfair shopping center. 15 minutes from Wrightsville beach. 25 minutes from Carolina beach & 15 minutes from Historic downtown. Also UNCW is only 10 minutes away. You'll love my place because of the coziness & the location. You are welcome to fish in one of four ponds @ the complex or just sit & watch the ducks swim by. My place is good for couples, solo adventurers, and business travelers. (No locals please & must be 23 or older)
Guest is welcome to stay up to four months if needed.
I stayed @ Charm's place for two nights on a business trip. She was a great host. It felt like home away from home. Her huge screened in patio was the highlight of my stay & of course she made Jamaican style dinner, which I enjoyed. I will definitely stay there again if I should visit Wilmington!!!!!!
Dominique
2016-10-24T00:00:00Z
Charmaine was a wonderful host! She's so nice and friendly!
Judy
2016-10-29T00:00:00Z
Charm's place is just beautiful. I absolutely love my experience. The bed was very, comfy & the screened in patio was inviting. I sat outside & prepared for my meeting. Charm offered to make breakfast but I had an early business meeting the next morning. I will definitely go back to Charm's place on my next visit to Wilmington.
Vanetta
2016-09-21T00:00:00Z
Charm was very kind and made sure everything we needed was accommodated!
Sagar
2016-09-05T00:00:00Z
The place was great. Super convenient to the beach and historic downtown Wilmington. Host was helpful in recommending restaurants and things to do. The room and bathroom and house were really clean and comfortable!
Marsha
2017-02-19T00:00:00Z
Type de logement
Chambre privée
---
Type de propriété
Maison
---
Capacité d'accueil
2
---
Chambres
Wilmington, Caroline du Nord, États-Unis
Two bedrooms and two baths available in this cozy, comfortable townhouse just a 10 minute drive from historic downtown Wilmington and nestled in a safe, gated community. Located in the popular Waterford area, this listing is minutes away from food and fun and just a 20 minute drive to Wrightsville Beach! Other popular areas nearby include Magnolia Greens golf course and 4 different local museums.
I dubbed him, "The second most interesting man in the world"! His family history and life experiences were just wonderful to hear. We felt blessed to have met such a down-to-earth person and to have spent some time with him. Loved visiting with Jim! His home was spacious and spotless. I would highly recommend staying with him.
Mary Beth
2016-09-11T00:00:00Z
Jim was a fantastic host and his townhouse was great and conveniently located. I enjoyed meeting his daughter and grandsons!! If you get the pleasure of staying with Jim and meet his grandson Jaron, ask if he will play the piano for you!! Overall, one of the my best Airbnb stays!!!
Michael
2017-02-19T00:00:00Z
Jim's place was beautiful & comfortable in a very nice community. He was a great host to my friend and I and made us feel very welcome! We enjoyed meeting Jim and I would recommend his place to others.
Chrissy
2016-10-22T00:00:00Z
Jim's place in Leland was even better than the description. He was an excellent host. Clean, affordable, and in a safe gated community. The drive to downtown Wilmington was a simple, straightforward drive of about 10 minutes. Jim was a great guy!! If you stay here, ask him lots of questions. He's a hell of a golfer and has quite the family history. He had food in the fridge that was available to us and even made us blueberry pancakes. Really couldn't have asked for a better experience. Thanks Jim!!!
David
2016-09-18T00:00:00Z
This was our first experience and it was awesome! Jim was so sweet and accommodating. We really enjoyed visiting with him and his family. We would definitely stay with Jim again! The blueberry pancakes were amazing! Thank you Jim for a great stay!
Sandy
2017-01-15T00:00:00Z
Jim is very friendly and helpful. I would definitely recommend this location to everyone.
Sainath
2017-04-02T00:00:00Z
Hospitality was outstanding. Breakfast was unexpected and a pleasant surprise. Would recommend accommodations to my closest of friends.
Bryce
2017-02-11T00:00:00Z
We loved staying with Jim and would recommend this AirBnB to everyone! It is a short distance into Wilmington (~ 7 min), very clean and spacious. Jim is great company with lots of good advice about the area. He also makes an amazing blueberry pancakes breakfast. We will definitely come back here when we visit the area again!
Jorien
2017-03-12T00:00:00Z
Type de logement
Chambre privée
---
Type de propriété
Appartement
---
Capacité d'accueil
4
---
Chambres
Leland, Caroline du Nord, États-Unis
Saisissez les dates souhaitées pour connaître le prix total. Des frais supplémentaires s'appliquent et des taxes peuvent être ajoutées.