Denali retreat cabin is located outside Denali National Park across 49th State Brewery. The cabin has hot and cold shower, stainless steel appliances, granite counter top, heated, hot tub, bicycles, and sleeping bags. Hot tub waiver must be signed prior to completing your reservations.
Our cabin has excellent location for someone whats to relax and rejuvenate.
Type de logement
Logement entier
---
Type de propriété
Cabane
---
Capacité d'accueil
6
---
Chambres
Denali National Park and Preserve, Alaska, États-Unis
This is a guided remote Alaska wilderness experience in wilds of Alaska. This requires a five mile hike through the Alaska wilderness. Only for the physically fit and those that want a real Alaska experience. It is fully guided trip but guests have a private cabin. A lake offers fishing.
This is the real wilderness Alaska experience and only those that don't mind this type of experience should attempt it. No running water or electricity. A wood stove provides the heat.
The place is wild as it gets so be ready to see animals and still have the protection of a cabin. The cabin sits next to Denali National Park and is for those wanting extreme Alaska adventure. Not for those that want the five star hotel experience. You can see Alaska by looking out a window of a car, bus, train or plane or you can walk through it and experience it.
Mike's cabin was beautiful and Mike was an excellent host. The location was incredible and like nothing I've done before. We all thoroughly enjoyed ourselves and have great memories of our trip to the remote Alaskan bush cabin.
Chris
2016-06-26T00:00:00Z
If you're looking to immerse yourself in the beautiful Alaskan wilderness, prepare for the adventure of a lifetime! This is not a trip for the faint of heart - it's a challenging 5-mile hike into the cabin through rugged terrain and there is the constant possibility of having a close-up encounter with a bear. It's also a uniquely authentic and rewarding way to experience Alaska. We canoed around the lake near the cabin and enjoyed the gorgeous surrounding scenery. On day two, we hiked 10 miles in the high country and saw black bears, beavers, ptarmigan, a bald eagle, and fantastic vistas of forests and mountain lakes. Make sure you listen to Mike and bring good rain gear - it kept us dry and warm as we braved the rain and checked out a nearby river on day three. Mike is an amazing person to get to know during your stay. He is a skilful and knowledgeable guide and a warm and gracious host. He knows the Alaskan bush like the back of his hand - from countless hiking and hunting trips in the area - and we felt safe in his hands as we embarked our journey. We enjoyed delicious back-country feasts with him and were delighted by stories of his remarkable life experiences. Hanging around the cabins with him and his friendly dog Asher was the perfect end to our adventurous days. The cabin is a cozy, rustic haven in the middle of the wilderness. It's a simple cabin with a wood stove for heating, a gas stove for cooking, and camp chairs for relaxing by the fire. The kitchen is stocked with basics like oatmeal and pasta dishes (we brought some extra food due to dietary constraints) and a big water jug to fill from the spring. The cabin could sleep five or six comfortably and plenty of sleeping bags and pillows are provided. We stayed up in the gabled loft, which has a double bed and stays nice and warm at night. The view off the front deck is stunning! We had a truly amazing adventure!
Bar
2016-07-05T00:00:00Z
Cool cabin, and Mike too! We hiked more than 3 hours to get to the cabin, quite a hiking for urban coach potatoes, while the landscape along the road is amazing, and the view is fantastic looking through the cabin window. With the frame of window, just look like a painting hung on the wall , I took a photo of it and some of my friend confused and asked me if it's a picture, haha. We stayed 2 nights, had a boat rid and mountain hiking, the scenery on high country of the mountain is incredible spectacular colorful. Mike said he already choose a place here to be his tomb! I'll like to climb up the higher mountain if I had one day more, maybe next time. Mike is a guy with few words, but very reliable and professional( and ash, his dog, adorable!!!), he responded positively what ever we ask, in fact Mike help us settle all of the problems, plan our travel on Talkeetna and Denali, very appreciate that. The cabin is definitely worth visiting, highly recommend to who like adventure and hiking.
ZHANG
2016-09-08T00:00:00Z
First, understand this is far beyond "a place to stay". This is the most awesome, realest Alaskan experience you'll find. It will require you are more or less in shape, and have a sound mind, but the reward is beyond measure. In other words, I absolutely loved the experience. I'd recommend messaging Mike before to discuss logistics. Plan to block at least a couple of days if you can. I won't ruin the surprise, but the sights are breathtaking, and the wildlife is fantastic!
Mickey
2015-07-04T00:00:00Z
What can I say, we had the best host, the best view, the best weather, practically the best Alaskan experience. Everything about this cabin was special to me, Mike usually says this is not a 5 star hotel; for me it felt like a 5 star hotel. The cabin was incredibly clean, cozy, and Mike kept it warm at all times. We hiked around 5 miles out to the cabin; it was a wonderful hike; beautiful views. Since the beginning we knew this was a true Alaskan experience. The second day Mike took us on the best hike of our lives, I don't think I have words to describe how beautiful this place is. The third day we hiked back (another 5 miles) but we actually just wanted to stay in Mike's cabin forever. This was a wonderful experience and I can't stop thinking about it. Meeting Mike was one of the best things of our trip, now I know how to start a fire, canoe, hike like a true Alaskan, and much more. I totally recommend this place to those seeking adventure and love nature. It really doesn't get any better than this.
Shantall
2015-09-07T00:00:00Z
It is difficult to judge which was more spectacular: the hike to / from the cabin, the view from the cabin or the great pancakes with freshly picked blueberry's Mike made us in the morning. Mike is a great host who will guide you through the wilderness. Note that the hike is a bit more strenuous than an ordinary hike as you need to walk on rubber boots (rather than regular hiking shoes) as you will be passing some meadows/swamps with ankle deep water. You will also need to cross a river on a suspension bridge, so you need to be a bit adventurous. Once you get to the cabin, you will be right in front of a small lake with beavers coming out during the evening. The cabin is really basic with a couple of bunk beds and no running water. However, the scenery is so beautifull that you don't want to spend time inside, but stay out on the deck. Mike cooked us a simple dinner in the evening and delicious pancakes in the morning. We would highly recommend Mike to anyone and if you have the time, try to stay an extra night which would allow for a nice hike in the area.
Sander
2015-08-13T00:00:00Z
Mike reminded us of why we love to travel and meet people. It isn't always but sometimes you meet people who truly impact you and all of us felt that way about Mike! We even talked about how awesome it would be if we could volunteer with Mike just to learn more things from him! (Although I don't think this is something he offers) :) We couldn't stop talking or thinking about our trip after we got back. Although our vacation isn't over, I can easily say that this trip will probably be the highlight of our trip. I can't imagine anything topping it. The hike, the views, meals with Mike and listening to his stories... These are memories that we'll always have, so different from staying in a resort or hotel. If you have a chance to make a trip out here, I would encourage everyone to do it!! It really is eye opening :)
Sandra/Sree
2016-07-17T00:00:00Z
The Bush cabins are an absolutely amazing experience and I highly recommend it to anyone looking for a challenge. Mike is an amazing host/guide. He will push you and challenge you, but he knows the land out there inside and out and if you accept the challenge you will see some of the most beautiful scenery you have ever experienced. We spent 4 nights out there and enjoyed every minute of it. It did not take us long to realize that Jesus wants us to be happy, and so does Mike (you are sure to hear this line multiple times if you spend time with Mike). If you are planning on taking a trip to the Bush cabins, be sure to listen to all of Mike's directives before coming up. Rubber muck boots are absolutely necessary, and, as Mike will say, rain gear is survival gear, so do not skimp on this either. Again, this is the experience of a lifetime, you will not find a more true Alaska experience.
Kyle
2016-06-19T00:00:00Z
Type de logement
Logement entier
---
Type de propriété
Cabane
---
Capacité d'accueil
4
---
Chambres
Talkeetna, Alaska, États-Unis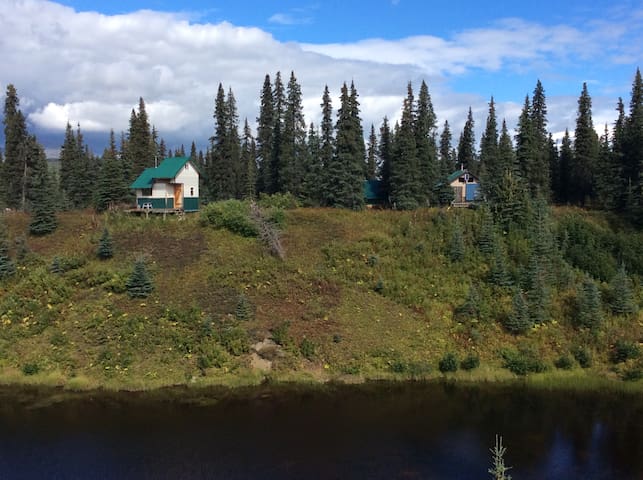 Saisissez les dates souhaitées pour connaître le prix total. Des frais supplémentaires s'appliquent et des taxes peuvent être ajoutées.