Estada d'una nit o més a la nostra llar acollidor. Dos llits individuals, un llit de matrimoni, i el caràcter! Allotjament per als cavalls (25 $ / cavall) amb el nostre graner només uns passos. S'asseuen còmodes sabent que els seus cavalls estan just fora de la seva porta. Sorra disponible per al seu ús. Els gossos i els gats també són benvinguts!
La nostra casa dóna una sensació real occidental amb característiques integrades d'encàrrec de tot. La casa té un antiquat caràcter d'això. Això no és el Ritz, sinó més aviat la seva pròpia escapada privada. Contemplar les estrelles, anar a fer una passejada, i deixi que el seu gos córrer al voltant en l'espai obert.
Estem a prop de 1.5 milles del carrer principal que té una botiga de queviures, restaurants, metro, Pizza Hut, etc. Volcà Capulín està a una hora; Clayton Lake es troba a 15 minuts amb cotxe, que compta amb petjades de dinosaures famosos.
The cabin was so cozy and very well maintained, and the surroundings were beautiful. The cookies were delicious and such a wonderful touch. We had an incredible stay.
Caleb
2016-08-08T00:00:00Z
We enjoyed another lovely stay at this great house! It's the perfect place to break up a long drive and our pug loves the open space to run around. Bed is comfortable and the house is clean. There is plenty of space to feel comfortable and the house is stocked with basic necessities. We got to watch an incredible lightening storm as we went to bed and woke up to a spectacular sunrise in the morning. Doesn't get any better than that! Looking forward to staying here again.
Anthony & Hayley
2016-06-11T00:00:00Z
Wonder place and wonderful opportunity to spend a quiet evening with the family. Views are wonderful.
Chad
2016-08-22T00:00:00Z
The Rustic House was so cute and there were delicious fresh-baked cookies waiting for us! The hosts were fantastic and made sure we had everything we needed. We will definitely stay at Jana's Rustic House again!
Gina
2016-09-12T00:00:00Z
My wife and I need a place to stay between TX and CO drive. We loved Ron's place as it felt super unique. If we had extra time and didn't arrive so late and leave so early, we would've definitely enjoyed the scenery a bit more.
Karl
2016-11-19T00:00:00Z
"Dude Ranch with a Woman's Touch" My 13-year-old granddaughter and I had the most amazing visit at this place. It's very rustic, and you stare out the doors at a field of dirt, but oh how the peace settles into your bones. We had everything we needed, including crickets and stars at night, and a summer rain storm one evening pelting on the metal roof and blowing cool breezes through windows and doors. The largest bed is in a room with no doors, and the ceiling fans don't move the air around enough, but if you turn on the box fans and open all the windows and doors it's actually quite comfortable. We had one wonderful evening in town too, at the Luna Theatre, which only has three showings per week (once nightly at 7 PM on Friday, Saturday, and Sunday only.) We waved to our coffee barista, the hostess that served us lunch somewhere else, and one of the cashiers from the gas station in the audience of the movie theater. It made it feel very Americana. Great memories!
Victoria
2016-07-25T00:00:00Z
We stayed here one night on the way to Colorado. The house was clean and comfortable. We had our dog with us and kept her on leash but the property is big with lots of land to roam on. The kitchen had everything we needed to cook dinner and some delicious cookies were waiting for us when we arrived. Communication with Jana was very easy. She was not on sight but gave us a contact in case we needed anything. Would definitely stay here again and recommend it.
Talia
2015-06-14T00:00:00Z
Enjoy the rural life
Gan
2016-11-27T00:00:00Z
Type de logement
Logement entier
---
Type de propriété
Maison
---
Capacité d'accueil
4
---
Chambres
Clayton, Nouveau-Mexique, États-Unis
Bunk House is a modernized part of the Great Plains History complete with Dish Network, WiFi and central heat and AC. Perfect for individuals, large groups and events. We are a NON-host lodging with country hospitality. Price is PER ROOM NOT Full fucilities. Full facilities for all rooms and barn for events is $500.00 plus tax.
(URL HIDDEN) We took what my grandfather built for broom corn workers years and years ago which remained in ruins for years after broom corn production died out. We remodeled and modernized it with central AC, Heat, Dish network and WiFi while conserving the rustic beauty of the Great Plains. Complete with four private rooms (each with it's own theme reflecting on parts of our panhandle history) , community bathrooms (3, one large enough and designed for wheelchairs), country barn, lounge/kitchen, cocktail garden, small wedding venue/park area with small pond, and even space for tents. Perfect for individuals or large groups. 15 beds total (1 Queen, 3 full size, 10 twins and one full size pull out couch). We now also, located 6 miles from from Bunk House on State line road have a 2 story white cottage. Originally ordered from the catalog Sears & Roebuck years ago, Lindsey's Cottage is complete with 3 full size beds, 2 twins and one full size pull out couch. We love sharing the Great Plains with people from all around the world. We are on the flats in the heart of the Great Plains known for its starry skies and beautiful sunsets. Located 20 miles south of Black Mesa and 8 miles Lake Etling. Make the Panhandle of Oklahoma a part of who you are :)
We are in the middle of the Great Plains Country side! Peace and quiet. Sunsets, sunrises and STARS!
Wonderful!!!
Susan
2016-12-01T00:00:00Z
The Bunk House is a very interesting place and seems to have a little bit of everything. Lindsey did a great job of communicating with us before, during, and after we arrived at The Bunk House, and was helpful and accommodating. The bed was very comfortable. It was a very relaxing stay. The Bunk House was a little "off the beaten path", but worked out fine for my hike at Black Mesa... about a 40 minute drive away. Accommodations in this area are very limited!
Don
2016-09-27T00:00:00Z
Lindsey and her family made us feel very welcome. Lindsey kept in contact with us as we were on our way, and started a pot of coffee early. Her mother and two of her children came over to greet us later in the morning and told us all about the history of the bunkhouse and kitchen. The kitchen was extensive and included a small common area, all the basics, an ice cold pitcher of lemon water, a treat, lots of historical information, antiques, photographs of the family, a piano... around every corner there was something new to discover. We stayed in the Dust Bowl room, which included lots of antiques and memorabilia about local cowboys and the Oklahoma Dust Bowl. It was a very relaxing stay, and we wouldn't hesitate to stay here again.
Gordon
2016-06-18T00:00:00Z
Our family enjoyed Lindsey's bunk house as we were traveling through to New Mexico. It was quite a find being in such a secluded area of Oklahoma and we were thankful to discover it! Our girls enjoyed the playground and swing and it was in a peaceful prairie setting. It was a great stop over for our dog as (URL HIDDEN) much better than a hotel for this area. Thanks so much Lindsey!
dianna
2016-07-24T00:00:00Z
Though we texted Lindsey quite late she was super relaxed and friendly! She organized everything and was very reliable. The location is wild and nice :) The next morning we even drove around the country with her dad Parker. And a good lunch. For us it was so cool! Thank you so much!
Chris
2016-08-24T00:00:00Z
Great arrival- friendly, tour, history.
Ron
2016-07-07T00:00:00Z
Staying at the bunkhouse was a truly remarkable experience. We were on a road trip and this was the perfect place to stop and regroup, rest up and enjoy a good cup of coffee, an amazing sunrise and the wonderful hospitality of this place and it's gracious hosts. I look forward to our next trip!
garrett and courtney
2017-01-01T00:00:00Z
This place is absolutely gorgeous! And, it may be off the beaten path a bit, but trust me - it's more than worth it. In this case, off the beaten path means beautiful antiques everywhere you look, incredible historical photos, spotless rooms and bathrooms, and the entire place smells like a spa! If you had any notion you should stay at someplace closer to the highway - don't. Trust me - come here instead, you won't regret it. In addition to all that awesomeness, these people are some of the most genuinely kind people I have ever met.
Emily
2017-04-07T00:00:00Z
Type de logement
Logement entier
---
Type de propriété
Autre
---
Capacité d'accueil
15
---
Chambres
Wheeless, Oklahoma, États-Unis
This was a business trip and a welcome site at the end of a long day. The hosts were gracious and accommodating and couldn't do enough for me. I certainly felt at home. The apartment was clean, warm and inviting. I highly recommend staying here.
Thomas
2016-11-02T00:00:00Z
Frankie and Jerry are friendly and gracious hosts, and their space is very inviting and comfortable. I would definitely recommend staying at their home!
Sarah
2017-04-08T00:00:00Z
Frankie and Jerry are thoughtful, friendly accomodating hosts. My visit to Boise City was great. The space was comfortable and clean. I slept great. I couldn't ask for more.
Mark
2017-02-22T00:00:00Z
Cimarron Bed and Bath is a hidden gem in Boise City! Frankie and Jerry were quick to respond, kind, and respectful at every stage of our trip to visit Black Mesa, even going so far as to offer us a folder full of information about Cimarron County and Black Mesa. They provided us a lovely and well-maintained half of the duplex they own as our lodging; a very charming home on the inside and out with plentiful decorations, a Keurig, 2 cozy bedrooms, numerous water bottles, and a lovely patio/outside area. I highly recommend Frankie's place to anyone visiting the area!
JOSHUA
2017-03-15T00:00:00Z
Type de logement
Logement entier
---
Type de propriété
Maison
---
Capacité d'accueil
4
---
Chambres
Boise City, Oklahoma, États-Unis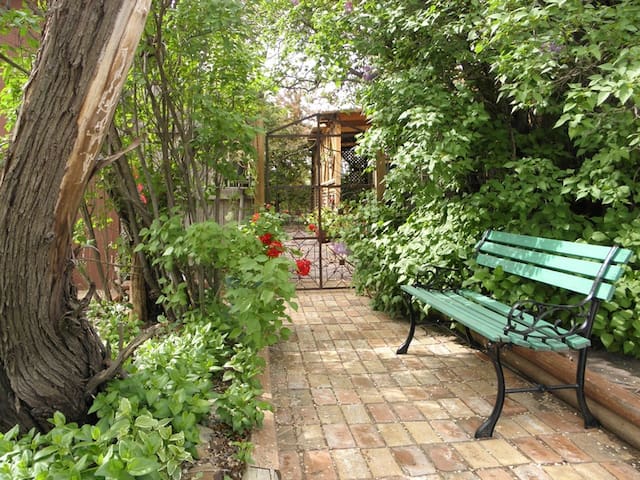 Truly one of the best things about AirBnB, from discovering the place to a successful booking took less than five minutes, it was a decision that I will never regret. From start to finish Cerita was easy to communicate with and very responsive. As for the place? where can I begin, the night sky was the main draw for me, and it did NOT dissapoint! But we also managed some morning hiking/exploring, wildlife everywhere! such a beautiful place and the house truly does feel like you're visiting family. I can't say enough nice things. I will definitely be back when I can spend more time here, I was just passing though on a longer road-trip, but the Mesa Valley GuestHouse will now be a straight up Destination for me in the future!
Jeffrey
2015-11-16T00:00:00Z
Cerita & her husband were unable to be nearby due to a family celebration. Never the less, she emailed me about the trip and kept in touch by email and phone to make sure we had found the Guest House and that all was well. This was an isolated home, so Certia cautioned us to have enough food for the evening & following morning. The house had a very friendly outdoor cat that certainly made us feel welcome. All electronics [TV] use was clearly explained if we'd wanted to use them. We preferred sitting on the front porch & watching the cows in the field & listen to bird songs. We were so pleased to stay at this Guest House as it was close to our hike at Black Mesa Nature Preserve near Kenton, OK. We very much enjoyed the restful country evening. They had a brochure for Capulin Volcano, not far away. So we took off driving through a very beautiful country road alongside the Cimmeron River on NM 456 highway & about 17 miles of dirt road to the volcano.
Beverly
2015-05-03T00:00:00Z
Cerita and Eddie were such wonderful and flexible hosts. We needed to adjust our reservation by one day, and they happily did so with very little notice. Their spacious home allowed us to spend some much needed time relaxing and resting after a week of camping on the ground. Thank you Cerita and Eddie for sharing your amazing home with us.
Susan
2017-03-16T00:00:00Z
I needed some peaceful downtime and knew I was at the right place when a flock of wild turkeys visited me at the front door. The hosts were very nice, beds comfy and the house had everything one needed. A beautiful hiking spot located in a beautiful secluded valley.
James
2016-07-09T00:00:00Z
I wanted to text Cerita to let her know that we arrived to the guesthouse, but it appears that Verizon doesn't have any cell coverage in Kenton. If you're looking for a place to stay in the Oklahoma panhandle, you're probably one who can manage without your cell phone for a few days anyway. The guesthouse is a perfect compliment to getting away for the weekend. Bring your own food and there is everything else you need here. Grill up some steaks for dinner, drink some beers on the front porch and watch the sun go down and make sure you stay up late enough to see the stars, very few places in America can you get a better night time picture of the sky. Cerita and Eddie are great hosts, if you're ever in the area and need a place to unplug from everything, this is your place. 100% recommendation!
Kevin
2016-06-13T00:00:00Z
I normally write a review the same day we return home, but I had to think about this one a while longer. I just couldn't find the right words to describe our very brief but enjoyable stay. I've had to settle on, "Amazing." We had an amazing experience! Cerita is an absolute pro at being an outstanding AirBnB host. The furnishings and the way Cerita communicated with us made us feel very warm and welcome. The house has great TV (dish) and fast, reliable internet. We just loved it and want to return when we can spend more time at the house. In her listing, Cerita points out that the house is 40 miles from a grocery store/gas station. This is 100% accurate, so be certain to get your goods and gas either in Bosie City, OK, or Clayton, NM. Also, if you're on Sprint or T-Mobile, you might have cell-signal issues in that 40-mile radius, so be certain to download offline (SENSITIVE CONTENTS HIDDEN) maps if you're unfamiliar with the area. Thanks, Cerita, for hosting us. We hope to return soon- Nathan and Corinna Hood
Nathan
2016-11-12T00:00:00Z
Everything was available and just as described. The area is gorgeous and the house an interesting mixture of old and additions. Cerita was always available when we contacted her and was willing to go out of her way to provide whatever we would need. I highly recommend this place if you want to get away and relax in the middle of natures beauty.
Richard
2016-08-08T00:00:00Z
My husband and I stayed here two nights while visiting the area to hike Black Mesa, the state's highest point. The area is very remote and quite beautiful. This home can accommodate a lot of people and was more than enough for two adults and two dogs. The kitchen had everything we needed and we found the home very relaxing. Cerita was easy to reach and communicate with. The best part was seeing the huge expanse of stars, clearly on display!
Laura
2016-12-29T00:00:00Z
Type de logement
Logement entier
---
Type de propriété
Maison
---
Capacité d'accueil
12
---
Chambres
Kenton, Oklahoma, États-Unis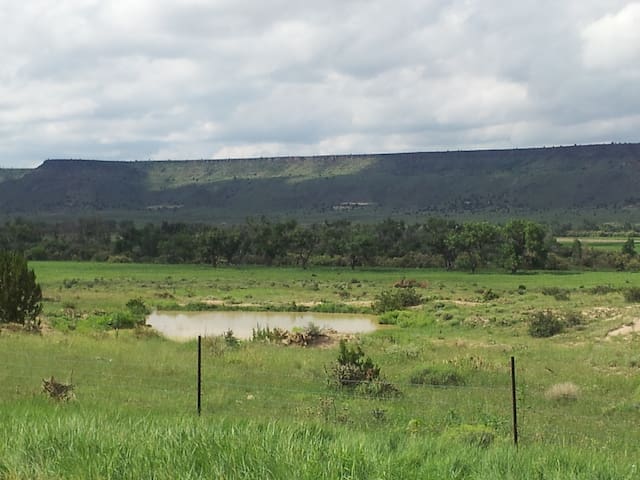 Saisissez les dates souhaitées pour connaître le prix total. Des frais supplémentaires s'appliquent et des taxes peuvent être ajoutées.