Saisissez la date d'arrivée au format jj/mm/aaaa
Saisissez la date de départ au format jj/mm/aaaa
Logements que vous pouvez réserver sans attendre l'approbation de l'hôte.
Saisissez les dates souhaitées pour connaître le prix total. Des frais supplémentaires s'appliquent et des taxes peuvent être ajoutées.
Cet été (juillet et août), vous pouvez essayer l'un de ces 100 logements les mieux notés, dans toutes les gammes de prix, pour découvrir Sonoma d'un point de vue local. Entrée dans les lieux 24h/24, réservation instantanée, mais aussi vin et petites spécialités locales à disposition… autant d'invitations à vous détendre et à profiter pleinement de votre voyage.
The Honey House is a small cottage on our homestead farm. You'll love the rustic and cozy atmosphere of the cottage while being able to enjoy the open spaces and simply grounded feeling of being on a farm. Our cottage is good for couples, solo adventurers, and families (with kids) who appreciate simplicity.
Type de logement
Logement entier
---
Type de propriété
---
Capacité d'accueil
5
---
Chambres
2
McDavid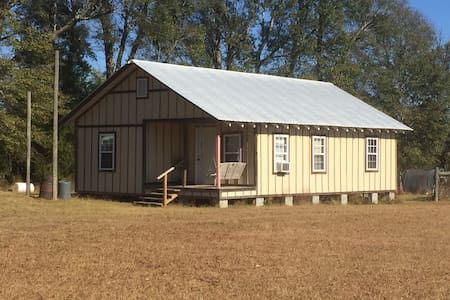 This is a great home that has just been completely remodeled from top to bottom. It is cozy, comfortable and convenient to everything in town. Two bedrooms one bath, wifi, complete kitchen and laundry facilities.
You will have the house all to yourselves. It will be your own private space while you are there - but we are easy to contact should you need assistance. As our guests, you will have access to the whole house during your stay. The hosts are available at anytime by phone or text.
Brewton, Alabama is a small town in South Alabama. The people here are welcoming and treat you like family. Summers are hot and winters are mild. Relax, eat and shop downtown or take a day trip to Pensacola (1 hour away), Mobile (1 hour and a half away) or Montgomery (1 hour and a half away). The Gulf Coast beaches are also a nice day trip and are located between 1 and 2 hours away depending on the beach you choose to explore. You will need a private vehicle to get around in Brewton, Alabama This is a great home to enjoy small town life, yet it's only a short drive to the white sands of the Florida Gulf Coast or larger cities including Pensacola, Florida; Mobile, Alabama or Montgomery, Alabama.
We really enjoyed stating at Cavin's house - it was the perfect place for our family of 5. The location was great, the house was very clean and fully stocked, and Cabin was flexible with our check-in time. Thanks so much!
Theo
July 2016
Great stay. Beautiful home. Friendly hosts.
Melissa
December 2016
Type de logement
Logement entier
---
Type de propriété
---
Capacité d'accueil
4
---
Chambres
2
Brewton
Sunburst RV Resort is in a secluded area of a small town. Mornings are beautiful. Sunburst accommodates our guests with RV and cabin life style vacations. We have 2 pools, club house, game room, laundry, wifi and a great community of all ages.
The space is quaint. It is perfect for a couple or young family. We have a full kitchen. All of the space in the cabin you rent will be accessible for you. If you need more space just simply rent the cabin next door for other family and friends. The nature of our resort is very social. feel free to reach out to as many people as possible. I know you will find friends.
A great community of people at Sunburst. A rustic but clean location covered by trees and surrounded by nature. In the early morning hours you are likely to see the wild deer. Parking is provided for one vehicle at each cabin. Public transportation is not available. you will have to depend on your own vehicle to go exploring. Our manager is always there to help give you ideas. I also recommend visiting the Sunburst Rv resort web site and clicking on the whats around button for things to do and for great places to eat. We are near a zip line, kayaking and hiking. The blackwater forest state park and 19 miles from Pensacola Beach. Get out and explore then come back to a nice campfire and a peaceful place.
The space was very nice. However, it was really in the middle of nowhere. It took At least 45 minutes to get to the Pensacola beach and at least 20 minutes to go do something. We had to do a lot of driving during our stay. But if you are looking to stay somewhere clean and nice, this is a great choice! It was super cozy and it was nice to have two swimming pools to enjoy.
Victoria
July 2016
Everything was just the way it was listed. The area was quiet and clean. The only issue was that there was very little Internet connectivity.
Jay
September 2016
Rob immediately called me after I booked to let me know the details of the resort. He was very helpful, informing us what to expect and how laid back the resort is. He let me know that Trish, the on-site manager, was available on the grounds for check-in. Trish was warm, welcoming, and informative. She gave us great coupons for kayaking! Which was an awesome time at Adventures Unlimited only 15 min away! The cabin was fantastic. It was EXACTLY as pictured and clean. It was great to have a whole Kitchenette with dinnerware and a coffee maker. We also loved having a place to park outside the cabin with a small deck as well. The pools and hot tub were all very clean and even on a holiday weekend it never got too busy! There was so much to do on the grounds, we enjoyed some corn hole (could even play after dark with a spotlight) and the pool table and ping pong was great entertainment. We went to the beach in Navarre a few times, about 45 minutes away and not a bad drive at all. We attended a riverfront music event in Milton as well. This was such a great spot for anyone looking for a quiet getaway, but still close enough to go to the beach for the day. We can't say enough good things about this place! Thank you Rob and Trish!
Brittany
May 2016
The accommodations were just as described. Very clean and comfortable. Trish is a great hostess; very friendly, with a true servant's heart. We had been made aware that we should bring our own food and supplies, but it didn't register how far into the middle of nowhere this place really is. Personally we liked the out of the way location. Even with all the neighbors in the park, it was quiet and peaceful. Our stay only lasted one night, but we would have gladly stayed longer if we had the time.
Jerry
June 2016
We had a great time! Mostly we relaxed in Sunburst, enjoying the amenities. We also took advantage of some of Rob's suggestions for activities. They did not let us down!
Angie
August 2016
Rob's place was great. Sunburst was beautiful. All the neighbors were very polite and the grounds manager was extremely nice and helpful. We will definitely stay here again, if we are ever in Milton or Pensacola.
Jonathan
September 2016
We had an amazing time. We slept listening to the sounds of nature. The place had all what we needed. It was very spacious and comfortable. We highly enjoy it and suggest it to anyone who wants to spend some time relaxing in nature. And the great plus, pets are highly welcome by all the other residents in the place!!!
Carla
June 2016
Very nice clean place to stay
Beverly
December 2016
Type de logement
Logement entier
---
Type de propriété
---
Capacité d'accueil
2
---
Chambres
1
Milton
One bedroom with an small kitchen and dining. You have your own private bath area. It is the same location as the other apartment with the same outdoor photo's. Close to the Creek Indian Casino, 2 parks, Monroeville's To Kill a Mocking Bird, kids under 12 years old are free. There is one queen air bed.
The apartment was remodeled in the last months of 2015. There are a lot of new things including the the bathroom. One large room and one small bathroom. PLEASE READ...this is an studio apartment and not bed and breakfast. Bring your eats Walmart and other stores are 17 miles away. You have shared access to the pool and hot tube. There is also a gas and charcoal grill. I'm usually at work.
This is a farming area. Please see my other listing. I do not wish to copy and paste here. You will need an auto. There is no pubic transportation. Large trash container on the west side of the house and it goes out on Thursday.
Ronald had a perfect place for us to stay. He was a great host and all went really good. He has done some amazing work and wood work to the place. Very talented man!
Gail
August 2016
What a wonderful stay! We needed a place during our travel down to gulf shores and this was a hidden gem we loved it!! Highly recommend Ronald and his beautiful place!
Brittany
October 2016
Roland's place is very kind, lovely and got everything we need. A great place for a country view and even for long term stay.
Miki
May 2016
This is a really wonderful little gem of a place out in the country. Ronald has obviously put a lot of heart and soul into fixing this one room apartment up with built in cabinetry, a comfortable bed, nice decorations and all the things you need for a short or long stay. We were super comfortable and enjoyed talking with our host. Highly recommend this place as a great alternatives to a hotel room that would cost almost twice as much and not be nearly as nice. It's located less than 20 minutes from the hotels in Atmore at the Interstate exit.
Brian
May 2016
The Studio Apartment in the Country was exactly what I needed. I went for quiet and solitude, and it was perfect. I had everything I needed, the studio was exceptionally clean, and as a host, Ronald maintained a nice balance between friendly conversation and assistance with the outdoor amenities (hot tub and fire pit) and respect for the solitude I came for. If you're looking to get away from the hustle and bustle, this is the perfect place.
Jessica
December 2016
This is by far the nicest place on Airbnb that I've ever stayed at. I've done quite a bit of traveling for work and I would take staying here over a five star hotel any day. It's in a quite area, it's very comfortable and has everything you need, including a mini washer and dryer! Ron was very welcoming and very helpful during my entire stay. I recommend this to anyone traveling or visiting near by. You won't be disappointed!! I give it five stars.
Callie
February 2016
We had a lovely stay at Ronald's apartment! It was clean, very spacious and had all the appliances we needed including a washing machine and dryer. Ronald is very nice and helpful, he made us feel very welcome. The house is in a very remote, peaceful area which makes it a great getaway, but make sure your satnav takes you down the correct route! Ours tried to take us through a lot of dirt tracks. Overall, perfect!
Em
June 2016
This place is just great! The apartment is very organized and clean. We felt welcomed by Ronald and the place was easy to find. We loved how quiet and peaceful this location was. Overall an excellent stay!
Phil
May 2016
Type de logement
Logement entier
---
Type de propriété
---
Capacité d'accueil
2
---
Chambres
1
Atmore
French Country home with private guest suites with kitchenettes and ensuite bath. Private rooms with private or shared baths depending on availability and Aunt Sissy's Cottage, a turn of the centry 2 BR/1BA Farmhouse. Rates are per room at main house. Aunt Sissy's Cottage rates are $150 per night which includes 2 bedrooms and fully furnished cottage with kitchen.
Lush gardens where colorful pecocks roam. Free WI-FI, Laundry facilities
Wind Creek Casino, Movie theater, Bowling alley, Magnolia Branch Recreation Area Quick access to I-65 and direct routes to the beaches
Foster is like your fantasy host: organized, clear, kind, and fantastically thoughtful. From the basket of crackers and water bottles in the room, to the hefting of my bag over uneven flagstone, to a five-star breakfast, he demonstrated professionalism across the board. The home is spacious and charming; the location is unbeatable, and the fruit trees, irresistible.
kathryn
November 2016
Type de logement
Chambre privée
---
Type de propriété
---
Capacité d'accueil
4
---
Chambres
1
Atmore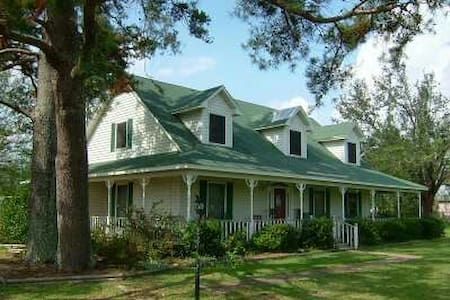 Apartment in my home in the country surrounded by farm land and timber land. This is South Monroe County. It is about 17 miles N. of the Creek Indian Casino. Towns around are Atmore and Monroeville. Close to Claude Kelly State Park. under 12 free. There is one queen size bed in a private room. The couch is not full size but would be good for a small person. One twin air mattress. PLEASE READ...this is an apartment and not bed and breakfast. Bring your eats Walmart and other stores 17 mi. away.
There is an apartment , pool and hot tub. Extra sleeping can be had with twin air mattress and the couch. Not much...I have to work a lot.
It is my home located in a farming area. You have to have a car. I am close to Wind Creek. It is 75 mile to Pensacola and 88 miles to Gulf Shores.
Ronald was extremely helpful with our trip, we were driving from New Jersey to New Orleans and needed to make a stop in Alabama to split our trip up. He was extremely understanding with our changing arrival time from 2am to 5 am. If you need a flexible stay, he's great! His yard was really cool with a hot tub, pool, some palm trees and even some cows next door.
Julia
November 2016
The host made us very welcome. And had an interesting story about his family and the home and surroundings. The pool was great. For me, the very rural setting with cattle and corn fields etc. right next to the home property was wonderful. For some urban folks this may be both a great pleasure and a down side. Very interesting area of Alabama. Monroeville the home of "To Kill a Mockingbird" a novel by Harper Lee is nearby. The home itself and accommodations are typical farm house style. Very comfortable, but to most city dwellers sort of rustic.
Steve
July 2015
We had an absolutely amazing stay at this wonderfull place!! The landscape is so beautifull, peacefull & quiet!! So if you're looking for the perfect gateway on the countryside, that's definitely the place to be!! The apartment is so lovely too!! Offers everything one needs!! So lovely furnitured with love for the detail, unfortunately you can't see that on the pictures!!! Because it's much more beautifull than pictured!! & the best thing, the pool and the whirlpool that we could use any time we liked! & Ronald is a perfect & charming host! So we definitely would have stayed longer & come back again!! Highly recommanded!!Thx!
Tanja
July 2015
Ronald's place is absolutely adorable! It was the perfect weekend getaway. If you like peaceful mornings and resort quality stay please book with Ron. He is very hospitable, I'm already making plans to visit again. The jacuzzi is to die for!! We bbq'd and everything! ! I can't wait to visit again! The decor was very cute, a lot of thought and planning went into the simple country home.
Catherine
March 2016
Very easy to communicate with and great hospitality! All you need from a fully stocked kitchen to dvds and games to the pool and hot tub(our faves)!! A beautiful, quiet get-away! We will definitely be back!
Melanie
October 2016
This is our second time that we stayed at Ronald's in Frisco City area and once again our stay was great. We had a hot water issue when we arrived Friday evening, but I sent Tonald a text and he responded immediately and within ten minutes we had hot water. No other problems the rest of our stay
Bob
November 2015
Ronald's place is a gem. Seriously. It's down a dirt road, there's not much around, and you really have no idea what to expect. We've been staying in Airbnbs for almost two weeks now, with a stop in a different city every night. Ronald's place was one of the best. It has absolutely everything you could need and is immaculate. Seriously, the place is cleaner than my own house! He's also a carpenter, and I didn't confirm with him, but I think he made most of the cabinetry and the furniture in the place. :) We had a lovely dip in the hot tub after we arrived, and the space was perfect for what we needed. The scenery is gorgeous, and you can watch cows graze on pasture while you do dishes. :)
Jessica
December 2016
Ronald's house is a very nice, clean and well organized place. Very cozy. We just loved the starred sky and non-urban neighborhood. Ronald is a very accessible and polite host. We really felt like home there.
Ricardo
October 2015
Type de logement
Logement entier
---
Type de propriété
---
Capacité d'accueil
4
---
Chambres
1
Atmore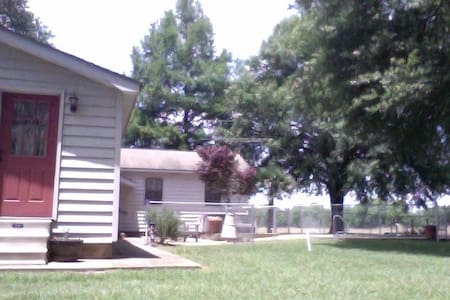 This fully furnished 3 bed 2 bath home located near NAS Whiting Field sleeps 6. It is perfect for families (with kids) that are in town for a visit. Check-in as early as 10 AM if the home is not rented the day prior. Taxes are included in the price. Cleaning fee is refundable.
You will have the entire home to yourselves with parking in the garage and the driveway. Feel free to contact me at anytime if you have any issues. Contact information will be on the welcome sheet in the home.
Harvest Point is a quiet and peaceful subdivision near NAS Whiting Field.
Type de logement
Logement entier
---
Type de propriété
---
Capacité d'accueil
6
---
Chambres
3
Milton