Le duplex a été construit dans les années 40 et vous aurez le chalet inférieur original, avec cuisine et salle de bain mis à jour. Rustique bois tout. charme pur. L'emplacement est idéal, vue sur la mer et accès à la plage, un bloc du centre St et pas de Bert.
Presque tous d'origine spatiale des années 1940. Nous avons conservé tout ce qui est génial et remplacé de nombreux éléments essentiels dans la cuisine et salle de bain. Une véranda massif dispose de deux lits jumeaux et un salon une salle à manger qui vous permet de manger comme vous êtes à l'extérieur (mais avec AC!). Il y a une unité à l'étage avec 3 lits et 2 salles de bains aussi, donc inviter les autres à se joindre à vous!
La folie est une merveilleuse communauté de plage ancienne. Il est vraiment décontracté, tongs et t-shirts sont l'uniforme. Vous êtes dans une zone qui est super pratique pour marcher jusqu'à la rue Center pour vérifier tous les restaurants et bars, ou plus pop à Bert pour tout ce dont vous avez besoin pendant votre séjour. La principale caractéristique de la folie est une belle plage et vous êtes juste en face - accès à la plage est à gauche quand on regarde vers la plage.
The price and location of this property can't be beat. The home is older, but is nice. The only problem is that the two twin beds are on the sun porch, which is not air conditioned and gets really hot in the summer. It was really nice you have the beachchairs, boogie board, Sandton and beach games. We would definitely stay here again.
Brandon
2016-08-05T00:00:00Z
We had a great time at Geoffrey's beach house. It was a few steps from the beach and the house was nice and well decorated. Everything was clean! The house is close to the town's Main Street, but far enough that it is quiet. There is a great cute market down the street.
Ella
2016-07-26T00:00:00Z
The listing was everything we expected and much more. It had the BEST location, great beach access and the house had everything we needed to enjoy the beach. I give it an A+ overall!! Highly recommend this listing!
Mallory
2016-06-22T00:00:00Z
We had a great time in Geoffrey's lovely apartment. Everything was just as shown on the fotos.
Bianca
2016-11-12T00:00:00Z
The house was a great location but probably would be best for 5 people. We had 8 and it was TIGHT! The two twin beds are on the sun porch so it's pretty toasty. I still give it 5 stars, great place and walkable!
Megan
2016-08-16T00:00:00Z
This place was perfect for us and so glad we stayed here instead of a hotel in Charleston. You can walk to everything and it was nice being just steps from the beach. We love the laid back local feel of Folly Beach. We had friends come and stay one night with their 3 kids and it was okay with that many people for one night, but if you have more than 2 couples, rent High Tide upstairs. The hosts were great and our overall experience was awesome!
Kathleen
2016-11-16T00:00:00Z
The Low Tide apartment was perfect for what I was looking for. It was a nice, clean, and low key place right across the street from the beach. I would love to stay again if I'm back in the area!
Miriam
2016-10-18T00:00:00Z
So lucky our first stay at Folly Beach was at Low Tide. We were low need as far as geting in and out of the house and information, but it couldn't have been simpler to get to and in the house. The property manager was very quick to respond to any question and there was off street parking a bonus in a busy beach town. The house just the right amount of space, privacy and amenities very well appointed and clean. Good dark bedroom for sleeping nice open kitchen and living room, closed front porch with great table for eating( and craft project or shell sorting) an open porch for siting and taking in the sunset with a cocktail. Out the back door and across the street to Bert's Market. Out the front door and across the street to the beach. We did drive to go to Bowen's Restaurant and a Kayak expedition but otherwise you can park the car and do everything from this spot, we rented boards for surf, ran,read, ate and ate- if you can stay a few weekdays- you get a real feel of that beach pace that is super relaxing.
Mary
2016-09-28T00:00:00Z
Type de logement
Logement entier
---
Type de propriété
Maison
---
Capacité d'accueil
7
---
Chambres
Folly Beach, Caroline du Sud, États-Unis
We bought this house in 2014 and renovated the downstairs as a guest suite for friends and travelers. We live upstairs, which has a separate entrance. Downstairs is fully furnished and has beautiful views out to the marsh, one block from the beach.
We love this house and this part of Folly Beach. Apart from the Washout, it's the skinniest part of the island, so you get views across the marsh while also being a one minute walk out to the beach, and 9th block is a nice place to surf, especially for those who don't like to be crowded in the water. We have tried to provide everything we would want in the apartment as seasoned AirBnb travelers ourselves, and we are upstairs if you need anything else or just want to hang out! The suite has one bedroom with a queen size bed, and a trundle bed in the living room that pulls out to two twins or can be made up as a second queen. Children 3 and under are free. If you are bringing two children and each are under 12 you can book it as one extra person instead of two. We allow one small dog between October and April (when dogs are allowed on the beach) but not in the summer when you'd have to leave them in the house all day. To bring a dog, we require pre-approval and a fully refundable security deposit paid upon arrival. We do not have a fenced in yard. There is plenty of parking and A/C is a big window unit with remote, plus a smaller unit in the bedroom.
It's Folly Beach - the locals' beach! Life doesn't get much better than it is here.
Hunter and Stratton were very accommodating hosts. The room was exactly as described and pictured. The location was very convenient to the beach and about a mile walk to the main strip. We wanted to stay in a quieter area of Folly Beach and this was place was just that.
Andrew
2015-05-02T00:00:00Z
We arrived at Folly and settled right in at Hunter and Stratton's marshfront cottage. They had left us a few beers to help us settle in, and shortly after our arrival Stratton came down to welcome us. Hunter came to say hello a bit later. We were a short walk to the beach, and a bit farther from town center, but still walkable. They had a notebook with hints for places to eat and activities there on the island. We also rode the bikes they made available into Center street for breakfast one day. It was an enjoyable place to stay. Thank you to Hunter and Stratton!
Phyllis
2016-04-15T00:00:00Z
I hesitate to review this air b&b because,selfishly, I would like to stay for the entire summer. Hunter was as sweet as can be, and the accommodations were perfect for a mom's night at the beach. I look so forward to visiting again soon.
Mary
2015-06-22T00:00:00Z
Stratton and Hunter were fantastic hosts. The location was a dream, and the space was just perfect for the two of us. I can still picture the beautiful views of the marsh from the deck when I close my eyes. We can't wait to visit Folly Beach again, hopefully next time for longer.
lindsay
2016-05-07T00:00:00Z
Great location! Beach fantastic. Staying here was a perfect solution for 4 of us for wedding weekend. We could make breakfast, go to beach, then back to shower/clean up for events. Plenty of room for 4 and apt. as advertised.
Catherine
2015-07-13T00:00:00Z
This place is truly a pearl and one of a kind! The apartment is roomy with a separate bedroom and a fully equipped kitchen. It has a marvelous veranda from where you can watch the sunset over the marsh. The beach is literally around the corner! And if you're into surfing they even got a board you can borrow! Unfortunately Hunter and Stratton were out of town during our visit, so we never got to meet them. But they helped us if we had questions and answered super fast! This is the place to be at Folly beach!
Hanna
2016-08-13T00:00:00Z
My parents, husband and I came to Folly for a short but sweet beach getaway. Stratton and Hunter were super responsive and friendly hosts. Great location between scenic marsh and quieter stretches of beach.
Sarah
2015-04-27T00:00:00Z
We were greeted by one of the hosts upon arrival who showed us around and gave us tips on Parking while on the island. The unit was as pictured although there was a bit of a musty smell, turning up the dehumidifier seemed to help with that. The kids loved the house and Folly Beach so much, they are already asking when we can return. Thanks for making our first Airbnb experience painless and enjoyable.
Jessica
2015-06-11T00:00:00Z
Type de logement
Logement entier
---
Type de propriété
Maison
---
Capacité d'accueil
4
---
Chambres
Folly Beach, Caroline du Sud, États-Unis
This is a private apartment located under the wave. You will see when you arrive. I live upstairs with 2 roommates and 2 dogs. You will probably interact with the dogs as they are curious and playful. If you are skidish around dogs this might not be the place for you. The house is located on 5th block and its about a minute walk to the beach and about 12 minutes to walk to Center Street where the restaurants and bars are located.
The apartment has personality. The doors were saved from an old beach store that closed. The bar top is a large piece of stained pecan with bar stools from a 70's dive bar. Pallet wood accents are found throughout the kitchen and the counter top is poured concrete.
Folly Beach is the quintessential beach town. We have a traffic light and some restaurants and bars. East Cooper and East Erie Avenue have been recently paved and are great for riding bikes or walking. The beach speaks for itself. If you go out at low tide you can find plenty of shells and maybe even some sharks teeth.
great location. cozy. unique place.
Mark
2017-02-05T00:00:00Z
Nice house, close to folly beach. Host is very nice.
Mingzhen
2017-03-06T00:00:00Z
We had a fabulous time in Folly—the location was awesome and super walkable. Great dog-friendly community too! The beds were really comfortable and quality kitchen and living room space. Only complaint was that the was a lot of noise from the upstairs late into the night and early in the AM.
Sophia
2017-02-19T00:00:00Z
Awesome location close to the beach and center street on Folly! Great private apartment with a laid back host. Perfect for a relaxing stay at the beach.
Ethan
2017-02-26T00:00:00Z
Type de logement
Logement entier
---
Type de propriété
Appartement
---
Capacité d'accueil
4
---
Chambres
Folly Beach, Caroline du Sud, États-Unis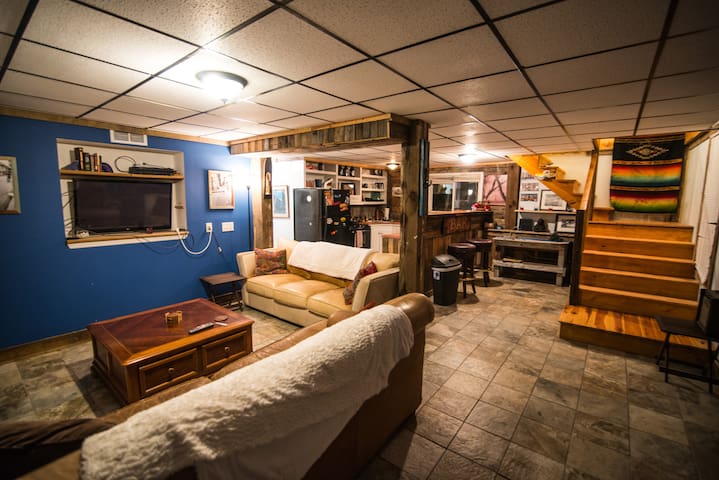 Notre condo est juste en face de l'océan, sur un accès à la plage avec une vue magnifique! Vous allez adorer ma place en raison du confort contemporain et la proximité de la plage, la Folly Beach Pier et du centre-ville. Ma place est bon pour les couples, les aventuriers / surfeurs, et les petites familles (avec des enfants).
We had a great stay. Thanks.
Jody
2016-12-04T00:00:00Z
This place was very clean and had everything we needed. You can sit on the front porch and see the ocean and you can walk to the local restaurants. Very great place to stay!
Sherri
2017-03-07T00:00:00Z
Robyn and her husband have a beautiful home located in a very convenient part of Folly Beach. Everything you could ask for during your vacation stay was easily accessible within a 5 minute walk from the house. Highly recommend.
Michael
2016-11-07T00:00:00Z
Beautiful condo with great views and beach access. Walking distance to town and restaurants. A great stay!
Louis
2017-02-23T00:00:00Z
What a great, little place! Location was amazing, condo was so comfy and clean. Robyn was great to work with. Can't wait to go back!
Amanda
2017-02-05T00:00:00Z
Robyn's condo is perfect for a beach getaway! The location is right across the street from the beach with beautiful views and a quick walk into town.
Alexandra
2017-03-10T00:00:00Z
Excellent location for beach and food/shops in downtown.
Melissa
2017-03-23T00:00:00Z
Robyn's place is a very comfortable, clean place to stay with all the basics you need/expect at the beach (i.e. having laundry at the beach is a must). The porch is lovely and beach access could not be easier. You cannot beat the location, 5 minute walk to the main drag. Condo has 1 bdrm with a large walk-in closet that we used as a "room" for our infant and his pack n play. Only negative was the bed was extremely rickety and woke my partner up (and the baby) every time I moved.
Allie
2017-03-12T00:00:00Z
Type de logement
Logement entier
---
Type de propriété
Appartement en résidence
---
Capacité d'accueil
4
---
Chambres
Folly Beach, Caroline du Sud, États-Unis
Guests have a 2BR/1 BA Suite, with full use of Kitchen, LR, DR, decks, and screened deck w fan facing sunsets, all on 1st floor. Welcome serenity, privacy, comfort, beautiful elevated views, sounds of the ocean & birds, 2 houses from beach. Great for 1-2 couples, friends getaway, & families.
Welcome to my home! Enjoy a private suite with 2 bedrooms, and 1 full bath. One bedroom has a queen bed & the other bedroom has a queen bed & 1 single bed. Both BRs have a TV. Comfortably fits up to 5 people. Fall in love with the space, and the location! Want quiet, a place to unwind, relax, feel like you are tucked far away, surrounded by nature, see the river, hear the ocean, walk past 2 houses to the beach, sit on the screened deck & watch magnificent sunsets, beautiful birds, walk to the Marina, sit over the water at the Marina, & still have town center & Charleston so close...this is the place! Live music every night somewhere on Folly, and in Charleston. LR/DR/K/ Decks - shared space that I hardly use. I work, often away long hours. Weekends, often out & about. I have my private space upstairs on 2nd floor. You will have a lot of privacy, or we may have time together depending on your wishes, & my schedule. Linens, towels, 4 beach chairs, a beach wagon, kitchen, everything ready to use. Back from the beach! Freshen up in the outdoor shower, relax on the opened or screened deck, or in the yard. Always a choice of sun or shade, cooling off or warming up. Please check price on calendar for the specific days you are interested, the price varies depending on a lot of things. I am afraid fees have gone up as my costs have been more than I thought they would be. However, you will still feel it's a great deal when you see & experience the views, peacefulness & warmth in this home.
The Beach...walk past a couple of houses & you are at the beach......very, very close. Onsite parking. Beach wagon & chairs for your convenience. Sit on the deck, screened porch, enjoy shade or sun. Listen to the sounds of the ocean, breezes & birds. Walk, drive, or bike into Folly Town Center. Great fishing, kayaking, paddle boarding, boating, in the river or ocean, surfing, bicycling, boating. Live music somewhere in Folly every night! Take a boat tour to see dolphins, Morris Island Light House & beach, & swim in the river. Charleston has many boat tours & boats with restaurants & entertainment. Fresh seafood is everywhere. Public boat launch at the Folly Bridge. Sunset Cay Marina, & Marina store is a short walk down the road from the house. County park at the end of W Ashley with a concession stand, rentals, & beautiful sights from the tip of the island, where the ocean & river meet! See Morris lighthouse & Charleston Harbor from the other end of the Island. You will feel rested & refreshed when you leave.
We loved staying there. Ellen is a great host. Several nights we were tired from site seeing & came in private entrance. We also went out with Ellen one evening for a drink & enjoyed her company. Right around the corner from beach & great view from porch. Very clean & nicely decorated. We hope to go back.
Deborah
2016-04-17T00:00:00Z
Ellen is amazing! From the moment we arrived we felt so comfortable and welcome. Ellen was easy to communicate and always responded to texts within minutes. Her home is extremely clean and the 2 bedroom/bath area has a door that blocks them off from the rest of the house as well as it's own entrance for privacy. The kitchen was a shared space but was not a problem at all. She provided us with everything we needed for breakfast and coffee and made sure we knew where all utensils were if we wanted to cook. Her house is literally a walk across the street to the beach. We loved this because we never had to pile into our vehicle sweaty and sandy after the beach. We just walked back with all of our gear in her handy beach wagon, rinsed off in the outdoor shower, and then went into our own bathroom entrance to get ready for afternoon/night activities. Ellen works long hours so you had a lot of privacy yet she was easy to contact and left emergency contacts if needed. I couldn't be more happy with our choice to stay here and will most likely use her home again if returning to the Folly Beach area.
Kristen
2016-07-28T00:00:00Z
Ellen was a gracious hostess, and we enjoyed staying in her home- our first Airbnb experience. She was personable and kind. Before our arrival, she texted us accurate information that we needed to get into the house-directions, where to park, where the key was, and where more information was once we got into the house. Her home was perfect with a private bedroom and bathroom area for our family of four and a common area with a living room, dining room, and kitchen. The house has lots of seating on screened porches and decks to enjoy the ocean breeze and is a block from the beach. I really enjoyed hearing the waves on the shore from the screened porch!
Elizabeth
2016-06-09T00:00:00Z
Ellen and her home is exactly why airbnb has grown into a 30 billion dollar industry. Her house was even better than the pictures. It's the perfect blend of elegance and charm without the slightest hint of pretentiousness. Comfortable, graceful, serene, light, and airy. We will go back to Ellen's again. One block from the beach (you can hear the waves from your bedroom). An easy drive into Charleston. So close to kayaking, bike rentals, great restaurants, and the plantations. Thank you Ellen for opening your home to travelers. We feel very lucky and renewed.
Gary
2017-02-26T00:00:00Z
Very friendly greeting
Benjamin
2016-09-06T00:00:00Z
This was a great place to get-away, but also allowed us access to Charleston and the surrounding areas. Ellen was the perfect host for us.
Sarah
2017-03-09T00:00:00Z
My husband, two kids ages 5 and 8, and myself spent three nights and four days at Ellen's beautiful house. Ellen was incredibly gracious and accommodating, making us feel so at home. We had use of the kitchen, including the outdoor grill, and she even had food in the fridge and in the pantry cabinets, that we were welcome to. The house itself is incredible. Beautifully decorated, inside it is the perfect beach house. And speaking of the beach, literally a 3 minute walk to the amazing beach, and Ellen even provided a "beach wagon" for us to load up with towels and other beach toys for our kids, some of which she provided. The beds were comfy, the place was very clean, first class amenities with the kitchen and bathroom, wonderful wooden deck from which we grilled out two nights out of three. It was truly a perfect stay. I am being serious when I say that we would like to have stayed for much much longer (as in move in permanently haha), and that if we ever again travel through Charleston, we will be 100% certain to stay at Folly beach with Ellen!
Isabelle
2016-05-03T00:00:00Z
This was our first experience with airb&b. It will not be our last. We traveled 15 hrs by car with 2 couples to Ellen's home from Hamilton, Ontario. We arrived fairly late in the evening and Ellen was there to greet us. Everything was as described on the website. Ellen was very accommodating as well as very interesting and easy to talk to. We felt at home very quickly. We had plenty of time to ourselves, but we also enjoyed sitting and chatting with Ellen a few times in the evening. The house was quiet and clean, only a few steps to the beach. It was still only a 15-20 minute drive to downtown Charleston, where we spent a couple of days touring the old city as well as participating in the Charleston marathon.
Jeff
2016-01-19T00:00:00Z
Type de logement
Chambre privée
---
Type de propriété
Maison
---
Capacité d'accueil
5
---
Chambres
Folly Beach, Caroline du Sud, États-Unis
Ocean front view, 3 bedroom condo, master bedroom with king size bed, guest room with queen size bed and a third bedroom with 2 twin beds and a queen sized sleep sofa, with large balcony and view of entire West Folly Beach and Kiawah. Approximately a 7.5 mile drive to downtown Charleston and 2 block walk to Center Street, Folly Beach. Once you are here, you will not need to drive at all unless you intend to leave Folly Beach as this property is very centrally located. Folly fishing pier is 2 blk
This is a very well outfitted, nice property with numerous upgrades over the past 3 months; 1550sq ft, ocean front view, 3 bedrms, King , Queen, 2 twins and a queen pull out couch. All dark wood floors with new wide plank ceramic flooring in all bedrms, TV in all bedrms, large plasma in the living room, WIFI, 2 covered pking spots, a very large ocean front porch with new teak furniture, new AC and appliances, large outdoor patio with teak furniture, granite kitchen, elevator access, ~ 1.5 block walk to center street in Folly Beach and 8 miles to downtown Charleston.
Had a fun stay at John's home. Easy check-in and out. Nice beds and showers. Ate out all meals but kitchen had essentials. Lots of neat original restaurants near by. Founds lots of shark teeth and shells just out front on beach. Because of weather, we didn't venture out to pier. Made it to Savannah one day and toured Charleston another. Missed the store named Bart's I believe, didn't find it till last day, rented surf boards for good prices! Great week.
Margaret
2017-03-16T00:00:00Z
The location is great. The deck looks out over the ocean and is an ideal spot for coffee in the morning or happy hour in the afternoon. We loved walking to dinner every night, experiencing great food. Several of us are runners and loved the ability to run miles without heavy traffic. The beach access is just outside the condo and couldn't be better. Great tidal pools for the kids. This will be our place to stay for all of our future visits.
Patti
2017-03-12T00:00:00Z
Type de logement
Logement entier
---
Type de propriété
Appartement en résidence
---
Capacité d'accueil
8
---
Chambres
Folly Beach, Caroline du Sud, États-Unis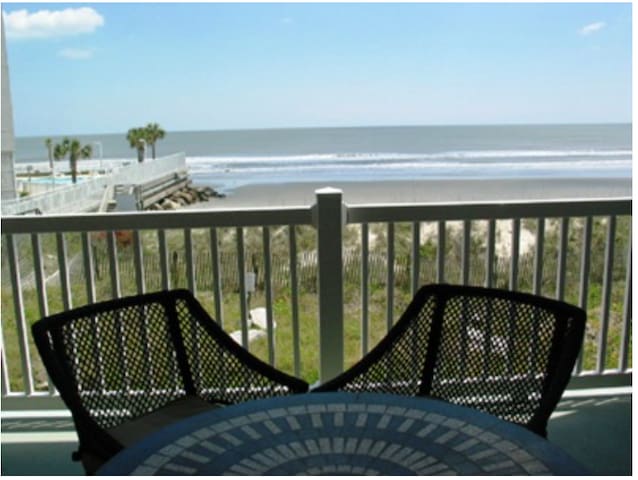 Beautiful home only TWO BLOCKS AWAY FROM CENTER AND 2 1/2 blocks from the ocean! You have a private room and private bath! Room has a full size bed and a brand new futon. All furniture in the house is brand new except the couch which has been cleaned! Large deck with multiple seating areas... we also have two new Beach cruisers for you to use and beach chairs!
Great space with brand new full size bed and brand new futon! You also have a private bath right outside your room! There is also a great hang out loft that has a new futon and new comfy fold out loungers for you to use as well!
We have one of the largest yards in the best area of Folly! Two blocks away from Center Street but far enough away that's it's nice and quiet! Beach is a short 2 1/2 block walk! Nice hammock for lounging and listening to the waves crashing on the beach! Beach cruisers and beach chairs are also available for you to use with no extra charges!
Type de logement
Chambre privée
---
Type de propriété
Maison
---
Capacité d'accueil
2
---
Chambres
Folly Beach, Caroline du Sud, États-Unis
This is an older, shabby chic Folly Beach house! The apartment is on the top floor above the famous Chico Feo Restaurant. With a massive deck overlooking the ocean, what else could you ever want?
This space is great due to its proximity to downtown. Only a block to the beach, and a block to the main drag. This place is not for everyone however, this is above a restaurant/bar with music. Live music stops around 9:00 while the house music finishes around 1:30..
We had a fabulous time at Hank's surf shack! The apartment itself immediately felt like home-- not a fancy place but very cute. Perfect for 3 26-year-olds! Great water pressure and the double bed we slept in had a very comfortable mattress topper. Chico Feo is an awesome, funky bar out back that now serves food. The apartment is also located right next door to Bert's market (a 24/7 market with good beer choices,organic veggies,all the food basics). The best thing about Hank's place is the porch-- has a great view of the ocean, lots of seating, a nice breeze, and is the best spot for people watching. The apartment is close enough to walk to downtown folly restaurants (2 blocks) but far away enough to have your own space. There were also 3 bikes on the porch and lots of beach toys/chairs that Hank let us use. We will definitely be staying here when we return to Folly! Thanks again, Hank!
John
2015-04-21T00:00:00Z
Hank's place was comfortable, charming and perfectly located. It is just as he describes and he was super hospitable. I wasn't bothered by any surrounding noises or activities, and enjoyed my walk directly across the street to the beach, which you can also clearly see from the front porch of the apartment. It really does give you that characteristic laid-back beachy cottage vibe, and the restaurant/bar below has a great atmosphere as well. I would definitely go back and recommend anyone to stay that there isn't looking for fancy cookie-cutter accommodations. This place has soul!! Thanks Hank :)
Brittany
2014-08-20T00:00:00Z
Hello, Hank and The Chico Feo Crew were fantastic and very accommodating and the kids and I dug the energy, dwelling and location! radix
Radix
2015-06-22T00:00:00Z
We had a great time at Folly Beach! The house was very family friendly, just turn on the A/C and it drowns out the music from Chico Feo. Will stay again here!!
Stefanie
2015-05-04T00:00:00Z
We had a great time staying here. The proximity and view of the beach are great. There's a local grocery store across the street and the bars, food, and food trucks are only a couple blocks away. The beds were extremely comfortable. I'll be staying here again next time we come to Folly Beach.
Amanda
2016-05-16T00:00:00Z
Great place, great location. Amazing food at restaurant below. Will definitely be back.
Kathryn
2016-08-08T00:00:00Z
It was the perfect place to stay for us. The restaurant below was amazing and the live music was so nice to enjoy after being at the beach.
Katie
2014-07-07T00:00:00Z
It was wonderful, very bohemian. The deck is great, can see the ocean and everything is close (24 hr corner store with fresh food, good beers and friendly faces, liquor store next door as well). Chico Feo has really good food and staff is very friendly. The apartment is cool temp wise as there's window units in every room. Can't say enough good things, super laid back. Thanks Henry, doing the damn thing!
zach
2016-07-22T00:00:00Z
Type de logement
Logement entier
---
Type de propriété
Appartement
---
Capacité d'accueil
5
---
Chambres
Folly Beach, Caroline du Sud, États-Unis
Ma place est proche de superbes vues, des restaurants et des restaurants et la plage. Vous allez adorer ma place à cause de la convivialité, l'emplacement, et le peuple. Ma place est bonne pour les couples, les aventuriers en solo, et amis à fourrure (animaux de compagnie).
Quaint Cottage Parfait pour couple ou voyageurs individuels. Non-fumeur.
Couldn't ask for better. There when you needed them, but not intrusive at all. Beautiful home with everything a young couple and some dogs could want
Ben
2017-03-19T00:00:00Z
Jenna
2017-03-14T00:00:00Z
Location, location, location. While this house was a little smaller than we thought it was in a fantastic location. We were two blocks from everything: restaurants, bars, shops, the beach. Catherine also had beach chairs for us to use. She allowed us to bring our dog and experience the dog friendly environment Folly has to offer. The only thing I would suggest is to make sure you are ok with going up spiral stairs to go to bed. This was not an issue for us, only for our spoiled pup who just slept downstairs. This is a great value for how close you are to everything and I would stay there again if we ever go back to Folly!
Cally
2017-04-02T00:00:00Z
If you want a perfect stay for two in a lovely cottage in Folly Beach, stay here! Central Location that cannot be beat. The house is cozy and sized for couples/small family. You walk in, and it feels like home.
William
2017-03-26T00:00:00Z
Type de logement
Logement entier
---
Type de propriété
Maison
---
Capacité d'accueil
2
---
Chambres
Folly Beach, Caroline du Sud, États-Unis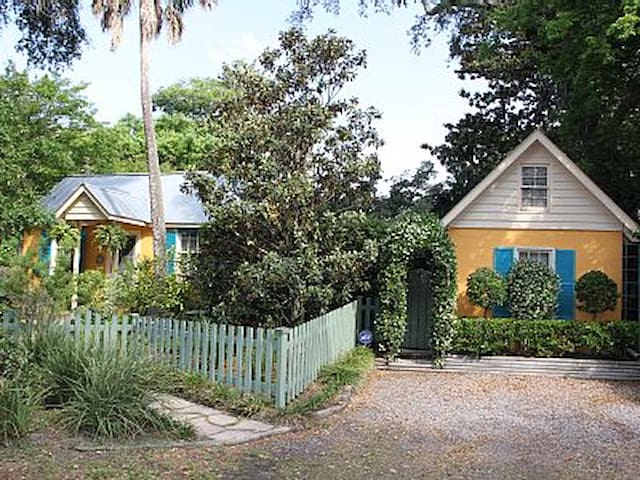 First floor unit in elevated building with only 4 units. Private entry and large private balcony with unobstructed ocean views. Free covered off street parking, Wi-Fi, washer & dryer. Beach chairs and toys waiting here for you! - Minimum age 25. Copy of drivers license or passport required. Guest will be required to complete owners rental application in addition to Airbnb guest verification.
Unobstructed ocean views. 15 minute drive to Historic Downtown Charleston. Close to the Charleston airport. First floor of elevated building with only 4 units. Free off street covered parking. Free secure Wi-Fi. Free washer & dryer & laundry soap. Large private balcony with full ocean views. Living area with queen pull out sofa has French doors that open to the private balcony. Amazing views from living space and kitchen. Hardwood floors throughout.
Park your car in our, private covered parking. You won't need it while on the island because we are walking distance to everything. Bike rentals right across the street. Fishing off of the Folly Beach Fishing Pier is only one block away.
Great location and accessibility to the beach. The kids loved it, and we hope to be back soon. Brent's and Chico Feo are not to be missed! Susan was a great host, all our queries and needs were attended to! Loved the stay!
Aditya
2017-03-31T00:00:00Z
Susan's place was absolutely the best spot in town for my husband and son. The view of the beach was amazing. All the restaurants are in one center location and this condo is walking distance from them all. Very good positive vibes. The pull out sofa was surprisingly comfortable. Burt's grocery store is always open so no need to rush at the beach. The coffee corner stop near by is really really good. The town is very nice and relaxed. We loved it so much that we were suppose to leave town by 11 a.m. And we ended up staying until 7 p.m. that night. Warning wear sunscreen because you will end up at the beach longer than expected!
Marie
2016-06-21T00:00:00Z
Very pretty spot. Great hood. Nice hostess!
Louly
2016-09-18T00:00:00Z
Even nicer than the pictures! My husband and I and our 8 mo old twins enjoyed our stay here. It was clean and well-appointed. Directly across the street from a beach access and two blocks from the main drag.
Susanne
2017-02-26T00:00:00Z
Great value! Easy access to the beach. Beach chairs, sand toys and beach umbrella were available to borrow from condo. Beach view was beautiful. Very busy area during the weekend, Monday was relaxed and less busy. Close, convenient and relaxing. Thanks to Susan, the condo was great. We enjoyed the games and puzzles in the cabinet! We did not use our car during the stay. Would highly recommend!
Michelle
2017-04-04T00:00:00Z
My family and I, had a wonderful time in the condo. It was clean and had everything you could possibly need. The experience was awesome, the beach is literally across the street. All stores and restaurants within walking distance. Susan was easy to communicate with. Will definitely stay again in the future. Thank you Susan, for letting us stay in your beachfront gem, and allowing my family to have made such joyous memories.
Perry
2016-07-06T00:00:00Z
Susan was very accommodating at all steps along the way. The location is terrific, with beach access right across the small street, and the amazing Bert's grocery just a stones throw behind the house. Beach house was clean and well kept up, with enough kitchen tools for us to have a nice dinner of baked grouper with lemon sauce. If you are lucky enough to be able to find this property available, I recommend that you jump right on it. It is a bargain!
Mark
2017-01-01T00:00:00Z
This place was exactly as described. Ocean view and close/walk-able to the Folly Action. Convenient store half a block away to pick up essentials. I would stay again!
Spencer
2017-03-19T00:00:00Z
Type de logement
Logement entier
---
Type de propriété
Appartement en résidence
---
Capacité d'accueil
4
---
Chambres
Folly Beach, Caroline du Sud, États-Unis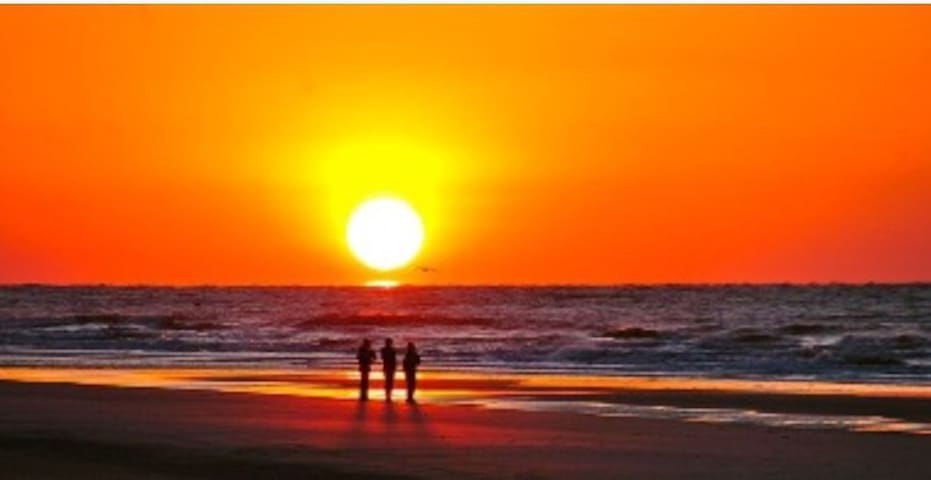 Relax in this sunny townhouse overlooking a tidal pool in Folly Beach, SC. Fully equipped kitchen. Three amazing bedrooms, each with bathrooms. Two screened in porches. Lovely bright living and dining area. Great for families or a few couples. Everything you need is here! It's a quick walk to the beach and fun on Center St. in Folly and just 15 minutes to downtown Charleston. Weekly rentals only late June-August, with check-in and out on Saturdays.
This beautiful 3 bedroom, 3 bath space is the PERFECT getaway! This townhouse has a lovely peaceful marsh for a backyard! Less than a 10-minute walk to the beach. 15 minutes from downtown Charleston. Fully equipped kitchen and very nicely furnished place including a pull-out couch in the living area. Wonderful and tasteful beach decor. Two screened in patios. Master has a stand-up shower and jacuzzi tub! 1 bed is queen plus pull-out sofa, master bedroom is spacious with queen. Third bedroom is on main floor with full bathroom. Parking is available as well. You will have EVERYTHING you need for an incredible get-a-way! Linens and towels provided, including beach towels. There are 2 beach bikes and beach chairs and some beach toys for the kids.
Folly Beach is a fun and quirky little beach town only 15 minutes from downtown Charleston. Everyone is welcome here. Feel free to ask me about local places to eat, drink or have fun!
Beautiful house on a wonderful island, close to the beach and only 20 minutes from Charleston. The house is super welcoming, comfy couches, good sized bedrooms, bathrooms with amenities, a kitchen with everything you need and it's clear that Kathleen has taken time to make the place welcoming to guests. We had a wonderful time on Folly Beach and hope to be back in the future!
Gabi
2017-01-02T00:00:00Z
The Tipsy Pearl is a delightful place to stay when you consider a trip to Charleston! We decided to take a holiday get away and were delighted by Kathleen's space. It resonates of her love for good food and drink, the ocean, and joyful living! You have everything you need in her space, and she is accessible to answer any questions. A few notes during our stay: We enjoyed coffee before our beach walks at Black Magic Cafe and great breakfast at The Lost Dog. Make sure you pay for parking at the beach or you will be ticketed! The bartender at the local Irish pub makes a great Moscow mule. Our favorite seafood gumbo was at Blossom in Charleston. Favorite hush puppies at Hymen's and hands down favorite mid afternoon coffee and cake place was Carmella's (try the coconut cake!).... Kathleen, your space was a great part of our positive experience to the Low Country. Thanks so much and we hope to see you again!
Paul
2016-12-29T00:00:00Z
The Tipsy Pearl immerses you in the beachy world of Folly, and is a charming, comfortable place for a family holiday or Lowcountry get-away. It's got everything you need for a coastal vacation, and the tidal marsh is a bonus. Even in the chill of winter, we had a most memorable stay!
Eric
2016-12-22T00:00:00Z
Type de logement
Logement entier
---
Type de propriété
Maison de ville
---
Capacité d'accueil
6
---
Chambres
Folly Beach, Caroline du Sud, États-Unis
Folly is a fun, quirky beach town "on the edge of america", when you visit us we want you to experience Folly like the locals do! This beach bungalow is located 1 block from the beach and 3 blocks from restaurants and bars! The apartment also includes a great deck for grilling and attached salt water above ground pool for relaxing and playing! The apartment has one bedroom, a full bath, living room and kitchen! We love to share our island with fellow travelers!
This down stairs apartment is in the Perfect location! A couple minutes walk to the beach or bars/restaurants! Or stay close to home and enjoy the patio and saltwater above ground pool!
Great hosts...just a FYI the rental is an apartment on the first floor of the house, not the entire house. We had a great stay, thanks Emily and Arron!
Tom
2016-09-04T00:00:00Z
Emily and Aaron were great hosts. We arrived early and everything was all ready. We were able to drop off our things and immediately hit the town. We enjoyed spending a little bit of time with them, although our stay was cut short by Hurricane Matthew. Once we knew we were going to have to leave early, Emily reached out to us about refunding the days we were not going to use. We can't wait to return to finish our visit!
Christopher
2016-10-06T00:00:00Z
Emily and Arron were very accommodating. Their place was in an excellent location, right near the beach and just blocks from the main strip of Folly Beach, enabling us to really enjoy our trip to Folly Beach.
Andrew
2016-09-25T00:00:00Z
Emily and Arron were great hosts. Folly Beach is a great place to stay and their home is in a perfect location to enjoy it. Clean, comfortable, centrally located yet secluded. Great time!
Michael
2017-03-06T00:00:00Z
Location was wonderful, maybe a 3 minute walk to the beach and very walkable to downtown Folly.
Cb
2017-03-26T00:00:00Z
This place is pretty perfect: Comfortable (especially the bed), super clean, well equipped (but why bother cooking with such great restaurants within a short walk), super close to beach access, quiet peaceful neighborhood... Perfect.
Susan
2017-02-17T00:00:00Z
Aaron and Emily are fantastic hosts. Choice location, just 2 blocks from the beach. Salt water pool is great. Clean and recently updated. You can't go wrong staying here.
Michael
2016-08-14T00:00:00Z
Emily and Arron were awesome hosts. They made our stay and vacation really enjoyable. We loved hanging out in the pool and the house is really nice and clean. The beach is only a block away and it's a really fun little beach town. Thank you again to both of you!
Judah
2016-08-29T00:00:00Z
Type de logement
Logement entier
---
Type de propriété
Appartement
---
Capacité d'accueil
4
---
Chambres
Folly Beach, Caroline du Sud, États-Unis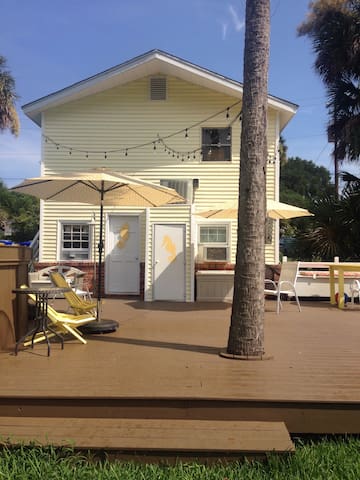 Enjoy Folly Beach's spectacular views and warm ocean breezes. It's an easy walk to restaurants, shops and the Folly Pier. The beach is your backyard, ideal for surfing, swimming, fishing, or just walking. Historic Charleston is only 15 min. away.
Fantastic place with amazing ocean view! We thoroughly enjoyed our stay and highly recommend!
Chris
2016-06-06T00:00:00Z
We stayed here for a Bachlorette Party and it was perfect. The location was within walking distance of the main road of Folly. The house is so cute and the porches are to die for! They are the best part! It's also so nice to have your own beach access. Robert was also so helpful and nice in answering all my questions. If you're coming to Folly Beach this is the place to stay!
alyson
2016-05-03T00:00:00Z
House was perfect - what a great way to spend vacation!
Stephen
2016-04-06T00:00:00Z
This house and property exceeds all expectations and the photos provided. The home was immaculate with every detail attended to. The kitchen was extremely well appointed, which really is uncommon in similar properties. All beds and bedding were comfortable and high-end. The outdoor and downstairs area are some of the nicest of any property we've stayed in. The landscaping and outside décor was beautiful. Additionally, the host was extremely gracious and communicative. We highly recommend this property and found it to be of exceptional value.
Elaine
2016-05-10T00:00:00Z
You'll love this place. The pictures are accurate. Perfect set up for a group of 8. House is tasteful, clean and very welcoming. A close walk to "downtown" Folly and the view is gorgeous.
Julienne
2017-03-19T00:00:00Z
The most wonderful house, great location, walking distance to restaurants, etc. house was beautifully decorated, comfy beds, great outdoor lounging areas. Kind of small kitchen but functional for vacation! Would definitely stay again!
Amy
2016-05-24T00:00:00Z
We absolutely loved our stay at this beautiful home on the beach in Folly. The photos aren't as good as the real thing! We were welcomed with flowers and snacks and the conversations with Robert via text and email were very helpful and timely. We plan to go back as soon as possible. Just the perfect vacation for adults, teens and children alike!
janna
2016-04-02T00:00:00Z
Great place to stay for a family vaca! Communication was as good as it gets. The home was perfect for us. A perfect ocean beach right off the deck. We were able to swim, surf, run, stroll, fish and and enjoy the sight and sound of ocean front. Short 5 min walk to town where there are plenty of shops, restaurants and pubs. If you are looking for ocean front in S.C. this is your place. The home is clean with everything you need to enjoy your time. I cooked about 2/3 of our meals at the house which has everything you need to be comfortable in the kitchen. All the appliances work great and the home is beautiful. Also only about a 20 min drive to historic Charleston. We did a walking tour with Michael Trouche in historic Charleston $20/person it was great! Fishing Charter near shore fishing with Stephen Fields. It was great and we caught a ton of fish. Kept 3 to grill up at the house on the back deck grill. Surfing with Kyle from Carolina Salt Surf. Only wish we would have booked this earlier in the week. Good dude lots of local info. Great lessons totally reasonable plus will rent equipment for the time you are there, wet suits, soft boards etc. Did the Boone Hall plantation tour. It was ok would do a different one if I could pick a again. Nice place but 45-60min one way drive. Don't think the value was really there. Loved our spring break vacation with Robert's place as the anchor!
Aaron
2017-04-01T00:00:00Z
Type de logement
Logement entier
---
Type de propriété
Maison
---
Capacité d'accueil
8
---
Chambres
Folly Beach, Caroline du Sud, États-Unis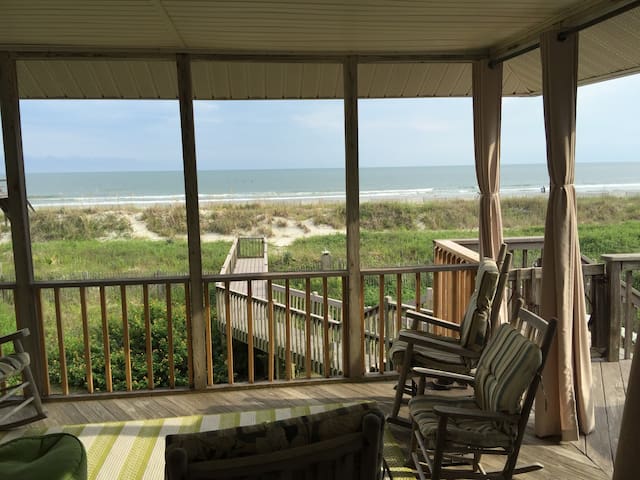 Beautiful waterfront master bedroom in our condo with screen porch, pool access, and a great view of the water/marina from your king-sized bed. Decorated with maps and souvenirs from previous travels to inspire future adventures!
Waterfront chambre principale avec accès porche écran donnant sur la marina. lit king-size. Décoré avec des cartes et des souvenirs de voyages précédents pour inspirer des plans pour l'aventure future!
Le Mariners Cay Racquet and Yacht Club est un développement paisible sur la rive de la rivière Folly. Avec accès à la piscine, port de plaisance, et des courts de tennis, il y a beaucoup de façons de se détendre autour de la Cay, ou marcher juste en face du pont de la rue du Centre, sur l'île Folly aux nombreux magasins / bars locaux.
Stayed here for my dayghter's Folly Beach wedding. We loved the laid back atmosphere. A great bargain for proximity to beach. We walked to dinner at the beach a couple of times. Roommate Sam was so helpful with restaurant suggestions and great coffee in the morning. Want to come stay a month!
Vicki
2016-07-11T00:00:00Z
Location was awesome - beautiful walk over to Folly. Roommate Sam was very nice and helpful - Host Sam was very prompt with communication. View from porch was fantastic. Those with back/neck issues may want to consider staying elsewhere - the "bed" shown in the photos is a foam mattress topper placed on top of cardboard boxes on a bed frame.
Kate
2017-02-12T00:00:00Z
This was a great location on Folly Beach which allowed us to kayak and watch beautiful sunsets. The accommodations were a little less than expected. The condo was rather run down and very bohemian. The guest bedroom where we stayed was rather small and the mattress was extremely thin and sat on pieces of cardboard directly over the bedframe. The shared space was not usable as it was full of artifacts and clutter. There were a number of items in disrepair including the sliding glass door, the toilet, and air conditioning unit in the guest bedroom. We were also disappointed that there was no TV on the property. This was a big deal because we really wanted to watch the presidential debate. We did feel a little awkward at times because the roommate of the host was on premises when we arrived and throughout the visit. He was a smoker so it was uncomfortable sitting out on the screened porch in the evening together. Location was great, however wouldn't recommend the accommodations.
Randy
2016-09-28T00:00:00Z
We felt totally welcome and comfortable. Sam is a fine host. Great location to walk to the beach.
dave
2016-07-26T00:00:00Z
For me the best part of staying in the Charlestown area was sitting on the porch of Sam's house, listening to the lapping water and staring out at the view. It was so restful and Sam2's very laid-back personality added to this and it was fun to chat. Plus the bed was comfortable too. Thanks for a lovely 3-night break.
Paeony
2016-04-30T00:00:00Z
The host canceled this reservation the day before arrival. This is an automated posting.
Monica
2016-11-24T00:00:00Z
Great location. Sam was really knowledgeable about surf spots and places to eat. We reserved last minute (on Christmas day) so we were very appreciative of Sam's prompt responses.
James
2015-12-25T00:00:00Z
The host, Sam, was always available if I had a question.....I had two. The listing description was totally accurate. It was a lovely surprise to be so close to the water (Folly River) and spot an odd dolphin, ducks and gorgeous sunset from the veranda. The condo is very spacious and the bedroom/bathroom unit is very private and quiet with a view. The kitchen is fully equipped. I appreciated being on the first floor and parking right outside the door. Location is great with access to everything in and around Folly Beach. Try Crosby Seafood for the best shrimp ever to cook at home.
Colette
2016-02-07T00:00:00Z
Type de logement
Chambre privée
---
Type de propriété
Appartement en résidence
---
Capacité d'accueil
2
---
Chambres
Folly Beach, Caroline du Sud, États-Unis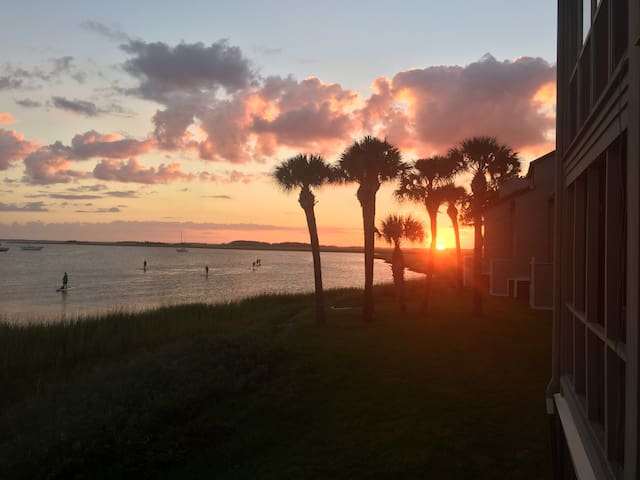 Rustic surf shack right on the Folly Beach washout. Great deck, views of the beach, surfing action all day.
This listing is for a private room rental in an oceanfront home near the washout on Folly Beach. I am renting out a downstairs room with Queen size bed, table, fan/heater. You will have your own full bathroom which is upstairs. This property is a 3 bedroom, 2.5 bath duplex style house with large open great room upstairs, full kitchen, oceanfront deck, and beach access in front yard. Located on the 'Washout,' which is known as one of the best surfing spots in the Southeast. Lots of good surfing this time of year, and always lots of activity on the beach. You are welcome to relax and enjoy the house during the day, or head off to explore all that Folly Beach and Charleston has to offer. You have full access to kitchen, amenities and are welcome to cook as long as you clean up. House will be shared by two friendly and respectful guys. The house is old, sandy, and has a few issues. We are nonsmokers, and will do what we can to accommodate you during your stay. We have deep cleaned and updated since the first review over a year ago. Clean sheets/pillows, towels and washcloth provided. 2 people maximum. No children. No pets. Check in is at 3pm. Check out is 11am. Rental includes use of surfboards (8' longboard, 6,6" funboard), 10ft SUP, and a bike. (You can rent another one if you need) I can offer guests a discount on a guided kayak tour or rental. Stay in a home that has beautiful views of the Atlantic Ocean, friendly beach vibes, and convenient location to Folly Beach activities. If this sounds like a great vacation opportunity, please email me with a little bit about yourself. Thanks.
This part of Folly has small crowds and big waves.
It was great staying right on the ocean - I went for a swim at 6am, it was great! Andy was away on vacation but his roommate Mike was very friendly and happy to help, and directed us to breakfast at the Lost Dog, which was perfect. Didn't have time to kayak but was really pleased that this was an option. This is a pretty relaxed place to be - we let ourselves in when we arrived as Mike was out, and made ourselves at home. It is far from fancy but just a really honest space to enjoy the beach.
Ross
2014-05-24T00:00:00Z
You won't want to leave. This place, and the people, are warm, fun, and welcoming, just like the sunny beach, 1 minute from your bed, when you stay here on Folly Beach.
Matt
2014-07-14T00:00:00Z
My wife and I had an awesome stay at Andy's "surf shack". It was exactly what we were hoping for. Andy and his roommate Mike were very accommodating and fun to hang out with. The view from the deck is perfect. The location is within a short drive or bike ride to all the restaurants and hangout spots in Folly Beach. Andy provided a really nice and concise list of all the great places to eat and enjoy some fun activities while we were in town. Thanks again.
Joshua
2014-04-30T00:00:00Z
Had an incredible time on Folly thanks to Andy, Weatherly and Mike. Couldn't get more hospitable-they have us lifts, cooked us food, lent us bikes, surf boards and even gutted a fish for us. One of the best experiences on our East coast tour. Their place was chilled and open plan and the room was really comfortable. Will return for sure.
Matthew
2014-09-08T00:00:00Z
First airbnb trip was successful! Andy was welcoming and easy-going. Felt very comfortable as soon as we arrived. Can't beat the location!
Lo
2014-10-21T00:00:00Z
My fiance and I really enjoyed our stay here. Andy's house is right on the beach, he had a surfboard and a bodyboard for us to use and the when we needed to cool down we had an air conditioned room or a calm back deck chill out on. Andy stayed fairly busy while we were there, so it was almost like having our own beach house! When Andy was around he had good suggestions about what to do around town and was good conversation.
Chris
2014-07-04T00:00:00Z
Andy was a gracious host! He even let us check in a little early since we drove through the night and needed some sleep. The view was beautiful and the beach access was fantastic. Thank you again, Andy!
Aynsley
2014-05-12T00:00:00Z
This review is not meant to be mean or hurtful in any way. I am just being honest about my and my wife's stay here and hope that it will be helpful to Andy for future visitors. Where to start. I stayed at Andy's place in Folly Beach with my wife from Saturday, October 11th thru Monday, October 13th . There is a lot to be said about our two night stay. Some good, but unfortunately, mostly bad. The view from this location is phenomenal! The back yard is literally the ocean and the sunrise is breath taking. My wife and I took advantage of their great, convenient location and took many walks down the beach. Andy was not there during our stay, but said we could contact him if we had any questions or problems. We did get to meet his roommate Mike, who was extremely nice, friendly, and laid back. My wife spoke with him Sunday morning and she mentioned that we were thinking about trying to surf. He kindly offered to wax the boards and got everything ready for us. While the view was great and the roommate was very friendly, there were just too many unpleasant things about our stay that made this a very poor experience. We DID read the reviews about the place and clearly understood that this was not going to be a hotel-like stay or a luxury beach house, and we were perfectly fine with that. We were not expecting a five-star hotel and were fine with staying in a "rustic surf shack." What we did expect was a clean, safe environment with the amenities provided that were mentioned in the description. That is not what we received at all. We were very surprised at the overall uncleanliness of this house. The description of this location says "the house is old, sandy, and has a few issues" which is to be expected of an older beach house. The sand was not an issue. The cockroaches, however, were a huge issue. We did not spend much time in the house but in the little time that was spent in the house we found live cockroaches in the kitchen, bathroom, and the bedroom we were staying in! The last straw was when we found one crawling through our clothes. The bathroom was filthy and had so much hair clogging the drain of the bathtub/shower. We eventually had to clean their hair out of the drain ourselves because the water would not flow through the drain at all. There was no hand towel, or any type of towels for that matter, in the bathroom and we had to use toilet paper to dry our hands. The description states that clean sheets/pillows, towels, and washcloth would be provided. There were no towels left out for us. We felt rude doing so, but looked in the cabinets in the bathroom to see if towels were located there. I called Andy late Saturday afternoon after we checked in...
Ian
2014-10-13T00:00:00Z
Type de logement
Chambre privée
---
Type de propriété
Maison
---
Capacité d'accueil
2
---
Chambres
Folly Beach, Caroline du Sud, États-Unis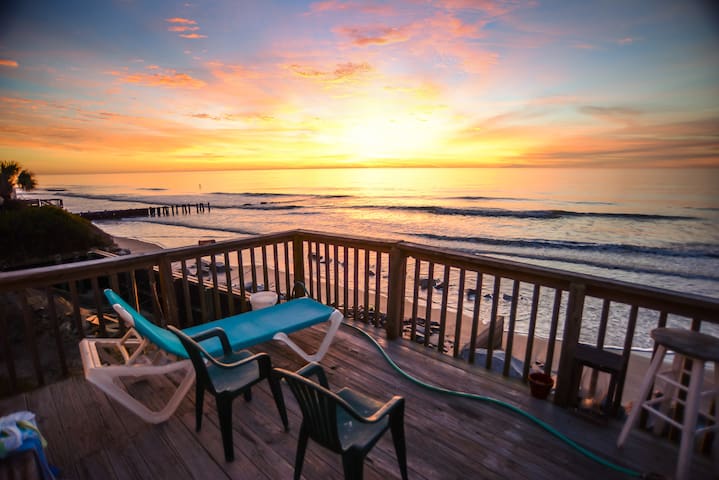 Walk to everything! On the Folly river for sunsets and dolphin watching on the dock porch swing. Pretty communal pool. Yet, a short pretty walk to beach and Center Street shops and restaurants and the famous Folly pier. All this 18 minutes from downtown Charleston. *Private room with connected private full bath.* Queen bed with twin daybed. Sleeps up to 3 people. $25 extra for 3rd person. Access to great room with kitchen and living area and t.v. with Roku (netflix, hulu, amazon price, etc.)
Wonderful Screened porch. Plantation shutters. Carport parking. Pool is shared by small Turtle Bay community. Pool is 20 steps from front door and is set on the Folly River for beautiful views. Dock has pavilion and porch swing for sunset and dolphin watching. Your bedroom and private bath are on the main level with access to kitchen, great room, tv, and screened porch. My bedroom and office are on the 2nd floor. You have full access to kitchen, living room, tv and amenities
Beautiful neighborhood with pretty short cut path to beach on 3rd street. I have plenty of great recommendations on restaurants, happy hours, live music, Charleston Tours, rainy day activities and more.
Great location! beautiful place to watch sunset! Nice, Helpful host.
Carly
2017-03-25T00:00:00Z
Great, easy walk to Folly Beach. She welcomed us and then we never saw her. Also, she gives you the downstairs to roam. Awesome dock overlooking sunset put back. We really loved it. Oh, and Gertie, her cute lady dog, was so friendly. She was our favorite part.
Brianne
2017-02-19T00:00:00Z
Marguerite was very quick to respond to any questions we had. Her place is Gorgeous and super comfy! She is about 5 blocks to the closest beach access point and has a nice wagon with lots of fun beach toys, chairs and a boogie board which was wonderful. It's about a 10 minute walk, located in a quite neighborhood, which was pretty nice at the end of the day. Having a washer and dryer as well as a garage was a bonus!. We also enjoyed having coffee on the shared dock behind her complex watching the sun rise. You may need to bring extras like dish soap, extra TP, etc as there aren't spares but she does provide the basics! What a wonderful stay, hope to be back soon! Thanks Marguerite!
Jennifer
2016-05-16T00:00:00Z
This place is great for a quick stay; an easy walk to the bars and beach. Marguerite is very welcoming and accommodating but you do not see much of her. The house is clean and organized.
Ryan
2017-02-12T00:00:00Z
Marguerite was a wonderful hostess. She responded quickly when we were looking for last minute accommodations- and was extremely flexible. Great location near Folly Beach restaurants and pier. Would recommend highly!
Lisa
2017-03-30T00:00:00Z
Type de logement
Chambre privée
---
Type de propriété
Villa
---
Capacité d'accueil
3
---
Chambres
Folly Beach, Caroline du Sud, États-Unis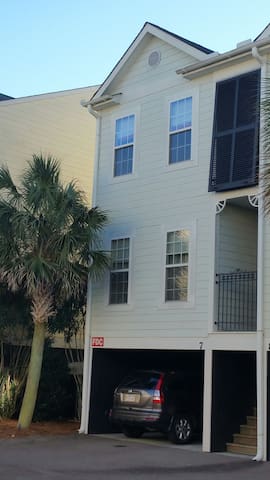 This is a beautiful top floor condo with 3 Bedrooms and 3 Full Bathrooms. It has wonderful views of the Atlantic which can be enjoyed on the expansive deck! A large living area, fully equipped kitchen, elevator access, and high speed internet are only a few amenities of this condo. It's just a short walk to Center and all the restaurants and shopping of Folly Beach! Give us a call now to reserve!!
Type de logement
Logement entier
---
Type de propriété
Appartement en résidence
---
Capacité d'accueil
8
---
Chambres
Folly Beach, Caroline du Sud, États-Unis
Cette maison se trouve sur une immense propriété entourée de palmiers nains et des regards fixes dans l'Atlantique. Il est à l'étage et dispose de 3 chambres à coucher, planchers de bois franc, une cuisine ouverte et un salon, et une arrière-cour capable d'accueillir une petite réunion. câble complet et WiFi inclus.
La maison est juste en face de la 3ème accès à la plage de bloc, et offre une vue magnifique sur l'océan Atlantique.
Un pâté de maisons du marché de Bert et trois des restaurants et des bars du centre de la rue.
We had a family Thanksgiving at Campbell's beach house and loved it. The kitchen is huge - large enough to prep, cook, visit and eat in. The beds were comfy and the bedrooms spacious. The bathroom is large and even had a first aid kit. The backyard was private and had a fire pit which we had planned to use but never got around to. Everyone's favorite thing about the house was the large and super comfy screened-in porch on the front of the house with a lovely beach view. We also loved walking a block to Bert's market for boiled peanuts, and another few blocks to Center Street for ample (local!) dining options. The pups loved laying in the sun on the porch and going to the beach. We will definitely be back. Thank you, Campbell!
Lisa
2015-11-29T00:00:00Z
This is the perfect Folly Beach house---with a fabulous porch where you can see and hear the ocean, an open, nicely furnished house with comfy beds, roomy and well-equipped kitchen. We enjoyed the easy walk to the beach access and the short walk to the main drag where we walked out along the pier to watch fishermen and admire the pelicans, and then explored the stores and eateries. We had a wonderful time enjoying Folly from this house and we hope to return. As others have noted--the bathroom is entered through the children's bedroom--fortunately we were comfortable with this arrangement.
Rachel
2015-05-15T00:00:00Z
Truly a Classic Beach house! Built in the 40s this house was just the ticket and all I expected! Beautiful clear heart pine floors,beadboard ceilings and walls and modern upgrades to make your stay comfortable and hassle free.Campbell was very accommodating and spot on with anything we needed. The front porch was awesome! A clear view of the ocean was just what I wanted and right across the street. Access to the beach couldn't get any better.Bedrooms were a nice size and very comfortable. The kitchen was very well equipped and had everything we needed to cook our meals or entertain guests. I would say overall my stay at this location rates a 10 and will definitely look this listing up when I return. I would highly recommend this to friends or family. Thank you Campbell for sharing this to the world!!
Brian
2015-09-21T00:00:00Z
Cambell's house was the perfect place for a ladycation getaway and comfortably slept four of us. Location was one block off the beach with an unobstructed view of the ocean. We couldn't have imagined a better place to spend our week together! Check in/out was seamless. 20-30 minute drive into Charleston. The house had all of the linens and kitchen items we needed! Highly recommended.
Katherine
2015-07-04T00:00:00Z
Such a cute house! This place was perfect for our Labor Day beach weekend on folly. Walking distance to all the best bars and restaurants, and the porch has great ocean views. Would definitely stay here again. Plus there's the most adorable husky puppy downstairs :) thanks again!
Katherine
2015-09-07T00:00:00Z
The reservation was canceled 24 days before arrival. This is an automated posting.
Byran
2015-02-23T00:00:00Z
This is the quintessential beach house. Very comfy, cozy and well stocked with household items. The kitchen is large enough for two people to cook at the same time with several others sitting around the island. What we thought was going to be a challenge turned out not to be. There were 6 of us with one bathroom but that was easy to work around. The best part was sitting on the porch in the morning, rocking in the chairs and drinking our coffee.
Vernie
2015-04-25T00:00:00Z
The host canceled this reservation 13 days before arrival. This is an automated posting.
Brandon
2017-02-10T00:00:00Z
Type de logement
Logement entier
---
Type de propriété
Maison
---
Capacité d'accueil
6
---
Chambres
Folly Beach, Caroline du Sud, États-Unis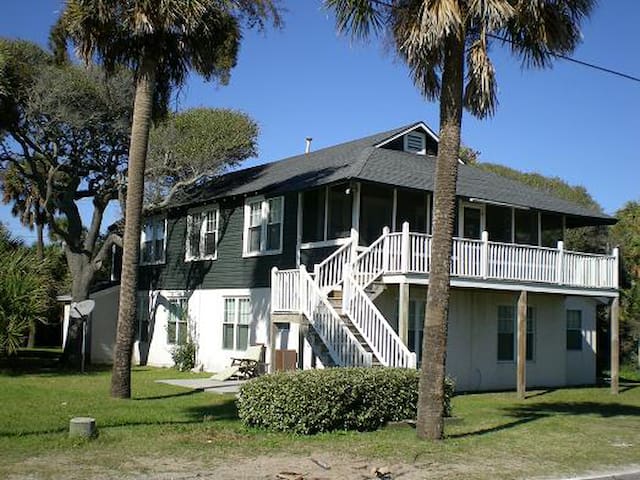 1

–

18

sur

300+ locations
Saisissez les dates souhaitées pour connaître le prix total. Des frais supplémentaires s'appliquent et des taxes peuvent être ajoutées.