Saisissez la date d'arrivée au format jj/mm/aaaa
Saisissez la date de départ au format jj/mm/aaaa
Logements que vous pouvez réserver sans attendre l'approbation de l'hôte.
Saisissez les dates souhaitées pour connaître le prix total. Des frais supplémentaires s'appliquent et des taxes peuvent être ajoutées.
Cet été (juillet et août), vous pouvez essayer l'un de ces 100 logements les mieux notés, dans toutes les gammes de prix, pour découvrir Sonoma d'un point de vue local. Entrée dans les lieux 24h/24, réservation instantanée, mais aussi vin et petites spécialités locales à disposition… autant d'invitations à vous détendre et à profiter pleinement de votre voyage.
My place is close to the historic Promenade and 2 blocks from our beautiful downtown and restaurants. Clarinda has 3 fine museums- Nodaway Historic Museum, Glenn Miller Birthplace Mueum, and The Clarinda Carnegie Art Museum. You'll love my place because it is a beautiful historic house filled with period antiques. Enjoy our home while you are away from yours!. My place is good for couples, solo adventurers, and business travelers.
Beautiful home. Great room upstairs with a close bathroom. Breakfast was delicious. Hosts friendly and warm. A treasure in Clarinda for sure.
Aline
July 2016
Type de logement
Chambre privée
---
Type de propriété
---
Capacité d'accueil
2
---
Chambres
1
Clarinda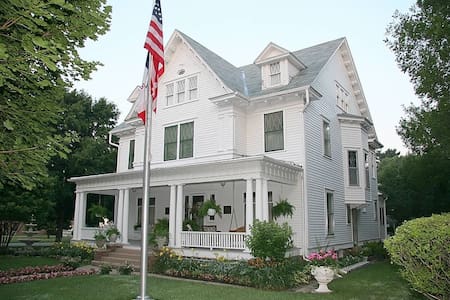 Excellent lodging for fresh air and country sunshine. A short drive to Maryville, MO to support NWMSU Bearcats! Great for your next vacation or hunting trip in Northwest Missouri. Clean, Wifi, wireless printer, central heating/AC, laundry, Tempurpedic mattresses, garage, kennel, kitchen, freezer. Located on pavement road with easy access.
Part of Gladcrest Farms, a Missouri Century Farm continuously operating in the family since 1848. Raising Angus cattle, corn and soybeans, it is an active agricultural operation. Guests are welcome to request a farm tour, depending upon the time of year, calving season, cow/calf operation, corn and soybean row crop operation. Although the farming operation is going on in the surrounding pastures and farm ground, interaction is very minimal. Guests have a great deal of privacy.
Very rural setting, cattle and horses in pastures adjoining property. No public transportation. Although if you go stand down at the road, someone will most likely stop and ask you if you need a ride somewhere. There are a number of Amish settlers in the area that offer baked goods and produce at their farmsteads. If guests are interested, we can give you locations and days.
This lovely house is in a beautiful spot, with a wonderful view. The host couldn't have been more accommodating. We had a great time!
elizabeth
September 2016
We stayed at Susan's home while my husband hunted. It was a perfect setting with beautiful views and greetings from the horses and cows that surrounded the farms. She welcomed our dogs and the house couldn't have fit our needs better. We had to leave late on the day of our departure and she was totally accommodating. We look forward to returning for future hunting trips. This is an adorable house, very comfortable and Susan is a great person to deal with.
Daniel
November 2016
Susan is a great host. She made us feel welcome and made checking in and out a breeze. The home is lovely with views of the farm and rolling hills. Easy parking on the driveway, great ac, fast and reliable wifi. We loved sitting on the front porch swing as we enjoyed the cool summer evening and watched the moonrise. Our son had a great time exploring the yard and seeing neighboring cows go by. Grocery shopping was close by at the town of Grant City. Thanks so much for having us, Susan!
Myr
June 2016
We were looking for a place to stay for Homecoming weekend at NWMSU. We stumbled onto this AMAZING home! We were so lucky to have amazing weather for our stay. Susan was very helpful and readily available to answer any questions. Our kids (11, 14) were outside the entire time. They were able to take a tour of the farm, bottle feed a baby calf, ride on a tractor.....for my "city kids" it was so nice to see them interact with nature. The property is well kept, easy to find, and a great location. The house itself was adorable! So beautifully decorated. A nice mix of contemporary and country chic. I just LOVE the rocking chair in the sitting room! My kids loved the twin beds upstairs. They were able to adjust the beds so that they were sleeping sitting up. The queen bed on main level was comfortable and had cozy sheets. The bathroom had a tub and shower. The motion-sensored lightening was a great touch. Never had a problem with WIFI. We turned the TV on at nights only. There is a DVD player available, if needed. We used the gas grill several times during our stay. We are looking forward to returning to the farm!
Jamie
November 2016
My wife and I were passing through and initially planned to stay for a day or two on Susan's farm. However, the views, amenities, and peacefulness of the property made us fall in love with this place. We booked an additional 2 days because we didn't want to leave. My wife has a bad back, but slept without any problems on the Tempurpedic mattress. We worked for a good length of time during our stay and found that the WiFi was reliable. We enjoyed walking around the property and saw the lake, cows, and crops, which was fun for us. Susan was a fantastic host and was great with communication. We truly felt like this was our home away from our own. We would definitely stay again when in the area. Thanks for an awesome experience Susan!
Wendel
July 2016
Description was perfect and the home is even more cozy than the pictures show. Host made access super easy and instructions to the house were convenient and clear. Comfortable bed, state of the art appliances, clean in every way, exceptional office with excellent internet connection.
william
June 2016
Type de logement
Logement entier
---
Type de propriété
---
Capacité d'accueil
5
---
Chambres
3
Worth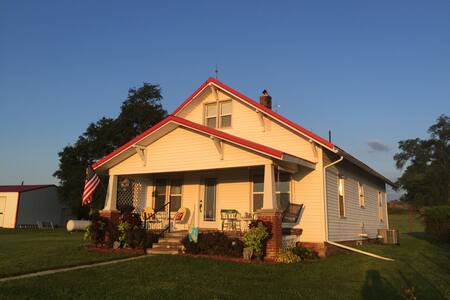 Your amenities will include high-speed internet, TV, clean restrooms and a full kitchen. The kitchen is clean and offers all the essentials for any cooking you choose to do when you're not exploring the city's vibrant restaurant scene.
Type de logement
Logement entier
---
Type de propriété
---
Capacité d'accueil
4
---
Chambres
2
Fairfax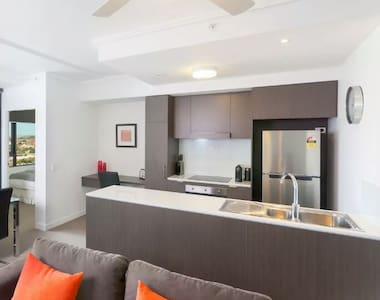 This bedroom has a twin bed suitable for one located on the second fl of this 4 bedroom condo with shared bath rm also on 2nd fl. Neighborhood is very family friendly and quiet. The downstairs has a full kitchen,bath rm,living rm,working fireplace common area. Plenty of off st parking. Scenic Rockport offers beaches,shopping,dinning,musical events of many types and much more. Come relax and explore!
Small private bedroom with a twin bed with shared bath rm next to you. Access to large living room,working fireplace,full kitchen,back heated porch and deck on 1st floor.Clothes coin -op washer in basement and dryer in back porch . Plenty of parking off st and on. We have one small kitten as our new extended stay tenant. Beside your small private bedroom you have access to shared bathroom on 1st and 2nd fl. 1st fl is a fireplace ,full kitchen,living rm,back porch,1st fl deck and coin-op washer dryer. Clothes washer in basement and dryer located 1st fl back porch. Our daughter resides in another room on the 2nd fl and can be helpful with any immediate questions. Jake residing on 1st floor is also a long term resident who has helped maintain the property. I am very available by text and in and out as my recording studio/office is in the basement and sometimes I hold quiet rehearsals in the living room during mid week hrs.
Very safe ,quiet and family friendly. There are buses 5 minute walk from house and trains to boston about 5 minute car ride. More inf needed just ask and we'll hook you up. Things to do; https://www.tripadvisor.com/Attractions-g41790-Activities-Rockport_Cape_Ann_Massachusetts.html
Type de logement
Chambre privée
---
Type de propriété
---
Capacité d'accueil
1
---
Chambres
1
Rockport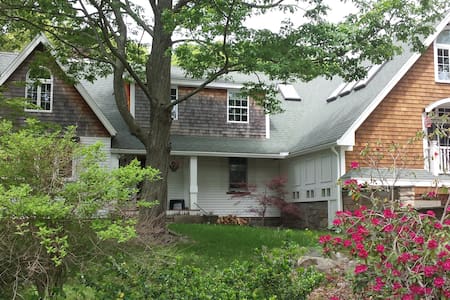 A two story farm home, built in 1917, nestled next to a working farm, thick timber, and rolling hills. This cozy home is a breath of fresh air with a spacious porch to enjoy your morning coffee. A great place to stay; life is good in the country!
Wifi, Laundry facilities, home- like atmosphere, 1 stall garage, fishing and hunting close by As needed
$65/night for up to 2 guests $10 additional for each guest thereafter Perfect set up for large family gatherings, construction crews, and hunters.
A unique place with most of the original features preserved lovingly by the wonderful host. Lots of charm all round.
elizabeth
September 2016
We had a wonderful stay at the Timberview. It was a perfect home away from home for our family of 6. We loved the rural, farm location. Definitely a "best kept secret" sort of place to stay!! We would totally move in here if we could!! The breakfast casserole was delicious and the hosts were accommodating and available without being overbearing. Cannot say enough good things about the Timberview!!! The accomodations were perfectly represented, and exactly what we were in need of. Thank you for opening this home to guests, you are doing a great job.
Liz
October 2016
Jennifer was great about communicating the details of our stay. She made us feel really welcome at the farm by letting her grandma know we were coming, describing life on the farm, and telling us what to expect. Even though we arrived late, all of the lights to the farm were on and there was a kind note waiting for us. Jennifer's grandmother even prepared a breakfast casserole for us and had it waiting in the fridge for us to heat up the next day! What a treat. The farm is beautiful and the rooms were all spacious, clean, and comfortable. This was a great place to stay in southwestern Iowa.
Toby
October 2015
Very accurate description, easy to find. It is a very relaxing environment. Everything is well maintained and the kitchen fully equipped, simply bring food. It is the type of place that would remind you of your grandparents' place, and brings back fond memories, even though it is new to you.
Luke
March 2016
This is a great big old house in the country, quiet with a great sunrise view and farm right out the windows. We love the large space and being able to cook and accommodate a family and grandparents all together.
Karri
November 2016
My family and I had an awesome stay at Timberview. We stayed there for our annual fishing trip and all 10 of us were very comfortable in the house. It was nice to be able to be together in one place to cook meals and just hang out. Everything was as advertised and overall it was a great experience.
Randy
May 2016
We stayed at the Timberview BnB while in town for a wedding and were completely charmed by it. The farmhouse is stately, generous, and comfortable, with ample space to relax with friends and great porches from which to enjoy the views. We loved being on a working farm and playing with the family of barn cats, and Karen's breakfast was incredible - muffins, sticky buns, and a great breakfast casserole. Having such a beautiful and relaxing retreat made our entire trip much more enjoyable. If you're anywhere around Union or Ringgold counties, definitely stay here.
Joshua
September 2016
Such a cozy home surrounded by plush farmland. This is truly a diamond in the rough.
Alexander
December 2016
Type de logement
Logement entier
---
Type de propriété
---
Capacité d'accueil
8
---
Chambres
4
Shannon City