Saisissez les dates souhaitées pour connaître le prix total. Des frais supplémentaires s'appliquent et des taxes peuvent être ajoutées.
Take in true Delta hospitality in this charming cottage located in the heart of Greenwood. Right across the street from Little Red Park, walking distance to downtown, Yazoo River & Yazoo River Trails, this home is ideal for visitors craving a taste of the Delta.
Guests will have access to the entire home, backyard and patio. There are 2 bedrooms that can sleep 2 people and a really comfortable couch! As often as needed!
The Northeast Greenwood neighborhood is full tree lined streets, friendly neighbors, and is a wonderful place to run, walk or bike. You will need your own form of transportation around the Delta. If you plan on a night out with some cocktails, let me know and I can arrange some transportation. (Additional costs will incur.) I do have a dog and cat. The dog will not be at the house during your stay.Banks, the cat, comes and goes to the laundry room. If you're a cat fan, open door and let her hang out; if not, just keep laundry room door closed. She'll be outside more than inside, regardless!
It was an absolute honor to be Brantley's first guests! Our entire experience was great from start to finish. Brantley was very easy to get in touch with and very willing to help us out with suggestions for activities in the area. The house was super easy to find and located in a beautiful part of town. We had no problem getting in and were amazed at how gorgeous the house was (even better than the pictures)! We cooked dinner and spent the evening Netflix bingeing--loved the Apple TV! If it wasn't raining we would have enjoyed the porch with its cute patio lights. In the morning we enjoyed fresh coffee and homemade muscadine jam on English muffins supplied by Brantley. The place was clean, comfortable, and everything you'd hope a southern cottage would be. I highly recommend this place and hope to visit again!
Kait
July 2016
We had such a great time at brantleys! Her home is so cute. It's about a mile from the alluvian, Viking, antique stores, etc. The home is in a great location and really felt like home! Communication was great and we have nothing negative to report! House was clean, checking in/getting in was hassle free. Bed was comfortable and check out was easy. The instructions left for us when we got there were very informative. Her outdoor cat was adorable! Price per night was reasonable. We overall had a great time!
Rachael
September 2016
The term "charming" accurately describes this beautifully decorated home, which is full of southern character. It is easy to find in an interesting, quiet neighborhood. Brantley has thoughtfully prepared a detailed description of her home and the surrounding area along with suggestions for dining and local activities. Also, she provides brochures with the added bonus of a surprise to take home. She quickly responded to emails and answered questions before and after we arrived. The beds are comfortable, the kitchen and bath are well-stocked, and the furnishings are delightful. As a native delta girl myself, I promise you will have a dose of southern hospitality at its best if you stay here. It is a hidden gem, which will not remain a secret for long!
Paula
July 2016
Wow! Just WOW!!! Brantley's home is so appealing, comfortable and relaxing. Four of us stayed there while participating in Greenwood's Bikes, Blues & Bayous Cycling event! The check in and check out was absolutely hassle free! I highly recommend you stay here!
Douglas
August 2016
Charming may be an understatement! Brantley's place is absolutely gorgeous, with beautiful décor and regional flair. The neighborhood was also very nice and quiet, and conveniently located. Brantley was incredibly accommodating and very responsive to any questions I had. My friends and I thoroughly enjoyed our time there, as it was a perfect place to relax and rejuvenate and Brantley included a guide of suggested places to visit in Greenwood. We were so glad we chose this place and will definitely be back!
Treshika
January 2017
Brantley's home was fantastic and we thoroughly enjoyed our stay. The home was very clean, in a great neighborhood and Brantley was in communication with us the whole time. We would definitely stay there again!
Jason
October 2016
This home is a perfect location for everything Greenwood. It is decorated wonderfully and so much more comfortable then staying in a hotel.
Esther
January 2017
The most restful weekend I have had in months, a wonderful experience a Brantley's home! Extremely clean, thoroughly organized and everything laid out for the most delightful experience.
Bill
July 2016
Type de logement
Logement entier
---
Type de propriété
Maison
---
Capacité d'accueil
4
---
Chambres
2
Greenwood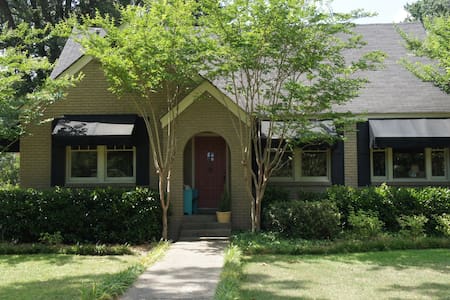 Enjoy your stay in this charming 1920's cottage, located in the historic town of Canton, MS. Canton is famous for it's bi-annual flea market, being the movie capital of the state of MS and for it's Christmas festivities on the historic square.
Historic quaint and charming home in beautiful Canton, MS. Sleeps 8 The entire house includes: Full kitchen 2 full bathrooms 3 bedrooms sun porch wrap around front porch café style back porch breakfast room dining room living room sitting parlor flat screen television's high speed internet Direct TV washer and dryer on property [ ask for details] Will welcome you when you arrive. Available when ever you need me. Other than that I want you to feel at home without any bothers.
Beautiful historic charm in a quaint and safe neighborhood. The Corner House is conveniently located within walking distance from Canton's Historic Court House square, restaurants, churches, grocery store, library, pharmacy and shopping.
The main picture of this house doesn't do it justice. It's the most beautiful house I have ever been in, and is close access to everything you'd need, while not very busy. We decided to stay two nights instead of one within five minutes of arrival. The washer and dryer isn't inside the house, but it's only 75 feet away and was extremely convenient. The kitchen couldn't be more fully stocked. There is room upon room to spread out and relax. At least 2 or 3 TVs with directv. We simply can't say enough good things about this house! A must stay if you're in the area!
Sam
February 2017
Susie was an excellent host. She went above and beyond what was expected to make our stay at the Corner House feel like home. The Corner House is beautiful, beautifully furnished, well maintained, and conveniently located in the historical area of Canton. Thanks to Susie for stepping up on short notice after our first house with another person canceled the night before we were to check in.
David
August 2016
Susie was incredibly hospitable and went above and beyond to make sure we had everything we needed. The house is gorgeous and was more than we ever could have imagined. It was perfect!
Savannah
October 2015
Susie was very quick to respond to any questions. The house is adorable and in a great location in Canton. Definitely would recommend!
Allison
December 2016
We LOVED our visit at The Corner House. Family members from MS, Florida and Arizona all enjoyed it with all the room for visiting and space. The kitchen has everything you could need but no dishwasher. Lots of eating spaces. The furnishings in the house are all lovely and the beds sleep great. Easy walking to the Square in downtown Canton and through the historic residential neighborhood. Our family would certainly recommend Susie as a wonderful hostess and her great Airbnb !
Cathi
April 2016
House was clean, well lit, and decorated. Susie was accessible and friendly. Everything we needed was available. Neighborhood is wonderfully old and we could have sat on the front porch for many hours, in fact we did! Town square is beautiful and within walking distance.
John
January 2017
We were quite amazed at all the space in the Corner house. It was very comfortable and we appreciate the quick response to connecting the wi-fi. The antiques are beautiful. Loved being able to sit on the back porch. Wish we could have had more time to walk around down town. Very easy to find and great communication with Susie and her associates. It is an old house and has the feel of a house well lived in, high ceilings and creaky floors. Loved it!
Linda
April 2015
This IS THE house to rent!! Absolutely gorgeous. We were so thrilled about everything. We even cooked a full breakfast before going out and had everything we needed in the kitchen. My girlfriend and I drove down for the Canton Flea market/ craft fair. It was perfectly located for us to drop off things we bought and to rest between outings. It is located right in the middle of the activity. Highly recommend!!
Susan
May 2016
Type de logement
Logement entier
---
Type de propriété
Maison
---
Capacité d'accueil
6
---
Chambres
3
Canton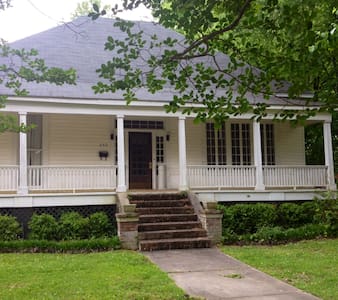 Ttaffic is very convenient to live. Furniture with very good livr.
Type de logement
Logement entier
---
Type de propriété
Appartement
---
Capacité d'accueil
4
---
Chambres
1
Yazoo City