Very lovely! Beautiful views, nice deck. Felt very at home. Host was very accommodating to our circumstances.
Robray
2016-08-07T00:00:00Z
Mary made us feel welcome. Thanks for the goody basket.
Jeanene
2016-08-03T00:00:00Z
This section asks us if we were made to feel welcome. Quite honestly, not really. It's no offense, it's just felt like a business transaction. We booked, we went, we stayed, we left. No real interaction from the host. Never saw them. We enjoyed the location on the waterfront as it was quiet, even with the kids next door. Not very private as you have cabins within 10 feet on each side of you. The cabin was adequate with facilities, but nothing fancy. The air worked fine in the living quarters, but the bedroom window air conditioning was so loud we couldn't keep it on at night and just used the overhead fan on high.
Herb
2016-08-06T00:00:00Z
Wonderful cabin right on the water very nice and accommodating would be over the top place in the summer
Trenton
2017-03-09T00:00:00Z
The cabin was greathe! Our host was very accessible and accommodating. And a great spot on the lake! We would definitely book this again.
Alison
2016-07-15T00:00:00Z
We enjoyed our stay. We had a bit of a hard time finding the cottage amongst others in the boat community in the dark but Mary was very helpful!
Miriam
2017-03-24T00:00:00Z
The cabin was nicely decorated. The hostess made us feel welcome and was easy to communicate with. It was very relaxing to sit on the deck overlooking the lake.
Laurie
2016-07-21T00:00:00Z
Very nice place had everything we needed. We had a great time, kids had a blast on the water slide and we swam all day and relaxed in the evening on the deck...can't wait to come again! Would love to rent a jet ski next time :) Thanks
Jody
2016-08-14T00:00:00Z
Type de logement
Logement entier
---
Type de propriété
Cabane
---
Capacité d'accueil
6
---
Chambres
North Platte, Nebraska, États-Unis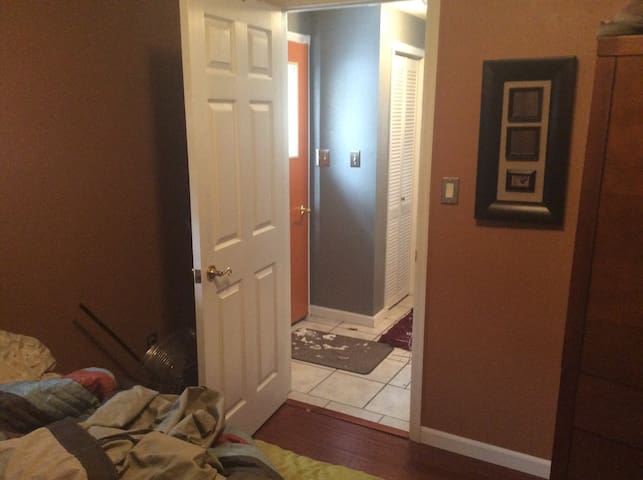 Muy acogedor y relajante, se siente como en casa lejos de casa, el paquete de niño y el juego disponible para todos los huéspedes, situado a unos 15 minutos al norte de la interestatal
Es muy privado y tranquilo, y la tierra que nos rodea es hermoso
Thank you so much for hosting us. We were really tired and got a great sleep. The room was comfortable and it's a relief not to be forced to stay at a motel when you are in a roadtrip through Nebraska.
Alba
2017-03-19T00:00:00Z
They are located about 10-15 minutes off the interstate but the hospitality they provided was great. We had bottled water, towels, the Wi-Fi password and a welcome note all laid out in our room when we arrived. They made us feel right at home after a long day of travel. We had a great stay.
Josh
2017-01-17T00:00:00Z
Lovely home and family! Great room!
Ts
2017-01-14T00:00:00Z
Excellent place to stay if you're traveling through Nebraska. Very comfortable, friendly and hospitable!
Spence
2017-02-03T00:00:00Z
Stasha's home was awesome! The room I stayed in was very cozy and well equipped. The home had very good WiFi and the bed was super comfortable. Stasha communicated very well and very quickly with me. It was an awesome stay and would most definitely recommend staying here to anyone.
Ian
2017-03-22T00:00:00Z
The host canceled this reservation 211 days before arrival. This is an automated posting.
Herry
2017-02-08T00:00:00Z
Type de logement
Chambre privée
---
Type de propriété
Maison
---
Capacité d'accueil
2
---
Chambres
North Platte, Nebraska, États-Unis
We would love to host you here on the edge of the Nebraska Outback! Conveniently located a mile north of I-80, four hours from Denver & Omaha, 3 from Cheyenne, we're a pleasant, relaxing stop after an arduous day of driving. Please be sure to double-check the directions, and let us know if you're going to be arriving late so we can prepare and give you the after-hours instructions.
We are located in west central Nebraska, a mile north of I-80, about four hours from both Denver and Omaha, three from Cheyenne and Lincoln. As we enter our fifth year as AirBnB hosts, we would love to extend our hospitality to you. Our home offers the following: 1 bedroom with a full size bed and a queen bed; 1 bedroom with a king bed; 1 bedroom with a queen bed. There is a shared bath in the hall of the bedroom wing. We have a cat and a dog which have the run of the public areas of the house, but not the bedrooms. Our living quarters are in the basement, so you'll have the upstairs to yourselves, unless there are other guests in residence. It is possible that we can accommodate more than four people. Please contact us to make the arrangements.
Sutherland is a rural community of just over 1,000 people. There is a grocery store, which closes at 7 and a convenience store that closes at 9. There is a bar and liquor store too. A continental breakfast is provided. There are very limited dining options available locally. The nearest option is 12 miles west in Paxton at Ole's or the Windy Gap, both excellent choices. We are nestled in the Platte River valley, and are a gateway to the beautiful Nebraska Sandhills. Birdwatching and outdoor recreation are popular pastimes and we'd love to share the history and culture of the area with you.
Mark and Muriel were absolutely fantastic. They truly love the area that they love in and are a plethora of knowledge if you ask them about what makes their area unique. On the flip side, I know other people that have stayed with them and only wanted peace and quiet and Mark and Muriel granted them that as well. They do what they need to do to give you the experience you are looking for. Would highly, highly recommend their place.
Steve
2015-04-13T00:00:00Z
We arrived late (10:00 p.m.) after a long day of driving. It was so nice to have the living area available to stretch out, watch a little t.v. and just relax. The bedrooms and bath were clean, fresh, and comfortable. Muriel had coffee on early and a simple, continental breakfast available to us before we had to head out early. It was a perfect stopping place for us!
Kurt
2017-03-12T00:00:00Z
We loved our stay at Muriel and Mark's! We stopped for a night during a cross country trip and they were very flexible with our arrival time. We ended up hanging out with them and watching TV in the family room, and they truly made us feel like part of the family. If I end up taking a similar route back to the east coast I will definitely stay with Muriel and Mark again!
Jordan
2016-11-09T00:00:00Z
We loved staying with Mark and Muriel! They were incredible hosts. We arrived quite late after a day of traveling and they made it very easy for us to find our room and feel at home. Mark was extremely gracious and kind helping us in the morning with food and telling us fun facts about Nebraska. We had a wonderful time at their home and will definitely stay again if passing through Sutherland in the future.
Benjamin
2015-03-18T00:00:00Z
Muriel was very attentive to detail and had everything taken care of. I was grateful for the pull-through parking with a large vehicle. Also, she gave me some great tips on local birding.
Ross
2015-11-16T00:00:00Z
Murial was gracious and welcoming to us in this house. They offered to share with us us a Nebraska beef burger! It is in a nice small town, easily accessible from the interstate and great for an afterdark walk. That king sized bed was so appreciated!
Mary
2015-03-13T00:00:00Z
Great place to stop when passing through the Midwest.
Laura
2016-12-02T00:00:00Z
Muriel and her husband were friendly hosts. Our room was clean and spacious, the environment was quiet and the bed was comfortable.
Bob
2015-10-09T00:00:00Z
Type de logement
Chambre privée
---
Type de propriété
Maison
---
Capacité d'accueil
4
---
Chambres
Sutherland, Nebraska, États-Unis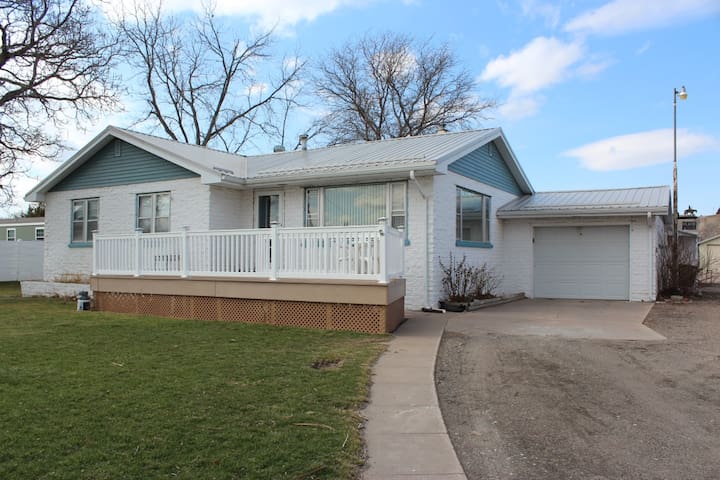 我的地方靠近沙丘,即將到來的日食(2017年8月21日),風奧古斯塔高爾夫球場。我的地方是很好的情侶和家庭(含兒童)。它被放置在一個小丘全開範圍的土地。好天氣,瀏覽和安靜的休閒場地。 (URL HIDDEN) 請聯繫其他可能的開口/日期的主機。
Type de logement
Logement entier
---
Type de propriété
Maison
---
Capacité d'accueil
10
---
Chambres
Stapleton, Nebraska, États-Unis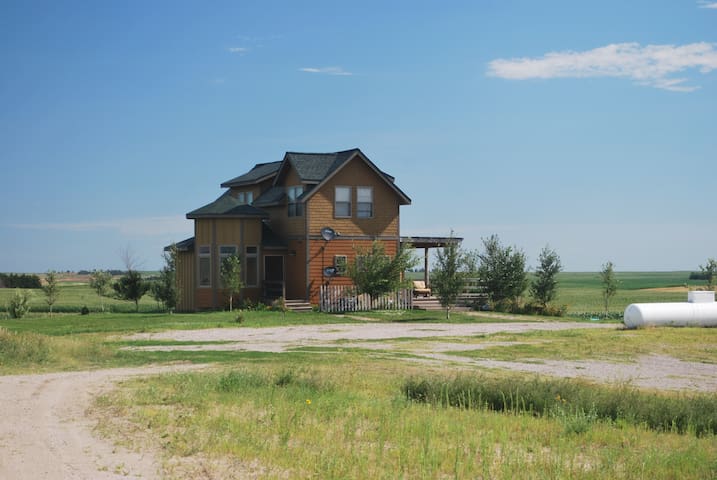 North Platte - Airbnb
:
Moyenne de

4.96

sur

5

étoiles sur les

254

commentaires des voyageurs
Saisissez les dates souhaitées pour connaître le prix total. Des frais supplémentaires s'appliquent et des taxes peuvent être ajoutées.