My place is close to art and culture and restaurants and dining. You'll love my place because of the location. My place is good for couples and solo adventurers.
she allowed us a flexible check in, and the room is oversize compared to most, even though it's in a mobile home park, it doesn't feel like it. we weren't expecting breakfast but she gave it to us, and we were able to relax and chat a bit in the morning. especially appreciated was the reasonable price!!! I am so tired of paying over a hundred to stay in someones tiny spare BR with their old furniture. This was a beautiful well cared for space at a reasonable price.
William
2016-10-30T00:00:00Z
Our second stay with Julia was just as hassle-free and streamlined as the first. Quiet location, spacious sleeping quarters, and an accommodating bathroom were all present this time around, too. And you'd be hard-pressed to find a friendlier host, I bet. Thanks again.
Derek
2016-11-03T00:00:00Z
Julia is a sweet, accommodating lady who was really flexible on our check in time since we were desperate for a place to change in time for an afternoon wedding. Her place is very cute, as are her cat and dog. It was exactly what we needed, and we had a good night's sleep after. She even got up early to make coffee and put out some food for breakfast! A great experience all around :)
Kristine
2016-10-02T00:00:00Z
The area is a very safe, quiet neighborhood. Julia was very welcoming and the room was also great and had an attached bathroom as well. There were fresh towels, Wi-Fi and even breakfast in the morning! Would definitely come back again. It was very comfortable.
Apoorv
2016-09-23T00:00:00Z
Julia was welcoming and friendly. Her home was in a quiet neighborhood and the room was clean and cozy. We loved our stay
Kassie
2016-10-07T00:00:00Z
Very clean and had everything i needed
Michael
2016-12-20T00:00:00Z
Our stay with Julia while visiting our daughter in Marin was perfect for our need. A warm, cozy room with private bathroom in a safe neighbourhood. Julia was easy to communicate with. Coffee and a little breakfast to start out the day with. A great place for anyone exploring the area.
Astrid
2016-11-27T00:00:00Z
Julia's room for rent is a very welcoming and homely experience, complete with a very clean bedroom and private bathroom. She is a very accommodating guest, and had no problem communicating with me in full detail well before I arrived. She made me feel extremely welcome, and I very much appreciated her leniency on the checkout time. She apologized for being pressed on time – and thus unable to cook up breakfast – but I appreciated the sentiment and have no doubt she's a great cook. The neighborhood was very tranquil and made for a great night's rest, and I would gladly stay at her place again.
Derek
2016-09-25T00:00:00Z
Type de logement
Chambre privée
---
Type de propriété
Maison
---
Capacité d'accueil
2
---
Chambres
Novato, Californie, États-Unis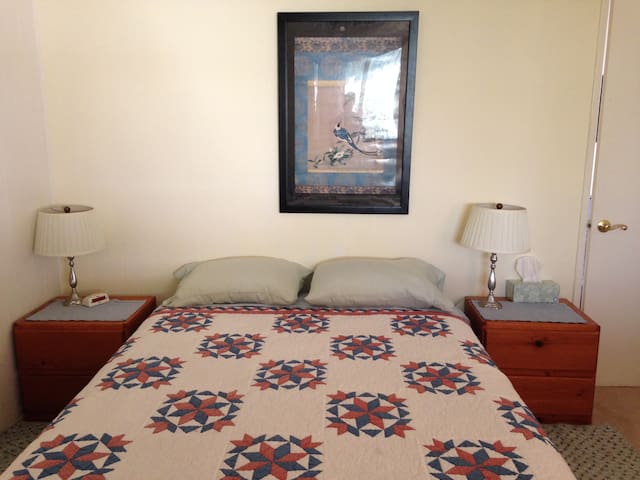 New listing since Sept 2015. Home of an interior designer and a university professor. Delicately decorated cottage room, lovely and sweet. Spacious back yard with fruit trees and fire place. A great place for happy life.
Unique decoration - modern & sweet: hard wood floor and high rise ceiling; open living room with french windows facing the back yard; sky lights and windows around the kitchen, equipped with high quality German facilities; two separate private rooms on 1st floor, each with different themes, colors and decorations; a wooden cottage studio in the yard, decorated with warm furnishing; backyard with plenty of fruit trees: walnut, peach, apple, fig, lemon, orange, tomato, etc. swings and outdoor fire-space in the yard.
Quiet and friendly! Easy-walking distance to downtown and shopping area。
There aren't enough stars on Air bnb for the level of Tony's hospitality. I'm very grateful to have met Tony and have the pleasure of staying in his home. The property is amazing, lots of fruit trees and a huge backyard. Located minutes from downtown Novato makes this a definite treat. I will absolutely stay again and hope that Tony and I will be friends for a long time to come!
Tyler
2017-01-13T00:00:00Z
Tony is a great host. The place is warm, welcoming & beautiful. Highly recommended.
Thea
2016-04-16T00:00:00Z
Tony is very nice and warm. We enjoyed our stay, and really like the garden full of fruit trees and flowers! Possibility to have the breakfast there, with homemade jam from the apple tree in the backyard. We really felt welcomed and we recommend this place!
diana
2017-04-02T00:00:00Z
Tony is a gracious host and his cottage room is really cozy. He keeps a small room heater running, so that it doesn't get too cold. The bathroom you'll be using isn't directly connected to the cottage room, but it's just next door! It's quite spacious and has two shower heads. Overall, it was just a really pleasant Airbnb experience!
Emily
2017-01-18T00:00:00Z
Attended a course at the Buck Institute for Research on Aging. This was convenient and affordable, and Tony was a great host.
John
2017-03-04T00:00:00Z
Tony is a wonderful host ! He cares for the guests and makes sure everything is perfect. The house is beautiful and very spacious with a big yard. The neighborhood is calm and quiet. I had an amazing experience staying here.
Manalee
2017-03-31T00:00:00Z
As this was my first AirBnB adventure I was a little nervous every and unsure. Tony turned out to be the perfect host and I needn't have worried. He was kind and considerate and extremely thoughtful, taking care of all my needs before I needed to ask. In short he was brilliant, and great company as well. He showed me local breakfast spots and helped me with travel direction and planning for my stay. His house is beautiful, clean and well appointed. My room out in the yard was delightful and the bed was oh so cosy. In short my stay was great, very happy camper was I, and will definitely stay at Tony's again when I'm next in Novato.
Tim
2015-10-04T00:00:00Z
Tony is the best host ever. I got to the house very late because my flight was delayed, Tony called me to tell me everything will be ready for me whenever I got there. Everything was immaculate and I truly enjoyed my stay. He also gave a Christmas present and produce from his garden.
Mansur
2016-12-19T00:00:00Z
Type de logement
Chambre privée
---
Type de propriété
Maison
---
Capacité d'accueil
2
---
Chambres
Novato, Californie, États-Unis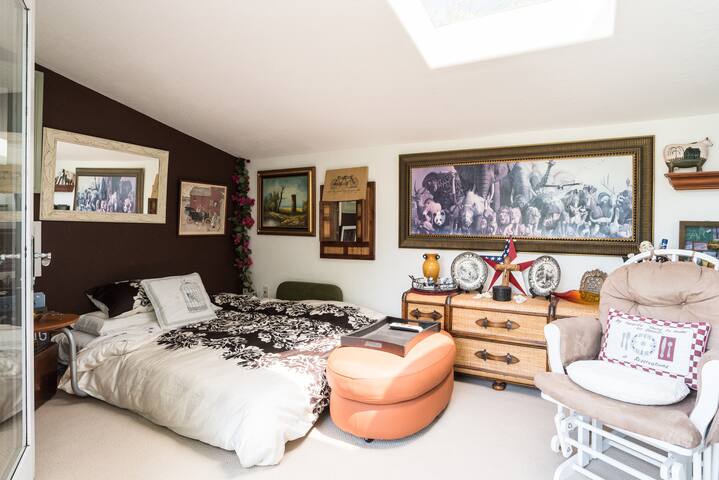 Our studio sleeps 4 comfortably. It includes a full bed and queen pull out couch. There is a kitchenette, dining table and desk overlooking a hillside of beautiful trees. It also includes a full bath with new large tile shower.
This is a large room, perfect for multiple guests or small families. Just a short 5min drive to shopping center and freeway access.
Our neighborhood is quiet and removed from the main road. Located at the top of a hill with views of Marin County. Also, just a short 5min drive to shopping center and freeway access.
Erin and Arthur were very accommodating and made our first Air BnB experience easy! Communication was great even after checkout when we realized we forgot to log out of Apple TV. We will be back.
Samantha
2016-09-18T00:00:00Z
My sister and I enjoyed our weekend get away, and Erin's B&B was a beautiful, comfortable place to kick back after hiking during the day. We appreciated the private entrance on a quiet, residential street just minutes away from restaurants and shops. The kitchenette saved us from having to eat all of our meals out. It was an easy place to have a great vacation.
Wendy
2017-02-26T00:00:00Z
This was our family's first Air BnB experience, and we could not be more pleased! This rental sets the bar high for us for sure. We can only hope that any new experience would have the best location, comfort, safety, cleanliness, accessibility, remote peace, the softest bed sheets, and above all friendly welcoming respectful inviting hosts! Some (just a few) highlights we enjoyed: - Location in a nature setting, despite the home being located in a neighborhood, we felt like we were staying in a sort of log cabin in the mountains! We saw a beautiful deer not far from the house driving back into town the first night to find some tasty local food. - The motion sensor night light (we have an infant/toddler and young boy, and midnight bathroom breaks were comfortably and dimly lit. - Of course, the bed sheets and comfy soft bed/bedding in general. Very clean and fresh! Sleep was excellent! If you are looking for a safe quiet place to rest in the trees, look no further! You'll be well taken care of!
Dusty
2016-05-16T00:00:00Z
Host was very welcoming with clear instructions. Spacious with beautiful big windows.
Surabhi
2016-09-04T00:00:00Z
Everything was perfect. Thank you very much for your kindness and accommodation. I would love to stay again when in the area. Of course, Erin lived up to her outstanding reviews. Arthur was equally accommodating. Their son is adorable, a beautiful family.
dwmorris10
2016-09-13T00:00:00Z
Erin went above and beyond all expectations. She made sure to provide the accurate amount of beds and provided items such as shower toiletries and coffee which were the perfect finishing touches to make us feel comfortable during our stay!
Autumn
2016-08-21T00:00:00Z
Erin"s place was super comfy, complete with a sweet view of the trees and comfy bed! Thanks Erin and family!
Michelle Orozco
2016-11-06T00:00:00Z
I only met Arthur but he was great! They seem like such a genuine and nice family. I loved the place. The neighborhood is really quiet. The space is larger than I expected. The bed is really comfortable, there is a little fridge and a washer and dryer which was really nice to have. They were really accommodating when I needed to come into their house to shower. I will definitely be returning. This is a great deal.
Daniel
2016-05-11T00:00:00Z
Type de logement
Chambre privée
---
Type de propriété
Maison
---
Capacité d'accueil
6
---
Chambres
Novato, Californie, États-Unis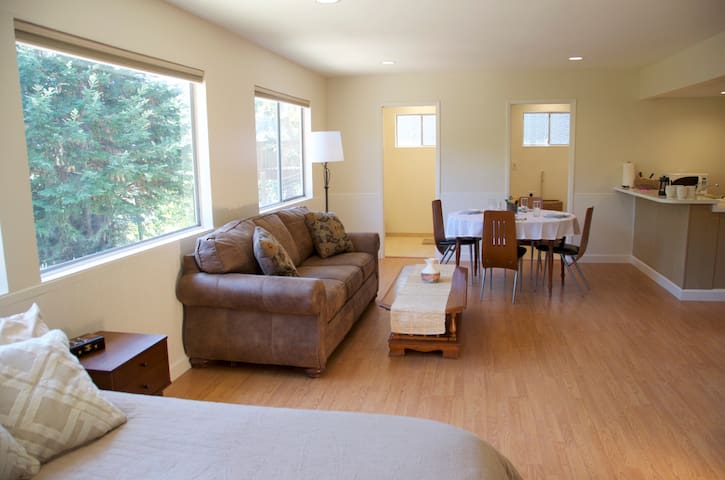 Our place is close to Highway 101 in Northern Novato, near the wine country, West Marin forests and beaches, Sears Point Raceway, and 40 minutes to San Francisco (traffic depending!). We live on a very quiet dead-end street which is adjacent to miles and miles of open space.
The bedroom is in the quiet Northwest corner of the house. The gate and walkway along the side of the house lead to your private entrance. This self-contained suite includes bedroom, living area (with sofa bed) and a private bath. The shared deck and backyard give way to the hillside parkland which is your view in the morning. You can enjoy miles of walking trails and open space via the backyard or nearby gates. This is a beautiful and peaceful location with clean and comfortable rooms and creative furnishings.
We have a great location: convenient, safe & quiet, about 1 mile away from downtown Novato. The town has a Whole Foods, Trader Joe's and Safeway. At the next exit south there's the Rowland Plaza Mall, which has a theater, as well as Target, Costco and other retailers, and is about 7 minutes driving time away. Lovely hiking trails are either right out the back door, 1 mile North at Olompali State Park, across the freeway in the marsh area, or in any number of other nearby spots. Getting to the Napa Valley or Sonoma wineries takes only 20 or 30 minutes. The charming waterfront town of Sausalito or majestic redwoods of Muir Woods are only 30 minutes away by car and San Francisco a 40 minute drive.
Alice and Marko's place is a great Marin county retreat. Close to the best of the Bay Area but located in a secluded and quiet neighborhood. The house has a private entrance leading to a nice size bedroom, sitting room with sofa and TV. There is a private attached bath. Don't let the dog concern you, we only saw him once and he's very friendly. We enjoyed our stay and recommend Alice and Marko's Airbnb.
Geoff
2017-02-12T00:00:00Z
Alice and Marko are awesome hosts, we enjoyed our stay in their beautiful private room. If we ever visit again we know where to stay. Also, the pictures don't do this place justice.
Karen
2017-03-31T00:00:00Z
This place was great, very comfortable and clean. And Alice and Marko could not have been nicer or more accommodating. It was a perfect place for me and my dog, Bailey, with a back yard for her to romp in as well as a fellow lab to exchange smells with. The room was clean and comfortable, with beautiful views towards the Marin County hills. I would not only recommend this place for any potential travelers, but I will definitely come back when I travel back to Marin
Tom
2017-01-16T00:00:00Z
This is a lovely spacious apartment attached to the host's home. The sitting room and bathroom have super high ceilings and there is great natural light in each room- a comfortable and tasteful space. The house is adjacent to amazing wild park space where you can walk, mountain bike or picnic, and the hosts are friendly and accommodating. My family, including our one year old kiddo, enjoyed our stay and felt right at home.
Anna
2017-01-29T00:00:00Z
Alice and Marko have a wonderful place. It was very clean and easy to access. The have a beautiful view and lots of privacy. They are very hospitable! We had a great stay.
Coley
2017-03-20T00:00:00Z
Beautiful, clean, well decorated suite. Alice & Marko were great from the beginning of our booking till the end. Thank you for a great stay.
Casey
2017-03-12T00:00:00Z
Absolutely amazing views and miles and miles of trails right through the backyard. Host were gracious and rooms set up perfectly for our needs. This is definitely a spot we will be staying at several times when in the Bay Area. Close to all our destinations without the hectic traffic. Would highly recommend a stay at this location. Home away from home! Thanks!!!
Laurie
2016-12-30T00:00:00Z
Need a place to stay in the Marin area? Stop looking, you've just found it. Alice & Marko provided amenities and an experience that was beyond our expectations. There's tons of space, it's clean, it's private, and it has everything you need. I travel a lot, and know it's hard to find value like this. It's a gem. I know exactly where I'm staying when coming back to Marin!
Jeff
2016-11-28T00:00:00Z
Type de logement
Chambre privée
---
Type de propriété
Maison
---
Capacité d'accueil
3
---
Chambres
Novato, Californie, États-Unis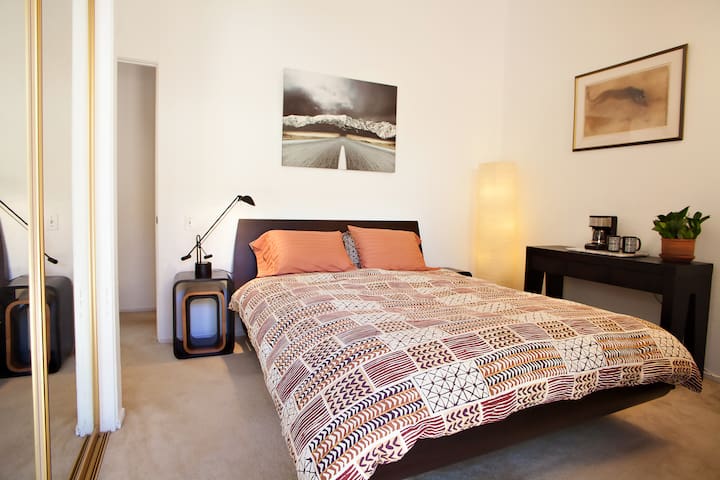 The artist created suite is surrounded by food and fauna gardens behind a quiet bungalow home where meals are served laced with fresh ingredients from the yard. Guests can view or purchase artwork in the adjacent studio and scattered in the gardens .
This peaceful unit is a separate suite behind the main house tucked into the quaint, secluded backyard. It is a tranquil space of meditative healing with use of the Vibra Therapy Machine (search Whole Body Vibration ), outdoor non-chlorine hot tub, or indoor 2 person Japanese tub, fire pit on "The Beach", gardens of art and edibles, friendly pets, and samplings of natural skin products and infusions. The artist and creator of the atmosphere has her studio in the attached garage where you can usually observe her working and view her gallery of diverse artwork. Though the property feels like it is in its own little world, it's just off Hwy.101 with easy access (within a half hour) to Wine Country, Coastal attractions, San Francisco, Sausalito, Berkely, Mt. Tamalpais, Muir Woods, and Sonoma Raceway. We will do our best to accommodate your needs for the most pleasant and memorable stay, but please refrain from smoking anywhere on the premises~ Thank you.
The neighborhood is quiet with a hint children's giggles in the background. Though restaurants, groceries, and entertainment are as close as a walk to the end of the street, the property feels very secluded and far away from civilization. We were featured in the Marin IJ on Sept.2, 2014, the article is available online.
Teri is a very warm and friendly person. She made us feel welcomed right from the start. Her garden cottage is exactly as pictured, comfortable & cozy, and the bed is very comfortable. The cottage has a unique, eclectic flair to it. We enjoyed sitting out around the firepit in the evenings and also using the hot-tub under star filled skies. The cottage is located behind her home, and in a residential neighborhood, yet feels quite isolated and quiet. The neighborhood is nice and quiet at night and everyone seems to have lovely gardens (including Teri) with mature, stately trees. We found the location of the cottage was convenient to exploring the area, including Napa and Sonoma county. Teri provided us with a nice continental breakfast and coffee, which is just perfect for us. I would definitely recommend her cottage.
Bonnie
2016-05-12T00:00:00Z
We LOVED this sweet little cottage. It melted into its own magical world, and we completely lost the feeling of being in a neighborhood. So many lovely touches made this place such a nice rest, and my only regret is that I was so sick with a migraine that I couldn't fully enjoy it. It was, however, a lovely place to heal. Immediately on our arrival, I climbed into bed and let the breeze from the garden waft in as I drifted off to sleep. Teri was away, so we thought we'd miss out on breakfast, but no. Tracie had it covered. She served us a lovely fruit plate with yogurt and these yummy muffin balls... I could have eaten a dozen! Teri apparently makes these gluten free gems using much of what she grows right there. We met the cats and fed the rabbit before we had to leave. Sometime in the future, I hope to return, only without the migraine!
Scott & Marina
2014-05-07T00:00:00Z
My girlfriend and I recently stayed at Teri's and would definitely recommend it. It's on a very quiet street and just about 30-40 minutes from the city and wine country in Novato. She is very considerate of your space and is a good cook! Try her breakfast while you're there. It's made with fruits, veggies and herbs from the large, beautiful garden. There is a pet bunny and 2 sweet cats around the place. It has a mini fridge and micro too. We were very comfortable there.
Jeff
2014-07-26T00:00:00Z
I was welcomed by Teri with a hug and a warm smile! The fairy garden room was amazing for a local getaway. I felt comfortable, relaxed, and rejuvenated after only spending one night there. It was perfect to just get away from the city scene and be in a space that was inviting and warm. Tub inside was awesome, hot tub outside is a plus. If you can and it's available, book the breakfast that Teri makes for you--it is simply amazing and totally worth it! Teri was friendly, accommodating, and available when needed, but will also give you space to do your own thing. It would be great to go back some time!
Annalyn
2014-10-06T00:00:00Z
Cayleigh and Teri are very accommodating and welcome you as if you are family. I highly recommend the cottage. Teri has a spectacular esthetic as an artist, so I felt like I was in a rather lush boutique hotel in the middle of an enchanted garden. Thank you both for such a delightful experience.
Austyn
2015-09-04T00:00:00Z
Teri was able to accommodate us on a very short notice, when our accommodations in San Francisco fell through at another Airbnb. This place was very artistic and serene. Throughout touches like coffee to enjoy in the sun-lit garden were quite welcomed. Quite convenient location if you are on the way out of the city, moving north, and a clean serene place to spend the night.
katya
2015-10-12T00:00:00Z
Teri was very warm and welcoming. The Fairy Garden Cottage is located behind Teri's house which makes it easy to let her know if you need anything. The cottage has a very comfy bed and an awesome bathtub! The cottage is very artsy and is a great look into Teri's artistic style. It is also located less than 30 minutes from Sonoma so it makes for an easy drive to wine country. Guest who are looking for a more private room may not feel comfortable at the cottage as the cottage has many windows and is within earshot of the neighbors.
Jessica
2015-08-19T00:00:00Z
I stayed just one night @ Teri's, and thoroughly enjoyed myself. She kept in communication with me all along. Her space is very comfortable & relaxing. She recommended a restaurant for dinner, within walking distance, & the food was excellent! There was a good balance of privacy & interaction. She cooked a beautiful breakfast, and I enjoyed her company as we ate together in her beautiful back yard. I have made a wonderful friend, & definitely will return. The vibration therapy helped my aching back, too!
Merrie
2014-06-28T00:00:00Z
Type de logement
Chambre privée
---
Type de propriété
Autre
---
Capacité d'accueil
2
---
Chambres
Novato, Californie, États-Unis
A beautiful One Bedroom (twin bed) in a tastefully maintained townhouse in the Downtown Novato Area. Amenities like high speed WIFI internet, Flat Screen TV, Fully stocked Kitchen and with coffee and tea available. Ideal for a single person.
We are very friendly, warm and welcoming. We respect the privacy of our guests and understand the overall value good accommodation could add to your trip.
This place is located near the historic downtown of Novato. With great options of eating and enjoying the night life of this lovely city. Drivable distance to attractions like Napa, Sonoma, Golden Gate Bridge.
I would encourage others to stay there for at least two to three nights because they're so kind and sweet that you would want to stay a little longer to suck in the kindness and sweetness. Thank you so much!
Mambo O
2017-01-31T00:00:00Z
The host are very nice and response, the neighborhood is friendly and the community is close to downtown Novato. It's close to all the major highway and very convenient for anyone who want to live and go from here. I recommend it based on the cost effective.
Dapeng
2016-09-04T00:00:00Z
My first experience with airbnb and it was wonderful. Great energy in shakun's beautiful home. Very kind family, would happily stay again. Thank You!
Ben
2016-08-04T00:00:00Z
Shakun & Vishal are amazing hosts. They made me feel very comfortable, very welcome as soon as I arrived and did everything during the four months I stayed in their place to make this trip easier. The description of the accomodation is accurate. The accomodation is located in a great area, close to shops, grocery stores and transportation. It's a very nice place to stay and I will be pleased to book again in my future trips in Novato.
Damien
2016-08-01T00:00:00Z
The neighborhood was very nice and welcoming. I found the hosts available to me when I needed their assistance. The room was exactly as described very nice very neat and very clean. I enjoyed the quiet atmosphere and amenities. If you're looking for a nice quiet room in Novato with a great family this is the one for you. Sandy
Sandra
2016-02-01T00:00:00Z
Shakun and her husband are gracious host and make sure that I had everything that I needed. The place is cozy, clean and quiet in a safe neighborhood. The room is nice size and comfortable. I will definitely go back. It much better than stay in a hotel!
Siew Fun
2017-01-06T00:00:00Z
Clean, quiet, friendly hosts, centrally located, and great value for a solo traveller. Enjoyed meeting Shakun and her family. Bedroom is upstairs from living area and was nice and quiet.
Eric
2017-03-06T00:00:00Z
I stayed two nights with Shakun and her family and it was great! They are very welcoming and inviting. I got two great nights of sleep there. I had a chance to talk with Shakun and her husband and they are both very nice.
Dan
2017-01-26T00:00:00Z
Type de logement
Chambre privée
---
Type de propriété
Maison de ville
---
Capacité d'accueil
1
---
Chambres
Novato, Californie, États-Unis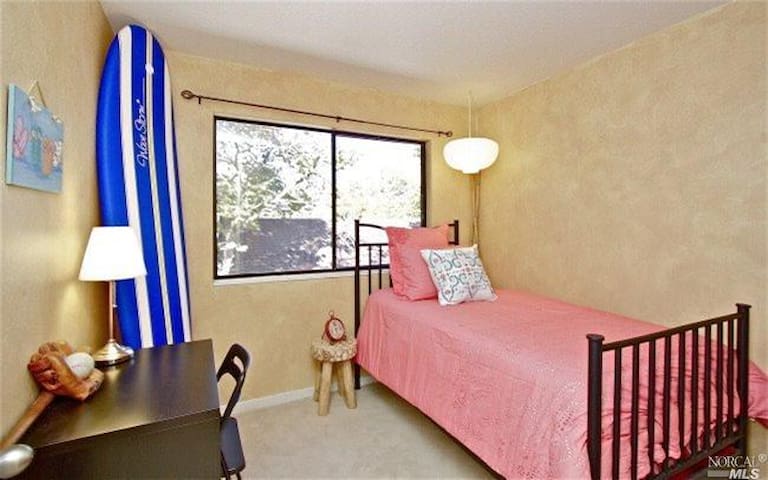 The room has a queen-sized bed and a ridgetop view of the Novato hills. There is a private bath, newly remodeled kitchen and deck to relax. Gateway to Point Reyes, Petaluma, the wine country in Sonoma and Napa, and San Francisco.
The house is located on a hilltop in Novato, with sweeping views of the Bay and open space. There is parking for one car. The house is one level, with a recently remodeled kitchen. The bedroom is located next to the bathroom with a closet. A sliding glass door opens to the deck. It is a quiet and relaxing space, complete with visiting wildlife - deer, turkeys, hummingbirds. At night on the deck there is good stargazing. We also have WiFi and cable available.
Novato is the largest city in Marin, yet it maintains its small town roots. Grant Street offers boutiques, and restaurants from sushi to Mexican at reasonable prices. Novato is the gateway to Point Reyes and the coast - whale-watching, nature walks. Limantour beach is one of my favorites. Highway 37 provides access to the wine country in Sonoma and Napa - 30 minutes away. The Golden Gate Bridge is 20 minutes to the south, connecting to all the activities in San Francisco. Just north of Novato on Highway 101 is the small city of Petaluma, a historic town with great antiques shopping and good restaurants. Here is a link to websites describing activities, restaurants and things to do in and around Novato: (URL HIDDEN) (URL HIDDEN) (URL HIDDEN)
Très bon accueil de Juliet, enchantée de nous recevoir. Très vite nous avons échangé sur nos maisons respectives (merci (SENSITIVE CONTENTS HIDDEN) map..) et donné des envies de voyage en France. Maison très calme, vaste et située en bordure de la ville (Gps indispensable). Situation très adaptée à la visite de Marin County (superbe) et des vallées viticoles.
Claude
2016-05-05T00:00:00Z
This place is one of those places that is great, but you don't want to say too much and have people find out about it. The place is located near the top of a hill/mountain. The view off the back deck is amazing. Even though you're on the west coast, you can get amazing sunrises. The town itself has its own charm, with an little town feel in the downtown area, but also easy to get to retail area with name brand stores.
Douglas
2017-02-28T00:00:00Z
I was in Novato for a 3-day workshop, and Juliet was incredibly accommodating--it was clear that she genuinely cared about my comfort. She is very warm & friendly, went out of her way to be helpful, and was flexible and understanding about my strange schedule. The bed was fabulous, the room was lovely, the view from the deck outstanding, and the private bathroom was huge! It was peaceful and quiet, as well. I was very fortunate to find such a perfect place and host; wish I could have stayed longer.
Carla
2016-07-11T00:00:00Z
Juliet was extraordinarily gracious and helpful. We felt wonderfully cared for. We had full access to the kitchen and living area. The views from the living area snd deck are grand and nature-filled. The bath spacious and up-to-date. A great find and a great value.
Bill
2016-07-05T00:00:00Z
I highly recommend staying at Juliet's place! ...but I hope that doesn't make it so it's always booked
Andrew
2016-12-08T00:00:00Z
Juliet's home was very inviting and peaceful. The view from the living room and bedroom was beautiful. The deck is large with plenty of seating. Lots of lovely plants. The bedroom was cozy and the bed was VERY comfortable! I slept like a baby. The private bathroom was very clean. The kitchen was large and newly remolded. It was very warm and spacious. There were so many nice touches to her house. I will certainly be back. It is obvious Juliet has put a lot of effort and care into her home.
michelle
2017-02-20T00:00:00Z
Juliets place was fantastic for my two week stay in Novato for work. The views are amazing, Juliet was very kind, and my time spent here was enjoyable.
Colin
2017-02-13T00:00:00Z
I felt right at home. Juliet is such a great host and very informative The description was very accurate about the house and the view of the city down below, and even though you're only 5 minutes from the city it was like being in the mountains.
Ralph
2016-09-19T00:00:00Z
Type de logement
Chambre privée
---
Type de propriété
Maison
---
Capacité d'accueil
2
---
Chambres
Novato, Californie, États-Unis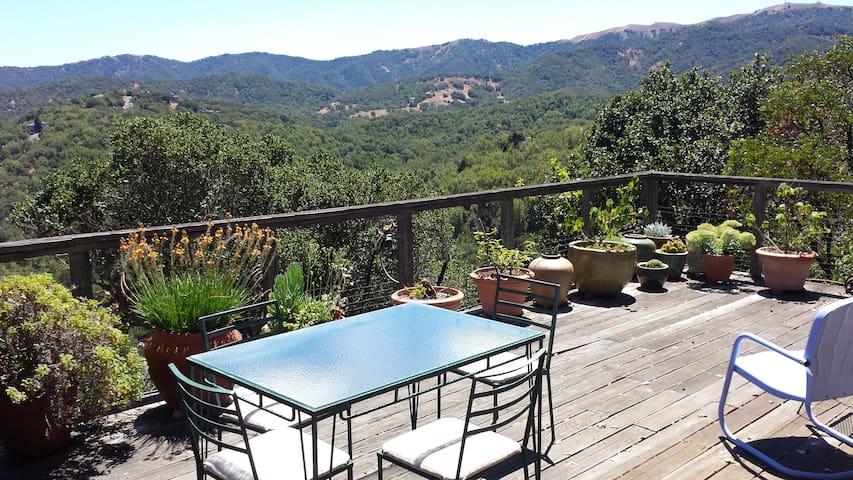 My home is Gateway to San Francisco, the Napa/Sonoma Wine Country, Pt. Reyes National Seashore & Muir Woods plus lots more. Sunny location within 30-45 minutes by car, all this is within your reach. Many local restaurants, also surrounded by lots of hiking & Natural open space, parks. 18 hole golf course 10 minutes by car. My home is good for couples, adults with 1-2 children and solo adventurers.
I have a lovely front deck to relax on as well as a comfortable sunroom with garden & hillside views out back. Especially pleasant April to October, warm weather months.
This is a very quiet neighborhood surrounded by open space, trees and regular viewing of grazing local deer. Spring/summer is especially fun when the little spotted fawns are grazing around the property with their mothers.
The house is in a very quiet neighborhood and is very quiet. Lots of trails nearby. Home was clean and comfortable. Limited TV channel selection. Owner was very good with instructions etc.
Robert
2016-07-05T00:00:00Z
A very nice and quiet neighborhood. The accommodations were great, very comfortable.
Dana
2016-07-29T00:00:00Z
This was my family's first time using Airbnb, and we were not disappointed. Linda's house was spotless and comfortable. It was easy to find, conveniently located, and very quiet. Highly recommended.
Tom and Karla
2016-08-18T00:00:00Z
I didn't get to meet Linda personally, but she was very kind and helpful on our chats. The house is located in a very peaceful place in the mountains. Everything was clean and organized. I'd definitely recommend there if you want to visit San Francisco and and relax.
Thiago
2016-08-04T00:00:00Z
Great location but the space made you feel like you were house sitting. Photos didn't accurately represent the space. It wasn't setup for renters. Needs many improvements to be an AirB&B rental. We left early and opted for a hotel room.
jerome
2016-08-12T00:00:00Z
Type de logement
Logement entier
---
Type de propriété
Maison de ville
---
Capacité d'accueil
4
---
Chambres
Novato, Californie, États-Unis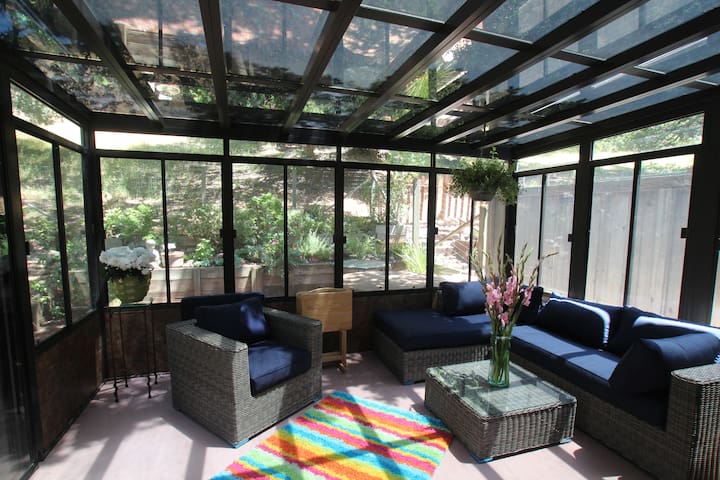 You'll be greeted with freshly baked bread and homemade jam in our lovely studio apartment on a quiet residential street in Novato. A queen-sized bed, sofa (pulls out to a Twin bed), a Keurig VUE with plenty of coffee pods for your stay, a mini-fridge, and a microwave, are here and all spit-spot for you to enjoy. We are walking distance to downtown & public parks. 5-15 minute drives to breathtaking hikes and bicycle paths, 30 mins into San Francisco, East Bay, and Wine Country.
This space is a mini-fortress in an otherwise bustling urban setting. Novato is the northernmost city in Marin County, just a short drive to San Francisco, the wine country of Sonoma County, and the East Bay (Berkeley and Oakland). We are also a walk or less than 15-minute drive from several notable hiking and cycling routes, walking distance to downtown shopping, Whole Foods, and restaurants. We live on a dead-end street with virtually no traffic. The night sky is full of stars, and the quiet is such that you can hear owls in the trees, and coyotes in the hills. A lovely and private getaway for you and yours. The furniture and appliances are clean and comfy - a queen bed and a sofa which turns into a twin bed. Your children are welcome here. The small kitchen is equipped with a new mini-fridge, microwave, and a Keurig Vue. We provide coffee, tea, oatmeal, snacks, and homemade bread and jam for your breakfasts. There is also a private patio for you to hang out on and a private entrance/exit. Parking on the street is free and plentiful. We would love to have you visit!
This is a a great neighborhood with very little traffic. You can walk to the library, parks, shopping, restaurants, and grocery stores (Safeway, Lucky, CVS, Whole Foods - all within a mile of us). We're also very close to the freeway (but not so close you can hear it!), so you can get to where you want to go anywhere in the greater Bay Area very quickly. We're easy to find and navigate around as well. If you bring your bicycles, we are bike friendly! You can bring your bikes in and park them securely behind the locked gate just outside your apartment entrance.
Perfect stay, again! Sara and Marcus take special care of their guests with all the extra treats, nice toiletries, and super clean space. Quiet, safe space where I will definitely stay again.
Sandy
2016-10-28T00:00:00Z
Everything was exactly as advertised. You can tell that Sara & Marcus want to go one step ahead on the guest experience; a lot of nice additional details. They were answering our questions right away and helping us every time they had the chance. Nice family, nice neighborhood, very nice studio and I loved the cat's visit the first day (because we allowed him; otherwise he couldn't have entered).
Luz
2016-09-08T00:00:00Z
This was the perfect peaceful spot to recover from jet lag! We were so glad to be in a quiet place out of San Fran but not too big a drive from the airport. All was ideal for us plus Grimli is a lovely cat!
Adrian and Jenny
2016-09-16T00:00:00Z
Marcus' and Sara's apartment is situated in a beautiful and quiet location and feels the more homely for it. The privacy this affords is excellent, allowing you to feel like you're hiding from the hustle and bustle of daily life. The apartment itself is well-furnished, ensuring all your needs are met and is perfectly clean and comfortable. The extras that Marcus has in place - snacks, drinks in the fridge, coffee pods and sweet, not forgetting the delicious organic toast and jam - show that he values his guests. The bathroom has shampoo, conditioner, body wash and many other nice touches. It really feels like a miniature home. However, this being Marcus' and Sara's home, if you're susceptible to noise, you can clearly hear everything from your room, be it footsteps - the floors are wooden - to the toilet flushing (loudly), conversations and other household related tasks. Whilst it's not a problem during the day, it was for us at night. Numerous times after eleven in the evening, we were woken up by the aforementioned noises, leaving us tired the following morning. Given all the positives, it is the only misgiving we had, but an honest review should reflect everything.
Geoffrey
2016-06-24T00:00:00Z
The space was great! Just as described, very clean, and convenient both to SF and Sonoma.
Nicole
2016-09-12T00:00:00Z
I had a school engagement that required that I spend a week up near Santa Rosa and the room was exactly what I needed. It was very private and clean. Sara even provided me with extra coffee for my stay since my school commitment required some early mornings. Check in and out was easy and they were very communicative.
Kristen
2016-09-23T00:00:00Z
Sara and Marcus were lovely hosts and made my friend and I feel very welcome right from the beginning. The studio is indeed private, with its own entrance and access. The neighborhood is quiet and beautiful as is the space. Parking is ample too. The kitchen was set up and had just what we needed to have a great continental breakfast, make a good cup of coffee in the morning, store our leftovers from dinner out and come back to our perfect retreat and enjoy a glass of wine. I slept on the twin futon and my friend the bed. As expected the big bed was more comfortable than the twin futon but both had wonderfully cozy blankets, good linens and a variety of pillows and we slept well. The studio is well stocked not only with snacks, but with homemade jam and bread sliced to toast. There are two ample closets with hangers and the bathroom also has nice touches with amenities and our hosts have put in little things to help with anything you may have forgotten, like q-tips. We ate at a couple of great restaurants nearby and spent one afternoon touring the small quaint town of Novato but mostly our time was spent at a workshop that was being held in a nearby location. We only saw Grimli the cat once but he is one of the most majestic Tabby cats I've ever seen who came to our patio one morning to say hello and be petted right before we went about our day. I would definitely stay here again and I highly recommend choosing this terrific studio if you are needing a private space in the Marin/Novato area. Thanks Sara and Marcus we certainly enjoyed ourselves!!!
Linda
2016-04-05T00:00:00Z
Sara and Marcus made us feel very welcome, the neighborhood was great (very quiet) and the room was spacious, comfortable and had everything we needed.
David
2016-05-09T00:00:00Z
Type de logement
Logement entier
---
Type de propriété
Maison
---
Capacité d'accueil
3
---
Chambres
Novato, Californie, États-Unis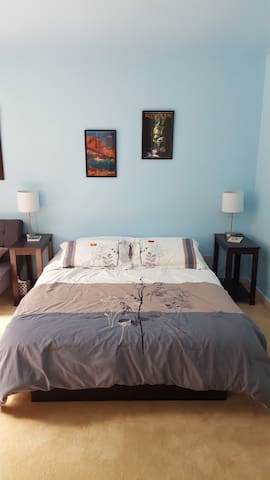 Our place is a two bedroom attached in-law unit with a private entrance in beautiful Bel Marin Keys, conveniently located between San Francisco and Wine Country. Only 20 miles North of San Francisco across the Golden Gate Bridge. Perfect for a Shopping trip to San Francisco or exploring the many 5 star Restaurants in the city. Visit world class wineries in both Sonoma and Napa Counties. Take a drive along the beautiful Northern California Coast. Enjoy our many Beaches and Redwood Forests
This is a two bedroom In-law unit attached to our house with a private entrance. Located down a quiet street in Beautiful Bel Marin Keys. A perfect spot to relax and unwind after spending the day exploring San Francisco, Wine Country or the Northern California Coast.
Bel Marin Keys is a residential neighborhood with miles of walking and biking trails along the lagoon and bay front. We are walking distance to Pacheco Pond, home to families of swans, ducks, egrets and other birds. We are a 5 minute drive to a major grocery store, great restaurants and more. Downtown Novato is a 10 to 15 minute drive away.
This is a very clean and quiet place to stay. The hosts were easy to communicate with and the place is stocked with the essentials (coffee, shampoo, soap, etc). It is in a residential neighborhood and relatively close to many wonderful things like wine country, Muir Woods, beaches, and San Fransico. We would return again.
Penny
2016-08-14T00:00:00Z
Jon & Dawn were extremely kind, prompt and courteous. They communicated very well and were very understanding when it arrival time changed. We were a group of 4 on an week long vacation and this was our second airbnb we stayed at. Jon & Dawn's home reminded us a lot of a cottage being situated in a quiet and serene area. We enjoyed having board games, the kitchenette and cable. It's recommended you have a vehicle as Novato itself is a smaller town and as such stores, food and homes are given more space. It was a pleasure staying and we highly reccomend to those whom are looking for a nice, quiet change to the busy city if you're visiting San Francisco!
Fallon
2016-08-12T00:00:00Z
We had a fantastic stay in Novato. Jon and Dawn were wonderful hosts and the place was very comfortable. The bed were cozy, the sheets were soft, and we had all that we needed for a comfortable nights stay. We had great proximity to the city and other local attractions. The biggest drawback was trying to park on the busy residential street but that is out of their hands. I would definitely recommend a stay in Novato with Jon and Dawn when you are in the area.
Lynette
2016-07-21T00:00:00Z
Only stayed for one night, but it was great! Jon was very accommodating and quick to help out. I'd definitely stay again if the need arises. All the best to Jon and Dawn.
Ben
2017-02-20T00:00:00Z
A very cozy space with a lot more room than expected.
John
2016-12-17T00:00:00Z
After very easy and prompt communications pre-visit, I was greeted very warmly by Dawn upon arrival. She showed me around the apartment and made sure I had everything I needed, including a light bulb from the main house when one burnt out suddenly in the bedroom. The unit was clean, orderly, and nice. Some kitchen noise is audible through the door that connects the unit to the main house but it's incidental. The couch in the living room is actually three chairs, which came as a small surprise but not an inconvenience. The hot water was virtually instant. I didn't find a thermostat in the unit, guessing the heat is controlled from the main house. Heating is very efficient. The kitchenette's utensils and accommodations are basic, but functional and useful. There is a nice little park about half a mile down the street. It was a lovely place to spend the New Year with my boyfriend, and I would definitely recommend this spot.
Jena
2017-01-02T00:00:00Z
This place was perfect! A good distance between Napa and SF. Three adults stayed here and no one felt crowded. The hosts were even flexible with our check in time (we arrived later than anticipated). They even checked in on us the next day to ensure everything went okay. Much appreciated and thanks again!
Jessica
2017-02-27T00:00:00Z
I really enjoyed my stay here. Overall, it was a great experience. The location and neighborhood were really nice and I loved the fact that I could walk to see a nice view of the lagoon. There were also lots of places to hike nearby. The space itself was very nice. I especially liked the super comfy bed. It was also so cool that there was a coloring book w/ colored pencils and tons of board games. Jon and Dawn totally respected my privacy, since I was going for a quiet getaway and wasn't looking for interaction with anyone. And it was a terrific value too. I would definitely recommend.
Lucia
2016-12-31T00:00:00Z
Type de logement
Logement entier
---
Type de propriété
Maison
---
Capacité d'accueil
4
---
Chambres
Novato, Californie, États-Unis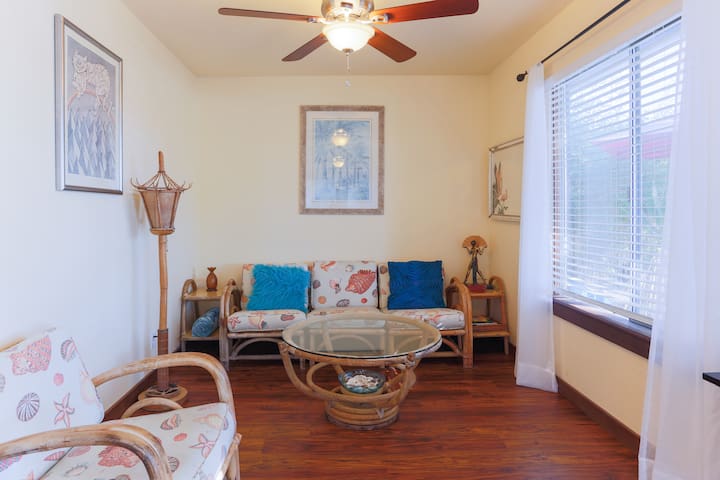 Granny unit upstairs with separate side entrance and bath. Queen Size Bed. We are located steps away from the gorgeous Hamilton Bay Trail where you can walk, hike, run, bike and enjoy the view.
Comfortable granny unit with own bathroom closet and a tiny balcony. Separate entrance that leads to a beautiful garden. Enough room to stretch, exercise and meditate.
Best weather in Marin. Very quiet and safe neighborhood, numerous bike path and hiking trails, YMCA, Art Center, Library, baseball and soccer field, Day care facility, Elementary School, Cafe, Hamilton Pool, Hamilton Field Historical Museum, All in walking distance. Market Place, Peet's Coffee, Safeway, Gas Station, Marin Airporter just a mile away.
Nous avons été très bien accueillis par nos hôtes, la chambre était parfaite, spacieuse et confortable, la salle de bain 5 étoiles. Le quartier est résidentiel et tranquille, il est situé près d'une jolie réserve naturelle idéale pour se promener. Un excellent restaurant très proche est le Beso, chaudement recommandé. Nous reviendrons avec plaisir !
Pierre
2016-08-22T00:00:00Z
Charry made me feel very welcome. She was extremely kind and helpful. The neighborhood is quiet and appealing, and the room is as described in the photo. I would recommend staying here.
Madelon
2016-04-06T00:00:00Z
Charry and Steve could not have been more hospitable. They greeted us at the door; and Steve cheerfully volunteered to help carry our many bags and boxes from our car all the way up the stairs to the room, even though we protested that we shouldn't bother him (it was late at night). They both were consistently kind and friendly. Charry left wonderful drinks and munchies for us in the 'fridge. The room, bathroom, and closet were all lovely, warm, and extremely clean. The neighborhood was very quiet, pretty, and within walking distance of our Thanksgiving destination. Thanks for making our Thanksgiving a great holiday, Charry and Steve!
Susan
2016-11-26T00:00:00Z
Clean, quiet, comfortable large space/studio. A good "home away from home." Super bed.
Susan
2016-06-24T00:00:00Z
Yes excellent. Charry was great and Steve offered help with the luggage. the romm was nice and clean accurate to advertisement. Safe neighborhood.
Om
2015-09-26T00:00:00Z
Cozy, Comfy, and Clean. Charry will take care of you.
Jesus
2015-11-08T00:00:00Z
Lovely room and neighborhood! My boyfriend and I were in Novato for a wedding and this listing was only a few minutes away from the venue. I would highly recommend staying here, we didn't get to chat with Charry and Steve very much during our stay but they were very kind and welcoming when we first arrived.
Julie
2016-03-20T00:00:00Z
As always, a wonderful experience.
Martha
2015-05-28T00:00:00Z
Type de logement
Chambre privée
---
Type de propriété
Maison
---
Capacité d'accueil
2
---
Chambres
Novato, Californie, États-Unis
A five minute walk to town and you will be able to walk to many wonderful restaurants. The bed is a Queen Bed The view out your room is of the rose garden and a beautiful green hill with open space. Quiet time is 10:30pm.
We're close to the city of San Francisco about 25 min, and close to the Wine Country, town of Sonoma, is another 25 min! Muir Woods, and beautiful beaches are about 40 min away, Bolinas is great for surfing. This room is light bright and quiet. It has a Queen bed, dresser, desk, and a closet. We have a new flat screen TV for your viewing pleasure. The view from the bedroom is open land and a very green hill with a large oat tree on top. Out the bedroom you will also see my rose garden. There is a possibility that you will share the home with other Air BNB guests, as well as my son and my self. Quiet time is 10:30pm. Let me know if you want to use the Hot Tub because it takes 40 min to heat up. I turn it off at 10:30 pm:)) Thank you for your interest.
Wonderful stay. Shelley was welcoming and helpful. The private entrance from the secluded corner of the deck made it all feel like a true bed and breakfast. Highly recommend!
Carl
2016-10-23T00:00:00Z
More a hotel room than air bnb, you are not supposed to use the kitchen on the pics
Bram
2017-01-07T00:00:00Z
Lovely place, very relaxing and cosy. Shelley was great and very communicative. Highly recommend!
Caitlin
2017-03-05T00:00:00Z
I enjoyed my stay at Shelley's. The room was clean, comfortable and as described. It has a kind of a country resort feel and I loved the all-tile shower. The neighborhood is very nice.
Terry
2015-10-04T00:00:00Z
First time using airbnb and was a bit nervous. However, Shelley made the experience wonderful! The room was as pictured and as described. We felt very comfortable and welcomed. Initially, I told Shelley we would arrive in the evening because we planned to spend the day in San Francisco. However, we decided to head right to Novato and Shelley was fine with that. She provided suggestions for other places to see the first night and offered to take us to the ferry the next day so we could spend the day in San Francisco. We had an amazing time in San Fran without the worry of driving and parking! The yard and pool are beautiful, but we didn't have time to swim, so maybe next time... Thanks, Shelley!!
Karen
2016-08-18T00:00:00Z
Shelley is a very warm, pleasant and welcoming host. The room is as described, very clean and comfortable. The hot tub (one of the reasons I chose Shelley's place) and pool add great value! The common areas are clean and neat, and the house rules are reasonable. The next time I'm headed in this direction, Shelley's place will be my top choice!
Victor
2016-05-09T00:00:00Z
Shelley's house is a perfect place to stay and explore around the area, and Shelley is a gracious, friendly and welcoming host. I had a great experience at Shelley's airbnb.
Srikanth
2015-11-28T00:00:00Z
Shelley the owner of this property was a wonderful host! We set up a time to view the property and she was professional and on time for our appointment. The property is beautiful and clean, and in a very quiet neighborhood, close to downtown! My Dad stayed here for two weeks and enjoyed his stay very much, would definitely stay here again.
Tammy
2016-06-13T00:00:00Z
Type de logement
Chambre privée
---
Type de propriété
Maison
---
Capacité d'accueil
2
---
Chambres
Novato, Californie, États-Unis
Located in Marin County, northern part of San Francisco Bay Area. 30 minutes to San Francisco and Golden Gate Bridge, 30 minutes to wine country, 30 minutes to the Sausalito, Mill Valley and other beautiful towns. Room is clean and bright.
The room is 10x10 sq feet with bathroom outside the room.
Very friendly,peaceful, quiet, safe and beautiful neighborhood.
We were greeted by Mani's husband who was extremely welcoming, even making us tea! They were both very sweet and generous. The house was very comfortable and clean and ideally located for exploring the Marin County area. The kitchen was very nice too and we had lunch in their garden once!
Leo
2016-05-28T00:00:00Z
Mani was a great host, always checking that I had what I needed and making changes if necessary. Everything was supper clean and both the room and neigborhood were very quiet. The social interactions were minimal with no kids, pets, or loud TV.
Kim
2016-06-20T00:00:00Z
Mani is a awesome host. The place is clean, quiet and decent. We have very wonderful talk. Well be here next time!
Zhixian
2016-03-25T00:00:00Z
Mani was wonderful. We booked day of as a stopping point to the SanFran airport ( ~an hours 15 drive away) and they were very accommodating! The house was clean and the bed was the most comfortable bed I've stayed in through all of my airBNB experiences. They offered us full access to the kitchen and we had a bathroom to ourself. It was overall wonderful. I would recomend this home to anyone in the area.
tyler
2016-06-08T00:00:00Z
Mani's home is very quiet and comfortable. She and her husband are pleasant hosts and very helpful. I highly recommend staying with Mani for its location near to downtown Novato, and for its comfort. I enjoyed my stay and look forward to my next visit.
Joan
2017-04-03T00:00:00Z
Very quiet and peaceful house! I was able to park in their driveway, and the neighborhood is just a short drive from some restaurants and stores. I loved my stay here.
Aubrey
2016-09-26T00:00:00Z
Mani and her husband are kind compassionate caring hosts whom leave one to enjoy the house and environs. The home was quiet, well appointed and I especially appreciated the tea and toothpaste, as I had forgotten mine!!
Jan
2016-10-02T00:00:00Z
Jeremy and Hong were very welcoming. Environment was always clean, quiet and peaceful. Great experience .
Jared
2016-03-18T00:00:00Z
Type de logement
Chambre privée
---
Type de propriété
Maison
---
Capacité d'accueil
1
---
Chambres
Novato, Californie, États-Unis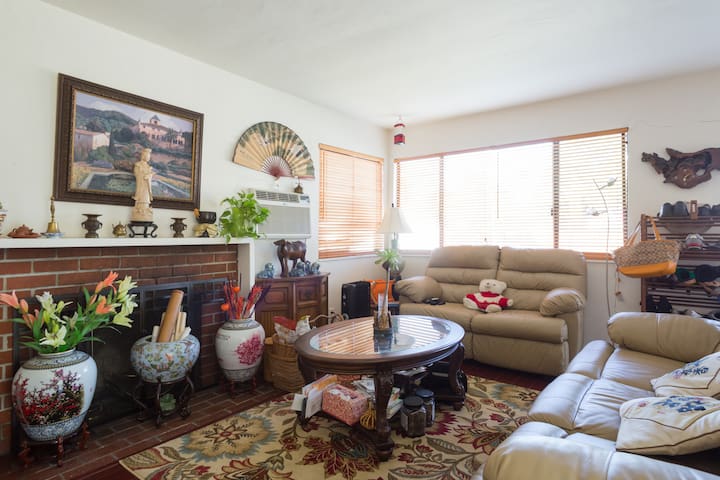 This cozy living room is within close proximity to the wine country, San Francisco, and the Pacific Ocean. Enjoy using the kitchen to prepare yourself a meal, chill in the patio out back, or relax in our recently remodeled living room.
You can get to the wine country, city, or beach very easily from here. It's not far from downtown and you could walk to the grocery store from here. It's a large living room, with plenty of natural light during the day. We have air conditioning and heater, You can wash your clothes in our new washer and dryer.
Kids playing in the streets during the day Easy access to many places... Napa, Infineon Raceway, San Francisco and Petaluma. Quiet neighborhood
Responded right away. Home was clean and bed and place to sleep was comfy. Provided towel and showed me around. He was nice and friendly. I recommend! Also right next to the hwy
Jacky
2016-03-31T00:00:00Z
Quiet, clean and comfortable. A great place to stay if you have business in the area.
Mike
2015-09-26T00:00:00Z
Everything was great. Odysseus the super friendly and accommodating. You got back to me right away and I stayed there on super short notice. Got a great night's sleep and I was off the next day.
Devin
2017-04-05T00:00:00Z
The host was waiting for me. He orienting me quickly to his home. The description "shared room" doesn't truly describe the room. The guest space is the first floor living room. The 3-4 permanent residents of the townhouse/condo live upstairs, and didn't use the living room at least when I was present. Someone going up or down stairway can see into the guest space, which means there is little privacy. (There is no room divider or screen that might block the view into the guest space.) I saw the host once more during my 4 night stay. The other residents were congenial, but not friendly. In the morning, I was awakened by someone in the kitchen, which is around a couple of corners from the guest bed, at around 7:30 am. The one shower for the home is upstairs, with a sink and toilet bathroom downstairs. Guests must park their car at least a block from the entrance to the home, and further away if they return in the evening during the week. Freeway traffic can be heard because it is about two blocks away. It is easy to drive to San Francisco or points north with the 101 freeway close by. The home was clean. There is a comfortable couch in the living room/guest space. The kitchen sink was almost always full with unwashed pot(s), pan(s) and dishes. The TV in the living room/guest space does not work.
Bruce
2016-05-29T00:00:00Z
Very pleasant stay, host was kind and friendly, cheap stay with many ammenities, 5/5 would stay if in the area again
Brian
2016-01-06T00:00:00Z
Easy to communicate with and the house mates were welcoming and kind. A very comfortable bed in living room. :)
Delia
2016-08-18T00:00:00Z
The "room" itself was very clean and organized and Odysseus and his roommates were nice. However they partied from 3am till morning, on a Tuesday I might add, basically preventing me from getting any sleep. Everything that goes on upstairs can be clearly heard from the "room" and the bed is hard as a rock. I do not recommend this place if you intend to sleep.
Bryan
2016-11-02T00:00:00Z
Odysseus was very nice and easy to get ahold of for questions. The bed was comfortable for a pull out. The area is nice. You do have access to a washer and dryer which is very convenient. The shared bathroom was not very clean. The kitchen trash smelled.
Teresa
2016-07-08T00:00:00Z
Type de logement
Chambre partagée
---
Type de propriété
Maison
---
Capacité d'accueil
1
---
Chambres
Novato, Californie, États-Unis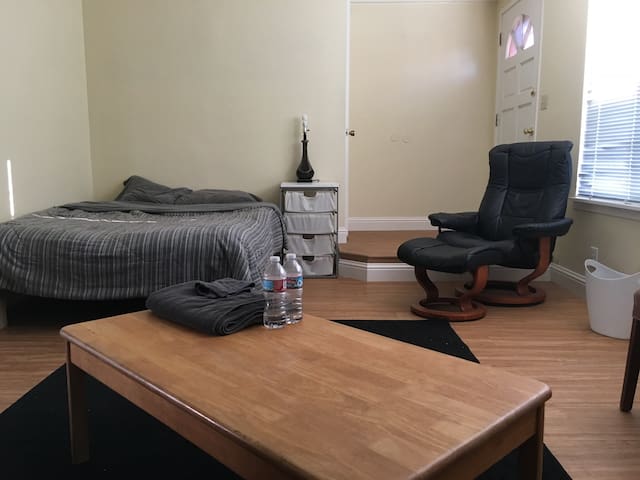 My place is good for solo adventurers and business travelers. Close to downtown, shopping spots and freeways. it is very convenient, secure and private gated property. Female traveler is preferred.
The host canceled this reservation the day before arrival. This is an automated posting.
Ingrid
2017-04-03T00:00:00Z
Type de logement
Chambre privée
---
Type de propriété
Maison
---
Capacité d'accueil
1
---
Chambres
Novato, Californie, États-Unis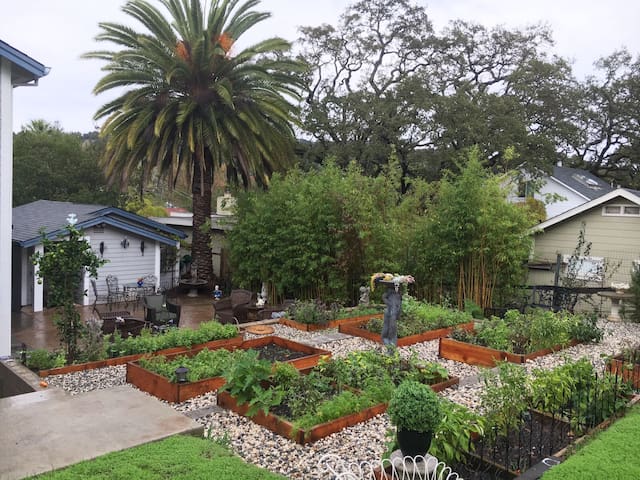 Small cottage great for single or couples (12x16 inside). Everything you need to enjoy your time in Marin County, including a spa and pond right outside your door. Located near wine country and San Francisco.
This space is very compact and efficient. You can enjoy inside or sit outside in the garden or in your private patio area. Small closet, full bathroom, queen sized Murphy bed, microwave, & refrigerator w/ ice maker. Laundry washer and dryer available. Great launching point to Napa & Sonoma Wine Country, the Sonoma Raceway (about 10 mins), San Francisco, and the Giant Redwoods and beaches. There is plenty of parking, access to laundry, heated spa, bbq grill, digital cable, internet, heating and A/C (a/c upon request). Please only two adults (additional children are ok). There is only one queen sized bed, and no room for another bed or cot. Please adhere to safety rules of the Murphy bed, detailed in "house rules". Do have a Graco Pack 'n Play Playard with Reversible Napper and Changer that will fit if the chair is removed. If you want tips or the area, I would be happy to help you. I was born and raised in the area. You are welcome to join in a glass of wine, or keep to yourself. It is all up to you. You have a private entrance to the yard, so no need to alert anyone to your presence if you wish. This is a great spot to launch for: Hiking WineTasting Walking Distance (downtown novato) San Francisco Big Redwoods Marin Headlands / Pt Reyes * Golden Gate Transit Bus Stop short walk (north or south routes) * Golden Gate Ferry w/ service to San Francisco (15min drive) * San Francisco offers bus, light rail, trains, and subway If you need to make a phone call, print some documents, fax (send/receive), or other help just let me know. If you have any special requests, or questions please do let me know!
We live in a typical 50's/60's construction Northern California neighborhood with lots of trees, older homes, people walking their dogs, very close to shopping. This is a great spot to launch for: Hiking WineTasting Walking Distance (downtown novato) San Francisco Big Redwoods Marin Headlands / Pt Reyes
Agréable petit cabanon, au fond d'un joli jardin, propre comfortable et très astucieusement aménagé. Conviendrait mal cependant à de gros gabarits. La highway est proche mais le bruit n'est pas trop gênant. En l'absence de Tim nous avons été agréablement accueilli par Sébastien qui nous a donné tous les renseignements nécéssaires. Nous avons rencontré Tim le lendemain qui nous a appris 2-3 choses sur la région de Sonoma et Nappa.
Jean-Marc
2016-05-25T00:00:00Z
Ive stayed in cabana several times, and loved every second. Stocked fridge, warm heater, beautiful comfort and design, and of course the hot tub garden. Definitely a super host!
Thomas
2016-04-02T00:00:00Z
Timothy has a wonderful and unique place. It was everything listed and more. The layout of the room is perfect for a short or long term stay and the yard area is beautifully landscaped. It Was a Great Stay!
Duane
2015-04-16T00:00:00Z
The place was perfect for us! Very cozy, clean, wonderful ambiance. After traipsing all over Point Reyes, and San Francisco, we'd spend an hour in the evening, chilling in the Jacuzzi. The hosts were very amiable. And, a big thanks to John, who kindly helped us clean our sons car seat after he got sick all over it, the result of a two hour winding drive through nature. Highly recommended to couples looking for a romantic getaway, and small families looking to chill in a beautiful place. A big plus: you have Whole Foods, and Trader Joes right next door.
Emad
2015-08-21T00:00:00Z
Good communication from Timothy. Please was very nice- as advertised. Garden area was very well taken care of and the unit was clean upon arrival with all basic amenities. It is certainly small, but since it has a porch and garden, it did not feel cramped. Neighborhood is nice, close to Trader Joe's, Starbucks and only 2 minutes from the historic downtown area. Would recommend.
Jeremy
2015-10-20T00:00:00Z
I couldn't have asked for a better experience! Timothy was very accommodating to our later-than-usual check-in time. The space was incredibly clean, and felt brand new. If I am ever up on this area again, I could only hope to stay here again.
Kevin
2014-09-22T00:00:00Z
I had a wonderful stay again at the cottage. Everything was clean and neat. Timothy is always very easy to get in touch with and always wants to make sure you are having a good stay.
Amy
2015-04-11T00:00:00Z
This is our 2nd time staying at Timothy's place! Just love it!! Thanks for your hospitality and kindness!
Kelly
2016-10-12T00:00:00Z
Type de logement
Logement entier
---
Type de propriété
Maison
---
Capacité d'accueil
2
---
Chambres
Novato, Californie, États-Unis
Airstream Safari 23 foot Trailer. Minutes from wine country. Country fresh eggs, organic garden and quiet just 30 minutes from San Francisco. Coffee, continental breakfast and other amenities included. All the comforts of home: TV with DVD, Stereo, Radio, Running Water, Heat, Air, and a comfy bed. Public transportation nearby. Best suited for not more than 2. Come enjoy the San Francisco bay area in all its majestic glory. From SFO (San Francisco International Airport) the Marin Airporter brings you within a couple miles of our chic "Twinkie" stream. Then, a short cab ride and you'll be enjoying all the comforts these classic travel trailers have to offer. Driving is also easy from any direction and having your own car makes for easier access and sightseeing in our area. Equipped with a gas stove, microwave, refrigerator and electric appliances, you can prepare LIGHT BITES (only please...grill outside for meat) or dine out--taking advantage of the wide array of fresh, local cuisine. And, in season, you're welcome to enjoy some fresh picked produce from our organic garden and orchard. As well, a new large Whole Foods, Trader Joes and Safeway are just ten minutes away. One of the best farmers' markets in the country takes place each Thursday and Sunday at Marin Civic Center. You can step out the door and take a lovely walk around the neighborhood or venture further to one of a multitude of hiking trails. If you've got your bike along, sprawling flat areas abound as do the more difficult; windy-curvy-hilly options. A lovely drive to the beach at Point Reyes National Seashore or past the Cheese Factory for some tasting of French cheeses like Camembert or brie is one of our favorites. Or, just read and/or relax in our expansive yard. Watching a movie from an in trailer private collection might catch your fancy . Bird watching right here on the premises is our daily entertainment with such exquisite specimens as Barn Owls and White-tailed Kites. We have a wide array of books covering Bay Area activities, sights and history as it's too numerous to mention here all there is to do. For the auto/motorcycle racing enthusiast, it's ten minutes to Sonoma Raceway (formerly Infineon Raceway). (URL HIDDEN) Wine tasting beckons both closeby and at greater distance. Golf anyone? Well, there are three local courses to satisfy you. And, we must mention, within 20 minutes you can enjoy a concert at the new world class Weill Hall at Sonoma State in Rohnert Park. (URL HIDDEN) With an extra comfort layer added to the mattress and cozy quality bedding, you should sleep like a baby. The affordable silver style of this trailer makes "camping" all the more civil and comfortable. Come join us!
Peaceful, rural, bucolic and natural yet close (a few minutes by car) to town and many world renowned attractions.
Susan's Airstream was wonderful. Perfect amount of space for the 2 of us, very well maintained, clean, comfortable, and even had breakfast waiting for us in the refrigerator. Susan had dimmed lights and soft music playing on the speakers for our arrival which was very nice. The neighborhood is quiet and has a lovely mountain view to wake up to. Everything we needed was there: corkscrew, coffee maker, clean towels for showers, dishes, silverware, plenty of pillows and blankets, filtered water on tap, sitting area outside to enjoy the view with our morning coffee. We loved it and would definitely return.
Olivia
2015-10-26T00:00:00Z
We had a nice stay. The area was quiet and the caravan was clean. Sue was very friendly and helpful. Thank you so much.
Anita
2014-04-21T00:00:00Z
Gotta admit, I am missing this sweet airstream terribly. It was the perfect fit for my daughter and I and we enjoyed the womb-like atmosphere. The bed was comfortable and we slept great, cooked meals in the mini-kitchen and watched movies on the flat screen. Susan was a great hostess who made us feel right at home. Can't wait to come back!
Lisa
2014-05-26T00:00:00Z
Had a great stay at Susan's place! It was perfectly cozy and quiet. The space was very clean and we loved the delicious breakfast. Susan was welcoming and available for any questions we had during our stay. Would highly recommend this listing!
Leah
2016-10-03T00:00:00Z
Host was very helpful, willing to spend as much time answering questions as we wanted. Location was nice, tucked on the side of their home. School street was also really scenic to take a walk on. Lots of things to like about this place, wonderful tomatoes from their garden, a few luscious strawberries, tv with nice movie selection. Shower was very doable, toilet a bit tight, but didn't spend the majority of my time there anyways. It's obvious the hosts take pride in this trailor, meticulously clean, good literature about the area... Very cozy. Wouldn't hesitate recommending this to you my fair reader (assuming you're less than 7 feet tall).
Elizabeth
2014-10-12T00:00:00Z
Our guests were delighted with the accommodations and the thoughtful extra touches. They enjoyed having breakfast and some privacy away from the holiday frenzy that was going on next door.
Jean
2014-12-28T00:00:00Z
A chill place with a chill host. Susan was nice and packed the fridge full of delicious food. Nothing to complain about.
Richard
2016-09-03T00:00:00Z
It was such a pleasure staying in Susan's Airstream. My boyfriend and I went for a weekend birthday trip for me and it was perfect. We've now decided our next big purchase is going to be an airstream! Susan had the fridge stocked with strawberries and tomatoes from the garden and eggs and waffles for us to cook. Along with other useful things (coffee & creamer, syrup, popcorn, etc). It was so much better than staying in a hotel and we hope to go back again soon.
Shannon
2014-11-04T00:00:00Z
Type de logement
Logement entier
---
Type de propriété
Camping-car/caravane
---
Capacité d'accueil
2
---
Chambres
Novato, Californie, États-Unis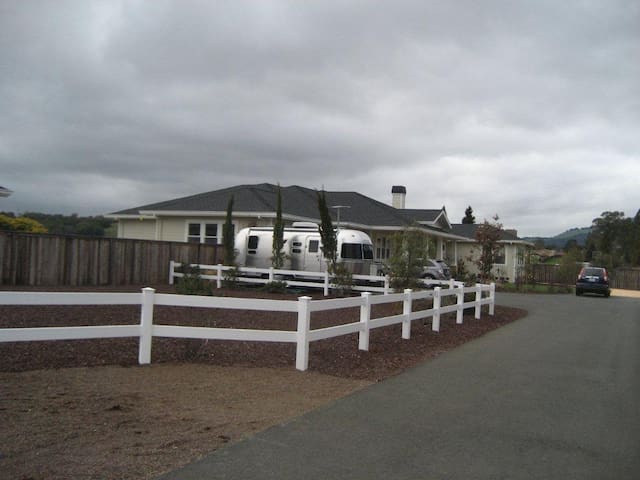 You'll love my place because of Quiet, comfortable, warm in the winter...cool in the summer. Our home is good for couples, solo adventurers, and business travelers. View the starry skies at night in the outdoor hot tub (weather permitting of course!) Home-style DIY breakfast every morning (coffee, tea, cereals, toast, jam)
The Tamalpais Room: Queen bed; computer desk with printer - This is the room we will book unless additional rooms are required for more of your guests. Additional rooms if requested: Antique Overflow room: Twin double bed Children's Overflow room: Single bed
Jeff and Jennifer's house is very comfortable and stocked with everything you need and more. The room is spacious with a very comfortable bed and a refrigerator in the closet should you want to store your food. They also encouraged us to use the refrigerator in their kitchen should we wish. We felt very welcome and encouraged to use the living room, kitchen, and hot tub (such a nice hot tub). Jeff and Jennifer were both warm, welcoming, and hospitable. We loved chatting with Jeff in the kitchen in the morning. It seems that this is a space where you can be as social as you see fit. If you're looking for a cozy retreat to yourself Jeff and Jennifer will respect that. If you're looking for conversation and warmth, they are more than inclined. We would definitely stay here again.
Petruţ
2017-02-24T00:00:00Z
Jeff and Jennifer are the nicest people. The made me feel like family and would do these little things which was so nice. The room is large and extremely comfortable and decorated well. I grateful to them both for their hospitality and friendship, Thanks you so much for making my stay more than wonderful.
Rajni
2017-03-31T00:00:00Z
Type de logement
Chambre privée
---
Type de propriété
Maison
---
Capacité d'accueil
2
---
Chambres
Novato, Californie, États-Unis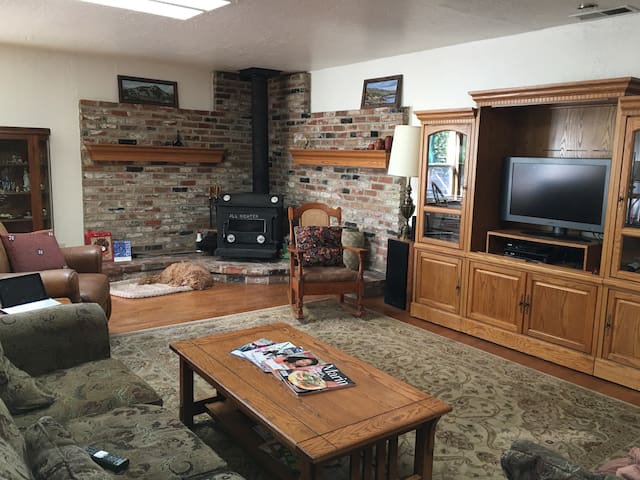 Novato - Airbnb
:
Moyenne de

4.97

sur

5

étoiles sur les

1036

commentaires des voyageurs
1

–

18

sur

300+ locations
Saisissez les dates souhaitées pour connaître le prix total. Des frais supplémentaires s'appliquent et des taxes peuvent être ajoutées.