This is a private, single unit about 30 feet from the family home which accommodates 2 persons comfortably. Sleeping accommodations include a queen size bed and a twin sleeper couch. Additional accommodations include refrigerator, sink, table, microwave, wi-fi, satellite. Pets are not allowed.
The guest house porch has two adirondack chairs. There is a Pawley's Island hammock as well.
Three Dog Night was a wonderful oasis for our family while visiting the Cheyenne National Grasslands and Bent's Fort near La Junta. After a night camping at Picket Wire and the long hike to and from the dinosaur tracks, it was wonderful to arrive at the lovely and well cared for inn in Sugar City. Kiki and Richard were so welcoming, even at the late hour we arrived (the hike out of Picket wire is looong). The in itself is an accessory dwelling to their lovely adobe home. I was impressed by the attention to small details (lavender and rose pedals in the bathroom, lovely peppermint body wash, fresh tulips, details about migratory birds on the lake and locations to visit) and thoughtful inclusions (bins in the closet to unpack into, an iron and board, dishes, coffee pot/coffee and cream, a hammock to relax in outside the cottage, ...everything we needed was there, and so thoughtfully placed. My 3 kids slept comfortably on the sleeper sofa and my husband and I took the very comfortable bed. Our dog Boddy slept in his dog bed on the floor. The kitchen (no stove..but had a microwave) allowed us to prep food at the inn which saved $ and allowed more time for exploring the area. While the inn/cottage was awesome, the best part for us was the owners and our hosts, Kiki and Richard. What wonderful, kind, interesting people! In the morning we were greeted with a treat for us, and our dog. Kiki and Richard are incredibly knowledgeable about the area's history, attractions, people, places, parks..and just in general. Could have easily spent the afternoon drinking coffee and chatting with the two of them. They also have 3 lovely dogs and took time to introduce our dog to theirs so he could run around the lake property. Three Dog Night was one of the highlights of our 3 day stay in the La Junta area. Call or text Kiki for directions, and..enjoy your stay!
Susan
2016-04-05T00:00:00Z
I had such a great stay! Kiki and her family were so welcoming to me and my little dogs. I couldn't be more grateful that they allowed me to share a little piece of their beautiful home. What a perfect getaway. Thank you. I hope to visit again.
Lesley
2016-09-16T00:00:00Z
Available, gracious, accommodating host. Peaceful, beautiful Sante Fe style casita. Definitely accurate listing.
Valerie
2016-06-14T00:00:00Z
Kiki was a great host. The place was very nice and spotless. The view is beautiful and it's a dog friendly property. The location is very rural but has a few cafes within driving distance. I would stay here again.
Deborah
2016-06-14T00:00:00Z
Kiki and her family were very welcoming and friendly. She was always available to help with anything I needed. My dog isn't great with other dogs, so she even worked out a schedule so my dog could roam the area without her around. The guesthouse was super clean and comfortable. Best bed ever. I had a very relaxing weekend.
Adriane
2016-02-29T00:00:00Z
Even though we booked at the last minute, Kiki was absolutely superb in accommodating us. Her guest house is the epitome of tranquil and is set in the most stunning location overlooking the lake. Could not recommend the Three Dog Night Guest House highly enough.
Angus
2016-06-28T00:00:00Z
Kiki was very warm and welcoming! We had a wonderful stay and will definitely be back!!!
David
2016-11-06T00:00:00Z
Great stay at Three Dog Night! Kiki was helpful, hospitable, and welcoming. We spent three days, two nights exploring SE Colorado. The Three Dog Night guesthouse was a great location for our travels - Bent's Old Fort, Comanche Grasslands, La Junta (visit the town's Otero Museum). The 3Dog facility was lovely and comfortable for the two of us. Lots of room, nicely appointed, spotless, with large kitchenette with microwave, toaster, and coffee maker. Lovely view of Lake Meredith from the porch. Nice touches such as the bedside tables that were old school room desks, but with power strips (why don't hotels do this??) Things to know: 5 miles to the nearest grocery, 15 miles to restaurants - but at 60+ MPH on country roads, not that much time. If you are looking for a comfortable, secluded location in SE Colorado with great views, 3Dog is the place to be!
Stephen
2016-06-30T00:00:00Z
Type de logement
Logement entier
---
Type de propriété
Maison
---
Capacité d'accueil
4
---
Chambres
Sugar City, Colorado 81076, États-Unis
Experience big living in a tiny home featuring chemical-free interior, kitchenette, 3-piece bath, one queen-size green choice mattress, and a comfy full-size futon. Visit Dinosaur Tracks, Bent's Old Fort. Enjoy our pool & mini-golf or golf at the La Junta or Rocky Ford public courses and visit the NEW Dean Micro-Brewery. If you are a fan of Mexican food, it's here! Farmer's Markets abound with local produce in the summer months. Ride in on Amtrak - car rentals available here!
It was exactly as advertised. Family of 4 stayed there and it was great. Will be recommending to friends.
James
2016-09-06T00:00:00Z
A friend and I traveled to La Junta to explore, hike and learn about other regions of our beautiful state. To be able to find the delightful Tiny House in La Junta was just frosting on the cake of our weekend adventure. It is immaculate, beautifully appointed, modern with a keen eye for modern and efficient aesthetic and quiet. The setting is great--it sits in a really quiet location with views to the south and was so quiet. Communicating with Rod was easy, finding the Tiny House and getting checked in with Brad was also really easy. The house is easy to settle into and utilize. There is an outdoor area with a fire pit and picnic table which will be nice during warmer weather, ample parking. We enjoyed a full weekend of exploring including a great day long hike, a visit to Bent's Fort and breakfast at the Copper Kitchen (which is the epitome of small town friendliness and not to be missed). This was a great encounter all the way around! Thank you!
maret
2017-03-06T00:00:00Z
Our first "tiny house" experience and we loved it! Rod's place is brand new and very modern, with lots of IKEA touches! Clean and efficient. Perfect for two people though you sleep one to two people on the downstairs pullout couch! My husband and I slept in the loft with a very comfortable mattress. The perfect location for us to visit family!
Heidi
2016-10-19T00:00:00Z
Everything was as described. Great opportunity to see what tiny house living is about. Location was quite and Rod was very helpful. Have already recommended to friends
Rachael
2017-02-17T00:00:00Z
The tiny home is super cute and clean and new. Kids enjoyed putt-putt on the KOA grounds. Enjoyed having our own tiny "yard" outside of the tiny home. Perfect for those who don't enjoy being shut up in a hotel room!
Kate
2016-11-30T00:00:00Z
The Tiny Home was wonderful - we really enjoyed it!
Marc
2016-09-03T00:00:00Z
Rob graciously gave me a ride from the Amtrak station upon my arrival to the Little Home. I used one the rental cars to go to Bent's Fort. This worked out very well. Next morning a ride station. Very easy and very efficient.
Albert
2016-11-07T00:00:00Z
Amy and I had a great stay in a clean, comfortable, and very cool tiny house built by Sprout in La Junta. The bed was excellent. The tiny house stayed cool without air conditioning even though the outside temps hit . We travel for business often so this was a fun departure. Adding to the accommodations was the welcoming staff of the KOA campground, where we were treated like family. The location was easy to find and quiet at night. We heard coyotes and owls during the full moon. And we can't say enough about the fantastic people of La Junta, in general. What a great town for a hiking and biking weekend. Rod was polite and helpful throughout the accommodation. The setup was easy and our first Airbnb outing was a complete success. Thank you, Rod!
Michael
2016-09-19T00:00:00Z
Type de logement
Logement entier
---
Type de propriété
Maison
---
Capacité d'accueil
4
---
Chambres
La Junta, Colorado 81050, États-Unis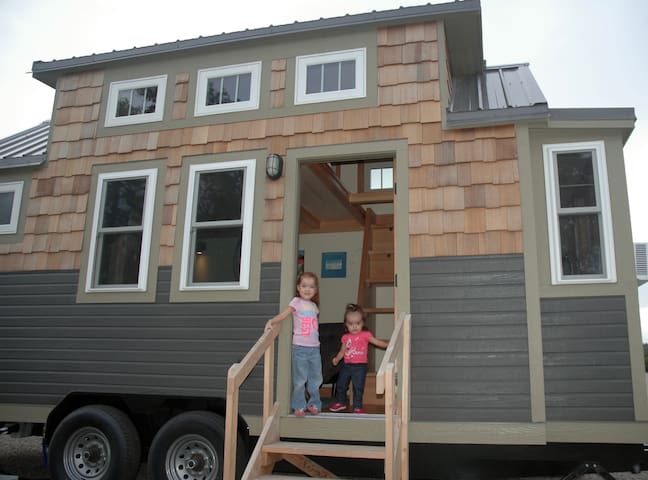 An unusual experience is waiting for you! Historic 1890 bunkhouse refurbished in western style on a 7,000 acre working cattle ranch on Horse Creek, ten miles north of Ordway in Southeastern Colorado. Relax and hear the sound of silence, see the vastness of the plains and the planetarium nights. Witness the golden sun rise or watch its crimson fall behind Pikes Peak. Sometimes you can hear the hoof beats of Cheyenne ponies or grinding of wagon wheels on a Kit Carson wagon train. The spirits of th
An unusual and peaceful experience is waiting for you! Historic bunkhouse refurbished in western style on a 7,000 acre working cattle ranch on Horse Creek ten miles north of Ordway, in Southeastern Colorado. Relax and hear the sound of silence, see the vastness of the plains and the planetarium nights. Witness the golden sun rise or watch its crimson fall behind Pikes Peak. Sometimes you can hear the sounds of Cheyenne ponies or grinding wagon wheels. The spirits of the west are all around you. An unusual and peaceful experience is waiting. Spend your time doing absolutely nothing or explore the ranch and the area. Hike, bike, star gaze, bird watch, arrow head hunt, photograph, paint a landscape or hunt in season. Bring your horse and we will board it. Swim, fish or boat on two large lakes just 10 miles away. Day trip ventures out include historical sites at Bents Fort, Sand Creek Massacre, Bogsville, Amanche and the petroglyphs at Vogal Canon. Visit fascinating local museums and a plethora of valley antique stores. Have a beer at the Columbine Saloon in Ordway and admire the antique bar. Just have an unusual experience and a peace filled stay at Trainor Ranch.
Everything!!!!
The host canceled this reservation 10 days before arrival. This is an automated posting.
Tracie
Bill is a great host and a very genuine, friendly person. The ranch is an experience all on its own, 7000 acres! The bunkhouse is really nicely done and very comfortable. Bunkhouse highlights: a spacious, great bathroom, a full kitchen (with pots/pans, and basic cooking supplies), enclosed porch, and lots of space. Beautiful sunsets, quiet and relaxing environment. It's definitely off the beaten track, but totally worth staying here!
andrew
2016-06-01T00:00:00Z
Our stay at the Old Bunkhouse was one of the highlights of our trip. The house doesn't look like much from the outside, but inside it is very comfortable with all of the amenities of a real home. We were traveling with 7 people and 2 dogs and did not want to deal with reserving 3 hotel rooms with additional pet fees. We opted instead to spend a night together family-style in the same house, and we don't regret the decision. We invited William over for dinner and chatted with him for a while. He has a very interesting background and we enjoyed talking with him. Staying at a hotel with that many people would have been a FAR worse option - we do not at all regret making the extra trip down the dirt road to this little gem. Here are a few notes that might help assist future travelers: 1. Get up early to catch an awesome sunset. 2. Feed yourself before you arrive or bring food with you (there is a full kitchen), as town is a little ways away. 3. There are many dogs on the property but they are friendly. We had 2 dogs with us and had no problems. 4. You can see for miles around... pause and take in the view. 5. The dishwasher is pretty loud (but hey, there's a dishwasher!)... don't be silly like us and run it right before bed if you have people sleeping on the pullout in the living room :) 6. Don't underestimate how awesome it can be to be in the middle of nowhere. 7. Don't let the main picture of this place scare you away - there is much more to it than meets the eye! It really doesn't do it justice. We loved our stay and are glad that William was willing to come over and have a meal with us. It was fun talking to him. We'd definitely recommend the Old Bunkhouse to other travelers and will keep it on our radar if we are ever passing through again. Thanks William!
Lucas (and Sarah)
2016-05-20T00:00:00Z
Bill is an amazing host - sweet, warm and genuine. The bunkhouse was so comfortable, clean & as pictured. I enjoyed waking up early to catch the sunrise with the dogs :) Would definitely book this place again!
Marilyn
2016-09-20T00:00:00Z
Great place to stay. Everything was as described or better. Perfect for those looking to be away from the city. I would stay again. Was also well stocked and William was a great host.
Cody
2016-09-06T00:00:00Z
We had a wonderful week long vacation at The Bunkhouse; this place truly is a hidden gem in Colorado. Everyone was extremely welcoming and friendly upon arrival; including the dogs LOL. If you are looking for something out of the ordinary this is definitely the place. William is a great host and has some awesome workers on hand. We hope to stay again with him soon.
Danielle
2016-09-26T00:00:00Z
The Bunkhouse is adorable! Is looks very plain from the outside but the inside has all the amenities one could need. The finishes are tastefully done in a western theme-perfect for the region! William contacted me earlier in the day to confirm arrival time and was there to meet me. He introduced me to his sweet dogs, showed me around the Bunkhouse and gave me a brief history of the ranch. After making sure I had all I needed, including the WIFI password, he returned to his home across the yard. If I needed anything, all I had to do was knock or give him a call. A favorite aspect of my stay was watching a storm roll in from the west from the protection of the enclosed porch. Storms on the Colorado eastern plains have a majestic quality! The ranch is an historic, peaceful retreat.
Barbara
2016-07-30T00:00:00Z
The host canceled this reservation 22 days before arrival. This is an automated posting.
Matthew
Type de logement
Logement entier
---
Type de propriété
Bungalow
---
Capacité d'accueil
8
---
Chambres
Sugar City, Colorado 81076, États-Unis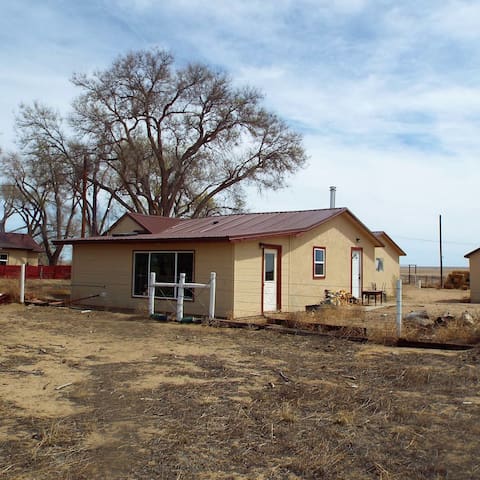 Affordable, Quiet & Private 1 queen bed in efficiency apt. Includes a kitchenette, 3/4 bath w/ shower. Basic accommodations. No alcohol, drugs/illegal substances. No smoking tobacco, cigarettes or marijuana on premises. Drug-Free Policy.
Small cozy but comfortable with everything you'll need for a good nights rest!
Easy access to shopping, restaurants, and highway 50.
Debbie went out of her way to make sure that we were well taken care of and comfortable in our stay. Cute little apartment in a charming little town. Comfortable living room and well stocked with food and toiletries.
Jeff
2016-09-19T00:00:00Z
The host canceled this reservation 66 days before arrival. This is an automated posting.
Russell
Type de logement
Chambre privée
---
Type de propriété
Appartement
---
Capacité d'accueil
1
---
Chambres
Rocky Ford, Colorado 81067, États-Unis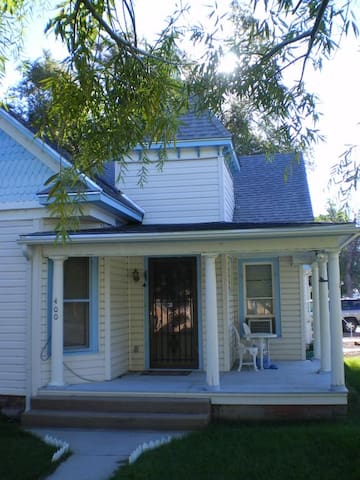 This room is the bedroom of the luxury suites, luxury decoration, modern design, fast WiFi free wireless Internet, living room with sofa, tea table, TV, refrigerator, carpet
The kitchen is equipped with an induction cooker, a hot water kettle, a tableware; The bedroom equipped with new bedding, bed, bedside lamp, bedside cabinet; Independent toilet, large space, dry separation, the configuration of the washing machine, the new change of towels, towels, central hot water 24 hours, let you feel warm and comfortable experience. Adjacent to the Plaza, CITIC Square, Westgate Plaza, Meggie theatre, a step away from the Wujiang road or street delicacy Shanghai center theatre is a 5 minute walk.
Type de logement
Chambre privée
---
Type de propriété
Appartement
---
Capacité d'accueil
2
---
Chambres
阿灵顿, Colorado 81021, États-Unis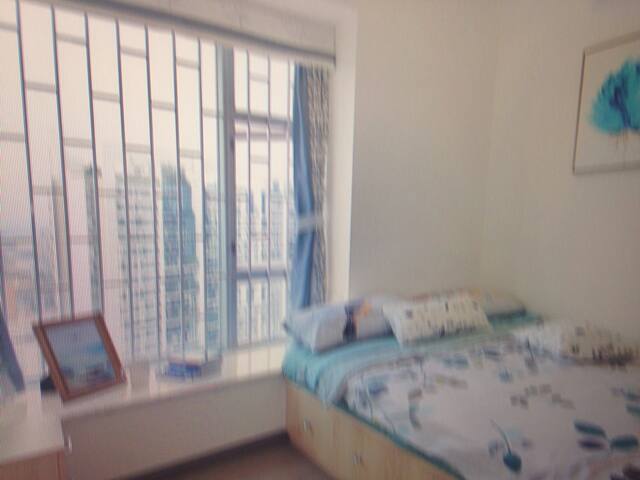 3 bed 2 bath home on east side close to airport
Type de logement
Logement entier
---
Type de propriété
Maison
---
Capacité d'accueil
3
---
Chambres
Pueblo, Colorado 81001, États-Unis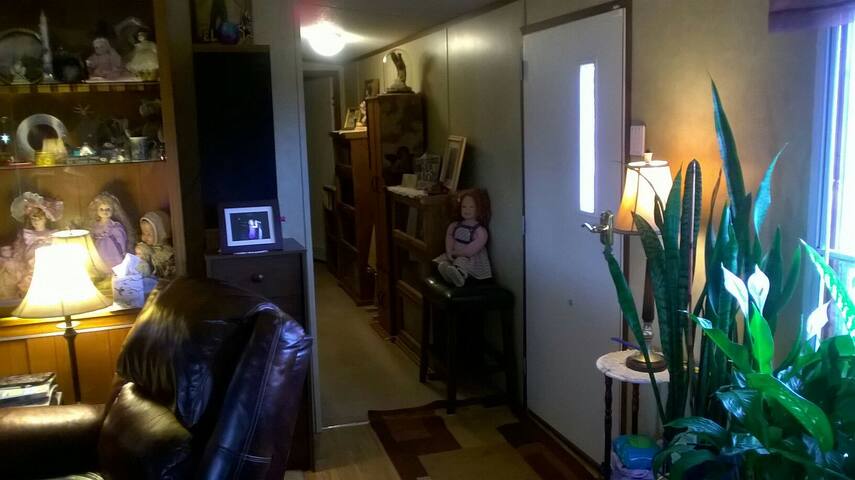 Saisissez les dates souhaitées pour connaître le prix total. Des frais supplémentaires s'appliquent et des taxes peuvent être ajoutées.