Retour à la nature. Unique, beau, complètement seul sur un cap. Hébergement simple, pas d'électricité / eau courante. Un repos pour le corps et l'âme. Accessible en bateau (inclus) ou passerelle. ainsi, toilettes, cuisinier de gaz propre et ref. Randonnée, natation, kayak, planche à voile
Complètement paradis d'été unique. Aller éhontée sur la succession et prendre un bain que vous avez été créé. Le voisin le plus proche est à environ 15 minutes à pied de l'autre côté d'une montagne. Les maisons sont simples mais en ordre de marche. A votre disposition le chalet principal qui a porches ample, salon commun et deux chalets plus petits. Nous avons pas d'électricité. Vous prenez l'eau avec la pompe à main du puits sur le terrain. L'une des chambres à coucher dans la cabine principale a une capacité de 120 lits. La deuxième chambre a une capacité de 120 lits et un lit superposé spacieux. Le salon dispose d'un canapé-lit (un peu usée) avec deux lits. Dans l'un des plus petits chalets il y a un lit double, un lit 105 et un de 80 lits. Dans la seconde maison plus petite, vous trouverez un lit double 160 et lit superposé 120.
Une vue imprenable sur la mer et la baie. L'île entière est une réserve naturelle avec des paysages variés et magnifiques.
Veldig hyggelig dialog med verten. Da vi ankom møtte vi broren Anders, som kjørte oss over til hytten med båten sin. Der fikk vi en grundig gjennomgang av eiendommen og hvordan ting fungerte. Det fulgte med en liten båt i leien, slik at vi kunne reise fram og tilbake mellom øya og fastlandet. Båtens motor var imidlertid i ustand, så det var koblet på en antikk påhengsmotor. Denne fungerte dårlig og vi stoppet flere ganger midt i fjorden. Også på avreisedagen da vi skulle rekke en ferje. Det var litt upraktisk. Ellers var eiendommen veldig fin. Det er ikke strøm eller vann, så det må tas med i beregningen. Vannet fra brønnen ville vi ikke ta sjansen på, så vi tok med oss butikkvann. Ikke forvent høy standard på hyttene. Dette er gamle hytter med sjarm. De er ikke særlig godt vedlikeholdt, med litt sprekker i ruter og sånt, men så drar du ikke hit fordi du vil på femstjerners hotell. Du drar hit for å være nær naturen. I hovedhytten er du i aller høyeste grad det, der er det litt maur som kryper rundt. Men igjen: du drar hit for å komme nær naturen. Alt i alt hadde vi et flott opphold, og to fine kvelder rundt bålet. Det var ikke særlig rent og vasket da vi kom, så vi forlot det i samme stand. Vi børstet ut av hyttene, tok oppvasken og ryddet opp etter oss. Anbefaler hytten dersom du ikke er redd for litt skitt, og er klar for å bo litt "off the grid". Utrolig vakre omgivelser og en brygge som er ideell å bade fra.
Gaute
2016-06-13T00:00:00Z
Torbjorn's brother Anders greeted us on arrival and gave us an excellent tour of the property. Anders was very welcoming and helpful throughout our trip. The property is very large and the location is magnificent - a real hide-away on an island. We celebrated Midsummer and the weather was very good. We used all the facilities and the large deck in the main house extensively - swimming, paddle boarding and in the evening we had a cosy bonfire. Facilities are basic but comfortable. When we had a 15 minute rain spell one evening we could fit 12 people comfortably in to the main room of the main cabin. We would highly recommend this place for a unique - back to nature - experience on a Swedish island! We had an amazing Midsummer. Thank you so much Torbjorn and Anders!
Malvina & Richard
2016-06-27T00:00:00Z
Me and my group were totally blown away when we arrived at this spot. It was incredible!!! Tobbe was very kind, understanding and helpful. There honestly is not a single thing that I and the rest of my group can complain about, this destination exceeded all of our expectations.
Kiranjit
2016-07-11T00:00:00Z
We spent a second week on Kalvön and had an amazing time. This island is simply magic! Torbjörn was always very helpful and friendly. There is nothing we can complain about. The cottages met the standard we expected, it was absolutely comfortable and clean. Living without runnig water and electricity was an awesome experience. We used the boat to do the shopping in Henan, apart from that we never left the island - there is always something new to discover. It's a very beautiful and peaceful place and we went home completely relaxed. We will definitely come back another time! Thanks Torbjörn for this amazing vacation!
Carina
2016-08-21T00:00:00Z
We were 8 people spending a whole week at this amazing place. The island is absolutely wonderful and the cottages just perfect for what we were looking for. In addition, Torbjörn is the best host ever. Introducing us to the island, the cottages and all the stuff we can find there, he always mentioned, that we could use whatever we find and do whatever we like. so we spend our time exploring the island, sitting at the campfire, swimming in the sea and petting the wild living horses on the island. (yes, there are wild living horses. :)) We also tried the surfboards and the canus, but failed due to our lack of talent. Better it went with the motorboat after practicing for a while. It was such a lovely time there and we really hope to come back one time. Felix, Meike, Carina, Martin, Markus, Lydia, Martin, Susi
Daniel
2016-08-14T00:00:00Z
Verhuurder was aanwezig voor uitleg en heeft ons opgehaald omdat we de locatie niet goed konden vinden. Heeft ook nog 2e groep opgehaald. Enthousiaste rondleiding, was goed mobiel te bereiken. Erg gastvrij en open. Goede rondleiding. Gaf veel vertrouwen aan de huurder. Je mag alles gebruiken, wel graag aanvullen. Is logisch.
Ingeborg
2016-07-31T00:00:00Z
Type de logement
Logement entier
---
Type de propriété
Cabane
---
Capacité d'accueil
12
---
Chambres
Uddevalla , Suède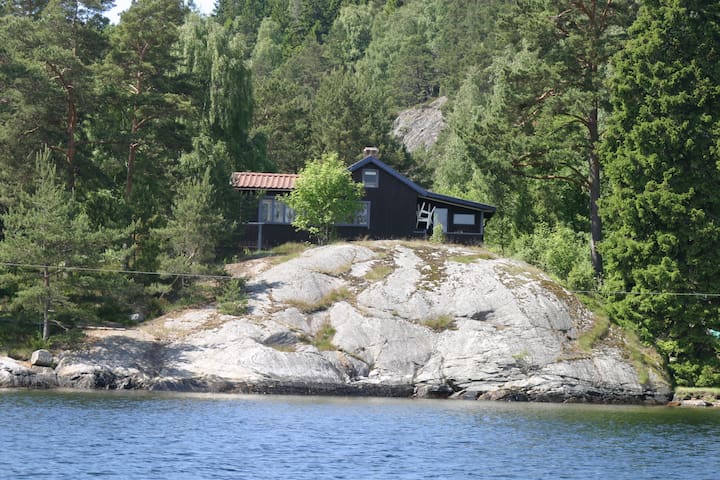 Our newly built summerhouse has a breathtaking view of the sea and an amazing terrace of 200 sqm. There is also a charming guesthouse with separate kitchen and bathroom overlooking the sea. The house is situated in Kavlanda Brygga in Bokenäs and is surrounded by the beautiful nature that the Swedish West coast offers. It is the perfect location to spend your family holidays enjoying the sea, archipelago and forest.
Our summer house is built 2013 and has a nearly 200 sqm terrace overlooking the Kalvöfjord sea. We are a family with two small daughters and we love to spend our summer holidays here. Our girls love to go down to the sea for swimming, crab fishing and playing by the beach. The house is only 300m away from the sea and Kavlanda brygga, the public jetty and beach. Our house has beautiful features with high ceiling and panoramic windows. There are 3 bedrooms of which one master bedroom, one with 2 single beds (can be made into double bed) and one kids bedroom with a baby crib. The kitchen and living room is a cozy open space area with a dining table for 8-10 people, comfortable lounge, flat screen tv and a fire place. The large bathroom has a shower and washing machine and there is a also a second separate guest WC. The kitchen has all the modern utilities you need including a nespresso coffee machine. The charming guest house has a bunkbed that fits 3 people if needed (120 cm bottom and 90cm top). There is a small kitchen and the bathroom has a shower and WC.
Beautiful nature, sea, forest and archipelago.
Type de logement
Logement entier
---
Type de propriété
Maison
---
Capacité d'accueil
6
---
Chambres
Bokenäs, Comté de Västra Götaland, Suède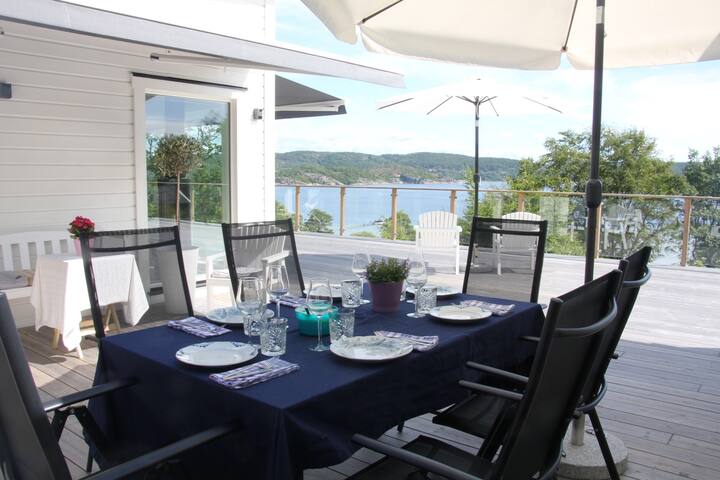 Med skogen intill knuten och havet på cykelavstånd finner du din oas. Stugan erbjuder fullt utrustat kök, wc med dusch, allrum med 2 soffor, extra säng, matbord, 2 sovrum med rese- barnsäng, möblerad uteplats, tillgång till tvättmaskin. Lakan och handdukar ingår. Städning ingår ej. Önskas det städning är det till en kostnad av 850 sek. OBS! Minimum 3 dygns uthyrning.
Ewa is a very kind and nice person, helpful. We enjoyed our stay in the house in the middle of forest. Definitely recommend!
Agnieszka
2016-08-15T00:00:00Z
We had a wonderful stay at Ewa and Arne's cozy cottage. The house is large, very child friendly and well equiped. Perfect for a family! Ewa and Arne were very nice hosts and we can strongly recommend a stay at their place!
Cecilia
2016-07-22T00:00:00Z
Ewa is an excellent host. The house is a peaceful place with a magical atmosphere - perfect to forget about the daily hassles and enjoy the beautiful sea around Orust. You can even find fresh strawberries and blueberries around the house. Communication was easy and the house is simple but very well equipped.
Michael
2016-07-30T00:00:00Z
Das Haus ist einfach zu finden. Wir wurden sehr nett von Ewa und ihrem Mann empfangen. Das Cabine ist gross und gemütlich eingerichtet. Ideal für eine Familie. In der Küche haben wir alles vorgefunden was es braucht um zu Kochen. Die Kinder haben den DVD-Abend mit vorhandenen Filmen genossen. Das Essen konnten wir auf dem Deck einnehmen. Vor dem Haus durften wir Walderdbeeren und Heidelbeeren pflücken. Die Lage ist ruhig und nur ein paar Kilometer in den nächsten Ort, wo es eine gute Infrastruktur hat. Uns hat es sehr gut gefallen und würden wieder kommen. Herzlichen Dank.
Markus
2016-07-25T00:00:00Z
We were very pleased with our choice of Ewa's house for a few relaxing days in the country. This is a lovely part of Sweden and Ewa's is a lovely place to stay, surrounded by garden and woodland, very quiet and peaceful. Perfect for walks and water is not far away. The house is attractive, well set up with all amenities and spacious for 3 people. The 2 bedrooms are spacious and beds comfortable. It has a verandah which would be lovely on fine days. Communication with Ewa was excellent, she responded quickly & helpfully to all my queries. Nothing was a trouble. I would happily recommend staying with Ewa. She was a terrific host.
Robin
2016-07-15T00:00:00Z
Our stay at the little stuga was perfect! We had everything we need and the forest in front of our door was a real pleasure. The Coast is also close by and there are lovely places to swim or go fishing. We found lots of different berries in the forest and the perfect ending of our visit was an elk which walked across the lawn just next to our house. We would love to come back and we surely recommend this place!
Marie
2016-08-25T00:00:00Z
Type de logement
Logement entier
---
Type de propriété
Cabane
---
Capacité d'accueil
5
---
Chambres
Orust Ö, Västra Götalands län, Suède
Välutrustad modern villa med högt läge och fin havsutsikt i Henån på norra Orust. Villan har hög standard med både jacuzzi, bastu och alla andra bekvämligheter för en avkopplande semester. Ett perfekt hus för två familjer eller större sällskap.
Huset ligger i ett lugnt villakvarter på en kuperad naturtomt. Runt hela huset går en härlig altan på 130 m2 där ni kan följa solens gång på himlen och njuta av er ledighet över en god bit mat och dryck. Villan har fritt trådlöst internet, playstaion 2 och playstation 3, parabol med ett 30-40-tal svenska och engelska kanaler, samt flatscreen TV i samtliga sovrum och Tv-rum. Med andra ord finns det förutsättningar för att alla i familjen skall trivas.
Endast 800 m fågelvägen till havet med fritt fiske och den fina kommunala badplatsen Småholmarna, promenadvägen c:a 2 km. Badplatsen har både hopptorn, brygga, klippor och liten sandstrand. Nära till all service, restauranger och nöjen i Henån, som arrangerar många evenemang under sommaren. Besök gärna de genuina öarna Gullholmen eller Käringön där ni kan avnjuta havets läckerheter på de lokala restaurangerna. Mitt på Orust ligger shoppingparadiset Göksäter. På Orust finns möjlighet till många aktiviteter för både stora och små, t ex paddla kajak, dykning, fiske, golf eller bara njuta av ett svalkande bad i havet. Nöjesstaden Göteborg 75 km. Villan har ett brant läge, mindre barn bör hållas under uppsikt.
Despite a misunderstanding few days before coming our stay was great. But it was the first time with booking for both Caroline and us! A nice house with a fantastic view. Exactly as described. Very good location, large place, well equiped. Negative points concerns an old equipment (even it works) and some furnitures which are old fashioned. By the way it is not so important.
Eric
2015-08-02T00:00:00Z
Type de logement
Logement entier
---
Type de propriété
Maison
---
Capacité d'accueil
8
---
Chambres
Henån, Västra Götalands län, Suède
Saisissez les dates souhaitées pour connaître le prix total. Des frais supplémentaires s'appliquent et des taxes peuvent être ajoutées.