Wall tent with a futon, cot bunk beds, and wood stove within driving distance of El Morro and Zuni. Guests will have the use of the stores showers from 7-8am with a breakfast burrito and small drink. There is a Port-o-Potty available during off time.
This is Glamping, we offer a futon and cot bunk beds. Bedding is available but you are encouraged to bring your own. There is a wood stove for heat and a small refrigerator. We are situated across the street from the Wild Spirit Wolf Sanctuary. GPS Coordinates, (PHONE NUMBER HIDDEN)
We are located across the street from Wild Spirit Wolf Sanctuary. 12 miles from El Morro National Monument as well as El Malpais National Park.
We had a great experience at Michael and Tammy's! We ended up having a friend come along with us and Michael and Tammy were very welcoming. Perfect platform tent with fold out bed, bunks, wood stove, cube fridge and bedding and campfire ring. Included great breakfast burritos. ( Thank you Henry) .. Since the location is opposite the Wild Spirit Wolf Ranch you do have an upfront seat to fascinating nighttime serenades.
John
2016-10-31T00:00:00Z
We toured the Wild Spirit Wolf Refuge on Thursday and plan to be tent camping for the next two days, so a comfortable place to stay with showers and breakfast the next day sounded good. Indeed, we enjoyed our stay at the Candy Kitchen Glamping! It is not fancy, but comfortable. It is just a few feet away from the store with its deli, so we had a good supper at the store and slept well, showered and are looking forward to breakfast. There were two unexpected benefits of staying there: we heard wolves howling occasionally during the night and also saw the Perseid meteor shower!
Richard
2016-08-12T00:00:00Z
My kids and I had a great experience. The description is accurate. Everyone was very friendly and helpful. I suggest visitors call for specific driving instructions - (SENSITIVE CONTENTS HIDDEN)maps is not accurate.
Joanne
2016-05-22T00:00:00Z
Staying here turned out to be the perfect three day and two night getaway with kids. Driving in there is El Calderon and Fire and Ice to stop at and then the Wolf Sanctuary and El Moro for the second day. There is plenty of space on the inside of the canvas tent for 3 or 4 people. The wood burning stove works great for heat at night as does the outside fire pit for roasting marshmallows. The walkway is well lit at night if you have to get to the bathroom. There is a spigot for water at the main building so you'll have to carry your water a bit. The shower is nice at the main building and breakfast burritos are tasty. If you are interested in learning about the lava fields and volcanoes in the area I totally recommend staying here. : - )
Leah
2016-10-09T00:00:00Z
Type de logement
Logement entier
---
Type de propriété
Tente
---
Capacité d'accueil
4
---
Chambres
Pinehill, Nouveau-Mexique, États-Unis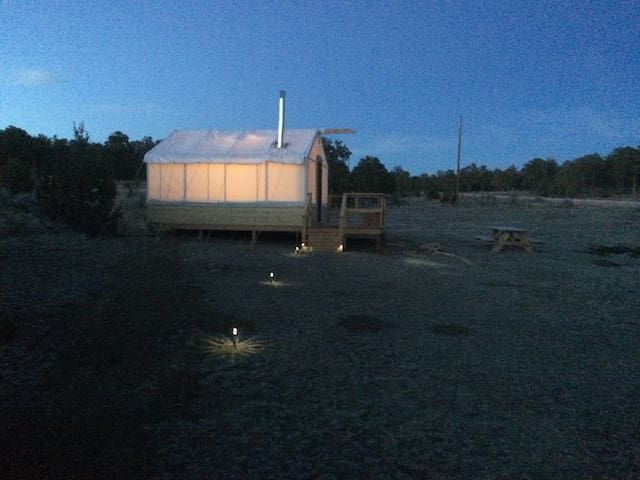 Ideal for retreats, seminars, events, reunions, and other gatherings, but also perfect if you're just looking to enjoy a first class stay. It has 4 private bedrooms and plenty of extra space. Includes 3 bathrooms; 1 Master Bath/Jacuzzi Tub, 1 Full Bath, and 1 Half Bath, Cathedral Ceilings, Fire Place, WIFI, Cable TV, Washer/Dryer, Wrap-around deck and bedroom porches with ample views overlooking beautiful mountain acreage. And it's close enough to hear the Wolves howling through the night.
Type de logement
Logement entier
---
Type de propriété
Cabane
---
Capacité d'accueil
16
---
Chambres
Ramah, Nouveau-Mexique, États-Unis
Top noch Studio Apt, 300 breathtaking acres of red rock mesas, grass filled meadows and views of the Zuni Mountains. A special place for rest and relaxation where the Ancient Ones will permeate your soul and remind you of a simpler way of life.
Waking up to 360 acres with views beyond compare. Red rock mesas with Anasazi ruins, flocks of birds, deer and elk may grace your presence. Peace and tranquility.
Our neighborhood is the sky, the mesas, the wildlife and domesticated animals. That is about it :) !
Karen est une femme adorable et véritablement accueillante ! Elle nous attendait sur le bord de la route pour nous accueillir avec ses deux chiens et son pickup, et pour finir la route jusqu'à son ranch magnifique, au pied de monuments de pierre époustouflants… Notre nuit dans ce lieu atypique sera inoubliable, et le réveil dans ce décor de carte postale aussi. Un lieu à découvrir à tout prix ! Fabuleux.
Clément
2015-03-26T00:00:00Z
My mother and I stayed at Karen's house on a road trip throughout New Mexico and this was by far one of the most beautiful spots! The apartment was decorated with a southwestern style, had very comfortable beds and a small kitchen that had everything you would need. My only regret is that we didn't plan to stay longer. I would have loved to explore the property more. Prefect back yard for wine, sunsets and stargazing. We will certainly be back!
Hilary
2016-05-12T00:00:00Z
We just want to thank Karen and Steve for a most memorable stay. Wild Sheep Place was everything and more than described and her directions were spot on. We brought our own snacks and sandwiches for dinner and enjoyed eating while the sun set. The adobe type home we stayed in was cozy, comfortable and well cared for. We had the opportunity to chat with them and they showed us around their place and gave us directions for an amazing short walk or long hike. The picture is what you see when you look out your window and we woke early in the morning to watch the sunrise up behind the rock formations in the distance. We then went for about a mile walk and were "escorted" the entire way by their loving German Shepard dogs Sierra and Guiness. We will definitely make every effort to go back one day and spend more than just one night. What a treasure!
Donna
2016-04-28T00:00:00Z
This place is amazing. Completely off the beaten track, in the middle of gorgeous nature, it gives you a real getaway feeling!! We loved the surroundings, the tranquility and the sunrise. The apartment is also very comfortable. I would really recommend staying here.
Frederique
2015-09-11T00:00:00Z
The lodging was clean and comfortable, the location is scenic. Karen is a good host, friendly and helpful. A good place to stay.
Ray
2015-01-18T00:00:00Z
Absolutely gorgeous location. You can walk out of the cabin and just keeping waking - through a large open plane or clamber up the hills to see Native American ruins. The cabin is situated away from the main house but adjacent to another cabin, so we got to enjoy the views with another couple. The hosts were very nice and lovely. Too bad we only stayed one night.
Ksenia
2015-10-05T00:00:00Z
We had a wonderful time at Wild Sheep Place; it is located in the most amazing landscape with incredible views and exciting opportunities for hikes. It is easy to find and not a difficult drive at all. Karen is a great host, and she ensured we had everything we needed. Her dogs and horses are so much fun! The dogs accompanied us on our hikes and took good care of us. I can thoroughly recommend this place to everyone interested in experiencing New Mexico at its best.
Anja
2015-09-29T00:00:00Z
Wild Sheep Place is a true gem. Peaceful, relaxing, uplifting...can't say enough about my brief stay in these beautiful surroundings. Karen was warm and welcoming upon my arrival, the casita was perfect for relaxing, cooking basic meals, with a very comfortable bed, to-boot! The acreage has all sort of historical treasures that I felt privileged to be able to experience. I look forward to returning, hopefully, in the not-too-distant future!
Annika
2015-05-31T00:00:00Z
Type de logement
Logement entier
---
Type de propriété
Appartement
---
Capacité d'accueil
2
---
Chambres
Ramah, Nouveau-Mexique, États-Unis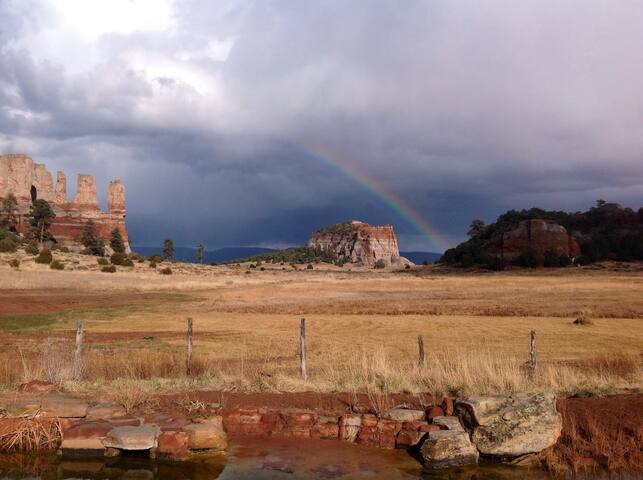 Located in northwest New Mexico, we are in the heart of Indian Country surrounded by the Navajo and Zuni Reservations and midway between Santa Fe and Flagstaff. Our area is ranked number fifty in the world by New York Travel. A hidden treasure!
Midway between Flagstaff and Santa Fe and along the Ancient Way Scenic Highway, our Apt/guest house is close to several National Monuments/Parks (El Morro, Chaco Canyon, El Malpais and the Ice Caves), the Zuni Pueblo and the Navajo Nation. The Ramah area incorporates a very diverse and vibrant community. There are multiple hiking opportunities and many Anazasi ruins (including one on the property). You're welcome to take our dogs on a hike too! The cottage is complete with full bathroom, fully equipped kitchenette (small fridge, electric frying pan, toaster oven, microwave and basic supplies, cooking utensils and silverware), queen size bed (with a memory foam mattress), wi fi, gas fireplace, DVD player and plenty of parking (including plenty of space for an RV or campervan, especially VW vans!). A rollaway single bed is also available. In summer there are two chairs and a table outside the cottage entrance, to enjoy morning or evening drinks. But you are also welcome to join us on the back porch during the summer months. There are two restaurants in the area, a small grocery store, and a Farmers Market on Saturdays in the summer. Guests have access to the entire guest house and surrounding 10 acres and beyond. You need to walk through the main house courtyard to the guest cottage which has it's own entrance. (The guest house is attached to the garage which also has a separate entrance). No public transportation. Stock up with supplies before you arrive. There is a convenience store close by and a small "alternative" store in the community. Bring all alcohol, the closest place to buy is 40 miles away! We do provide some breakfast supplies (coffee, tea, yogurt, granola, fruit and juice).
The beauty of the landscape and the community of people in the area is what makes this a unique area. Go to (website hidden) for a full picture of what the area offers.
The cottage lived up to all of the expectations of the listing. It is a beautiful guest cottage. Chris and her husband, Mike, were very kind to us. The dogs also treated us well. The place has everything you would need, and it is very comfortable. I would definitely go back!
David
2015-06-28T00:00:00Z
Not only was the place beautiful but Chris and Mike were so kind and helpful! They gave very simple instructions on how to get to their place and some really delicious restaurant suggestions. Their guesthouse looked just like the pictures. I only wish we could have stayed longer and been able to take their sweet dogs on a walk along one of the trails. Great for a quiet and peaceful get away. Hope to make it back again!
Hayley
2016-02-25T00:00:00Z
We had a great time staying in Christine and Mike's guest house. They made us feel very welcome, and everything that we needed was there. Looking forward to going back there again next time we need to escape Albuquerque.
David
2015-03-16T00:00:00Z
What gracious and generous hosts! Christine and Mike were a delight to stay with. Their property was easy to find, just up a gravel driveway from the highway, and had a lovely courtyard to relax in as well as hiking areas around it and nearby. The kitchen was equipped and stocked with basic items for breakfast (fresh ground coffee, tea, yogurt, delicious apples, bananas, granola bars, etc.) and had everything you'd need for cooking a meal. There were local items (soap, pottery) for use and for sale - a terrific touch! A great place and great hosts for a rest after El Morro!
Tom & Norma
2016-05-25T00:00:00Z
Comfortable, affordable, and quiet. Also the stars are so close, you can touch them. Friendly pets and gorgeous gardens surround the property. It's a bit of a hike to find the location, but beautiful once you do. Highly recommended.
Rashida
2016-09-01T00:00:00Z
This cottage near Ramah was a jewel! The location was perfect, and the cottage was clean, artistic and quiet. We enjoyed the night sky, walk along the mesa, and the sweet doggies who greeted us outside and walked with us on the trail of stones. It was great to have brochures of nearby monuments and archaeological sites as well as Wifi available, too. We were visiting respective sisters in phx and albu so this was a great respite in between. Definitely more like our lifestyle.
Holly G
2016-10-24T00:00:00Z
We highly recommend this place. It was comfortable and the hosts were warmly welcoming. So were their dogs! The bed was very comfortable, and the kitchen well-appointed. We had friendly interactions with the hosts when we wanted, and were left alone when we preferred. It is a very pretty place to stay in a part of the country we love, and we will surely be back.
Doug/Karen
2015-04-14T00:00:00Z
My husband and I had a wonderful time at Christine's place. The guest house was impeccably clean and beautifully decorated. The surrounding areas are gorgeous and very peaceful; we wished we had of had more time to explore. Christine's dogs were a highlight of the stay for us!
Faye
2016-03-01T00:00:00Z
Type de logement
Logement entier
---
Type de propriété
Bungalow
---
Capacité d'accueil
2
---
Chambres
Ramah, Nouveau-Mexique, États-Unis
This APT/House is accommodated with full cleaning service daily if requested. It is located right off the I 40. Equipped with hotel standard furniture. This can easily accommodate a very large family comfortably.
Check in just as if you are checking into a normal motel right at our front desk.
My stay at Akash's was wonderful. It is located right off the freeway with easy access to travel. The amenities are great and the space has plenty of room for multiple guests. Akash was very cordial and friendly when handling checking in/checking out as well as any questions I had. I would definitely stay here again if I had business or was traveling through NM.
Sailendra
2016-12-24T00:00:00Z
Type de logement
Logement entier
---
Type de propriété
Appartement
---
Capacité d'accueil
8
---
Chambres
Grants, Nouveau-Mexique, États-Unis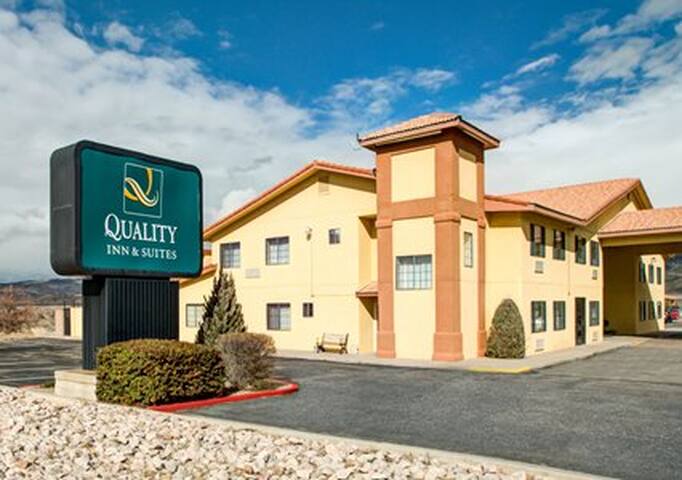 Nice little 3 bedroom/2 bathroom home located near Mt. Taylor's, the ice caves, El Malpias, and wolf sanctuary.
Type de logement
Logement entier
---
Type de propriété
Maison
---
Capacité d'accueil
3
---
Chambres
Grants, Nouveau-Mexique, États-Unis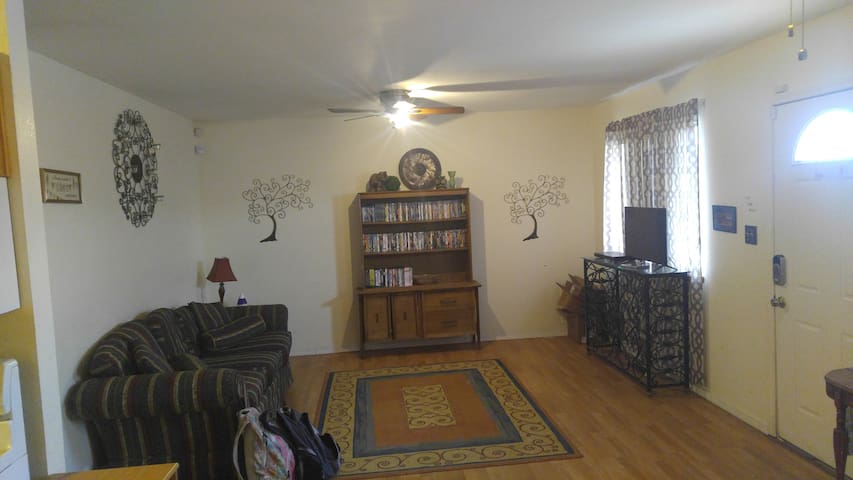 Saisissez les dates souhaitées pour connaître le prix total. Des frais supplémentaires s'appliquent et des taxes peuvent être ajoutées.