Saisissez la date d'arrivée au format jj/mm/aaaa
Saisissez la date de départ au format jj/mm/aaaa
Logements que vous pouvez réserver sans attendre l'approbation de l'hôte.
Saisissez les dates souhaitées pour connaître le prix total. Des frais supplémentaires s'appliquent et des taxes peuvent être ajoutées.
Cet été (juillet et août), vous pouvez essayer l'un de ces 100 logements les mieux notés, dans toutes les gammes de prix, pour découvrir Sonoma d'un point de vue local. Entrée dans les lieux 24h/24, réservation instantanée, mais aussi vin et petites spécialités locales à disposition… autant d'invitations à vous détendre et à profiter pleinement de votre voyage.
Meticulously restored by my family. This house just exudes a welcoming energy. Room is a fabulous mix of period pieces and modern amenities. All rooms have private bathroom, flat screen TV, free WiFi, queen bed, fine linens, comfortable chairs and AC
Our stay at Ferris Mansion was such a wonderful experience! Kaye-Marie is a wonderful hostess and prepares the best breakfast! The Mansion is absolutely gorgeous and as an antique lover I could have spent days just exploring the details of the home itself. I wish we could have stayed longer! Kaye-Marie is so warm and friendly we truly enjoyed our opportunity to talk with her and learn more about the history of the home and area. And her recommendation for where we should have dinner (we wanted steak) was on point!
diane
May 2016
We were greeted the minute we walked in and shown to our room. Kay-Marie's daughter, Michaela, checked us in and offered to recommend a place for dinner. Robert, Kaye-Marie's husband was very personable and enjoyable to talk with.
Deborah
July 2016
This was absolutely the most perfect Airbnb ever. The house was a mansion my room was spacious self-contained and had everything in it I could possibly need . The breakfast was fantastic. Kaye-Marie and Robert treated me like an old friend and made me feel extremely welcome.
John
July 2016
Kaye - Marie and her daughter made us very welcome. They were easy to communicate with and their beautiful, family-restored mansion was a pleasure to rest & relax in. Kaye-Marie served a bountiful and delicious breakfast, and we enjoyed sharing stories with her family and their other guests. We highly recommend this location and host.
Vicki
July 2016
This is a must if your traveling through Rawlings, Wyoming! Everything was perfect from the moment we arrived from the greeting and history of the place to her graciousness throughout our stay! Her breakfast was delicious to start our day as we continued on our road trip
Julie
October 2016
Wonderful location, beautiful house, great room and a fantastic breakfast. A bed-and-breakfast as it should be.
Steven
September 2016
Our stay at the Ferris Mansion was absolutely wonderful! Kaye- Marie and her husband Robert met us at the door, and made us feel totally at home for our entire visit. Kaye-Marie's tour of the house and her story of how her family spent 10 years meticulously restoring it to it's original condition is worth the trip and the cost of the rooms. Kaye-Marie's breakfast was all we could have hoped for, and was the main topic of conversation among all the guests while we all enjoyed it. Kaye-Marie suggested a restaurant for our evening meal after we checked in, and that meal was also excellent. She also gave us a lot of information on the history of Rawlins.
Harold
March 2016
If you are planning on stopping anywhere near Rawlins for the night, stay in Rawlins at the Ferris Mansion. The mansion is gorgeous and fun and has been beautifully restored. And Kaye-Marie is super friendly. We were greeted by name, given a tour, and made to feel right at home. Only regret was that we couldn't stay longer.
Bryan
October 2016
Type de logement
Chambre privée
---
Type de propriété
---
Capacité d'accueil
2
---
Chambres
1
Rawlins
This is a luxury 3 bedroom, 1.5 bath townhouse located in a quiet culdesac. This is a fully furnished 2 story townhome which includes Wi-Fi, cable, television, all housewares, linens and small appliances as well as large. Close to parks, movie theatre, historical attractions and restaurants. Easy access off the Highway.
Over 1200 sq. feet of space in this 2 story townhome with 3 bedrooms and 1 1/2 bathroom with washer and dryer, all housewares and dishes needed, all newer linens, small appliances and fully stocked kitchen with patio/porch to BBQ. We allow check in anytime after 3 pm. Come as late as you like. Guests will have access to parking and the entire apartment. We always available for our guests however, check in is as late as you like in a lockbox and we understand that sometimes we wont meet. Call me at the number listed on my site anytime if there is a problem.
Our neighborhood is in the newest part of Rawlins on the North East side called Highland Hills. Middle class neighborhood. We recommend a vehicle, no bus in Rawlins, taxi only. In the winter month's we recommend a 4 wheel drive truck. We do have dial-a-ride.
We needed a place to stay on our way from Rocky Mountain National Park to Yellowstone, and Rawlins fit the bill. Trish was a great hostess! She was super friendly and personable. We'd definitely recommend her place.
Britney
August 2016
Trish did did a solid job, very accommodating as a non-occupied rental space. It's a good base for up to 6, although with full size beds it's better that some of those 6 are kids or people who love each other. Overall clean, a little odd smell at the bottom of the stairs but not horrible and generally clean and well ordered.
Kyle
August 2016
Type de logement
Logement entier
---
Type de propriété
---
Capacité d'accueil
6
---
Chambres
3
Rawlins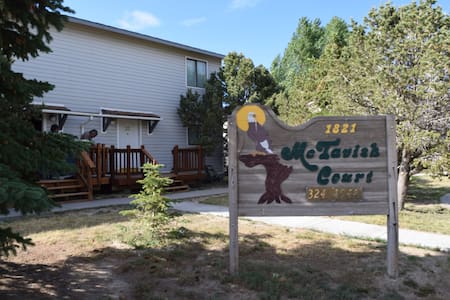 My place is close to restaurants and dining, parks, towns movie theater. Also we have historical sites like, The Wyoming Frontier Prison Museum.. You'll love my place because of the coziness and the location. My place is good for couples, solo adventurers, business travelers, families (with kids), and big groups.
Good location and host is kind and helpful. A good stay.
Yan
December 2016
Type de logement
Logement entier
---
Type de propriété
---
Capacité d'accueil
6
---
Chambres
3
Rawlins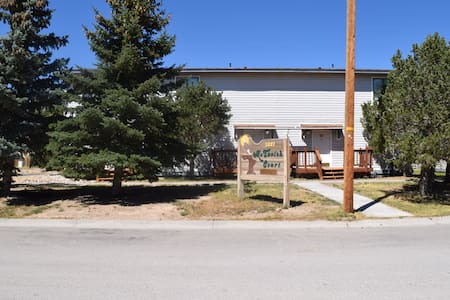 My place is close to the city center, restaurants and dining, great views, parks, art and culture, the North Platte River, the Snowy Range and Sierra Madre Range, and the Hobo Pool.. My place is good for couples, solo adventurers, business travelers, families (with kids), big groups, and furry friends (pets).
Type de logement
Chambre privée
---
Type de propriété
---
Capacité d'accueil
6
---
Chambres
1
Saratoga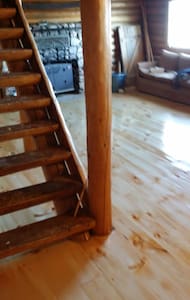 My place is close to restaurants and dining, the free hot springs, the Platte Valley Community Center. You'll love my place because of the privacy and nice backyard with gardens and firepit. And that it's just 4 blocks to downtown. My place is good for couples, solo adventurers, and business travelers. Price includes lodging and sales tax.
This is a wonderful spot to stay. Brand new, nicely and authentically decorated. The twenty mile detour from I-80 is well worth it, especially if you take the side trip through Snowy Range! Take a break from freeway driving! We were greeted just right and communication was great.
Philip
August 2016
Patricia went above and beyond to make us feel welcome. The Hideaway is well appointed right down to the fruit, muffins, yogurt and bagels for breakfast. It was very clean and comfortable.
Deborah
October 2016
Trish was a wonderful host and it was a lovely get away house for two! Fully stocked and even gave us breakfast that we were really thankful for. She also was more than helpful with things to do and helpful maps. The wifi was pretty off and on but other than that everything was as expected or better. Thanks for the hideaway!
Reggie
July 2016
Tish and Eugene were wonderful hosts and we had a great stay in their carriage house. They were helpful and kind, while still being respectful of our privacy. The carriage house was exactly as described, if not better. Location in town, but off the main drag, was perfect for us. It was a much more relaxing stay in Saratoga than the hotels there that we've stayed at previously.
Thomas
September 2016
It was a beautiful little hidden gem. Trish and Eugene were very welcoming and accommodating. Their place is absolutely wonderful and I can't wait to stay there again. They even provided breakfast for the next morning.
Amanda
July 2016
Type de logement
Logement entier
---
Type de propriété
---
Capacité d'accueil
2
---
Chambres
1
Saratoga
My cottage has two queen size beds, single hide a bed sofa in living room, Direct TV, Wifi, and BBQ. Large fenced in yard, outdoor sitting area surrounded by large mature trees. World class fly fishing in a blue ribbon trout river, boat launch and Hobo Hot Springs are right outside the door. Hot springs are free and open 24/7. Saratoga Lake is only 2 miles away. It is a perfect haven for outdoor fun and retreat. Located only two blocks from downtown. Walking distance to shops and restaurants.
Cottage is excellently located for enjoying our lovely town and nature. We are the closest you can get to the river and Hobo Hotsprings. I am available to answer questions or to give you guidance around town.
We are walking distance to parks, stores, restaurants, grocery store and local museum.
What a wonderful cottage, very roomy and equipped with everything you need to enjoy your stay. The beds were very comfortable and the house it set up to be a home away from home. We also enjoyed the surprise of the hot springs down the street which were amazing a great way to end the day after ice fishing on the lake.
Penny
December 2016
Antoinette was very accommodating for our stay. Easy to reach and responding to my questions. The location is great, very convenient to everything.
Anne
September 2016
Type de logement
Logement entier
---
Type de propriété
---
Capacité d'accueil
4
---
Chambres
2
Saratoga
My place is walkable the Saratoga Resort and Spa. It is close to the free hot mineral pools. It has fantastic views of the North Platte River from most of the abundant windows. It is in a peaceful setting at the end of a dead-end street. It has a king size bed in the master and jacuzzi tub great for a romantic get-away. It has a fresh, professionally designed decor--very comfortable and welcoming. It is very close to some great restaurants and dining, and family-friendly activities.
Great Host! Was very accommodating and answered all question promptly! House we stayed in was clean and homely and had everything we needed to make our stay perfect!
Meadow
November 2016
Type de logement
Logement entier
---
Type de propriété
---
Capacité d'accueil
6
---
Chambres
3
Saratoga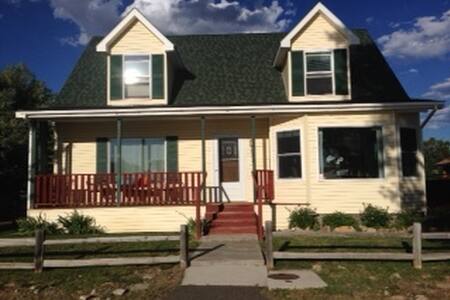 This cathedral style home is the perfect place to enjoy your stay in Saratoga, WY. Fish and float the N Platte River, hunt, hike, cross country ski, and snowmobile in the Rockies, relax in the hot springs, and/or sit on the porch at sunset.
Our dog will bark and, because I will be there to greet you, he will be fine. He is a Mini Aussie who loves to play frisbee and ball. You will never see cat! My husband and I live in the house and but because we have our upstairs office, bedroom and bathroom, we will only use the kitchen for meals. We provide guides to activities in the area and are readily available to answer any questions.
We are 6 blocks from the downtown area. We have deer families that enjoy our fenced in yard. The creek in front of the house has ducks plopping down with a delightful splash and quack at twilight. Denver or Laramie are the nearest airports. A car will be needed to get to and get around Saratoga. Also, there is an E Farm and a W Farm with the river dividing the two. We are 509 W Farm. GPS will lead you astray!
I was welcomed after a long drive, with such warm caring hearts and smiles from Katie and Greg. They were both very kind and generous. They had all kinds of fixings laid out for tea, breakfast, and snacks. The room and bathroom were spotless clean, and felt luxurious. They were very generous with giving me the reign of the whole downstairs while I was there, if I wanted it, and they were just a delight to connect with as well. I highly suggest their place of stay!
Kelley
July 2016
We felt very welcomed by Katie and Greg. Beautiful home close to everything. We booked our stay at the last minute and Katie went out of her way to help us find our way there.
Lisa
August 2016
Katie and Greg were excellent host and I could not have picked a better place to stay in the Saratoga area. When you walk in the door you are greeted by warm smiles and "buddy", their tail wagging, friendly dog. My room was warm, bright, and has a very comfortable queen bed. Breakfast was outstanding with fresh drip coffee, homemade crepes and strawberry preserves, fruit, oatmeal, and more food than I could ever eat. Modern bathroom, privacy, and views made in heaven made for a very relaxing time with Katie and Greg. I highly recommend staying here.
Fay
October 2016
Everything was as represented, no surprises. Positive experience!
Diane
July 2016
Katie is an attentive and gracious host and communicator. Beautiful clean and elegant room and private bath in a lovely setting, just as described. Katie set out breakfast selections for us to choose from. We felt welcome and safe and we could have stayed a lot longer enjoying this lovely home and good conversation with Katie.
Bo
August 2016
Personable, offering additional amenities, made us feel at home. Felt more like friends then guests.
barbara
August 2016
Katie & Greg were so gracious & friendly. We felt like we were staying with family. Their home was so beautiful, comfortable & inviting. The bed was the most comfortable one I have ever slept on.! We were on our way to a Yellowstone Vacation and our stay here was the perfect beginning. Saratoga is a very tiny town but we were still able to find a great place for dinner at Katie & Greg's recommendation. Katie gave us great tips of scenic places to see on our way to Saratoga. Thank you Katie & Greg for sharing your home with us & making us feel so welcome.
Pam
June 2016
Katie and Gregg were phenomenal! Thank you so very much for a wonderful experience in Saratoga. Everything was prepared, welcoming and explained. There was coffee and tea and crepes for us in the morning to enjoy next to the cozy fire place. They had options for meals out, local attractions to see and were readily available for any questions or concerns we had. Again, thank you for such a wonderful experience!
Mike
April 2016
Type de logement
Chambre privée
---
Type de propriété
---
Capacité d'accueil
2
---
Chambres
1
Saratoga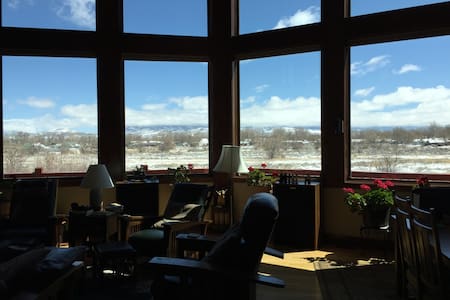 Copperline Lodge is a newly remodeled, 6 cabinette hotel built in the 1950s. Park right in front of your door. Enjoy a covered walkway, kitchenette with fridge, microwave, coffee maker; bath with a shower, queen bed and a view of the mountains.
15x15 rooms with knotty pine floor, flat screen TV/cable and internet included, your own heater, pots pans and dishes with a gas range/oven. Stacked timber walls and exposed beam ceilings make it feel just right. Host is always around to answer questions. Picnic area with pergola. Dog run-bring your polite pet for no extra charge. Inside the lodge is the owner's suite with a king sized bed (extra charge-$25) and 4 additional guest rooms with 2 beds each. Two of the upstairs rooms have queen beds and single beds ($15 extra), and two have king beds and single beds ($25 extra). Just pay the difference when you get here if you want an upgrade. Down town is a 5 minute walk. The North Platte River is even closer. The Hobo Pool hot springs is always open, always free, and about 8 minutes by foot. Shuttle to floating the river, cross country skiing or other activities (pay my gas please). Your space is completely private--your own exterior door and your car is 5 feet away. Use the central gourmet kitchen and 18x30 fireplace room with 12 person dining table and seating for talking and a beverage-no extra charge. Outdoors there's a brick patio and pergola with a grill and firepit. A beautiful view of the Snowy Range and Sierra Madre mountain-included. Across the street is 20 acres of Natural Resource land with ponds and grassland inhabited by deer, fox, and a wide variety of birds. To the west is another series of ponds bordering my neighbors hobby farm with goats, chickens, ducks, geese and six orphan steers. Awaken to a rooster's crow in the distance! Walk your dog undisturbed, or let him/her off leash in the fenced dog run. I'm here in the Gathering Room, an 18x30 log-wall area with a 13x13 gourmet kitchen, fireplace, comfortable seating and a dining table that seats 12. Just let me know what you need....
Saratoga sits 8 miles east of the Snowy range, and 20 miles north of the Sierra Madre, each with 12,000 foot plus peaks that are covered with snow much of the year. Copperline is located across Rochester Street from a Natural Resources reserve where you can pick out deer almost any time. In front of your room is one of two 80 foot pine trees that have been growing there since the '50s. Rustic luxury--that's my phrase for it. Bring your car. There's no Uber in our town. But we're only 4 blocks from our thriving downtown, and the town's perimeter is one mile side-to-side in any direction, so walking or biking is popular. If you need a shuttle to or from floating the river or fishing or x-country skiing or a night on the town-just let me know. There are 2 suites upstairs, each having bedrooms connected by their own jack&jill bathroom with a king bed for the adults and bunk beds for your young ones. There's also a laundry room ($1/load), area to run your dog, picnic facilities, and a place to park you snowmobile trailer (or whatever toys you brought along).
The lodge is a great place to stay. Dan was very friendly and helpful. The kitchenette was more than adequate and the space is rustic in a good and charming way. If I am ever in Saratoga again I will definitely book a room here again.
R
October 2016
Copperline lodge was a fun place to get together with other travelers and Dan. Good food and good conversation. Room was fine. Only possible improvement is to have a firmer mattress for fat guys like me. Other than that, it was the quintessential Wyoming feel that I was looking for. Good value!
Christopher
September 2016
Very cute little place, friendly service, everything we needed. Close to hot springs!
Kara
November 2016
Dan is a exceptionally gracious and generous host; warm, friendly and easy to talk with. His homemade breakfast is wonderful bonus. The property is quiet and has a nice vintage charm. The guest space was clean and comfortable, and I slept very well. A great place to stay in Saratoga!
Carl
September 2016
Had a great stay! Everyone was very welcoming and made me feel at home. The little town is so charming. Go have a steak at the wolf! Stocked beer fridge and the fire pit made the night awesome! Will definitely stay again :)
Jamie Lin
September 2016
Dan is a wonderful host. He is friendly, kind and easy to speak with. The breakfast that he provided was very good with lots of options. The room is small, but had a nice table with chairs, a comfortable chair with soft cushions, stove, refrigerator, kitchen sink and queen bed. The neighborhood is quiet and only blocks away from restaurants, hot springs, and grocery store.
Rick
November 2016
It was lovely, very welcoming. We even seen little fawns every night!
Michelle
August 2016
Had a great stay at Dan's. He was very accommodating and was there to greet me on arrival. I had privacy but Dan was readily available. The neighborhood was ok, but I went outside with my cat who I was traveling with and some truck drove by and was hollaring. They circled around the block and drove by again. I walked the block earlier and had no problems though. The place is beautiful and very rustic. I would reccomend staying if your passing through the area.
Lindsay
July 2016
Type de logement
Logement entier
---
Type de propriété
---
Capacité d'accueil
2
---
Chambres
0
Saratoga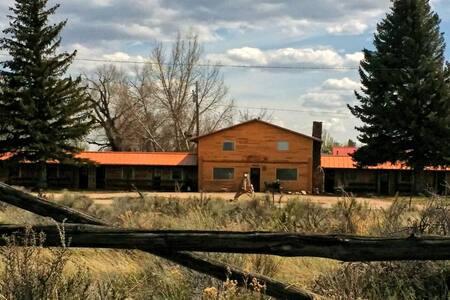 My place is located in the spectacular North Platte Valley and is close to Downtown within walking distance to restaurants and hot spring. You'll love my place because of the location, it's cozy home like ambiance and is a few feet from the river. My place is good for couples, solo adventurers, business travelers, and families (with kids) and anyone who enjoys outdoor activities.
Quaint 1950's home in the heart of downtown holds all the charm of the era and it location. Settled close to the North Platte River and the spectacular Rocky Mountain it is the dream location and accommodations for Hunters, Fishermen, hikers, skiers or those seeking an escape from the busy world outside of Saratoga. The community is friendly, small town that is the heart of Wyoming.
Type de logement
Logement entier
---
Type de propriété
---
Capacité d'accueil
4
---
Chambres
2
Saratoga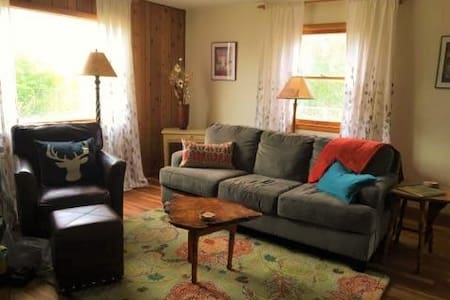 My place is in walking distance (how fit are you?) or at most a 5 minutes drive to downtown, the Hobo Pool Hot Springs, restaurants and dining, unique shops and art galleries, Saratoga Lake and the Platte River. Copperline Lodge has a gourmet kitchen, multiple bed guest rooms, stacked timber and log walls, half-log stairway, parking a few feet away, great views of the mountains, a pergola with grill and picnic facilities. Good for couples, individuals, families, groups, and dogs.
CopperLine Lodge was built in 1954 and has been completely renovated starting October of 2015. We have only 11 guest rooms, including 6 kitchenette/cabins on the ground floor and 5 suites inside the Lodge Proper. Everyone is invited to use the full facilities--gourmet kitchen, 18x30 fireplace meeting room with seating for 25 and a 10' dining table that seat 12, the outdoor grill and picnic pergola with a firepit and free firewood, and our latest addition--a fenced dog yard complete with free dog waste bags. There is lots of extra parking, and the kitchenettes allow you to put your car right next to your front door. All of the Lodge's exterior walls are stacked timbers. The floors are knotty pine tongue and groove plank. You'll find a setting that gives you a cozy, cabin experience and just the right feel for rustic Saratoga. Every guest should plan to visit the Saratoga Hot Springs/Hobo Pool. Check Copperline Lodge's website for activities in town. Saratoga Platte Valley Chamber of Commerce sponsors concerts, rodeos, a beer festival, fishing derby, pool tournaments (2 with $10,000 purses), truck pulls, chariot races, mountain man and woodchopper's celebrations, and dozens of other events nearly every week of the year. Check their website for more information. You can keep your food in the fridge, cook on the stove, and have a continental breakfast (included) that is just right. Dan Pont, Innkeeper, lives on the property. He is there to answer your questions, shuttle you to your river trip, make reservations at the restaurant, fix you breakfast and send you home rested.
The lodge has no neighbors. Across the street is 20 acres of undeveloped prairie reserve where several deer and other wildlife roam. To the west is Dorothy's hobby farm, with a half dozen steers, a herd of goats, some chickens and a goose live. The rooster is just close enough to hear an early morning crow if you're awake, but far enough he won't disturb your sleep. You can walk the alley to between the Lodge and the farm with your dog and watch waterfowl take off from the ponds or fly in for dinner. Walk 6 blocks to the southeast, and you're in the middle of downtown with several restaurants and lots of interesting shops. The Platte River is even closer--plan to fish or float or photograph the wildlife. Walk almost anywhere around town in 10 minutes or less. Dan will give you a lift in town at no charge to the Hobo Pool or the grocery/liquor store. Shuttle to activities outside of town is available for a small fee.
Dan is talktive and peovided us a simple but great dinner. The Hot dog is delicious.
Peng
October 2016
Dan does an excellent job creating community with his guests and making the lodge a place you want to be and stay. He quickly felt like a friend and the lodge was incredibly restful. (Kinda felt like we were waking up on Christmas morning in a hallmark movie!)
Katie
November 2016
Dan is a great host and was extremely communicative both before and during our stay. Quick to respond to any questions, easy to chat with, and he immediately made us feel welcome. The room and outdoor area were comfortable spaces. I could easily see spending a couple of days here and probably bonding with some of the other guests. It just felt that easy.
Danny
October 2016
Best place ever. Dan is amazing.
Lynn
September 2016
Dan was a FANTASTIC host. We so enjoyed talking with him and he was more than accommodating.
Susan
September 2016
Great place to stay right in Saratoga. Rooms are cozy and rustic. Dan is a great host; I would stay here again.
BJ
September 2016
Staying with Dan was such a pleasure! He is extremely welcoming and a great conversationalist with an interesting background. The rooms are cozy and tidy and the communal area is gorgeous! The place is dog friendly and it is a 15 minute walk to the hot springs, which are open 24/7 and free! There is breakfast included prepared by Dan himself together with a good cup of coffee! I can recommend this place to anyone.
Dee
September 2016
Type de logement
Chambre privée
---
Type de propriété
---
Capacité d'accueil
3
---
Chambres
1
Saratoga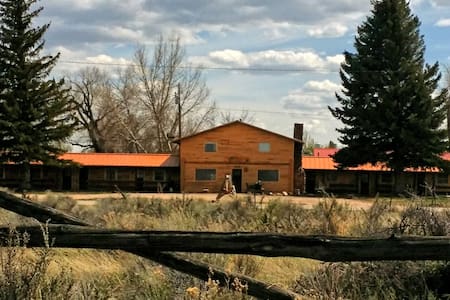 Our River Cottage is only a stone throw from world class fly fishing in a blue ribbon trout river, boat launch and Hobo Hot Springs. Hot springs are free and open 24/7. The cottage is situated as close as you can get to the river inside town limits. Saratoga Lake is only 2 miles away. It is a perfect haven for outdoor fun and retreat. Located only two blocks from downtown. Walking distance to shops and restaurants. Our place is ideal for couples, solo adventurers, and families.
My wife and I had a fantastic stay at Antoinette's cottage. Super comfortable bed, brand-new and well-equipped kitchen and very clean. The short walk to the Hot Springs was the main highlight. Access to fantastic hiking in the Snowy Range and Sierra Madre Mountains was also very rewarding. Only several blocks to the main restaurants in downtown was a big highlight.
Stephen
September 2016
Type de logement
Logement entier
---
Type de propriété
---
Capacité d'accueil
4
---
Chambres
1
Saratoga
Experience the natural beauty of Wyoming when you book a trip to this Saratoga Springs vacation rental studio which sleeps 6. Featuring outstanding amenities, a large covered porch, grill and prime location near downtown's attractions, this charming abode leaves nothing to be desired!
From the moment you arrive at this recently remodeled studio, you'll know you made the perfect lodging choice for your Saratoga Springs getaway. Step inside the home's comfortable and bright interior to find cozy furnishings and ample space to spread out and relax. In the fully equipped kitchen, prepare delicious recipes before sitting down together at the lovely dining area to enjoy your culinary treat. From there, kick back on the plush couch or comfortable beds to enjoy watching your favorite television shows on Dish TV. You'll also enjoy complimentary wireless internet access to keep you entertained throughout your stay. Further unwind from the home's large covered back porch where you can throw mouth-watering BBQ eats on the Weber grill. Your furry friends will especially love the home's fenced in backyard, a perfect spot for sipping cold brews under the sun. At the end of long vacation days, retire to either of the beds for a peaceful and restful night's slumber. Evolve Vacation Rental Network is on a mission to make vacation rental easy for travelers. Every property in our network has been vetted and verified so you can book with confidence. If you have questions prior to your trip, we are happy to assist you 7 days a week. During your stay, your local contact will be available 24/7 to help with any issues that may arise.
Throughout your stay, you'll have the best of Saratoga Springs right at your fingertips! Located just a block from the area's main downtown attractions, this home offers prime access to Wyoming adventures. Within minutes, visit local eateries, dive bars, homemade ice cream parlors and restaurants before strolling downtown's charming streets. Practice your swing at Saratoga Resort Golf Course, located just 3 blocks from the property. Outdoor enthusiasts may enjoy a trip to the natural hot springs, hiking, mountain biking or simply walking the scenic trails located closeby. Shop until you drop at the area's designer boutiques, art galleries and consignment shops. Whether you're planning a relaxing escape amongst the mountains, or an adventurous tour of Wyoming - book this Saratoga Springs vacation rental studio for memories you'll cherish forever! Key Residence Features: - Amenities include a remodeled fully equipped kitchen, complimentary wireless internet access, Dish TV, covered porch, Weber grill, fenced in area (perfect for pets!), free pool access from town of Saratoga and much more - Fantastic location! Just minutes to downtown, shopping, dining, hot springs, fishing, hunting, biking, skiing, grocery stores, convenient stores, bars, restaurants, churches, American Legion and more Sleeping Configuration: - King-sized Bed - Queen-sized Bed - Twin-sized Sofa Sleeper - Twin-sized Murphy Bed Additional Sleeping: - Cots can be provided for additional guests if necessary
Type de logement
Logement entier
---
Type de propriété
---
Capacité d'accueil
6
---
Chambres
0
Saratoga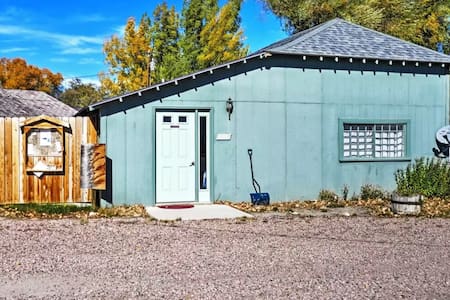 Apartment a 700 sq. foot studio apartment, located in a large shop at the base of the Snowy Range Mountains in beautiful Saratoga, WY; 10 minute drive from the Hobo Hot Spring pool. The space is equipped with all your home-away needs and sleeps 4.
This apartment is great for all year use. The apartment is located 10 minutes from Saratoga by car. A person can have dinner in town, soak in the free Hobo Hot Spring Pool, grocery shop or enjoy downtown shopping. This location is prime for skiers, snow mobile enthusiasts, individuals who enjoy fly fishing or rafting on the North Platte River, or hikers. Guests will have access to a full kitchen, private washer and dryer and satellite TV. The apartment is closed off from shop area. Guests will not have to worry about shop noise as the shop is typically empty. Interactions with guests are up to the guest. We will greet you on your arrival and help you with any questions you might have about town or the area. We live close by so we are able to be reached.
The apartment is located on 40 acres with a pond outside of Saratoga, WY. It is a great home away from home in the country. Public transportation isn't available but town is a short 10 minute drive. This is a great family apartment or get away for a group of guys going to the outdoors or a couple just wanting to get away. Come enjoy!
This was an amazing experience. Our host was very cordial and even came out to the main road to meet us. The apartment we stayed in had the most wonderful view you could see for miles. It was so quiet and peaceful. The apartment itself was very well decorated and stocked with anything we could ask for.
Brian
June 2015
We didn't get to spend much time in the space, but it was clean and beautiful. Brekke and Ryan were gracious and kind. We will be looking into staying again if we go out that way!
micaela
April 2015
Great place! I booked the apartment same day and though Brekke and Ryan were out of town, they were very responsive and gave me directions there and instructions on how to get into the apartment. I had a bit of trouble finding the place and they were very helpful, staying on the phone to direct me there. The place was very comfortable and very clean. The location is beautiful, in very pretty, quiet countryside. It was the perfect place to rest for a night between Rocky Mountain and Grand Teton National Parks. There is a public mineral hot spring fed pool in town (less than 10 minutes away) which made a nice stop as well. There is no wi-fi and I could not get a data signal on Verizon, but neither was a problem for me. Highly recommended!
Joanne
July 2014
Excellent! Fantastic place to stay. Super clean, spacious, comfortable beds, spotless bathroom, full size washer and dryer, off the beaten path. Kids loved the ducks and the wide open spaces. We loved the quiet location. We hope to return in the future. We were met near the main road and she led the way to the apartment. One of the nicest hosts we have met.
Amy
July 2016
We needed a place to stop between Jackson, WY and Fort Collins... There really isn't much on the east side of Wyoming, but thankfully we found this place and thankfully Brek & Ryan were willing to host us on short notice! The place is clean, nice, and really well set up. We arrived just as the sun was setting which was spectacular to watch and then we enjoyed looking at all the stars at night. Ryan and Brek are very thoughtful hosts, leaving us some breakfast food and suggestions on where to eat. A great place for a stop over!
Linda
October 2014
Staying at this airbnb locations was one of the best decisions I made on my cross country trip! Brekke and Ryan were warm and welcoming - as others have mentioned, they are extremely responsive and available to answer questions you might have about the apartment, the location or directions. I was welcomed by Brekke, who met me on the main road to help me find the apartment. After getting me settled, I was invited to share dinner - Brekke and Ryan were great company! The apartment is very comfortable and has everything you need including a washer and dryer, internet access and cable TV- it's even stocked with basics for breakfast! If you want a taste of Wyoming and great hospitality, I highly recommend this space!
Danielle
July 2014
We were so fortunate to have discovered Brekke and Ryan's wonderful AirBnB listing. We were seeking peace and quiet after weeks on the road -- and we found it! From the moment we arrived, communicated was perfect; and everything was just as the AirBnB listing had described. We cooked almost every meal in the great kitchen ... complete with dishwasher for easy cleanup! Washer/dryer onsite was a fine extra. And more -- Comfy bed, directTV, recliner loveseat . We found nearby little-town Saratoga to have a well-stocked grocery store; a highly recommended Italian restaurant: and helpful, interesting, friendly locals ... good information lead us to take a half-day trip over the Snowy Range and Deerwood Ranch (horse mustang rescue) in Centennial. Four days at 'Outdoor Enthusiast Apartment' was not long enough for Jack and I. We were sad to leave ... we will return! Thanks to Brekke and Ryan for an excellent AirBnB experience.
Ann
July 2015
Perfect stay. Very nice host(s), and the property is exactly as pictured/described. When we're in Saratoga again, we'll definitely book this place. This was our first Airbnb booking, everything went swimmingly, and we are looking forward to finding another fun Airbnb place!
Jennifer
August 2014
Type de logement
Logement entier
---
Type de propriété
---
Capacité d'accueil
4
---
Chambres
1
Saratoga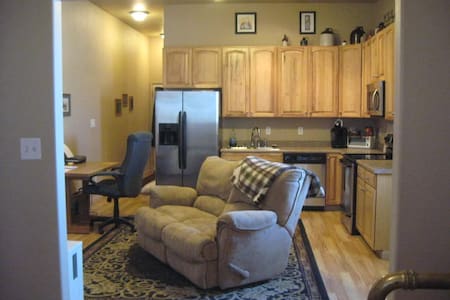 Our River Cottage & suite is only a stone throw from world class fly fishing in a blue ribbon trout river, boat launch and Hobo Hot Springs. Hot springs are free and open 24/7. The cottage is situated as close as you can get to the river inside town limits. Saratoga Lake is only 2 miles away. It is perfect for outdoor fun and retreat. Located only two blocks from downtown. Walking distance to shops and restaurants. Our place is ideal for couples, solo adventurers, and families.
Antoinette was really easy to communicate with. We had some questions before coming, and hoped she could accommodate a couple of our requests. She was absolutely helpful, making it easy to arrive much later than we anticipated, and we were settled in and sleeping with no trouble at all. She had left a few creature comforts for us, and was within easy reach over text throughout our stay if we needed anything. The location is ideal in town, easily walkable to the river, the hot springs, or just a couple of blocks down to restaurants and such in town.
Danny
September 2016
Type de logement
Logement entier
---
Type de propriété
---
Capacité d'accueil
6
---
Chambres
2
Saratoga