A private room in a nice house. My place is good for couples, solo adventurers, and business travelers.
great spot
Alejandro
2017-04-04T00:00:00Z
Dora's place is very nice and clean. It is a small pool house detached from her house. It is a room with a bed, a closet, and a spacious bathroom (note there is no fridge or microwave but it was fine for me). The architecture there is beautiful! I want to move to McAllen just for the architecture. I definitely recommend staying at Dora's pool house she is very accommodating and even brought us some water in the evening and offered us some warm milk for our baby.
Mark
2017-03-26T00:00:00Z
Responds quickly. Very affordable. Would definitely book a stay with her again.
Nereyda
2017-03-18T00:00:00Z
This private room was wonderful! Clean, quiet, cozy, and with a private entrance for my erratic work schedule. Dora was easy to reach via messaging and responded promptly to my questions. The wireless internet was high speed, no need for a tv for me since I had my devices. Dora had recently installed the cutest little foldaway table that I used for my electric teapot and my takeout meals. The AC is cold with a ceiling fan. Lots of storage space in a roomy closet. The bathroom was spotless and modern with a great walk-in shower with a strong showerhead. The bed is big and comfortable. The yard is lovely and I sat by the pool for morning meditation. The neighborhood is gated and secure. This was my first AirBnB and I was reassured by the ease and safety of this entire stay and I booked again with her before I even checked out! Thank you Dora!!
Karin
2017-04-08T00:00:00Z
La habitación está excelente la ubicación muy cómoda y excelente anfitriona, la recomiendo ampliamente
Jose Alejandro
2017-03-13T00:00:00Z
The location and neighborhood was very nice and convenient. Very clean but small, not ideal for a person who needs to do some work. I was in town working and could not get any work done due to no desk or work space. Great downfall, NO TV, which made for a long nite.
Rodney
2017-03-29T00:00:00Z
Nice accommodations, owners are very nice, and the neighborhood is quiet and safe. Better than a hotel.
Quinton
2017-04-02T00:00:00Z
Type de logement
Chambre privée
---
Type de propriété
Maison
---
Capacité d'accueil
2
---
Chambres
McAllen, Texas, États-Unis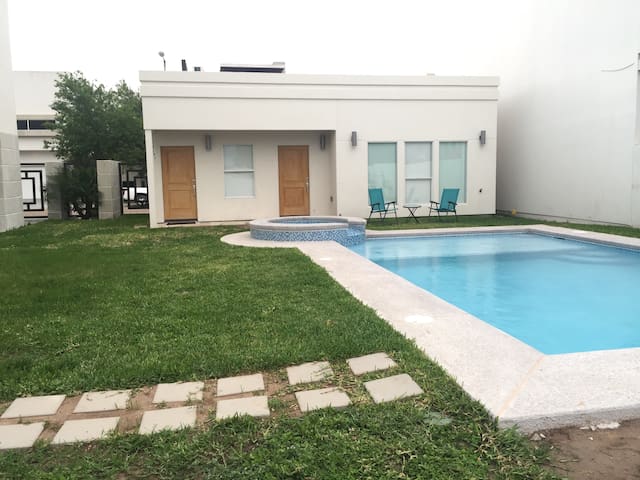 Department floor, for 1 or 2 people preferably 1 woman or married without children near the national polytechnic, UAT and UANE cable service centers comerciales.incluye water and gas, electric apart.
Type de logement
Logement entier
---
Type de propriété
Appartement
---
Capacité d'accueil
2
---
Chambres
Reynosa, Tamaulipas, Mexique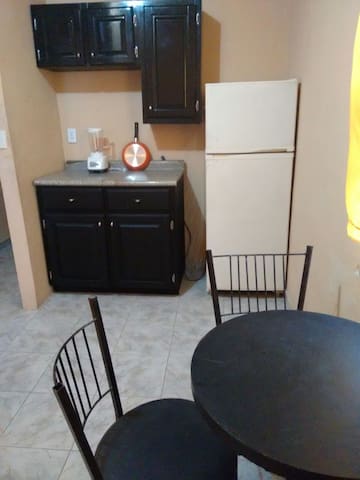 My place is very close to The Plaza Mall , nightlife. You'll love my place because of the neighborhood, the comfy bed, the coziness, the kitchen, and the light. My place is good for couples, business travelers, families (with kids), and big groups. The condo is next to the pool and has a exterior kiosk in front. Is a closed neighborhood you can only access with a password that I will provide you. The condo has a garage where you can park your car and it will be out of the sun and secure.
The neighborhood is very safe with surveillance and an access code that only residents have.
Wonderful place! Would stay here again for sure
Kevin
2016-12-15T00:00:00Z
Es una casa hermosa, perfecta para viaje familiar, todo centrico, excelente comunicacion y atenciones, todo muy limpio, definitivamente volveremos.
Meliza
2017-02-06T00:00:00Z
COMO EN MI HOGAR
IGNACIO
2016-07-07T00:00:00Z
Alda arranged everything for a smooth trip. There was a welcome note with the wifi code which we appreciated. The townhome is very clean, like a hotel but a little more warm and cozy! The location was a little out of our way but very safe and secure. We were able to park in the garage so the car stayed out of the sun and we didn't worry about break-ins. Beds were very comfy. Lots of clean towels and a full sized washer and dryer. Great spot, great stay.
Amy
2016-11-23T00:00:00Z
Excelente opción para viajar en familia o grupo,comodidad, limpieza y seguridad.
Georgina
2016-11-27T00:00:00Z
This is a perfect home away from home
Samuel
2016-10-22T00:00:00Z
Great host. Very responsive.
Clyde
2017-02-03T00:00:00Z
Excelente ubicación,limpieza e instalaciones, vecindario muy tranquilo y seguro, muy buena atención por parte del dueño.
David
2017-04-13T00:00:00Z
Type de logement
Logement entier
---
Type de propriété
Appartement
---
Capacité d'accueil
8
---
Chambres
McAllen, Texas, États-Unis
About 3 minutes Blvd Colosio Pharr Bridge 5 minutes from LG and 8 minutes from the cultural park Reynosa. privads room A / C, Furnished double bed TV Closet, other areas of the shared house (bathroom, kitchen, laundry)
Room indoors with AC and TV sharing a bathroom closet laundry room kitchenette and terrace.
Private and Secure
Excelente ubicación, el lugar muy limpio y cómodo, sin dudarlo regresaría!
Fernando
2017-02-09T00:00:00Z
Fermín es una persona amable tan es así que fue por mí y me acercó a los destinos que iba. Me ofreció llaves así como alimentos. Su propiedad está cerca del aeropuerto (calculo 10 minutos y eso por el tráfico de las maquilas, y a 5 minutos de la garita Pharr. Ir de compras a McAllen de una forma segura y a la vez sin problemas de aduana es posible al estar con Fermin.
Juan Manuel
2017-01-13T00:00:00Z
Fermín es muy amable y muy servicial, siempre amable y atento en solucionar y apoyar. Su propiedad está muy cerca del aeropuerto así como de la línea fronteriza... es muy estrategico si uno va McAllen/Aeropuerto de Reynosa
Juan Manuel
2017-01-26T00:00:00Z
Type de logement
Chambre privée
---
Type de propriété
Maison
---
Capacité d'accueil
2
---
Chambres
Reynosa, Tamaulipas, Mexique
Room with kingsize bed, bath hot water, TV, airconditioning, Closet, window,
Type de logement
Chambre privée
---
Type de propriété
Maison
---
Capacité d'accueil
2
---
Chambres
Reynosa, Tamaulipas, Mexique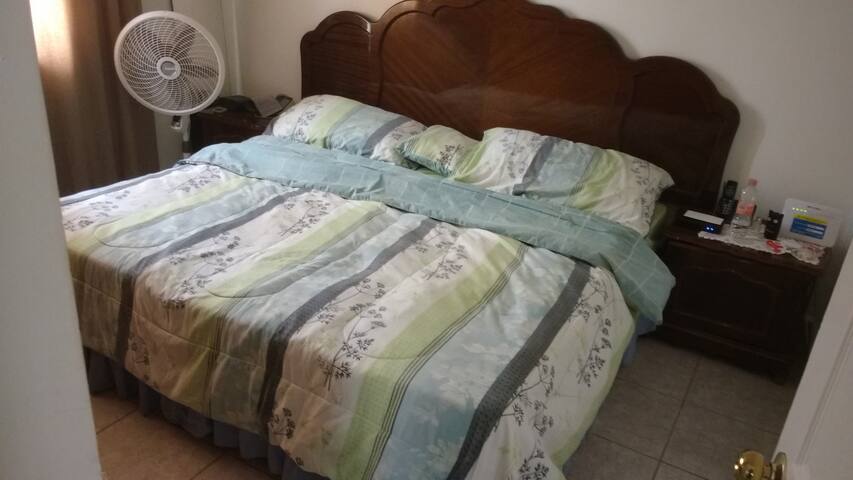 West of the city, close to shopping centers.
La atención de la amiga de Eliezer fue increíblemente amable, no puedo pedir mas, el que me hayan esperado en el aeropuerto por mas de cuatro horas es impresionante, Liliana es una magnifica anfitriona. Estoy muy contenta, siempre tratando de complacerme. En ningún lugar he conocido anfitriones como ellos, parecen amigos de toda la vida.
Clara
2015-11-13T00:00:00Z
Type de logement
Chambre partagée
---
Type de propriété
Dortoir
---
Capacité d'accueil
1
---
Chambres
Reynosa, Tamaulipas, Mexique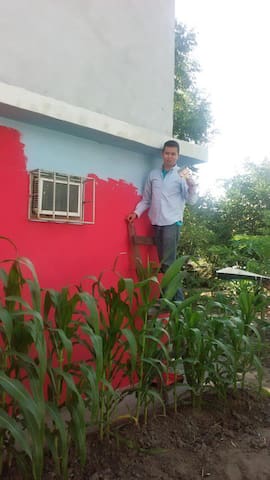 Nuestra hermosa y cómoda residencia con alta plusvalía está ubicada en una colonia privada.
Ofrecemos transporte desde el aeropuerto a la residencia y de vuelta para que su estancia sea más placentera.
La privada cuenta con 6 casas habitadas y un velador lo que hace la residencia privada y segura.
Type de logement
Logement entier
---
Type de propriété
Maison
---
Capacité d'accueil
6
---
Chambres
Reynosa, Tamps., Mexique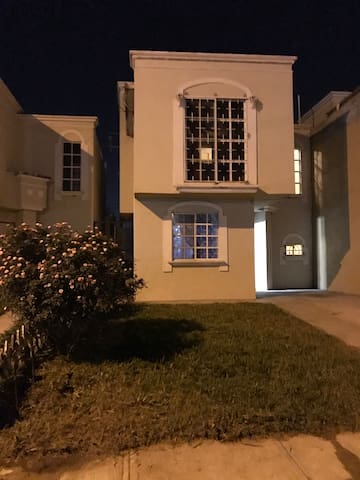 We have 4 furnished place to live or own office departments. They have electric garage for two cars each department, two bedrooms with en suite bathroom, kitchen and dining room. Some have patio or terrace and a small pedestal table area or person in charge of cleaning. Laundry, closets, etc.
It is located two blocks from the main square. And five blocks from the international bridge.
The proximity to the commercial areas, the market and the international bridge.
Nice large apartment, with a big bedroom and a huge master bedroom that shows off a pretty domed skylight. It can easily accommodate a family of 4 or even 5. Place was nice and clean, and location is quite good: I felt safe enough to go out for a walk late night at the municipal central plaza and have dinner (which is only two blocks down). La Fogata, a famed restaurant in Reynosa, is only 300 feet away. Access is gated, so you will feel even safer if you decide to stay in all day. Kitchen has most utensils and appliances you would need.
Adonai
2017-02-19T00:00:00Z
Departamentos amplios y muy bien ubicados en el centro de la ciudad.
Lilia
2016-10-04T00:00:00Z
Type de logement
Logement entier
---
Type de propriété
Appartement
---
Capacité d'accueil
4
---
Chambres
Reynosa, Tamps., Mexique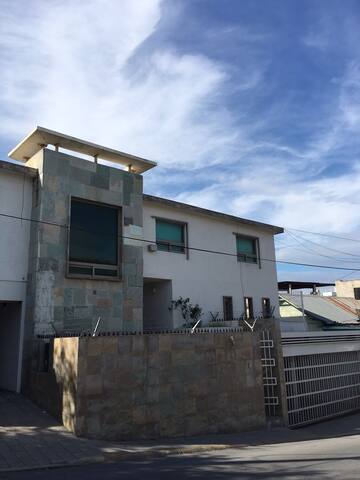 Viejo encantador escondido en un barrio tranquilo, cerca de zonas comerciales y un parque con piscina al lado de la calle. El acceso a un servicio de transporte de autobús.
Las habitaciones son completamente privadas.
Nuestro barrio es muy tranquilo.
From the moment we arrived to the moment we left, Joseph and Esmer were nothing short of amazing. Their home is amazing and the hospitality we received made us feel at home. Their pups were fun and only added to the enjoyment. Our stay here super seeded any of our expectations and their home will be definitely be revisited with future travels.
Tori
2015-06-16T00:00:00Z
Esmer was the most hospitable host I have ever met so far. She not only made me feel at home but very enjoyable to talk to. It is hard to find such genuinely warm, open-hearted and nice people in modern world. She not only made dinner when I arrived after a long drive so that I did not have to go out but rest, but she also made fresh orange juice using the oranges from her trees and fresh coffee. The guest quarter is spacious with a small private bathroom. It is private, clean and comfortable. The front and backyard are large and well kept with lots of bushes. trees, feeders and fountain. Bird lover's heaven. Convenient location for visiting nearby nature preserves also. Highly recommended and will stay again at her place.
Qinglin
2016-04-10T00:00:00Z
I have used two separate rooms in this comfortable, lovely house. Esmer and Joseph are always welcoming and make me feel at home . A great place to stay
Linda
2015-04-04T00:00:00Z
Epic! Esmer and Joseph are the greatest. I always feel at home.
Rudford
2015-12-11T00:00:00Z
Once again Esmer and Joseph were the best hosts one could possibly hope for! This time both me and my co-worker stayed for a couple nights. Our stay was perfect: we slept in wonderfully comfy and clean beds, Esmer had breakfast fresh orange juice every morning (and even breakfast one day)! The check-in was super easy, and the hosts were always accessible, friendly, and respectful.
Marianela
2016-04-29T00:00:00Z
What a warm welcome to the Rio Grande Valley we received from Esmer and Joseph! We arrived in the wee-hours of the morning and our hosts were there to make us feel immediately at home! We stayed with Joseph and Esmer while house hunting and they not only accommodated our moving truck, pup, and travel weary selves, but also gave amazing advice on where live, eat, shopping, and visit in the Valley. They are truely one-in-a-million hosts and we felt so fortunate to have stayed with them! Their home is amazing with a yard words simply cannot do justice. We would have paid just to see their home or to have the opportunity to enjoy the company of such smart, funny, and generous people! THANK YOU!
Megan
2015-08-02T00:00:00Z
one of the best experiences of my life, it's better than any hotel in mc Allen, Esmer and Joseph are like my second parents. they have an amazing house, friendly dogs, and everything. I'm sure that we will meet soon for another incredible experience. I really recommend this home and i cant wait to return again. it's an honor to have met them and be your friend!
Fernando
2015-12-01T00:00:00Z
The level of hospitality that Esmer and Joseph have to offer can truly never be matched. Anyone who visits The Valley should consider themselves lucky to stay in such a lovely and welcoming home!
Merced
2016-04-18T00:00:00Z
Type de logement
Chambre privée
---
Type de propriété
Maison
---
Capacité d'accueil
2
---
Chambres
Mission, Texas, États-Unis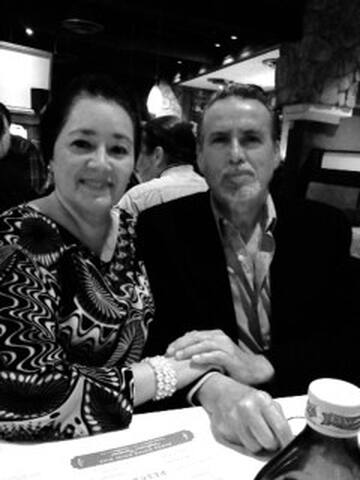 Welcome to a real taste of South Texas. Our home is surrounded by 5 acres of citrus groves - close to the city with the serenity of the country. We are minutes away from birding, the Rio Grande, McAllen shopping and healthcare facilities. Great for Winter Texans and Birders!
It was pleasant stay great outdoors. We had a great time great location and enjoy the smell of the trees.
Maria
2017-03-11T00:00:00Z
Great property! Comfortable and clean.
Jessica
2017-04-09T00:00:00Z
Highly recommended to anyone. Spacious, clean, amazing property. Perfect for families. Host were great with communication. Essentials were provided making life easier. Definitely a hidden gem.
Tessa
2016-11-20T00:00:00Z
Excellent stay. Home is comfortable, clean and well stocked. The property is beautiful and the fruit sweet! It was very nice coming "home" after long days of visiting family and sight seeing. Hosts were easy to contact and very helpful. I will definitely look to stay at this property again when possible.
Jessica
2017-02-26T00:00:00Z
Same as I shared with owners.
Peter
2016-12-08T00:00:00Z
This is one of the best properties I have ever stayed at. It was very private, but only a short drive to local restaurants. Dan made sure to be very accommodating, and even delivered some workout equipment after I had expressed interest in using the workout room. Would definitely stay here again.
Dylan
2017-03-01T00:00:00Z
What an amazing experience! We loved being in a spacious house nestled in an orange grove. My parents were with us and my mother grew up in the valley with a family in the farming business so she was thrilled. We really enjoyed unwinding in front of the TV with a fully stocked kitchen to prepare meals after our days of running around in the valley. You can tell a lot of work has gone into making the house clean and fresh. Dan and Rosey are wonderful hosts and I highly recommend their place.
Deborah
2016-10-17T00:00:00Z
My husband and I are avid birdwatchers, and wanted to find a place close to some of the great birding spots near McAllen. Dan & Rosy's place in San Juan is within easy driving distance of several great places that we visited during our stay: Estero Llano Grande State Park (fantastic!), Frontera Audubon Center, the parakeet roost on 10th St. (in McAllen between Dove & Trenton), the World Birding Center at Bentsen, and the Santa Ana National Wildlife Refuge (only a 10 minute drive). When we arrived at the house, Dan was there to greet us, and gave us a tour of the inside and the beautiful grounds, which include a citrus grove. The fruit had already been harvested, but Dan still managed to find us a few oranges and grapefruit, which we enjoyed with our breakfast. The house itself is a large rancher with lots of open space and tile floors throughout, and it was sparkling clean. Several ceiling fans supplement the air conditioning to keep the temperature perfectly comfortable. The kitchen was more than adequately stocked for us, and a large refrigerator-freezer had plenty of space for our supplies. It was a bonus to have a washer/dryer on site, as we were already in the middle of our 12-day vacation. The television was antenna only, but we found some of the stations we like to watch were available. There is a lovely patio out back to sit and enjoy the breezes in the evening, which we did on our last night there. All-in-all, we had a wonderful stay, and are already talking about coming back!
Sharon
2017-02-22T00:00:00Z
Type de logement
Logement entier
---
Type de propriété
Maison
---
Capacité d'accueil
6
---
Chambres
San Juan, Texas, États-Unis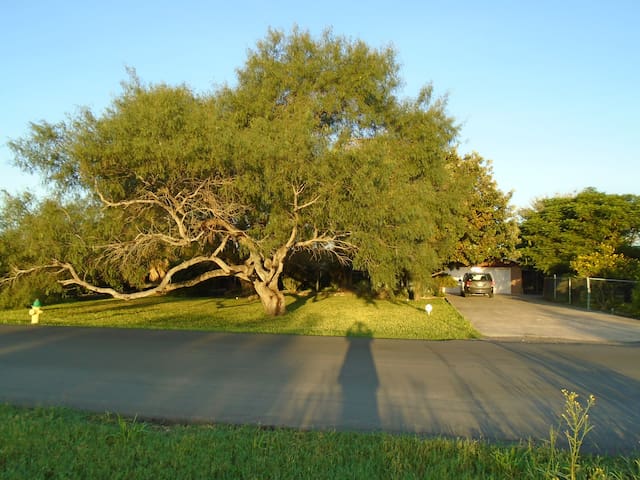 Close to the Plaza Mall, and Downtown McAllen, which has a great night life. You will trully appreciate the location of this condo. Its very nice and comfortable, lovely room with a lovelier restroom. The kitchen is superb. This home is great for anyone or couple looking to do some shopping, enjoying the nightlife, and relaxing by the pool with some bbq. Mulitple parking outside, garage with parking, gated entrance, which I will give you access code. Keurig coffee machine. Enjoy.
Type de logement
Chambre privée
---
Type de propriété
Maison
---
Capacité d'accueil
2
---
Chambres
McAllen, Texas, États-Unis
My place is close to restaurants and dining, shopping, golf corse, , family-friendly activities, within and hour and a half to the beach. You'll love my place because it offers everything in one place to make your stay as close to home as possible. My place is good for couples, solo adventurers, business travelers, and families (with kids).
New apartment complex with everything you need to make your stay easy and as comfortable as if it where your home! Conveniantly located right off main highway to get you anywhere fast!
Cant beat location, everything close by!
Stayed at Madiam's for a week. Extremely clean. Great communication and very accommodating. The complex has a beautiful pool area not to be missed. Would highly recommend renting here.
Andrew
2017-02-12T00:00:00Z
Departamento cómodo, nuevo, bien equipado y muy cerca de lugares para comprar y comer.
Eduardo
2017-03-24T00:00:00Z
Nice and very clean. Close to shops and restaurants.
Lucy
2017-04-08T00:00:00Z
Inmejorable lugar , de lujo , alberca y gym funcionando .Todo nuevo , Janette siempre pendiente de nuestras necesidades . Ubicación perfecta cerca del autopista , Mall y las mejores tiendas . Inmejorable lugar para una escapada de Compras y visita . Las habitaciones amplias y los baños con vestidor para llenarlos con las compras . Janette siempre pendiente y amable . Sin duda volveremos . Familia de 4 adultos perfectamente acomodados . Si quieren visitar McAllen no lo duden , es la Mejor opción !!!!
guillermo
2017-01-02T00:00:00Z
Nice comfy home! Pool closed on Mondays. Check to see if hot tub is working. Neighbors play loud music until late night but its quite during the day. Thank you
Lauren
2017-01-14T00:00:00Z
The place was exactly like the pictures, very clean, spacious and modern, I liked that it was in a gated community in a very nice area of town so we did not have to worry about our cars, Madiam met us at the apartment to welcome us and offered to help with anything else we needed, both of the bedrooms had their own restrooms so it was perfect for two couples I would be happy to stay there again
Axel
2016-12-18T00:00:00Z
Type de logement
Logement entier
---
Type de propriété
Appartement
---
Capacité d'accueil
4
---
Chambres
McAllen, Texas, États-Unis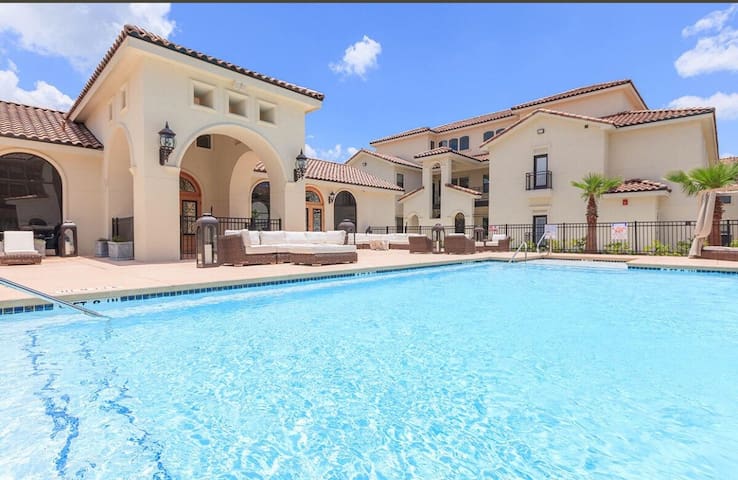 Set in the heart of McAllen, just off of Route 83, Texas Inn Downtown McAllen features spacious rooms with free high-speed internet throughout the property. Complimentary continental breakfast and an outdoor pool are also available. McAllen International Airport is 10 minutes' drive away. State Farm Arena is less than 7 miles from the property, while La Plaza Mall is 2 miles away. Reynosa, Mexico is just 10 miles from the property. South Padre Island is a 1 hour drive away.
Type de logement
Chambre privée
---
Type de propriété
Boutique-hôtel
---
Capacité d'accueil
4
---
Chambres
McAllen, Texas, États-Unis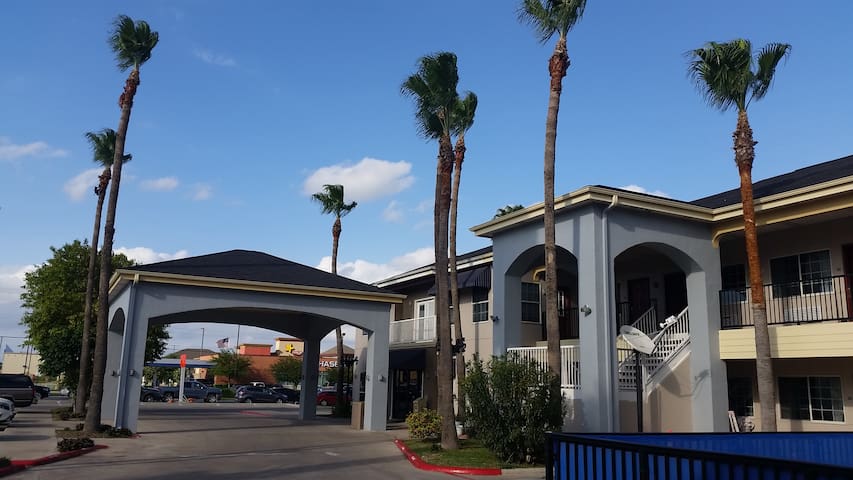 Enjoy this fully Furnished Victorian 3 bedroom 1 bath w Open kitchen & extremely large family room This home is a must. Wake up to an extremely peaceful sound of birds and enjoy privacy. Safe Neighborhood. 5 minutes to Hospitals, Museim, Airport & Shopping. 25 minutes to Progress Mexico and Famous Outlet Mall A MUST !! 1 hour from South Padre Island A Must As Well
This property is centrally located in the heart of Mcallen and is extremly private. Walking Trails, Parks, Restaurants, Super Market, Airport , Hospitals, Shopping Mall, Down Town Night life and Convention Center..Make yourself Home away from Home.
Neighborhood is very Quite and Safe.
had a wonderful time and the house was perfect for 2. loved the very large living room and the electric gate made us feel alot safer. fantastic host and would love to have her again when we travel back to McAllen. thank you Blanca
Walter
2016-06-20T00:00:00Z
I totally loved the location and the house. It's very quiet. Great communication with the host.
Rosa Isela
2016-05-31T00:00:00Z
Increible casa, super linda y conto con todos los servicios, el vecindario super tranquilo y seguro y Blanca la anfitriona disponible para ayudarte. un poco dificil encontrar la direccion pero irene quien nos recibio para darnos las llaves fue muy amables en ir a recogernos en donde nos encontrabamos perdidos. Muchas gracias blanca por esta linda experiencia.
Karen
2016-03-27T00:00:00Z
The host canceled this reservation the day before arrival. This is an automated posting.
Jordan
2016-07-17T00:00:00Z
The home was very inviting. I loved the electric gate and the entire exterior fencing that helped it to feel very private. The goodies were very nice along with the shampoo, conditioner, soap, etc. Beds were very comfortable, nice plush towels. The house is older, but pretty well kept. Overall very good value and very comfortable.
Jeremy
2016-06-15T00:00:00Z
Beautiful home in the heart of Mcallen, very easy to get to. Blanca was extremely flexible on check in and out, very easy to communicate with. Felt right at home.
Esmeralda
2016-02-15T00:00:00Z
Type de logement
Logement entier
---
Type de propriété
Maison
---
Capacité d'accueil
4
---
Chambres
McAllen, Texas, États-Unis
Our comfortable apartment in the more centric part of the city, will be the perfect place for business, shop or just travel. Near the airport, La Plaza Mall, TJ Maxx, Ross, and much more.
An excellent location.
Is near the mall, stores, bank center, hospitals, the location is the best.
Excellent stay! The host is very welcoming and the place is cozy, very good option for people with car.
Maikel
2016-09-18T00:00:00Z
Great comfortable place close to airport. Host is accommodating great communication.
Shashi
2016-09-17T00:00:00Z
Iza es una excelente persona y anfitriona, fue un honor conocerla y quedarme en su casa. Ella siempre está dispuesta a ayudarte y su casa es muy reconfortante, además de tener una excelente ubicación. Excelente lugar en McAllen!
Paola
2016-10-23T00:00:00Z
Iza was super welcoming, and her apartment is homey, clean, and her puppy is super cute! Comfy bed, quiet room, and warm company! Thank you!
Marianela
2016-11-29T00:00:00Z
Me encantó el lugar esta super bien ubicado, Iza es muy atenta y agradable. Definitivamente volvería.
Ingrid
2016-07-31T00:00:00Z
excelente anfitriona, volvería sin lugar a dudas.. nos sentimos como en casa... gracias
Carlos
2016-11-20T00:00:00Z
Great little place. Its a kids room but since I needed it for sleep it was perfect. The host was great and provided everything I needed. She has the cutest little Chihuahua as well for the dog lovers out there.
Esteban
2016-09-10T00:00:00Z
Iza is a great host, the apartment is on a great location and very safe. I liked it a lot! Thnxs!
Felipe
2016-10-31T00:00:00Z
Type de logement
Chambre privée
---
Type de propriété
Appartement
---
Capacité d'accueil
3
---
Chambres
McAllen, Texas, États-Unis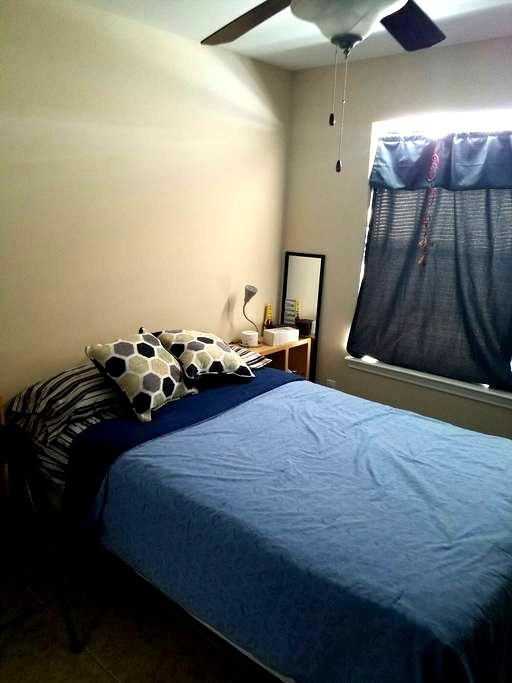 Attractions: Parks. You'll love my space is a cozy space, the location is great. My accommodation is good for couples, families (with children), and large groups.
Type de logement
Logement entier
---
Type de propriété
Maison
---
Capacité d'accueil
7
---
Chambres
Reynosa, Tamaulipas, Mexique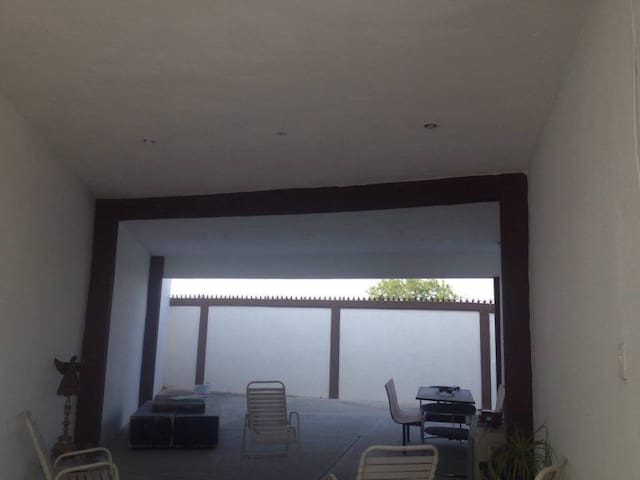 Modern furnished comfortable apartment overlooking the pool. It has a balcony. It includes all services and a great location for shopping or rest.
Excelente lugar, limpio, confortable muy amplio y muy cerca de todo. Excelente opción mil veces mejor que un hotel, Sandra estuvo muy atenta a cualquier cosa que necesitábamos lo disfrutamos mucho.. Volveremos pronto!!
Alonso
2015-12-21T00:00:00Z
Departamento muy cómodo y bien equipado con todo lo necesario, Sandra fué muy amable y estuvo siempre al pendiente por si necesitábamos algo, el último día nos permitió salir tarde nos fuimos casi a las 7 pm y sirvió mucho, definitivamente volvería a quedarme ahí.
Rafael
2016-10-16T00:00:00Z
Wonderful place to stay, it is slightly pricy but definitely worth it for what you pay. Nice quiet area, perfect for a family. Very clean & comfortable & the amenities were very good. Would highly recommend staying at this place!
Zach
2017-03-18T00:00:00Z
speaking spanish helps with communication
adam
2017-01-22T00:00:00Z
This property is in a excellent location and Sandra is always responsive.
Stewart
2017-03-14T00:00:00Z
Sandra's apartment was as it was represented and worked out well for us. It is near shopping and gas stations with easy access to the freeway. Secure parking was a plus too. All the appliances were clean and worked well. There were some lamps without bulbs and there was no key for the deadbolt but we didn't really need either. We has a pleasant 2 weeks and 70 to 80 degree weather. Thanks for making your place available Sandra.
Don
2016-02-12T00:00:00Z
Host was easy to work with. Always answered her phone when needed anything. I had an amazing stay at this property.
Faizan
2016-10-09T00:00:00Z
Sandra excelente anfitriona, muy pendiente desde el día que llegamos. Solo tuvimos un par de detalles con la lavadora/ secadora y el internet los cuales fueron solucionados tan pronto como fue posible. El colchón de la cama KS bastante suave para MÍ gusto. El departamento de acuerdo a las fotos y se encontraba limpio.
Valeria
2016-07-28T00:00:00Z
Type de logement
Logement entier
---
Type de propriété
Appartement
---
Capacité d'accueil
6
---
Chambres
Mission, Texas, États-Unis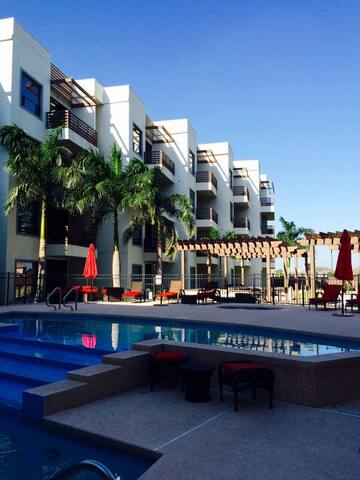 Type de logement
Logement entier
---
Type de propriété
Maison
---
Capacité d'accueil
10
---
Chambres
Mission, Texas, États-Unis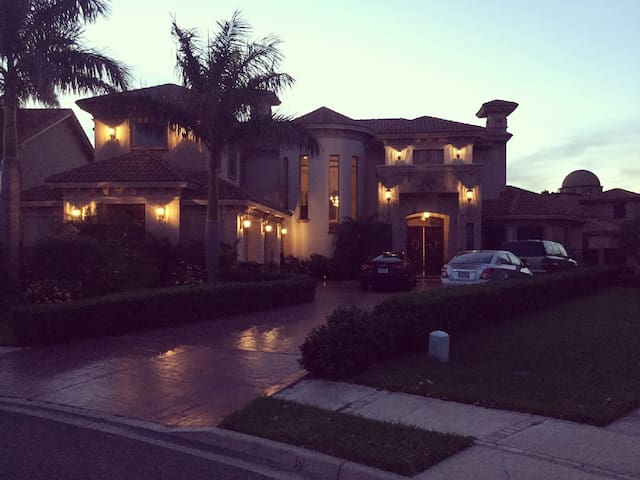 Saisissez les dates souhaitées pour connaître le prix total. Des frais supplémentaires s'appliquent et des taxes peuvent être ajoutées.