Saisissez les dates souhaitées pour connaître le prix total. Des frais supplémentaires s'appliquent et des taxes peuvent être ajoutées.
New Mexico ski season is upon us, and this unique pastoral escape is only an hour's drive to Santa Fe, under two to Angel Fire, Sandia Peak and Sipapu, and within easy reach of four other popular destinations in the three-hour range. The expected opening dates for each are as follows: Ski Santa Fe: 11/24/16 Sipapu: 11/19/16 Sandia Peak Ski Area: 12/17/16 Angel Fire Resort: 12/9/16 Pajarito Mountain: 11/25/16 Red River Ski & Summer Area: 11/23/16 Taos: 12/15/16 Ski Apache: TBD
Located conveniently 20 miles north of Interstate 40, Abercrombie's has often provided guests a much needed pit-stop on long-distance journeys across the state. Situated a short five miles west of New Mexico Highway 84 -- one of the principal routes connecting West Texas to Santa Rosa, Las Vegas and Santa Fe -- this quintessential rural reprieve is perfect for large family reunions or retreats, or for catching up on some much needed alone time and all those novels that have been calling your name! Guests are encouraged to help out in the indoor and outdoor vegetable plots, with harvest and consumption being the intended reward, to add the right amount of agritourism to their stay on the old Abercrombie spread. Established in 1873, Abercrombie's General Store has been at the heart of historic Anton Chico, NM, for 140 years. Located an hour from Santa Fe and two from Albuquerque, this pioneer town of 448 residents lies in the heart of Billy the Kid country. The Abercrombies, who originally immigrated from Scotland, gained local fame for giving the Regulator himself refuge in the basement of their store while he was on the run from Lincoln County Sheriff Pat Garrett. Guests looking to capture the true spirit of the Old West have the opportunity to return to simpler times with either short or extended stays in the grocer's house attached to the old general store. Whether modern explorers are seeking adventure along cattle trails through the gorgeous canyons of the nearby Pecos River and Santa Fe National Forest, skiing in Santa Fe, discovering firsthand the rich history and places of the Old West, or just getting some much needed breathing room under the high desert stars, they'll find all of that within easy reach here at the Abercrombie homestead. And who knows, some of them may even snap a photo or two of the resident ghosts, of which many local legends abound. Fortunately, living the pioneer dream doesn't have to be as hard as it was back in 1873. A fully functioning kitchen (plumbing, hot water, refrigerator, electric hotplate with adjustable heat -- for all your range-top needs -- electric skillet, waffle maker, crockpot, coffee percolator and grinder, microwave, toaster, wood-fired range and oven) and bathroom bring cowboy conveniences to this nostalgic setting. A thermostat-controlled gas fireplace keeps the house at a steady warmth, and two electric space heaters are provided for the bedroom suite. Two woodstoves and one main fireplace add supplemental heat, and those wishing to build fires should add a bundle or two of firewood to their list of supplies to pick up on the way, along with any groceries needed to enjoy their stay. A propane grill is available for grilling. For those interested in renting the place by the bedroom, instead of the whole house, please contact the host directly. Bedroom bookings are available at a lower nightly rate and provide guests with a room of their own and access to shared common spaces (kitchen, bathroom, etc.). Guests have full access to the entire grocer's house as well as full run of all the enclosed outdoor spaces, which include a landscaped front yard, two patios and the garden and farm plots in the rear of the compound. Secure and ample parking is provided inside the locked compound gate. Please note: All other buildings on the compound other than the grocer's house are off-limits to guests unless accompanied by the host, for considerations of personal safety and historic preservation. This rule excludes the general store when it's being rented for a function. For guests looking for more convention space, the general store itself can be rented out for a small daily fee and provides plenty of room and amenities for large family functions or group gatherings. Please ask! For guests who would simply like to tour the general store and Billy the Kid's hideout in the basement, the host works regular hours in the store office and can show you around. For other firsthand tourist information about the area in general, the host is a lifelong New Mexico resident and is eager to provide you with whatever he can. The friendly onsite host (who stays in separate living quarters on the Abercrombie compound), is always on call to provide fresh linens and bedding when needed, help with oldfangled devices, answer questions, provide walking and historical tours of the Abercrombie store and surrounding Anton Chico Land Grant (dating from 1822, when the area was still part of Northern Mexico), and anything else to make the experience comfortable, fulfilling and memorable. The host speaks Spanish and French as well as English. ¡Se habla español! On parle le français!
PLEASE NOTE: Though Abercrombie's has always historically been the center of economic and social life in Anton Chico, the store is not currently operational, so guests should note that there currently is no operational store for supplies in Anton Chico. Any foodstuffs you'd like to enjoy during your stay here will need to be picked up on your way. If you need suggestions about the nearest grocery stores in Las Vegas, Santa Rosa or the Albuquerque metro area, please ask. Guests are welcome to any foodstuffs left over from previous guests, and leaving supplies for the next visitor is not discouraged, within reasonable limits. Guests have found the refrigerator/freezer, hotplate, microwave, toaster and coffee maker helpful for their self-catering needs. Guests planning to visit Anton Chico or any other rural areas in Eastern New Mexico should be furnished with a vehicle of their own, as there is no public transportation to the village or within the municipality itself. But the carless should be able to experience and enjoy the homestead life in this magical place along with the rest of the motorized world, so if you'd like to visit but don't have access to your own transportation, please contact the host and inquire about the possibility of assistance that might be available in that regard.
Interesting place. In the middle of nowhere which was nice but there was literally nothing around for 25-30 miles so be sure to bring whatever you need before arriving. The address provided takes you about 15 minutes from actual location. I had to wait 2 hours for host to arrive which really sucked. Once he arrived though, he was more than nice, built me a fire, and brought me some food since there's nowhere to buy anything. The TV did not work, nor was there central heating. Definitely rustic, but pretty cool overall. Blake is a very nice guy. Place just needs some work
Omarr
November 2016
What a fun, beautiful, unique place to stay! The property is rustic, but if you're a history buff or just enjoy getting a glimpse of days of yore- you'll love it! The description of this property is accurate- it's in the middle of nowhere, so bring your own food. Blake was a wonderful host- knowledgeable, helpful, and accommodating.
Holly
December 2016
Ok, so I can't give a 5 start rating, as it was more rustic than I thought, but for someone who's looking for such an experience, like making a fire to heat up the place, go for it, it has a lot of modern appliances (microwave, TV, internet, washer & dryer, coffee maker). What we did not like: to big of a house to heat up with 2 electric radiators even with the fire places lit up (I don't like being cold); it was kind of dusty, but I guess he's gonna be working on this (we came on a short notice); the internet does not reach the last bedroom What we LOVED: even though the place is a bit hard to reach, Blake's directions are very accurate; he welcomed us and to be honest he's a really funny guy :) ...and always there if we needed anything. Enough space to park & something that other places don't have: a piano & guitars (for the musicians in you). Overall, we enjoyed it, but it was definitely a unique experience :)
Em
November 2016
We love this house! This is our second time staying and our host, Blake, and the house only get better. Exploring the town and hiking the Pecos river by day and the cozy fires by night makes this a wonderful retreat. It is rustic which is part of its charm, but Blake is very conscious of your comfort and is always ready to help. We will be back. Thanks Blake!
Traci
January 2017
Isolated and peaceful
Thom
January 2017
Loved it the weekend getaway was amazing. Wow what a hidden gem.
Donald
January 2017
This place is incredible. We were initially hesitant because it was so inexpensive but decided to roll the dice and see how it was. We were pleasantly surprised to find such a perfectly quaint place that felt like an old Spanish mission. We loved staying here and the beds were VERY comfortable. Will definitely stay here again on future trips into New Mexico.
tyler
January 2017
Very interesting accommodation. The host does a great job describing the place in the description. The host/Blake was very friendly and helpful on arrival at check in. We had everything we needed. We only stayed for 1 night but as described in the description I'm sure this is a great place to unwind and seek solitude given that this place is really in the middle of no where. This accommodation also provides a rustic feel (in a good way) that brings you back a few years. Interesting place. Would stay again and recommend but just make sure to read about this accommodation and ensure that this is the kind of place you are looking for.
CHRISTIAN
December 2016
Type de logement
Logement entier
---
Type de propriété
Maison
---
Capacité d'accueil
10
---
Chambres
2
La Loma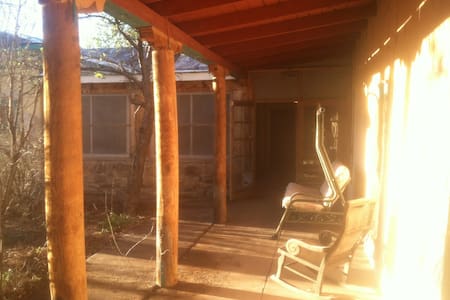 Fully furnished and newly remodeled!!!! Very comfortable and clean, fully stocked kitchen, Large outdoor covered patio with outdoor furniture and BBQ gas grill. Pull through U-shape driveway, covered parking, fenced in yard.
Thank you so much for letting me stay in your home. Great spot, right on the lake. Loved the personality throughout the space. I will look to book again when I am in the area.
Charles
December 2015
Manufactured 2-BR home was clean and tidy and felt very recently updated. Amenities were inclusive (wifi was a plus). Beate's quick response to any question was appreciated. We enjoyed exploring this remote area, the drive is quite beautiful. We had deer visitors every day!
Jeff
November 2016
Completely enjoyed our stay, especially since our stay was super last minute, but our host was amazingly accommodating to our situation. I highly recommend both of Beate's properties and will continue to book with Beate, thank you for allowing us to enjoy your properties!
RAUL
August 2016
The place was better than we expected especially for a lake house, very clean with new renovations. Loved the decor and style of the place. The house was stocked with everything we could need from shampoo to ice. Another perk, we had access to a camp area on the water for fishing and swimming without having to pay the day pass fee. Beate greeted us after we got settled in the first night and was very nice, as if we already knew each other. We will definitely be staying there again.
Jordan
June 2016
The house was spotlessly clean and beautifully decorated. Very comfortable with everything one could need. Excellent communication from Beate, and had no trouble finding the house despite the remote location. Thanks!
Cathy
September 2015
Great place, everything as described! Super clean and comfortable! Will stay again in the future! Very nice person to deal with!
Randy
July 2016
Beate's place was very clean, modern and serene. There's a large two or three car covered area for parking. The washer and dryer are nice for long stays and the kitchen has everything needed to cook to your hearts content. The satellite TV and internet are an added bonus for such a remote area. I highly recommend visiting Las Vegas, NM which is about an hour away for hiking and hot springs. The hike up to the mesa behind the house is also fun for exploring.
Joey
December 2016
Type de logement
Logement entier
---
Type de propriété
Maison
---
Capacité d'accueil
4
---
Chambres
2
Conchas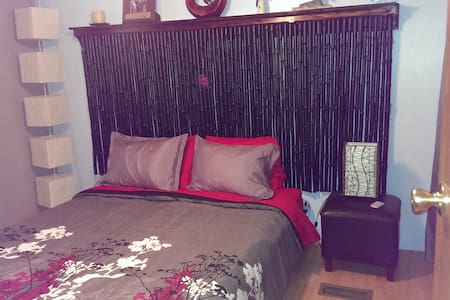 My place is close to Conchas Lake the 2nd largest lake and best kept secret in New Mexico. My place is good for couples, solo adventurers, and families (with kids).
Type de logement
Logement entier
---
Type de propriété
Appartement
---
Capacité d'accueil
8
---
Chambres
3
Conchas