Saisissez la date d'arrivée au format jj/mm/aaaa
Saisissez la date de départ au format jj/mm/aaaa
Logements que vous pouvez réserver sans attendre l'approbation de l'hôte.
12 locations
· Three Rivers
12 locations
· Three Rivers
Saisissez les dates souhaitées pour connaître le prix total. Des frais supplémentaires s'appliquent et des taxes peuvent être ajoutées.
Cet été (juillet et août), vous pouvez essayer l'un de ces 100 logements les mieux notés, dans toutes les gammes de prix, pour découvrir Sonoma d'un point de vue local. Entrée dans les lieux 24h/24, réservation instantanée, mais aussi vin et petites spécialités locales à disposition… autant d'invitations à vous détendre et à profiter pleinement de votre voyage.
Our camper trailers are well maintained and very clean. The park is small, clean and peaceful. Each camper has cable tv w/ premium channels and wifi.
Bailey's Hideway Lodging & RV is located just 1.5 miles from Downtown Three Rivers and only 6 miles from Choke Canyon Reservoir.
Things to do include: World class fishing at Choke Canyon Reservoir Historic Rialto Theater - only operating movie theater in 3 counties Trophy quality whitetail deer hunting Several local bars offering billiards and live music A variety of local shops and restaurants
Type de logement
Logement entier
---
Type de propriété
---
Capacité d'accueil
3
---
Chambres
1
Three Rivers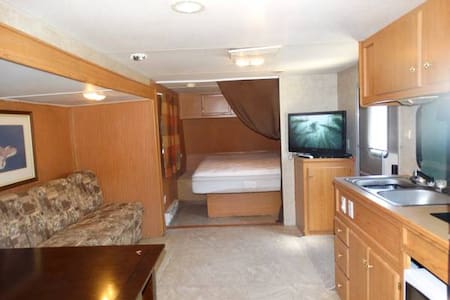 My place is close to Fishing, Lake, beach, boat ramp, star gazing. You'll love my place because of the outdoors space, the comfy bed, the ambiance. quiet place to relax, grill, drop a fishing line off your private dock. My place is good for couples, solo adventurers, families (with kids), and furry friends (pets).
My family had an incredible labor day weekend at the lake house. The home was clean, comfy & spacious. The lake was warm and perfect for children and adults. The fishing was great, we caught many fish with little effort. We even watched the football game on the huge TV in the living room! Roberts family was available the entire time if we had any trouble (we didnt) and were very friendly upon check in. Robert quickly answered any questions we had and was a great host. Overall our stay was just what we needed to get away and relax. This home is exactly what comes to mind for quiet getaway, I hope we are able to visit again next summer!
Jennifer
September 2016
Type de logement
Logement entier
---
Type de propriété
---
Capacité d'accueil
6
---
Chambres
2
Sandia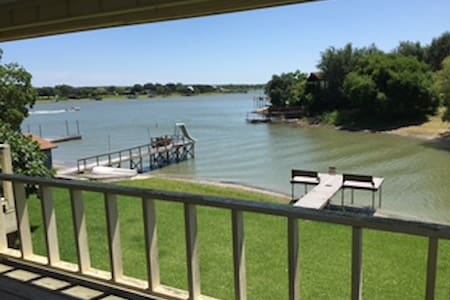 You'll love my place because of the tranquility and farmhouse comfort.. My place is good for couples, families (with kids), big groups, and furry friends (pets).
Enjoy this historic farmhouse built in 1887 situated where South Texas brush country meets the coastal plains farmland. Relax and read a book on the porch, swing in the hammock beneath shady oak trees, or appreciate the tranquility by birdwatching and be serenaded by the wild quail. For those that love to hunt, bird hunting is available on the premises near a shallow tank and harvested grain (surcharges apply for bird hunting).
Type de logement
Logement entier
---
Type de propriété
---
Capacité d'accueil
8
---
Chambres
4
Mathis
Fully Furnished 1 bedroom 1 bath Suite with full kitchen, TV, Wireless Internet, Washer and dryer in unit.
This place is AWESOME!!! It turned out to be a perfect location for us because we wanted to see the coast and do some shopping in Mexico. We were traveling with our small dog and he was thrilled to have grass to run around in. The place is well stocked and they left us some nice gifts. Our highest recommendations and we would definitely stay again.
Mary Jo
June 2016
Great location and a soothing outdoor setting. Just right for families, working man and everyone. This location has everything you need to feel like home.
Shirley
May 2016
Type de logement
Logement entier
---
Type de propriété
---
Capacité d'accueil
2
---
Chambres
1
Kenedy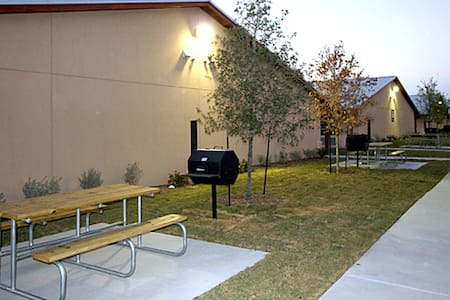 Come to Lake Corpus Christi and enjoy this beautiful gated community home found nestled on a 5 acre lakefront property featuring it's own private pool and fishing pier. Sleeping arrangements include: 4 king-sized beds, 3 queen-sized sofa sleepers, 4 twin beds, and a custom 4-bed kids bunk bedroom. With plenty of room for fun and activity's inside and out, you'll find everything you need whether it's for a reunion or for an incredible family get-away!
Water Disclaimer: This property is hooked up to a ground water well so while it is potable, occasionally you will experience the smell of sulfur.
Type de logement
Logement entier
---
Type de propriété
---
Capacité d'accueil
16
---
Chambres
7
Lake City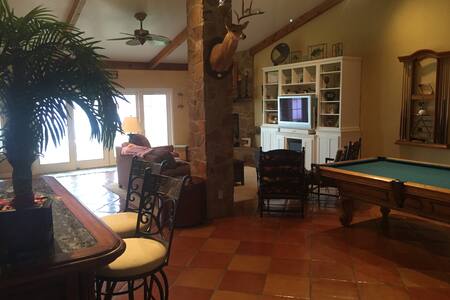 This 2-bdrm 1 bath cottage has a full kitchen, living room, outdoor grill, firepit, and hammock under the trees. Guests are given access to 706 acres of hike and bike trails, fishing pond, cattle-call, miniature donkeys, and stargazing platform!
We're off the beaten path - 22 miles from the nearest town. We received the Lone Star Land Steward Award from Texas Parks & Wildlife in 2004 for our conservation practices and land restoration efforts. We're on the flyway for many migrating bird species from sandhill crane to wood stork, bunting, groove billed ani, etc. etc. Guests are invited to enjoy the 706 acres of hike and bike trails, fishing pond, stargazing platform, miniature donkeys, cattle-call and fabulous birding! We live on the property about 1/4 mile away, and invite guests to participate in some of our day to day chores, including calling in the cattle. We respect privacy, however, and want our guests to feel like they're alone in their country home if they prefer that.
No public transit out here, but we have great country farm-to-market roads.... Goliad is 22 miles away, and is a must-see beautiful historic Texas town. Its courthouse square is full of great shops and locally-owned restaurants. Don't miss the Goliad State Park and its Mission Espiritu Santo, and the Presidio la Bahia. Rent a kayak and paddle the peaceful San Antonio River.
We had the most lovely weekend at the Green Jay Cottage. The cottage itself was very well appointed and comfortable. And we really enjoyed lounging in the hammocks under the big shady trees and eating breakfast in rocking chairs on the sunny porch. The donkeys were so much friendlier than I expected! It was very therapeutic to go find and pet them every day. The land is beautiful and we took a few long walks to explore it. Claire and her husband were very welcoming when we arrived and gracious hosts throughout the trip, leaving us eggs and fruit from nearby trees. We should have planned a whole week here instead of just the weekend!
Isabel
February 2016
Great experience! Claire was very helpful and available to us when needed, but let us have all the space and privacy we wanted.
Zach
November 2015
All I have to say is wow, everything about this stay was fantastic! From the fresh flowers and fruit in the delightful cottage to the warm welcome; we couldn't have asked for a better place to stay. While we did not have the opportunity to star gaze or use the fantastic fire pit, we will next time! We look forward to our next visit.
Bret
November 2015
We had such a great time! We made memories that will last a lifetime in just a few days. Claire was the perfect host and just an all-around wonderful person. She was always available to answer our questions and graciously spent time showing us her beautiful ranch and sharing her knowledge. There is so much to do here or you can just relax in a hammock. There were so many birds and animals and flowers! The donkeys were my favorite part, just cute and cuddly and friendly. We loved exploring the ranch too. There are plenty of trails and adventures waiting. The house was very nice, clean and bright, with lots of homey touches. It had every amenity we could think of from shampoo and sunscreen to coffee and tea to umbrellas and flashlights! Be sure to bring something that would cook well on the grill outside, because the outdoor amenities are just as nice as the indoor ones: tables and chairs, hammocks, swings, rocking chairs, and children's areas. The house looks like it would be accommodating to someone that uses a wheelchair, which is great. I can't wait to visit again.
Karel
May 2016
What a great place to get away from it all. The Green Jay Cottage is about a couple hours from Austin and about an hour and a half to the coast. It made a really nice home base for a couple of nights. It seems to be in the middle of nowhere and has tons of property to explore. This spot had everything we look for in an Airbnb rental: Wildlife, privacy, fire pit, grill, a nice shower, somewhere for our dog to run around, and some friendly resident critters. (We even saw a green jay the house is named after!) Note: Follow the directions given by Claire. If you follow your GPS you may end up several miles down the road.
Max
June 2015
Type de logement
Logement entier
---
Type de propriété
---
Capacité d'accueil
4
---
Chambres
2
Berclair
Fully furnished homes offering a full size kitchen equipped with essential cooking gear, flat screen T.V's, Free WiFi, patio and barbecue grills. Each bedroom offers 1 Queen Size bed and bathroom or 2 Twin Beds and bathroom.
A private unit, you and your friends, co-workers or family can enjoy. Make yourself at home and take advantage of full access to all we offer in our homes. If you have any questions or issues please call us at 512-380-2502.
Close proximity to many local restaurants! Partners BBQ - 1 Mile Red Dog Ice House - 3.5 Miles Dairy Queen - 0.2 Miles Pastime Cafe - 0.5 Miles Taqueria Vallarta Karnes City - 0.2 Miles For safety, please make sure you lock your door while inside your unit or when leaving for the day
Adolf was very welcoming and helpful. He even took the effort to mail me my computer charger that I forgot there. Very good value place to stay if you're volunteering at the family detention center or have another reason to be in Karnes.
Robyn
July 2016
The stay here is very nice, and the grounds keeper is accommodating. There was a power outage while I was there due to the weather and they let me use one of the other units until the power was restored. I will likely stay here again next time I am in town. Beds are very comfortable as well.
Devo
June 2016
Type de logement
Logement entier
---
Type de propriété
---
Capacité d'accueil
4
---
Chambres
2
Karnes City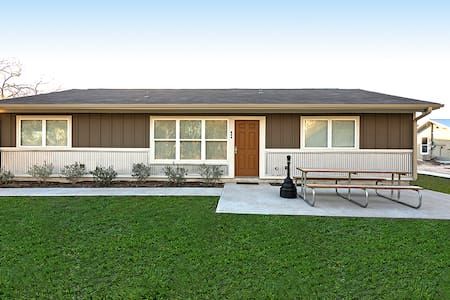 A relaxing stay in charming surroundings with excellent service and a convenient central location. Comfortable large rooms, an on site laundry mat, and Oak trees with BBQ pits and picnic tables for relaxation. That's what you can expect.
I'll be around to assist we any needs you may have.
We are just off the beaten path so its quite and peaceful. However, less than a half mile down the road and you can find all the stores and restaurants you may need. Everything you may need is in the cabin other than your own food and clothes.
Rex and his Dad are awesome hosts. The little cottage has everything you could need. Full kitchen, comfortable bed and very clean. For us it was situated in an excellent location so we could enjoy the flea markets of San Antonio and the Pottery shopping at the boarder. Highly recommended and would return in a heartbeat!
Mary Jo
June 2016
We stayed at the lodge for 10 days and our stay was great! The room and grounds were very quiet and clean. The staff were very friendly and attentive to our every day needs. We had an unexpected family emergency and Rex came through for us in a big way, even though it was last minute notice. Rex we thank you kindly for your hospitality and the kindness you showed us. You run an awesome place and employ a good staff. Pleasanton was a nice place to relax and get away from the city. Texas should be known for it's hospitality not just for it's size :), while it may be big in Texas, the warm welcome you get when you visit is even BIGGER!! Thank you, D. Maldonado Family
David
August 2015
The Brush Country lodge was just what we needed! All the amenities of a nice hotel suite, but in a private cabin. Laundry, grills, vending, ice, and your own private kitchenette. It's perfect for a short term or extended stay by yourself or with a small family. I would definitely recommend this place to travelers looking for more privacy than what a traditional BnB offers.
Jennifer
March 2016
Great host to client communication. Very clean at arrival. Very quiet area
Jessie
December 2016
Rex made us feel really welcomed, we arrived late at night and he waited until we arrived to give us the key personally. I really liked the cabin and the area around it, everything you might need is only a few minutes away. I had done my research in (SENSITIVE CONTENTS HIDDEN) maps prior to doing the booking and they don't do any justice of the area the cabins are located. The pictures that are listed here don't do any justice to the cabin either, the cabin exceed my expectations. It's affordable and a really nice place to stay in. Would definitely be going back when we are around that area again.
Lorena
July 2016
This facility is very well thought out and clean. The location in town is nice and quiet and close enough to San Antonio for quick day trips. Our cabin had all the amenities you could ask for at a great price. The check in was smooth with no unwelcome surprises.
Dan
June 2016
We enjoyed the cabin. Clean, well appointed, great AC and it was hot outside. The privacy was great. I got hold of Rex and he was pleasant and very helpful. We would stay again when in the area.
Greta
August 2016
It was a very quiet pleasant place to stay. Will come back if I ever back this way!
Megan
October 2016
Type de logement
Logement entier
---
Type de propriété
---
Capacité d'accueil
4
---
Chambres
0
Pleasanton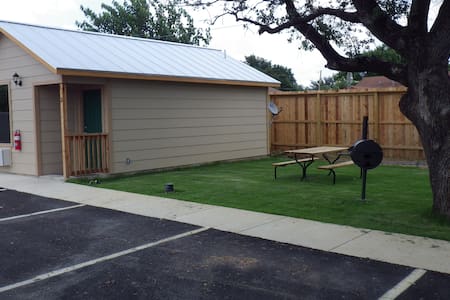 Rented by the bedroom ($125/night) or by the house ($375/night 3 bdrms), this charming 1877 home is nestled in oak trees and features 12-ft ceilings, 3 bedrooms each w/ private bath, modern kitchen, 2 fireplaces, and front porch w/rockers and views of meadows, wildflowers, wildlife & birds!
The Maetze is an 1877 home situated in the heart of the Barnhart Q5 Ranch and Nature Retreat, a 706 acre working ranch. The house can be rented by the room or by the house for 2 night minimum. Each bedroom has private bath. The house features 2 fireplaces, living room, fully stocked kitchen (cook your own meals) and outdoor cooking as well. Guests are invited to enjoy the ranch's manicured hike/bike trails, fishing ponds, and abundant bird and wildlife. Birding is our forte, as we're located on the migratory path and our natural habitat and feeding and watering stations draw in large varieties of species. A Club Cart is available at $25/day rental as well. The 17 acre guest house compound consists of 3 houses within 100 feet of one another. Each house has its own firepit, outdoor grill, and porches, and guests have access to the entire 700 plus acres. My husband and I live in a separate home about 1/8 mile from the guest house compound. We are available to guests should they need us. We like to give our guests a tour of the ranch so everyone feels comfortable moving around the place. If interested, we offer nature hikes to teach children and adults about the local habitat and wildlife. Guests are also welcome to join us in our cattle "roundup"!
We love the rural countryside around us which gives us a dark night sky. Guests here enjoy the 360 degree view of it from the stargazing platform situated on top of our highest hill. Guests will experience the soft breeze, sounds of birds, and coyote serenades at night (as well as the occasional donkey bray in the distance)... We are 22 miles from the nearest town. Once you're here, you may hike and bike our trails, or you may rent our Club Car for cruising around the place. ($25. Per day - licensed adults as drivers only! Max 5 people) We do not provide meals but do provide you every tool you need to make your own - indoors and out.
As always, our most enjoyable place to stay. Our trip was during September when the Hummingbirds are passing through this part of Texas. What a wonderful, mellow and calming experience it is to watch the Hummingbirds as they feed. The Maetze House always had 50 or more of them either feeding or waiting their turn. Claire's house had probably 200 to 300 doing the same. At least three and maybe more varieties of this small bird. What an experience. We also took a long and exciting walk thru the pasture on Sunday. When we arrived at our home we actually felt rested and calm instead of tired like you do after some vacations. What a nice treat this occasion was. We also really enjoyed the long conversation we shared with Claire about her ranch and just life in general. We always learn a lot when we stay at the Barnhart Ranch. We'll be back.
Sarah and Al
September 2015
My family and I recently stayed at the Maetze House for a weekend getaway and everything was beyond perfect! The house has so much history but has all modern amenities (minus a TV which I think made the trip that much better). It was incredibly spacious (each room was huge and had ample sleeping arrangements) and our host Claire was incredibly gracious. She was there for anything we needed and was beyond accomodating to make our stay the most enjoyable. The property itself is quiet and spacious. I would recommend this trip to anyone who is looking for a relaxing getaway to make great memories. I know we will be back!
Krista
January 2015
This place is a true South Texas experience beginning with the drive in through the gate. As you meander through the Texas brush on a very nice shale road, the ranch compound greets you with three lovely homes, which are clean and nicely decorated. The host has designed the property for ease of getting around and sitting in the many swings and hammocks or sitting by the different campfires. The roads are maintained quite well for walking, jogging or bike riding. And the fishing for freshwater bass is plentiful! The donkeys, that are fenced off from the guest houses, are all tame and fun to feed. Claire and her husband Wilfred are so kind and hospitable. They love sharing their beautiful ranch with guests and are very interesting to talk to about their love of nature and their surroundings. Our family had an experience that we will never forget. The fresh air and blue Texas sky was exhilarating! We look forward to going back!
Janet
February 2016
Claire was a great host! After touring us around her 700 acre ranch on her ATV, she gave us a map, so we know how to find our way back to our quarters. Her husband went out and even mowed the walking trails with the tractor, so we wouldn't have any problems getting around. The Maetze House was very comfortable and really had everything we needed. It was so quiet and peaceful. Backyard patio (Maetze House) was so relaxing in the mornings. We sat on the rockers, drank our coffee, and watched all the different birds that stopped for a snack at the feeders. Don't expect WiFi and good cell service here. You don't go here to do work and be on (SENSITIVE CONTENTS HIDDEN) anyway. Enjoy the beauty and sounds of nature. Goliad is only 20 minutes away and a must visit to see the old Courthouse, hanging tree and the site of the Goliad Massacre during the Texas Revolution.
ruben
June 2016
Claire was an amazing host and very attentive. Loved the accommodations at the ranch. The houses were perfect for our group. The ranch is very quite , a beautiful example of South Texas with abundant wildlife with an amazing back drop of Texas sunrises and sunsets. The ranch has everything a person needs to unwind from a stressful life ! We had an amazing weekend! Thank you!
Justin
September 2016
Another beautiful visit! This time the moon didn't get in the way and we saw an amazing sunset and a swath of milky stars! The quiet was so intense, I could feel it on my ears. Loved it. We will be back for a third round.
Deborah
December 2016
Type de logement
Logement entier
---
Type de propriété
---
Capacité d'accueil
9
---
Chambres
3
Berclair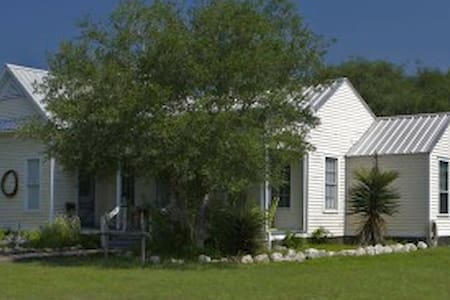 My place is close to great views, the city center, art and culture, and parks. You'll love my place because of the neighborhood and the comfy bed. My place is good for couples, solo adventurers, business travelers, families (with kids), and big groups.
Type de logement
Logement entier
---
Type de propriété
---
Capacité d'accueil
4
---
Chambres
10
Karnes City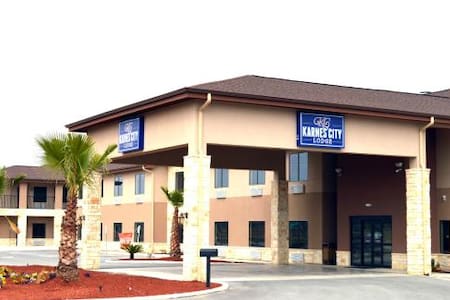 If you yearn for Nature and Nurture - for hiking, biking, birdwatching, rejuvenation and lots of open space, we welcome you to our 706 acre ranch retreat, located just 30 minutes south of historic Goliad. We can accommodate you by yourself - or a group of up to 20. We welcome guests to our ranch and treat them to a taste of what it's like to live in this part of the world. NATURE: Birding! Wildlife Viewing and Photography! Hiking! Biking! Fishing! Stargazing! NURTURE: Peace and tranquility abound here, and if you just need to rejuvenate, we've got rocking chairs and hammocks in the shade of old oak trees or on cool country porches. We offer a choice of 3 homes, each with its own charm and comfort - each equipped with everything you need to be secure, comfortable, and happy while here. The Maetze Home is a 3-bedroom, 3-bath home (circa 1877) which features 12' ceilings, spacious windows, long-leaf pine walls, a large and breezy front porch with view into grazing pastures full of wildlife, wildflowers, and the occasional miniature donkey (more on that later) and a fully equipped and modern kitchen. The Green Jay Cottage is a 2-bedroom, 1-bath cottage with fully equipped kitchen and lovely front porch, also with panoramic views of the countryside. The Hummingbird Cottage is our smallest home which features a day bed with rollaway under, a shower in its bathroom, and a kitchenette. Need only one room? Each of these homes may be rented by the room or by the house - your choice! Each home is equipped with its own firepit and grill for outdoor cooking, as well. (We provide mesquite and oak firewood!) Included in our fees is access to the ranch and its 14 miles of hike and bike trails, ponds, stargazing platform, tree swings, hammocks, etc. Fresh organic garden produce is offered when our gardens are producing. SPICY FUN: Pick your own chili pectins that grow wild here, or visit our mediterranean miniature donkeys, or participate in cattle round-up. For history buffs, we are just 22 miles south of the historic town of Goliad - home of the Presidio la Bahia, one of the last remaining Spanish forts in the U.S., and the Mission Espiritu Santo, birthplace of Texas ranching at Goliad State Park. We can help you plan your day visit to the charming town built around its beautiful, restored courthouse with charming shops and great restaurants and bars. Guests have access to the entire ranch - 706 acres, with 14 miles of hike and bike trails, a stocked fish pond, Indian Creek, old growth oak trees, stargazing platform, and miniature donkeys... As little or as much as the guests want. My husband and I are the sole caretakers of the place, and we live in a separate home (around the bend and down the road a bit). We love the rural life and the dark night sky and stars that comes with it. Guests here can enjoy peaceful days and nights, trees, meadows, birds, swings, hammocks, stars, the good life... We have golf carts for rent at $10 per day. Bring your own bicycles. Horses are welcome! Stabling fee of $25 per horse per night, includes stable stall, water and hay. 706 acres of beautiful South Texas land, with 14 miles of hike and bike trails (bring your own bikes), 3 photography blinds, fishing ponds, stargazing platform As much or little as the guest would like.
Rural countryside with minimal light and noise pollution, beautiful meadows and oak trees, rolling hills. Guests here will hear owls, night hawks and many many bird songs, and will be serenaded at night by the coyote off in the distance...
Everything at Claire's ranch was incredible. If you are looking for the perfect relaxing weekend getaway, come here. The cattle & donkeys on the property were so nice! We will definitely be back.
Jared
November 2015
My family and I visited Claire's amazing hidden gem this past Memorial Day holiday. It was so much fun to spend some quiet time in nature. My almost 4 year old nephew had so much fun running wild and petting the adorable miniature donkeys. The town of Goliad was also fun to visit. It was a holiday so most of the town was closed but we managed to have a nice walk around the historic downtown. Presidio La Bahia has a neat history of Texas. Claire's house had everything we needed to have a great weekend. The house was perfect and the history behind it is very interesting.
Diana
June 2016
We had a fantastic time at the ranch! Claire was so wonderful and showed our kids all the sights and sounds including a cattle round up! We thoroughly enjoyed our stay and plan on going back as often as we can.
Heidi
February 2016
Clare was an extremely generous and caring host. The Barnhart Ranch was idyllic- we entered the bright green fence everyday to find grazing cows and then a lively group of donkeys up the path surrounded by cute dogs, a cat with a unique personality, and tons of rabbits. The houses we stayed in were gorgeous, neatly decorated with a southern country flare, and kept extremely clean. We were impressed that there were minimal insects living inside the house and extraordinary outdoor insect and bird watching. We saw the neatest spiders, bees, ants, and even went horny toad searching. The property had a multitude of paths that led to a stargazing platform and peaceful edges of the property where we were completely surrounded by trees and wildlife. Clare always answered our questions, was great to chat with, and became a good friend. We will definitely stay again soon. Five stars all around!
Sara
August 2015
This was a wonderful stay on a beautiful ranch in south Texas. Horny Toads, fishing, harvester ants, a huge variety of birds and butterflies, about 35 great little donkeys, wildlife, cattle, and a really nice working ranch. Add to this we stayed in an outstanding house built in 1877 and so nice that you just want to live there, and now. On top of all of this, Claire Barnhart, a fantastic Texas lady and conservationist that was our host! She took us on a tour of the ranch and told us everything we wanted to know and didn't rush us through it. My three granddaughters really liked and appreciated Claire. She is just the best. What a place this was. We had a bedroom that was almost 60 x 20. What a comfortable bed! The kitchen was really fun to cook in. We are going back and can't wait
Sarah and Al
June 2015
The Barnhart Q5 Ranch is a hidden treasure in TX! What an amazing spot for our family to spend four days. We can't recommend it enough. Claire is an amazing hostess and we felt family staying at her place. The Green Jay cottage was perfect for our 4 person family (3 year old and a 9 month old baby)- and we hope to come back with friends to stay at the main (bigger) house. The cottage was cute, cozy, clean, and had all the amenities we needed. The miniature donkeys are peaceful, beautiful creatures who did not mind at all while our children petted, shrieked and jumped around them. There is also a swing set (with a baby swing!), a cow roping setup for the kids, and endless animals for them to spot. We also spent a few days in Goliad, touring Presidio la Bahia, and caught a livestock show and a carnival. This small town has a lot going on and kept us remarkably busy for 4 days. We're home now and already miss the ranch!
Adam and Ashley
March 2016
Our visit to Claire's ranch was truly (URL HIDDEN) was beyond our expectations!! Claire and her husband are just lovely..the wildlife(URL HIDDEN) just so wonderful. We came at the absolute best time of year, wildflowers in bloom everywhere making the trails so beautiful. Our house was perfect and we can not wait to find time to vacation here again!
Rachel
April 2015
Far and away the best place we have EVER stayed on Airbnb--and we've stayed in a lot of places. The cabin was beautiful, Claire was an amazingly generous, kind and patient host. It's hard to think of what we DIDN'T do while we were there: We went on a cattle round up, played with the donkeys, hiked, had our own golf cart, watched movies, played board games, bbq'd, had a fire in the fire pit, did some target practice, visited Goliad--a beautiful historic town from the 1700s a half hour away, cooked, relaxed, even got some work done. And the price? This place is a deal. We will definitely be back again.
Ryan
November 2014
Type de logement
Logement entier
---
Type de propriété
---
Capacité d'accueil
10
---
Chambres
3
Berclair