Saisissez la date d'arrivée au format jj/mm/aaaa
Saisissez la date de départ au format jj/mm/aaaa
Logements que vous pouvez réserver sans attendre l'approbation de l'hôte.
Saisissez les dates souhaitées pour connaître le prix total. Des frais supplémentaires s'appliquent et des taxes peuvent être ajoutées.
Cet été (juillet et août), vous pouvez essayer l'un de ces 100 logements les mieux notés, dans toutes les gammes de prix, pour découvrir Sonoma d'un point de vue local. Entrée dans les lieux 24h/24, réservation instantanée, mais aussi vin et petites spécialités locales à disposition… autant d'invitations à vous détendre et à profiter pleinement de votre voyage.
Planet Goat offers a working farm get away. Guests can milk goats, make cheese, ride horses, do farm chores, hike, or just relax. Clear air, awesome stars, campfires and farm to table breakfasts. 3 night min. Children over 8 OK. Horses boarded.
A portion of the farmhouse was an old bunkhouse for cowboys and is now the large kitchen, Victorian Bath, and living room. The guest bedroom accommodates 4 and was added in the 1990's. If more than 4 guests are booked, 2 can sleep in the living room on a generous futon. A complementary basket of goat milk beauty products will great you. Saturday nights are wine and cheese tasting, so for those who have checked in on Friday night for 3 nights, a treat awaits you. The master bedroom, and barn workshop will be off limits to guests. The rest of the property is (25 acres, stalls, gardens, arena) are available. 2 horses may be accommodated in one dedicated stall in the barn if you are traveling with them. 2 of our horses and tack are available for guest use on the premises. In order to use the horses, a one hour complementary lesson is required. After that guests may feel free to use the horses on the property or to have a second complimentary lesson instead. Because of the presence of animals and gardens that need daily care, hosts will provide a hot breakfast and then be available throughout the day for riding lessons, animal husbandry sessions, gardening talks, until evening chores have been completed at dusk. We do not do tours of the Salt Lake area but are happy to take guests staying 3 night or longer for goat-packing day trips in the local wilderness, gourmet lunch included.
Many of the people in our neighborhood have family histories that date back over a century. This community still has cattle drives down the main highway. Cowboys are a real thing here, not just a Disney put on. There is no neighborhood to the north, just wide open spaces with mountains on either side. Although we can pick your party up at the Salt Lake airport at not additional charge, we are 1 hour from Salt Lake City downtown. Public transportation from the town of Tooele is available into Salt Lake. We will take guests to Tooele for a $15 transportation fee, and into Salt Lake for $40. It is important for guest to understand that even though Salt Lake is a beautiful and interesting city, this stay is really for those who want a country get away. The weather can be interesting all times of the year, so if you wish to spend time outdoors on the farm, riding or with the animals, please bring appropriate clothing. A list can be provided for you. Also, for the sake of visitor safety, at this time we are not accepting children under the age of 8 years old.
Type de logement
Chambre privée
---
Type de propriété
---
Capacité d'accueil
6
---
Chambres
1
Rush Valley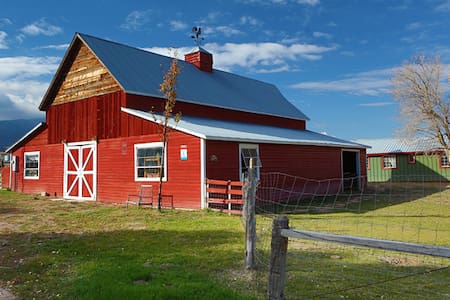 Www.tinticgoldminersinn.com Located near little Sahara Sand Dunes, mining history. Rockhounding, atv or jeep trails, etc. we love to meet people . Free breakfast, wifi, cable, sauna, private bath.
My son and I stayed at the Tintic Inn for one night after running the Moab Trail Marathon together. When we arrived our host, Margaret, warmly greeted us and gave us a tour of her beautiful inn. She and her husband salvaged the place from near ruin and have painstakingly restored it to where it is now completely modern but still retains its old-style charm. Our room was spacious, comfortable and very clean. We had traveled all day and were hungry when we arrived so Margaret offered to cook for us. Over dinner we had a very pleasant visit and came away feeling like we were part of the family. We were collecting some rocks to take back to NY with us and Margaret not only gave us some from her outdoor collection but helped us box them up as well. Her 16 year old son, Jayme, is a talented glass artisan and he showed us his works and explained how he creates them. I bought one to take home. All-in-all, our stay was terrific and we wish we could have spent more time there. We highly recommend you try it out.
Alex
November 2013
Type de logement
Chambre privée
---
Type de propriété
---
Capacité d'accueil
2
---
Chambres
1
Eureka