Saisissez la date d'arrivée au format jj/mm/aaaa
Saisissez la date de départ au format jj/mm/aaaa
Logements que vous pouvez réserver sans attendre l'approbation de l'hôte.
Saisissez les dates souhaitées pour connaître le prix total. Des frais supplémentaires s'appliquent et des taxes peuvent être ajoutées.
Cet été (juillet et août), vous pouvez essayer l'un de ces 100 logements les mieux notés, dans toutes les gammes de prix, pour découvrir Sonoma d'un point de vue local. Entrée dans les lieux 24h/24, réservation instantanée, mais aussi vin et petites spécialités locales à disposition… autant d'invitations à vous détendre et à profiter pleinement de votre voyage.
Log Cabin, built in 2015 in quiet, peaceful neighborhood on private land. Vaulted ceiling, large timbers, 200+ year old logs. Custom made beds, cabinets, doors, and staircase. Decorated with old and new. Gas logs, Satellite TV, Central H/A, Security
Unique log cabin built in 2015. Attention given to every detail. Sleeps 4. One queen and two twins in the loft. Everything is furnished. Washer/Dryer, iron, dishes, utensils. Charcoal grill (charcoal/lighter fluid provided). Outdoor fire pit and seating area. entire house Call or text if you have any questions or need anything.
It's quiet and private We are less than 10 minutes from downtown Corinth. Corinth Civil War Interpretative Center is 10 min. away. Shiloh National Park is approx. 25 min. from the cabin. Pickwick Lake and Dam are also approx. 25 min. (all worth the drive). Visit downtown Corinth. Many historic homes, shops and restaurants throughout Corinth. Please respect the neighbors next door. Their horses may come up to the fence to let you pet them, but please do not feed them.
The cabin was amazing. It was a great surprise for my boyfriend birthday present. Must go again.
Laura
September 2016
Wow..Words can't even describe our experience. The pictures definitely don't do it justice either. Jill was extremely sweet and provided for us more than we even expected. The house is absolutely beautiful. The inside was perfect, very cozy and warm. This is one of my favorite places we have ever stayed. We even lit a fire in the fire pit one night and roasted marshmallows. Very relaxing. We have a house full of children and finally arranged to be able to take a trip for our anniversary and it was wonderful. The house is set on a wooded lot and it does not at all seem like we were so close to town. Also there are several things to do in the area. We went to Shiloh one day which was only about a 20 min drive away. Would definitely recommend this place and we will be back!
Jennifer
October 2016
This cabin is sublime! It is an a secluded neighborhood but has modern amenities and beautiful decorations. The communication with Jimmy-Jill was prompt (within the minute) and there was nothing confusing. We will be back here and recommend this place with 5 out of 5 stars.
Christian
October 2016
Thank you Jimmy- Jill. Your cabin was perfect for thanksgiving. Was so glad to find something on airbnb close to my sisters house for family to stay at but even more thrilled when we arrived. It's quiet private very clean and cozy. Perfect place to stay
Lisa
November 2016
As great as the pictures are, they don't do justice as to how great this place is! Beautifully built, wonderfully decorated, many amenities, great location, peaceful, and on and on and on. Great place to just kick back and enjoy the quiet surroundings, the curious horses (very friendly), convenient location for Shiloh Battlefield. We would love to come back and hope to do so. Next time, we will stay longer!!
Dave
October 2016
Great cabin out of the way. Private, with a great porch, wonderful history, and plenty of space. A great stay, incredibly comfy and enjoyable.
Rachael
November 2016
Our hosts responded quickly to text messages and offered restaurant recommendations. Our arrival to this hide-away destination was easy and the woodland setting was enchanting. Endless hours on the front porch sipping coffee, watching the beautiful horses next door, cooking with fabulous new appliances, long drives in the country....what's not to love? The cabin was pleasantly decorated and furnished with quality goods-never underestimate the comfort of big fluffy towels! We love The Oakley House Cabin and hope to return soon.
Susan
September 2016
Amazing. This was just a quick stop on out way back home but it was super quite.
Matt & Nettie
October 2016
Type de logement
Logement entier
---
Type de propriété
---
Capacité d'accueil
4
---
Chambres
2
Corinth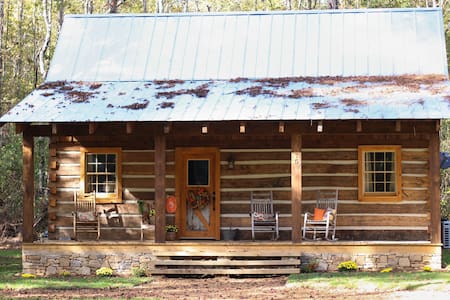 The Lee Suite within Shiloh Chennault Bed and Breakfast, the premier Civil War Bed and Breakfast for those visiting Shiloh National Park.
Type de logement
Chambre privée
---
Type de propriété
---
Capacité d'accueil
2
---
Chambres
1
Ramer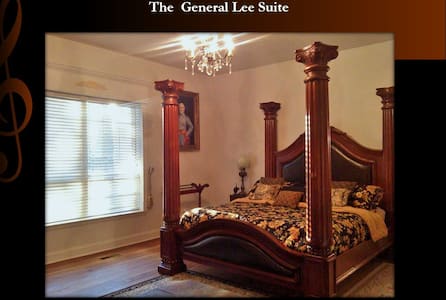 The Grant Presidential Suite is within Shiloh Chennault B&B, The Premiere Civil War Bed and Breakfast and Boutique Hotel for vacations, anniversaries, business meetings, weddings, and for those visiting Shiloh National Park .
8,500 sq feet Colonial Plantation Style home located on 225 acres of land. Four spacious luxury suites feature king size beds, sitting areas, flat screen TVs, blue ray players, newly remodeled marble bathrooms. Most suites have patios or balconies. Complimentary three course breakfast provided each morning of your stay. All 7 porches, dining room, social area, and hallway libraries are accessible to the guests. Two innkeepers are available upon request. Complimentary breakfast is served by one of the innkeepers. The suites are attended to every day and upon request. The owners are available by phone, text, or email.
Shiloh Chennault B&B is conveniently located close to the Shiloh National Battlefield, Corinth Civil War Interpretive Center, and TN river museum. It is easy driving distance from Memphis, TN; Jackson, TN; Nashville, TN. Perfect for history enthusiasts visiting Shiloh National Battlefield, or guests looking for a romantic getaway close to Memphis, Nashville, or Jackson, TN. Parking is safe and free.
Type de logement
Chambre privée
---
Type de propriété
---
Capacité d'accueil
2
---
Chambres
1
Ramer