The Sanctuary is a renovated apartment in a quaint, repurposed church, where guests will find a restful and unusual getaway. Antique furniture, stained-glass windows and artful chandeliers reside with brimming bookcases throughout. Enjoy the solitude and calming atmosphere of the steeple library upstairs or make coffee or have a drink in the cozy bar while watching TV or working on your laptop. We are pet friendly, close to Route 66, historic La Posada and "Standin' On The Corner".
When I first saw this building, I knew it would be an interesting next chapter in my life, plus a welcoming addition to the hospitality sector in Winslow. Hope you agree! The Sanctuary is entered by passing through the wrought-iron gate and then through the peaceful patio where the door to the space awaits. In the bedroom, the full size bed has a new memory-foam mattress with a luxury mattress topper. The locally-made headboard was created from church pew-ends discovered during renovation. (Love to recycle and repurpose!) An Oriental rug, Aubusson-inspired bedspread and stained-glass windows complete the picture... along with the signature antler chandelier, guest closet and, of course, just a few books to whet your whistle. Speaking of that whistle, just across the stairway hall from the bedroom is The Altar Bar where there is a fridge, microwave, coffee pot, locally roasted coffee and specialty teas. There's also a small tv, on cable, in case you just HAVE to see your favorite team play. Of course! The well-appointed private bathroom has an Asian motif featuring a wonderful red-lacquered cupboard found in Camp Verde, which accented the theme of a vintage mirror. You will find care taken in each room to make them comfortable and interesting. The last room to describe is the uncommon Steeple Library. Just up one flight of stairs, the library is reached through a narrow stairway with a true vintage feel. This is a fine spot to enjoy your morning coffee or afternoon tea; it has comfortable cushions and pillows plus an antique library table to make it easy to peruse those oversized coffee-table books about the Southwest, architecture, fashion, landscape and maybe even Shakespeare. The entire Sanctuary space has the latest heating and air conditioning units, along with access to a charming patio area, used mainly from May to October.
My husband and I stayed at a few AirBNBs on our trip out west, but we mention this church/house more than any other- wow do you get your money's worth. An average person will appreciate this place- but for the creative, eccentric person this airbnb is definitely where you want to wake up in the morning. What an incredible memorable living space. The bar/tv area was the original alter in this church! And we fell in love with the little library/study nook up stairs. Sondra is one of those hosts you don't just meet and forget- she has so much spunk and personality. She loves hosting people from around the world and it's so obvious in the many little things she does to make your stay the best possible experience. She had wine, bagels, fruit, cheese, and other items available to us when we arrived. She respects the privacy of her guests, but she's so easy to talk to and get to know- I'd come back like visiting an old friend. The church-house is perfect on its own, but we got a sneak peak of what's to come and we can't wait to come back and visit. Definitely worth EVERY PENNY. Fantastic, caring host and comfortable, memorable stay. She recommended checking out the La Posada hotel before we left- TOTALLY WORTH IT if you have a little extra $$ for breakfast. When we see more of rt 66, we will definitely be back for a few more days.
Jennifer
2017-02-19T00:00:00Z
We came to Winslow for the nearby hiking opportunities, but we found out that we wanted to spend a lot more time relaxing in The Sanctuary! Sondra has infused this former church with all the comforts of home, and the space has a lot of personality while maintaining the character of the original structure. There were spaces for relaxing, a private area for sleeping, a shower, a cozy kitchenette and a well-stocked snack fridge. And so many books! It was easy to walk to "downtown" Winslow to enjoy a few parks, shops, and restaurants. Sondra knows the best spots to eat and even suggested an off-the-beaten-path hiking area we wouldn't have found otherwise. Listen to her suggestions and you won't be disappointed.
Kelly
2017-03-05T00:00:00Z
We are traveling from TN to AZ and have stayed at some unique places. I have tried to use AirBnb but it has never work out with our schedule. I thought this would be a unique place since it was a church made into a quaint place to stay. The only problem we encountered was parking. We had been told to park behind the building at the 1st door & she would drive to us. Then she clarified with saying "behind means north". It was hard to figure out where to park so we drove around the block a few times to figure it out. We pulled in & waited for a few minutes until she arrived. Sondra was very pleasant & gave us a tour of the place. She gave us hints to where everything was to make our stay comfortable. The décor was perfect for the space. There were books EVERYWHERE. I suggest that when you stay here you check out some of the books. She also had little snacks before bed & some breakfast foods. We settled in for the night. I went up to the library to snuggle up with a blanket that was provided. It was so peaceful. I was able to get my things done while my husband was downstairs watching TV. We had internet that worked good. The next morning we met up with Sondra, she wanted to give us a tour of the entire church. It was so fun learning of the past things and the things that will be in the future. She also provided us with information of where to visit in town and where to eat. If we pass this way again we would definitely stay here.
Shelley
2017-01-28T00:00:00Z
Sondra's place truly was what it was named, a sanctuary away from the valley. We really enjoyed the unique space, were ECSTATIC to be able to have our dogs, and enjoyed the hospitality. Sondra left bagels for breakfast, along with orange and apple juice. She even left us wine cheese and crackers for the evenings! On our way out she invited us in for coffee and we chatted before heading out. I highly recommend the sanctuary for anyone looking to escape the city.
Bob
2017-01-15T00:00:00Z
Mike
2017-01-29T00:00:00Z
Cozy, charming, eclectic...the space is a collection of three small rooms plus bath. Bed, kitchenette and bath are on the ground floor and a delightful sitting room is in the steeple above. Perfect for two. The owner's love of old treasures and her quirky, delightful aesthetic are apparent in every inch. The space is super clean and very comfortable - every need has been anticipated. The owner, Sondra, is on the premises and available but guests enjoy complete privacy.
Pat
2017-02-05T00:00:00Z
The space is Magical. Sondra is an angel. Treat yourself to this unique experience!
Krissi
2017-02-14T00:00:00Z
This is interesting Space with an interesting host. Decor is delightful. Sondra took care of extras beyond our expectations. She also has useful brochures for local attractions. Great stay!
Francie
2017-02-20T00:00:00Z
Type de logement
Logement entier
---
Type de propriété
---
Capacité d'accueil
2
---
Chambres
Winslow, Arizona 86047, États-Unis
Happy Trails is a CLEAN & COMFORTABLE, NON-SMOKING 2 bedroom (SLEEPS 4) PRIVATE HOME in a quiet, residential neighborhood, 3 blocks from "Standing on the Corner Park" & Route 66, historic La Posada Hotel, 5-star dining & gardens. Authentic vintage Arizona furnishings. Locally fresh roasted coffee, full kitchen, bath & laundry room. Mature pet-friendly. Perfect for day trips to all the scenic sites in Northern Arizona. Easy access from I 40 freeway. NON-SMOKING HOUSE.
Complimentary local Fresh Roasted coffee and teas are offered. Each bedroom features ceiling fans, full sized antique brass beds with new mattress sets, area rugs over hardwood floors and a private entrance to the full tiled bath. Bedrooms have individually controlled electric baseboard heat. Large dressers and closets for your personal, clothing, and luggage needs. A large combined living/dining area with comfortable space to relax while you peruse the well selected library and guide books to all the outdoor, natural, and cultural sites, which offer a wide selection of destinations of the area in and around Northern Arizona. A large backyard offers landscaped sitting and eating areas, This unique home makes the perfect base camp to plan from many of the available convenient day trips. Large utility closet for all your hiking, camp chairs and biking excursions. Hang out your sleeping bags while you hang out and plan your excursions from all the guides, topo maps, maps, and menus from local eateries. Comfort and convenience is what Happy Trails and Winslow hopes to offer our guests.
Privacy, convenience & comfort in a quiet residential neighborhood, Happy Trails offers a unique & authentic experience at a very reasonable price. The home is a short walk to historic downtown Winslow, Route 66, Standing on The Corner Park,Hubbell Trading Post, the world famous La Posada Hotel and Gardens, 5-star dining at the Turquoise Room. Plus a local theater, gift shops and galleries all along downtown Winslow's Historic Route 66. Authentic fresh daily Mexican food can be found at E & O Restaurant at the Historic Lindbergh Airport. Mojo's, independently owned coffee shop offers up their own fresh roasted coffee that has earned state recognition. The City's McHood Park at Clear Creek has picnic armadas, swimming, fishing, canoeing, hiking and world class rock climbing at Jack's Canyon. A hop, skip, and a jump off of I-40 provides you with immediate proximity to the Navajo and Hopi Nations as well as the Petrified Forest, Painted Desert, Meteor Crater, Rock Art Ranch, and numerous other destinations of beautiful Northern Arizona and the 4 Corners. Explore & discover Northern Arizona while enjoying the comfort & convenience of your own "BASE CAMP" at Happy Trails.
Merci à Eloise pour l'accueil exceptionnel qu'elle nous a fait. Nous avons effectué de nombreux séjours à l'étranger et celui-ci était de loin le meilleur. Tout était parfait. Les chambres spacieuses et confortables. Eloise avait tout prévu pour que l'on puisse faire le petit déjeuner le lendemain matin, avec des produits frais. Rien à redire! Je recommande. On se sent vraiment chez soi.
Sarah
2016-09-18T00:00:00Z
Eloise is amazing, and her house is the same. My husband and I stopped while on a very long roadtrip, and our time was incredibly restful. The house is just as in the pictures, with lots of space to spread out and curl up. We were delighted by all of the extras Eloise included, especially the fresh ground bag of coffee and cream already in the fridge for us. We also made use of her pantry staples and the six pack of local beer :) The house is full of wonderful literature to peruse and use to plan our day trips. Since it was winter; many of the typical excursions are closed, but seeing the lovely pictures and descriptions made us eager to come back in the future, and when we do, we will certainly stay with Eloise again.
Christianne
2016-01-11T00:00:00Z
Staying at Eloise was a trip back in time! It truly felt as if you're at the "cool aunt's house" she gave a crash course on pour over local deliciously tasty coffee that would make the CEO of Starb's jealous! The house was filled with amazing eye-candy and made me desperately want to come back with my dogs as they would truly have had the royal treatment! She's thought of everything and all the comforts of home made me wish we were there longer!
Caridad
2017-02-05T00:00:00Z
Eloise was a wonderful host! Her home is so welcoming, and she provided delicious breakfast items and fruit. It was a perfect place to stay with my dogs and my cockatiel. The warm, comfortable feeling was enhanced by great beds, beautiful Navajo rugs, vintage furniture and books, and quilts which Eloise made herself. I hope to get to visit again - it was a really excellent experience.
Kathi
2016-12-18T00:00:00Z
Eloise is surely a special woman! And the owner of quite a special place. From the moment we arrived at her home, she made us feel like her home was our home. After trekking through the Grand Canyon for three days, we were certainly ready to rest... and Eloise's home was the perfect place to relax! The home is decorated in a southwestern theme and has many unique touches throughout. Some of our favorites were the cast iron fire place (perfect to sit and read by) and the hand sewn quilts that Eloise makes herself. Additional perks were the variety of reading materials on Arizona and the fridge stocked with breakfast foods including fresh eggs! The home is only a 5 minute drive from The Turquise Room which has fantastic food and is about 50 minutes from Painted Dessert/Petrified Forrest National Park. We truly enjoyed our stay in Winslow!
Lisa
2016-12-15T00:00:00Z
Staying at Happy Trails was a wonderful expierence. The house is beautifully decorated with all the amenities you would need for a nice stay. I am an Airbnb super host and Eloise sets the bar high. Everything is thoughtful placed and she provided fresh ground coffee and quality books on the area. I spent half a day reading about Navajo culture, the Painted and Petrified Deserts, Clear Creak and north rim of the Grand Canyon. I didn't realize how many beautiful place there are to visit in Northeast Airizona. I am definitely coming back to relax and explore this beautiful region. Two thumbs way you for Happy Trail and a great host! Jagan:)
Jagan
2016-07-22T00:00:00Z
This place was just the place to stay in town. Hospitality and cleanliness were immaculate. Eloise and her home are a true treasure!
Libby
2017-02-19T00:00:00Z
Beeing at Eloïse house was a great experience, as it is a real authentic place to discover. All furniture inside are ancient, in regard with the house and some of them are pieces of art! All is in working conditions, clean and complete. Location is in a quiet neighbourhood, easy to park the car and reach the city center, with all facilities. Moreover, is it located very close Route 66, that it can make easy to have a break if you are driving on Mother Road! But most of all, Eloïse is a remarkable host. She loves very much welcoming visitors and will talk about local history. You will find in the house lots of books on american and local history. Eloïse have lot of little attentions : after a long sunny driving journey, you will share with her a cold quality beer, and, for breakfast, you will find, in the fridge, milk, orange juice and eggs from her hens!!! We really enjoyed our stay in Winslow and will recommand anyone who want discover beautiful Arizona landscapes to stop at this authentic 19th century southwest styled house, with a wonderful host...
Laurent
2016-09-28T00:00:00Z
Type de logement
Logement entier
---
Type de propriété
---
Capacité d'accueil
4
---
Chambres
Winslow, Arizona 86047, États-Unis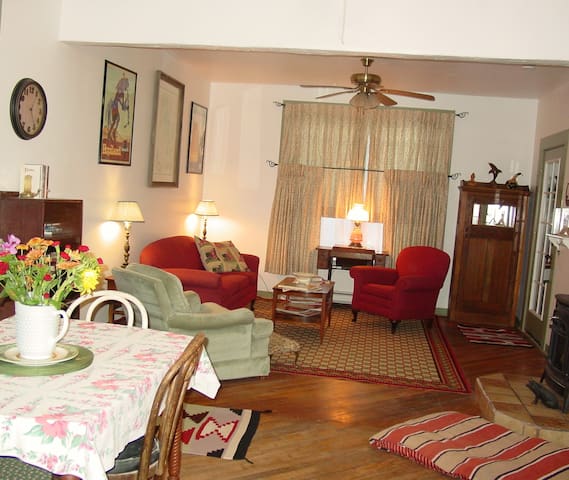 2 king size bed. One is. Liquid memory foam other is a pillow top mattress
Type de logement
Logement entier
---
Type de propriété
---
Capacité d'accueil
1
---
Chambres
Joseph City, Arizona 86032, États-Unis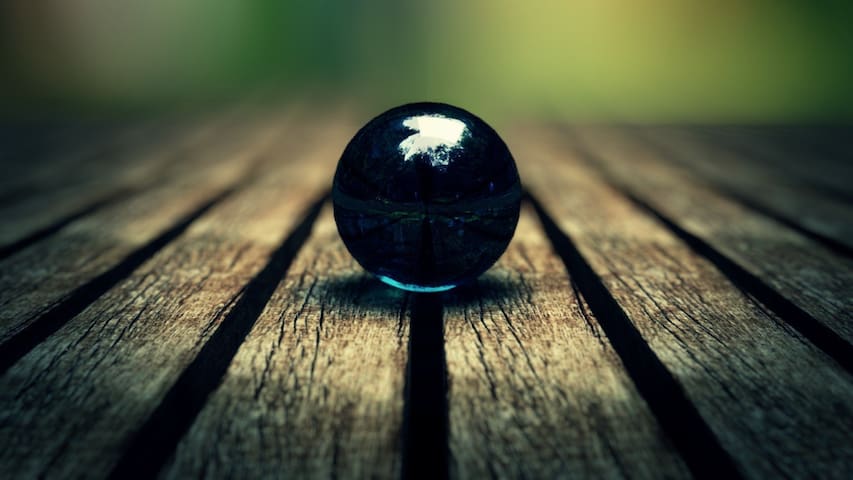 Saisissez les dates souhaitées pour connaître le prix total. Des frais supplémentaires s'appliquent et des taxes peuvent être ajoutées.