SUPERHOST
Logement entier · 4 voyageurs · 1 lit · 1 salle de bains
JURNY | Convention Center | Charming 1 Bedroom
Stay safe, stay healthy! With all the craziness going on, you can feel comfortable knowing that our cleaners follow full procedure to ensure that our units are completely disinfected, sanitized, and adhere to coronavirus prevention procedures from the CDC & ISSA, wiping down all doors, key pads, and keeping our environment clean. No human interaction is needed during your stay. Our units are fully automated & guests are in control. Avoid busy hotels & large common areas, stay safe, stay Jurny. Occupancy: Max Occupancy: 2 (Up to 4 with Approval/Fee) This unit has a maximum occupancy of 4. Over occupancy is a serious issue and the unit should never exceed the maximum allowed at any given time, as this will result in the cancellation of your booking. The nightly rate includes up to 2 overnight guests. If you wish to have additional overnight guests send us a request prior to booking. An additional 2 guests can be included at a rate of $50 per additional guest per night. The additional guests are provided with a cozy high-quality 22-inch queen-size air mattress with fresh linens, as well as additional towels, and other amenities. Only 2 additional guests (over the max occupancy already residing in the unit) are allowed inside the unit to visit at any given time. Violation of this rule may result in a fee and eviction. **Air Mattress is an additional charge and needs to be requested ahead of time** Please inquire about our other 1, 2 and 3 bedroom units should this one be unavailable on your needed dates. The Space:  This stunning unit is the perfect place to experience both extreme comfort and the luxury of upscale living. The simply fresh detail oriented decor is truly what makes this place so special. All things shopping, food, art, attractions and business are all within minutes away! Born in LA. Jurny is a cutting-edge technology company dedicated to doing things differently. We are here for the travelers. For those who seek the thrill of discovering new places, who want the feel of luxury, and seamlessness of cutting-edge technology. We want our guests to be in complete control. We are a new way to stay. A way that's immersive, professional, and gives our guests the comfort of home. In addition, Jurny provides our guests with a 24/7 virtual concierge. Contact us via phone or chat live with one of our customer service professionals through the booking platform conversation thread. Access: Guests have access to everything in the home. Location:  This property is located in Downtown Dallas right near all the major restaurants, attractions and shopping! St. Paul Station (a DART Light Rail station) is located on Bryan Street, between St. Paul and Harwood Street, just 5 minutes away. Because many people ask: 1. Payment- You "submit a booking" which means you pay the full amount now. I do not get paid until after your arrival. There are no cash transactions, and unfortunately you may not put down a cash deposit. Airbnb does not charge or authorize the security deposit unless there is a claim made against it after your stay. 2. The home comes with linens, towels, soaps, etc. 3. I can not send you any more pictures. 4. The site blocks telephone numbers so please do not send me your number and ask me to call you. 5. Picture ID (Passport/Driver's License) will be required prior to check-in. 6. Occupancy is 2 guests per booking (4 with host's approval). Additional guests (up to 4 max) result in a $50 fee per guest per day. 7. After booking, all guests must submit their full name and birth date for a general background check. House Rules: Please do not smoke in or around the property. There will be a $250 fine for smoking within ten feet of the property. We have smoke detectors in the unit that alert us if a guest is smoking inside the unit. We use a noise monitoring device; It does NOT record actual sounds or conversations, it simply monitors the noise level (measured in decibels). Our Standards & Expectations require that all guests are required to provide notice of and obtain consent for any secured weapons prior to booking, and should use the messaging feature to do so. If prior notice of a secured weapon is not provided, the host may cancel the reservation with no refunds. Note: All weapons present in a listing must be secured regardless of whether they've been disclosed. People who violate this expectation may be suspended or removed from the site. Please be advised that all guests will be asked to sign a rental usage agreement that governs the terms of your stay. For the protection of all parties, the booking party will also be required to provide a copy of a valid government-issued ID and matching credit card prior to check-in. This information is collected for verification purposes only and is not stored or otherwise used for any other purpose.
Ce que disent les voyageurs :
"Bel appartement En plein cœur du centre-ville, près du palais des congrès et de Deep Ellum. Les décorations étaient impeccables, c'était propre et décorée au minimum que j'adore. La maison avait Netflix, Hulu et de nombreuses options de divertissement à domicile. (Ce qui était bien parce que nous avions du tonnerre et des crues éclair à notre arrivée). J'y retournerais avec plaisir et le recommanderais sans hésiter à mes amis et à ma famille, mon seul conseil serait d'apporter votre propre oreiller! Note générale 9.5 / 10. Nous serons de retour, merci Luca!"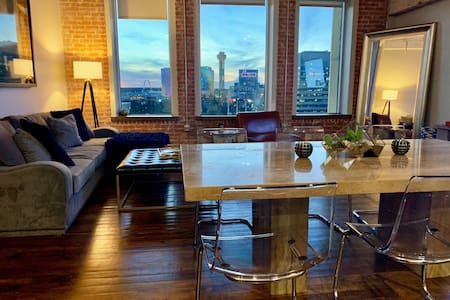 SUPERHOST
Loft entier · 4 voyageurs · 1 lit · 1 salle de bains
Luxury Downtown Loft + Stunning View I Gym I Pool
Safety is our highest priority. To ensure this, our cleaning team follow coronavirus prevention protocol recommended from the CDC. All touchable are cleaned and sanitized keeping our spaces clean and safe for our guests! We offer discounts for longer stays.
Ce que disent les voyageurs :
"L'endroit de Roy est incroyable et Roy lui-même était très serviable, donnant des conseils, etc. Il était vraiment pratique pour nous rencontrer, notre vol est arrivé plus tôt que prévu, mais Roy était totalement accommodant. L'appartement lui-même est énorme - il s'agit de deux étages et a un plafond de 20 pieds ouverts dans la zone de télévision. Des tonnes d'espace. Roy nous a envoyé une énorme liste d'endroits à visiter dans la région, et nous avons trouvé que c'était seulement un court trajet en voiture d'autres parties cool de la ville, aussi (comme Deep Ellum). La vue sur le toit est incroyable, la salle de gym au sous-sol est énorme et mieux équipée que la plupart des gymnases que je visite en voyage, et le café au sous-sol est super cool. Ils ont aussi un menu correct, avec des tacos au petit déjeuner, des bagels, des toasts de banane au beurre de cacahuètes et d'autres trucs sympas. Dans l'ensemble, nous avons adoré et nous n'avons eu aucune plainte."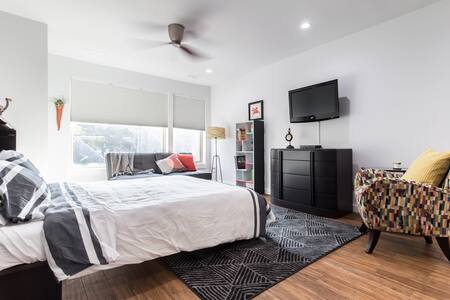 SUPERHOST
Logement entier · 2 voyageurs · 1 lit · 1 salle de bains
Cedars Nest--private studio Cedars/Downtown Dallas
The Nest is tiny retreat living at its best. New construction built above the home of the hosts, with a private entry door and stairs that lead to a light- filled studio with a full kitchen. A wall cabinet converts to a comfortable queen-sized bed. Restaurants, bars, coffee shops and more are within walking distance. The KBH Convention Center and downtown Dallas are just a mile away, with easy access via the DART train system, bike rentals, Uber or Dallas' local eFrogs.
Ce que disent les voyageurs :
"Rester ici était un tel soulagement, nous n'avons jamais utilisé Air B & B avant et étions un peu inquiets lors de la réservation. L'endroit était extrêmement propre et est très bien situé. Il est super proche de la station DART, qui est rapide et facile à utiliser, partout où vous le souhaitez. Lee Harvey's est le bar à quelques portes - c'est un bon endroit pour la fin de soirée, certainement un piqué, vraiment amusant! Ce n'était pas bruyant ou dérangeant la nuit le vendredi et samedi, ce qui était agréable! Cedar's Nest avait de nombreuses petites attentions qui nous ont mis à l'aise dès la minute où nous sommes arrivés, ce qui est très apprécié! Notre hôte était très gentil et toujours rapide pour répondre. Elle nous a également fait d'excellentes suggestions! Nous avons également rencontré sa fille, qui a eu la gentillesse de nous aider si nous avions besoin de nous. Nous avons été extrêmement satisfaits de notre séjour ici!"